Sponsored by Saga Prefectural Tourism Federation
Home of Arita ceramics, the peaceful town of Arita has some beautiful spots to discover. In this town you can get a feel for old Japan and discover the history of this beloved ware.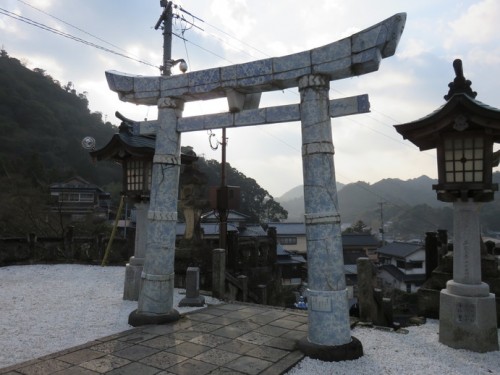 See a special kind of Shrine Gate
With its stunning Arita porcelain torii gate, Sueyama Shrine (in other name: Touzan Shrine) is one of Arita's must see sights. Located on a hillside just a 15 minute walk from Kamiarita Station, this shrine is said to be founded in 1658. It is a highly respected shrine by makers of Arita ceramics. The torii gate made of Arita porcelain is very unusual, though it isn't so well known outside of Saga. Visitors are always impressed by it! Make sure to stop by and see this unique torii, the only one of its kind in Japan. It was built by a group of potters in 1888.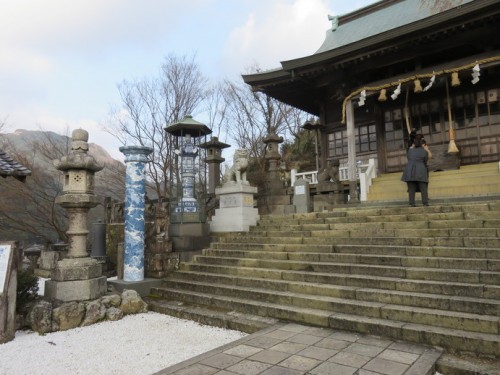 The shrine also has Arita porcelain statues in the grounds. Touzan Shrine enshrines the father of Arita ceramics – Yi Sam-pyeong. He is believed to be the creator of this craft and the discoverer of the quarry where the material for the ceramics was mined from. The surrounding nature makes the shrine look beautiful in any season, with hundreds of cherry blossom trees blooming in spring and red leaves in autumn. Even in winter it looks stunning.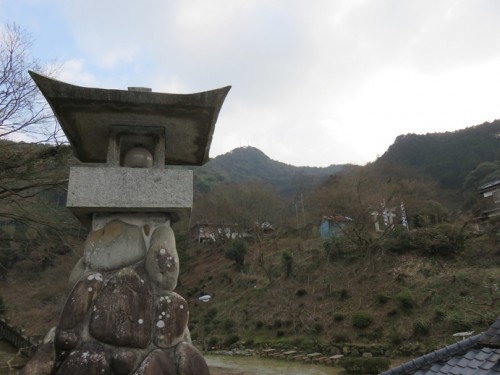 Just before the main entrance to the shrine grounds, be careful of passing trains! The railway runs just outside the grounds and you can often see people stopping to take photos here of the trains passing by the stone torii. This may be the only place you can see a train running through the grounds of a shrine!
Arita's back streets – where ceramic production is built into the town
Just off the main street in Arita is a side street with "tombai" walls. These walls were built using tombai bricks – the same kind of brick used in climbing kilns where Arita ceramics are fired. These red bricks are fire resistant, and the walls also contain old tools used in these kilns. If you look closely at the walls you can see the different shapes. Some of them have a glaze over them from the heat of the kiln.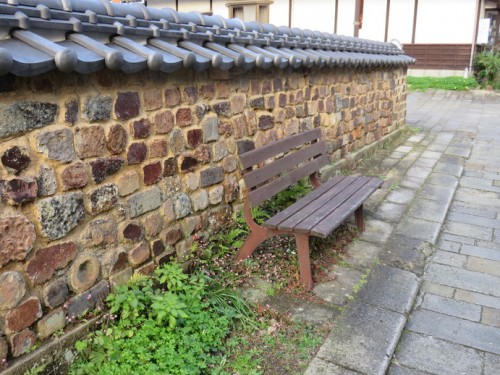 Some of these walls have been constructed recently, but others have been standing for many years. Originally, the Arita ceramic potters lived in these back streets. This is another way you can see just how connected the town is with its famous ware – it's literally built into the town walls!
Inside one of these walls is a traditional Japanese house, open now as a café. Near this area you can also find Japan's largest gingko tree. In mid November the leaves turn yellow, making it a beautiful sight to behold.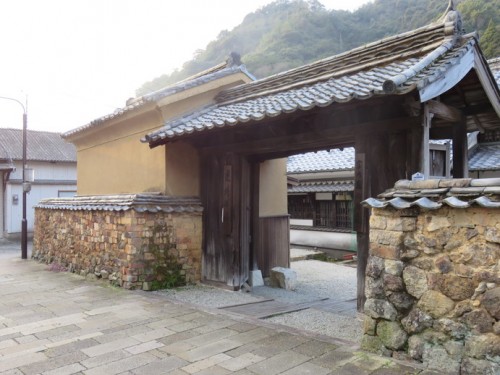 See the birthplace of Japanese Porcelain
To see where the material for Arita porcelain originally comes from, you can visit Izumiyama Jisekiba.- the quarry where the material for Arita yaki was taken from. This material for the porcelain was discovered here in the 17th century, but now it has mostly all been excavated from this area. Known as kaolin stone, this discovery was said to be the first of Japanese porcelain. If you visit you can enjoy the view of the quarry as it is left mostly untouched.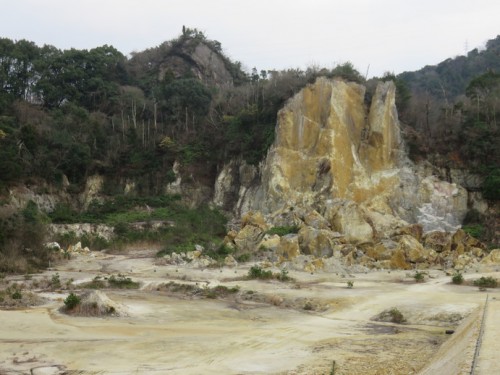 This is also a beautiful spot to view autumn leaves if you visit at that time of year. This is also lit up at night so you can discover a different view. Visit to discover the birthplace of Japanese ceramics and see some amazing views.
You can get here on foot from Kamiarita Station, which takes about 15 minutes.
Near the quarry you can also see an old instrument used to make the ceramics. This is called "karausu". Used many years ago, this is a water powered machine used to crush porcelain stone. These are no longer used, though there used to be hundreds of them used in the production of ceramics.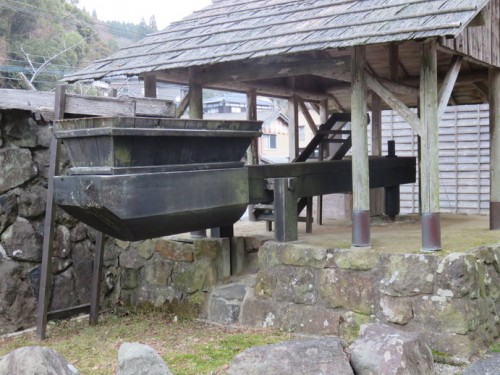 Arita ceramics are everywhere in the town
Another interesting thing to note when you go to this quarry is the pathway leading to it. The stone is embedded with pieces of Arita porcelain! You can see several examples like this around Arita so keep your eye open for it. Near the quarry you can also see a memorial for the first makers of pottery in Arita. This was built in 1982 and commemorates all the makers who contributed to the creation of Arita ceramics over its many years.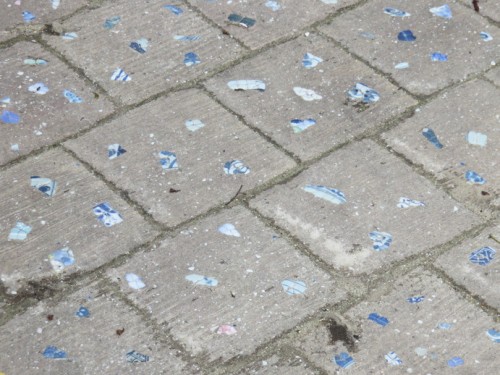 Visiting Arita of course gives you plenty of opportunities to see and admire Arita ceramics, but don't forget to visit these spots as well! This town has a rich history you can explore while experiencing a little of old Japan. Arita is a lovely, peaceful town where you can see plenty of traditional style buildings and amazing natural landscapes. You'll see that there is even more to the town than it's famous Arita ware! The local people are also extremely friendly.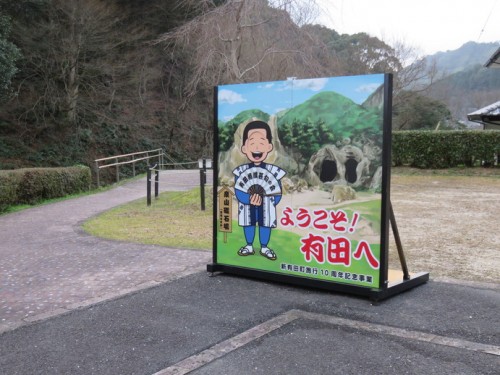 To get a map and find out more about these locations you can stop by Arita Kan. There are also exhibits here and a break room you can stop by for a rest.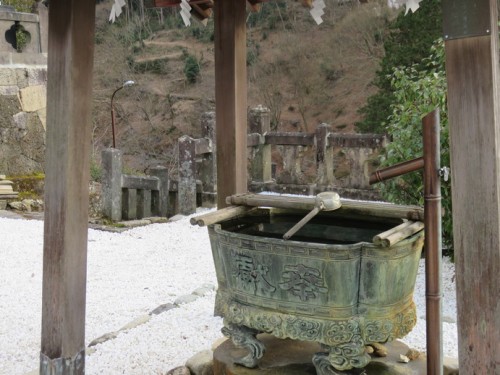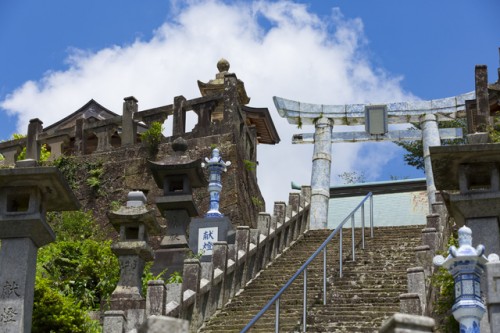 24/7 Assistance available in English, French, German, Italian, Spanish, Portuguese,Russian,Thai, Korean, Chinese (Mandarin & Cantonese), Vietnamese and  Indonesian!!