Kumamoto castle, or Kumamoto-jo in Japanese, is one Japan's most iconic castles, rich in history. With its unrivaled strong defenses Kumamoto Castle is often referred to as the "unassailable strong fortress" yet apart from its defense capabilities it also has an immense artistic character. The castle was constructed in 1601 by the daimyo, or warlord, Kiyomasa Kato who was not only a military commander but also a connoisseur of charismatic architecture. Kumamoto Castle certainly is his most astonishing masterpiece!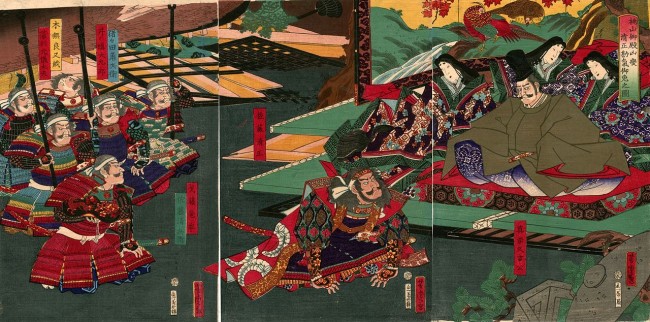 Kiyomasa Kato:https://en.wikipedia.org/wiki/Kat%C5%8D_Kiyomasa
Although the keep of Kumamoto Castle was burned after a great battle in 1877, it has been meticulously restored and rebuilt in 1960.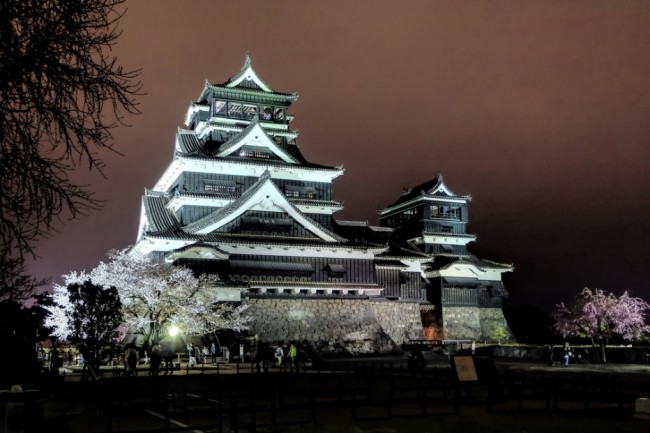 Kumamoto Castle's cherry blossoms
Kumamoto Castle is also famous for its approximately 600 cherry blossom trees. When the 3 types cherry blossom trees start blooming around the end of March to beginning of April, the castle see crowds of more than 100,000 people coming from across Japan as the castle grounds bathe in beautiful spring colours. There is also a night opening of the park during this time and several cherry-blossom trees are lit up together with the castle itself.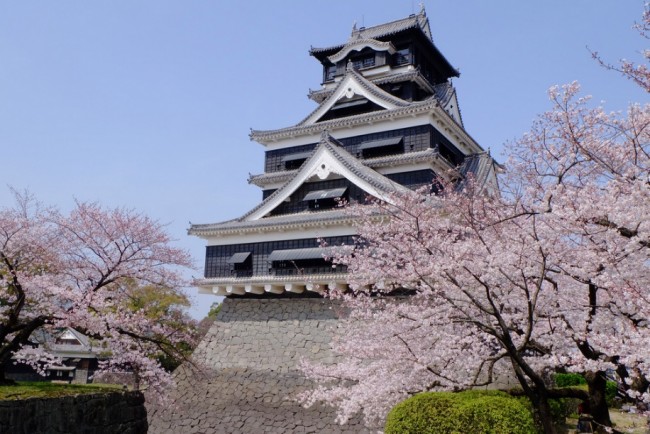 The stone walls even Ninjas cannot overcome!
The stone walls, referred to as Mushyagaeshi meaning warrior-back, is one of Kumamoto Castle's key features. This stone wall has a quite a steady base angle but as it goes up it becomes ever steeper making it seem easy to climb as but whether you are a fully armoured samurai or an agile ninja you will just slide back down.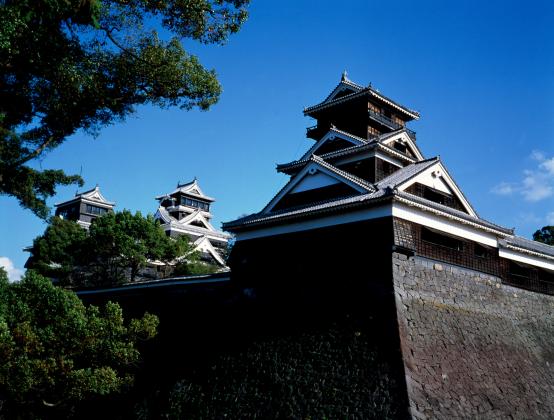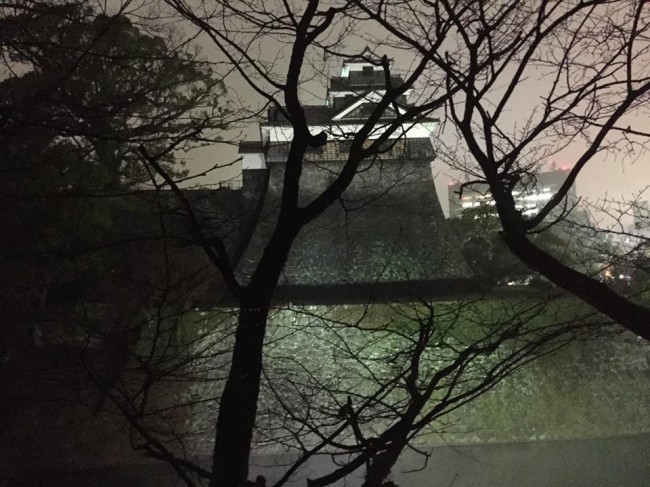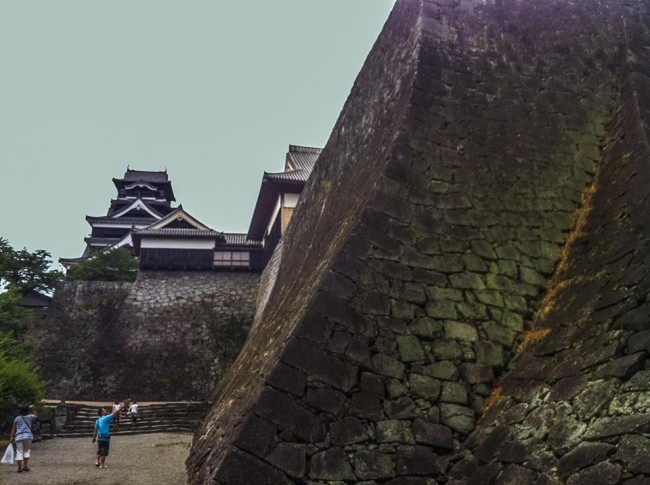 While the majority of the buildings on the Kumamoto Castle grounds were destroyed in the war of 1877, part of the stone wall has remained perfectly intact as it was back in those days. At Honmaru palace you can visit the rooms and the luxurious lifestyle a daimyo had in feudal era.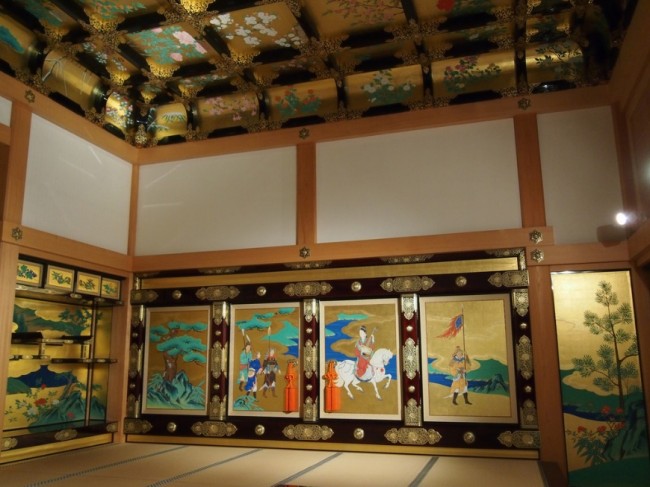 Exploring Kumamoto Castletown
After having enjoyed the Kumamoto Castle tour, there is plenty of time to shop and dine at the "Sakura no Baba Jyosaien" next to the castle. From local restaurants to souvenir shops they are all found around the areas . You may even come across a lone samurai walking around the streets along the Edo Period streets !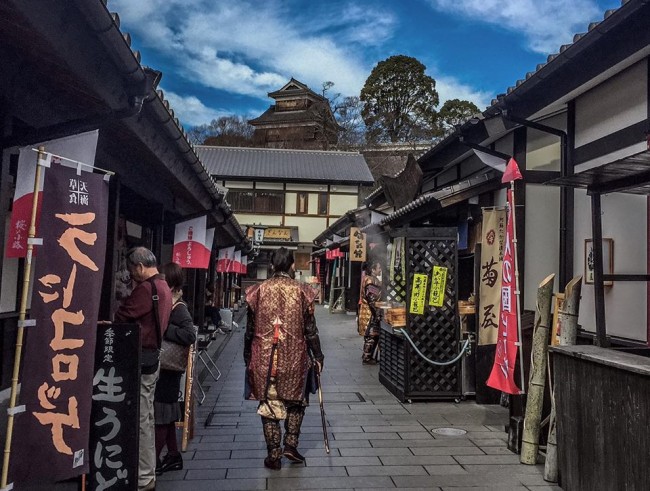 Of course, to truly enjoy a fully-fledged Kumamoto experience you must try the local cuisine, which is horse meat. For those who are up for a challenge, try some horse sashimi, horse meat of nigiri sushi or horse meat hotpot. The meat's low-calorie, low-fat, low-cholesterol, low-saturated fatty acids, high-protein and beautifying effect make the dish not only popular in Kumamoto but also in Tokyo. The dishes are also known as  "Sakura meat"(horsemeat) and their delicious taste melts in your mouth.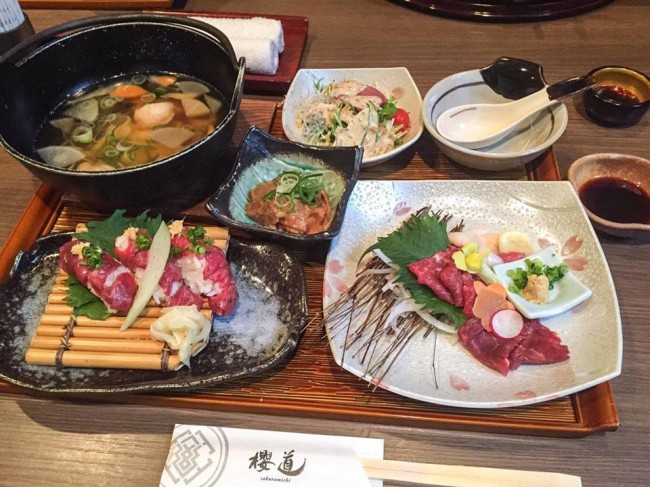 As a castletown Kumamoto is built around Kumamoto Castle and its charming city lifestyle grant it a beautiful scenery. The town's tap water is rare mineral water pumped straight from the ground, and sake (Japanese alcohol) such as shochu, from Kumamoto are especially delicious. Surrounded by both the mountains and the sea, the town is not only famous for horsemeat and beef but also seafood and mountain vegetables. If you happen to plan to head to Kumamoto in 2019 you will also have the chance to go to some of the venues of the Rugby World Cup!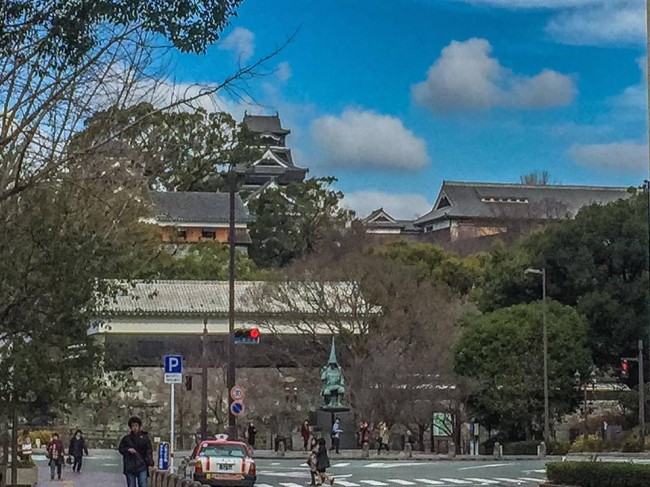 The official website of Kumamoto Castle and Kumamoto Prefecture are two great sources that offer plenty of information in English to prepare you for your next trip. Whether it is for history, culture or being in the city of food – Kumamoto is the place to go!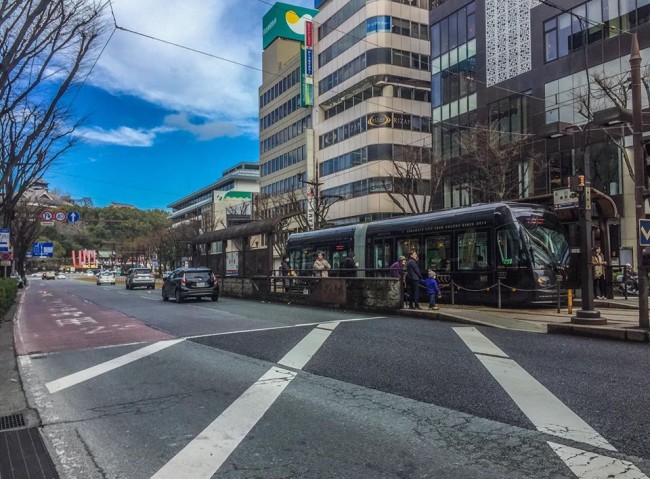 Admission Fees
Kumamoto Castle 
Individual High School Students and Older 500 yen Children(elementary / junior high school students)200 yen
Groups of 30 or more High School Students and Older 400 yen Children(elementary / junior high school students)160 yen
| | |
| --- | --- |
| Name | Kumamoto Castle |
| Category | Castle |
| Address | 1-1 Honmaru, Chuo Ward, Kumamoto, Kumamoto Prefecture 860-0002 |
| Access | 1-1 Honmaru, Chuo Ward, Kumamoto, Kumamoto Prefecture 860-0002 |
| Opening Hours | March-November 8:30-18:00(admission until 17:30)December-February 8:30-17:00(admission until 16:30) |
| Price Range | See above |
| Payment options | Cash |