Izakaya Ranking: +3
Service: +3 Very friendly and attentive
Equipment: + 3 Great general cleanliness, beautiful toilets
Prices: +1~+2 Reasonable ~ slightly expensive
Strong points: Great use of local ingredients in Chinese cuisine in a beautiful Izakaya (Japanese style restaurant) setting. Great sake and shochu.
Whatever the nationality or the genre of the gastronomy, a good chef makes an exclusively use of ingredients that are not only superlative but whenever possible local. Only then do the skills make the difference between a good and a great chef. So if you are looking for Chinese inspired food in a Japanese styled restaurant or izakaya, then Hanaoto is the perfect place for you.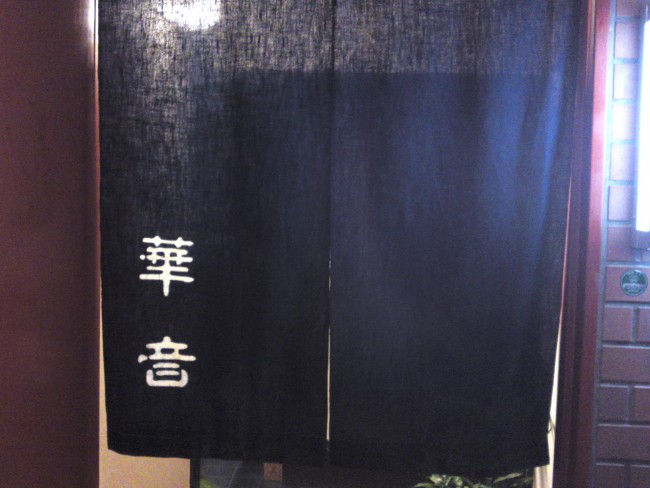 The entrance to Hanaoto (華音) is simple and unassuming, always a good sign.
Chef Yuusuke Toozaki (登崎雄介) decided to move to the present location a few years ago to be able to welcome all his guests in a larger establishment.
 It is always a good idea to reserve a seat either at the counter or on the tatami floor.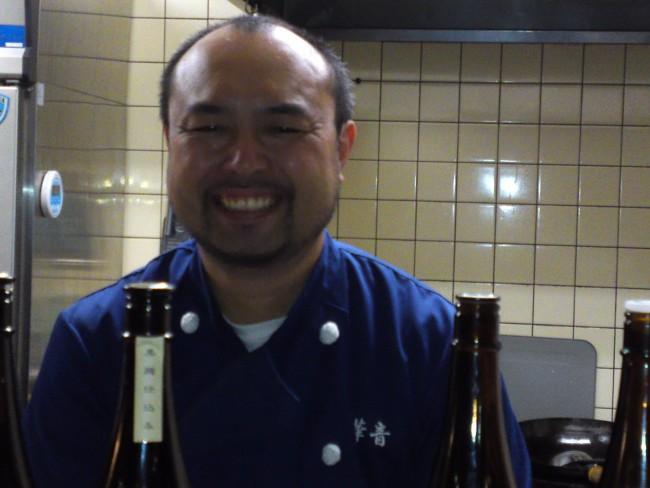 The man himself, (frightening smile!)
He caters for all tastes as far as drinks come.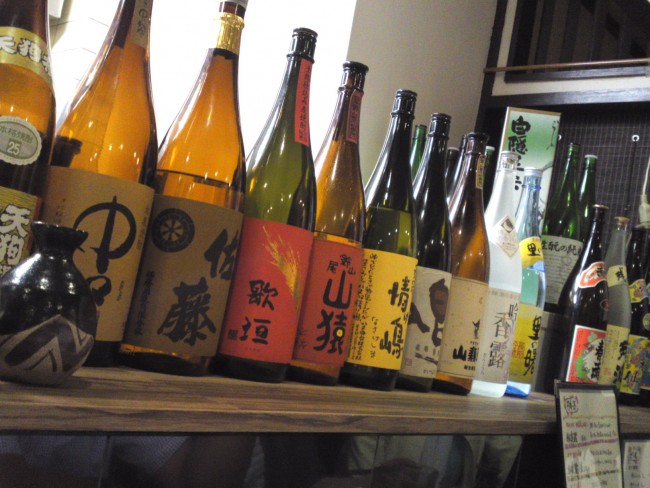 A shochu paradise.
You may as well as consult him before choosing a shochu if that is what you want. Of course beer and wine are available.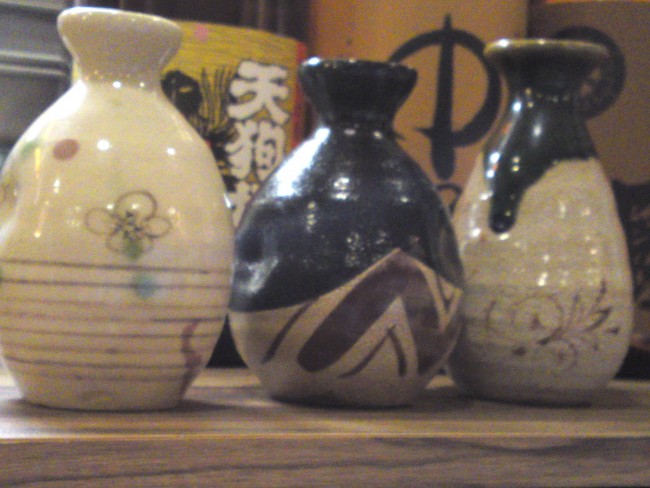 Nice tokkuri.
As for Japanese sake, there is plenty to choose from too.
 At least three great sakes from Shizuoka Prefecture are catered.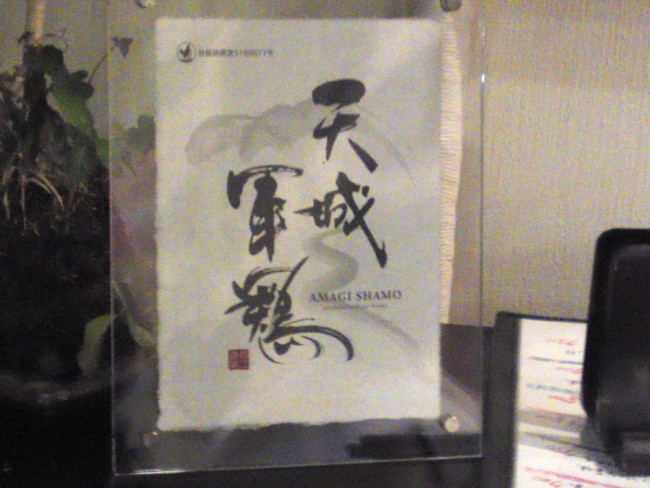 Now Hanaoto is one of the rare restaurants serving Amagi Shamo, arguably the best chicken in the prefecture and probably Japan.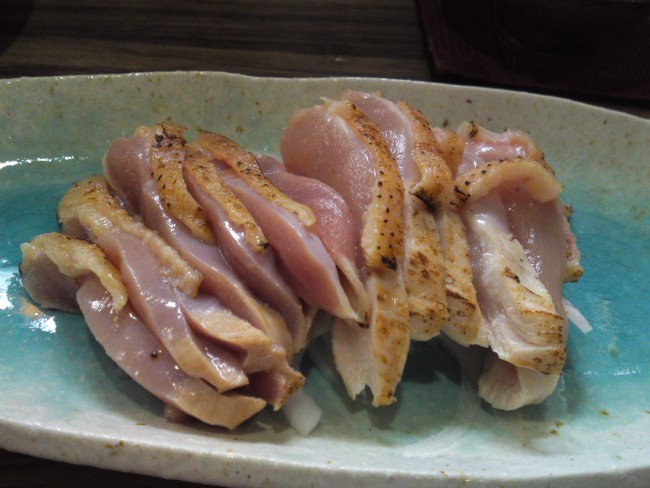 This chicken is, among others, fed with wasabi leaves and soy milk from Izu Peninsula.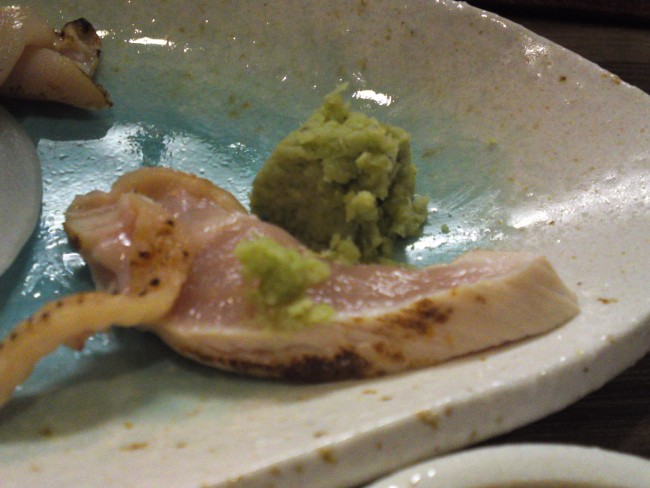 Served with freshly grated Shizuoka wasabi (and maybe a little soy sauce), a rare delicacy.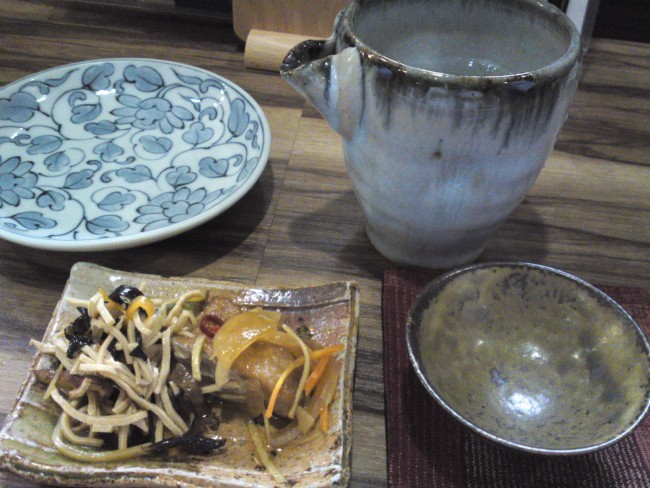 On that night I had beautiful sake brewed by Eikun (Yui) and Sugii (Fujieda) breweries.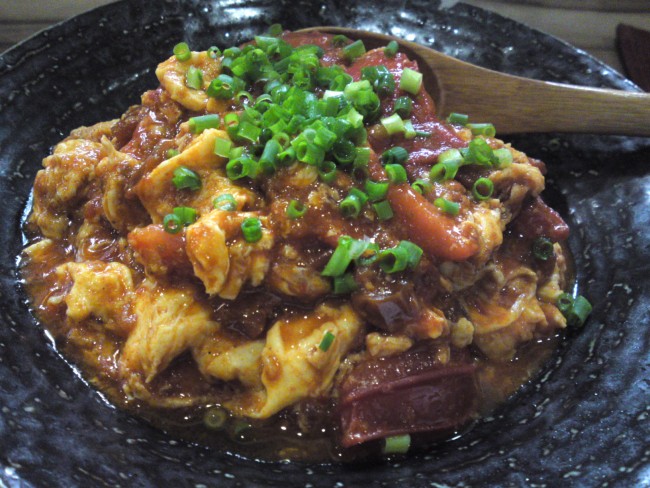 Jukusei Tomato to Tamago Pirikara Itame (熟成とまとト卵ピリ辛炒め), stir-fried hot ripe tomatoes and eggs.
Toozaki-san makes an extensive use of the best quality vegetables of the Prefecture.
 These ripe tomatoes were grown at Suzuki Tomato Garden in Shizuoka City.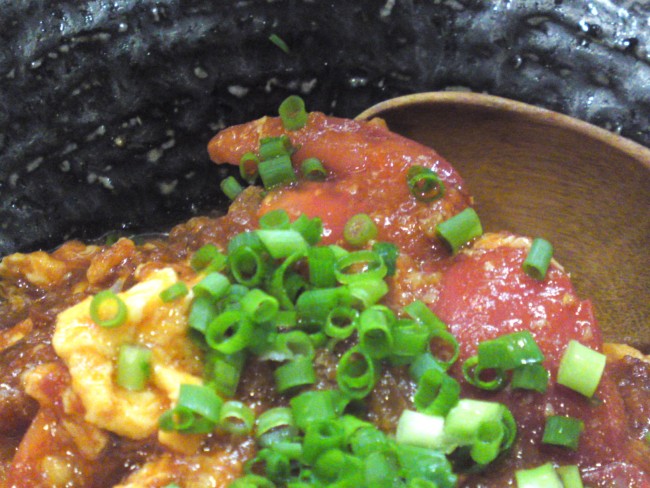 A fulfilling and healthy dish with a great balance.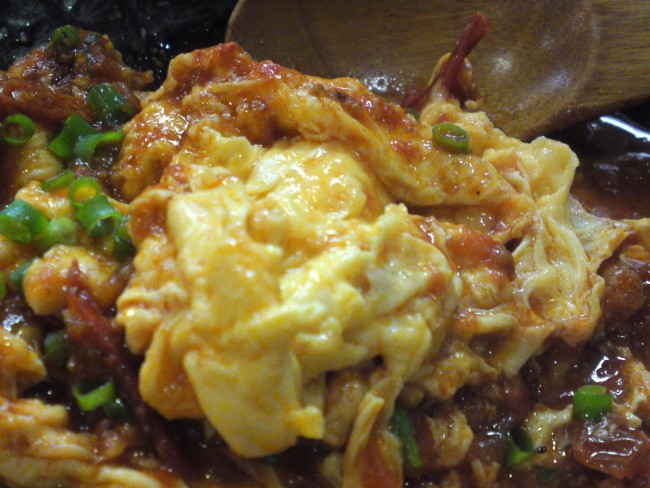 Unctuous eggs fried to perfection.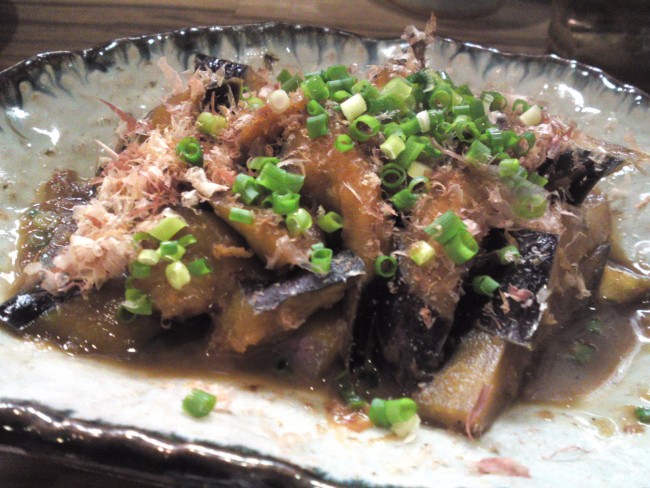 Nasu no Shouga Shoyu Itame (茄子の生姜醤油炒め), stir-fried eggplants in ginger and soy sauce.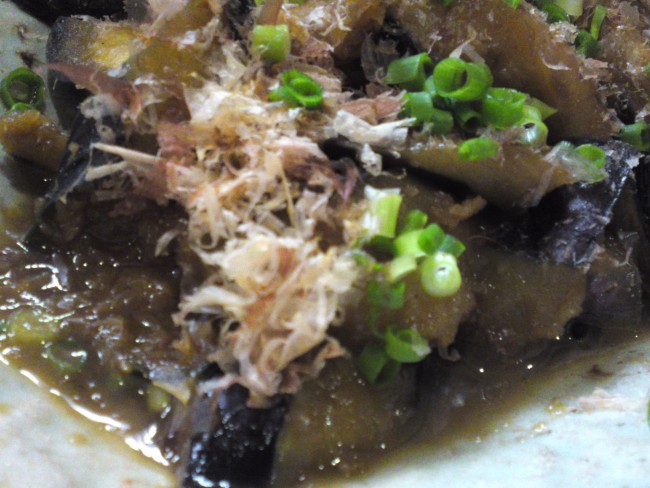 These eggplants were grown organically in a family garden in Shimizu Ku, Shizuoka City, proving that there was a great search for the best ingredients.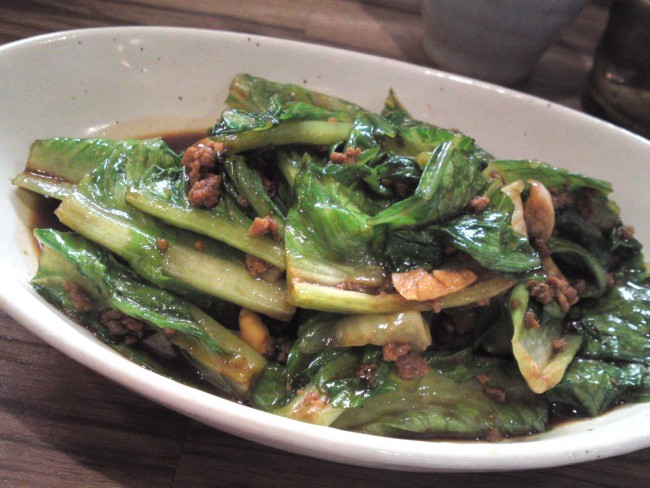 Matsuki Farm Romeenu Retasu to Hikiniku no Pirikara Itame (松木ファームロメーンレタストひき肉のピリ辛炒め), hot stir-fried Matsuki Farm romaine lettuce and minced meat.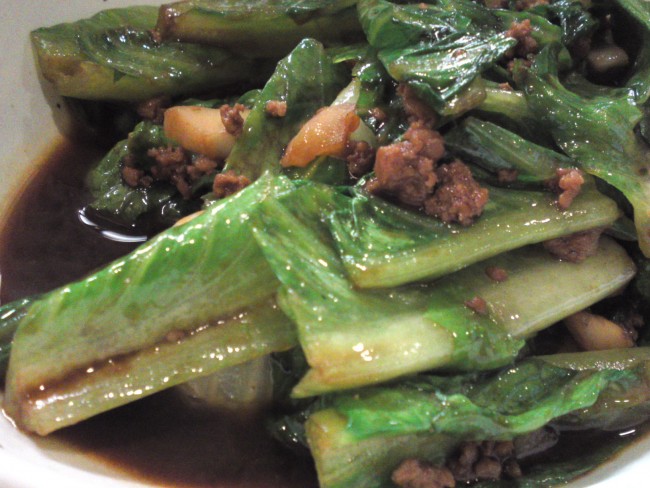 The romaine lettuce was organically grown at Matsuki Farm in Fujinomiya City.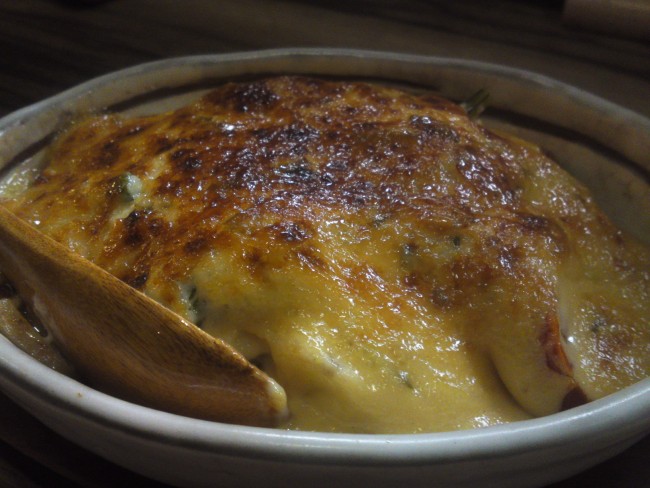 Misonaise Vegetable Gratin at Hanaoto.
Yuusuke Tozaki's concept will appeal to all nationalities, especially in colder weather as the food is hot and nourishing.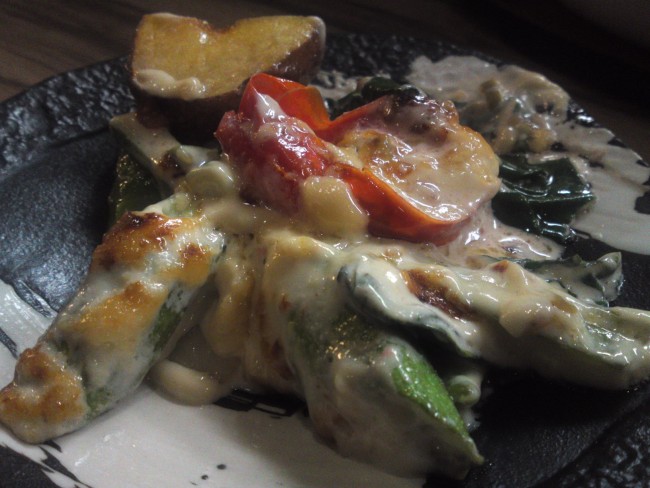 Now, what is "misonaise?"
 It is a mixture of miso paste and mayonnaise.
 Some of the vegetables are first fried while others are steamed, boiled or raw.
 The sauce, which includes enough condiments to season the whole thing, covers a generous portion of those vegetables before being cooked as a gratin in an oven.
 Try it at home, it is worth it!
| | |
| --- | --- |
| Name | Hanaoto (華音) |
| Category | Restaurant |
| Address | 2-5-8 Ryogaecho,Aoi-ku, Shizuoka-shi, Shizuoka |
| Access | 2-5-8 Ryogaecho,Aoi-ku, Shizuoka-shi, Shizuoka |
| Opening Hours | 17:00 to 02:00 (Last order at 01:00). Closed on Mondays and every 3rd Sunday of the month |
| Price Range | ¥4,000~¥4,999 Lunch: ¥2,000~¥2,999 |
| Payment options | Cash |