Sponsored by Yuzawa city.
Yuzawa, located in Akita Prefecture, is not only known for its udon noodles, which are popular all over Japan. The city is nestled in the middle of mountains and former volcanoes. It is a great place to enjoy the local onsen. If you can find many onsen across Japan, not so many of them benefit from such a unique, breathtaking landscapes that onsens on Yuzawa has to offer. Hiking in the mountains will lead you to one of the most sacred places of Japan, offering you a one-of-a-kind panorama.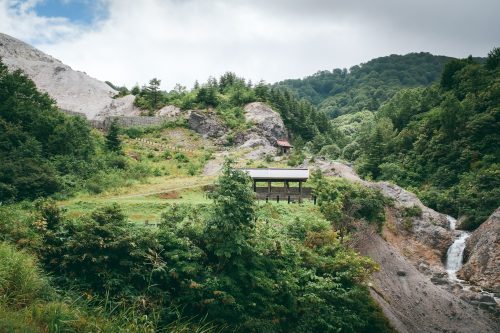 Kawarage Jigoku
When wandering around the mountains surrounding Yuzawa during summer, you find yourself in the middle of the forest. Only greenery around, stretching as far as the eye can see. It is beautiful and peaceful pathway that allows you to take in deep breaths of fresh air. The road is curvy and the clouds are low. The usual setting when taking a trip to the mountains.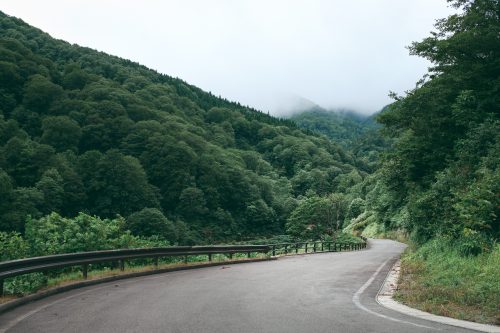 And then suddenly, a smell of sulphur starts filling the air. A smell that gets stronger and stronger, becoming impossible to ignore… And with the turning of the road it finally appears. White, contrasting with the surrounding greenery. It is the Kawarage Jigoku.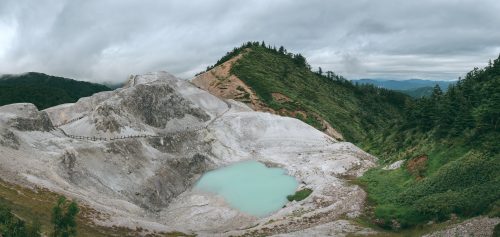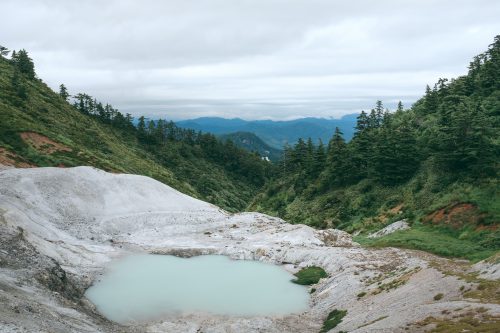 In Japanese, "jigoku" means hell. So this literally translates to the "hell of Kawarage". And you quickly understand where it gets its name from. The mountain, an ancient volcano, is very arid, with most of the vegetation unable to develop because of the volcanic gas and the acid soil. The volcanic fumes are so strong that it is sometimes impossible to climb on the mount itself.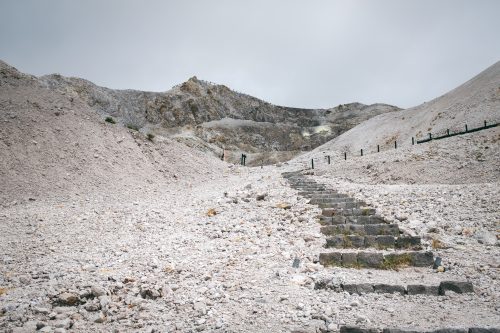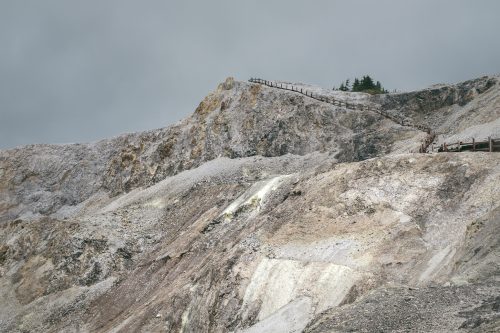 The site used to be exploited as a sulphur mine during the Edo Period. But contrary to what its name could suggest at first, it is actually a sacred site. One of the three most important spiritual places of Japan, together with Mount Osorezan and Mount Tateyama. The first ascent of the mountain was made in year 807 by monk Gesso. There has since been a pathway created to go round Kawarage Jigoku.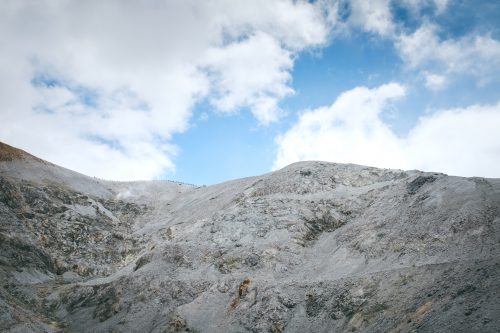 The contrast between this small arid mountain and the green mountains around is absolutely striking. I was actually surprised not to come across anyone else there. Quite remote from large cities in Northern Japan, this place is far less visited than similar spots such as Owakudani in Hakone. But I think this is an actual advantage. Facing the unique beauty of the Kawarage Jigoku by yourself offers stronger sensations than having to deal with a horde of tourists.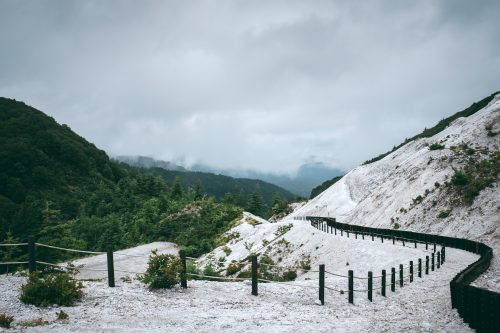 Kawarage Oyutaki, a cascade of hot water
The hiking pathway extends past the Kawarage Jigoku. The stony landscapes slowly disappear to give way to the greenery again. And yet, the place remains quite unusual, with strange vapor clouds coming up from the water further down. The path actually leads to a river which draws its water from the deep springs of this ancient volcanic massif. A water that is still hot.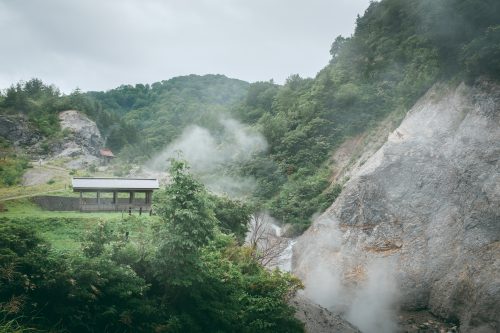 The hike ends at the foot of a waterfall. A one-of-a-kind waterfall, with thermal water: the waterfall of Kawarage Oyutaki. The warm waters of the volcano, blended with the water of the river, create the ideal temperature to take a bath in nature during summer.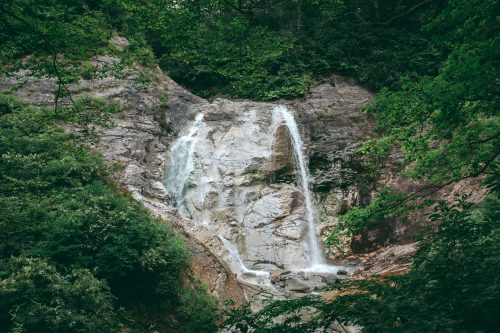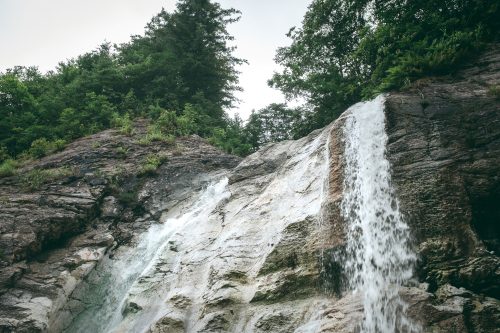 The water is not very deep and its temperature is perfect to soak some time in it. Seated on a few rocks, with half of the body immersed in this naturally hot water, the Kawarage Oyutaki casacade offers the perfect spot to be at one with nature. It is mandatory to wear a swimsuit to enjoy bathing in the cascade. The temperature of the water can change depending on the flow of the river which mixes with the thermal water. It is possible to enjoy a bath there from early July to mid September. Keep in mind however that these thermal waters are quite acid and they can, in some cases, cause a bit of skin irritation.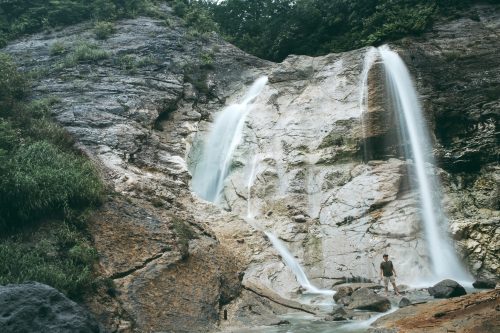 Doroyu Onsen
To relax after a day spent hiking, there's nothing better than unwinding for a while in an onsen. Doroyu Onsen is a small village with the main activities there focusing on the region's thermal water. Okuyama ryokan is the perfect place to enjoy the hot spring water in a beautiful open-air bath. A large pool filled with milky and deliciously hot water is ready to welcome you for a relaxing moment for all your senses.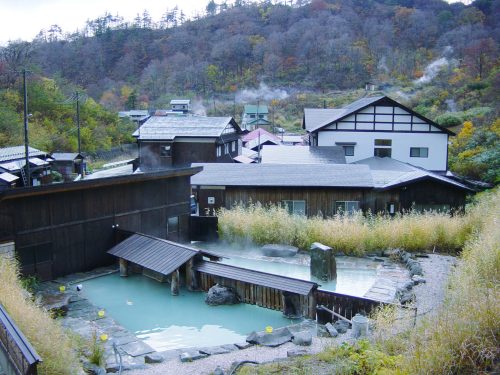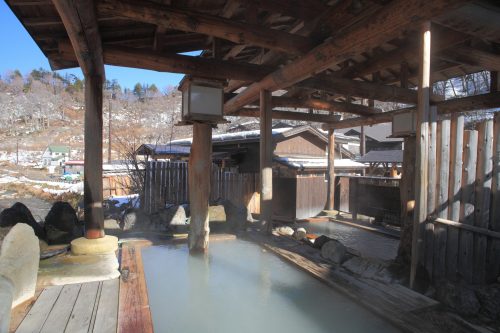 The Ogura ryokan also offers the opportunity to come for a bath during daytime, with a much more sober but authentic setting. The same milky water will offer you a relaxing moment in a small wooden building. A full immersion into the traditional side of Japan.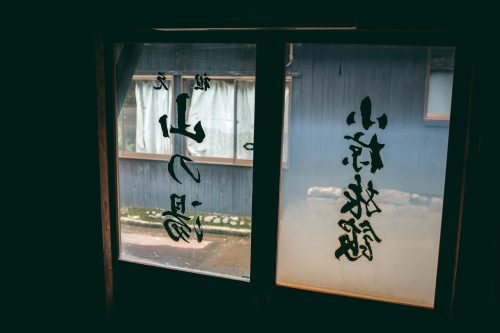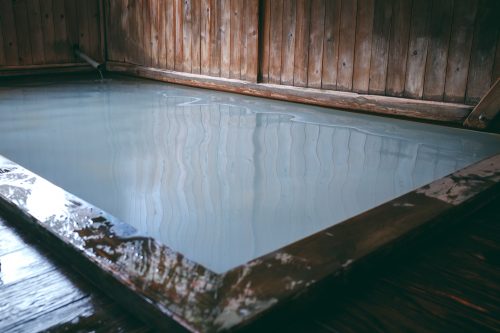 Nowadays, it is actually a rather rare thing to witness a wooden floor in a sento (public bath). This is the way sento were traditionally built in Japan, but have gradually been replaced by tiles for over a century. It is truly a unique opportunity to discover these witnesses of a more traditional Japan as they become more and more rare to find.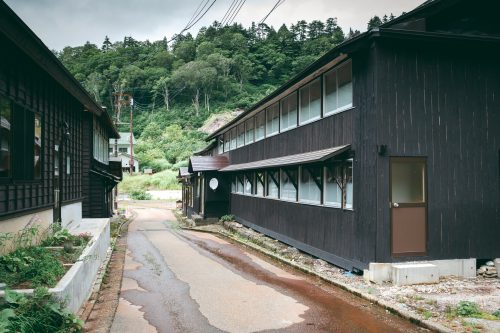 Reaching Kawarage Jigoku and Doroyu Onsen from Yuzawa
There are two ways you can get to Kawarage Jigoku and Doroyu Onsen. If renting a car is an option for you, you will need to drive for 45 minutes from Yuzawa to Doroyu Onsen. Just a few more minutes and you will reach Kawarage Jigoku. A parking lot is located just next to the ancient volcano from which you will be able to start hiking to the Kawarage Oyutaki waterfall.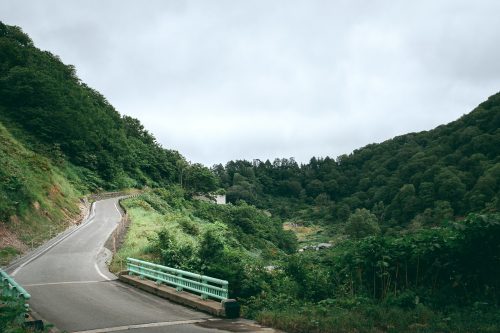 If you cannot rent a car, the city of Yuzawa has a shuttle service available that you can book in advance, whether you travel by yourself or with a group. The shuttle is in service between beginning of July until end of October. You can find all the shuttle service information on that website (and even make an online reservation). The shuttle departs from Yuzawa Station and will drop you at Doroyu Onsen. It is very convenient, especially when you can't drive in Japan. You will then be able to reach Kawarage Jigoku by foot from Doroyu Onsen. Keep in mind that the first part of the hike can be a bit difficult. You will need to follow the road going up the mountain, which offers beautiful panoramas but which can also tire your legs after a while if you are not used to hiking.
Original text: Joachim Ducos
Translation: Marion Pont