Ohanami – Viewing Cherry Blossoms!
It's that time of the year again – the beautiful, cheering spring. The season that brightens your mood with its bluer skies, chirping birds and joyful colors anywhere you look.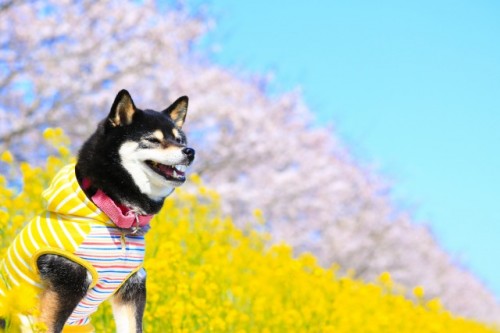 According to a recent online survey, most of the Japanese see sakura blossoms as the sign of spring. Other answers included changing of wardrobe or the start of a new job or school year. I gave it a thought too: Yea, I guess I would call it spring when grass starts to bud. It is grass instead of sakura or other flowers for me because, you see, in Canada, which is where I spent a relatively longer period of my life, blooming flowers come later when the snow is gone in say, April? Grass is good enough, alright.
Speaking of sakura, the first impression pops up in most of our heads would be ohanami under the canopies of pink or white petals, with snacks and drinks in our hands. Yep, ohanami translates to more than viewing of flowers like the term suggests, but one big outdoor party with a romantic colored background!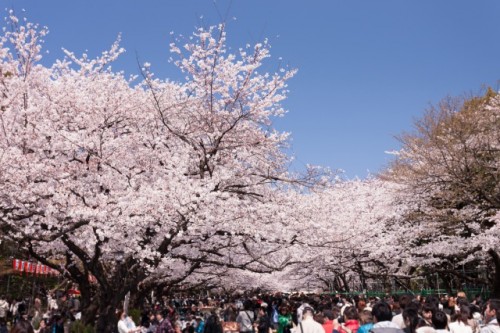 How can we have a good Hanami?
But we are in Japan, and partying in Japan is supposed be well-mannered. No worries, fun is still there, in a responsible way that is. So what manners should we follow, other than cleaning after ourselves?
Rule 1: no walk or sit on the Sakura tree roots
First rule, which I think is overlooked most often, is to not walk or sit on the sakura tree roots. While most of us might think we are fine as long as we don't damage the trees by picking flowers or breaking branches, sitting or stepping on the roots does give the trees unnecessary and incalculable pressure. As a respect to living things, we should try our best to distance ourselves from the trees when enjoying the blossoms, whether sitting down or walking by.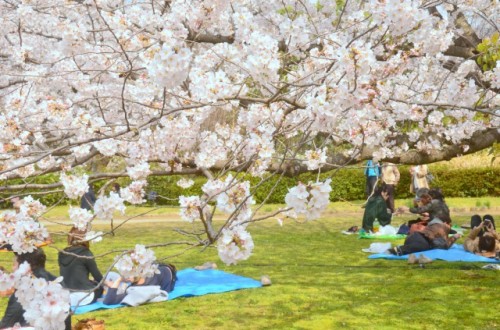 Rule 2: Don't damage the trees
Similarly, do not damage the trees by hanging or placing any belongings on the trunks or branches; or worse, peel, scratch, or draw on any surface of a tree. It was even on the news last year, that it was a trend (particularly among tourists) to shake the sakura branches to create a petal shower – for taking selfies! These selfies might have received couple praises or Facebook Likes, but what became of the flowers that could have lived longer for more to enjoy? Mind your self-interests, everyone!
Rule 3: Don't occupy spaces for long
Another news topic last year was youngsters (university students were showcased) taking turns to occupy spaces for private ohanami gatherings at night, which often started early during daytime and lasted for few days. Reserving a space in advance for a larger group is not unreasoning; but occupying a larger space and/or for a longer period of time than needed is definitely less justifiable. We don't take all the food at a buffet just because we can, do we?
Rule 4: Minimize your Garbage
Drinks and snacks are often the spotlight of ohanami, so are the two issues left behind: garbage and noise. For garbage, other than simply minimizing it and not dumping it irresponsibly, keep in mind that public areas in Japan don't always provide garbage bins. And don't try to throw the bag of garbage outside of a convenience store. Because, like how Japanese World Cup fans made headlines in 2014, the more socially acceptable way to clean up after ourselves is to bring the trash home. Make sure to recycle accordingly too.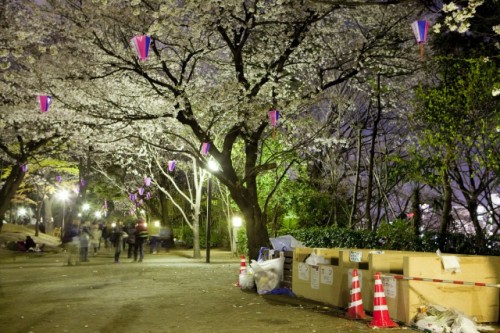 Rule 5: Consider Noise
Other than garbage, noise should be reduced whether you are drunk or a karaoke fan or not. Tension tends to get high during peak or later hours, when most have downed a few drinks. But being outdoors instead of in a restaurant doesn't mean we are 100% liberated; on the contrary, it could get even more crowded than in a store in popular ohanami sites. So, however fun the party is, let's try to keep it cool(er).
Rule 6: Toilets
Last but not least, the toilet issue. Like in many outdoor events, toilets can get messy whether you are in Japan or not. What's worse, public toilets are not necessary a feature in many ohanami sites. Washrooms in a nearby convenience store may solve the urge, but make sure we purchase at least a small thing, be it a drink or candy, if we want to borrow their washrooms. Showing courtesy is a big thing in this country, no matter how urgent we are!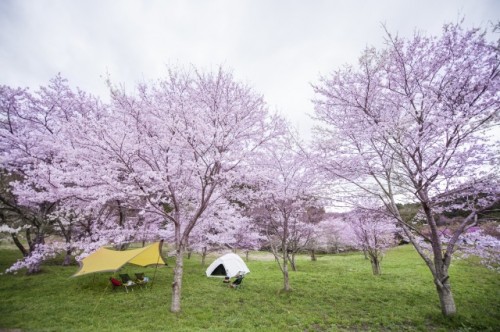 These should be the basic points to note at an ohanami party. Now, bring a mat and some warm clothes, good food and drinks, and go knock yourself out. Cheers to sakura and spring!