Having traveled a lot, I must say that I need more now than before to impress me. For a place to charm me one hundred percent, there must be a combination of different elements, which, when put together, make my experience a memorable one. And without a doubt, the Kurokawa Onsen is now part of it. Here is my experience in one of the most charming villages I have ever visited in my life.
left: the entrance to the village | right: the entrance to my Ryokan's room
Outstanding Service at Yumerindo Hanadomari
After a bus ride in the mountains, I finally make it down to the village stop, where a staff member of my Ryokan is waiting for me. A Ryokan is a kind of traditional Japanese-style "bed and breakfast" from the Edo Period. The hotel driver drives me through the village, then drops me off at my room. Although I have not had time to see much, I already feel that a special atmosphere emerges.
Arrived in my room, my first wonder occurs: As a sudden journey through time, I find myself in the middle of a small house with unparalleled charm. All made of wood, I walk and discover each room using a sliding door. Every detail is thought and nothing is left to chance. Simplicity and minimalism reign, I am totally overwhelmed by this place.
A Private Onsen
But that's not all … While I let myself be guided by the sound of the river that seems to come from the bottom of the house, I finally open a last door to find myself greeted with a small hot thermal bath (Onsen) in the back of my home. The contrast between the icy cold and the warmth of the water fogs the room. There is only one thing to do, try it!
I walk every room in the house up and down and across. I look at every detail, and I just appreciate the moment. Once this overdose of euphoria faded, I finally decided to try the Onsen before leaving to explore the village. Moment of relaxation guaranteed, I relax in the hot water and let it rock me by the sound of the river flowing behind the house.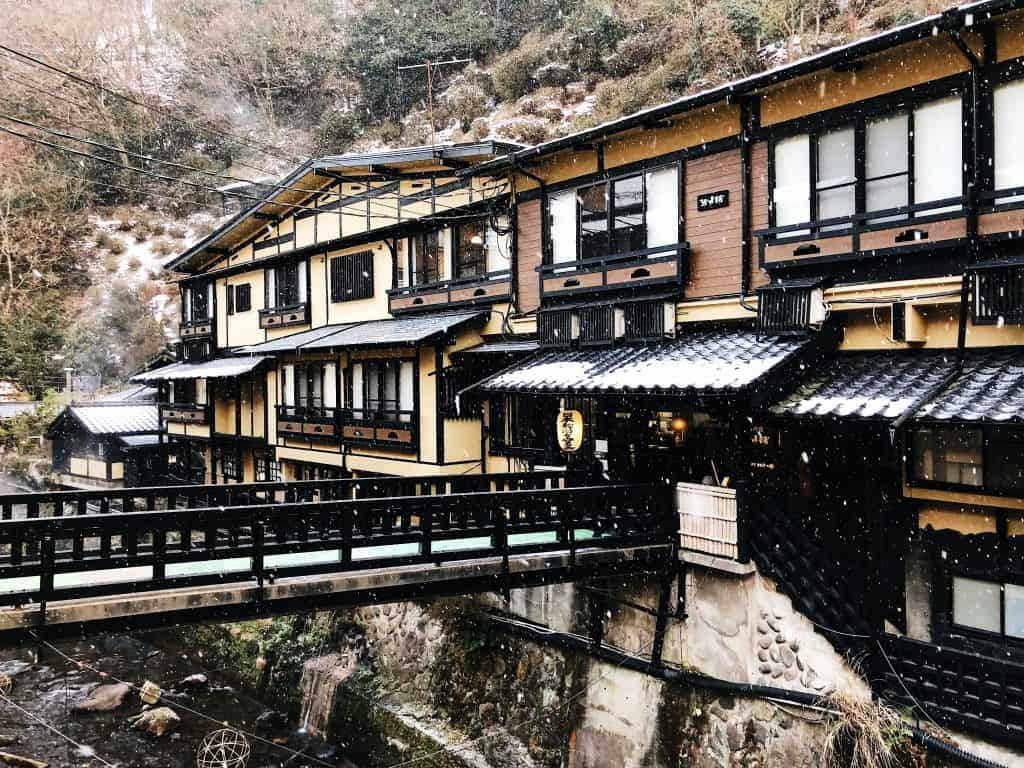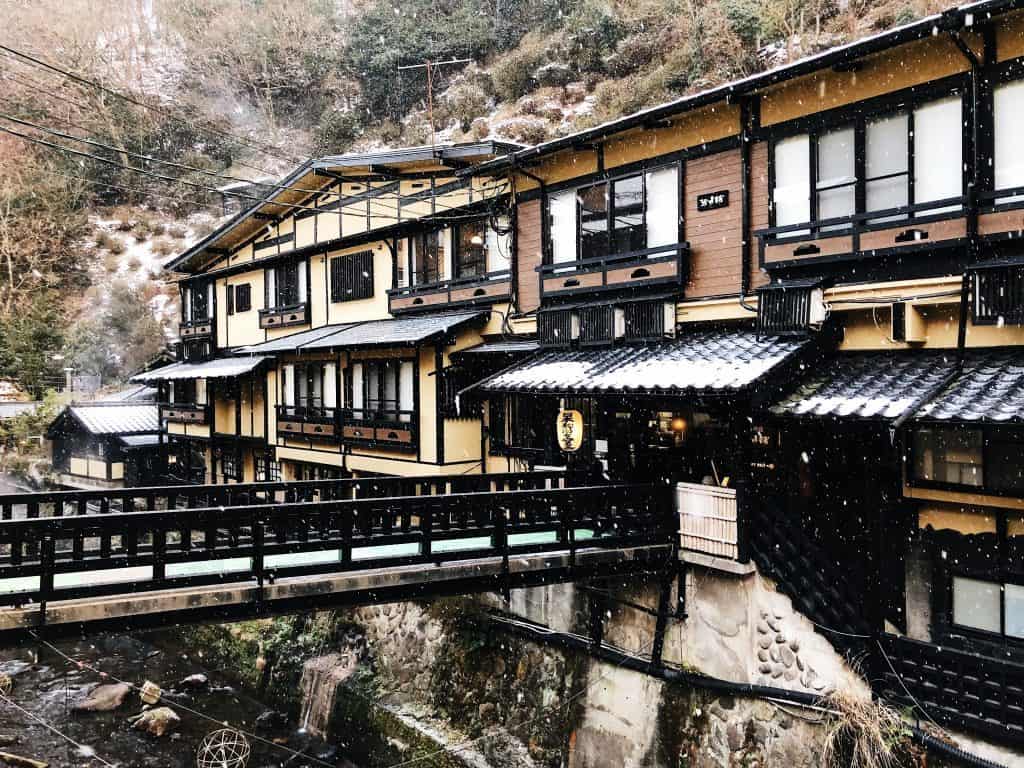 After a good twenty minutes sleep in the intimacy of my personal thermal bath, it is now time to dry, get dressed, and to discover the village before dinner. I thought I was at the end of my surprises, and yet, Kurokawa is without a doubt a very special, even unique place. Although small, it includes a multitude of shops and restaurants, mostly settled along the river. While the sun is about to set, I realize that funny balls of lights are hanging over the river, illuminating the village with light and warmth.
Although it was very cold, I did not get tired of walking in the small streets of the village. The snow certainly brings something special to the scene, making Kurokawa a magical place. I continue my walk, losing myself in the small streets to discover at every moment, a new wonder.
The scenes of life parade before my eyes, and it is a feeling of pure authenticity that emerges. The smell of sulfur is sometimes felt and reminds me of Iceland, also known for its therapeutic baths. As I get ready to finish the loop on the other side of the river, it is soon time to reach the main building, where my host has arranged for me to meet for dinner at 6pm.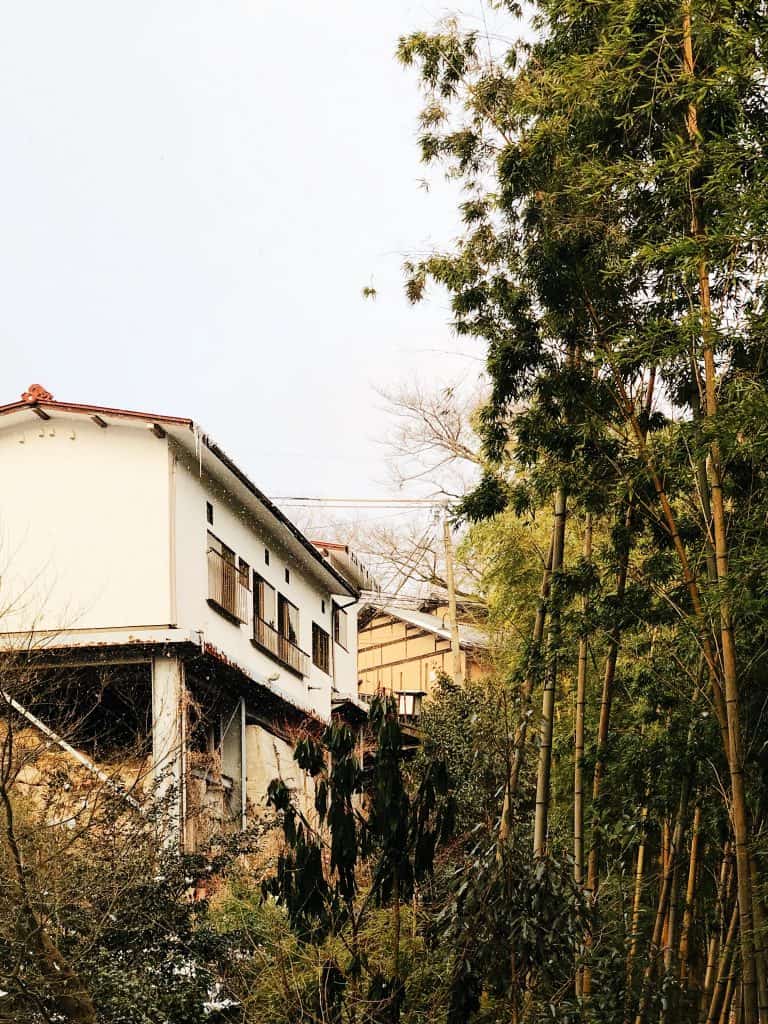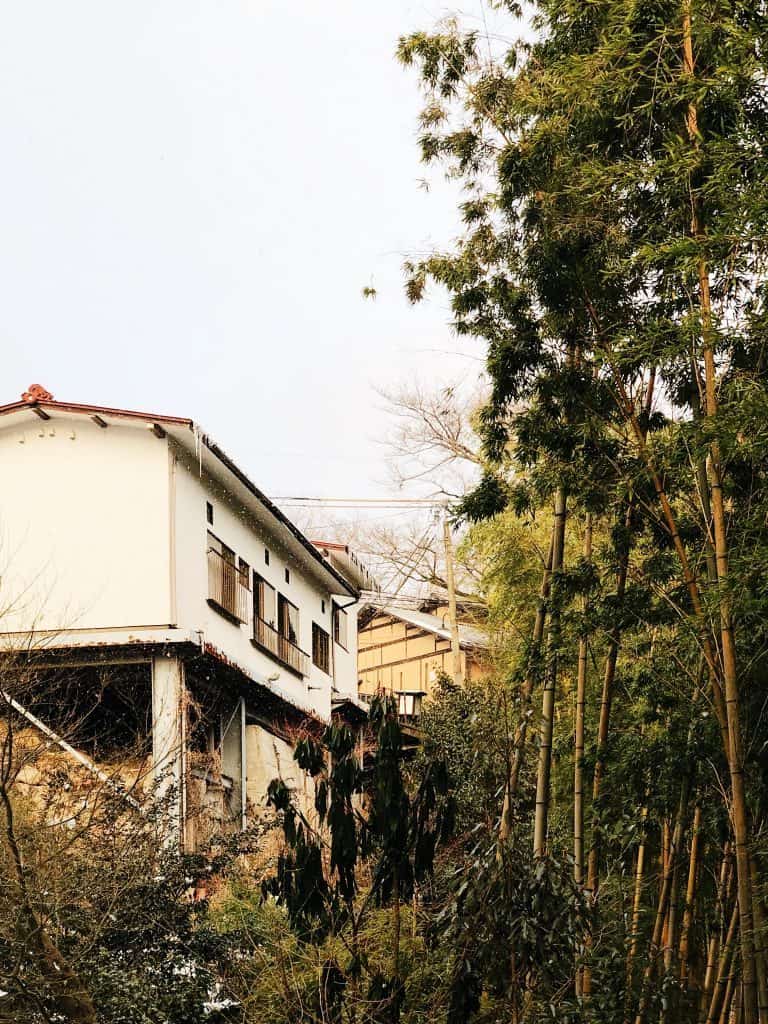 Try the Kaiseki Cuisine
Like everywhere in Kurokawa, the lobby of the main building inspires relaxation and peace. A little relaxation music plays, while I put on a pair of slippers, as it is customary to do everywhere in Japan. A few minutes later, I am guided to my table, where I find my name on a small sign. Just as charming as the Ryokan's private room, Zen worship dominates the environment once again.
It is an explosion of new and different flavors that have followed one another during the next hour. The "Kaiseki" cuisine, custom of Ryokan dinners, consists of a service of multiple small dishes, made from local seasonal ingredients. From sashimi platters to chicken, vegetable soup and Kobe beef cuts, this dinner will be a memorable occasion and a dining experience hard to beat. No need to say that the service was also up to the meal, thus honoring the reputation of Japanese service.
I leave the restaurant with this rainbow of flavor on my palate, before returning hastily to my room to relax. A last walk through the village and here I am at my home. I put on my yukata, a typical Japanese outfit often worn in the spa towns, and savor every moment of this peaceful evening, conducive to a second thermal bath.
Japanese Breakfast
As the end of my stay in Kurokawa village is about to end, one last surprise awaits me. It knocks on the door: my host brings me breakfast, making no less than three trips to the kitchen! In a few minutes, the lounge table is filled with small dishes each one cute as the next. The traditional Japanese breakfast consists of a multitude of small dishes: tofu, miso soup, seasoned root vegetables, some fruits and of course, the renowned "Natto", these fermented soy beans, eaten as an accompaniment to plain rice. A special taste experience … You can judge it 😉
It is now time to leave the village of Kurokawa, with beautiful memories in my head. This experience is undoubtedly worth adding to your "to do list" during a trip to Japan, especially in the Kumamoto region. Kurokawa Onsen is a special place to experiment with oneself.
Sponsored by Kumamoto Prefecture Tourism Federation