Sponsored by Kumamoto Prefecture Tourism Federation
If you get the chance to rent a car, do not hesitate to hop in and cruise around the glorious mountainous landscape in South Aso. Pass gorgeous Japanese style bridges, clear lakes and random shrines hidden in shrubbery as you discover the true meaning of exploration around Japan. And, believe me, there is plenty to see and do that will rejuvenate your soul and perhaps even give you a bit of luck along the way.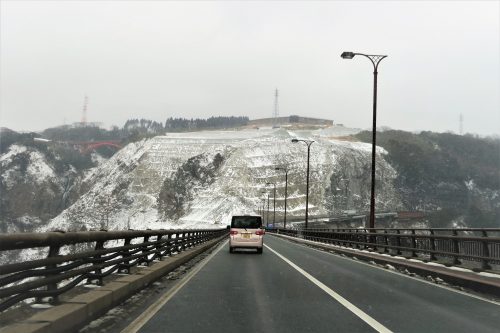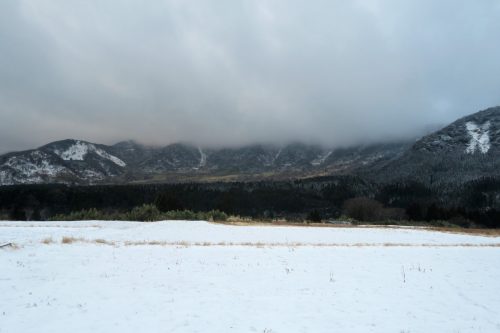 Unique Dining at Takamori Dengaku no Sato
In all my time in Japan, I have never seen and perhaps never will again see a restaurant quite like this. The atmosphere, the food and the experience all contributed to a fantastic, comfortable meal.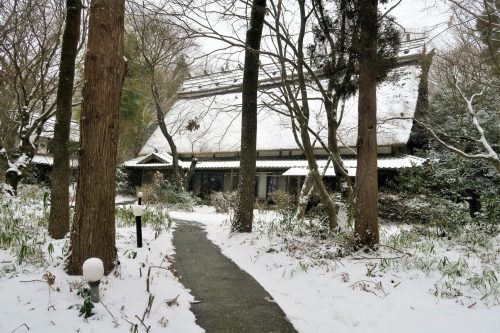 The 200 year old building itself was majestic with a small path leading through shrouding cedar trees, as if transporting you to a secret location. When we entered, we were greeted by the usual cries of 'Irasshaimase', but this time from elderly, traditionally dressed Japanese women (often called Oba-chan) and each of them were more charming than the last.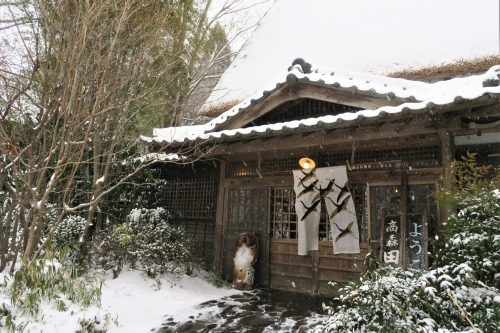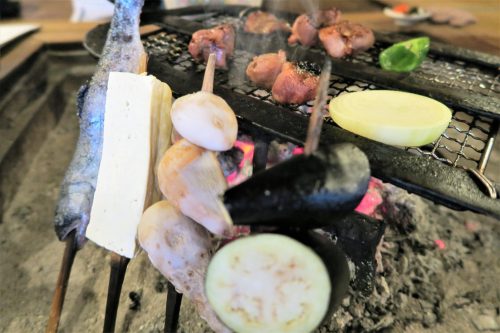 We were taken through the charms of the dark, wooden interior, scattered with old Japanese relics and interesting paintings, to a raised platform where we took off our shoes and were shown to our table.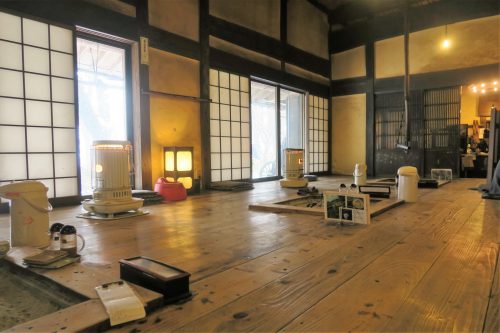 The table was more of a Japanese fireplace than a table, given that the middle was essentially a fire pit surrounded by a small ledge where we would place small bowls of food. This Japanese fireplace, called an Irori, is fairly common in countryside houses and is often used to cook food like Mochi in the winter. This particular restaurant harnesses this style of cooking and has transformed an archaic, historical building into a thriving Kominka restaurant specializing in the local cuisine in the Aso region, known as Dengaku.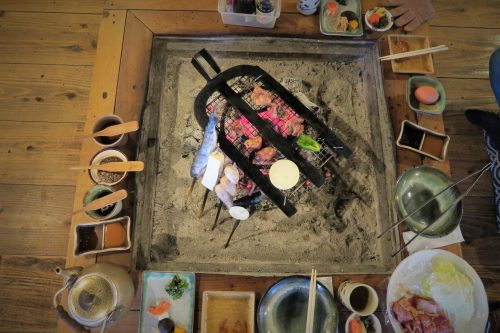 Rather than having a single Irori as in many countryside houses, this restaurant has many, each serving as a table for the diners. You can enjoy tofu, taro (a type of potato), river fish (Yamame), Konnyac and more, all roasted above or around the Irori with the kind help and guidance from you're the elderly staff. These are roasted, turned and then pasted with sansho miso, yuzu miso and special Dengaku-specific miso paste. I decided to go with a recommendation from the staff who kept an eye on my lunch, pasted it and turned it for me when necessary. If you'd like to try my meal for yourself, simply ask for the Dengaku Teishoku coasting around 1,890 yen.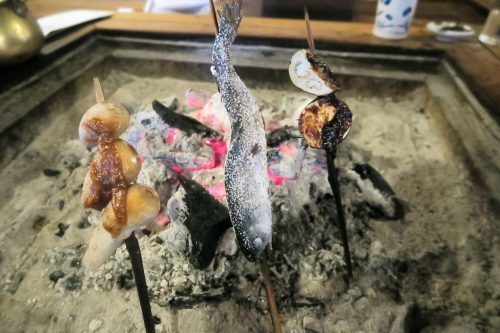 The food was an experience to remember but what was more special and unique was the atmosphere and the great personalities of each of the elderly staff there. Their attentiveness made me feel as though I were dining in an old family house, with funny and interesting relatives. Coming from Tokyo, this kind of individuality within the staff was really refreshing and enjoyable.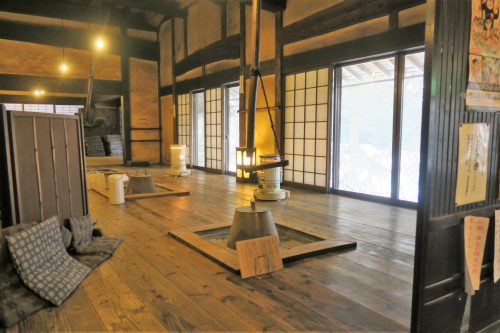 Takamori dono no sugi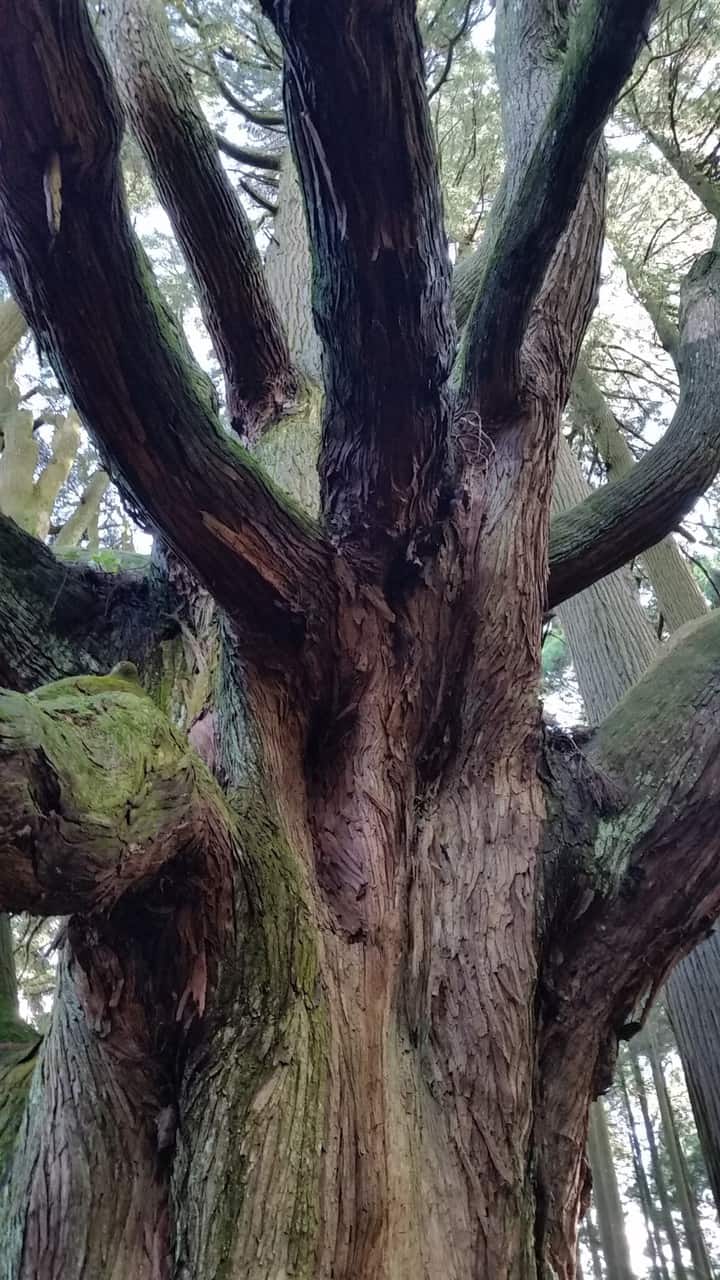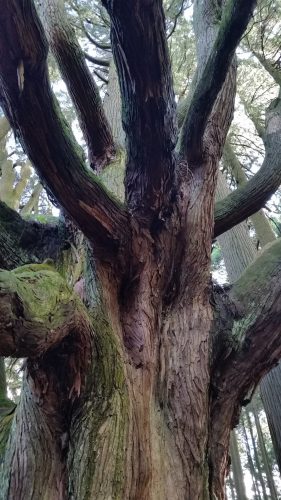 If you've been in Japan a while, you may have heard Japanese people talking about power spots. This very popular concept refers to areas in nature people would retreat to for rejuvenation.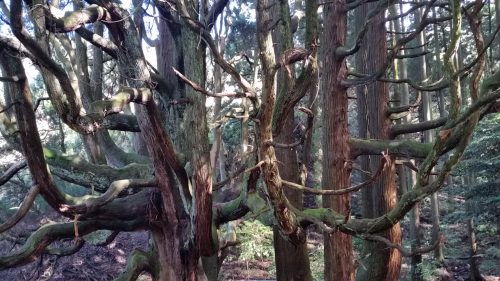 This particular power spot, located halfway up the Mainami Gairin mountain in the middle of a cedar forest, has been featured in numerous magazines and on TV programs and thus has a fantastic reputation. In fact, it is rumored that a famous actress visited fairly recently and soon after got married. Whatever your reason for visiting these two impressively large cedar trees, you're bound to be overwhelmed by their 10m circumference, over 400 year old history and unusual appearance. This is a perfect example of the wonders of nature.
Kamishikimi Kumanoimasu Shrine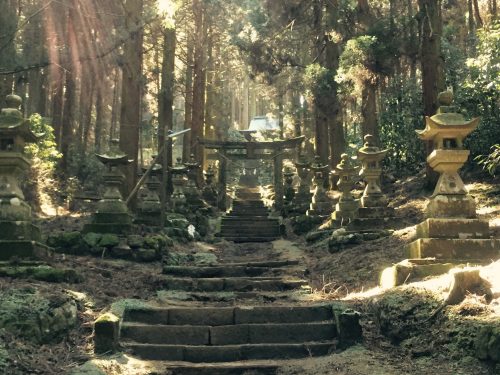 If you wish to see a historic shrine that has, over the years, become one with the nature that surrounds it, this is a perfect place to visit. Housed deep within nature, this spiritual shrine has a reputation for working miracles, particularly within agriculture and with money. So why not act like a local and pray to see if you can stumble into some wealth in the near future? In fact, the 97 lanterns on the steep 200m hill that leads up to the shrine are testimony to its success, since local successful entrepreneurs have donated them to the shrine as thanks for its blessing.
Aside from its beautifully mossy exterior and lucky reputation, the shrine also features a unique 10m crack, known as Ugetoiwa, which a devil named Onihapposhi is said to have escaped from in the tales of old. Since then the Udetoiwa has become a symbol of achieving goals without fail and is still visited regularly by the locals.
Miharashidai Station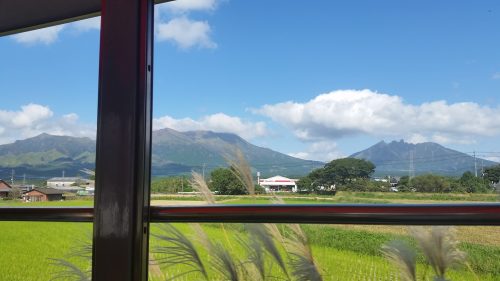 The final stop on our whirlwind tour of South Aso is the tiny railway to mount Aso, Miharashidai station. This may seem like a strange sightseeing spot, however, due to its incredible mountainous background, adorable, small, wooden hut and the way the rail tracks run off into the distance towards Mount Aso, this place has understandably become a famous photo shooting spot, as well as an adorable and unique place to sit and relax. Be sure to visit during its adorable winter illumination display, when the glow from the simple, warm, golden lights create a mystical atmosphere.