SPONSORED by KYUSHU SANKO BUS
Visit this Small Onsen Town in Kumamoto Prefecture
Kurokawa is a small hot spring town, located to the North of Mount Aso in Kumamoto prefecture. Filled with lush nature, luxurious hot springs, traditional inns, and an overall Ghibli-esque atmosphere, Kurokawa earns its reputation as one of the best hotspring destinations in Japan.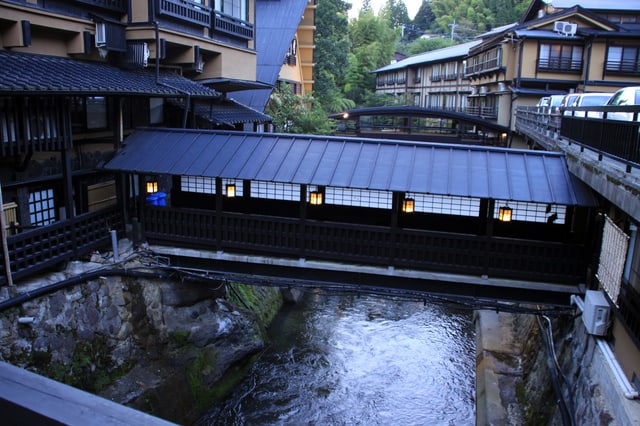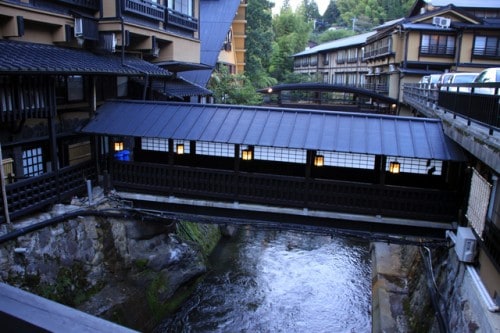 Kurokawa Onsen Bus Route: Purchasing Tickets
The tradeoff for this idyllic setting is that the location of Kurokawa Onsen is quite remote. The town is located roughly two and a half hours from Kumamoto city, however it can be easily and affordably accessed by Kyushu Odan Bus. The Kurokawa Onsen Bus route runs between Kumamoto city and Beppu, with various stops including Yufuin and Aso in between the two major cities. It should be noted that tickets to Kurokawa Onsen are not officially sold at the machines, or counters of these stops. Rather, travellers are recommended to reserve a seat in advance. Although booking is recommended, there are often seats to spare. In which case, passengers can take a ticket stub from the machine located immediately to the right upon boarding the bus.
※The reservation page in English is under maintenance mode until the end of October.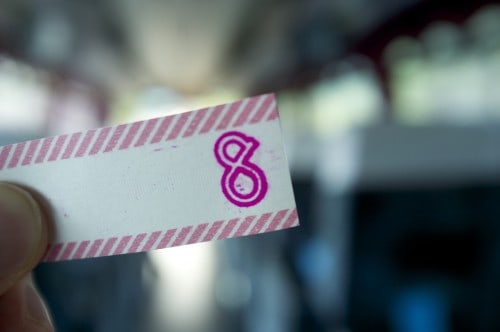 The stub will have an assigned number according to where you've boarded, to which a screen at the front of the bus will display a corresponding price (Kumamoto Kotsu Centre-Kurokawa is 2050 yen each way/4100 round-trip). Cash is the only accepted method of on-bus payment, however customers need not worry about exact fare, as there is a machine adjacent to the driver that can make change.
– Good news! If you purchase the ticket at Kumamoto Kotsu Centre, credit card is available now!
Where to Board Your Bus
Kyushu Odan Bus can be boarded from Kumamoto city at either Kumamoto Station, or the Kumamoto Kotsu Centre. The Kotsu Centre is a sprawling bus terminal, located outdoors in Kumamoto city's downtown core, across the street from Shinshigai Shopping arcade. The terminal is located immediately on the tramline, encompassing the blocks between Hanabatacho and Karashimacho tram stops.
Although overwhelming at first glance, the layout is essentially a square, featuring very clearly-marked platforms. As of August 2016, the bus to Kurokawa boards at Platform 26. This is the same platform that services Fukuoka Airport as well as other local routes, so is worth verifying the destination ("Kurokawa Onsen" ) with the driver prior to boarding.
Due to its obscure location, there are only two buses bound to Kurokawa from Kumamoto each day. The buses depart at 8:16 and 12:27 precisely, so be careful to arrive on time. The last bus returning to Kumamoto from Kurokawa departs at 4:25, so travellers who are not staying the night in Kurokawa proper are advised to take the 8:16 bus for arrival at 10:44, so that they are able to make the most of their visit.
The Journey to Kurokawa
The initial leg of the journey to Kurokawa is approximately and hour and a half, at which point there is 10-minute rest stop at Aso Station. The journey is a scenic one, filled with increasingly beautiful scenery of Aso's winding mountain range. From Aso, it is about an hour until Kurokawa Onsen, although due to ongoing construction resultant from the Kumamoto Earthquake, this is liable to take an additional half hour.
Upon reaching Kurokawa Onsen, travellers will find a staircase a few hundred metres to the left of the bus stop, that leads to the village centre. As mentioned previously, travellers who are not staying overnight in the hot spring town will need to be mindful of the bus schedule, as only two buses running in each direction per day. The last bus from Kurokawa Onsen is 4:25 to Aso/Kumamoto, and 4:55 to Yufuin/Beppu. The detailed timetable, featuring other stops and their arrival times can be found here for buses Beppu-bound from Kumamoto, whereas travellers for will wish to look here for buses beginning in Beppu bound for Kumamoto.
Kurokawa Onsen is a day in and of itself, but it is well worth the travel, as I will describe in future articles. Thankfully Kyushu Odan Bus provides easy access to this otherwise hard-to-reach location. Without the journey it would not be such an experience, as it's Kurokawa's remote tranquility is what makes it all the more enchanting.