Sponsored by Tourism Oita
In the district of Ajimu in Usa, Oita, there are many things to see and do. We chose two of the many famous and noteworthy spots of the area: Ajimu Winery and Torii Bridge.
Deep within the Ajimu district of Usa, Oita, lies a winery called Ajimu Budoshu Koubou, also known as Ajimu Winery. Ajimu is well known for its grape production and farming various types of grapes used to make wine. This winery, in particular, is home to 22 different types of wine which is available for sale and for tasting. Chardonnay, Sauvignon, Merlot, and more included.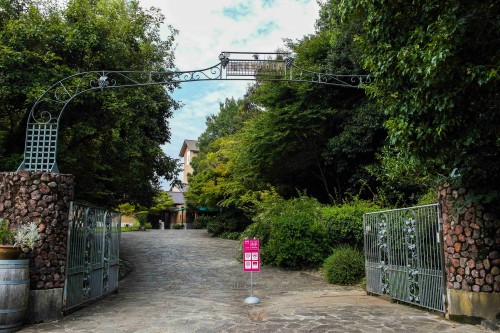 After arriving at Ajimu Winery, right out of the car, I immediately smelt the sweet fragrance of the surrounding vineyards.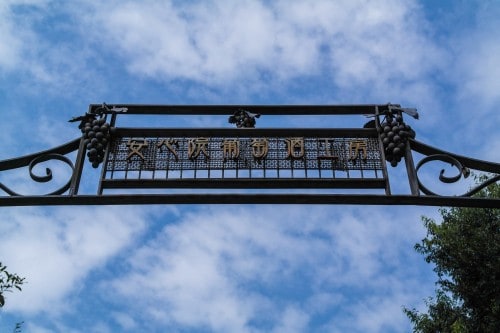 "Ajimu Budoushu Koubou"
Walking toward the entrance, I admired the beautiful gate which was opened for visitors to come in. Heading straight for the wine tasting room, I was ready to embark on my wine tasting journey.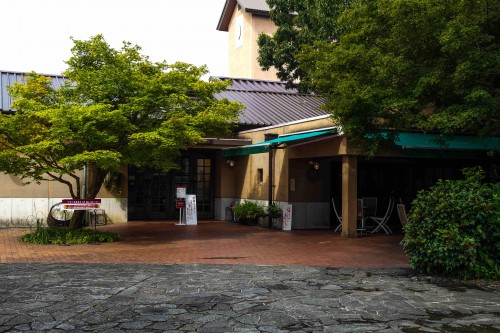 My first impressions stepping into the building was "classy". The decor and atmosphere were quite fitting for wine tasting. Ajimu Budoushu Koubou in Oita offers its guests a comfortable space with jazz music playing, dim lighting, and a lounge for relaxing.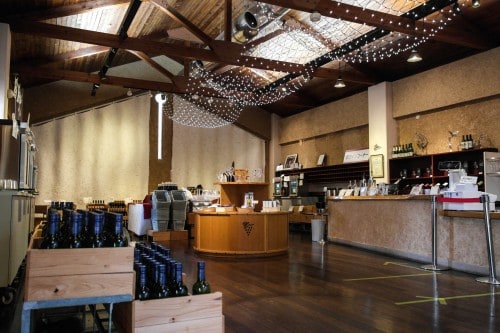 Once I stepped into the building, I was warmly welcomed by a staff who worked there. She explained to me that I could drink and taste wine freely. Freely, as in leisurely and for absolutely free. There was no need for words. An adventure was awaiting.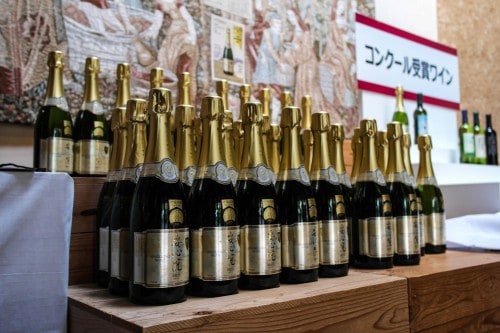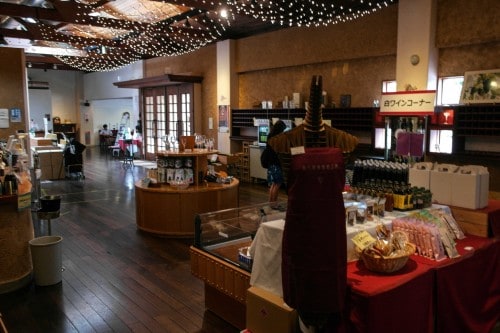 How to Start Your Wine Tasting Journey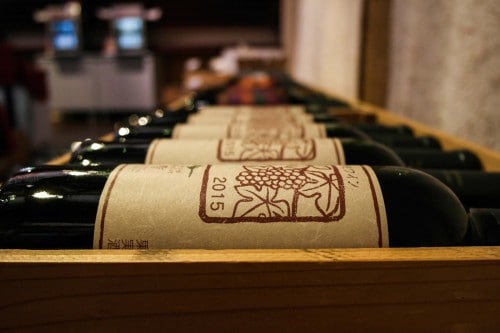 Step 1: Get a "Tasting Note" tasting Course booklet and choose a course. Guests are not restricted of which order to taste. However, they provide effective guides on how to taste their wines. Here are courses listed from top to bottom which are followed by numbers of wine.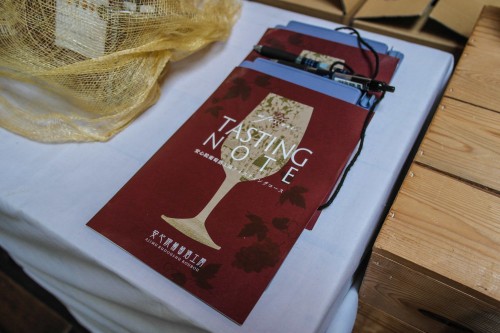 Everything: 1, 8, 2, 7, 9, 5, 10, 11, 3, 4, 6, 13, 14, 15, 17, 18, 19, 16, 12, 20, 21, 22
Fruity and Sweet: 5, 6, 12, 20
Winery Favorites: 1, 2, 7, 6, 13, 14, 16, 12
Sommelier Recommendations: 1, 7, 3, 4
Different Types (studying differences of wine): 8, 2, 5, 11, 17, 18, 19
Limited/Seasonal Items: 8, 9, 10, 11, 17, 18, 19
Winning Wines: 8, 2, 5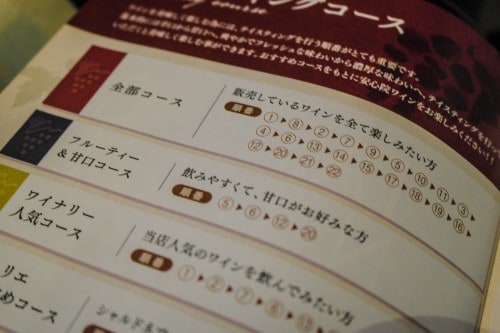 Step 2: Receive a tasting cup from staff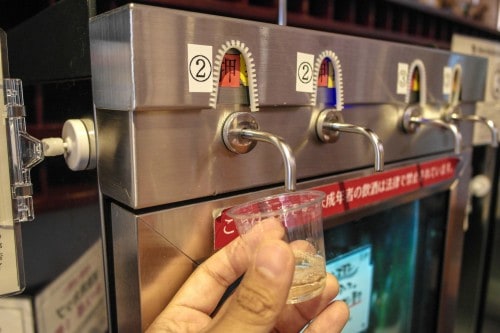 You will be handed a small cup for tasting which you can taste by dispensing wine through refrigerated machines, or poured by staff. However, be careful of how much wine you put in. Although this is a small cup, it can pack a punch as you are tasting your 10th type of wine.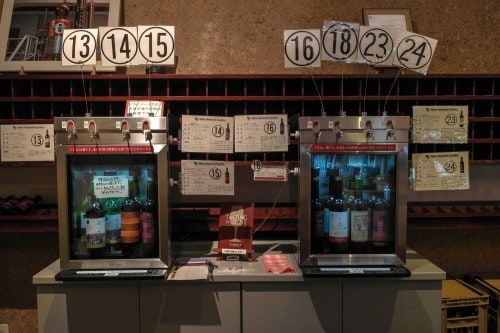 Step 3: Time to become Sommeliers!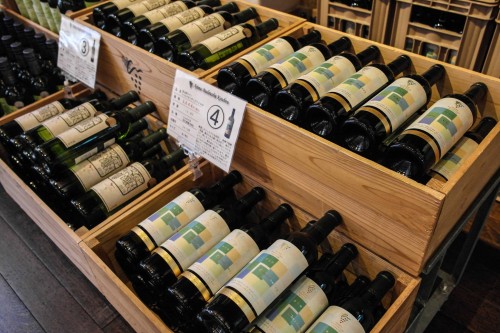 Although not a wine expert, I was able to taste and recognize how different each wine was. With this, I believe that anyone can enjoy this experience, especially people who love wine. However, there are non-alcoholic options such as high-quality grape juice. These can also be bought as souvenirs. In the booklet provided, you can take notes of which wines you like to purchase. I also noticed a few couples tasting wine as well making this a nice date spot. Within the Ajimu Winery complex, there is also a wine cellar, on-site winemaking rooms, a vineyard, and a cafe.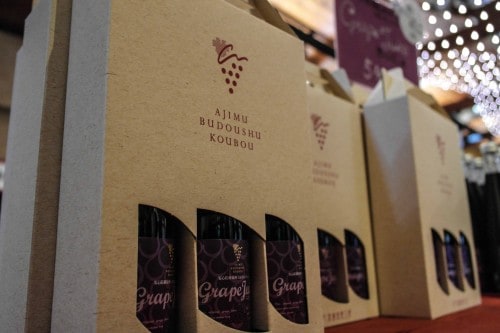 After finishing my course and with a big smile, I headed out toward the vineyard. The area is green and lush, filled with different kinds of trees making perfect for a stroll.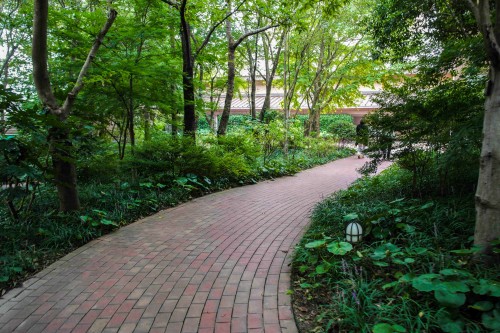 Proceeding through the pathway, I found myself looking at the orchard of grapes which made the wine I just drank. I looked up.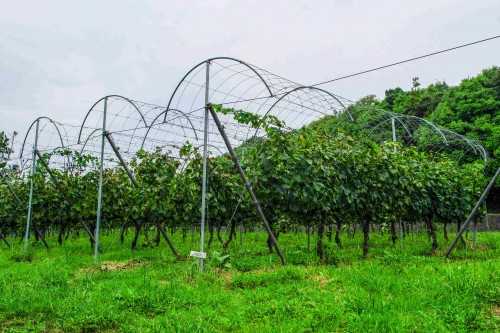 The sky was blue and a breeze carrying the scent of grapes filled me with a satisfaction I have never experienced before.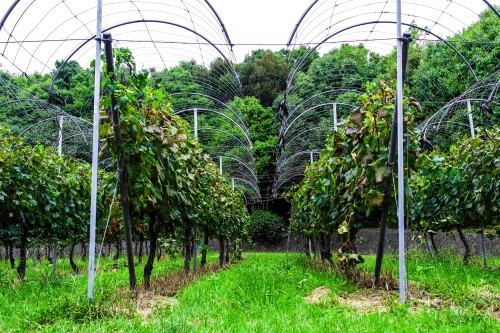 Walking through in the countryside of Oita Japan and being able to taste wine is the ultimate way to release stress. With good company, this would be the perfect getaway, I thought to myself. 
Business Hours
9:00 to 16:00 (Closed on Tuesday)
Website: ajimu-winery.co.jp
Cost
Free to enter and taste wine
Access
Address: 798 Ajimumachi Shimoge, Usa-shi, Ōita-ken 872-0521
30 Minutes by Bus or Taxi from Usa Station (19.9 km)
Torii Bashi Bridge
After the Winery, I made my way to a nearby bridge which was a few minutes by taxi. Arriving at the bridge, I could soon see why this was a highly regarded bridge of Usa, Oita.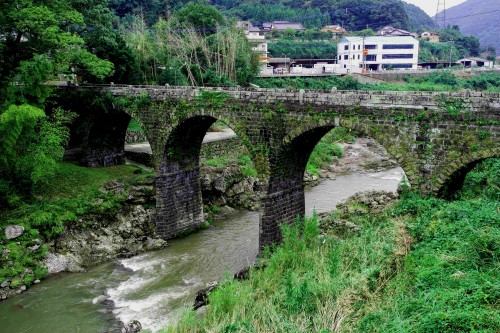 While viewing it from afar, I admired its design and structure. I went a little closer and eventually ended up in the middle of it. I could not help but feel the area come alive as I heard the rapids of the river below and the different sounds of nature all around.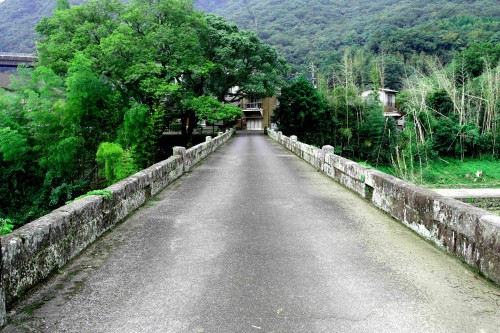 After crossing the bridge, I found a staircase to the left leading down to the lower parts to get a better view. I was able to reach under the bridge. I then ran into an informational board of the Torii Bashi in English, Japanese, and Chinese as well as Korean. I suggest when coming here to read what this bridge is all about.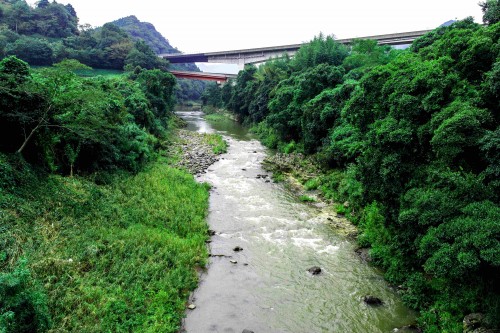 The board stated that it was designed by Tsuru Seiichirou in collaboration with a mason Matsuda Shinnosuke. The bridge was completed in 1916. The Toriibaru bridge stands 14.5 meters high, stretches 55.15 meters long, and is about 4.35 meters wide. The bridge's name comes from the name Toriibaru which is the name of the district where it was raised. In the past, however, it was popularly known as "The Noble Lady of the Stone Arch Bridge" and was made with 5 arches. The Noble Lady of the Arc bridge has withstood through multiple floods and a great Typhoon Ruth which hit the area in October 1951. It was reported that this typhoon had swept 242 homes which highlights the sturdiness of its design.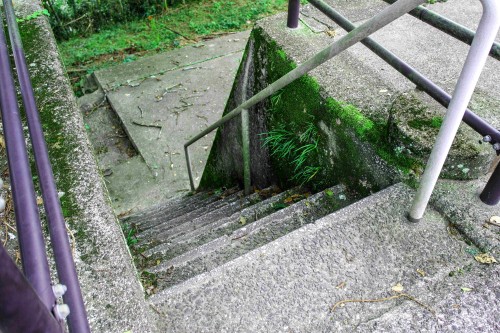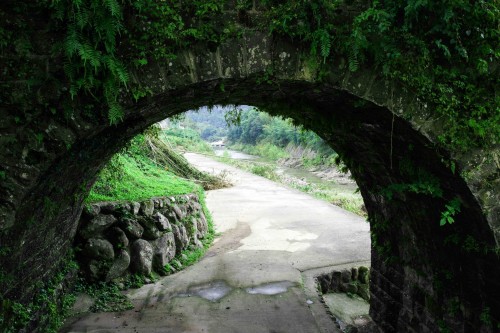 After reading this, I was deep in thought. To me, the Torii Bashi itself represents resilience and strength through rough weather which is synonymous with the hard times we face in life. It reminds us to do the same: Be strong when things get tough. Whether due to slight intoxication from the wine I drank previously, or a random thought that came up, I stood looking at the Torii Bridge in awe. "Amazing", I said to myself.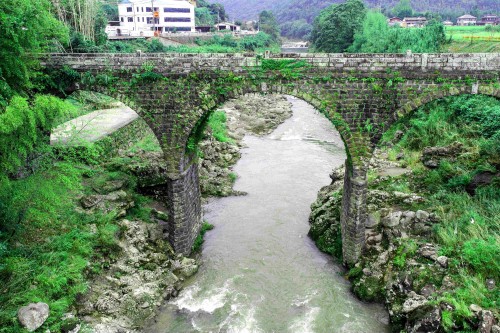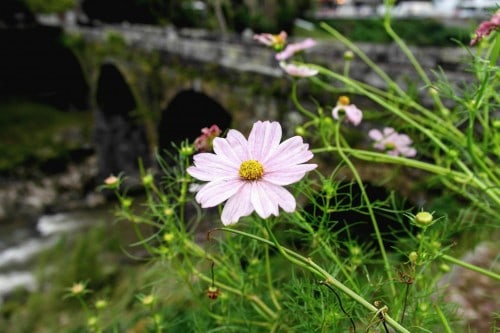 Although tucked deep within the countryside of Usa, Oita, these two places, Ajimu Winery and Torii bridge are "must-sees" when you visit here.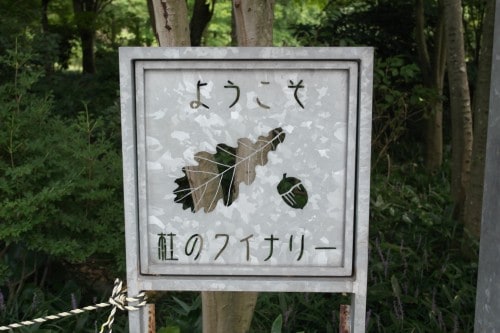 The Ajimu winery is a good place for people ranging from wine tasting beginners to sommeliers. This is an awesome place for wine enthusiasts and people who want to get a taste of Japanese wine. On the other hand, the Torii Bridge nearby also provides a place to relax and wind down after tasting nice wine.  As a pair, they provide a nice escape from a busy lifestyle into nature.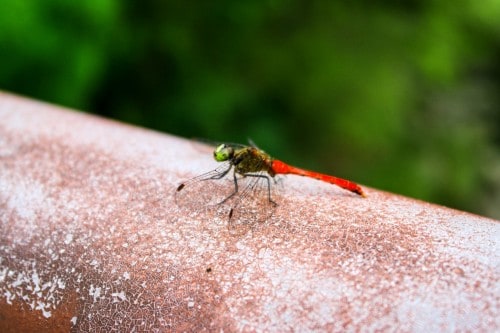 Access
Address: 872-0311 Ōita-ken, Usa-shi, Innaimachi Shindō
10 minutes by car from Ajimu Winery (6.5 km)
21 minutes by car from Usa Station (13.6 km)