Sponsored by Tourism Oita
Japan is famed for its wagyu, luxurious Japanese beef characterized by superior taste and impressive marbling. While Kobe beef and other wagyu brands have world-wide renown, they don't stand alone in the elite culinary world of wagyu. Bungo beef, originating from Oita Prefecture, has made a name for itself among these heavyweights.
Oita, a largely rural prefecture on the northeast tip of Kyushu, has swaths of fertile open grazing lands on which local cattle ranchers raise high-end kuroge wagyu (Japanese black beef) cows. One of the region's most well-known gourmet products, these cattle are the basis for Bungo beef, marked by a rich taste and high unsaturated fat content. Each bite melts in your mouth, the signature sign of a premium wagyu.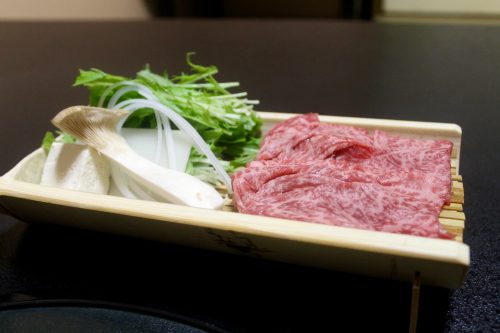 There are many ways to eat Bungo beef while visiting Oita. A myriad of establishments serve this variety, some in steak form, others shabu shabu (Japanese hotpot) style or even at yakiniku (Japanese barbecue). One great place to try Bungo is in Beppu. A popular Oita destination, this seaside hot spring town is considered one of the most famous onsen resorts in Japan. Alongside its many traditional inns and public baths, it has no shortage of restaurants serving Bungo beef.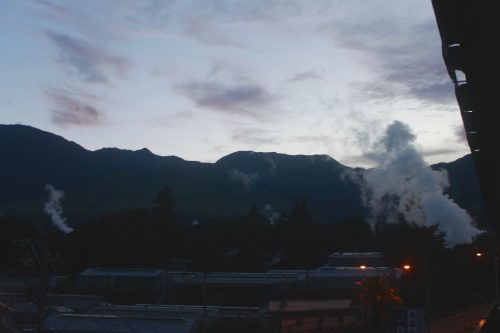 Experience A4 Bungo Beef in Beppu Onsen
Motoyu no Yado Kurodaya is the ideal choice for those seeking a high-end Bungo dining experience. First and foremost a ryokan (traditional Japan inn) with its own onsen facilities, Kurodaya is located walking distance from several of the popular "Hells of Beppu" tourist attractions. However, the inn doubles as a high-end dining experience, with a traditional Japanese dinner service on site that showcases the best of Bungo.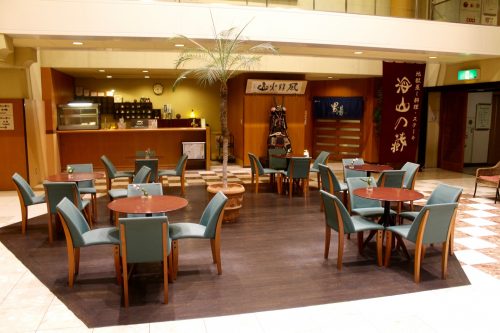 The full course meal includes dishes like kamameshi (rice cooked in an iron pot) and seasonal regional vegetables. One highlight is an elegant sashimi platter of locally-caught fish. But the star of the meal is certainly the beef, first served as steak.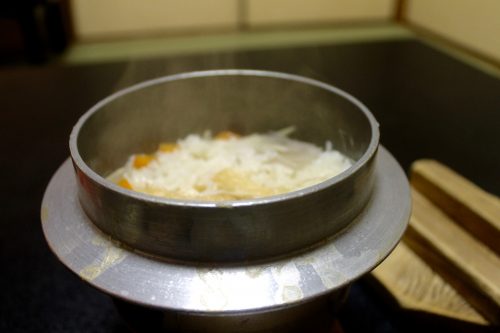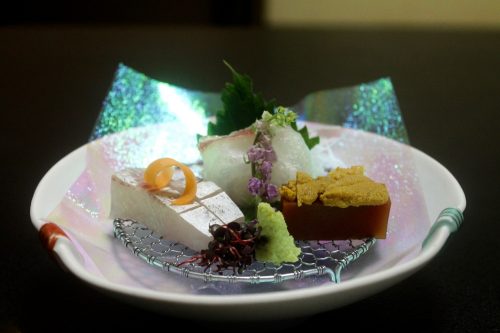 The sirloin cut comes from cattle in Oita's Yufuin District. Its peppery seared exterior is matched by its juiciness and soft texture. Sliced into segments, the steak is best enjoyed, first, on its own and then paired with a sweet soy dipping sauce. Each bite is rich and will be quick to fill up even the most ambitious diners, but do you best to save room for the next course.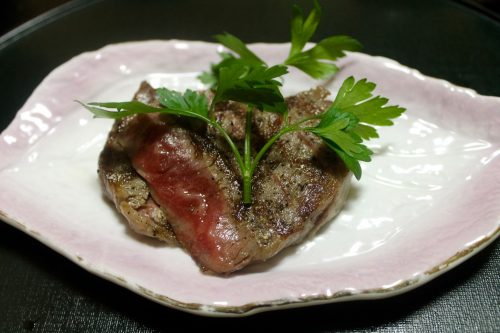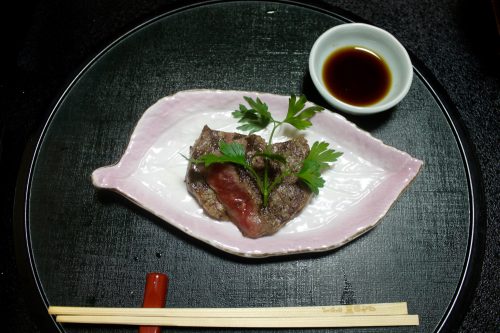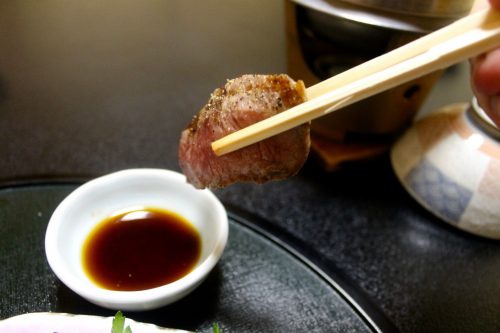 The steak is followed by a shabu shabu serving of A4 Bungo beef. The beef is served raw, displaying its beautiful marbling proudly alongside an assortment of vegetables.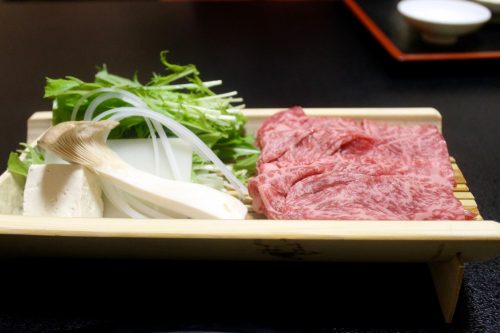 Once the pot of water has come to a boil, add the vegetables—they'll help to flavor the broth and may take longer to cook. Then enjoy the wagyu by dipping the thinly-sliced cuts of meat into the water.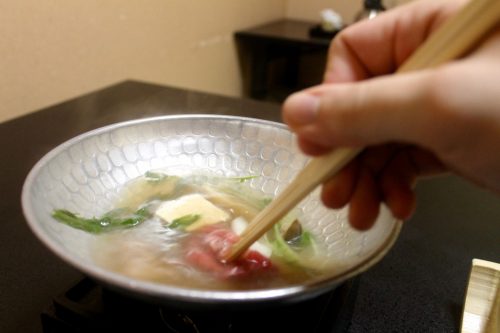 It will only take several seconds in the water to cook the beef before enjoying it with the accompanying sweet sauce and green onions. Like the Yufuin steak before it, the quality of the shabu shabu serving comes through with every bite. The fine dining dinner service at Kurodaya will run between ¥15,000 and ¥20,000.
Enjoy Bungo beef on a budget at Korean barbecue
While A4 wagyu is certainly worth the expense (especially true foodies) not all Bungo beef has to break the bank. There are other budget options in Beppu, that can offer visitors an introduction to Bungo without diving straight into a luxurious meal like the one offered at Kurodaya.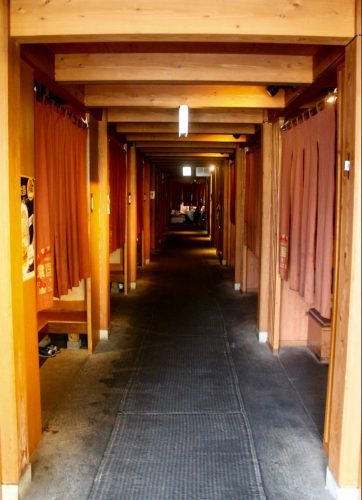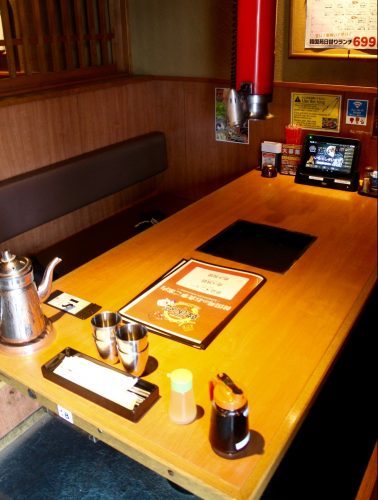 Located close to the sea and down the street from Beppu Tower, the Korean barbecue joint Yakiniku Kankoku-en has an affordable lunch set. When you order the Tokusen jyo Yakikiniku (¥2,480) meal you'll get a selection of beef cuts, including lower-grade Bungo beef, as well as vegetables like onion, kabocha (Japanese squash) and cabbage. The set also comes with white rice, miso soup, and kimchi.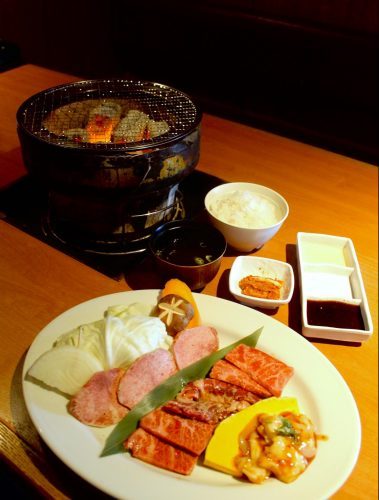 All food is cooked self-service, yakiniku-style, on the charcoal grill located in the center of the table. It won't take long to devour your plate of food, dipping the meats in one of three different dipping sauces.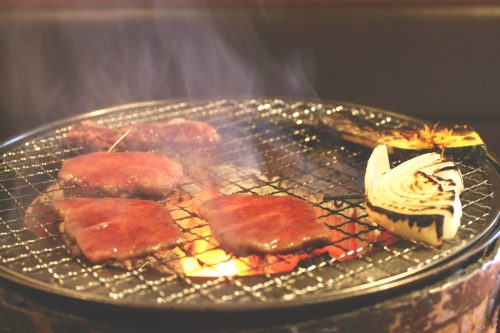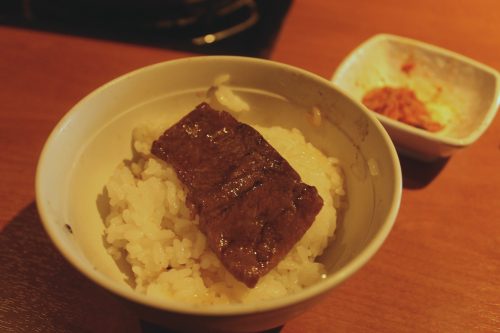 The restaurant has plenty of large booths available and is an ideal spot for families and large parties, but even a solo traveler can enjoy its great lunch deal. The Bungo at Yakiniku Kankoku-en is not premium quality, but it'll be difficult to beat its prices when it comes to such rare cuts of meat.
Whether you make it to Beppu or are exploring one of Oita's many other natural beauties or cultural attractions, look for restaurants serving Bungo beef. It is one of the region's best culinary offerings.
| | |
| --- | --- |
| Name | Yakiniku Kankoku-en |
| Category | Restaurant |
| Address | 3-13-3 Kitahama, Beppu, Oita Prefecture, Japan |
| Access | [map]3-13-3 Kitahama, Beppu, Oita Prefecture, Japan[/map] |
| Opening Hours | 11:00 a.m. ~3:00 a.m. |
| Price Range | ¥2,000 - ¥2,999 |
| Payment options | Both |