Sponsored by Saga Prefectural Tourism Federation
Karatsu is a city located in Saga prefecture, facing the Genkai sea. This city is known for it's castle, pottery, pine forests, Mount Kagamiyama, and its famous Nanatsugama caves, sculpted by the waves. After my day on Kabeshima island, visiting some places related to Jacques Mayol, I was happy to rest in my room at the ryokan.
Karatsu Onsen Ryokan Wataya, A House Over 130 Years Old
This ryokan is located in the center of Karatsu, and was built in the Meiji era by Masahei Tashiro as a family house. The historical building was originally built with large Japanese garden. In 1876 the building was transformed into a luxury restaurant. Later, the building became a traditional hotel. The hotel has 13 rooms, and three open air baths. In this article, I would like to share my time staying at this ryokan with you!
A Hotel in the Heart of Karatsu
The advantage of this ryokan is that once you arrive, you can go everywhere by foot. It is only a 10 minute walk from Karatsu castle. Ideal for discovering the city.
The Room
The room was very large and had a nice view of another garden located on the grounds. It had all the spice of traditional Japanese spirit: tatami floors, sliding doors, small coffee tables, small alcoves (tokonama), tea service, as well as a yukata available. I enjoyed the view of the garden outside, I found it to be very peaceful. After dinner in the room, the staff prepared the futons in the room, the space totally changed! The room also had its own bathroom, a small entrance, and a separate toilet. All the comforts necessary for a good nights rest!
The Bath
The ryokan has three outdoor baths. The night I was visiting, this one was open to women. The schedule changes every day. The other two offer a beautiful view of the castle. There is always a small room to take off your cloths and put your belongings in the wicker baskets. Then, sit on the stool, wash your body with soap, rinse well with the shower water and then soak in the hot bath to relax.
The Dinner
Dinner is often served early in this type of accommodation, from 6.00pm to 7pm. Sometimes you will have dinner in your room. The ryokan offers traditional cuisine (Kaiseki ryori) with local and seasonal products such as Yobuko's famous squid or the famous Saga wagyu beef. We ordered beef cooked under a small stove. A true delight. In addition to beef, there are plenty of other delicious dishes: appetizers, miso soup, pickles, rice, sashimi, fish; something for everyone to enjoy.
The Breakfast
The breakfast at this ryokan is served and prepared in Japanese traditional style. It was ideal for preparing my mind and body for the day that was awaiting for me. It consisted of local rice, miso soup with local ingredients, delicious homemade tofu, fish from the Genkai Sea, pickles, local nori, an onsen egg which was cooked low temperature, it was so good! They also offered us Japanese tea produced in the region. All dishes at the ryokan are served in traditional Karatsu dishes.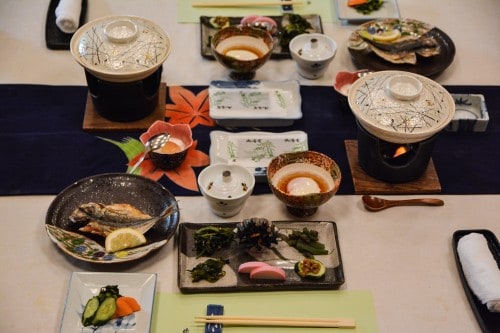 General information about Wataya
Please check out this official site for more detailed information.
5 minutes by walking or 5 minutes by taxi from Karatsu station.
For the price for 2 person, it cost 31320 yens includes dinner and breakfast.
Yoyokaku, Another Very Delicated Luxury Ryokan in Karatsu
I was lucky enough to be able to visit another ryokan during my visit, but I did not sleep there. It really had an atmosphere retained the beauty and aesthetics of old Japan. As soon as I told the owner of the ryokan that I was an architect, he showed me all of the delicate and well thought out details of the place. The ryokan has a beautiful garden and a shop where you can buy pottery (Karatsuyaki) from the famous Takashi Nakazato and his children Taki and Hanako.
General Information about Yoyokaku
Please check out this official site for more detailed.
15 minutes by walking or 7 minutes by taxi from Karatsu station.
For the price, it cost 11,880 – 43,200 yen per person.
—–
If you have a chance to visit Karatsu, these are two options for your luxury stay!

24/7 Assistance available in English, French, German, Italian, Spanish, Portuguese,Russian,Thai, Korean, Chinese (Mandarin & Cantonese), Vietnamese and Indonesian!!
Original article by : Estelle
Translated by: Aika Ikeda