Sponsored by Sekikawa Village
Traditional Luxury Deep in the Countryside of Niigata Prefecture
After finishing off a day of cycling through the small picturesque farming community of Sekikawa, I drove out of town to a small parking lot along the Arakawa River and crossed a dimly lit bridge to reach what is known as Takanosu Onsen.
Looking around me as I crossed the bridge, all I could see were mountains covered in thick forests and some lights from a small cluster of buildings across the river. I would never expect to find an onsen resort in such a remote location and as I walked across the bridge I repeatedly checked my GPS to confirm that I was in the right place.

The village of Sekikawa has a population of just above 5,000 people and I was surprised to even hear that I could find lodging this deep in the countryside. However, upon crossing the bridge I was met with a large sign that confirmed I was indeed at Takanosu Onsen.
Traditional Luxury Deep in the Mountains
While exploring Sekikawa that day, I told people that I was staying here and many remarked with a surprised "urayamashii!" (I am jealous!). They told me the resorts here were seriously nice and they certainly were not exaggerating.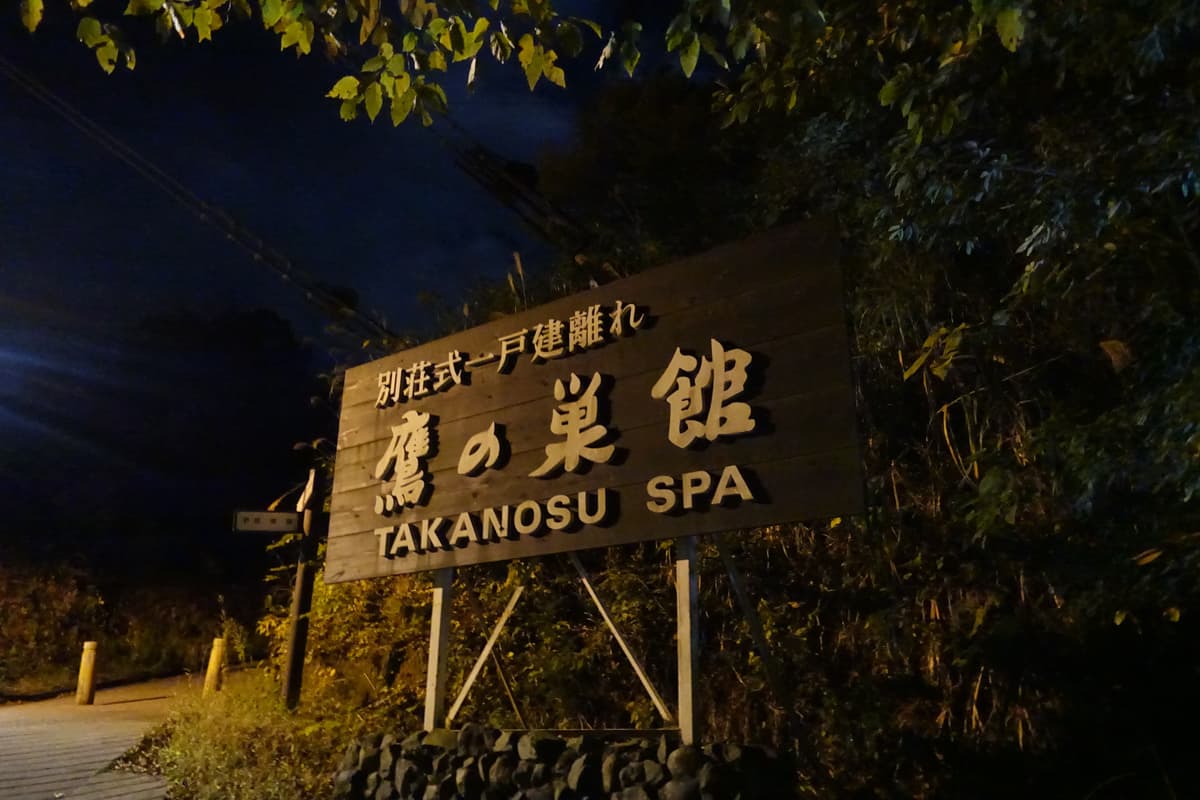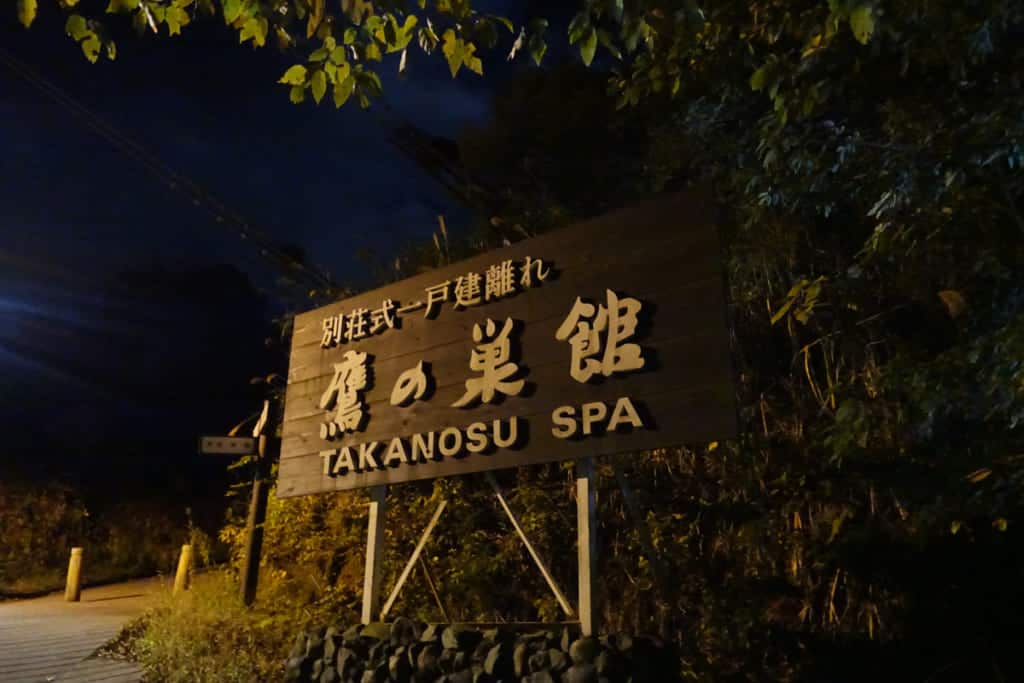 Kikuya and Takanosukan are the two ryokan here and unlike the other luxury ryokan that I have been to before, the rooms of Takanosu Onsen are not located in a large building, but a series of rooms spread along the river.

I had made prior reservations at Kikuya, and after checking in at the front desk, was guided to my room by a kind woman in a yukata.

More so than a simple room, I was surprised to see that my lodging for that night was like checking into my own small house!
The rooms at Kikuya had a separate living room and dining room that opened up to form one very large and cozy tatami mat room. I found that these rooms offered both western and traditional Japanese style amenities while still retaining a high degree of a traditional feel. The table in the living room had a Japanese style seat right on the tatami floor, while the seat in the dining room was a normal chair with a raised table.

The beds were also traditional futon on tatami mats; however, they were on a raised platform that made them accessible like a normal bed.

The one traditional side of Japan that I don't care for was not a problem here. The toilet in Kikuya was also western style, not a Japanese style squat type.
The rooms of Kikuya offered the best of both worlds and as a guide who regularly guides families, I can say that they would be perfect for older travelers who might otherwise struggle with some of the more traditional sides of Japanese lodging.
The Hot Spring Baths
After a long day cycling and walking in the Japanese countryside, the absolute best way to unwind is through a soak in hot spring baths and my room had not just one but two private baths!

This included an indoor bath and outdoor bath that both had an open view of the river and forests outside. The baths were continuously fed by natural hot spring water and felt absolutely wonderful with the cold, crisp air of Autumn outside.

While in the outdoor bath I could hear nothing but the sound of the river and the silence of the mountains surrounding Takanosu Onsen. The water and environment of the baths of Kikuya were absolutely sublime and left me feeling refreshed and with a clear mind.
The Kaiseki Dinner of Kikuya
As lovely as having my own private onsen baths were, there is no question that my favorite part of my stay was the kaiseki dinner of Kikuya.
At 6:30 pm, my doorbell rang and staff of Kikuya arrived to set up my dining table for a fabulous multiple course dinner that was served right in my room.
Starting off my dinner was the zensai (appetizers) which included several types of locally harvested mushrooms and other types of mountain vegetables that were brazed with various dashi and miso-based sauces.

It also included river fish and dried salmon which blended together wonderfully with the rich flavors of the vegetables and mushrooms.

Overall the presentation and dazzling variation of flavors, textures, and aroma of the zensai were absolutely wonderful and set the standard for the spectacular feast to come.
Up next was a dish of fresh sashimi with fish caught fresh from the Sea of Japan and local rice from Sekikawa Village. Niigata Prefecture is one of the premier rice-producing regions of Japan and its pure water and centuries of cultivation knowledge were reflected in the smooth texture and rich flavors of the rice.

This was followed by a series of other dishes including chawanmushi, miso soup with shrimp, satoimo soup, and traditional salmon dishes from the neighboring city of Murakami.

The desert focused on crisp Japanese persimmons and pears that were in season.
This dinner was of course incredibly delicious, but what was truly unique about the meal at Kikuya was how shockingly fresh all of the ingredients tasted.

I asked one of the staff who was serving my dinner was amazed to hear that all of the ingredients served in my dinner course were sourced within a 30 minute drive around Takanosu Onsen! The freshness of these locally sourced ingredients really shined in both its presentation and taste.

My dinner at Kikuya made for one of the finest meals I have ever had in over 4 years traveling across Japan.

Being able to eat a luxurious dinner with ingredients like this is something you truly cannot get unless you make the journey out to the deep countryside like this.
The next morning I woke up early and took another soak in the outdoor bath while taking in the view of the Arakawa River with beautiful Fall colors on the mountains.

The river looked like a mirror that reflected these colors and if I had more time I would have loved to relax here on the veranda for the entire morning.
After packing my bags in preparation for my trip to Murakami, I got another knock at my door and was sent off with yet another dazzling meal for breakfast.

This meal looked like a work of art and each of the nine primary dishes captured the unique flavors of the culinary arts of Northern Niigata.
Being able to eat my meal while looking out at the river and mountains with local ingredients and delicious cooking was a wonderful way to end my stay at Kikuya.

For anyone looking for an escape from the crowds or hustle of the big cities of Japan, Takanosu Onsen stands as one of my top recommendations.

Its location, rooms, baths, and incredible food made for one seriously relaxing night and left me with a fresh start to my journeys in Murakami City ahead.
Here is the address of Kikuya in the map below. You can make reservations directly on their website here.
From Echigo-Shimoseki station, they are doing pick-up service. Please tell them when you make a reservation if you want to use it.
Access and Practical Information
It takes about 4 hours from Tokyo to the closest station, "Echigo-Shimoseki station" by train. First, take the Joetsu Shinkansen from Tokyo to Niigata. From Niigata, take JR Uetsu Line to Sakamachi station then transfer to Yonesaka Line to Echigo-Shimoseki station.
Another route is to take the Yamagata shinkansen to Yonezawa station, then transfer to JR Yonezawa line to Echigo-Shimoseki station. It also takes about 4 hours. In any of these sections, you can use the JR Pass.
You can also find information about the region on the Sekikawa Village Tourism Association. (Only in Japanese)