Sponsored by Takachiho Tourist Association
I usually eat little meat, but when I heard about Takachiho beef, one of the most famous brands of "wagyu" beef, I decided to make an exception.
Takachiho beef is produced from black-coloured cows and is a specialty of the region. Its quality was recognized by the Japanese Prime Minister at the 9th National Wagyu Beef Capability Association, better known as the "Wagyu Olympics", held in 2007.
And for good reason: in the mountain village of Takachiho, northwest of Miyazaki on Japan's southern island of Kyushu, cows are raised in a pastoral landscape with the greatest care. They spend the summer season in vast pastures, breathe pure air and eat fresh grass, then return to their farm for the winter. Such ideal living conditions without any stress for the animals produces beef of the highest quality, known for its marbling and tenderness.
In more objective terms, Takachiho beef is rated a 4+ on the strict Japanese wagyu beef scoring system. This system defines five quality classes based on marbling, meat colour and texture, and fat colour: 1 = poor, 2 = insufficient, 3 = medium, 4 = good, 5 = excellent. In comparison, Kobe beef is rated 5.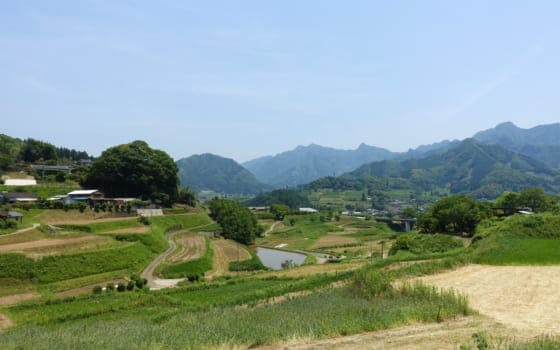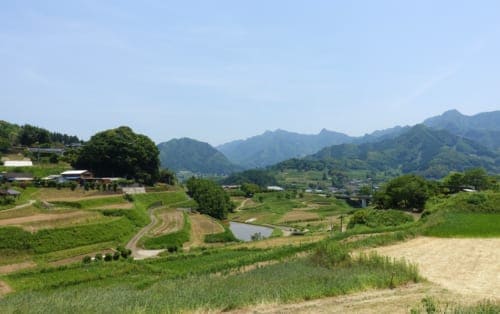 Enjoy Takachiho beef in a specialized restaurant with a modern and rustic atmosphere
For my first tasting of Takachiho's beef, I opted to visit Nagomi, the best-known restaurant in the village which specializes in the preparation of this meat. The restaurant is easy to access by following the Gamadase Market signs, がまだせ市場; there is a square with free parking where you can also find storekeepers selling local products from the surrounding farms. The two large statues of black cows in front of the restaurant entrance confirms that you have arrived at your destination.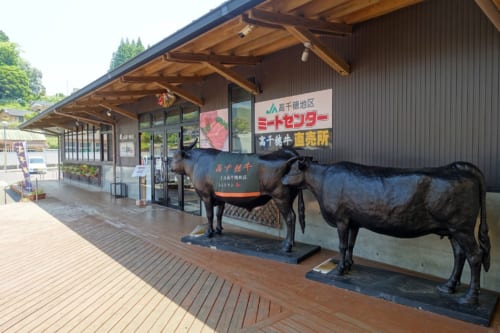 Nagomi Restaurant is operated directly by the JA (a Japanese collaborative organization that supports agriculture and farmers). Its menu offers several different options for Takachiho beef at affordable prices. For reference, "Takachiho steak lunch" is ¥2,000.
Served while still searing on a hot plate, the aroma of grilled beef topped with a homemade sauce of wine and candied onions took our senses by surprise. The high-quality fat of the beef melts in the mouth and gives it a slightly nutty flavor.
To complement the taste of the meat the Chef adds a touch of wasabi, a perfect substitute for our beloved French mustard. Note that you will be asked which doneness you like for your meat.
For those who are already connoisseurs of wagyu beef, the restaurants also offer a complete menu from which you can select your cut (rib steak, sirloin, steak, etc.) and try it Yakiniku style (Japanese barbecue).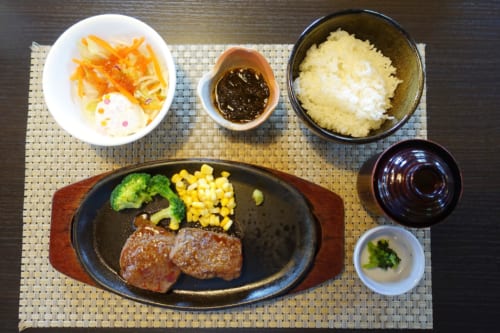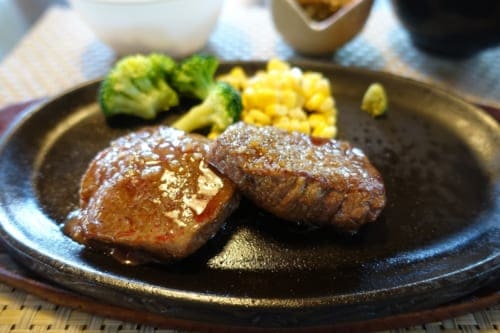 Your delicious meal is served in a large restaurant with modern rustic decoration that is a perfect match with the mountainous environment of Takachiho. The service is in Japanese only, but they have English menus.
Before leaving, stop by the butcher shop right next to the cashier to take some Takachiho beef home.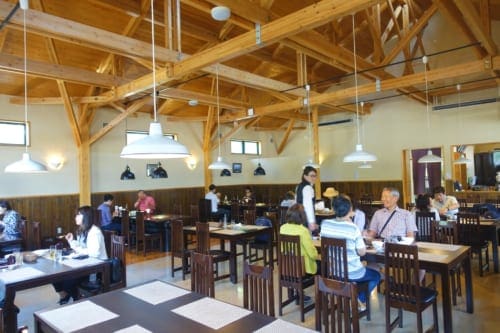 Try Takachiho beef Kaiseki style in a traditional Japanese luxurious restaurant
To enjoy wagyu beef in a more traditional setting, nothing beats a refined traditional Japanese restaurant. The luxurious Ryokan Shinsen serves kaiseki cuisine (a traditional Japanese cuisine type famous in Kyoto), consisting of several small dishes made from Takachiho beef and seasonal products exclusively from Japan.
Welcomed by staff  dressed in yukata (a lightweight, easy-to-wear kimono), you will stroll through a Japanese garden before being guided into your private room for dinner, overlooking the garden.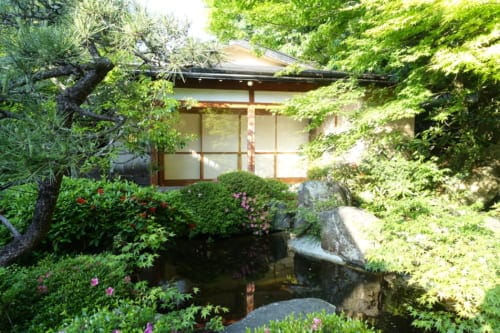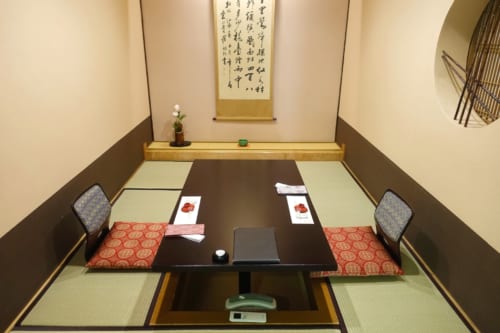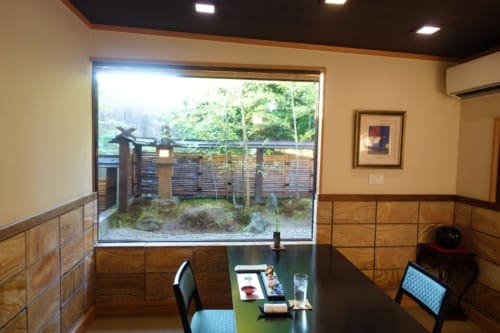 At Shinsen Ryokan, in addition to carefully selecting ingredients, the Chef also pays particular attention to the combination of flavors and to the order in which the dishes are served.
You will start your feast with a small glass of sake accompanied by appetizers, followed by three small dishes, to prepare you for the main course: A Takachiho beef steak, cooked to perfection and served in thin slices.
For your reference, wagyu is not cooked like a French beef; it must be eaten in thin strips and if it is prepared blue or rare, the marbling makes the pieces too chewy and unpleasant.
It seems that the chef has mastered this style of cooking perfectly; the beef melted in my mouth, the flavour juicy and nutty.
In my opinion, Shinsen Ryokan restaurant is ideal for people who are more hesitant about trying a new culinary discovery. Since the meat is prepared by an expert chef, you will not need to make any decisions except how slowly you wish to savour the meal!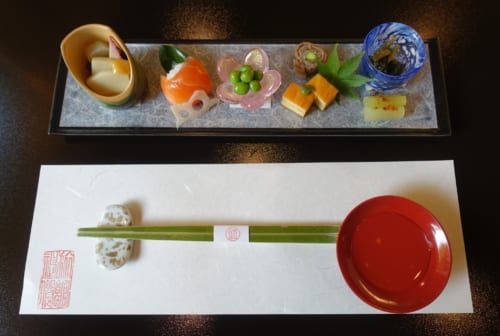 A note for anyone who would like to taste Takachiho's beef: approach the meal with a big appetite, as the fatty cuts of wagyu are rich and filling.
Access and Useful information
Nagomi Restaurant
Address: Takachiho Gamabase ichiba, 1099-1 Mitai Takachiho-cho, Nishiusuki-gun, Miyazaki prefecture
Opening hours: 11:00-14:30 and 17:00-21:00 pm
Price: lunch ¥1,700-3,000, dinner ¥2,600 -11,000
Ryokan Shinsen
Address:1127-5 Mitai Takachiho-cho, Nishiusuki-gun, Miyazaki prefecture
Price: lunch ¥4,320 – ¥5,400, dinner ¥5,400 – ¥21,600,
Opening hours: 11:00 – 14:00 then 17:30 – 21:00
You will also find more information on the city's website http://takachiho-kanko.info/en/