When you are strolling around in Japan and are looking for cafés for a break, you usually can't avoid stumbling across the fluffy Japanese pancakes. These are not only very popular in Japan but are also becoming increasingly popular around the world. In Japan, they are usually called Fuwafuwa Pancakes (ふわふわパンケーキ) but are also known as Soufflé Pancakes.

In this article, we take a look at the history of pancakes in Japan, tips on how to make them yourself, and where you can eat Fuwafuwa pancakes in Japan.
The History Behind Pancakes in Japan
When we look back in Japan's history, the first form of Japanese pancakes has been around since the 16th century. These were called funo-yaki (麩の焼き) and were invented by none other than Sen no Rikyu, the founder of the Japanese tea ceremony. To make this, he mixed flour with water or made variations using sake. The batter was then fried and served with sweet miso paste for tea ceremonies. This sweet snack was trendy in its day but disappeared again at the end of the Edo period.

Due to the influence of western countries, pancakes came back to popularity in 20th-century Japan. The sweet dish has become popular primarily through Hawaiian restaurants, with numerous restaurants in Japan that now offer the world-famous Japanese pancake.
The Japanese people love to adopt dishes from other cultures and then make something uniquely their own. This is where Japanese soufflé pancakes come in.
The Success of the Japanese Fluffy Pancakes
In the past few years, fluffy Japanese pancakes have become more and more popular. Not only do they look good, but they also taste delicious, and many restaurants followed suit by adding pancake offerings on their menus.
Social media, in particular, contributes to the success of Japanese pancakes. They are a popular image for food photos and pictures of café visits. There are over 100,000 pictures on Instagram under the Japanese hashtag #ふわふわパンケーキ. The term #soufflepancakes gives a similar number of results.
These nicely decorated pancakes are picture-perfect images for Instagram, with many restaurants focusing on their unique dish presentation to appeal to more visitors.
How to Make Japanese Pancakes at Home
If you search online, you will find numerous recipes for soufflé pancakes. We have tried one of them for you and found it to be good. And of course, we would like to share this with you.
To prepare 4 to 5 fluffy Japanese pancakes, you need the following ingredients:
2 egg yolks
3 egg whites
30g flour
40g sugar
3 tablespoons of milk
1 1/2 tablespoons of oil
1/2 pack of vanilla sugar
1/2 pack of baking powder
In addition to the ingredients, you should have a pan with a lid, two bowls, a whisk, and a hand mixer ready. Then, we can start!
First, we prepare the basic dough. Crack the eggs and put two yolks and half of the sugar in a bowl and whisk together. Add milk and oil, then mix. Gradually add the flour, vanilla sugar, and baking powder (preferably through a sieve so that no lumps are formed) and stir everything into a smooth dough.
In a second bowl, beat three egg whites and the remaining sugar with a mixer until stiff.
Gradually add the stiff egg whites to the dough and fold in. Caution: Do not stir too vigorously and allow some of the airiness to remain.
Now we move over to the stove. Add some oil in the pan and then — depending on the space — pour in the mixture into small circles. If you have round molds, the pancakes will look nicer, but it still works without them (they just expand a little more).
Bake the pancakes on low heat and add the lid to the pan for about 4-5 minutes. Make sure that the heat is not too strong, otherwise, the pancakes will burn.
Flip the pancakes over and cook for another 3-4 minutes.
To prevent the pancakes from collapsing, they should be served as soon as possible. They go well with powdered sugar, syrup, chocolate sauce, and fruit.
Best Restaurant Chains to Eat Fluffy Pancakes in Japan
Since fluffy pancakes are very popular in Japan, many restaurants offer them on their menus. If you can't make the pancakes yourself at home, there are plenty of opportunities to try the pancakes on your next visit to Japan. Many restaurants even offer both types — the flat American and the fluffy Japanese pancakes.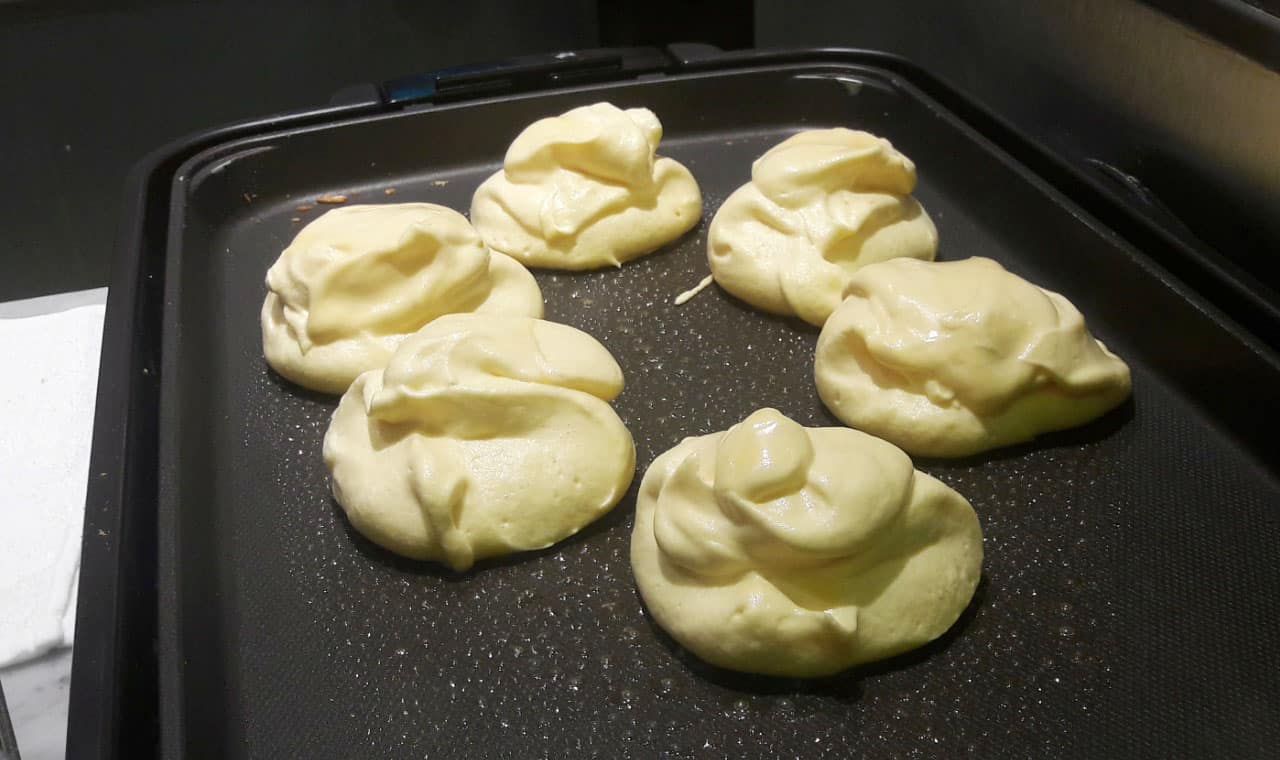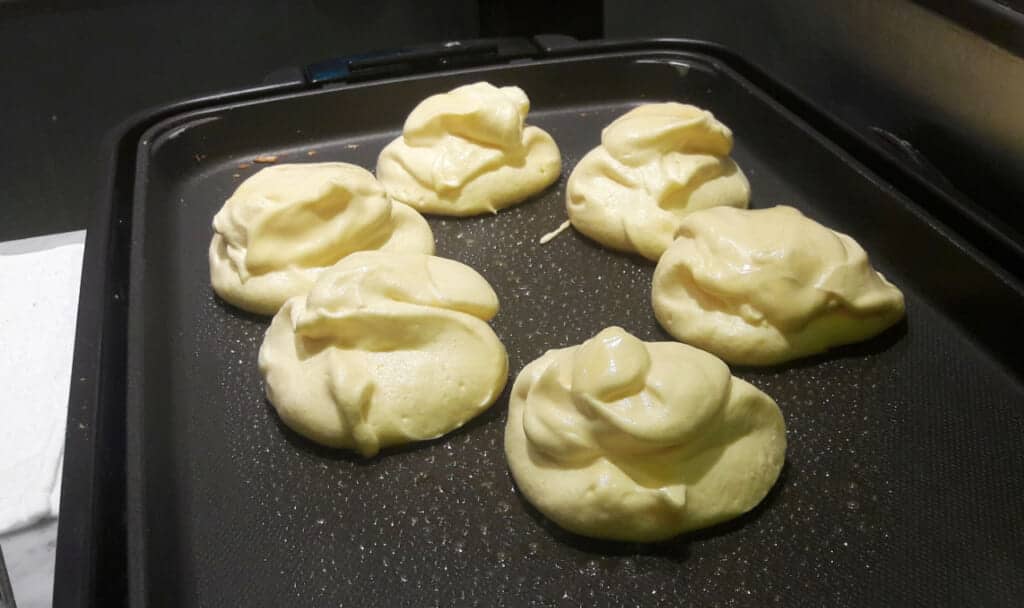 The three best-known chains in Japan are Gram Cafe, Flipper's, and Shiawase no Pancake.

Gram Cafe & Pancakes opened its first shop in Osaka in 2014. There are now around 40 restaurants all over Japan, and the restaurant chain can also be found internationally, including Thailand, the Philippines, and Australia. Their premium pancakes are limited to 60 pieces a day per shop.

In November 2015, Shiawase no Pancake / A Happy Pancake followed with their first café in Omotesando (Tokyo). The business was trendy from the beginning. In the past five years, this chain has opened over 25 cafés in Japan.

Almost a year later, in July 2016, Flipper's also started its success story with its first café in Tokyo's Shimokitazawa district. This chain now also has twelve restaurants across the country.
These are only three names of the numerous restaurants and cafés that offer fluffy pancakes in Japan. The list is endless with cafés that have soufflé pancakes on their menu. The variants can be very different here — whether sweet or even savory — and also change seasonally. It is definitely worth keeping your eyes open.
Are you hungry for pancakes now? Then try making the fluffy pancakes yourself with our recipe or visit one of the restaurants on your next trip to Japan. Enjoy your meal!