Sponsored by Nikko City Tourism Association
If, like me, you browse the restaurants in Nikko on the way to Toshogu shrine, you may see a lot of restaurants advertising local specialties, like Cheese Eggs, Cheesecake, and something called "Yuba."
As a quick internet search will reveal, Yuba when translated, literally means "Tofu skin." It doesn't sound very appetizing does it? Fortunately, Yuba is actually quite excellent, and Nikko Yuba is something every traveler here should try at least once!
A Full Course of Yuba? You Bet!
Nikko restaurants specialize in many types of Yuba, so for the foodie wishing to try 'em all, a "Kaiseki" set is recommended. Kaiseki, or "Kaiseki Ryouri," are multi-course Japanese meals that may be reminiscent of high-class French cuisine. Indeed, some Kaiseki sets can cost well over "Ichi-man yen" (or $100). However, there also exist much more reasonable Kaiseki restaurants. The one I visited, which I'd whole-heartedly recommend, is Nikko's Nagomi Cha-ya.
Nagomi is only about 5 minutes from the entrance of Nikko's World Heritage sites, right on the main "shotengai" shopping street. Despite its very convenient location, it is a rather unassuming shop, and a bit easy to miss if you're not careful. One important clue may be the people waiting to be seated; it is recommended to get a reservation, and judging by the online reviews, is frequently booked solid.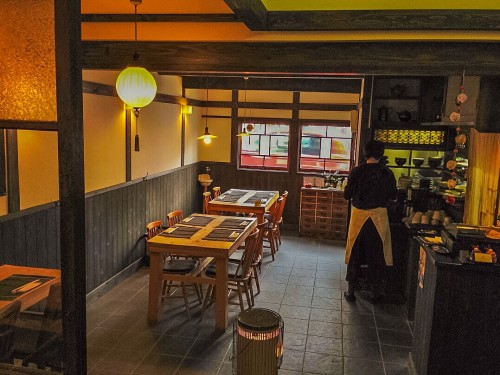 I had my reservation just as the shop opened for the day, but within ten or twenty minutes approximately 10 other tables were filled. This is a popular restaurant known for their Yuba, so I was eager to try it! I was seated on a rug with "zabuton" cushions, however more familiar chairs and high table seating is also an option.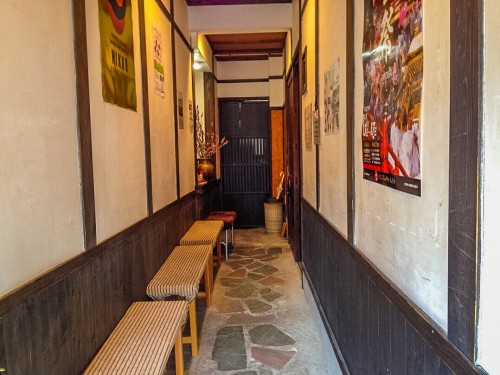 First, I was brought the day's menu, which described the 9 course meal I'd be eating. To be honest, I was a little nervous; should I not have eaten a big breakfast beforehand? On the other hand, would the portions be tiny? My fears were unfounded however, as one of the characteristics of Kaiseki is the portioning. But don't take it from me, see for yourself!
Digging In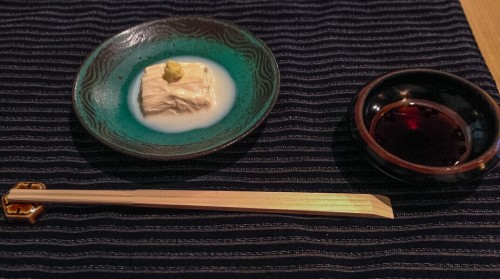 The first course, known as "Sakitsuke" was Hikiage Yuba with a Shouga (ginger paste) garnish. It was a great first appetizer, very light and airy with a bit of sharpness from the ginger. The Yuba, served cold, is sitting in a small pool of soymilk; you can use the soy sauce to dip if you'd like. Yuba itself tastes like a cross between tofu and eggs; it is quite a versatile food, as we shall see!
Second, the "Suimono" was a yuba soup with tofu. It was very refreshing, and interesting eating both tofu and yuba together!
Now it starts to really get interesting! The third course, "zensai," was a nice section of bite-sized morsels. This is a good introduction not only to Kaiseki, but to Japanese food (Washoku) in general, where rather than giant platters, you may be more likely to be served a variety of smaller plates.
I was still a little hungry, but luckily the meal got much more substantial from here on out. Next, the 4th course, Yakimono!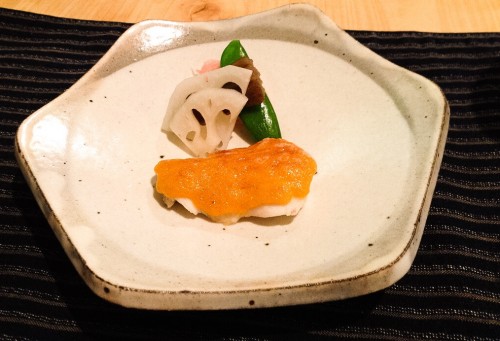 Here we have a scrumptious piece of sea bream (known as Tai in Japanese) with Sea Urchin Miso paste on top. Many of you may have had miso at some time, and those who've some experience with Japan may have also experienced the strange pleasures of the former "Uni." So what happens when you mix these two very distinct flavors? Well, to be honest, it tasted like…cheese. Once the fine folks at Voyapon get a professional food critic, you may be treated to a more nuanced description by someone with a finer palate, but until then…cheese! It was actually quite lovely, I wish I could find "Unimiso" more often.
After a short break (literally, all the courses came out surprisingly quickly!) I was able to get some more Yuba!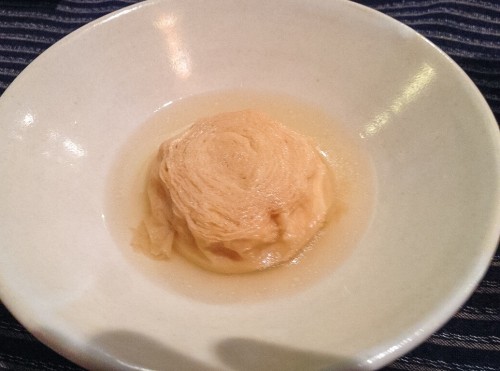 The 5th course, Agemaki Yuba, is a hot Yuba course. It reminded me a little bit of palm hearts, but a little more interesting and fun! I asked the staff at Nagomi about the best way to eat Yuba; I had been carving out the middle and eating it in chunks, but you can also eat from the edges. As the yuba unravels, it sort of becomes like eating udon noodles!
A Bit of History, and more Food!
Now might be a good time to explain a little bit about Yuba itself. "Yuba" is made from soybeans. During the boiling of soy milk, a film or skin forms on the liquid surface. "Nikko Yuba" is made from two delicate strips of the surface film. A different type of Yuba, "Kyoto Yuba," is made from one strip only. "Nikko Yuba" is twice as thick as "Kyoto Yuba," so if you have the chance to try "Nikko Yuba," please do! The texture is quite different from "Kyoto Yuba."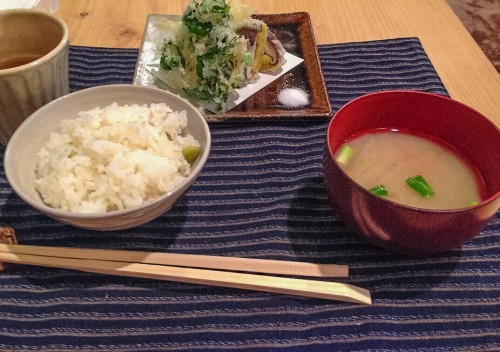 Next is the 6th, 7th and 8th courses, shown together. We have some green pea rice, miso soup, and a variety of interesting tempura! The rice and soup were of course very fresh and delicious, but I'd like to focus on the tempura, which is some of the best I've eaten in Japan! First is the brocollini tempura, in front, followed by the fantastic shiitake mushroom and sweet potato tempura. I had only 3 on my plate, but I could've had 30; they were nice and crispy, yet still tasted very fresh and bursting with flavor.  Finally some yuba tempura with a chili tougarashi filling. Rather than being greasy or gristly, this tempura was extremely light and buttery, with the "tougarashi" adding an extra kick. I'd definitely come here again, if just for some more tempura!
Nagomi cha-ya is a delightful little restaurant with great service, staff, and food, that is well worth the price! Some advice the staff had for foreign couples was to order one yuba set, as well as one non-yuba set. That way you can share! The menu is in Japanese, but does contain pictures, and staff did their best to explain every item that came out to me. When you plan your own Nikko trip, be sure to leave room for the yuba!
Access
10 minute walk from Tobu Nikko Station
| | |
| --- | --- |
| Name | Naomi Chaya |
| Category | Restaurant |
| Address | 1016 Kamihatsuishimachi, Nikko, Tochigi Prefecture 321-1401 |
| Access | [map]1016 Kamihatsuishimachi, Nikko, Tochigi Prefecture 321-1401[/map] |
| Opening Hours | 11:30~16:00 |
| Price Range | 2700 for the yuba course (9 course meal) , 1500 for non-yuba course (7 course meal) |
| Payment options | Cash |