Sometimes, coincidences give you incredible opportunities to visit a place you wouldn't have otherwise. My visit to Akabane (赤羽) was a matter of fate since I didn't consider visiting it when I first came to Japan. That was until a friend living in this neighborhood invited me to spend the day with her. This is how I explored Akabane, a relatively unknown area of Tokyo with many hidden gems.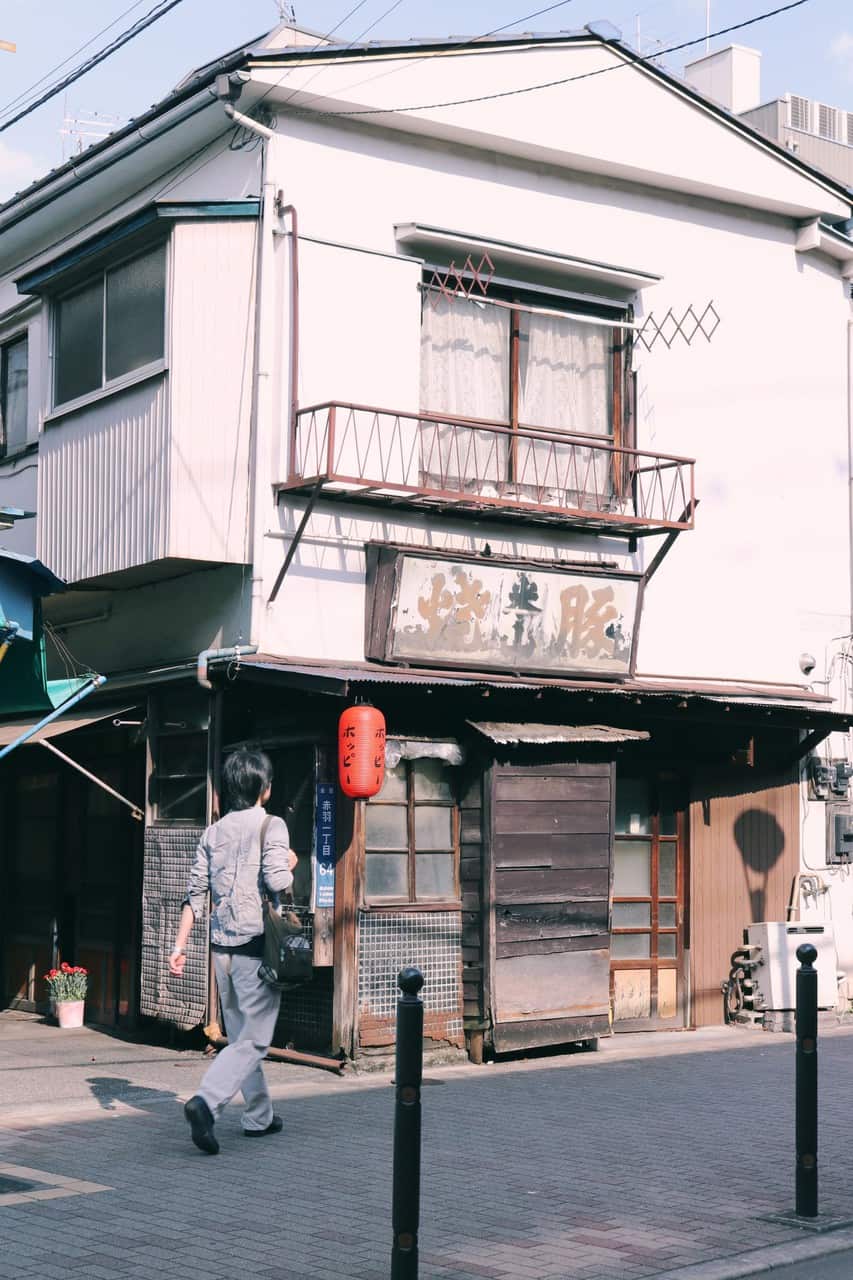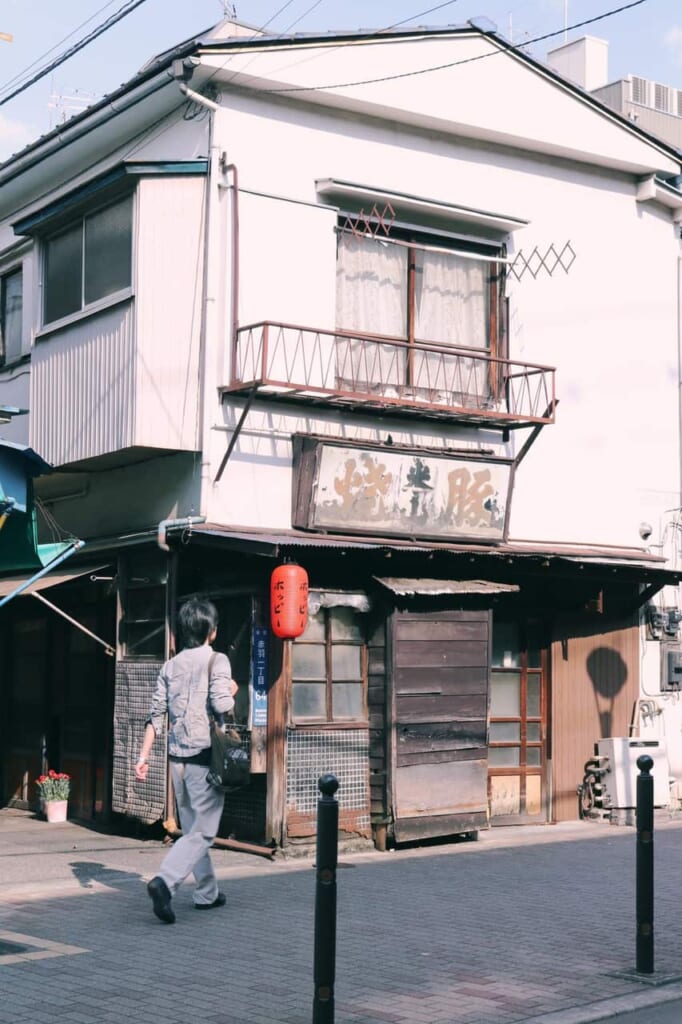 Akabane is located in the northernmost area of Tokyo. Bordering Saitama Prefecture (埼玉県), Akabane acts as a connection for those commuting to the central part of Tokyo every day. Although it is a bit far from the center of Tokyo, I happened to be living in the nearby Adachi neighborhood (足立区), so it was easy enough for me to visit Akabane. And I must say, it was worth it!
Akabane's Place in History During the Edo Period
During the Edo Period, Akabane was a part of the Nikko Kaido route. This was an essential route in the Tokugawa shogunate's times that linked Edo (the city of Tokyo) and the Toshogu shrine of Nikko.
Nowadays, Akabane is a stop along people's route between Tokyo and Saitama. Since Akabane Station (赤羽駅) opened in 1885, people don't often get off to check out the many gems hidden in this area.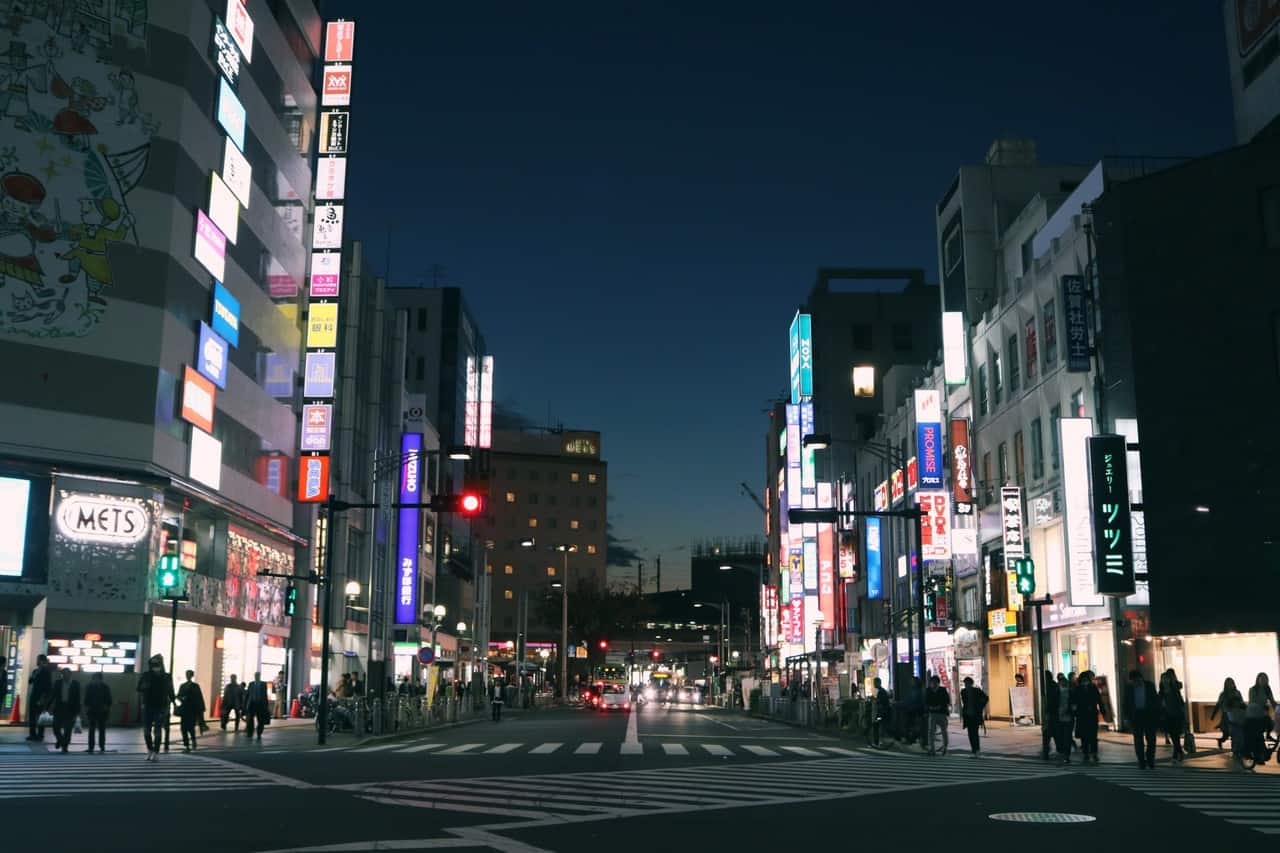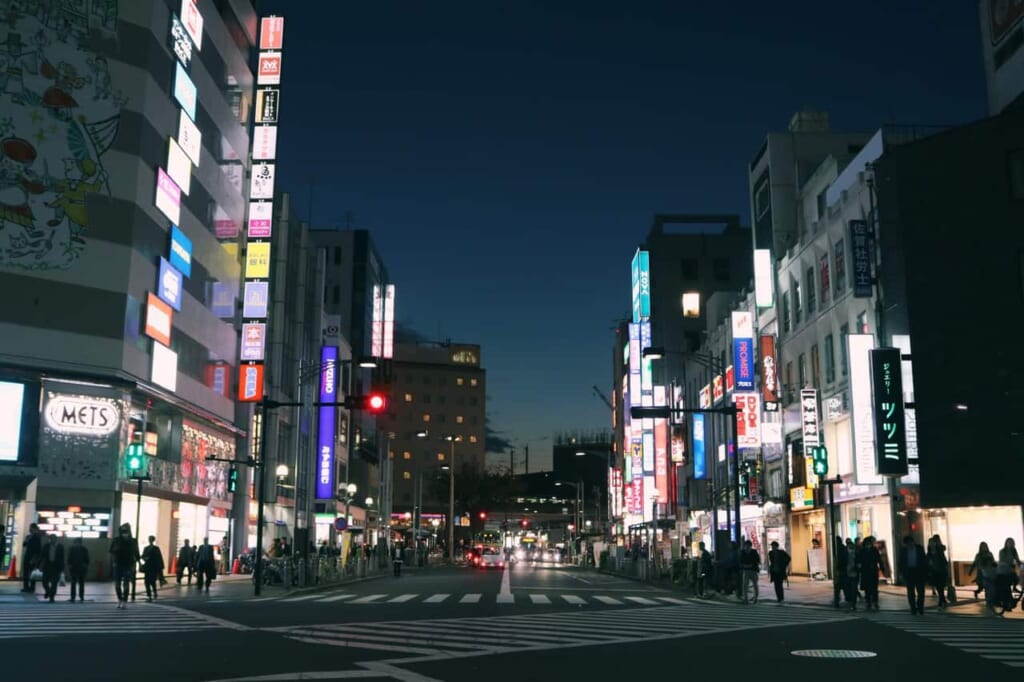 My Day in the Charming Neighbourhood of Akabane
When I got off the train at JR Akabane station, my first thought was that it didn't look like Tokyo. The streets and city atmosphere of Akabane reminded me of other smaller cities. After I met my friend, we headed to our first stop.
A Cat Sanctuary at Cat Café Goma
*This place was closed in July 2019
To begin my introduction to Akabane, we visited a local cat café called Cat Café Goma. Located about a 15-minute walk from the JR Akabane station, this cat café was unlike those I'd seen in Tokyo. Located on the ground floor of a residential area of Akabane, Cat Café Goma acts as a cat welfare center. Staff rescue stray cats and care for them in the café and patrons can visit them. Moreover, if you like any of these cats and have a resident card in Japan, you can adopt one!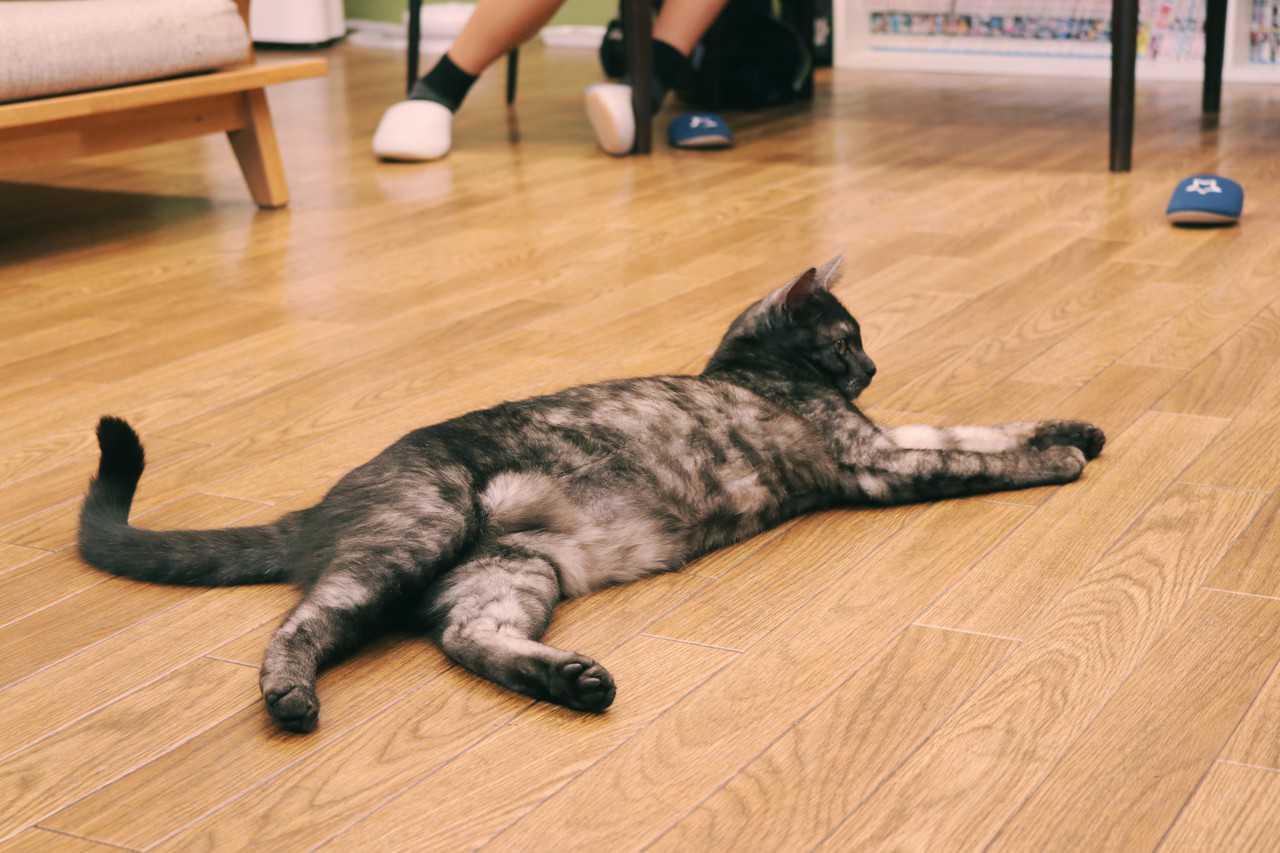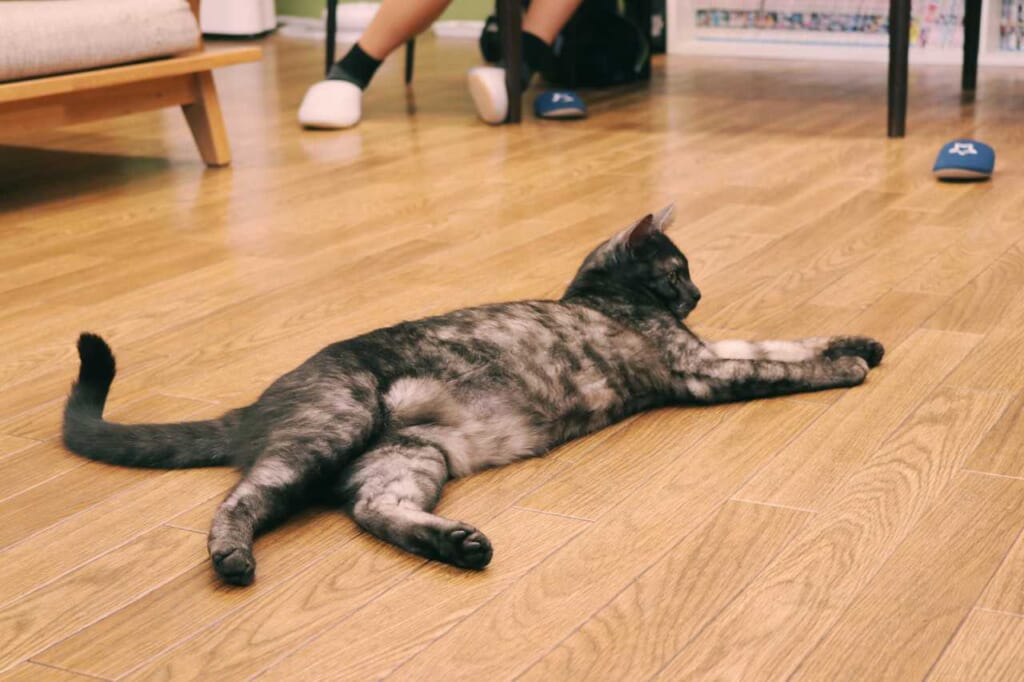 There is limited space in the cafe, so it's advisable to make a reservation in advance. The staff speak little to no English, but they are lovely and friendly.
Convenient and Cheap Shopping on Shotengai Shopping Street
On the way to our next destination, we passed through the Akabane Suzuran-dōri Shōtengai (赤羽スズラン通り商店街), an old commercial shopping street with a variety of shops. I want to highlight the enormous Daiso, where I bought some presents, and the Okashinomachioka sweets shop selling low-priced Japanese treats.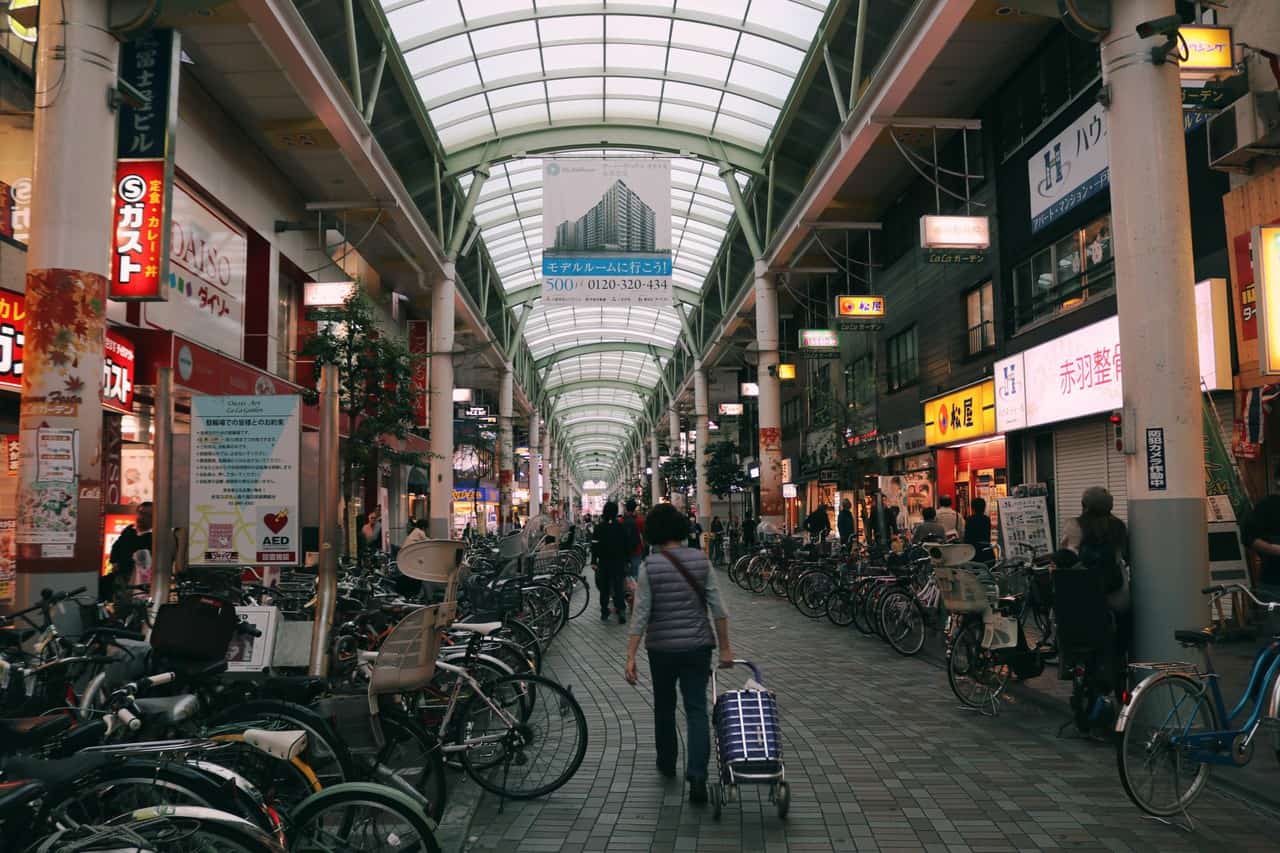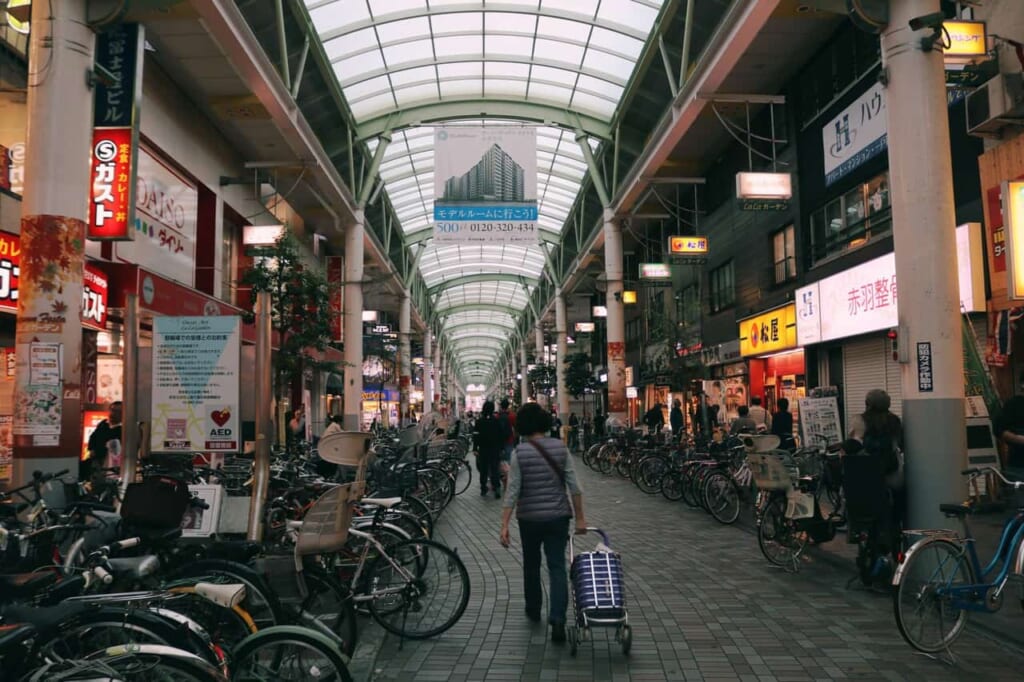 Near the shōtengai is a Catholic church. The Catholic Church of Akabane was built after World War II and is devoted to Mary, Our Lady of the Assumption. Outside, there is a garden, and on August 15, the church celebrates Saint Mary's Day with a festival of concerts and shop stalls on the street.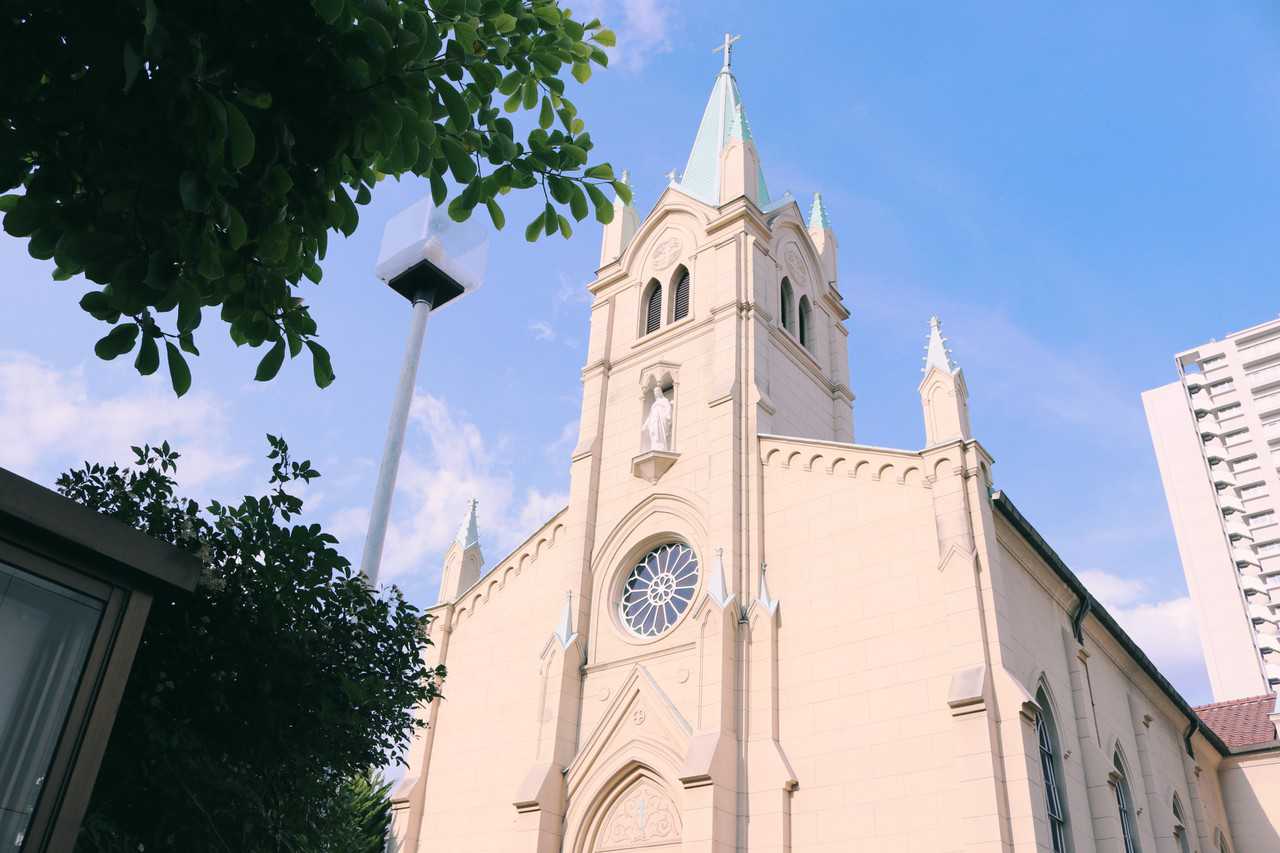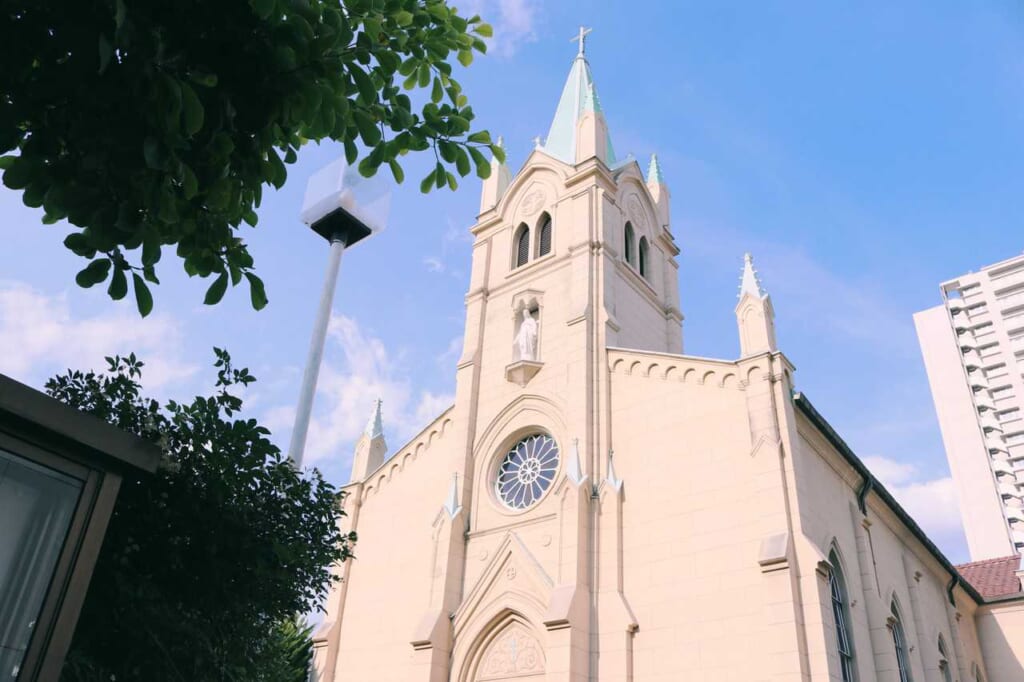 Hachiman Shrine: A Popular Visit for Pop Idol Fans
In every new neighborhood tour, I like to include a visit to a temple or a shrine. In Akabane, I chose Hachiman Shrine (八幡神社) located a 5-minute walk from the JR Akabane Station. I was surprised by the fact that this sacred place was located next to the train tracks. Undoubtedly, it is an accurate reflection of Japan's ancient and modern dichotomy!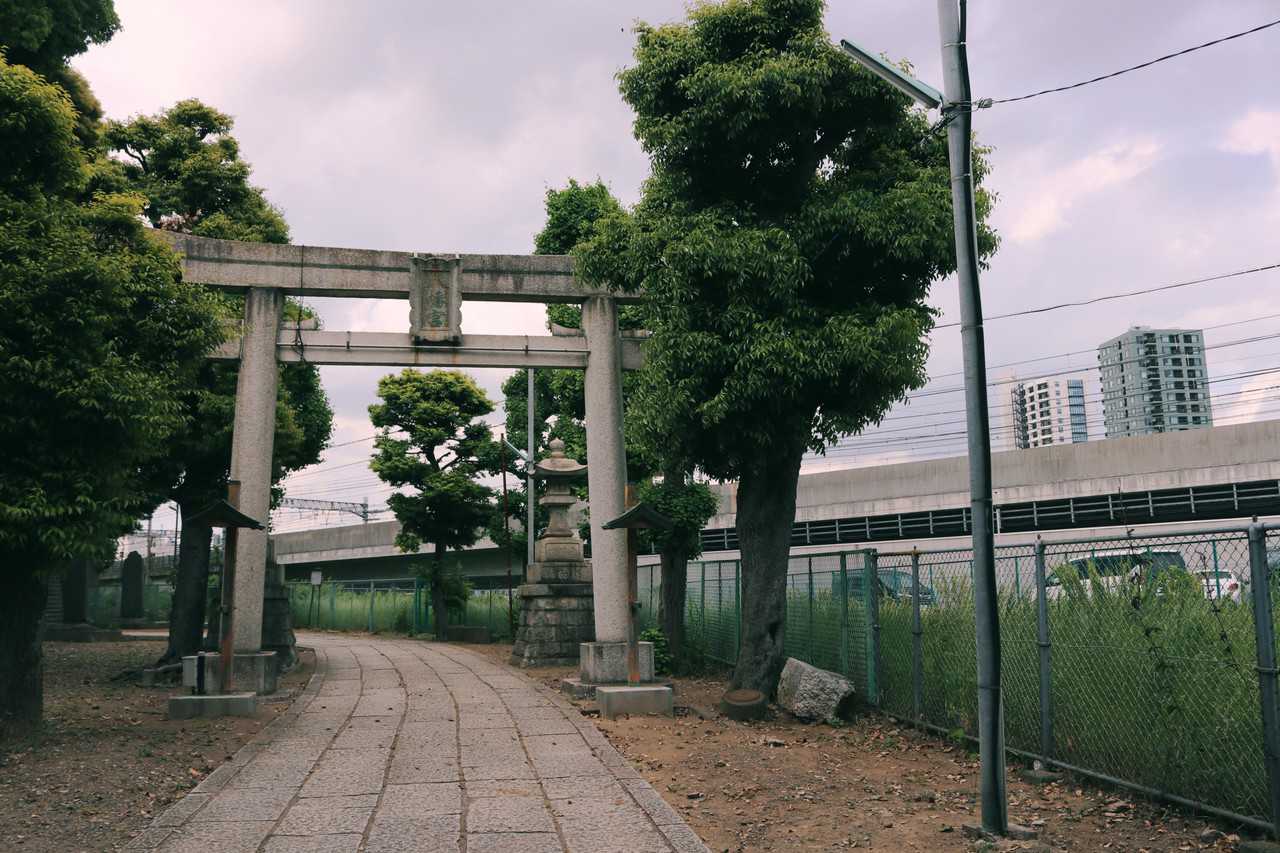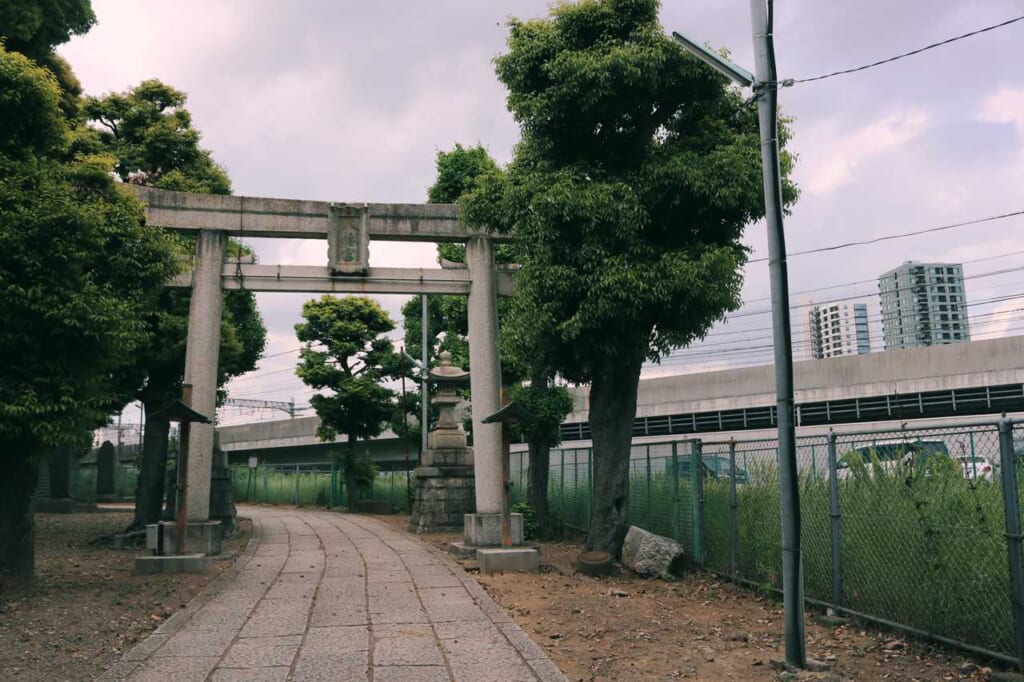 The shrine follows Fengshui's ideology and has several ema (絵馬, a wooden board to write a wish) hanging throughout the grounds. Ema with the "8" infinity symbol are also for sale at the shrine.
In Japan, there is a popular Japanese idol group called Kanjani-8 that uses the infinity symbol, and many fans come to the shrine to buy goods with the "8" symbol. We visited during the morning and caught sight of some young girls praying at the shrine (some of whom I presume are fans of the idol group.)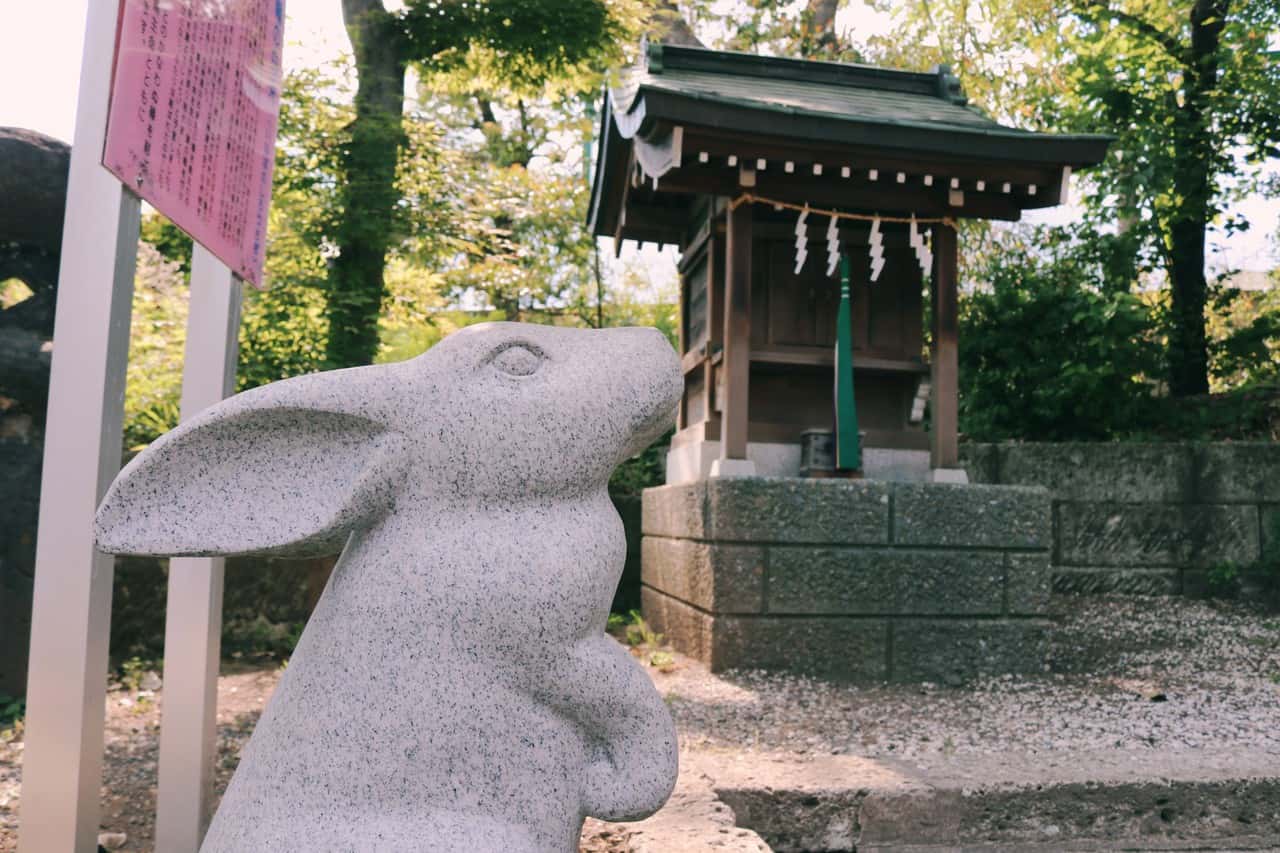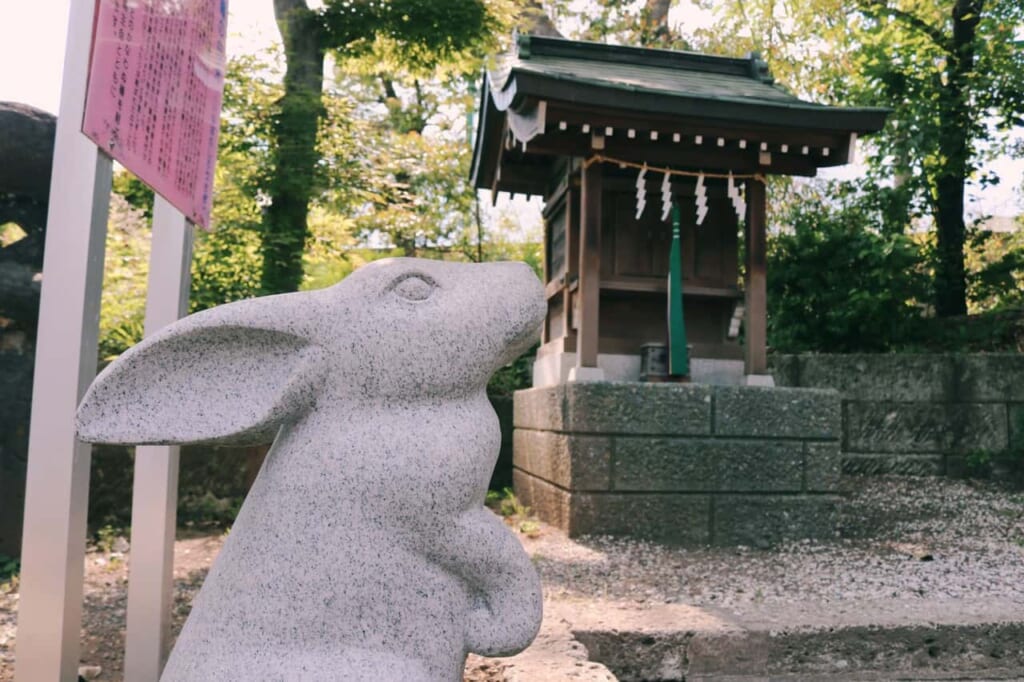 Local Shops: Tainen-ya and Kobuna Embroidery Shop
On the way back to the station, we decided to stop in some stores in the area. The first was Kobuna Embroidery Shop, a custom patch store.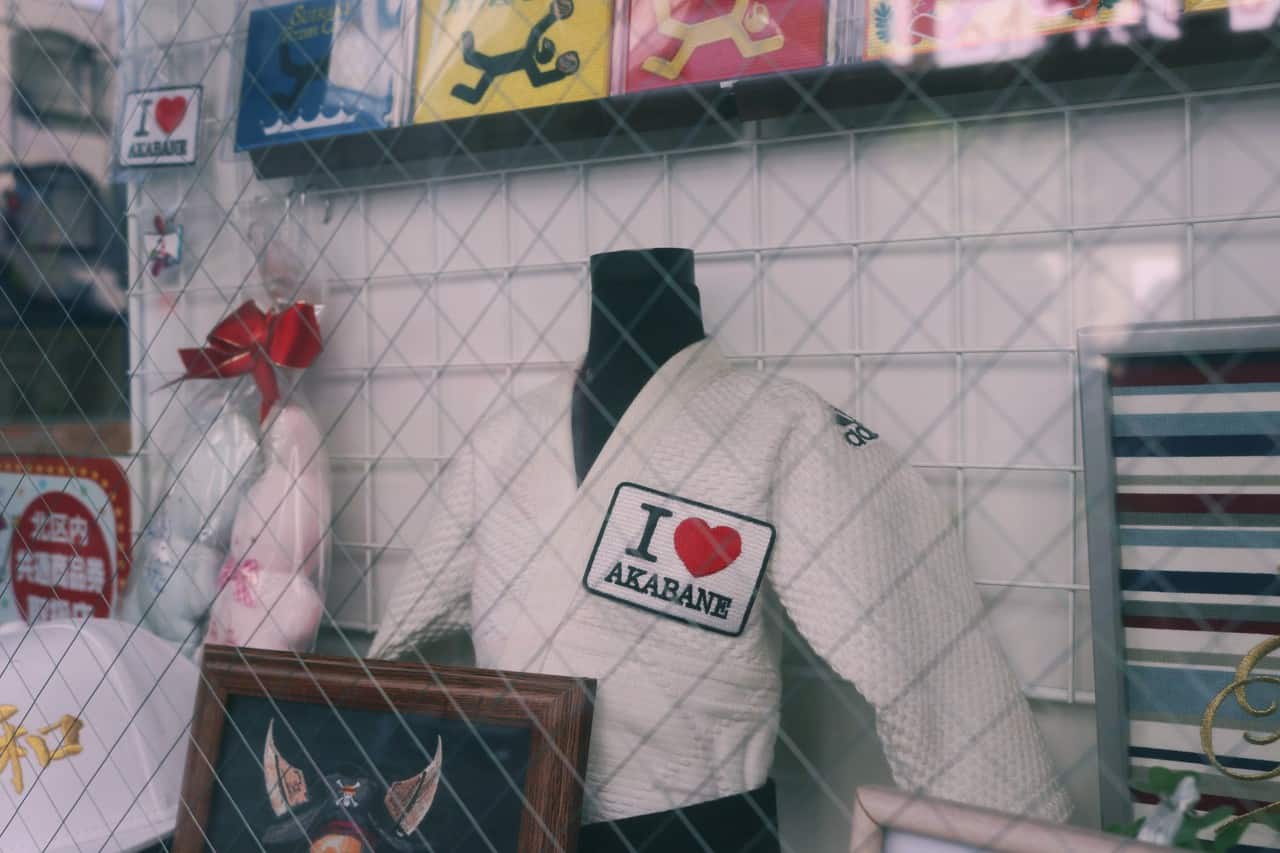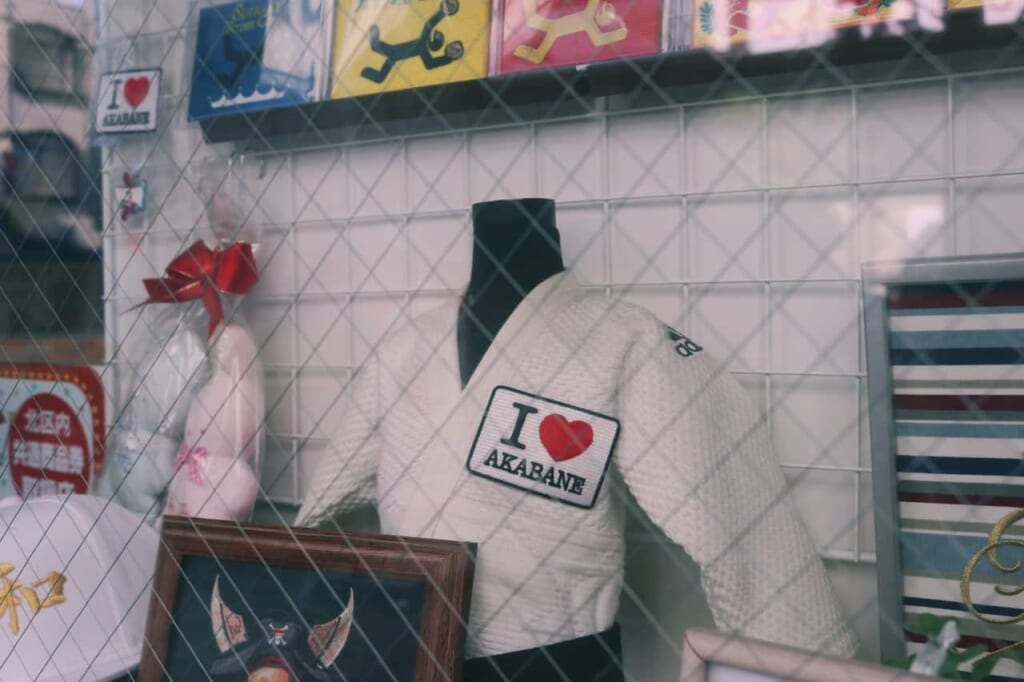 Five minutes away from the embroidery shop is Tainen-ya, a 100-year-old dagashi-ya (駄菓子屋 ) sweets store. The store sells products made in Tokyo, and from Miyagi and Iwate Prefecture to help their recovery from damage caused by the 2011 Tohoku earthquake. There are all kinds of sweets, including traditional, modern and handmade candies and treats.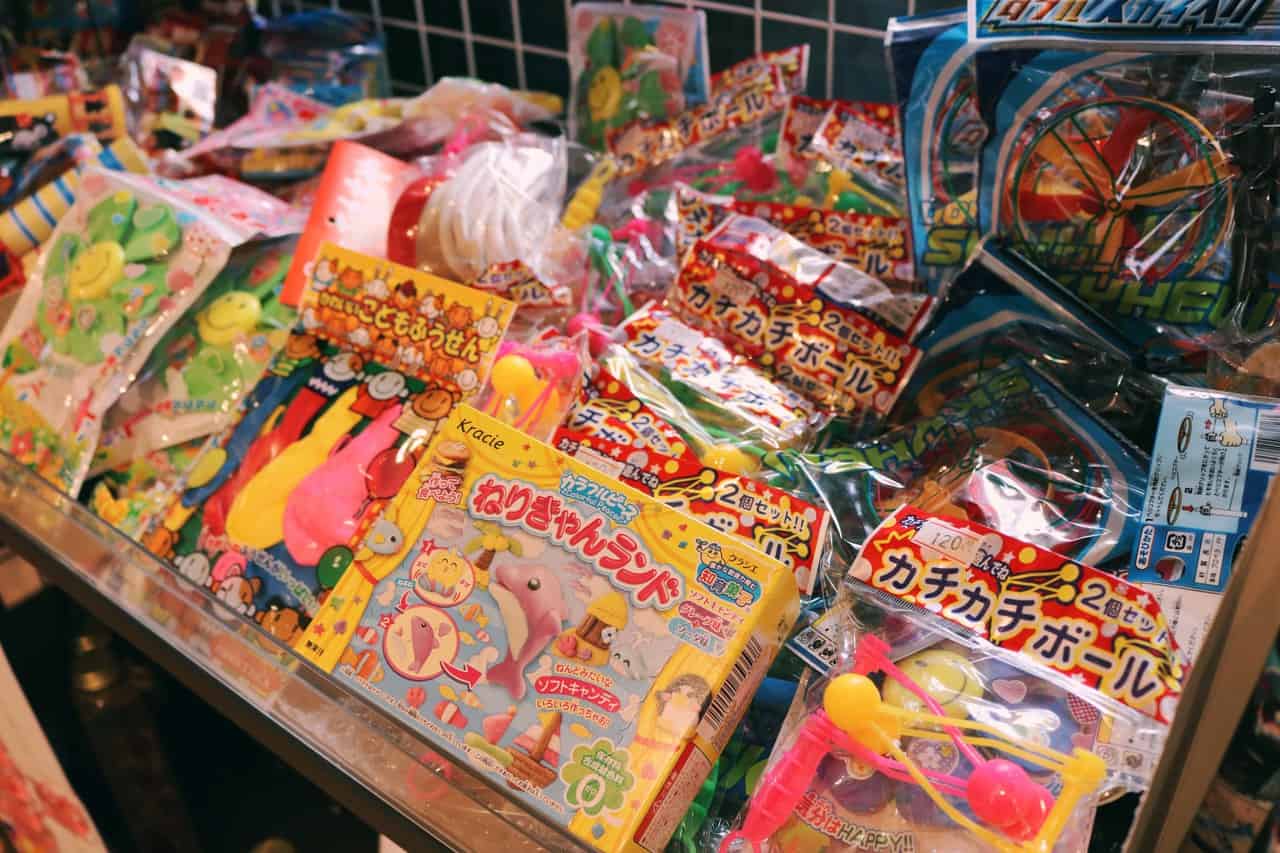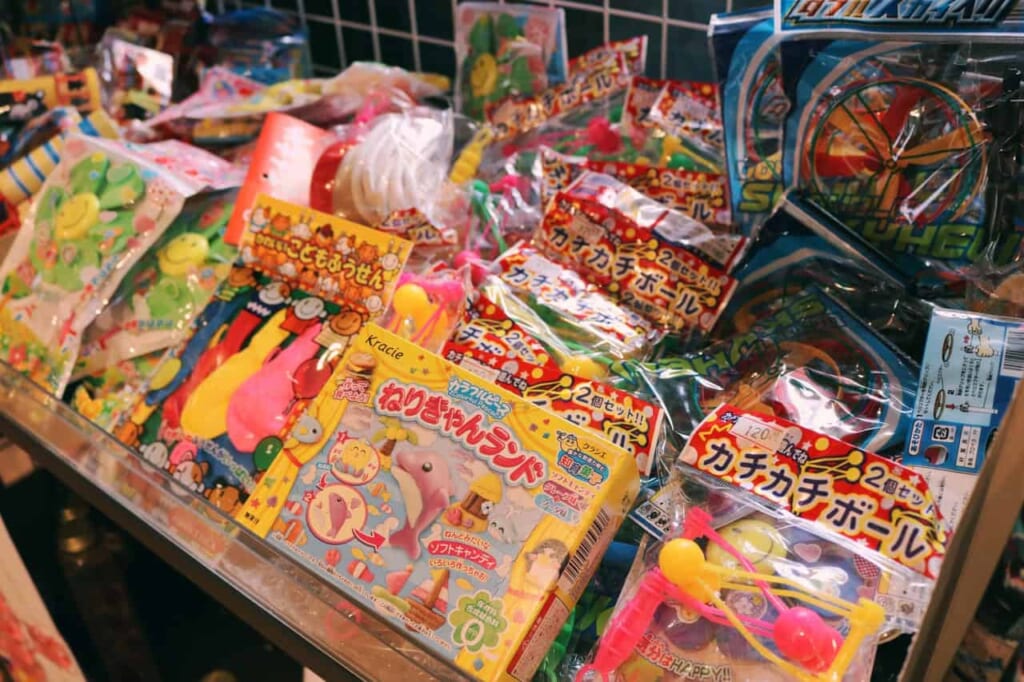 Showa Retro Charm of Ichibangai in Akabane
Finally, we arrived at what became my favorite place: the Ichibangai shopping street. It is a narrow street with restaurants located at the north-east exit of the JR Akabane Station.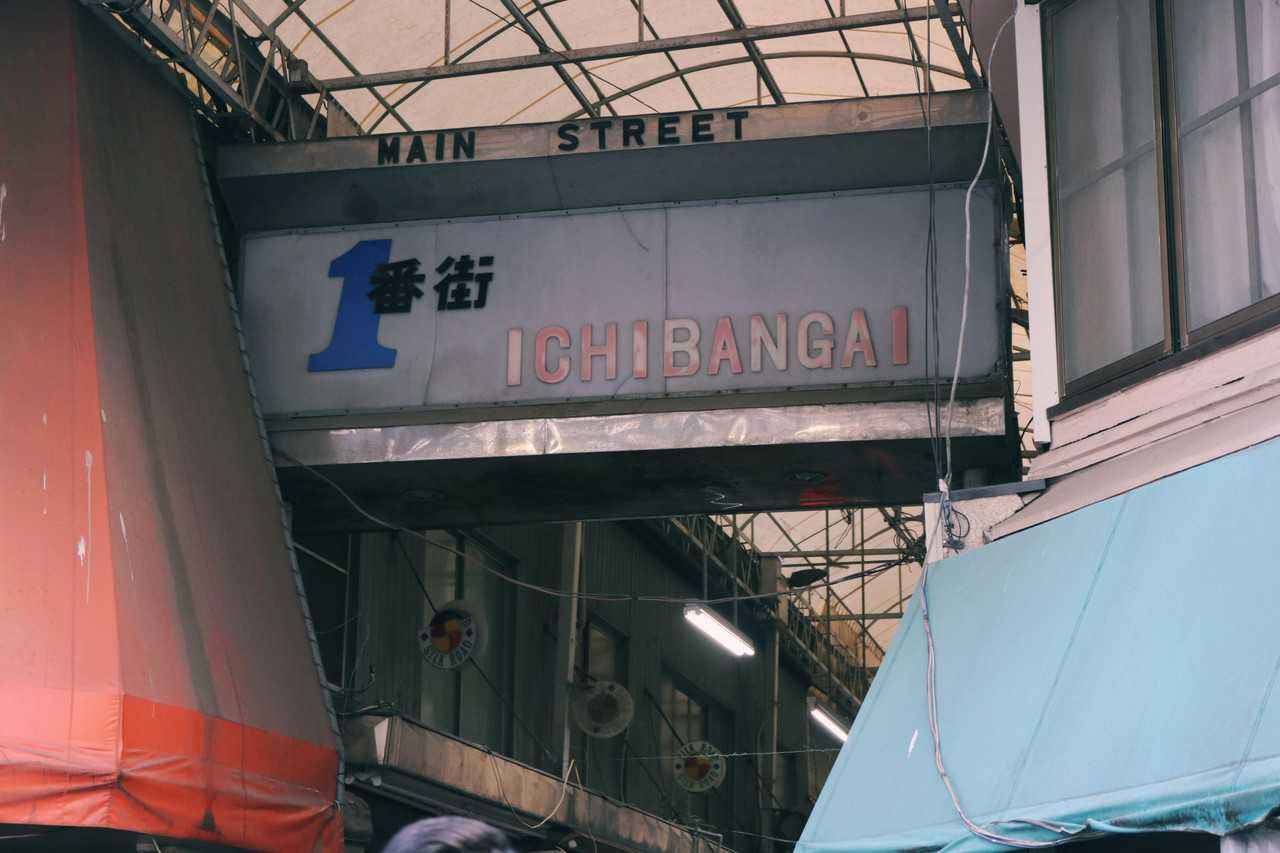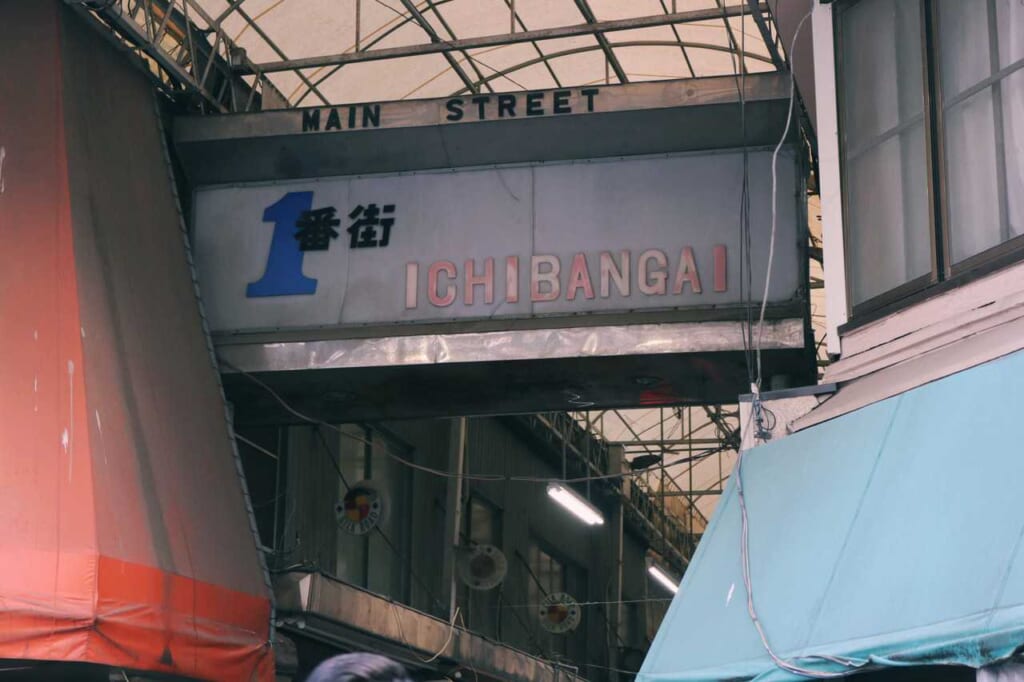 Ichibangai shopping street reminds me of other izakaya (居酒屋) areas in Tokyo, but this place stole my heart. Why? Perhaps, it's the early 20th-century atmosphere that I feel is lost in most of Tokyo's neighborhoods. This whole area is reminiscent of the Showa Period (1926-1989), and much of this aesthetic feels frozen in time at Ichibangai.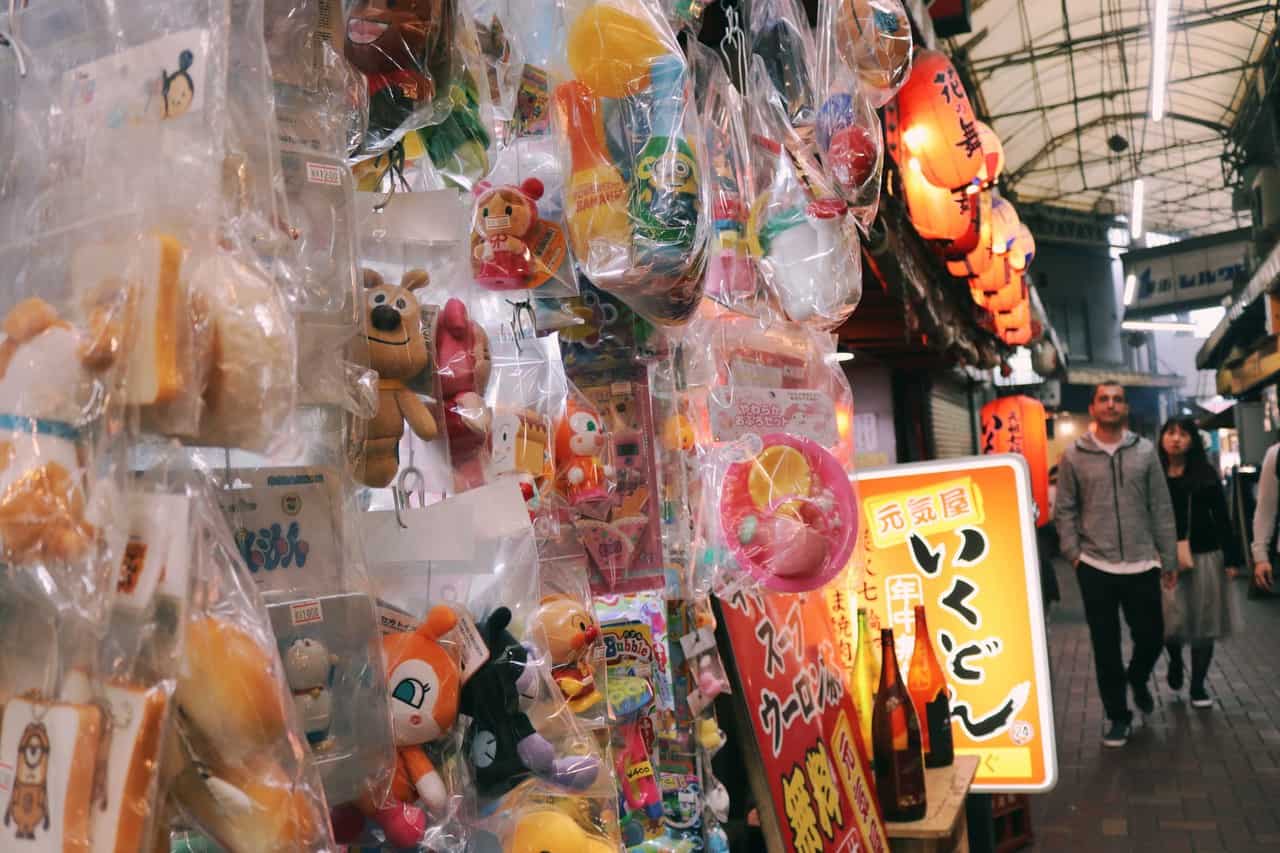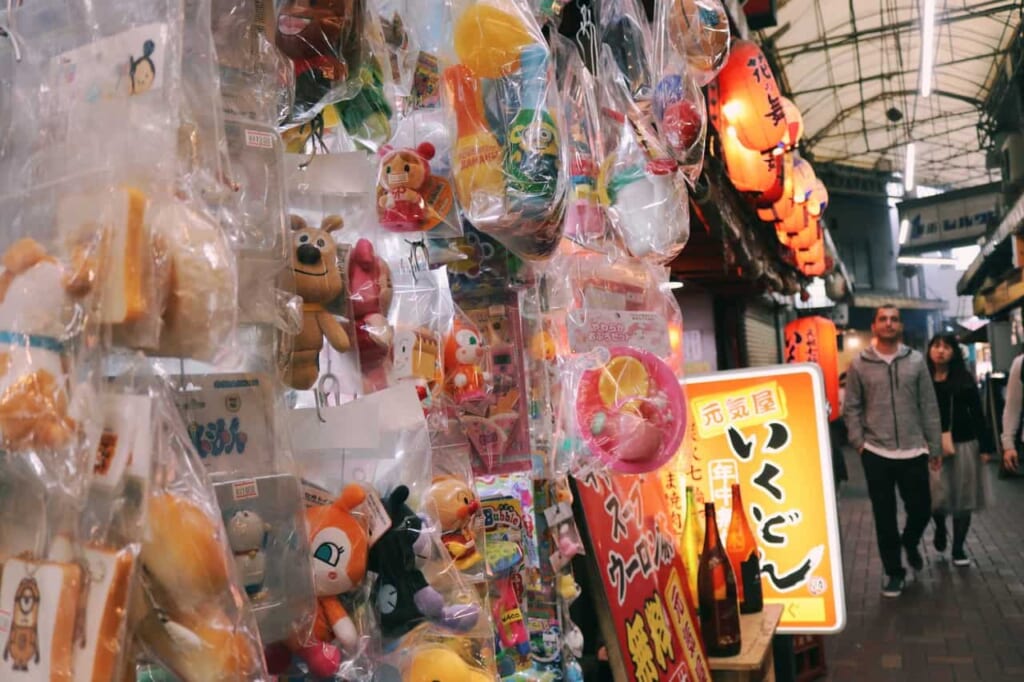 It was noon, and one of the best places to go for lunch is Marumasu-ya (まるます家). Marumasu-ya is an izakaya that opens at 9:30 am and is popular during lunch and dinner hours. Even on the weekday, we had to wait in line. However, it was worth it.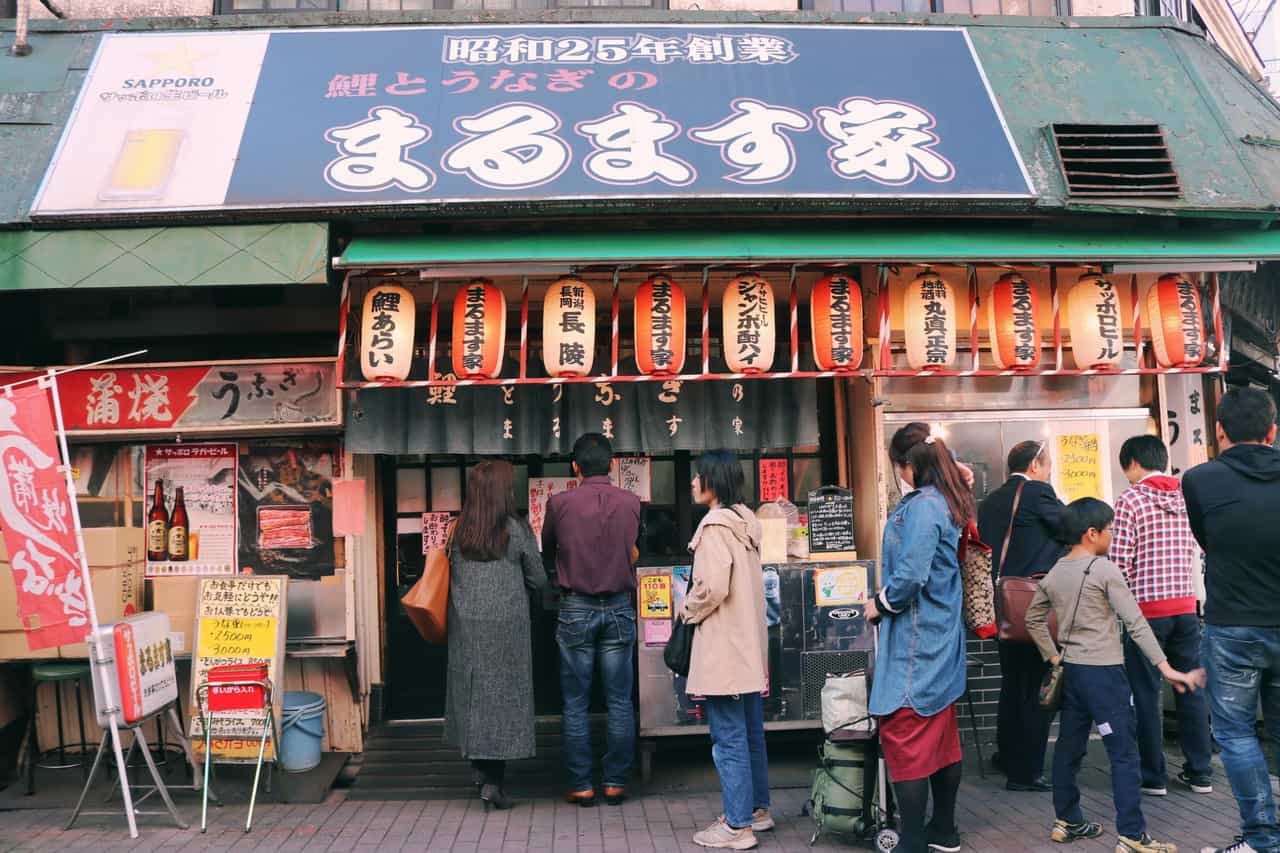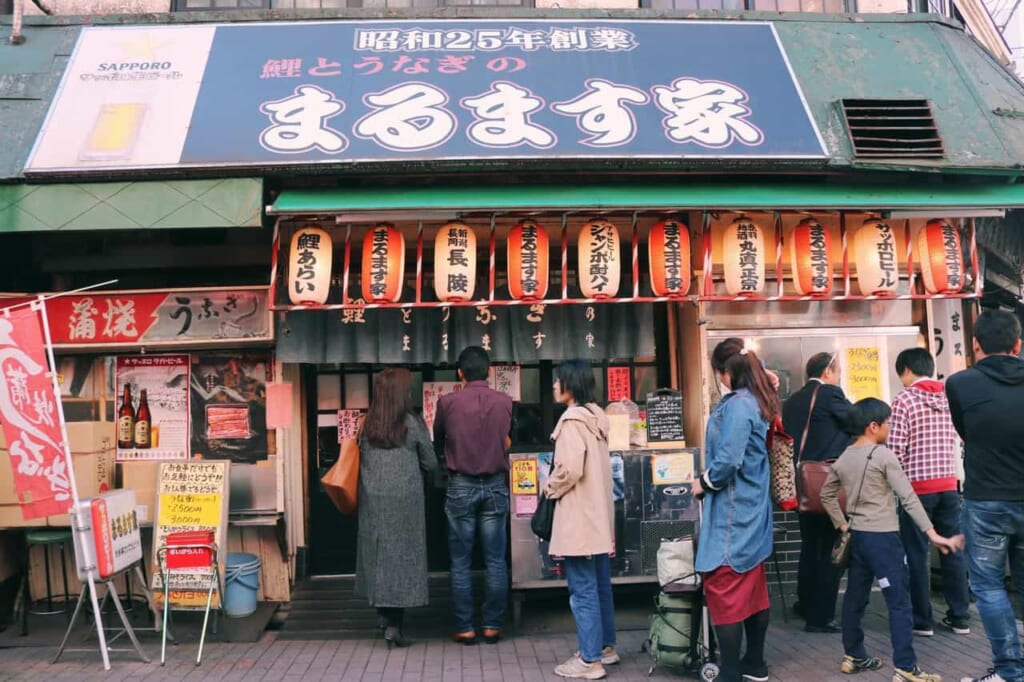 There isn't a single word spoken in English in this establishment. If you know Japanese or can go with someone who does, don't miss out on this opportunity to try Japanese tapas at Marumasu-ya.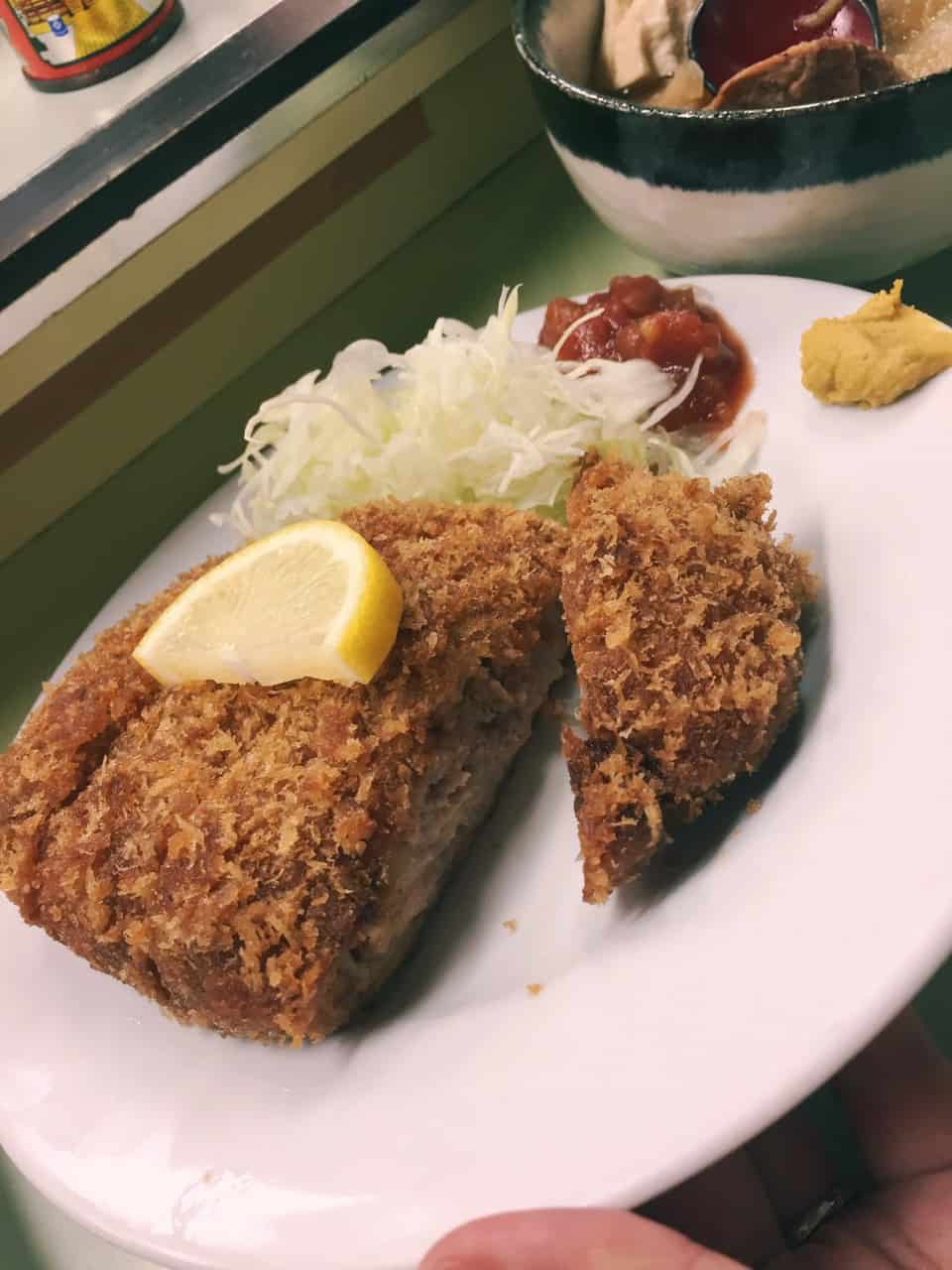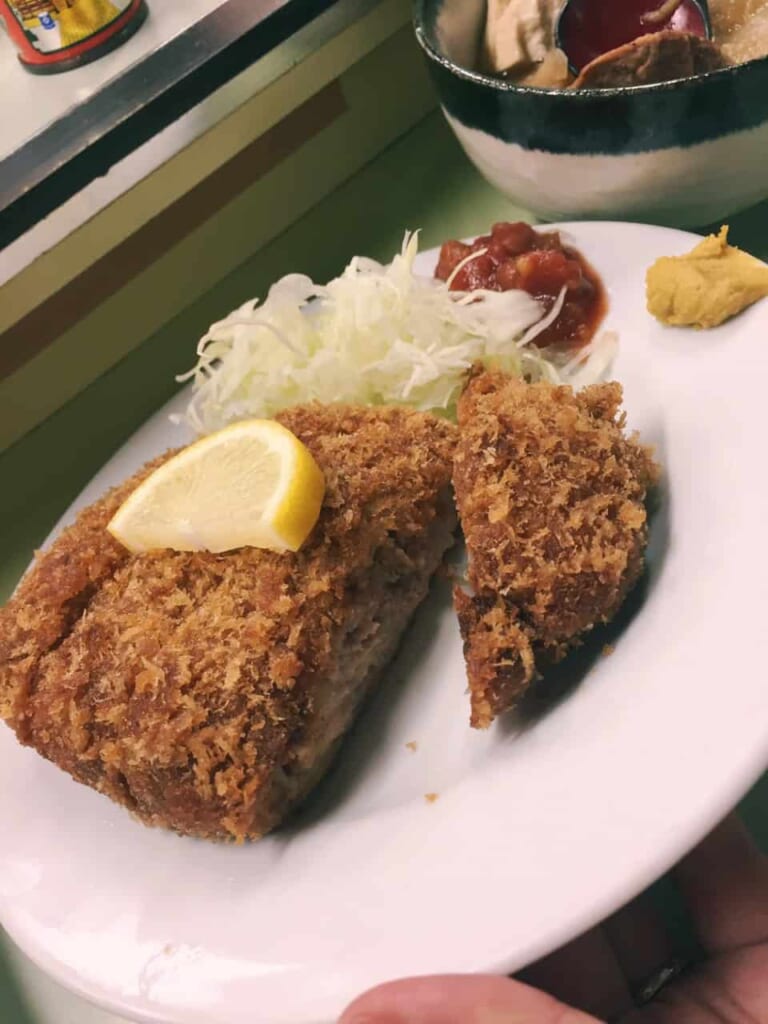 Eating Japanese Oden Hot-Pot at Maruken Suisan
Our next stop was Maruken Suisan. The restaurant is over 50-years-old and famous for its oden (おでん), a type of hot-pot, and its dashiwari-sake, a glass of sake mixed with oden soup. Patrons add a choice of toppings to the soup, such as eggs, battered fish, and vegetables, and is hugely popular with restaurant-goers.
Due to its popularity, Maruken Suisan is always full of customers. It's important to note that customers are encouraged not to linger and can't stay longer than 15 minutes after ordering their meal. Once we finished, we quickly left to allow the next customer to take our place.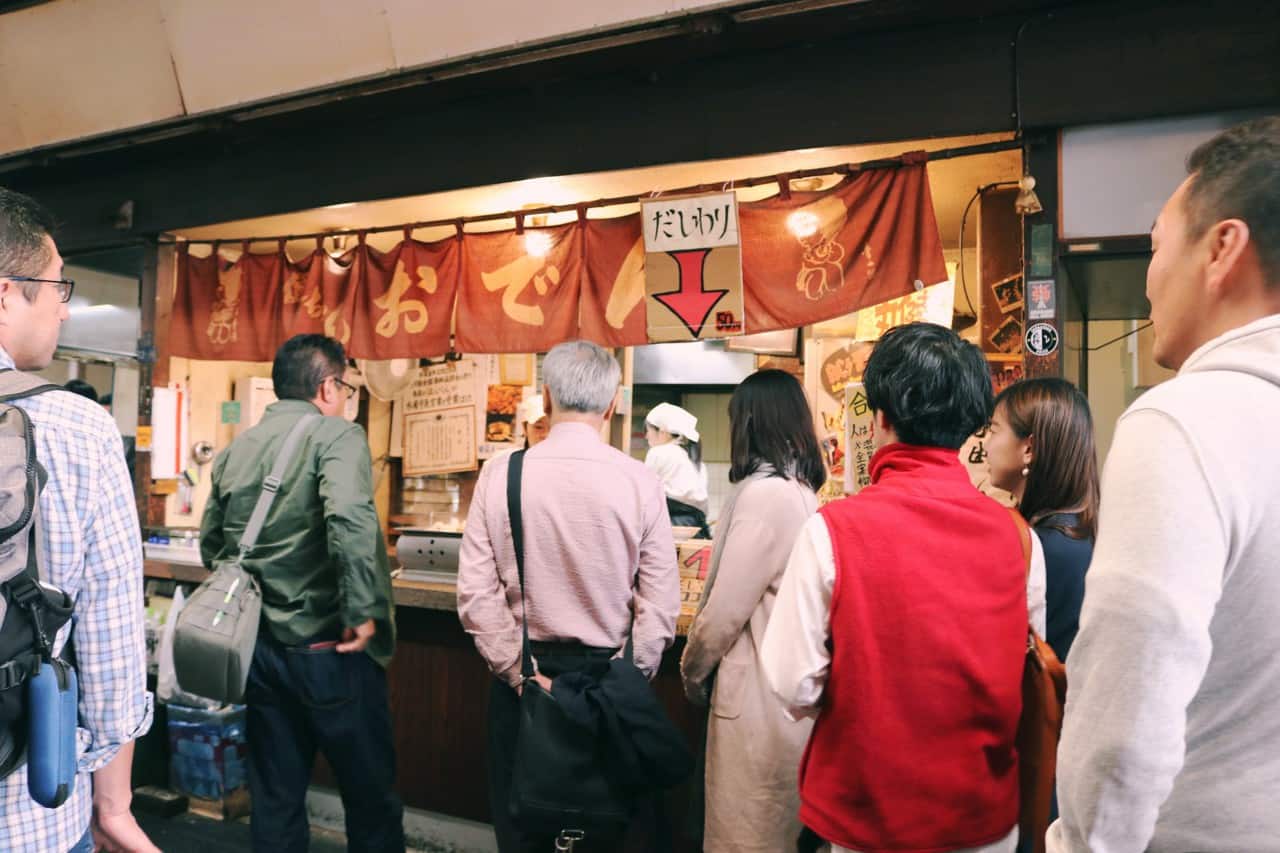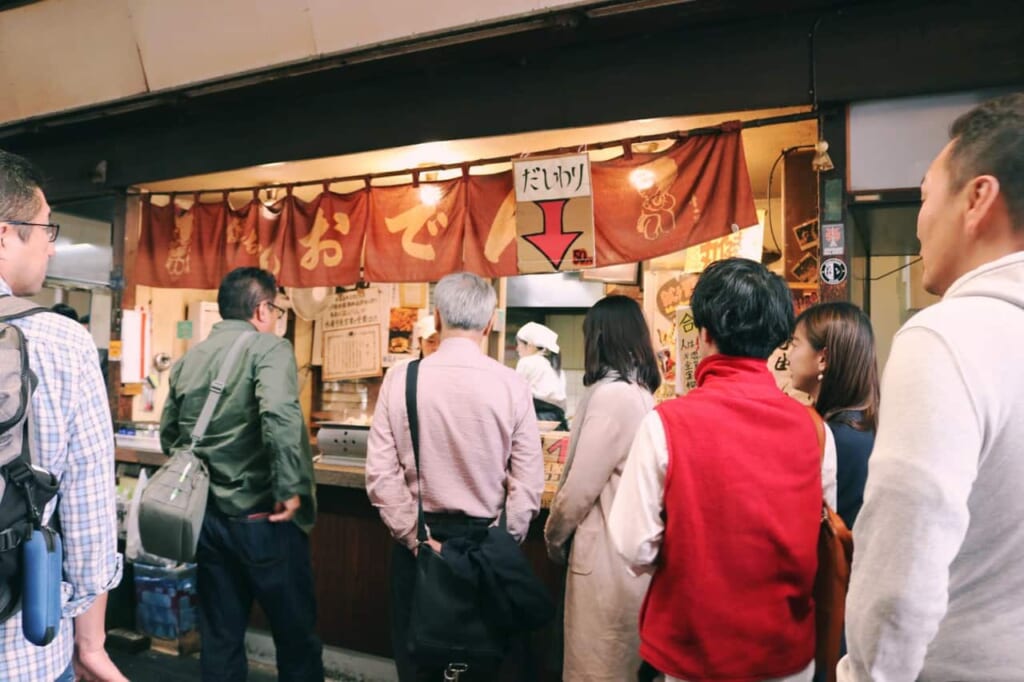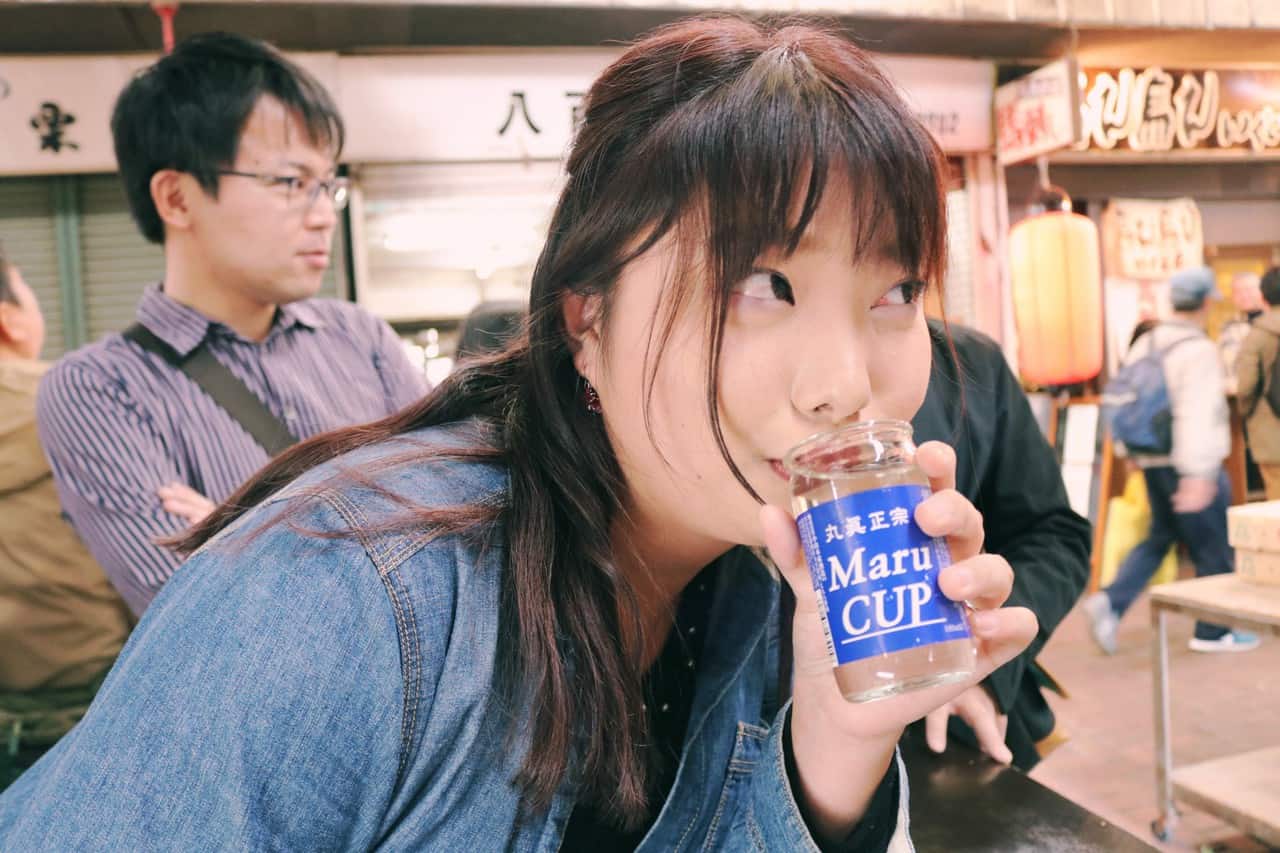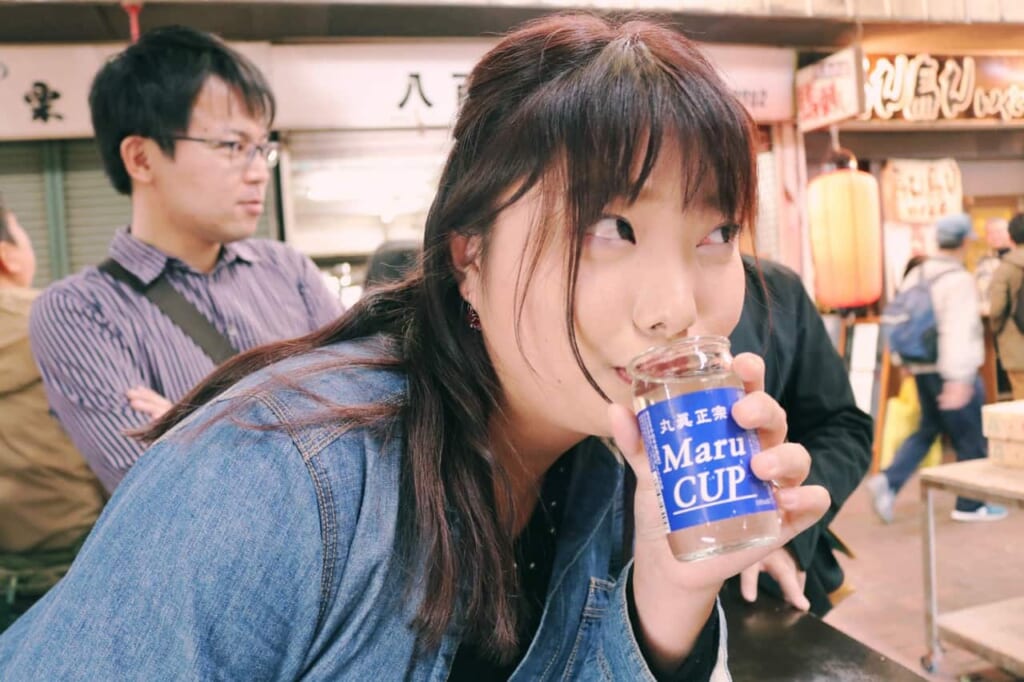 How to Get to Akabane
Akabane Station (赤羽駅) is served by a variety of JR lines: JR, Keihin-Tohoku Line, Saikyo Line, Ueno-Tokyo Line, Tohoku Main Line, Takasaki Line, and Shonan- Shinjuku Line.
Alternatively, the Tokyo Metro Namboku Line serves the nearby Akabane Iwabuchi station (赤羽岩淵駅).

From Shinjuku Station (新宿駅), take the Saikyo Line to Akabane station in 21 minutes. If you take the train from Tokyo Station you can take the Ueno-Tokyo line to Akabane station within 18 minutes.