Starbucks is, without a doubt, a beloved Japanese institution. In a couple of short decades since the global coffee chain's first Japanese location appeared in Ginza in 1996, Starbucks has grown to include over 1,600 stores dotting city streets, countryside locations, rest stops, and anywhere else a branch can fit. In fact, Japan was Starbuck's first international location since the company started in 1971 along Pike Place, Seattle, in the United States. This makes the relationship between Starbucks and Japan somewhat unique and special.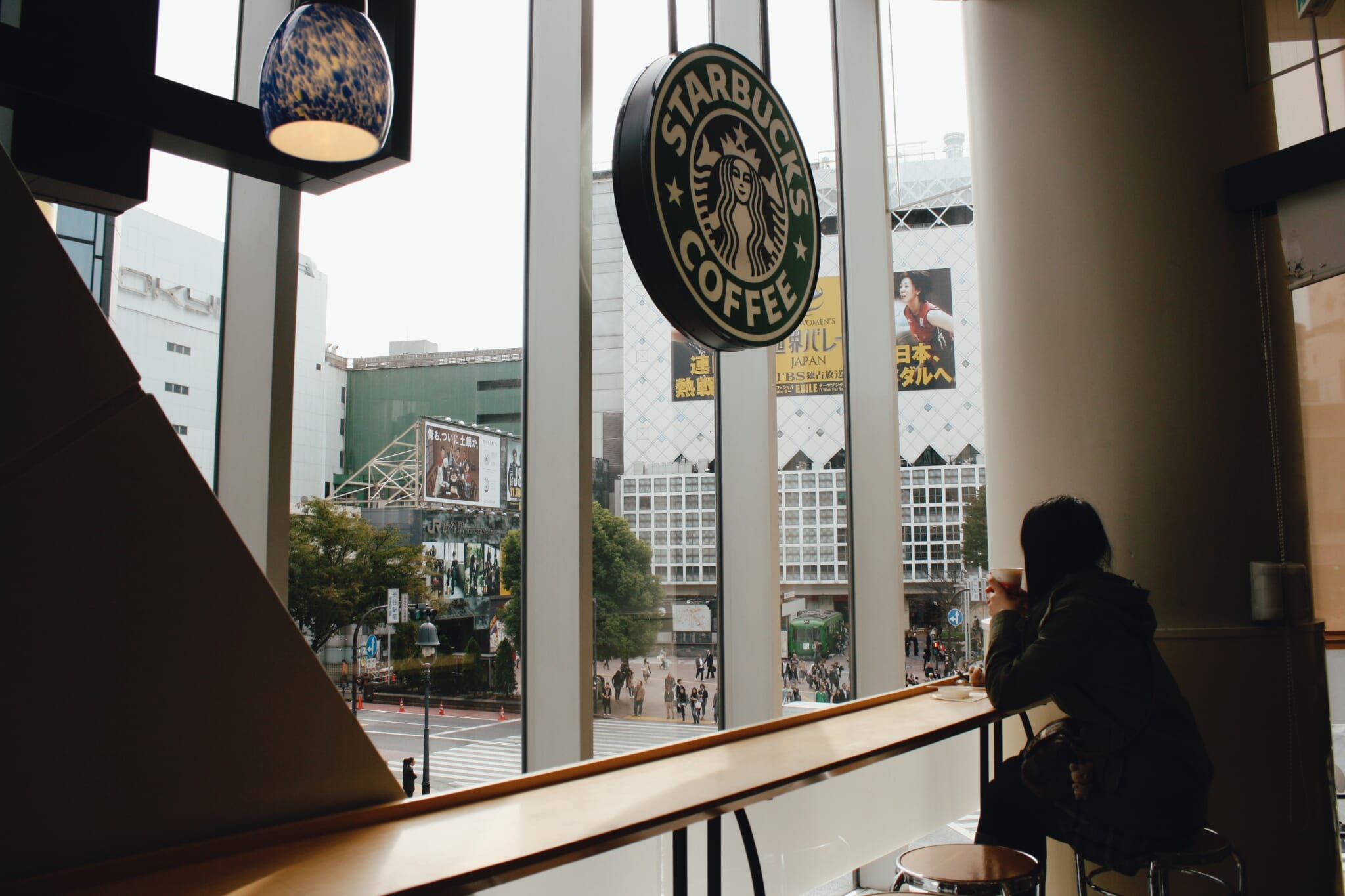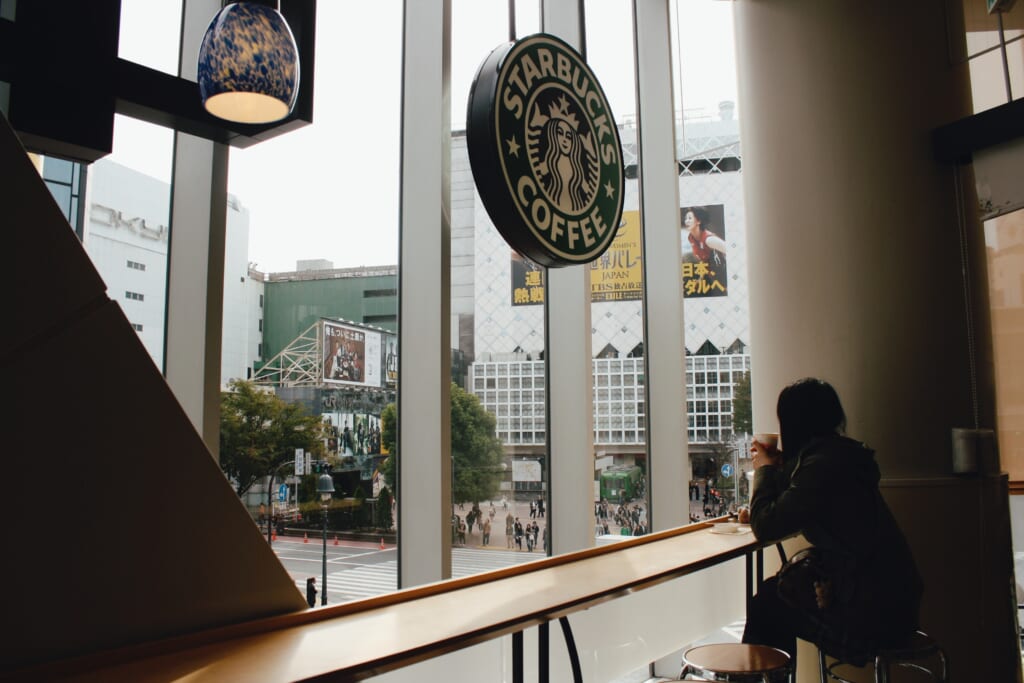 Numbers don't tell everything, but the rapid growth of Starbucks in Japan does explain a lot. In 2013, they earned ¥125,666,000,000 (over $1.2 billion USD at the time of writing), and this was with 600 fewer stores in the country. Since then, they've marched onward an assertive, confident expansion plan that has created 100 new stores a year. In 2015, they stopped being a publicly-traded company, and have therefore stopped disclosing their financial records to the public, but it's safe to assume that there's no stopping Starbucks at any point in the near future.
This kind of growth simply wouldn't happen without some real, powerful reason driving the connection between Starbucks and the Japanese public. So, what is it about Starbucks that's so appealing to Japan?
Starbucks Was the First Coffee Shop of its Kind in Japan
When Starbucks opened in Japan, it was the first coffee shop of its type in the country. Nowadays, it's easy to take certain aspects of Starbucks for granted: customizable orders, different drink sizes, different selections of milk, specialty drinks sold aside from regular, brewed coffee, and so forth. But when Starbucks launched in Japan, these things were completely novel.
The kissaten reigned in the days leading up to, and following, World War II. That is: simple and small coffee shops with quaint, wooden interiors and streamlined menus mostly consisting of basic, black coffee. Essentially, kissaten are like tea houses, but for coffee. These Showa-era institutions used to saturate Tokyo, and bit by bit were phased out as "second wave" coffee shops spread through the global market: chains such as Starbucks, Tully's, Costa (in the UK), and Dunkin' Donuts (in the US).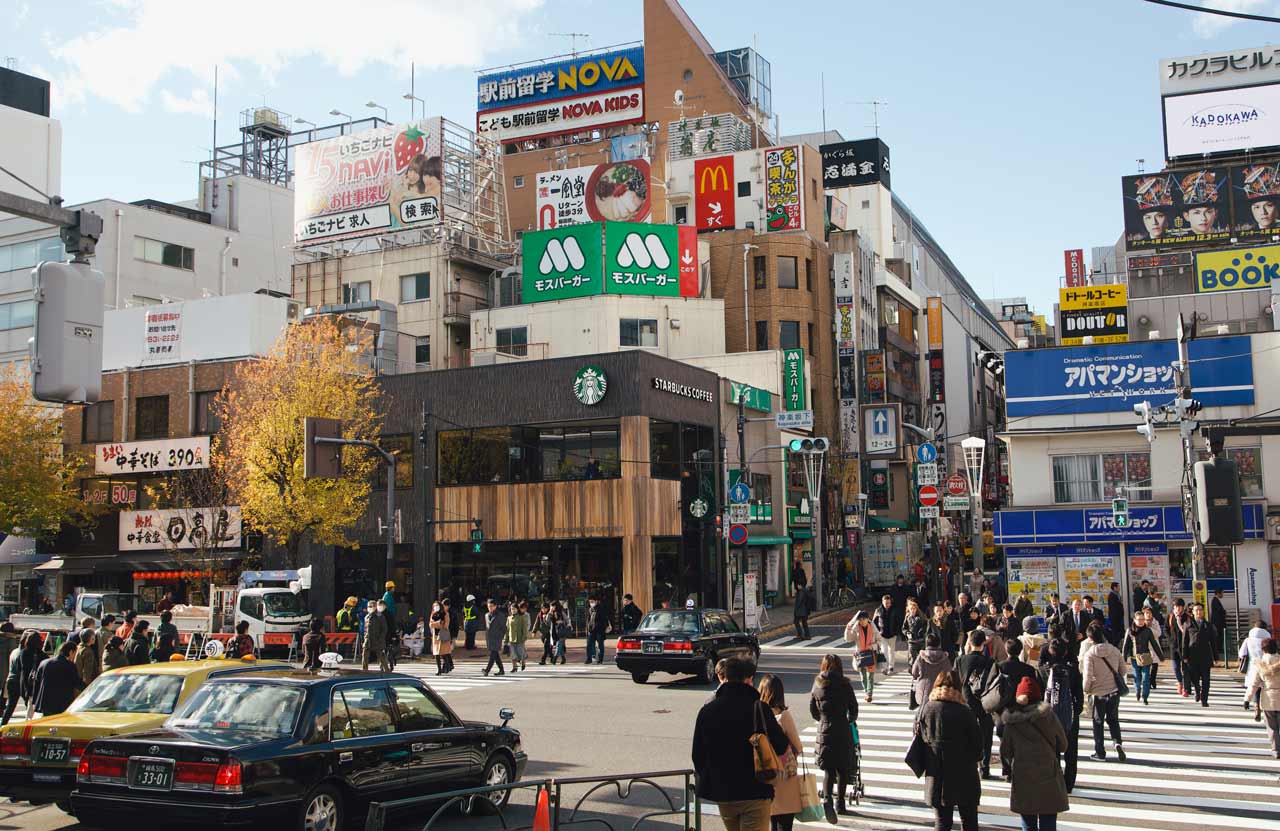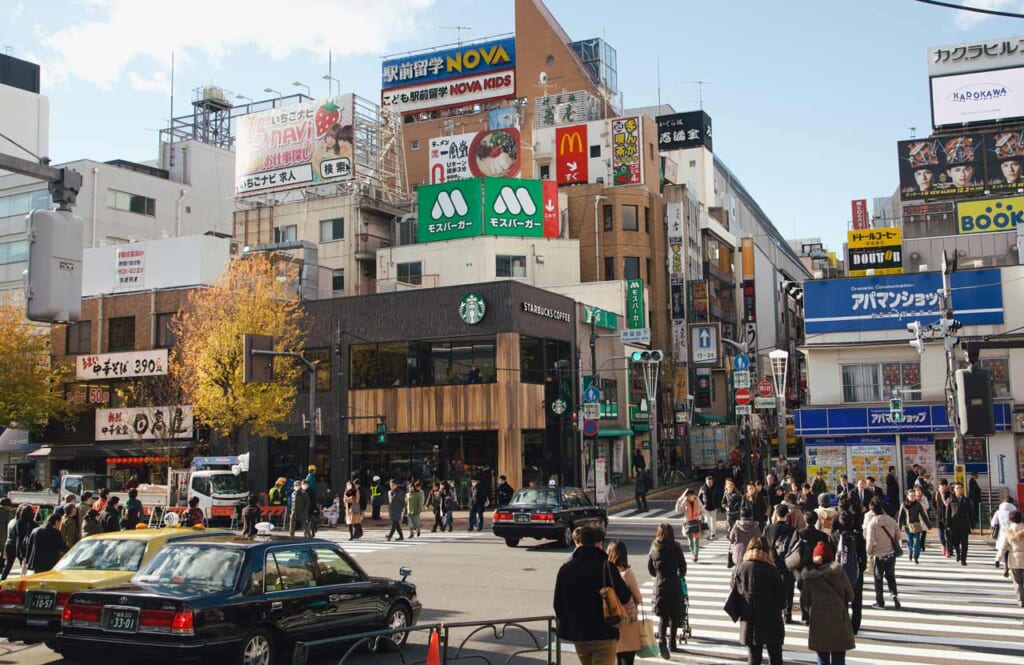 Starbucks was a mega-corporate chain that — due to some clever décor and image branding — felt like a personal, hometown coffee shop. The products were consistent across locations, much like any chain establishment, and the quality was, in general, of a higher caliber than local kissaten. Starbucks sourced their beans from across the world, demanded a higher standard, and labeled their beans and brews according to the region (Verona, Guatemala, Columbia Ethiopia), which helped them appeal to coffee aficionados and everyday coffee drinkers alike.
Starbucks was also completely smoke-free from the get-go, which proved a nice contrast to the smokey, musty atmosphere of kissaten, which even to this day are associated with older people and an older way of life. Contrastingly, Starbucks was newer, hipper, and as an added bonus, it came from the United States. Other US names, such as McDonald's, had already infiltrated Japan, and come to represent forward-facing social motion.
The truth is, Starbucks has always been a progressive, inclusive company, and Japan has taken notice. As recently as July 2020, Starbucks has opened its fifth deaf-language store in the world, in Kunitachi, Tokyo.
Starbucks Was a Place for Everyone
A quick stroll through a Starbucks in Japan reveals people from all walks of life: couples on dates, colleagues with laptops discussing business dealings, remote workers locked in place for hours on end, travelers staring at locals and checking directions on their phones, folks stopping for 10 minutes to jack into wi-fi on the way to the train station, students with scattered papers, pens, and most likely (let's be honest) frappuccino; in short, people from all walks of life engaged in any kind of personal or professional business at any time of day.
This universality is reflected in Starbucks' price point, as well, which adds to their appeal. The Japanese public tends to be wary of things that are too cheap, but also wants a good value for money. Starbucks' prices hit the sweet spot between these two: affordable for those on a budget (their specialty drinks may actually be a bit cheaper than other countries), and not too low-cost for folks wanting something that feels a bit classy.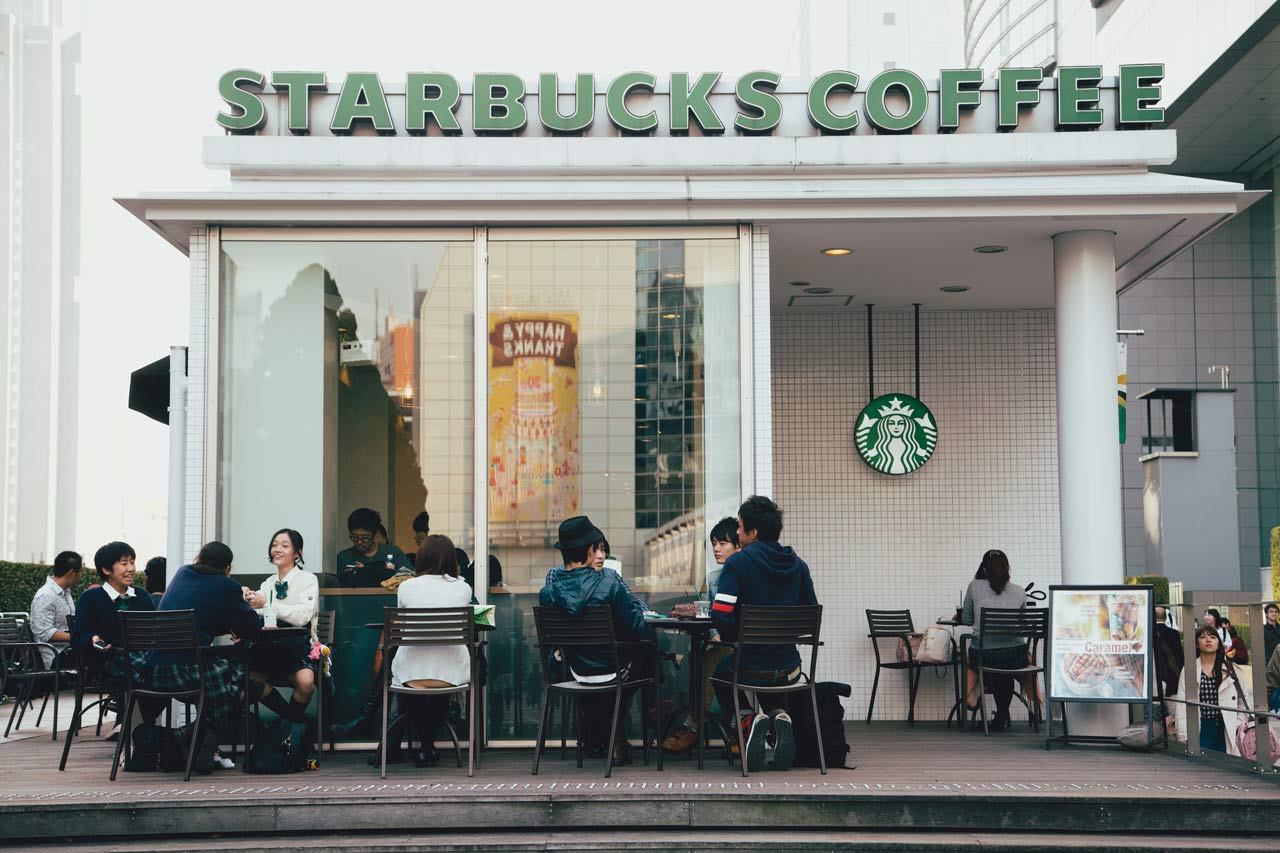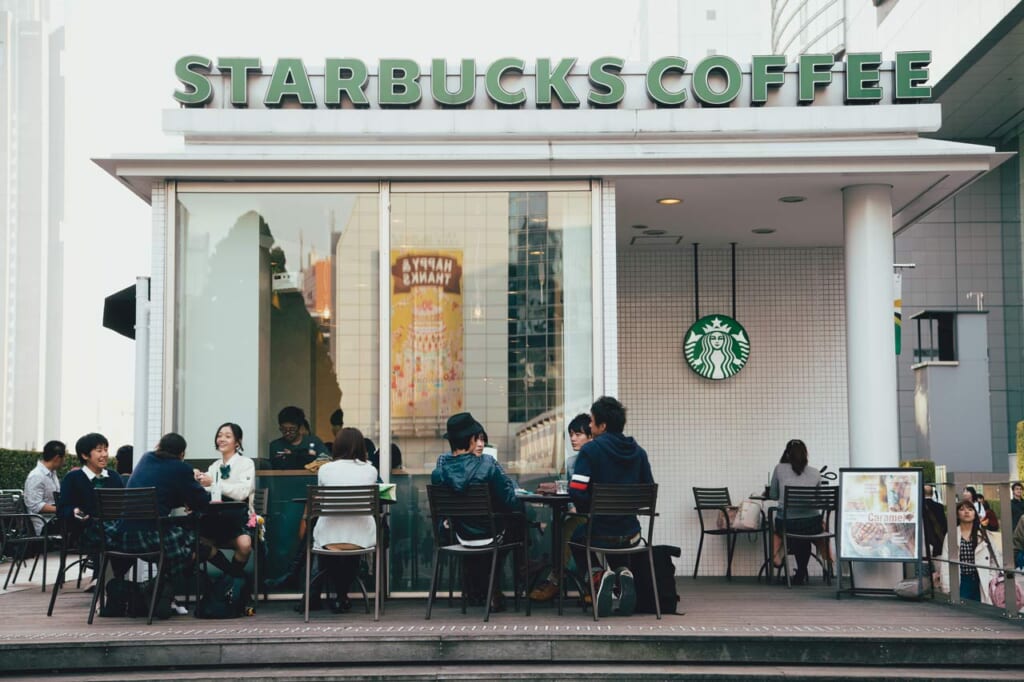 For travelers, Starbucks is ideal because Japanese language proficiency isn't required to order, and it's a familiar sight from home. Menu items are basically the same, so a tourist can just say, "triple grande hot soy latte," for example, and staff will understand. Plus, drink signage is in English as well as Japanese, and some staff at popular areas like Shinjuku in Tokyo are brought on board specifically to interact with non-Japanese speaking customers (assistants might even guide you to these cash registers without you realizing it). Travelers will also be happy to know that orders at Starbucks are just as customizable as at home, which is a big contrast to many other restaurants or cafes in Japan, which tend to refuse to alter their menu items. Just bear in mind that you may run across some translation issues the further you veer into complex orders.
Even though Starbucks has the same, standard menu across all shops (americano, latte, cappuccino), there are of course custom items that make the menu hand-tailored for Japanese tastes. A couple of these drinks, like the "matcha latte" have also caught on elsewhere in the world. Most exclusive, Japan-only items, though, are tied to seasons of the year and reflect either holiday (e.g., the cherry blossom season in spring, a pink, espresso-less sweet drink) or foodstuffs (e.g., chestnut lattes in autumn, moreish and slightly sweet). Japan, on the whole, is big on seasonal items, across the board, so these items are often highly sought after and advertised. (But sorry, United States: no pumpkin spice latte. Also, no flavored syrups to pump into drinks ad hoc.)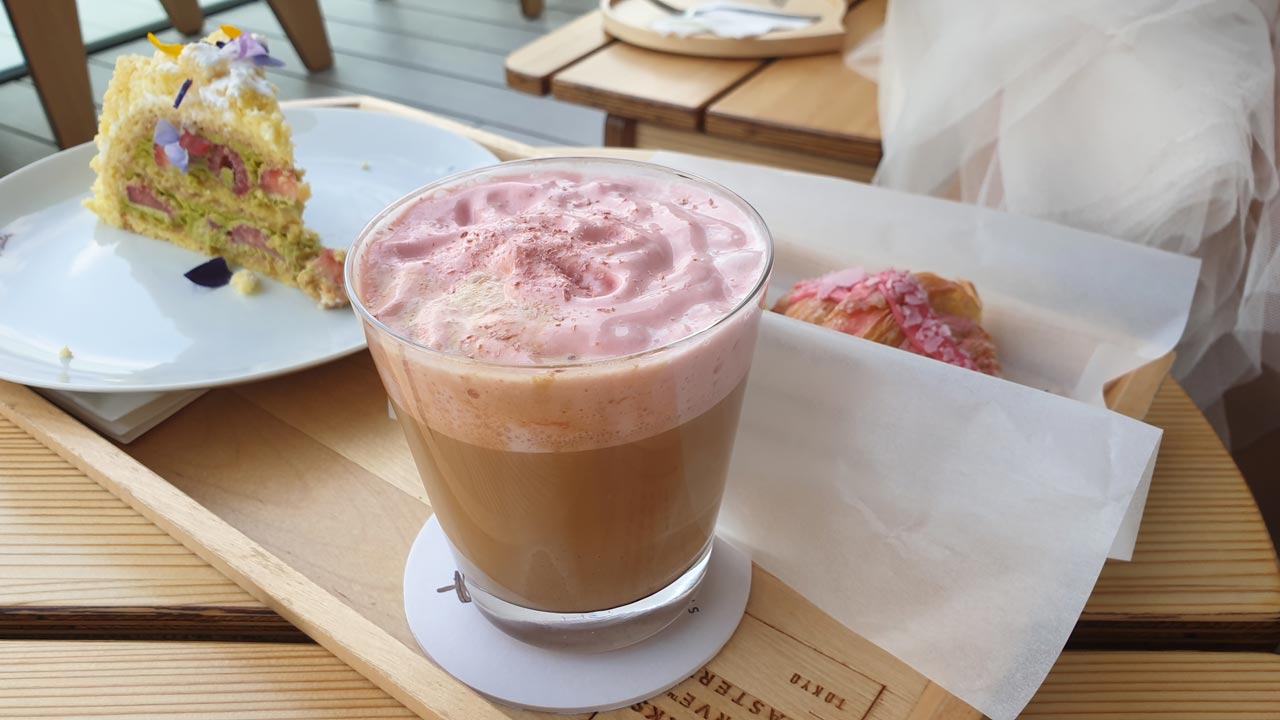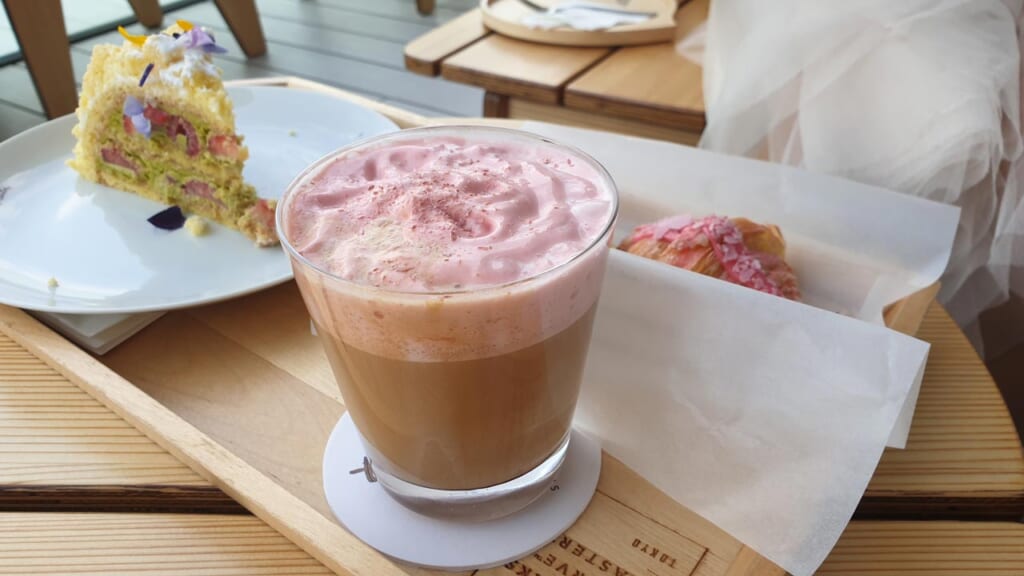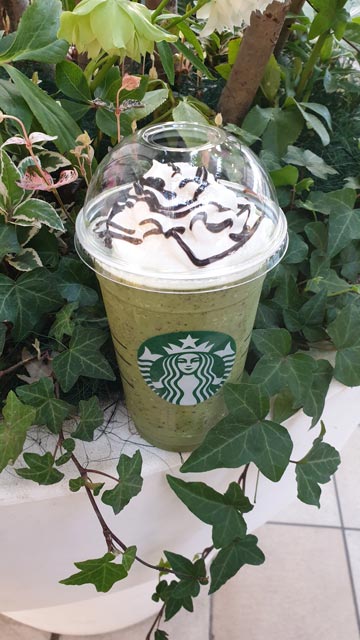 There are also some idiosyncrasies unique to Starbucks in Japan that reflect Japanese culture. For instance, lining up is not only important when ordering your drink, but when receiving your drink. No huddling into a giant mass at the drink counter waiting for your name to be called. And no name, for that matter. Employees will call out each drink, in a row, so keep your receipt handy just in case there are some issues with your order. And of course, in an era of COVID, watch for foot-shaped signs on the floor to know where to stand and how to abide by rules of social distancing.
Another small quirk related less to COVID and, again, more to culture, is cautiousness regarding touching things and personal space. Try to limit your touching of products like mugs and thermoses unless you intend to buy, and watch your overall manners to not lean on things, peer over the register, grab a wrong drink, and so forth. To this end, orders made with soy milk always come with a little card that you should take when you place your order, and hand in when you receive your drink. This helps limit mistakes in the ordering process due to allergies and cross-contamination of containers that hold milk, cardboard sleeves, and such. Check out a typical Japanese Starbucks menu.
What Are the Most Unique and Beautiful Starbucks in Japan?
The Starbucks experience in Japan isn't just limited to just coffee, though. There are a number of unique and cool physical locations such as the Ninenzaka Yasaka Chaya Branch in Kyoto, a 100-year old converted townhouse. Or, take the Kitano Ijinkan branch in Kobe, a Western-style property that looks like a building pulled straight from downtown Boston. Or, have a look at the Kawagoe Kanetsuki Doribranch in Saitama, which has an Edo-era aesthetic and open storefront.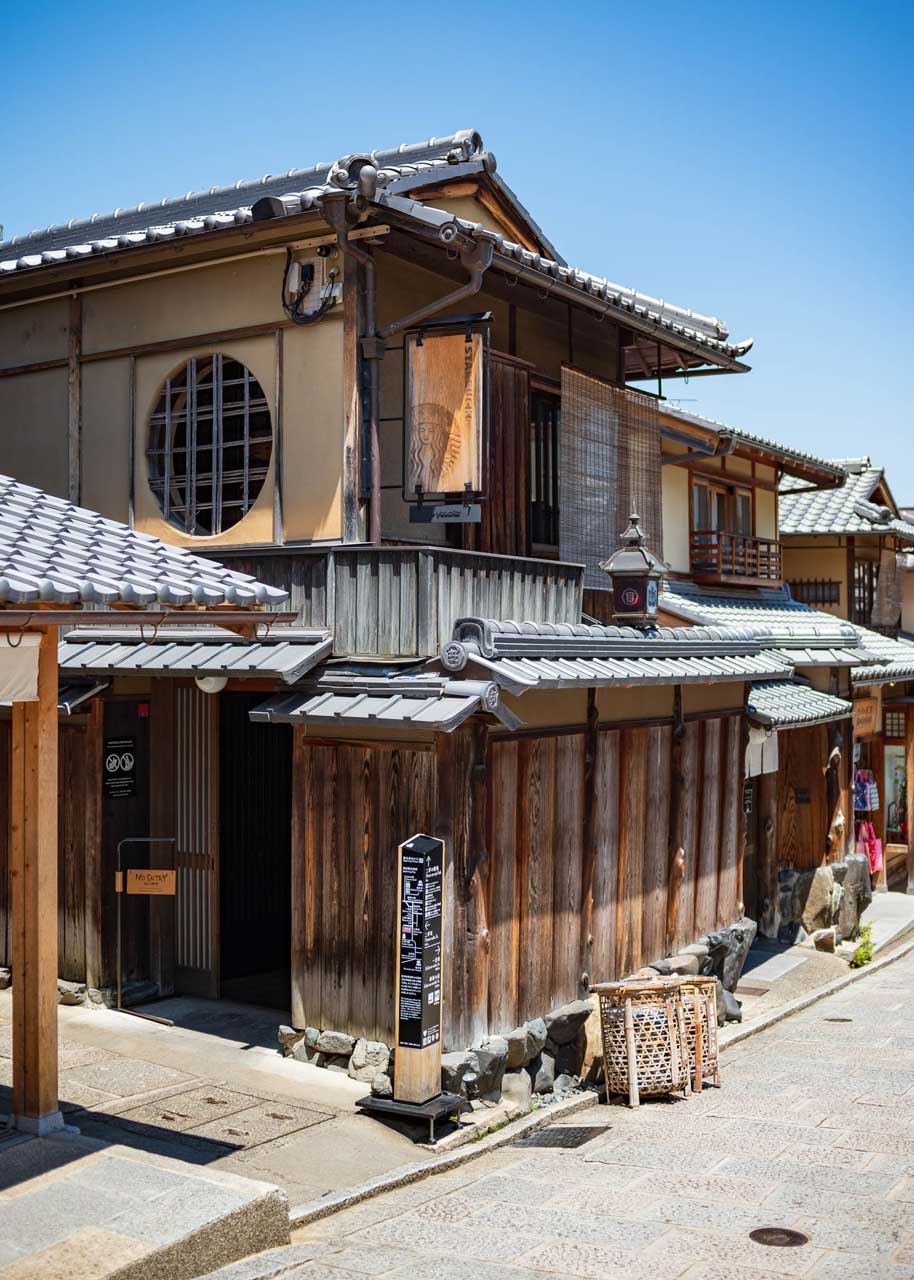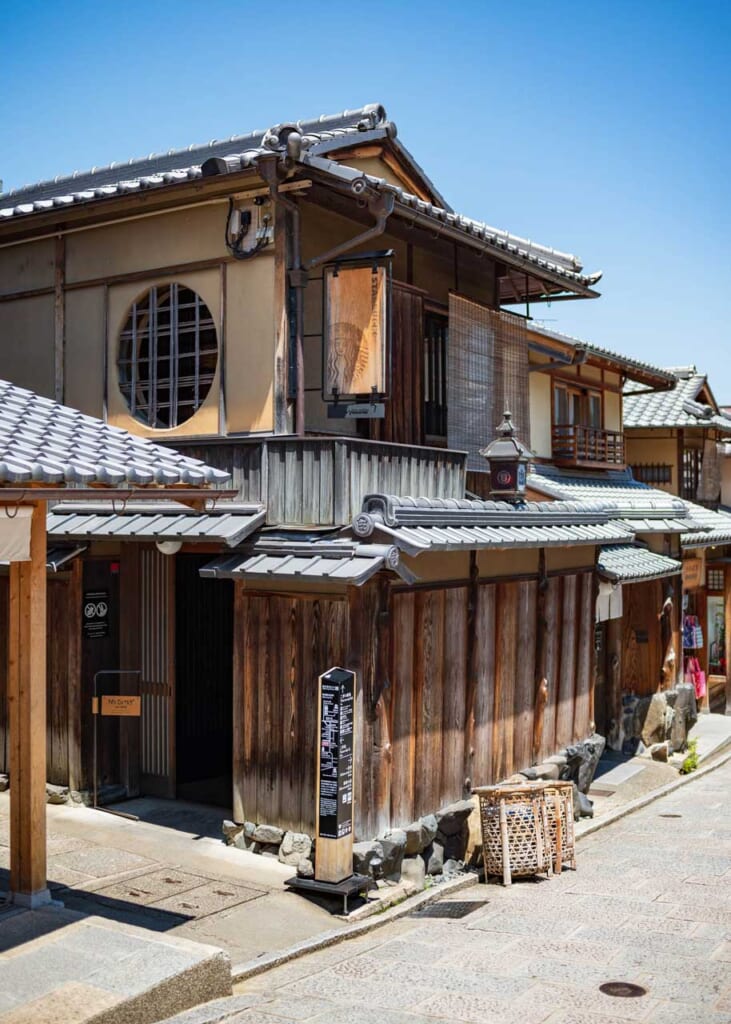 There are also ultra-high-end Starbucks Roastery locations throughout Japan with unique, more highly-priced menu items. The Roastery in Nakameguro in Tokyo, for example, is more of a coffee-based theme park than a simple coffee shop, with an ornamented, bronze, steampunk-like interior, beans shooting through pipes along the ceiling, and collectible goods unique to the Roastery brand.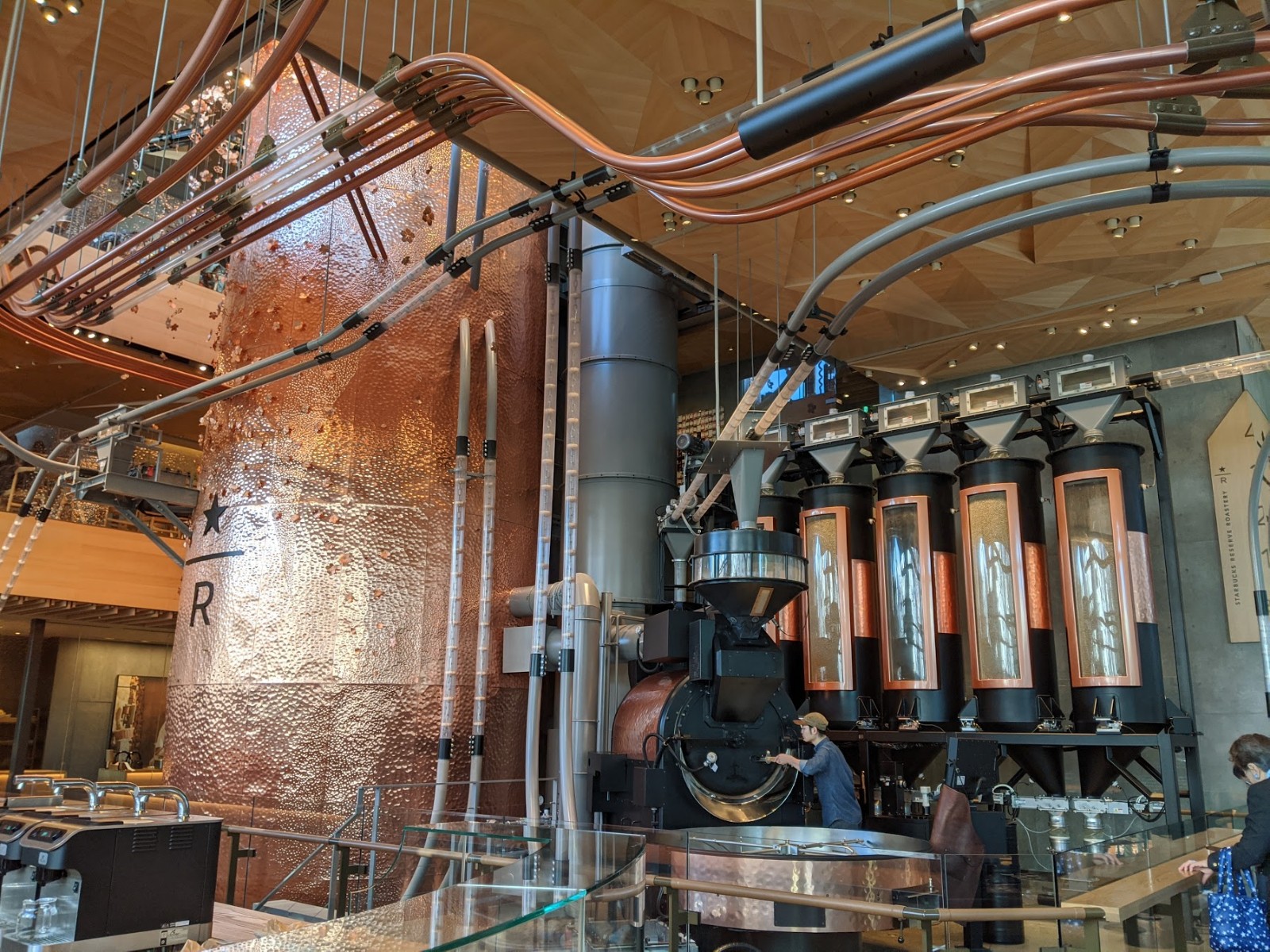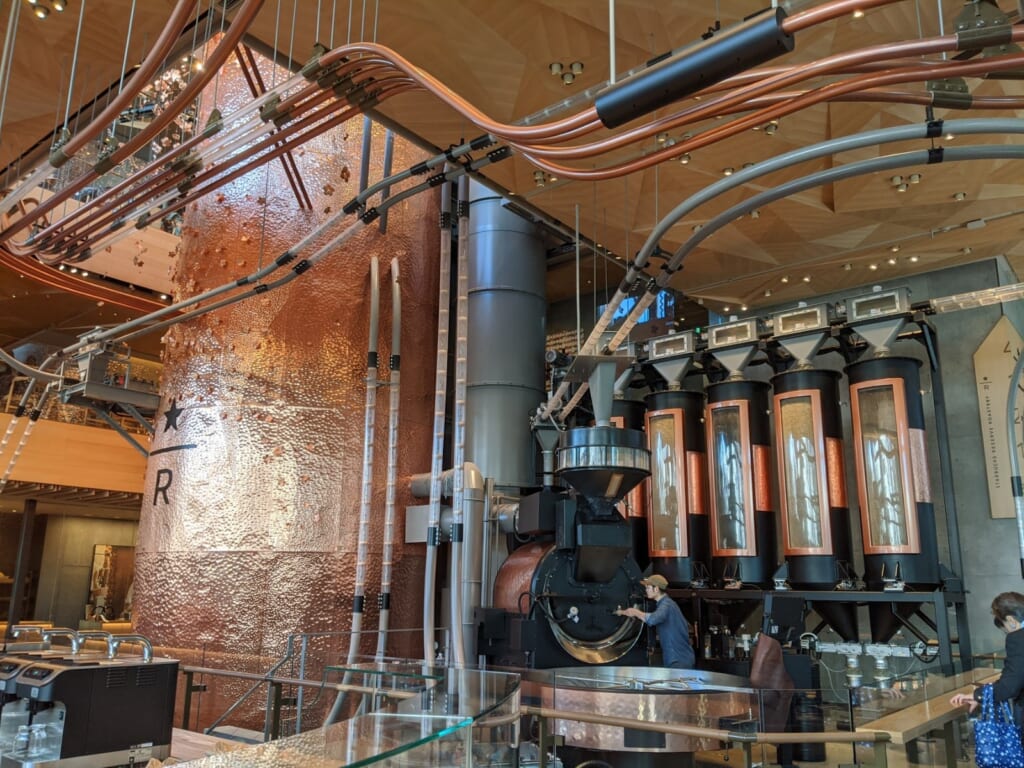 It may go without saying, but these types of locations afford variations on not only the Starbucks experience in Japan but the coffee-drinking experience in general. This is true for locals looking to escape for an hour, or for travelers who want to take advantage of the uniqueness of Japan's relationship with Starbucks. If you venture to any of these kinds of unique locations, be prepared to wait in line outside even before you make it to the counter. No matter how much time you have, though, it may prove completely worth the wait.
Re-experience the Familiar at a Starbucks in Japan
Visiting Starbucks in Japan is a way to re-experience a familiar place through Japanese eyes. Furthermore, it's a way to gain insight into how Japan sees itself, its own preferences, its likes, and dislikes, and also how Japan sees the rest of the world.
The next time you visit Japan, don't discount how novel the familiar can be. Find a Starbucks along your route and pop in. Pay attention to details, take note of what is similar, what is different, and grab your favorite drink in a foreign country. Or, just take a look at the seasonal menu and snag unique Japanese items while the moment lasts.