Matsuyama in Shikoku, Japan is known for the Dogo Onsen, but also as a stop on the Shikoku Pilgrimage Trail. We were lucky enough to experience the many facets of Matsuyama city in Shikoku during our three-day trip, and of course we want to share them with you!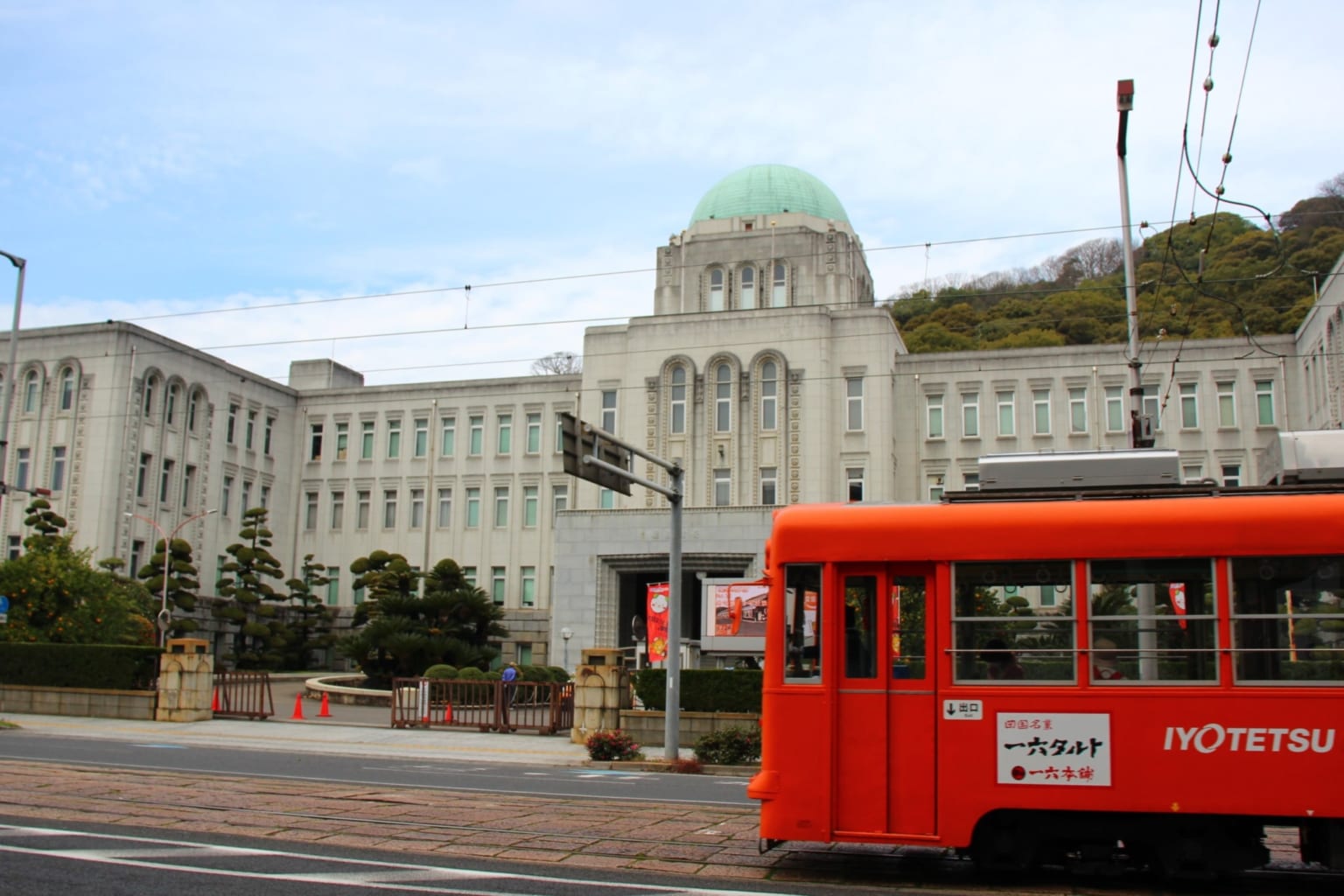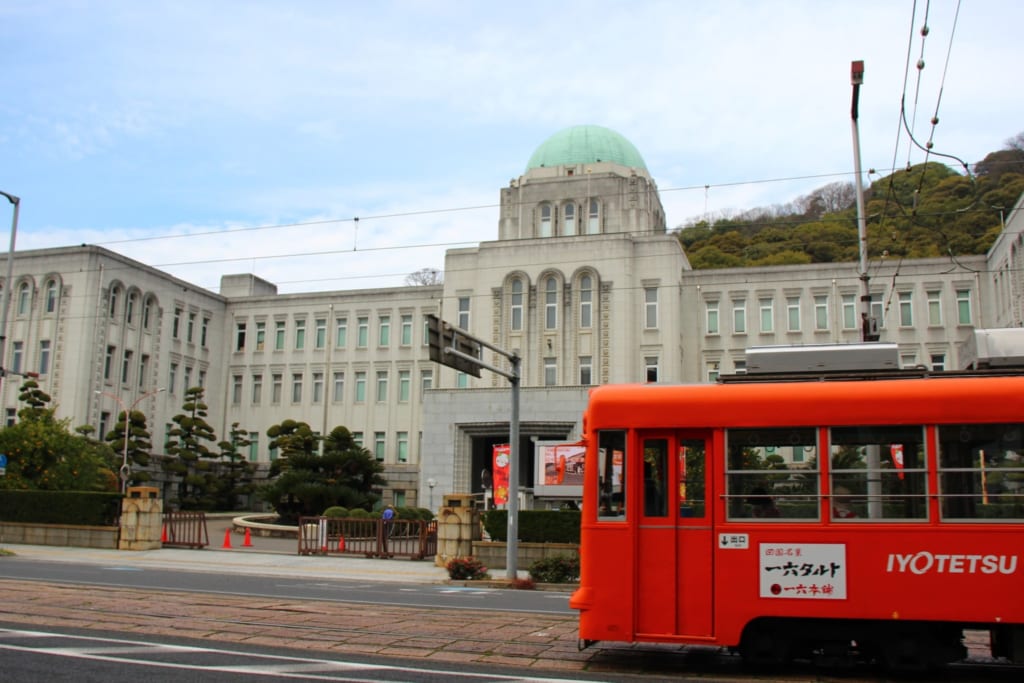 Dogo Onsen Hotel Kowakuen Haruka
We spent the night at the Dogo Onsen Hotel Kowakuen Haruka, which live up to its name because the main building of Dogo Onsen is visible from everywhere in the hotel, be it from the dining room or the balcony of our hotel room.
The hotel is also connected to the Dogo Onsen via a covered path, so that only a few steps have to be taken outdoors. This is especially useful during rainy weather, when you want to go to the onsen dressed in yukata.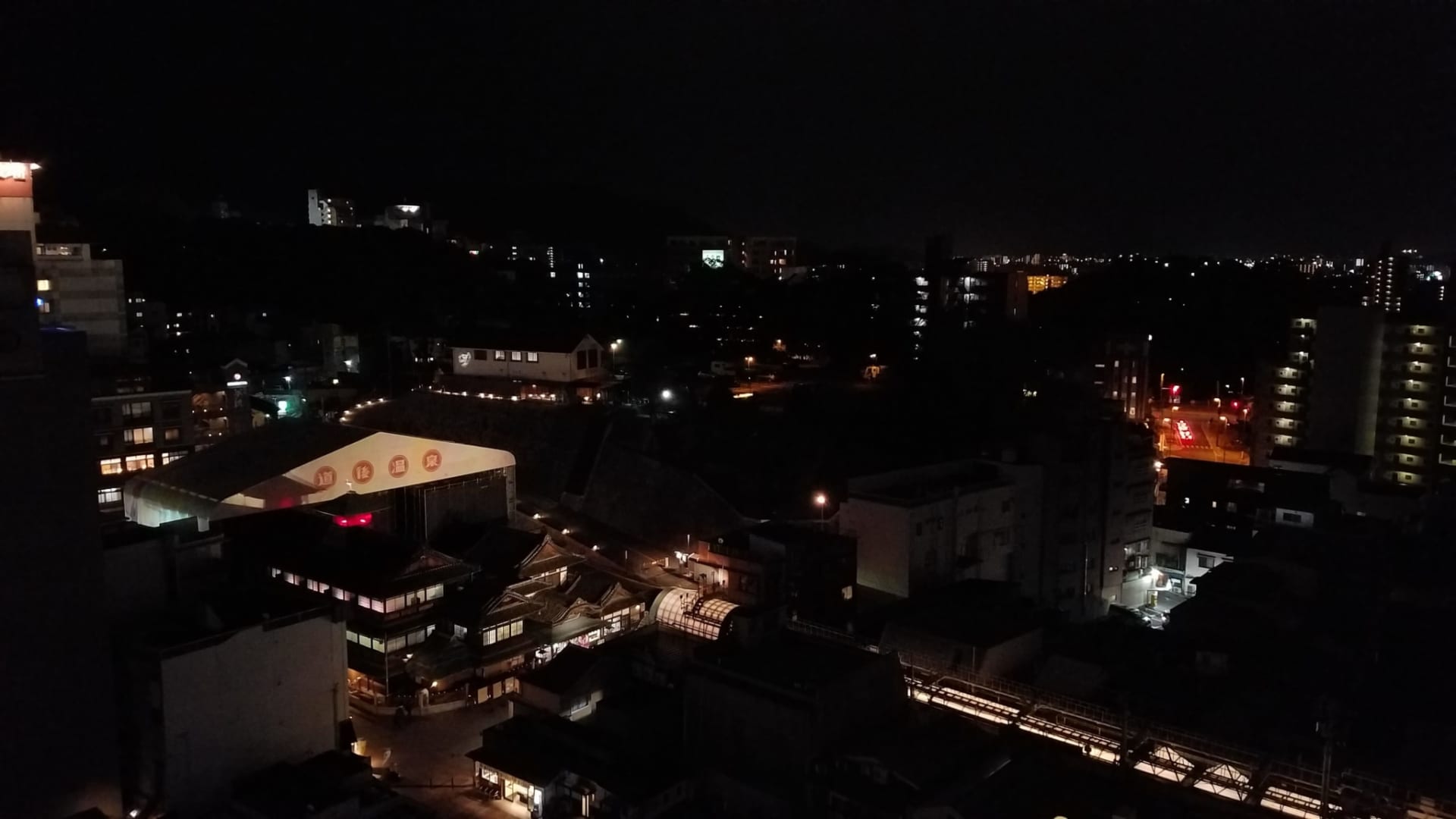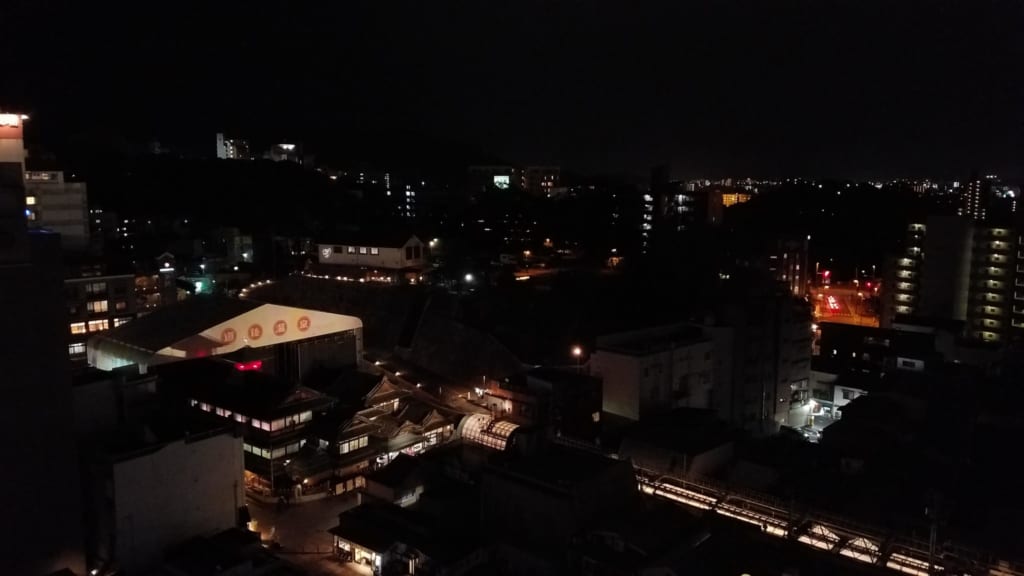 We took our dinner at the hotel. Our personal sukiyaki was already waiting for us at the table when we came to the dining room. During dinner, we could enjoy the view of the Dogo Onsen, which was lit up in the darkness of night.
In addition to sukiyaki, two other dishes were served. For me, there was a vegetarian option, while my partner was served fish in the first course. There were small delicacies which were also eye-catching. The second course consisted of tender beef accompanied by local vegetables. In addition, there was the option to choose something from the buffet. Sushi, tempura, karaage (including puffer fish karaage), various salads and desserts.
The selection left nothing to be desired! On the contrary, it took a lot of time and an empty stomach to try out everything.
Botchan – The Tram of Matsuyama
A tram line in Japan? Yes! You will find it in Matsuyama, and with a bit of luck, even spot the actual Botchan tram.
The Dogo Onsen tram station is less than a 10-minute walk away from Hotel Kowakuen Haruka and is the home of Botchan. At least, when the Botchan is not being driven through the streets of Matsuyama, it will be waiting there to tell you its story.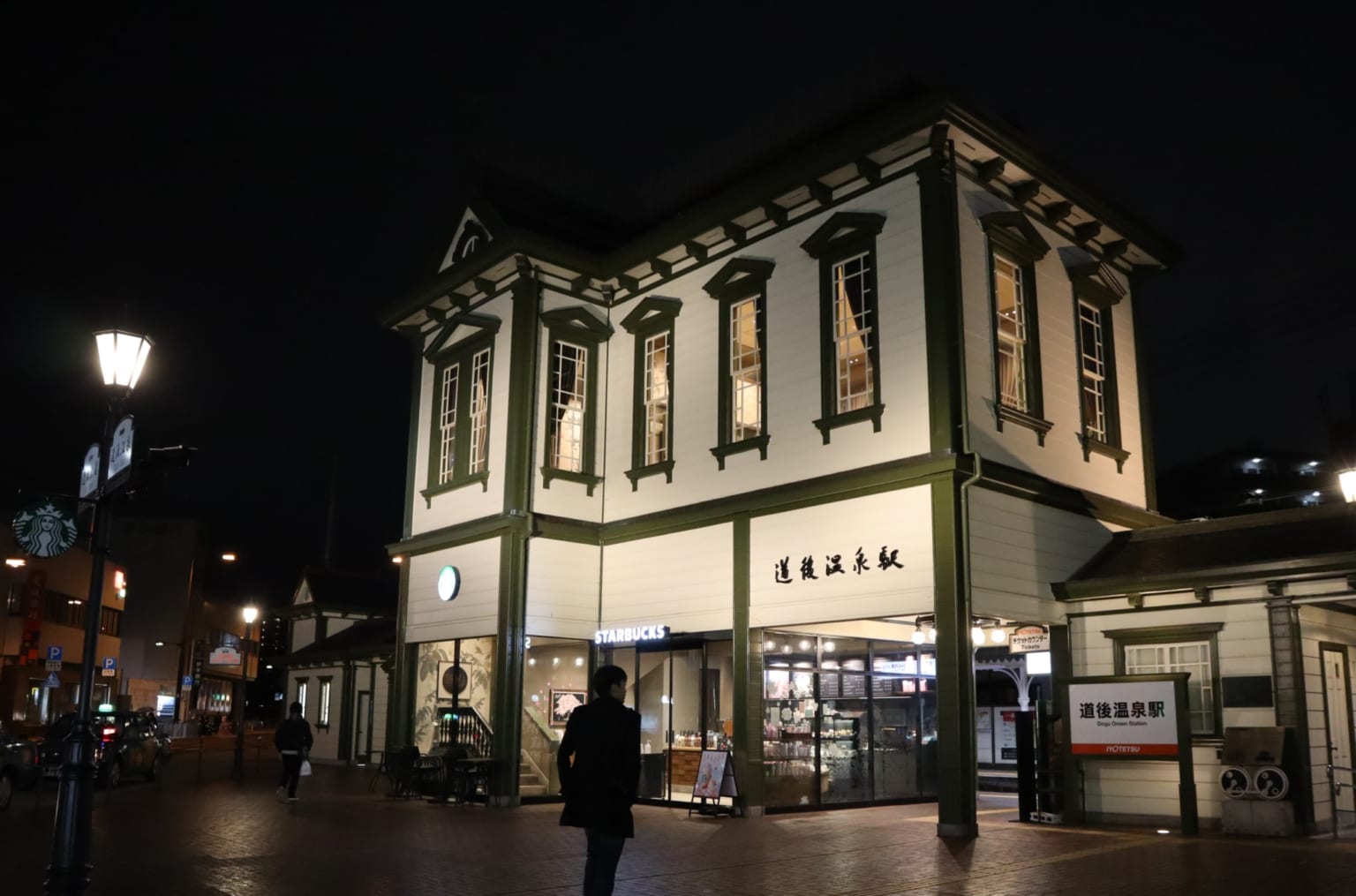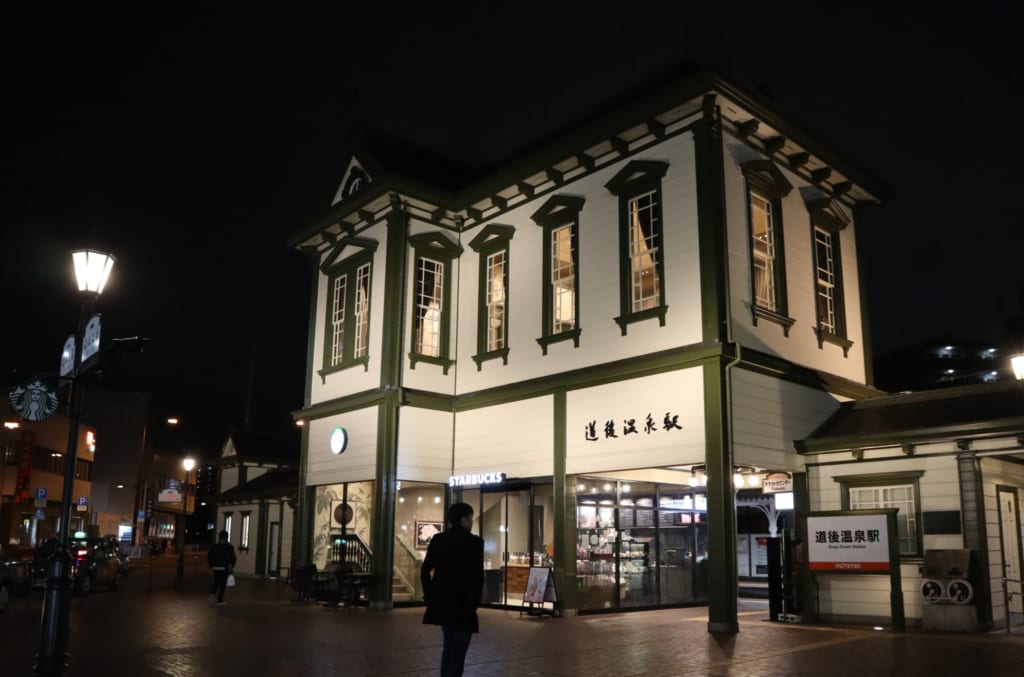 The original Botchan, an import from Germany, served Matsuyama residents as a means of transport for 67 years, starting in 1888. The steam locomotive received the name Botchan from a novel, written by Natsume Sōseki.
The Botchan which is currently driven through Matsuyama's streets is a diesel locomotive. Twice a day, you have the chance to see Botchan driven through Matsuyama city, up to four times a day during the holiday season. For 800 yen you can have the chance to ride on it through the city.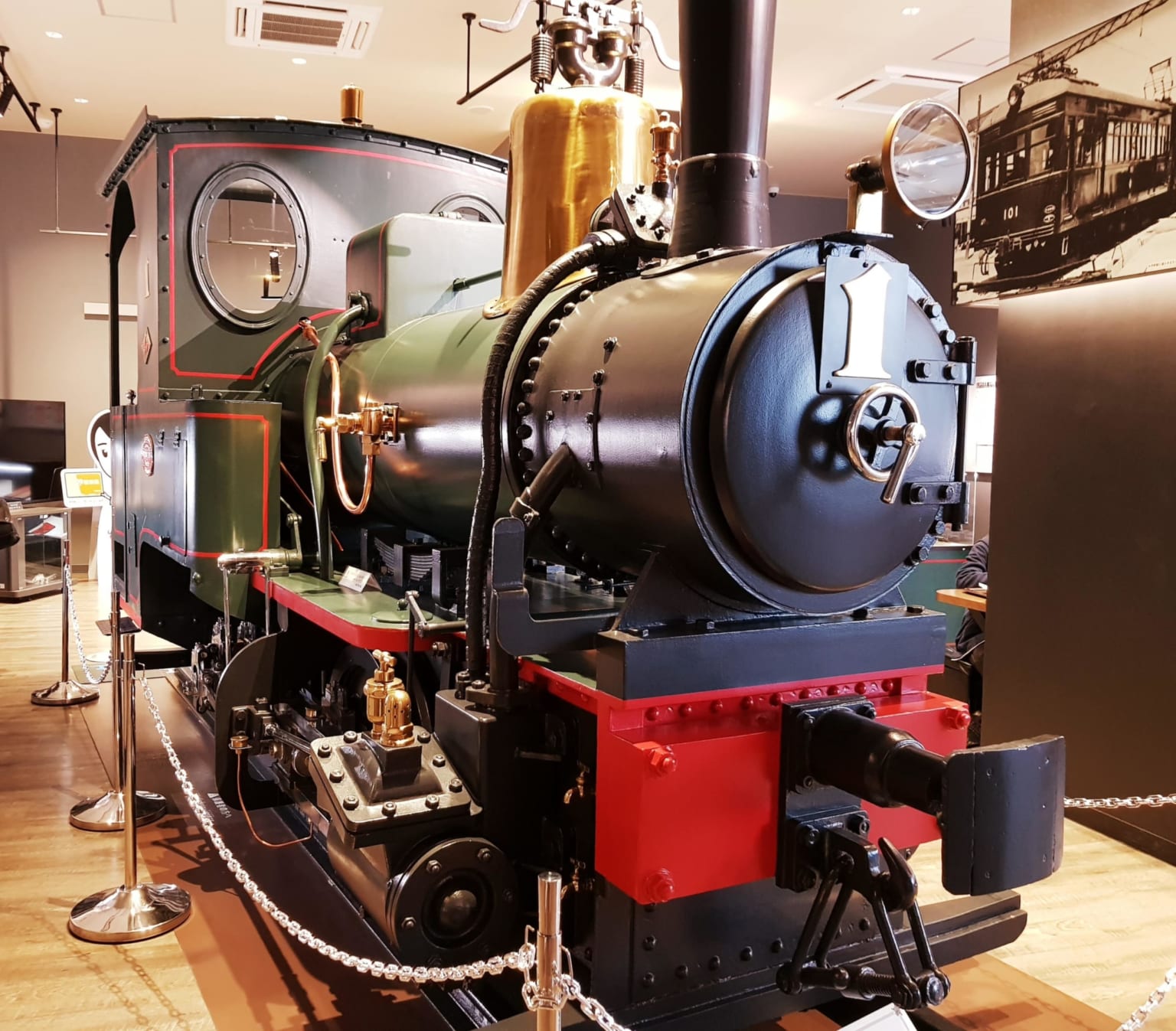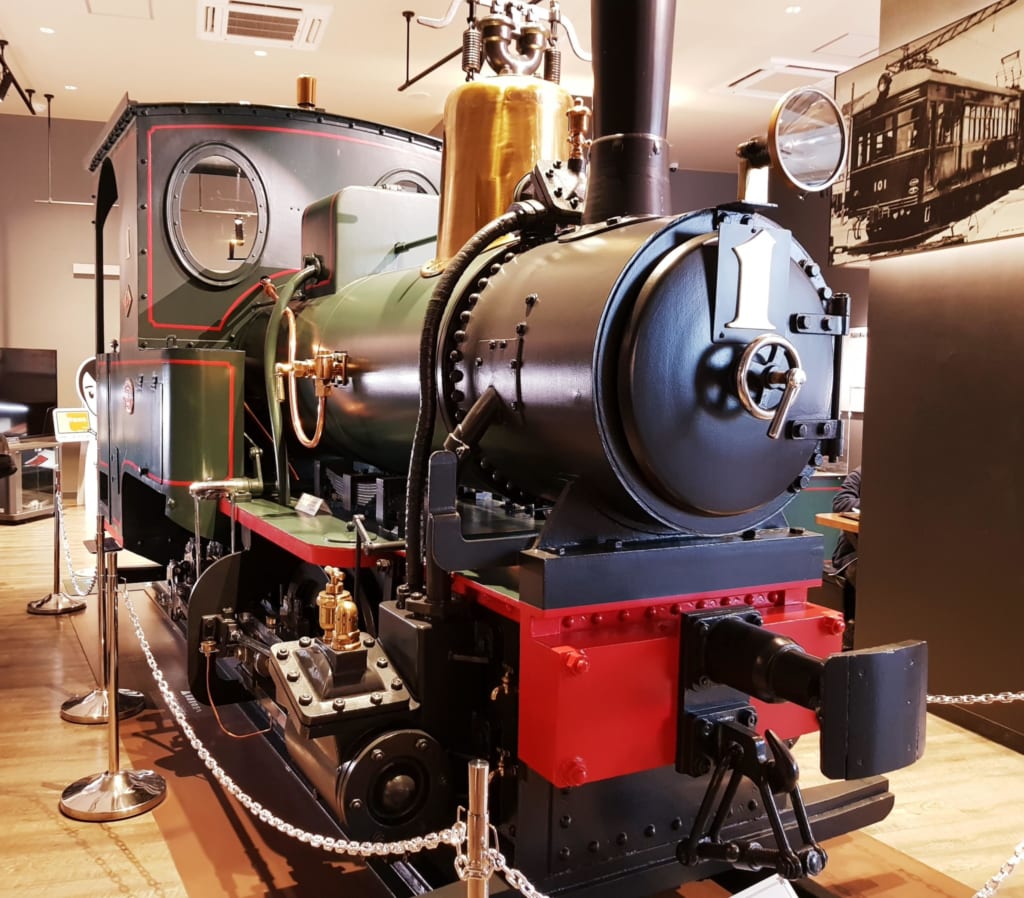 Dogo Onsen Honkan in Matsuyama Japan
After visiting Botchan, we wanted to take a bath in Dogo Onsen Honkan, the main building of Dogo Onsen. Because of the wet rainy weather, we were especially looking forward to soaking in the hot water and made our way back to Dogo Onsen Honkan through Dogo Shotengai, a famous shopping street in Matsuyama.
Dogo Onsen Honkan, which was built in 1894, stands as a symbol for Dogo Onsen, the oldest bathhouses in Japan. It is also one of the places that inspired Hayao Miyazaki's masterpiece "Spirited Away".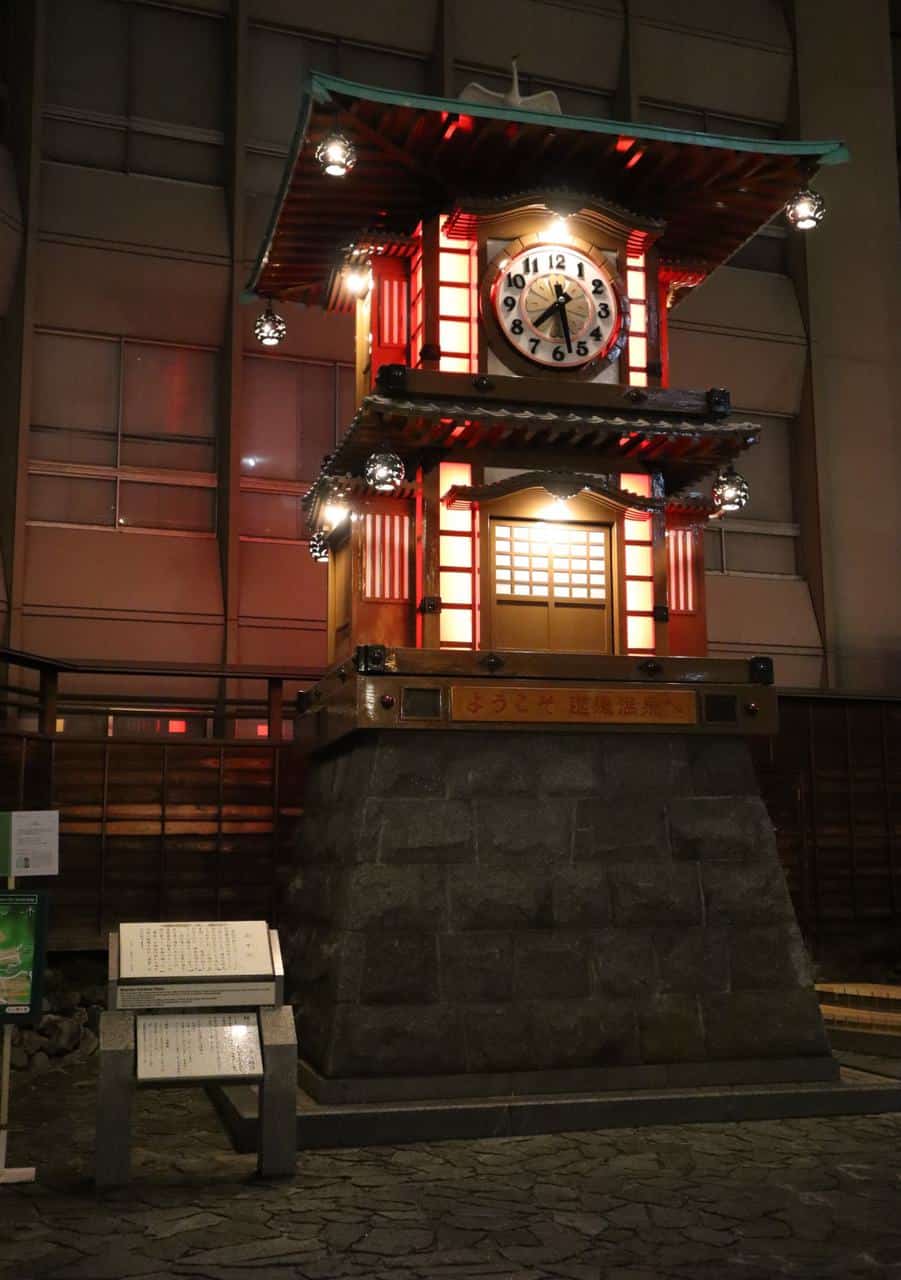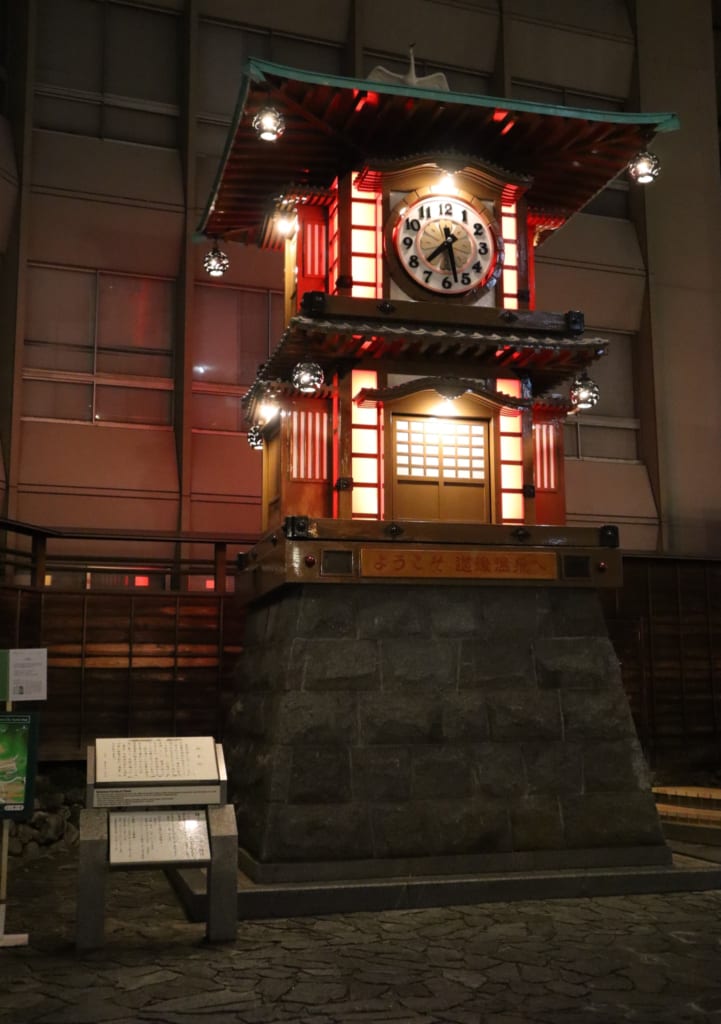 Because the second and third floors of Dogo Onsen Honkan are currently under construction due to conservation measures, we could only visit the baths on the ground floor, which are called Kami-no-Yu. These stone baths, called Yugama, have walls decorated with Tobe ceramic, and a carved stone waterspout in the center, representative of Dogo Onsen Honkan.
For such a historic onsen with a history of more than 100 years, the entrance fee of just 420 yen per person is a bargain.
Walking through Dogo Shotengai
The shopping street, which connects Dogo Onsen and the Dogo Onsen tram station is known as Dogo Shotengai.
This 250-meter-long shopping street with around 60 shops offers typical souvenirs as well as Ehime specialties. A special experience was our visit to the shop "10 Factory", which revolves around Ehime's specialty – Mikan.
At least eight different types of mikan ice cream, juices, salad dressings, oils, pickled oranges and more can be purchased here.
Of course, we were curious and tried out Iyokan, Amanatsu and Unshu ice cream, plus a juice made of Kawachibankan orange. The selection of oranges is simply gigantic, and it was quite interesting to try out the different varieties and tastes.
You should definitely plan to visit this shop if you stroll through the shotengai. Or you can take a detour to the other baths of Dogo Onsen, the Dogo Onsen Asuka-no-Yu bathhouse and the Dogo Onsen Tsubaki-no-Yu bathhouse.
Ishiteji Temple – A Stop on the Shikoku Pilgrimage
The Shikoku Pilgrimage in Japan includes 88 temples that welcome and receive pilgrims. Number 51 is the Ishiteji Temple, is located in Matsuyama, not far from Dogo Onsen. It is one of eight pilgrimage temples located in Matsuyama. You can easily recognize pilgrims here by their white robes.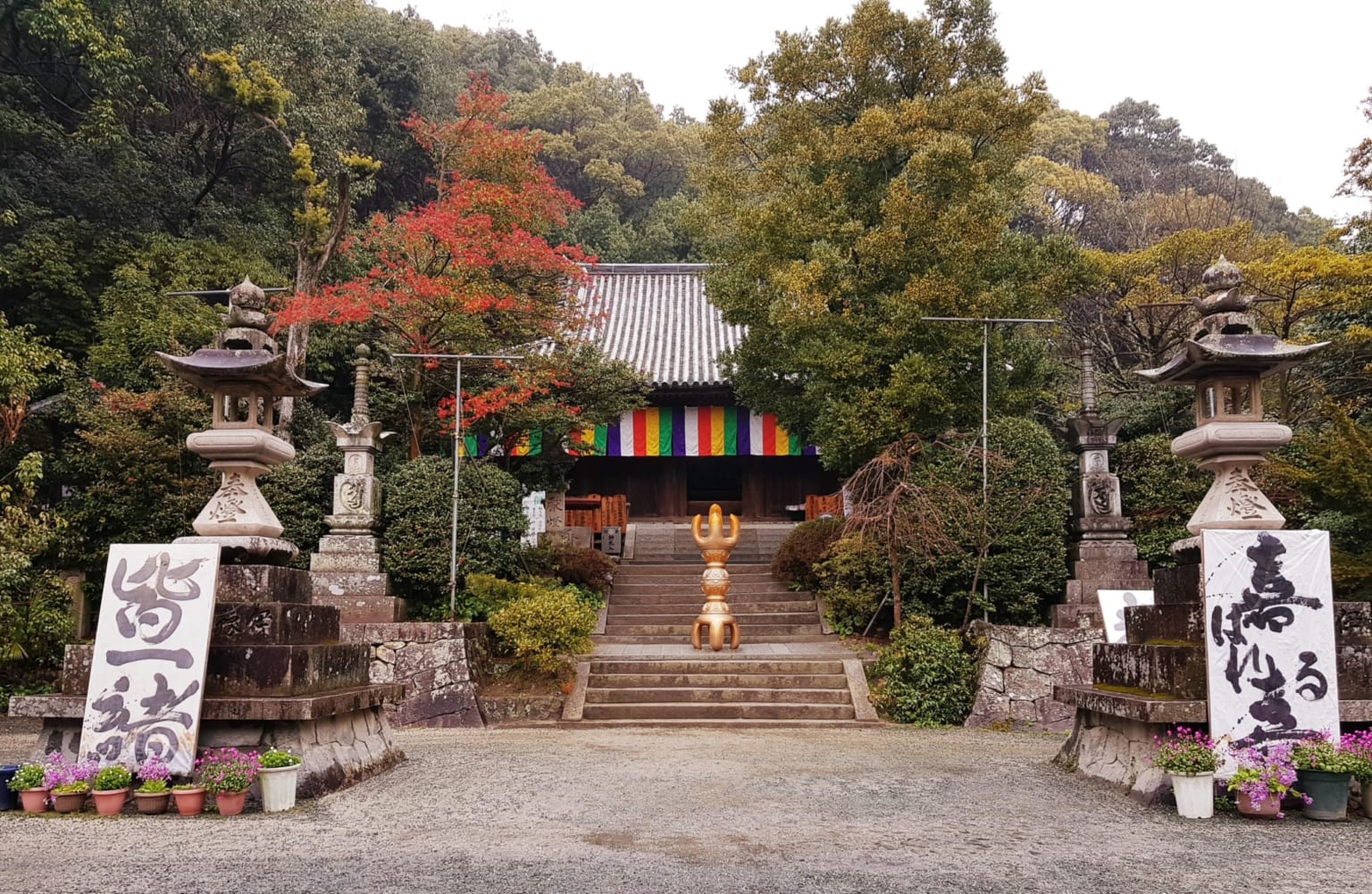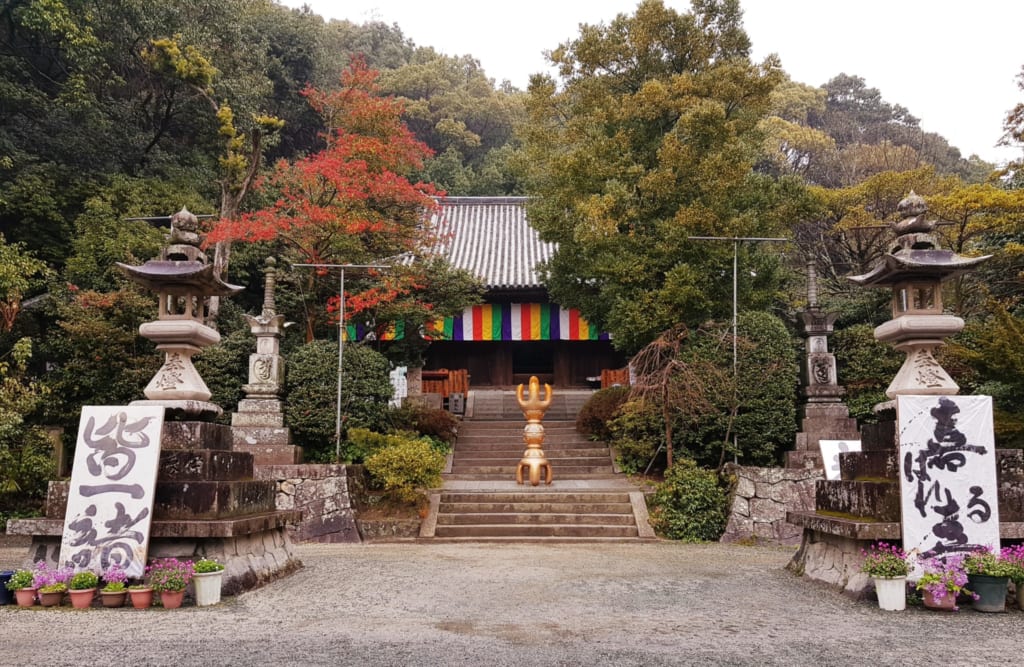 Literally translated, the name Ishiteji means "stone hand temple". Part of this pilgrimage site is advertised as a national cultural property. While walking through this impressive terrain, it was easy to understand why.
The Ishiteji Temple is only one of 88 temples on the Shikoku Pilgrimage Trail, and yet it impresses with its diverse facets. A small pond on the site looks like an oasis of peace and quiet, while the scent of incense sticks lingers in the air.
On our way to the Ishiteji Temple from Dogo Onsen, we passed Fudoki no Oka Mantra. This place, which is slightly eerie, has a collection of all 88 deities that the pilgrims visit on their way.
Visiting Matsuyama Castle
Built in 1603 by Kato Yoshiaki, Matsuyama Castle in Ehime, Shikoku Japan, is one of the highlights of the city. In addition to the Shikoku Pilgrimage Trail, it is probably one of the most visited sightseeing spots in Shikoku.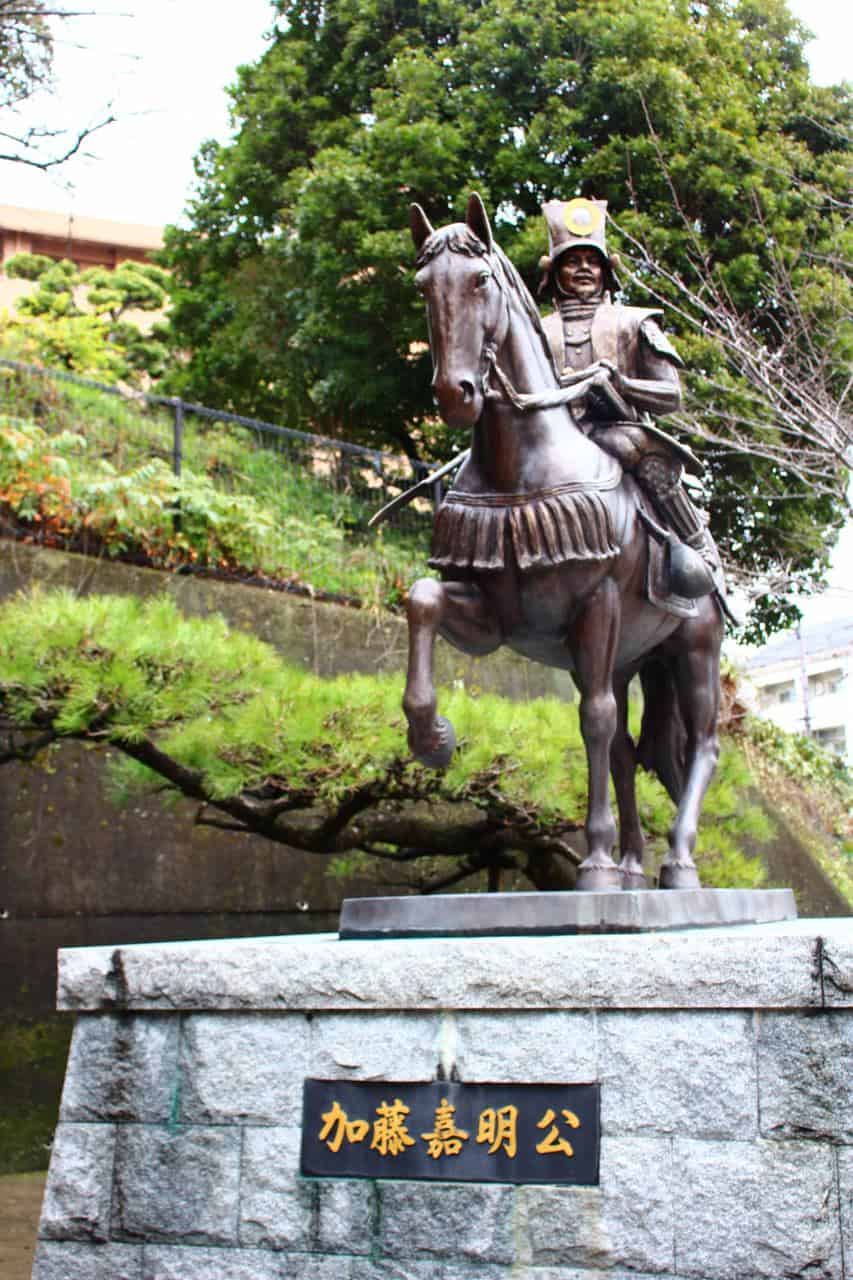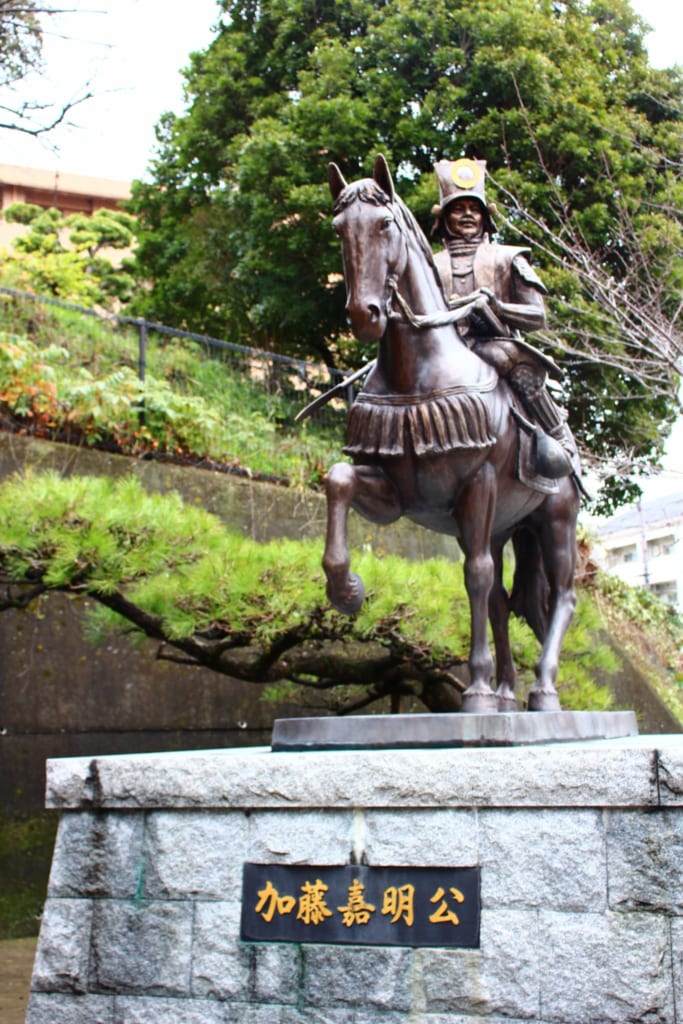 On foot, we made our way to the castle. From the top you have a panoramic view of Matsuyama city. You can also go up by ropeway; a single trip costs 270 yen for adults and 140 yen for children.
The walk up to the castle gave us an idea of what it should look like here during sakura season. The way is lined with cherry blossom trees that were just waiting to open their buds. Unfortunately, we were a little early for this time of the year, but in a few weeks, everything would burst into a pink and white bloom.
Because we were curious about the exhibition inside of the castle, we purchased tickets that cost 520 yen per person and went inside the impressive castle interior. At the entrance you have to put your shoes in lockers, but if the old wooden floor of the castle is too cold for you, you can borrow slippers here.
Unlike other exhibitions, the one in Matsuyama Castle is an interactive one. You have the opportunity to test how heavy a katana (Japanese long sword) is or how the castle lords defended their seat at that time.
Local Specialties in Okaido
Visiting Matsuyama Castle made us hungry, so we headed to the Okaido shopping street. This street is located in the center of Matsuyama city, where Botchan also has one of its few stops.
Here you can not only buy souvenirs, but also try local specialties. For example, Rouken Mantou – sweet steamed bread in many different flavors. We chose a matcha and a Hokkaido pumpkin mantou.
The SAKA NO UE NO KUMO Museum Designed by Ando Tadao
Another highlight in Matsuyama is the SAKA NO UE NO KUMO Museum, designed by the world-famous Osakan architect Ando Tadao.
Ando Tadao, known for his concrete buildings that follow critical regionalism, created another hallmark of his work that is the SAKA NO UE NO KUMO Museum. This masterpiece of architectural architecture is also in harmony with its surroundings in Matsuyama.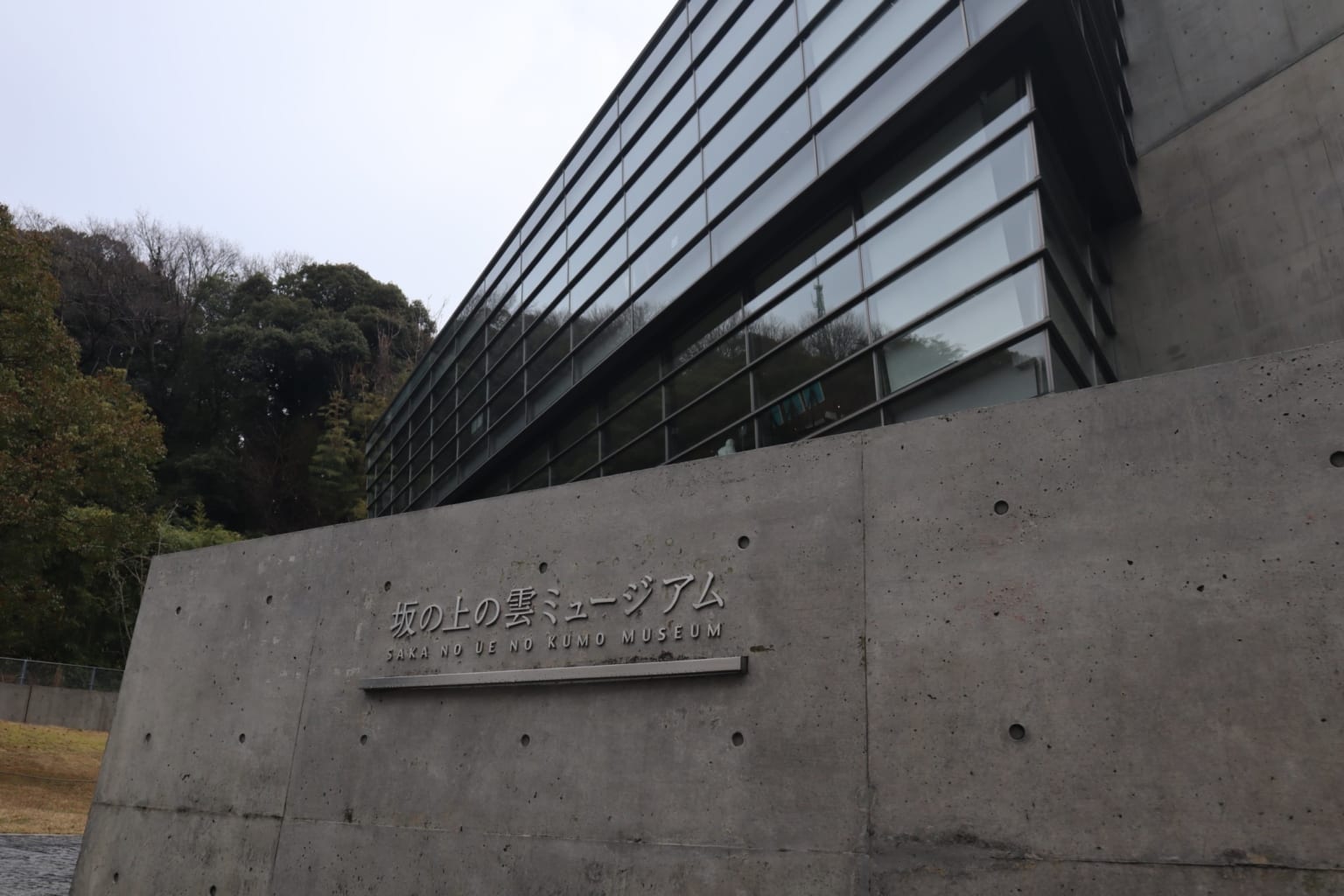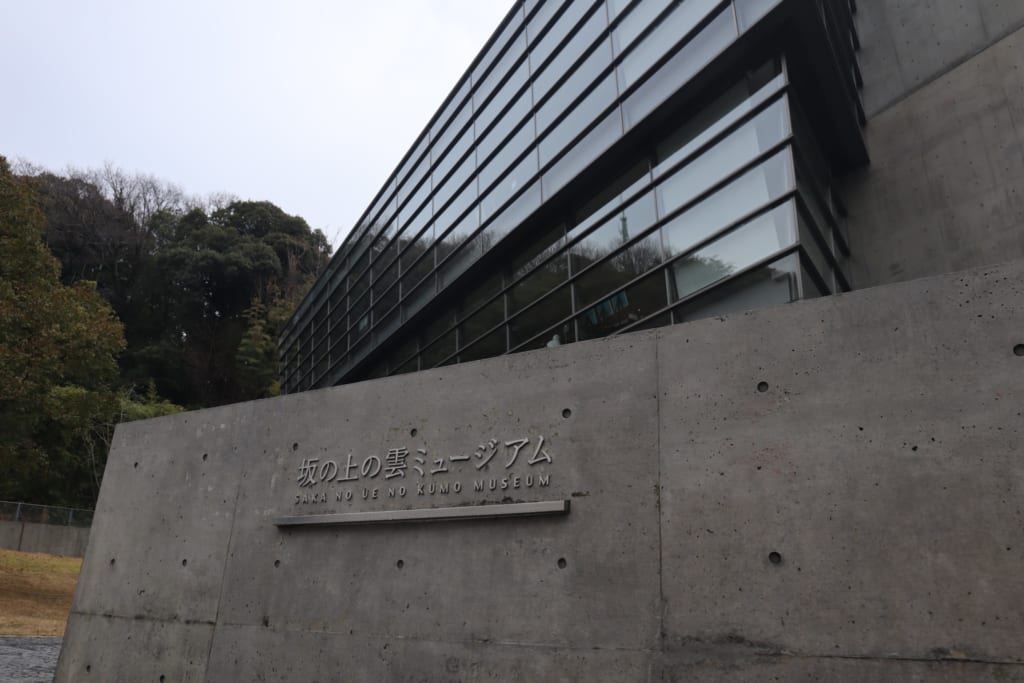 Translated, the name of the museum means "hillside above the clouds" and tells of the development history of modern Japan. A must for anyone interested in the recent history of Japan.
Cashless Payment in Matsuyama City
In order to improve payment options for foreign and domestic tourists who are increasing from year to year, the city of Matsuyama has introduced cashless payment at tourist attractions on March 19, 2020. This includes not only Matsuyama Castle, Ninomaru Shiseki-teien Garden, Dogo Onsen Tsubaki-no-Yu and Dogo Onsen Asuka-no-Yu, but also the SAKA NO UE NO KUMO Museum, the Shiki Museum and Kashima Tosen ferry.
Here you can pay by credit cards such as VISA or MasterCard, or the popular Japanese IC cards such as Suica, Icoca, Pasmo, Toica, Nanaco etc.
Useful Access and Public Transport Information
The easiest way to reach Matsuyama city in Shikoku, Japan is by airplane. The flight from Haneda Airport, Tokyo takes approximately 1 hour 25 minutes. From Narita Airport, Tokyo approximately 1 hour 35 minutes and from Kansai Airport, Osaka approximately 1 hour.
By bus from Kyoto station, it takes about 5 hours and 45 minutes.
A day ticket for the tram in Matsuyama city costs 700 yen for adults and 350 yen for children.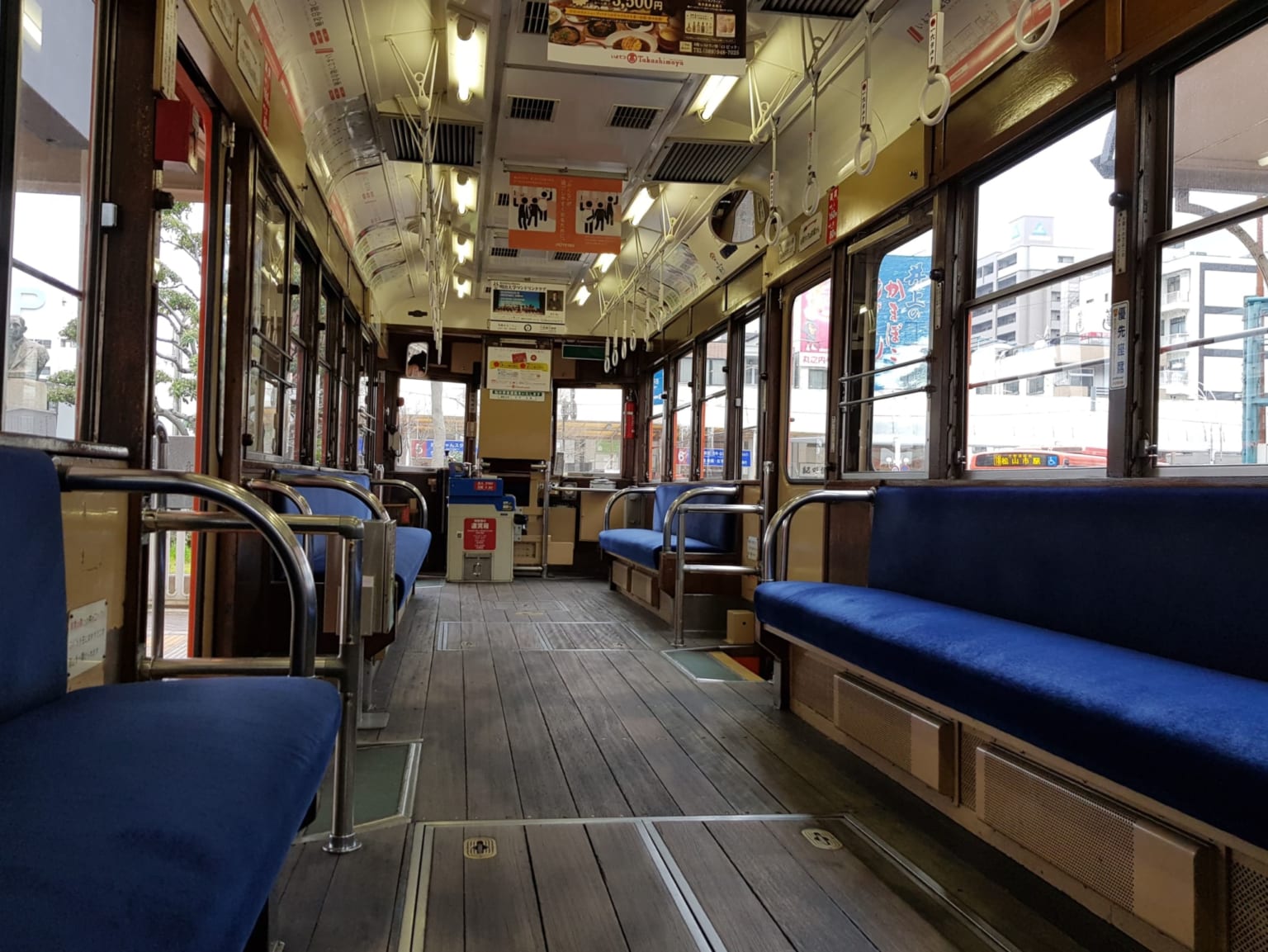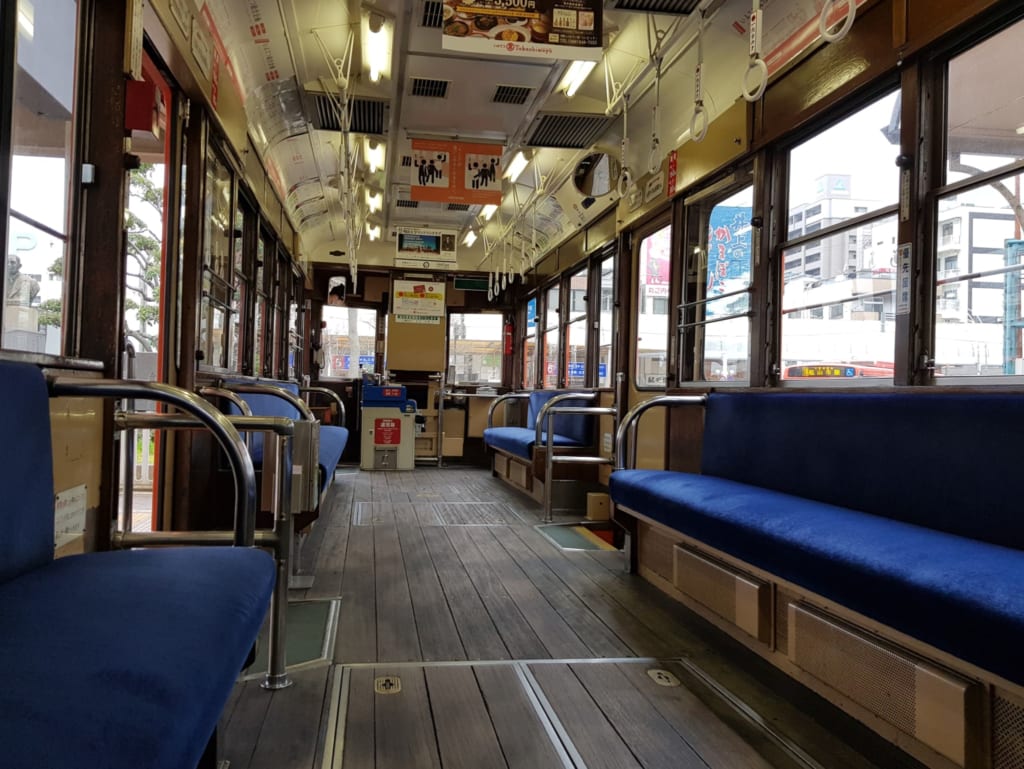 For more information on how to get to Matsuyama city, please see the official city guide.
A Tour through Matsuyama
Whether it is the Dogo Onsen, Shikoku Pilgrimage Trail, Matsuyama Castle or the architectural masterpiece by architect Ando Tadao – every visitor will find his or her own personal highlight in the city of Matsuyama.
We really enjoyed our trip to Shikoku, Japan. Thanks to the many friendly people we got to know here, we not only felt that we were normal visitors, we really felt welcome.
And if you are planning a trip to Shikoku, Japan, don't forget to put Ehime on your bucket list. The cities of Matsuyama, Tobe and Toon are waiting for you!
Sponsored by Ehime Prefecture.