Already on our way to Tobe we discover the flagship craft of the city – Tobe ceramics!
Japanese ceramics are popular worldwide, but the city of Tobe, Ehime on Shikoku, expresses its love for ceramic production on a whole new level.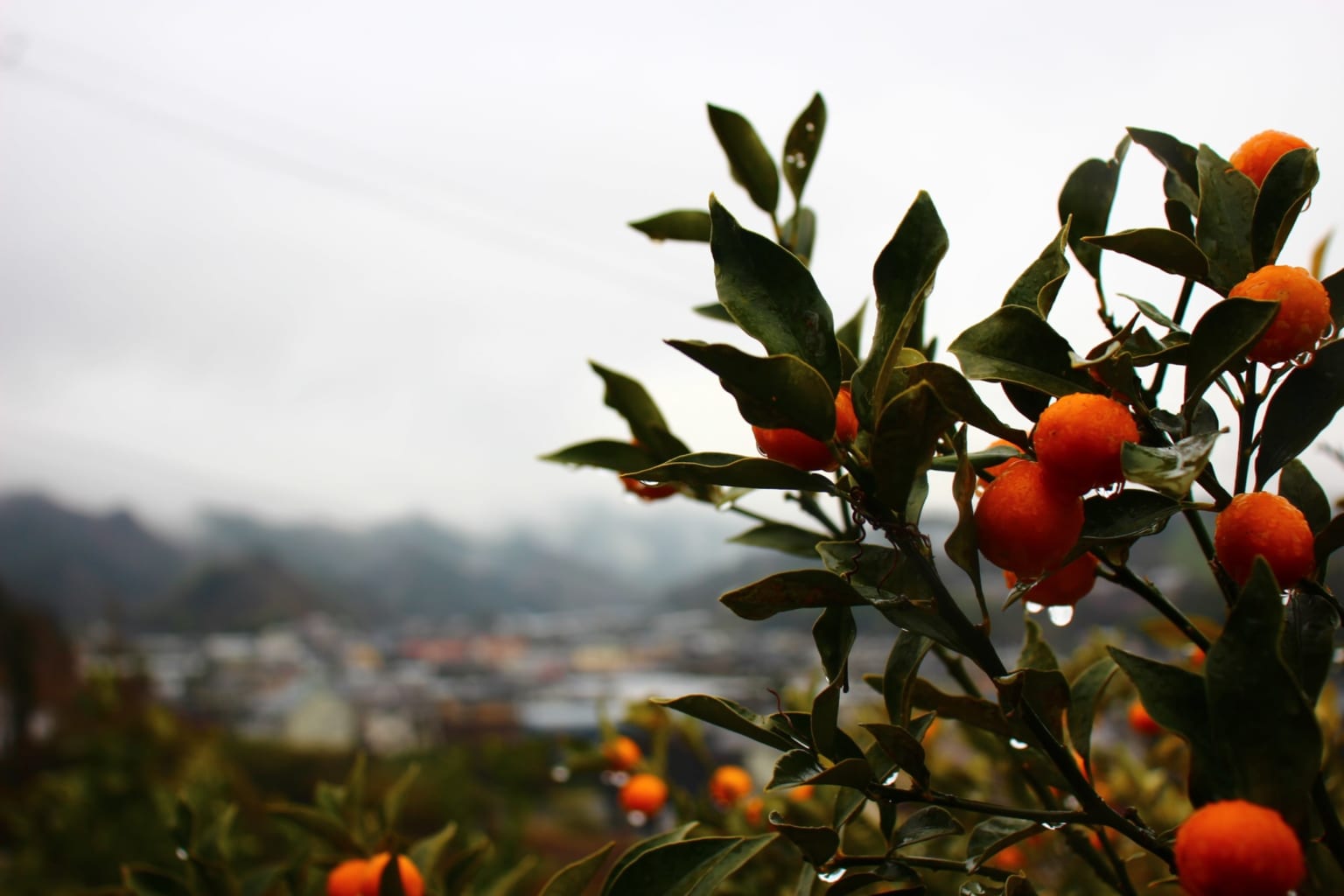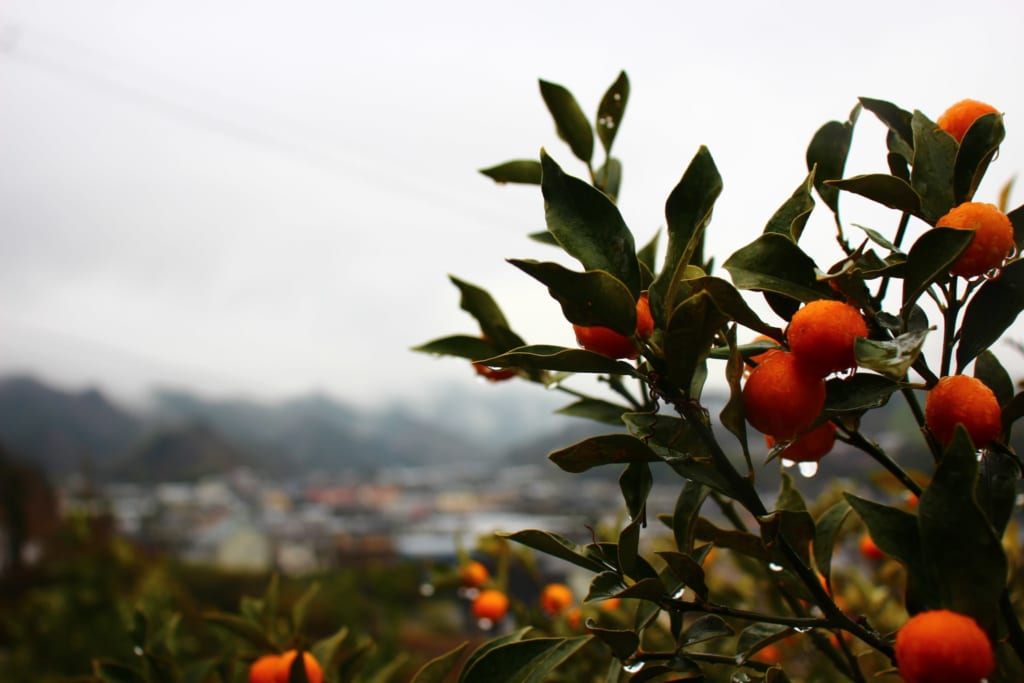 Whether on the streets, in restaurants, museums, sake breweries or inside of the hotels, you will find ceramics from Tobe everywhere.
Tobe Ceramics at Tomi Soba
The restaurant Tomi Soba is a small cozy house in a homey environment that you would probably not recognize as a restaurant at first glance. At least, that's what happened to us, and we would almost have walked past it if we hadn't noticed the name on the wall next to the entrance.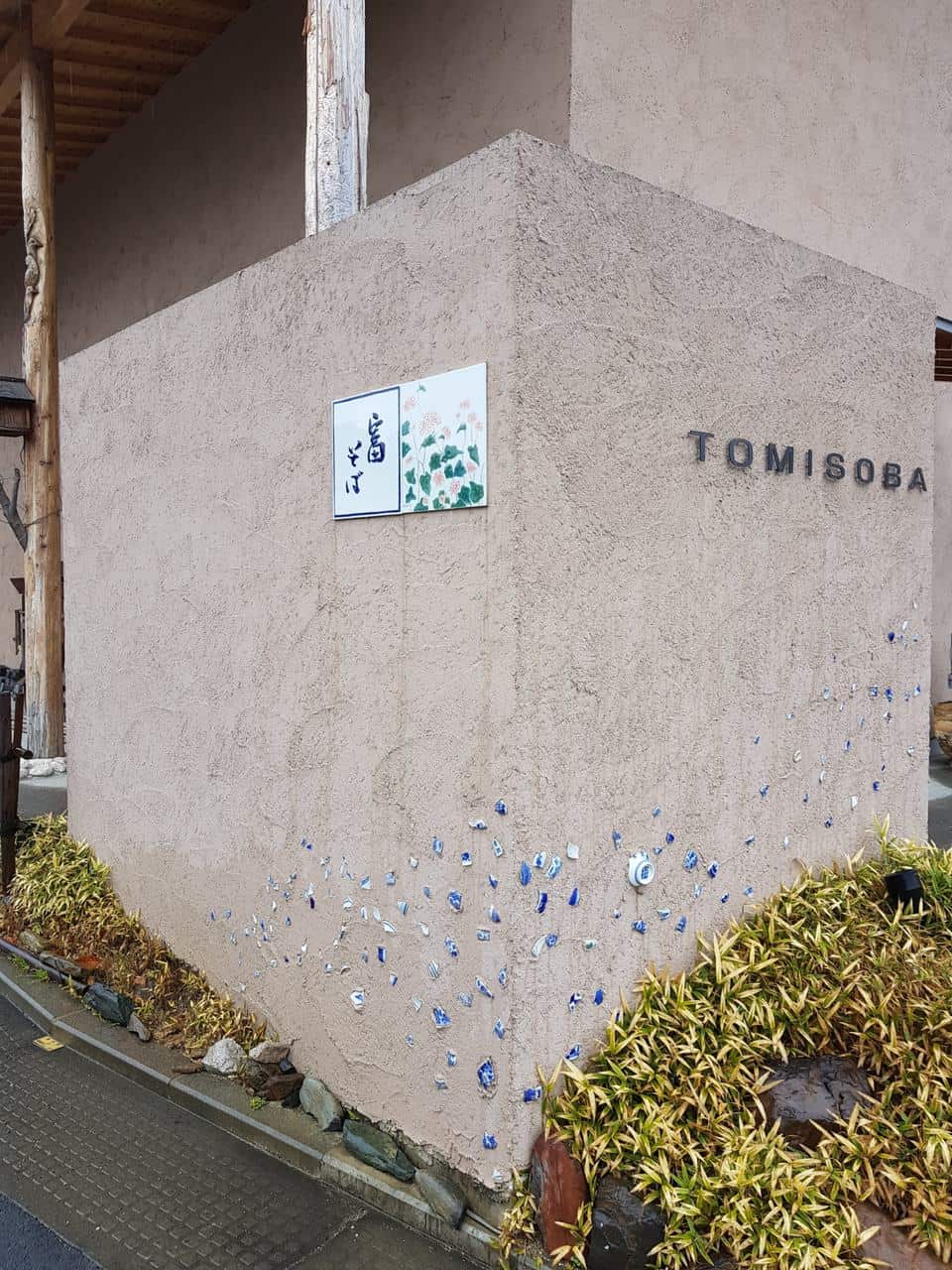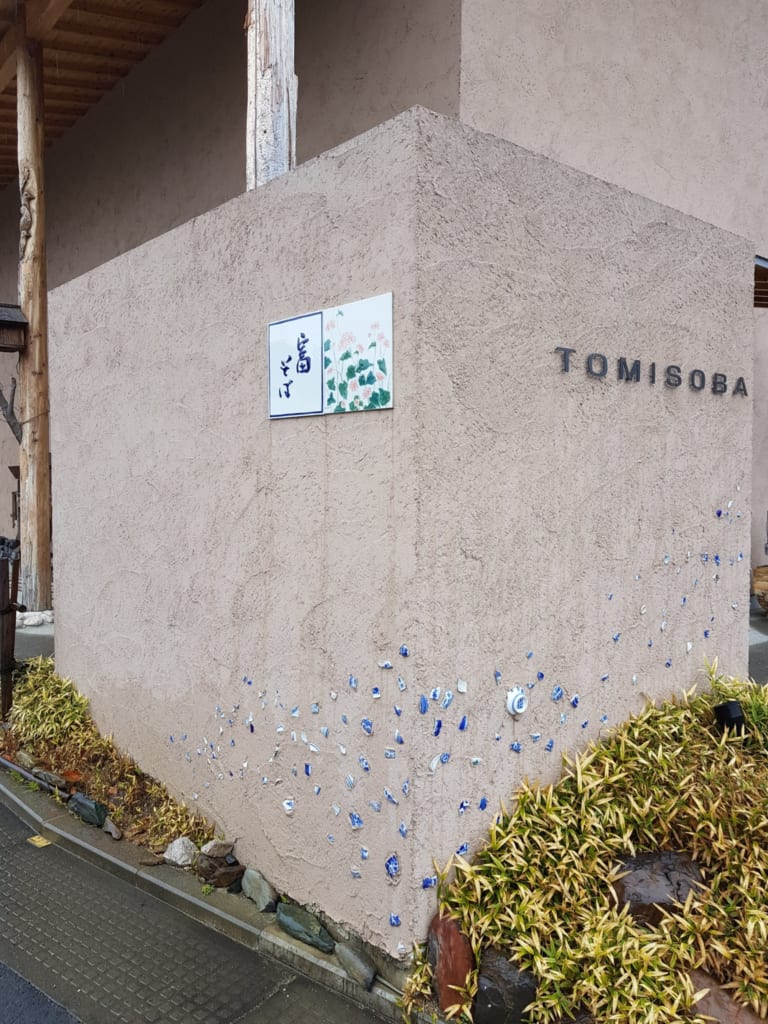 Entering the restaurant, the first thing that caught our attention was the exhibited Tobe ceramics. You might even forget that you actually came here with the intention of eating something. Instead, I was admiring the displayed ceramics from Japan, which are not only found on the shelves but also recessed in the floor of the restaurant.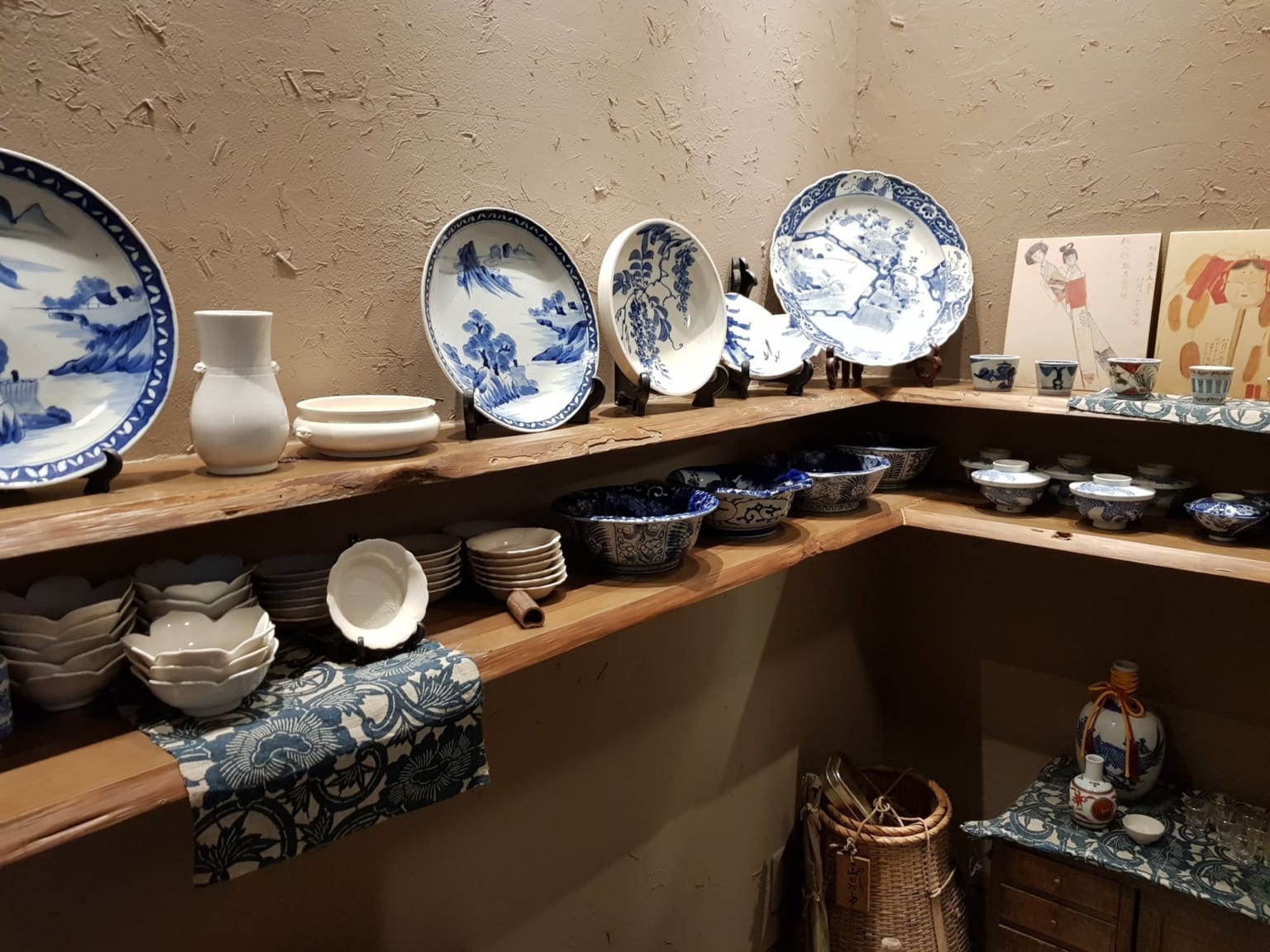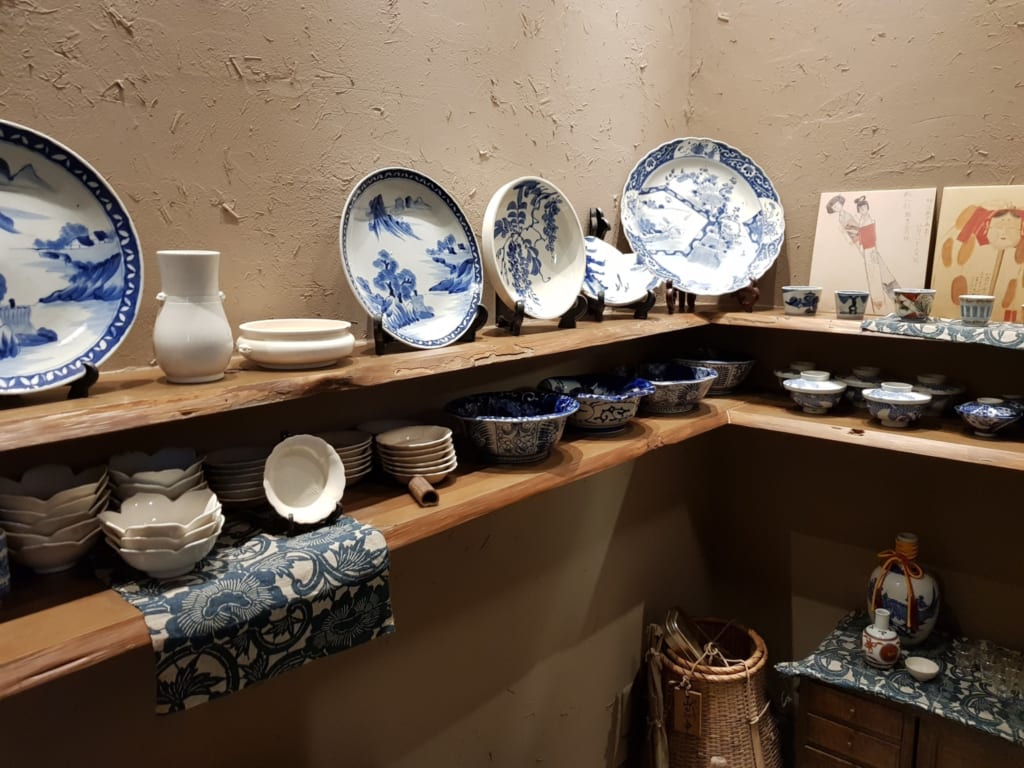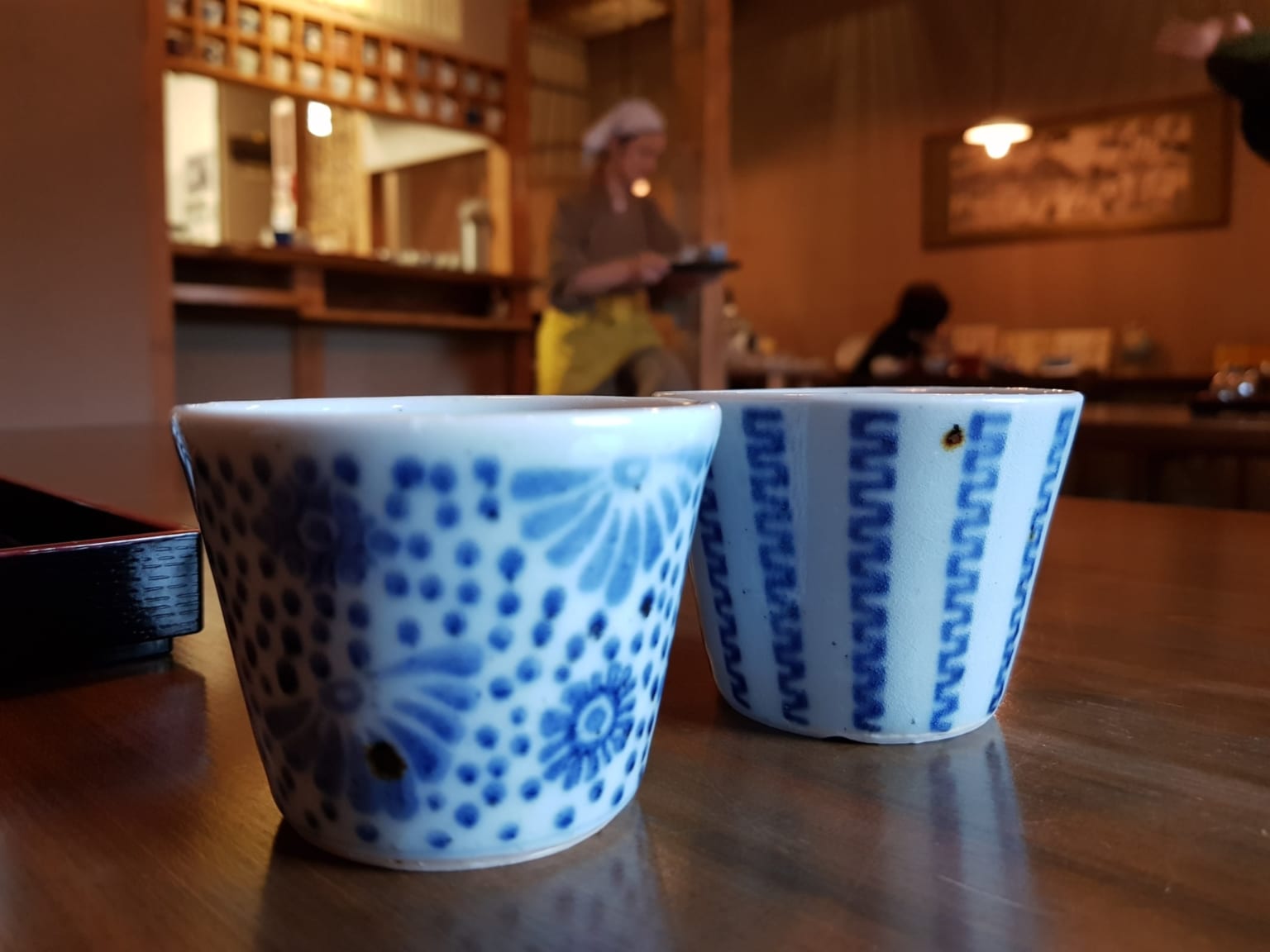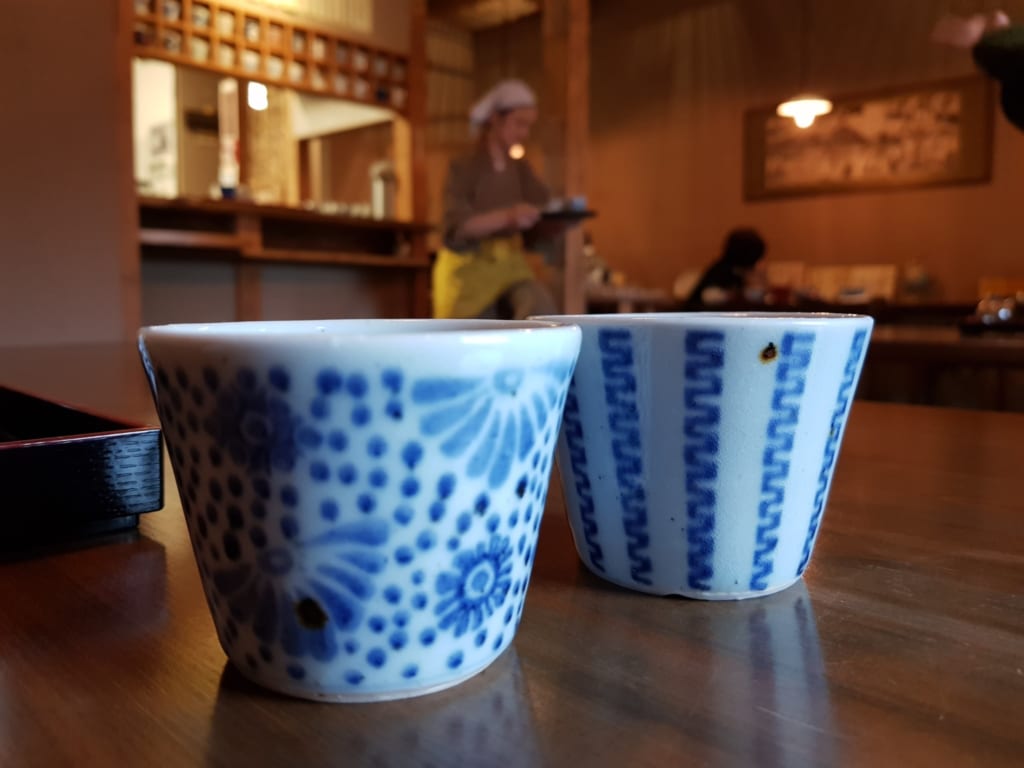 As soon as we were seated, we received two cups of tea served, of course, in Tobe ceramic cups. All of the serving ware used at Tomi Soba are locally made products.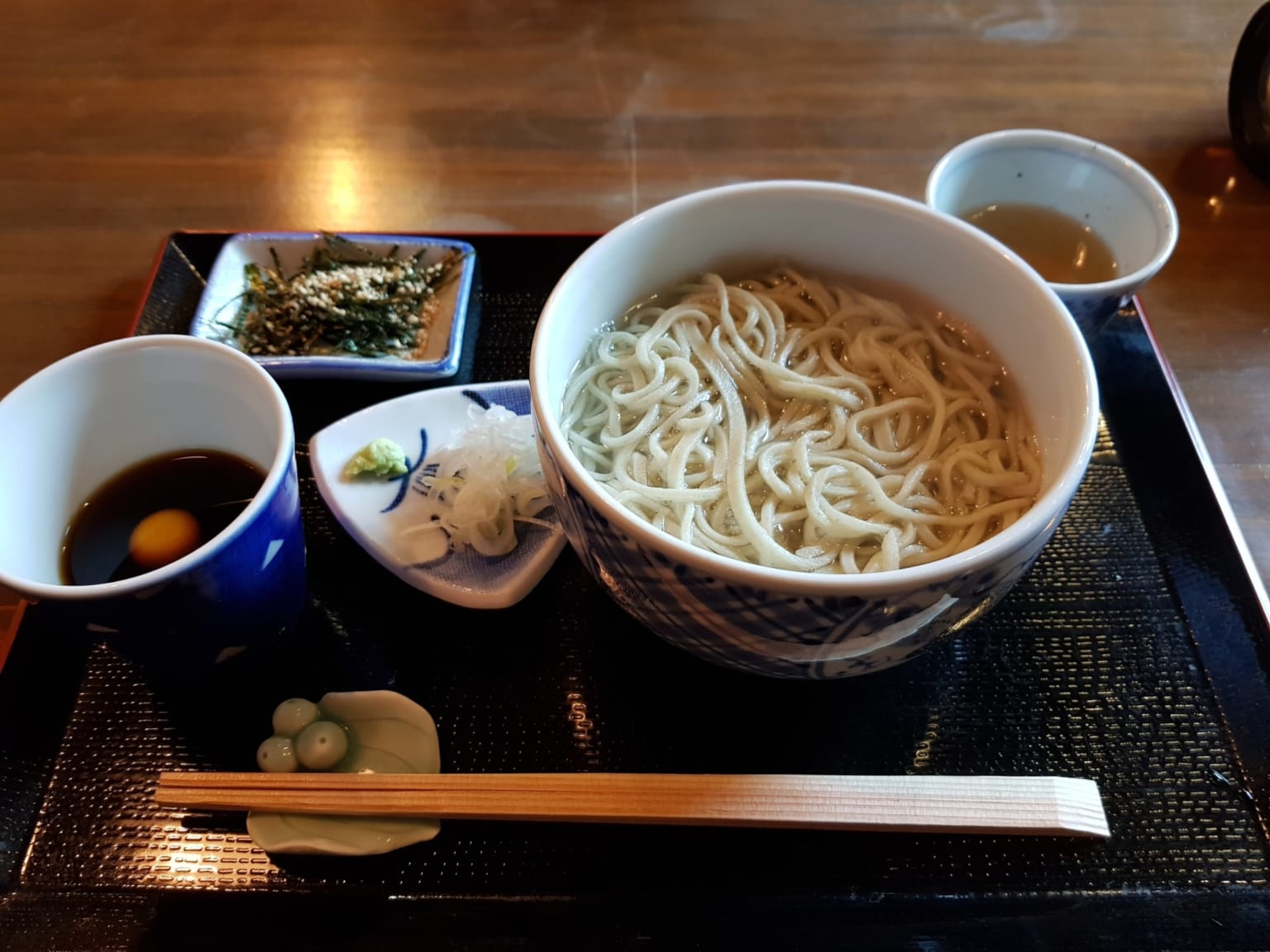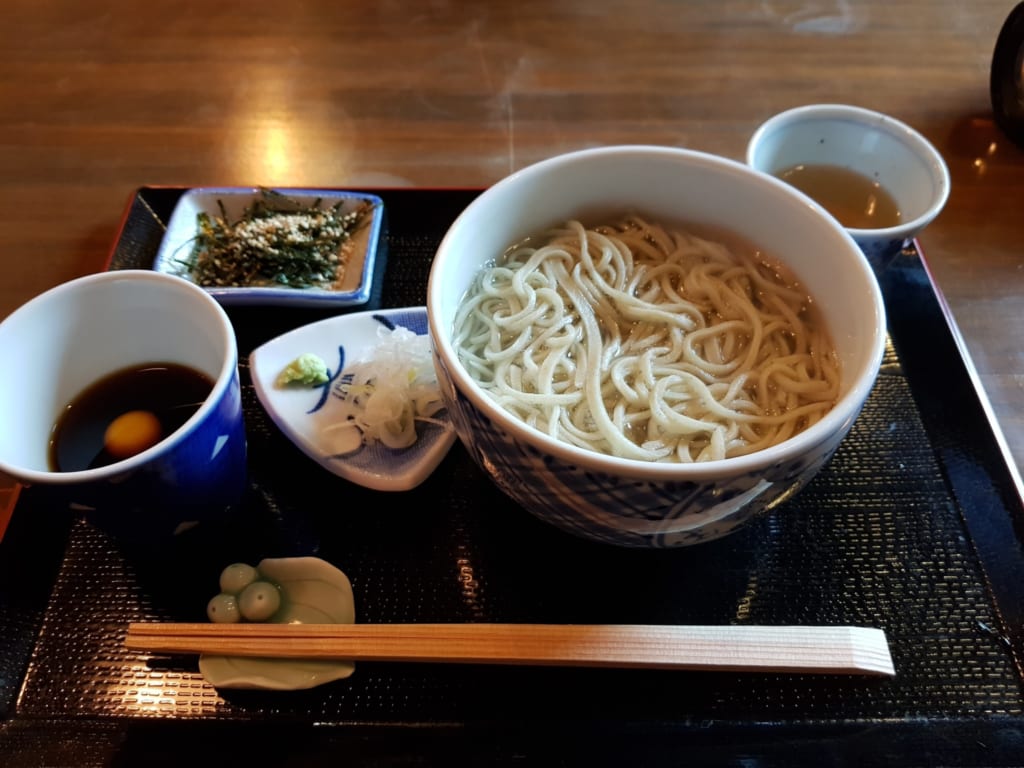 In addition to soba, we also ordered Sobagaki as a dessert. This traditional dish consists of soba flour which is mixed with hot water until it forms a sticky lump. Besides the savory variant, there is also a sweet type, which is the one offered in Tomi Soba. Sobagaki in an anko soup, made of sweet red beans.
A Ceramic Experience at Tobecho Togei Sosakukan
After lunch, we made our way to Tobecho Togei Sosakukan which is only a few minutes' walk away from Tomi Soba. Here we wanted to experience a local art and try painting ceramic. After all, it shouldn't be that difficult to apply the indigo blue colors to the ceramics.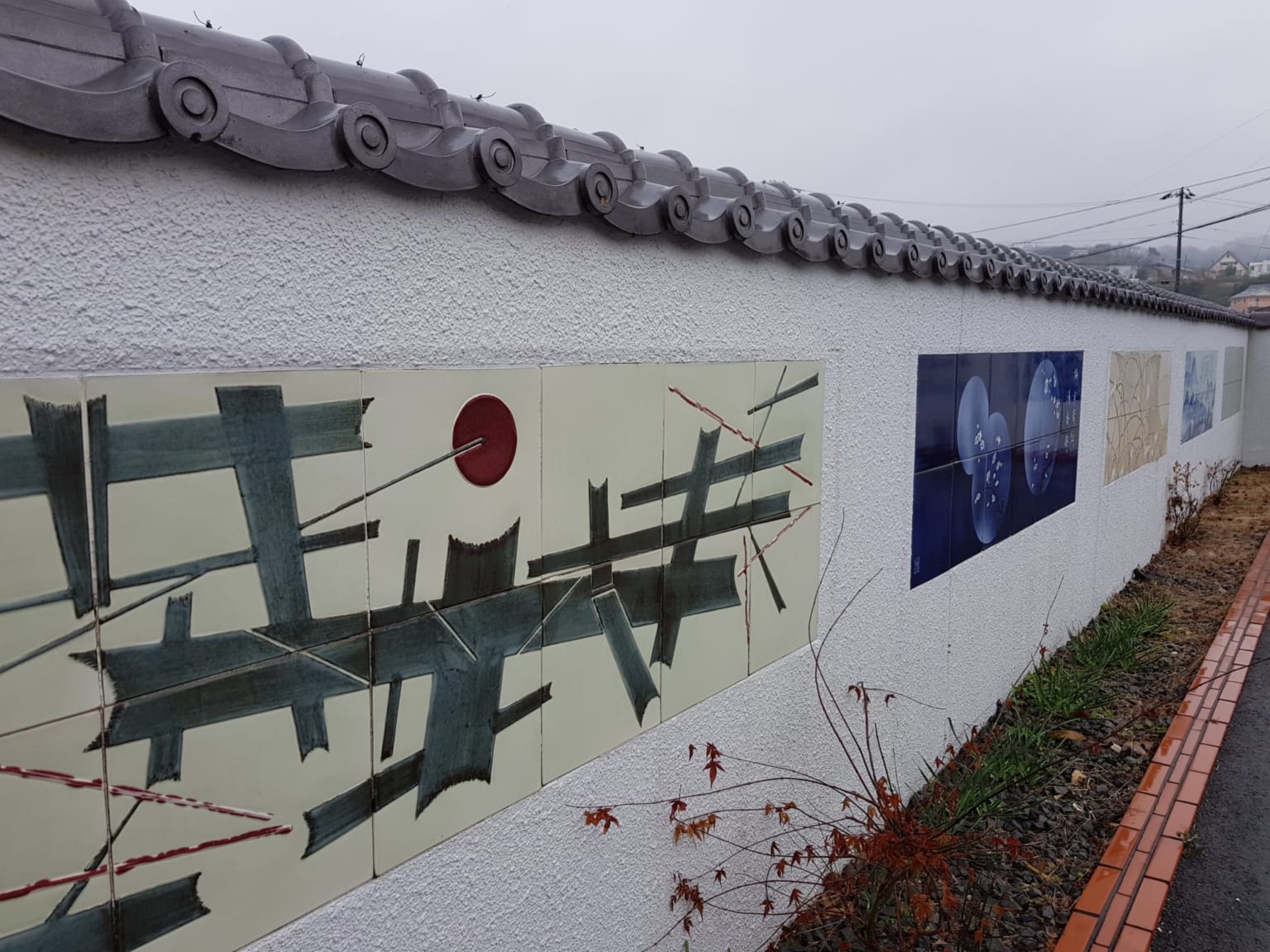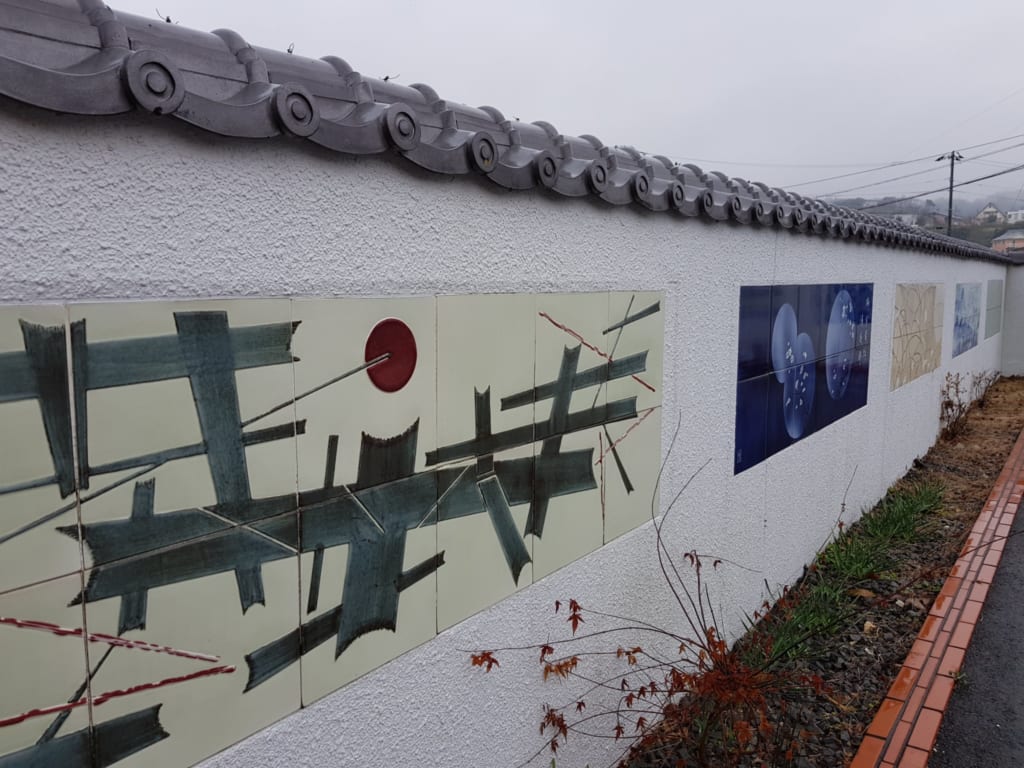 Since it was raining that day, we were the only customers at Tobecho Togei Sosakukan, so we could also look around. The selection of Tobe ceramics which you can choose from here is amazing and it was extremely difficult for us to decide on one.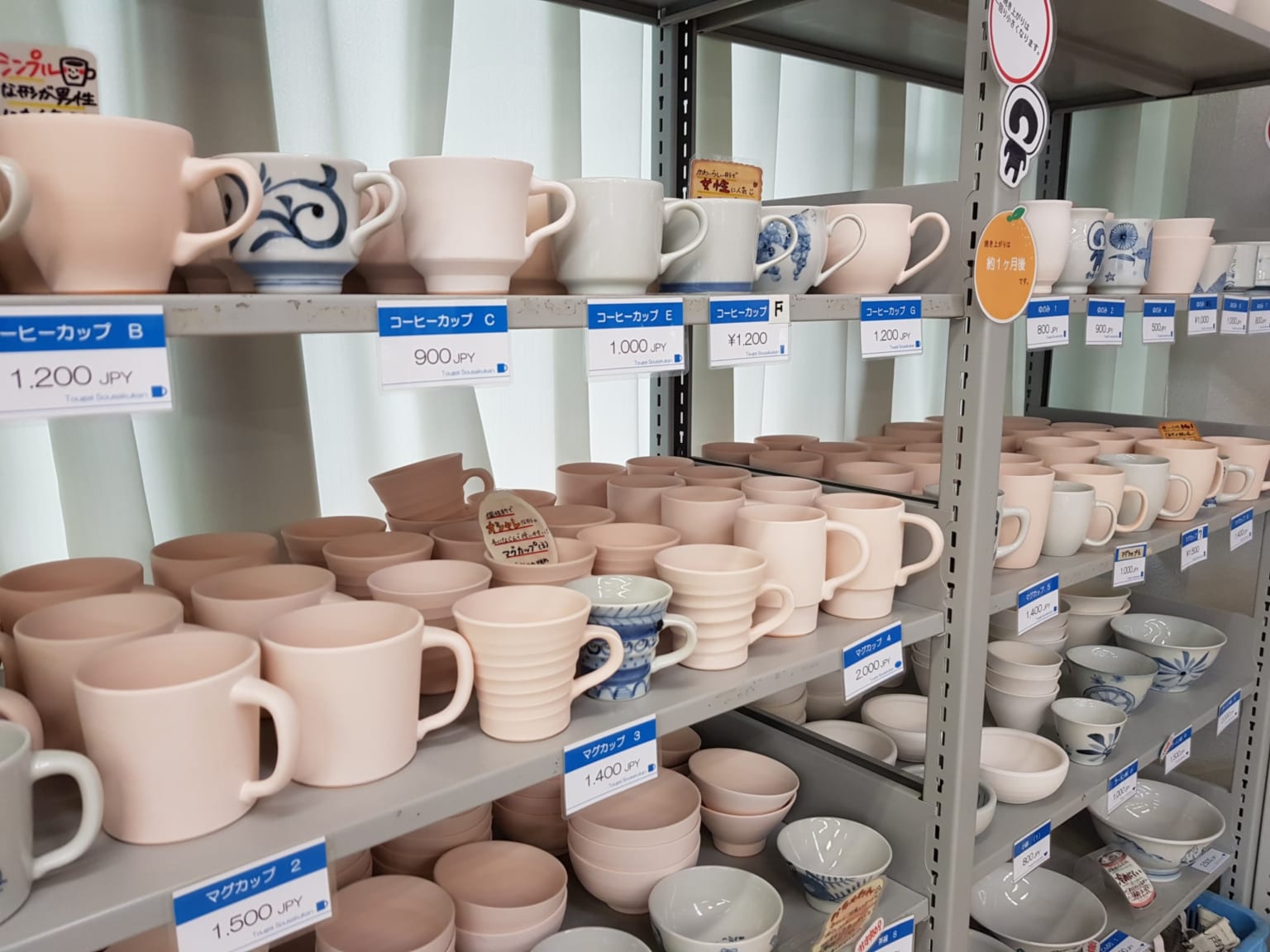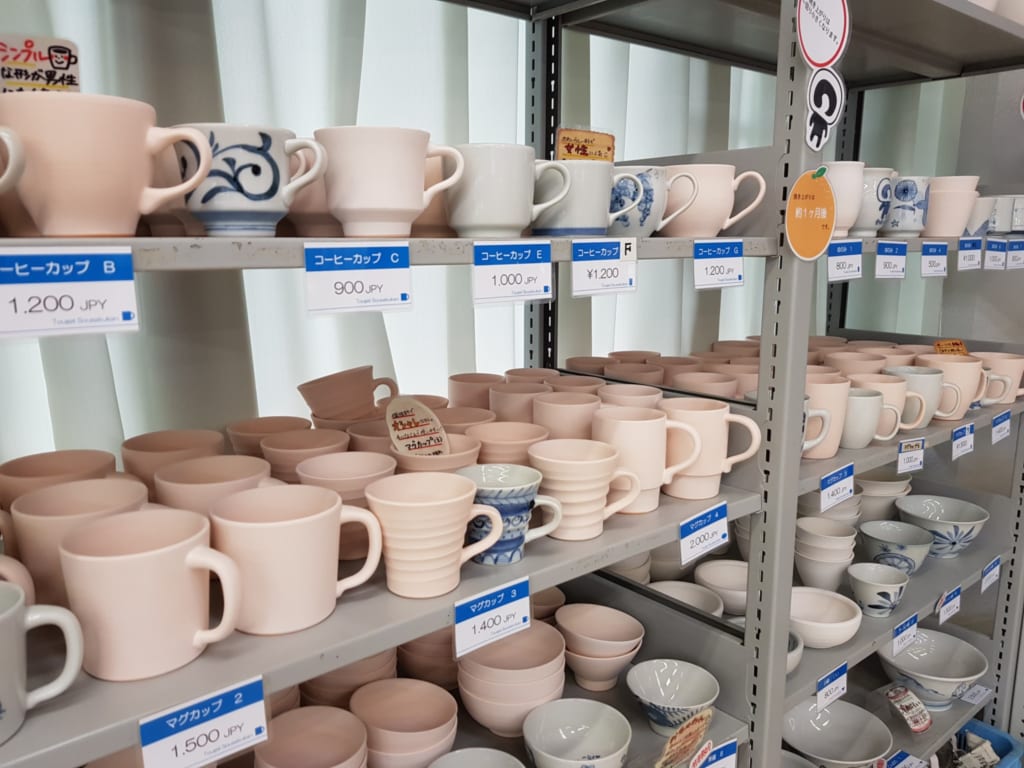 After mentally going through our kitchenware at home, I was finally able to choose a plate that I wanted to design.
Don't worry if you have never painted ceramics before. All steps will be explained here, either in Japanese or in English. After the explanation, you can go straight to the brush, or rather the pencils.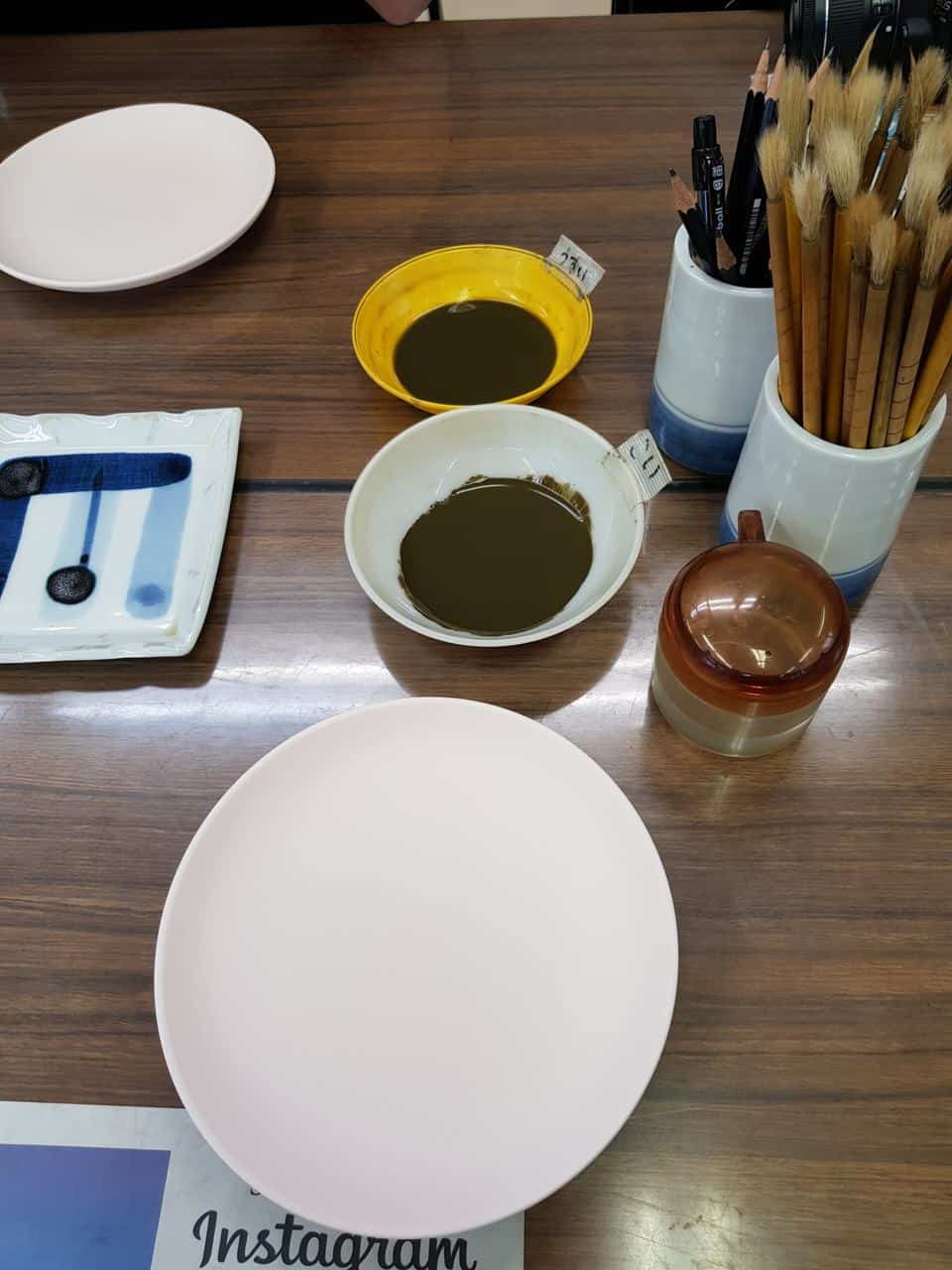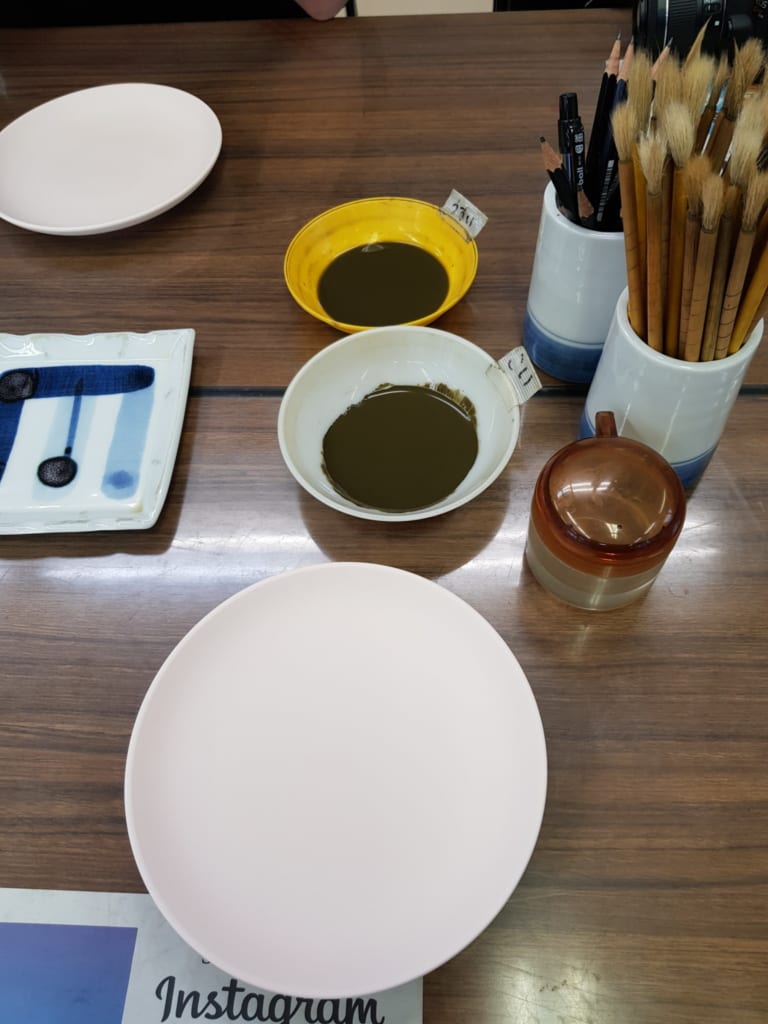 First, you have to choose a motif. In case you need any ideas, you can simply look at the books which are displayed at the shop, or the designs of other guests. And don't worry if you are not satisfied with your motif or you make a mistake, pencil lines will disappear after your ceramic is fired.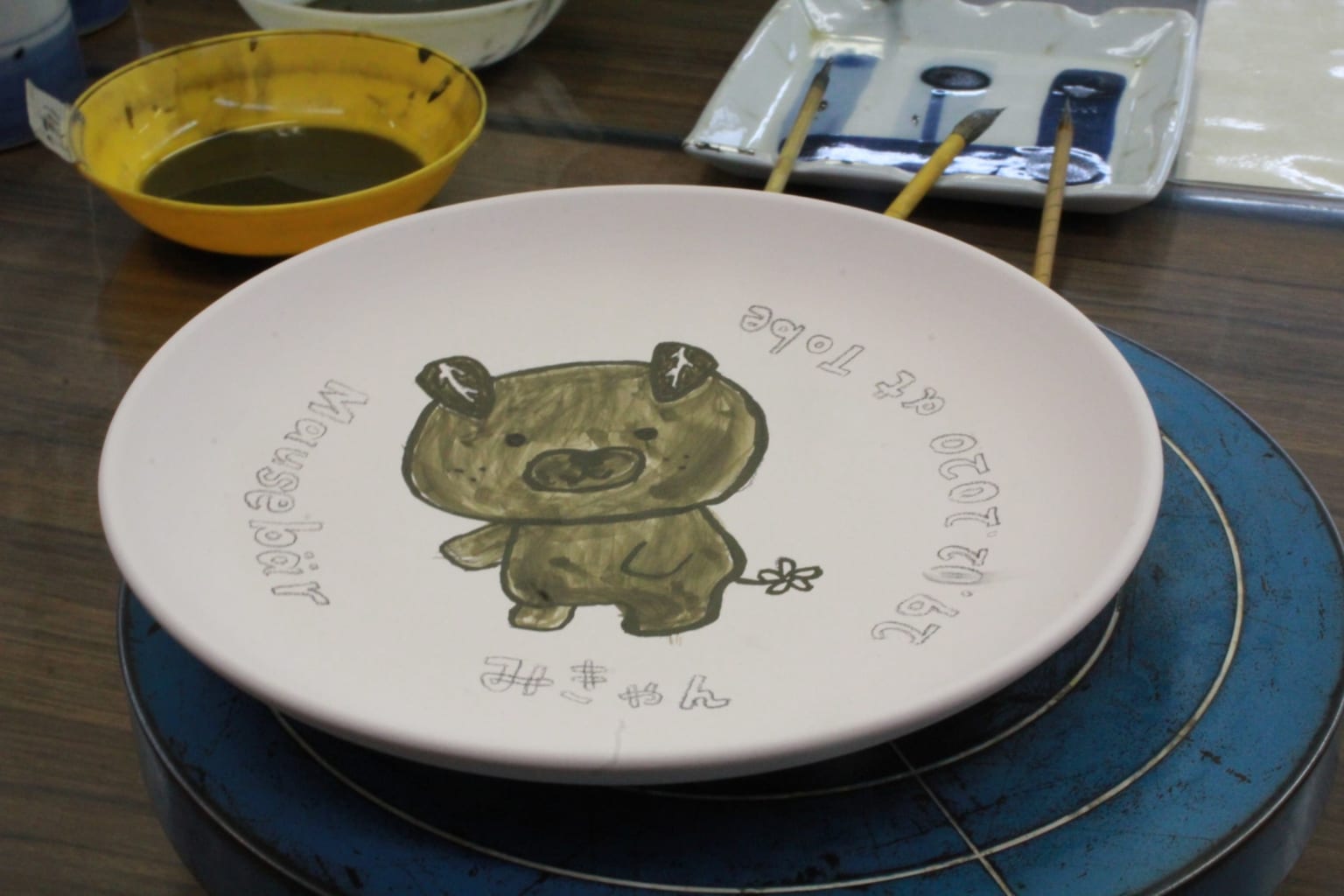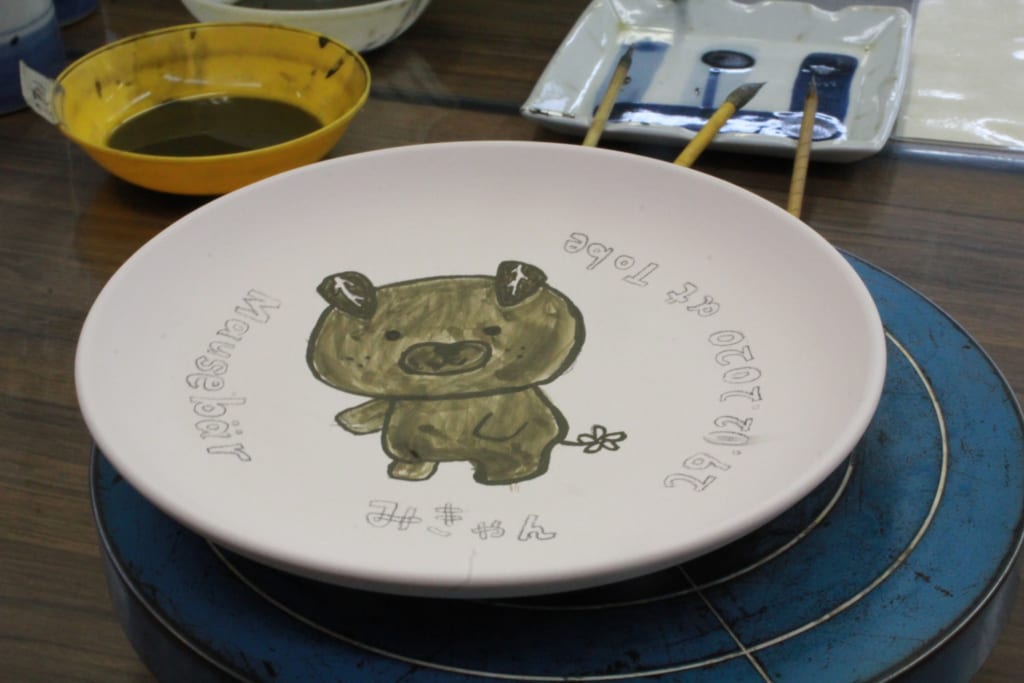 We became so immersed in our work we almost forgot the time, because painting ceramics really has a rather calming effect. After we finished, we wrote down our address, because your finished product will be sent to you in about a month. The shipping price depends on where you live in Japan.
Japanese Ceramic at Tobeyaki Dento Sangyo Kaikan
When we finished with our own Japanese ceramic, we headed to the Tobeyaki Dento Sangyo Kaikan, a museum within walking distance which not only exhibits current Tobe ceramics, but also historical pieces from Tobe. Also, various ceramic artists are honored here.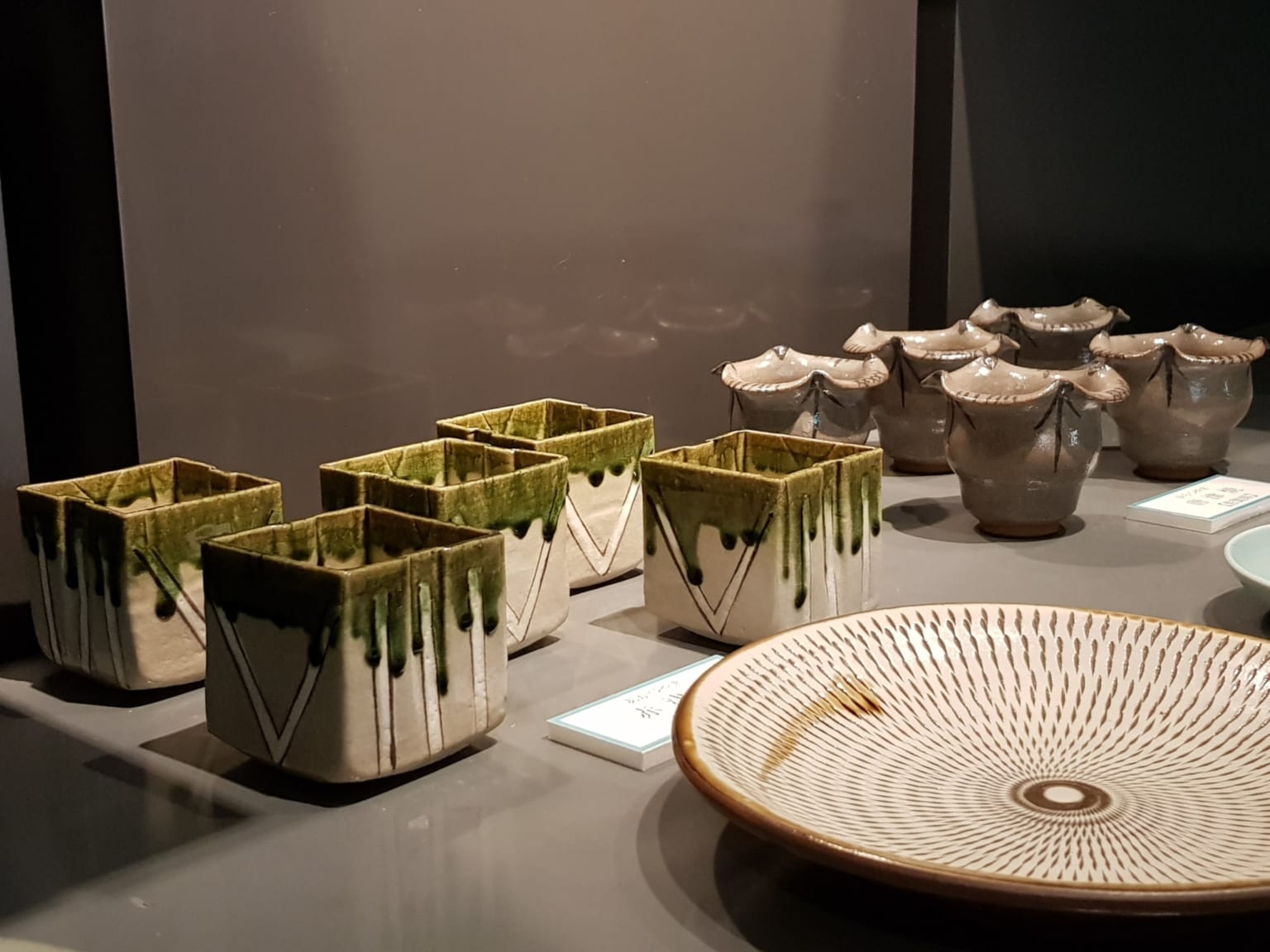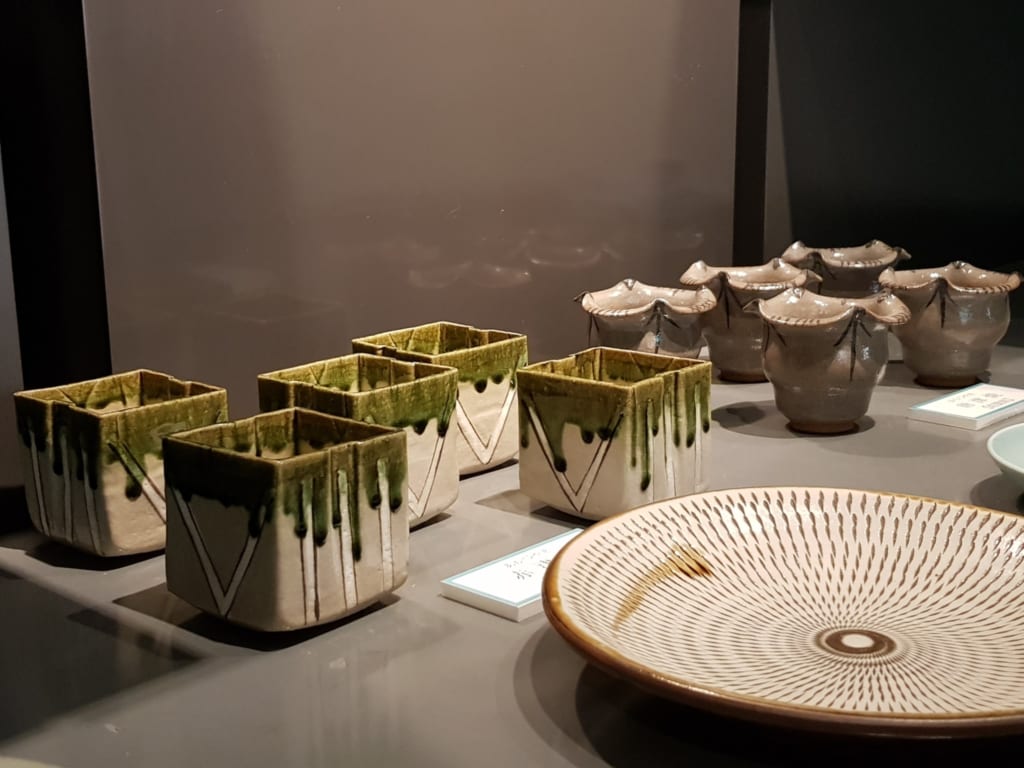 After purchasing the tickets, we received a small colored dot sticker, which we could put on a ceramic globe showing where all the visitors came from. I was quite surprised at how many people from Europe have already come here, because on that day we were the only visitors at the museum.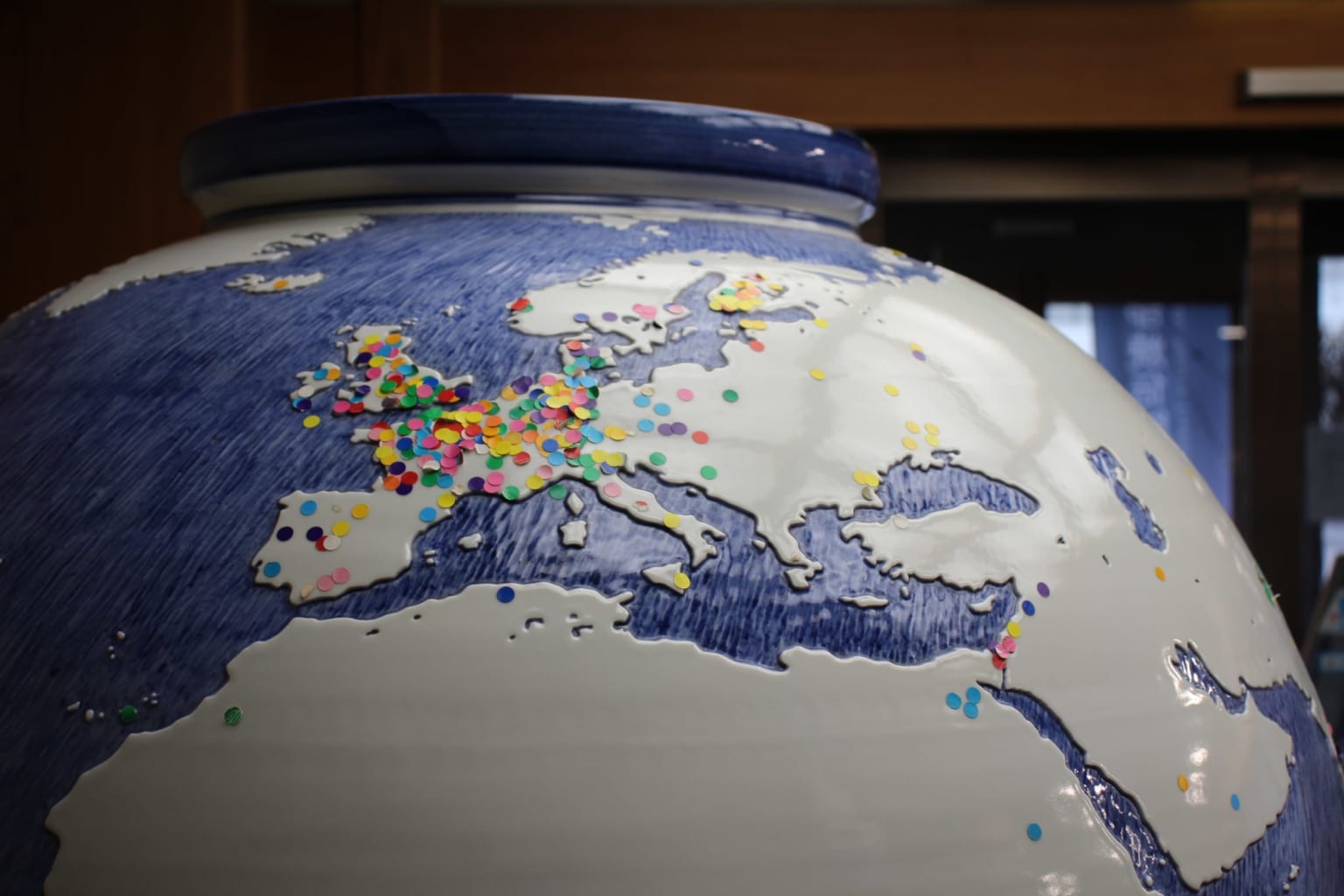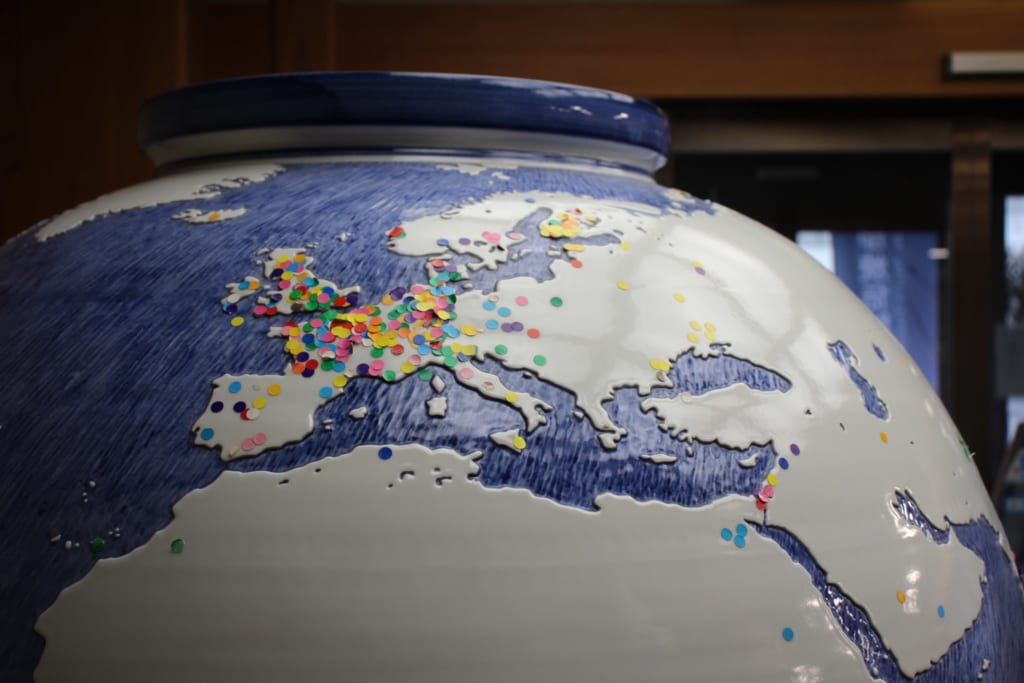 We observed the indigo-colored ceramic works, which in some cases also had other colors. After we painted our plates in Tobecho Togei Sosakukan with the greenish colors that should turn indigo blue after firing, we were able to truly understand how much time was spent creating the displayed pieces of art.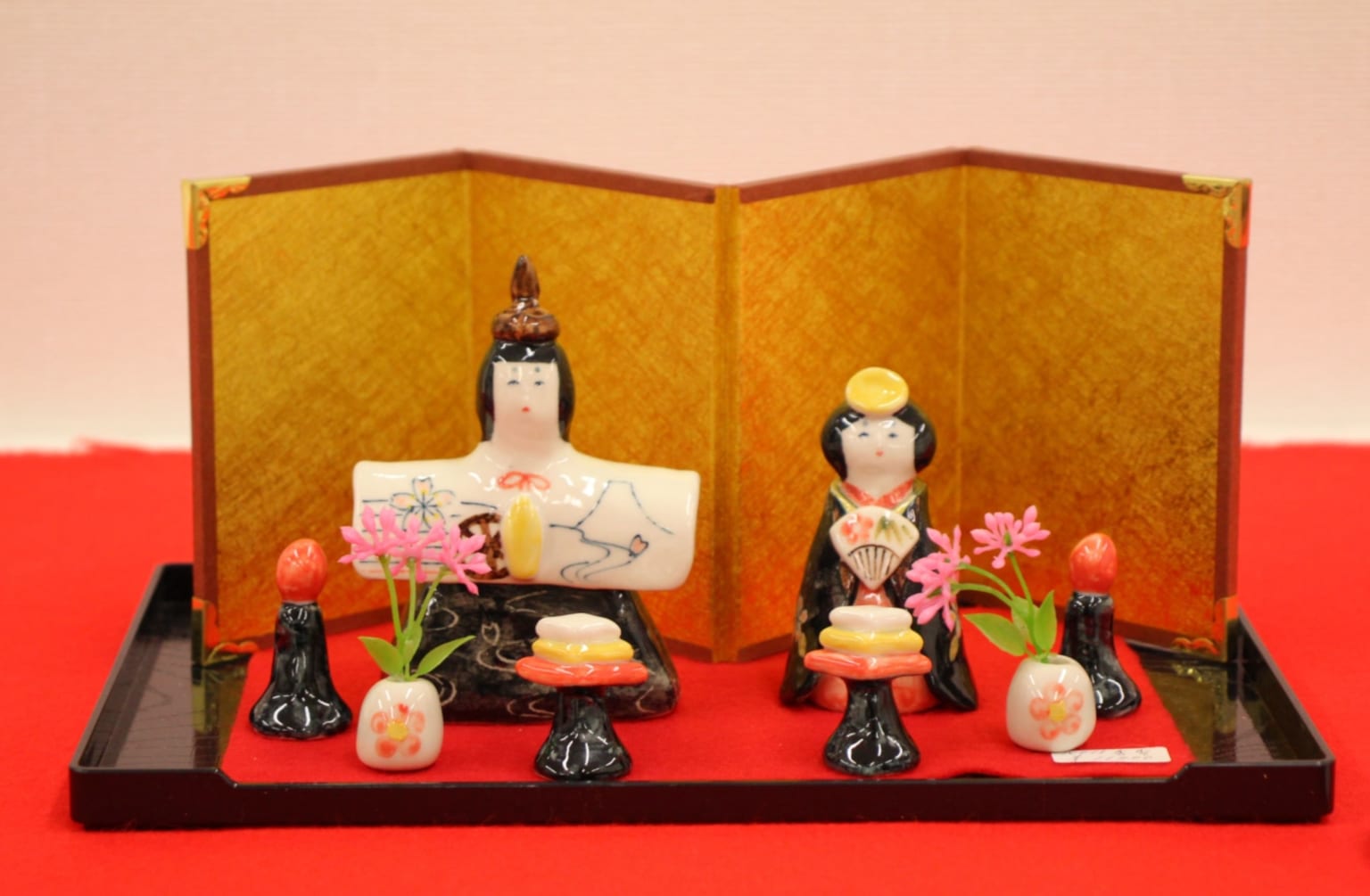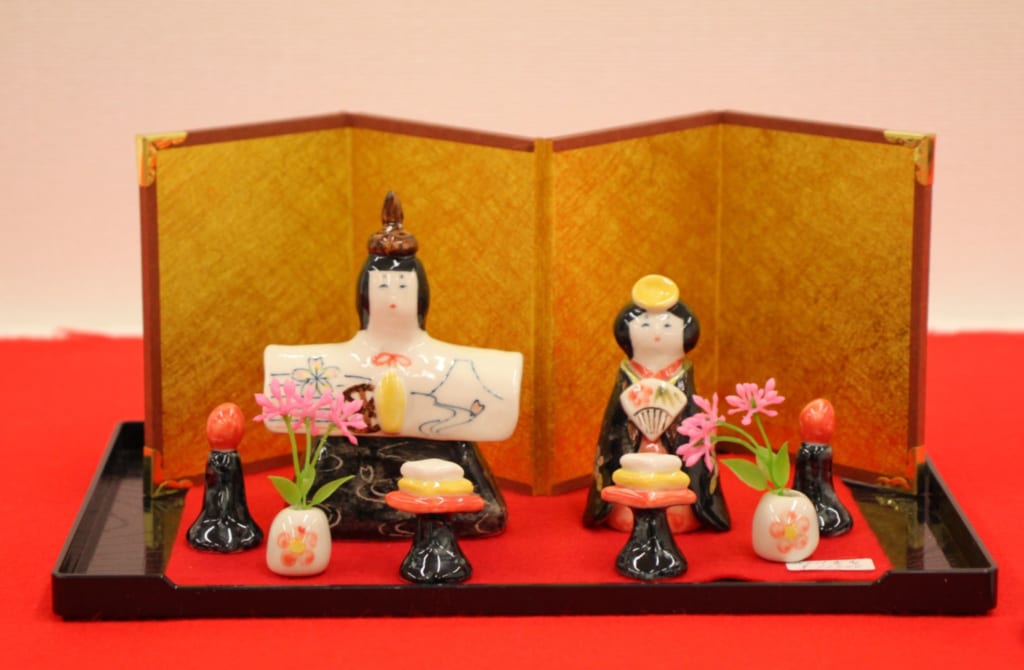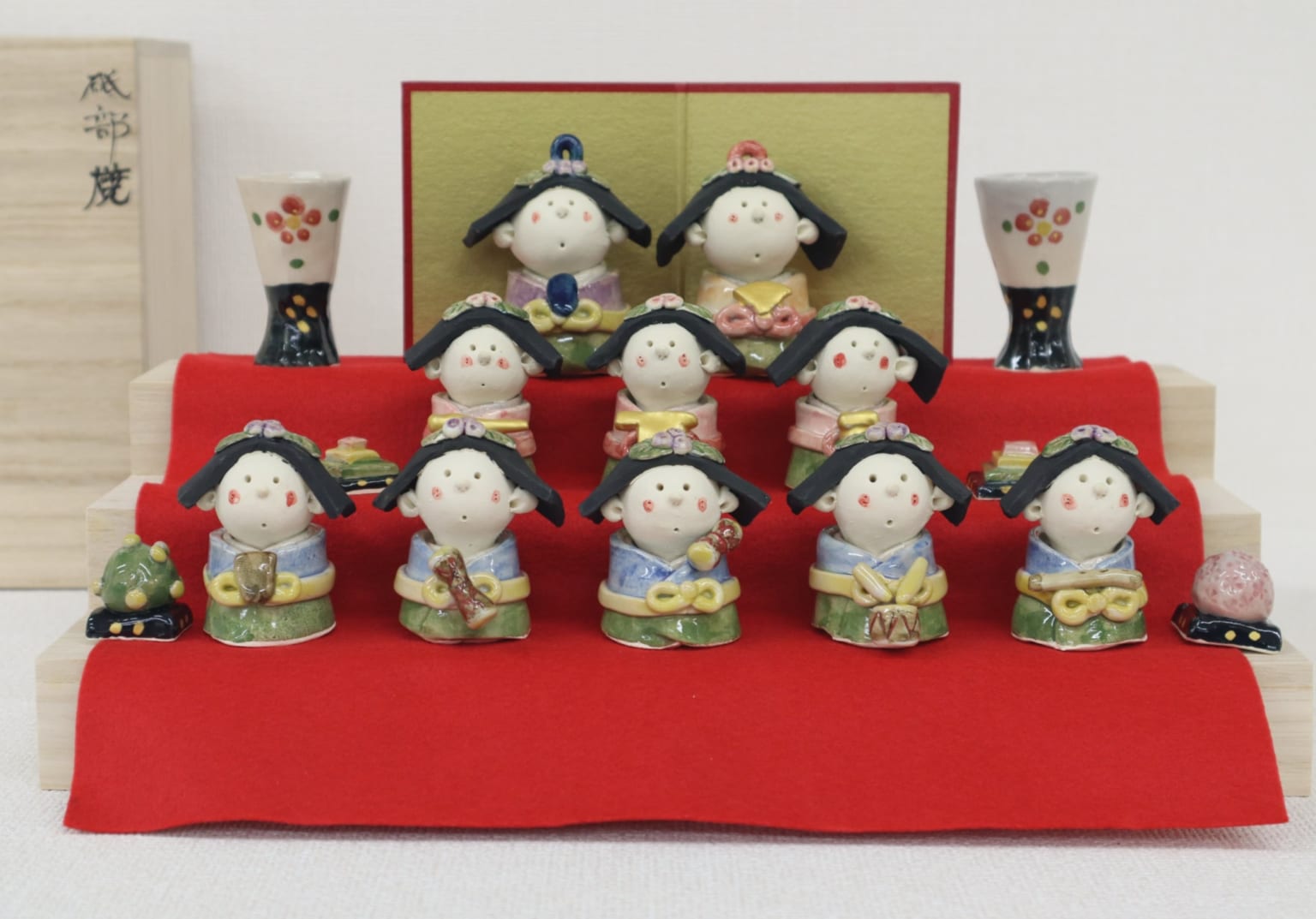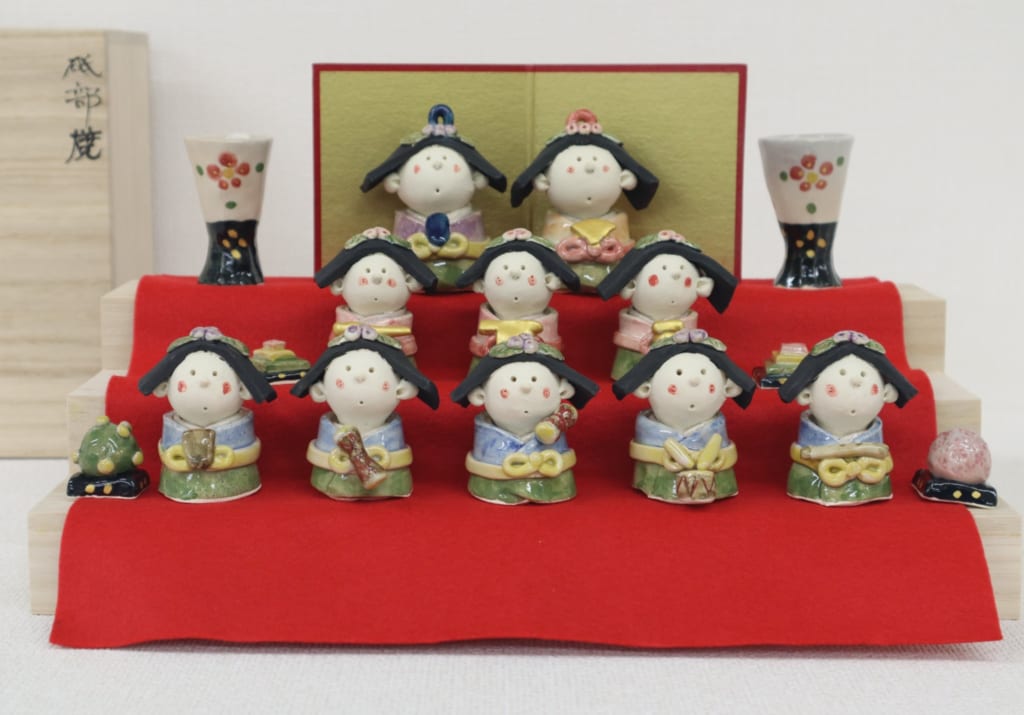 In keeping with the season, there was a Hinamatsuri (Japanese dolls for Girl's Day) exhibition on the upper floor.
Tobe Ceramic at the Kyowa Shuzo Sake Brewery
Our next stop was the Kyowa Shuzo Sake Brewery which is also within walking distance. Built in the late 1860s, this traditional sake brewery has its own café called Hatsuyuki. Unfortunately, it was already closed when we arrived that day.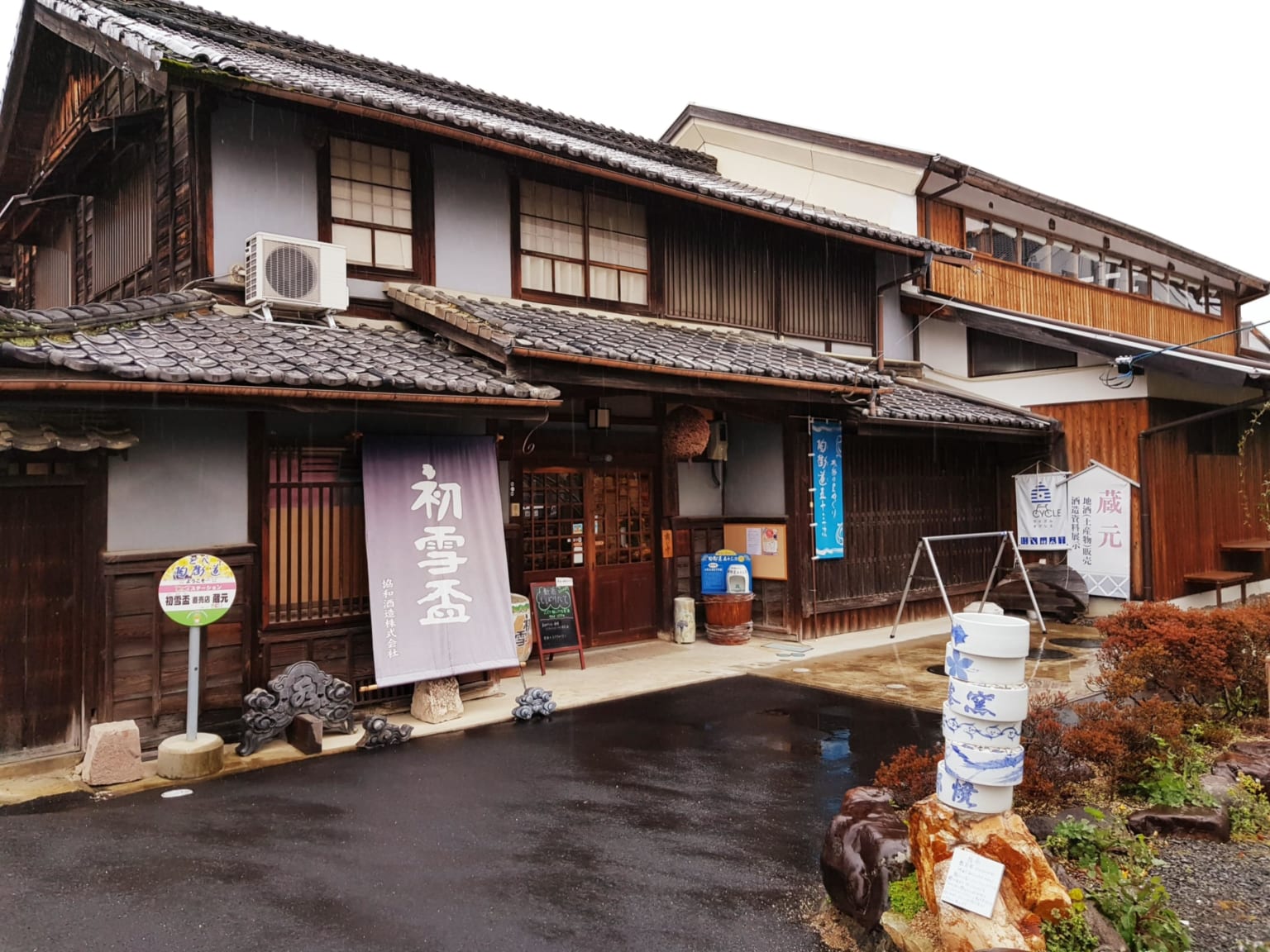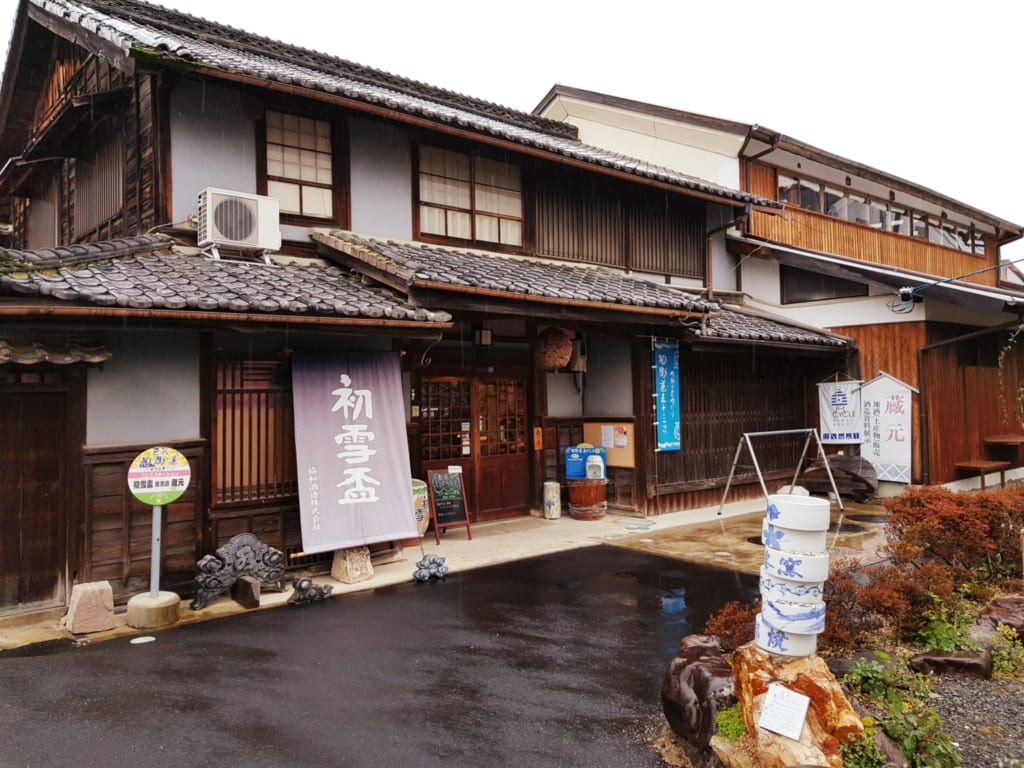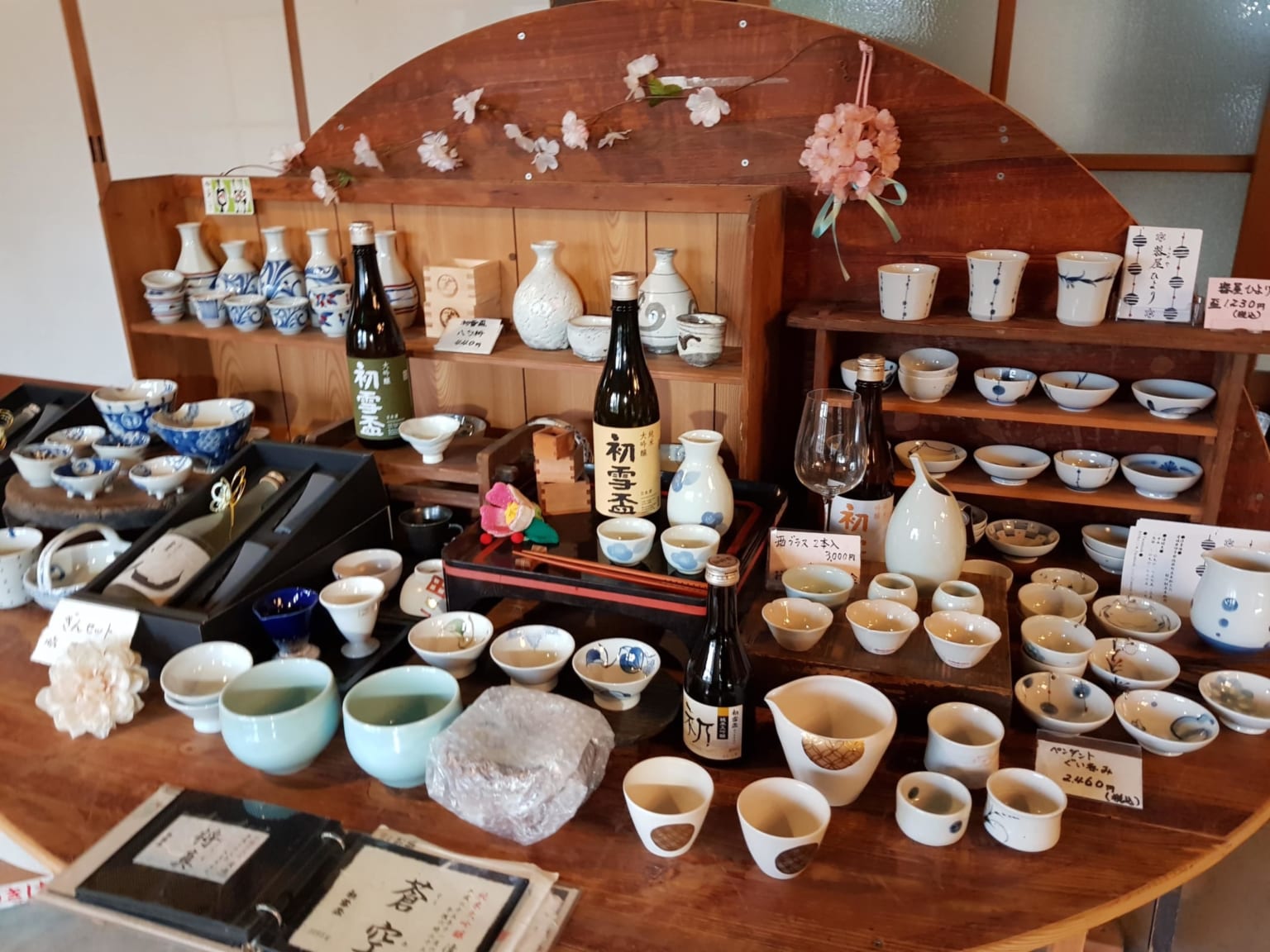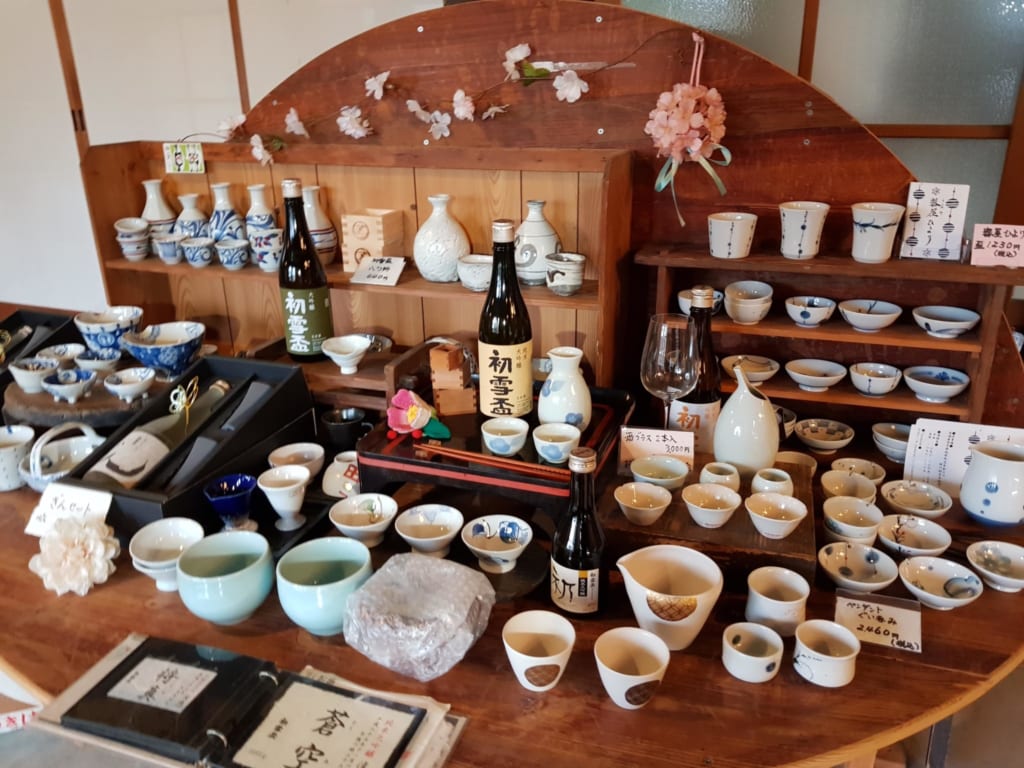 Nevertheless, a trip to Kyowa Shuzo Sake Brewery is worthwhile, because even without registering for a tour of the brewery, you can sample the delicious sake from the Tobe region, Ehime, Shikoku. For a sightseeing tour, you can register up to one week in advance. A tour through the sake brewery costs 100 yen per person.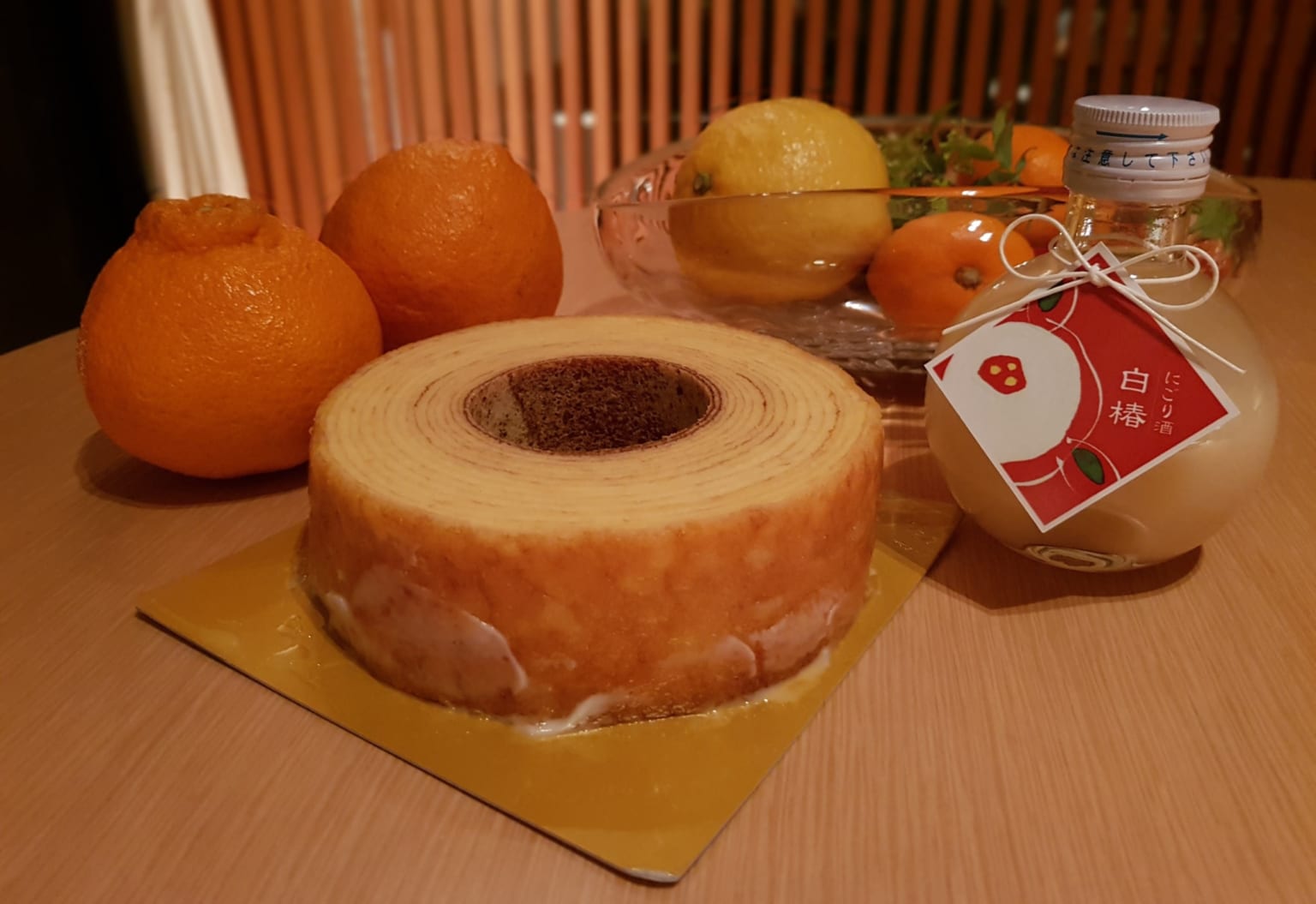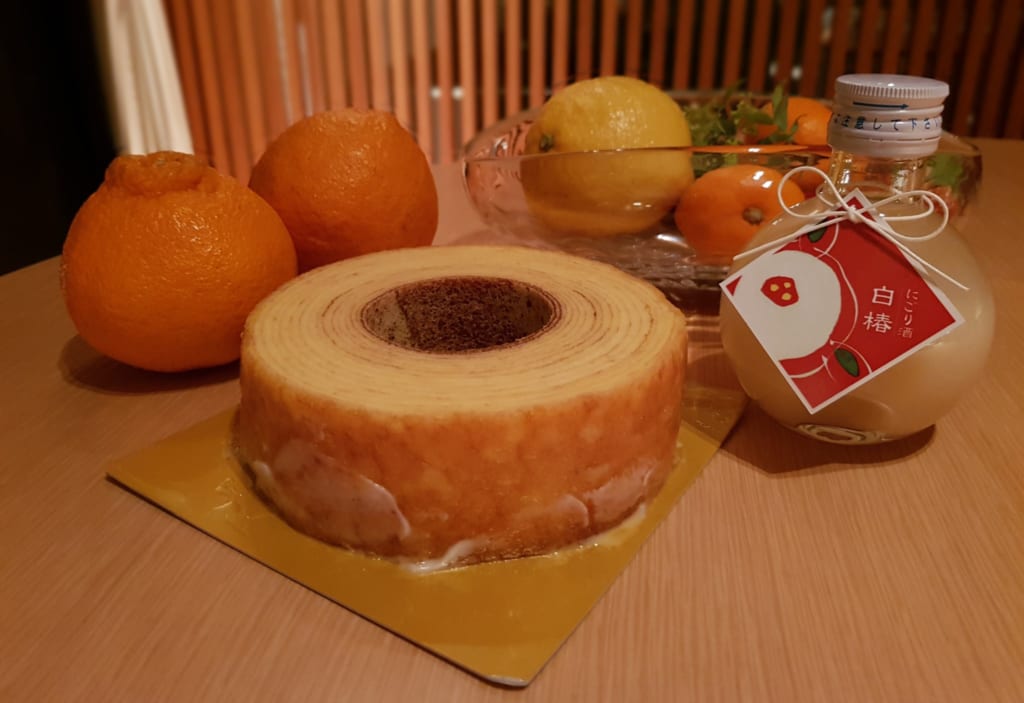 The café of the sake brewery is known for its Sake Baumkuchen, which we couldn't try that day, but instead, we bought one to enjoy later.
Walking on Japanese Ceramic
Before we made our way back to the hotel, we wanted to walk along the Tobe ceramic way, which led past mikan trees, another specialty of Ehime prefecture, Shikoku.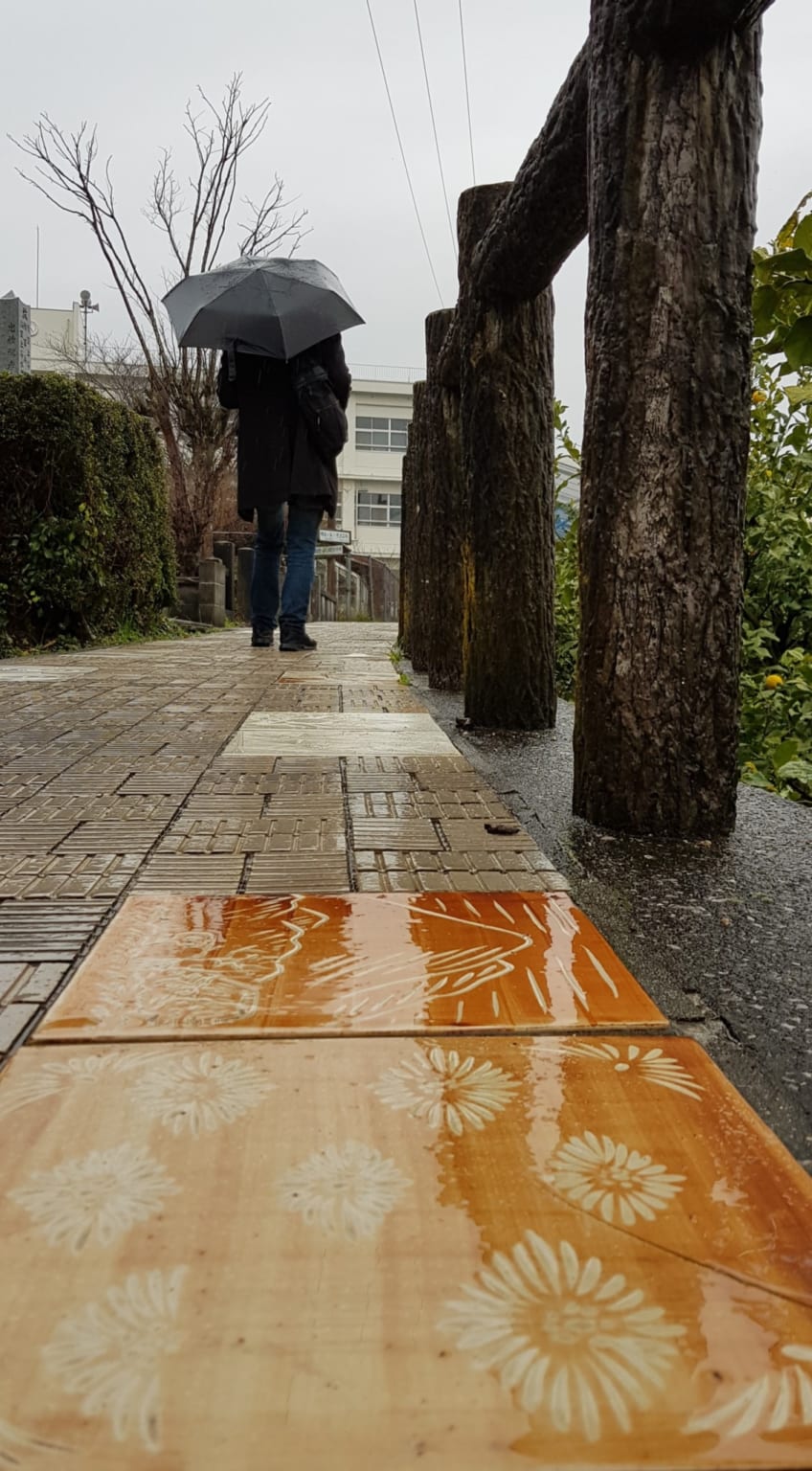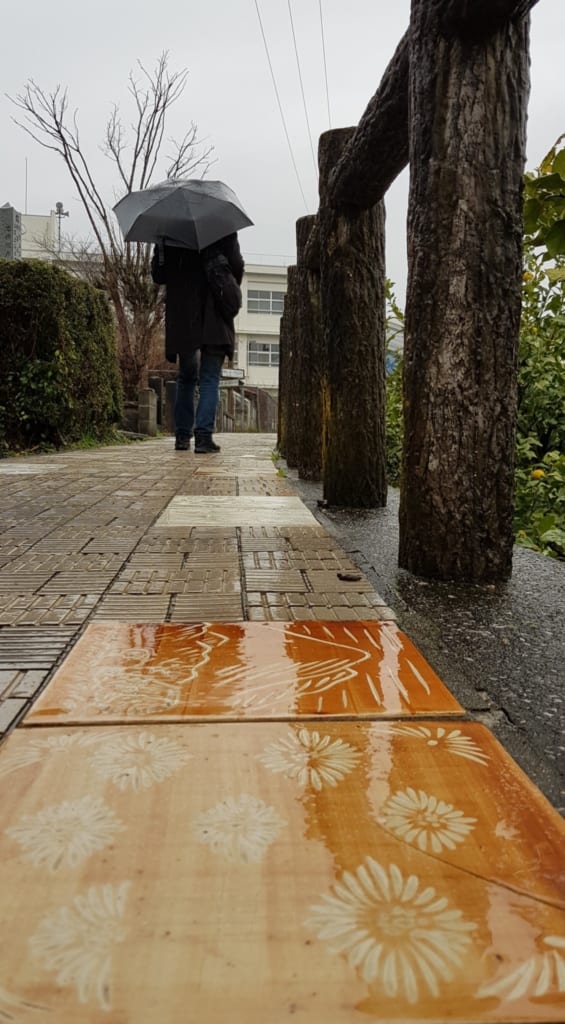 Tobe ceramic is worked into the ground of the 500-meter-long path, making this way to a special experience. At every corner you can find a new motif, and we realized that we could have gotten inspiration for our ceramic experience here as well.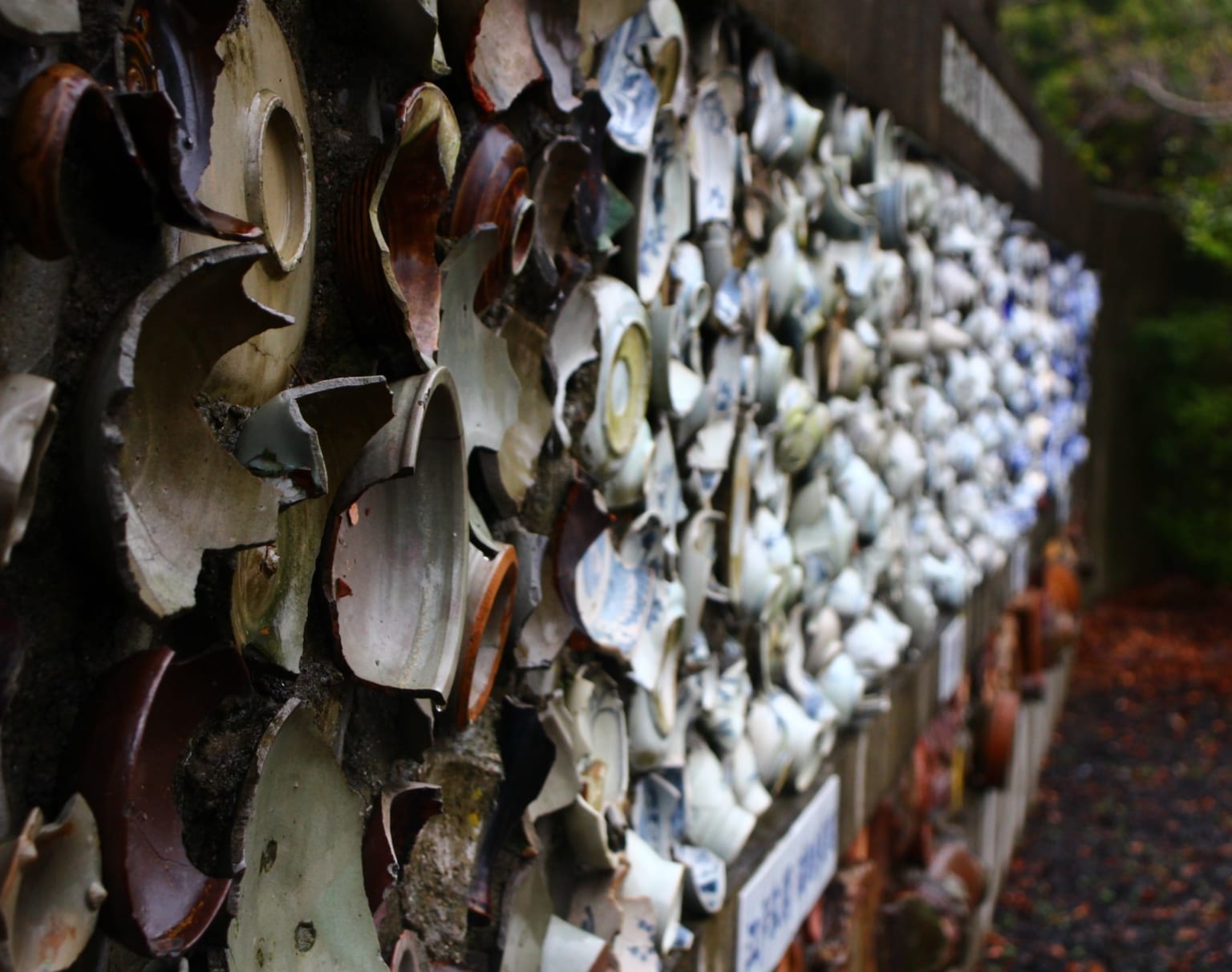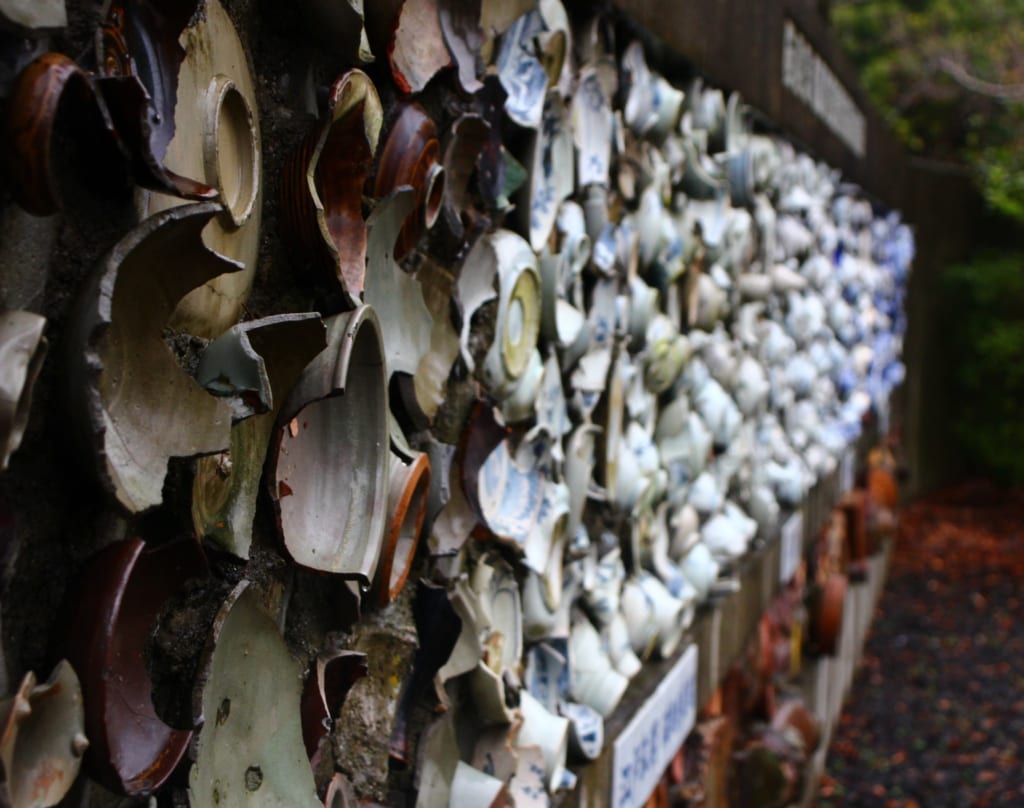 The ceramic way ends at a viewing platform, from which you have a unique view of the Ehime mountain landscape when the weather is nice. Another highlight here is a wall, which is showing you the history of Japanese ceramic.
A Night at TOBE Auberge Resort
We spent the night in the TOBE Auberge Resort. A hotel that elevates the word hospitality to luxurious standards.
Upon arrival, we were greeted with a drink of our choice in the resort lobby wrapped in a pleasant candlelight. Lobby is actually the wrong word. The black leather sofas and the dark, subtle counter convey the ambience of a cozy bar with view to the lake.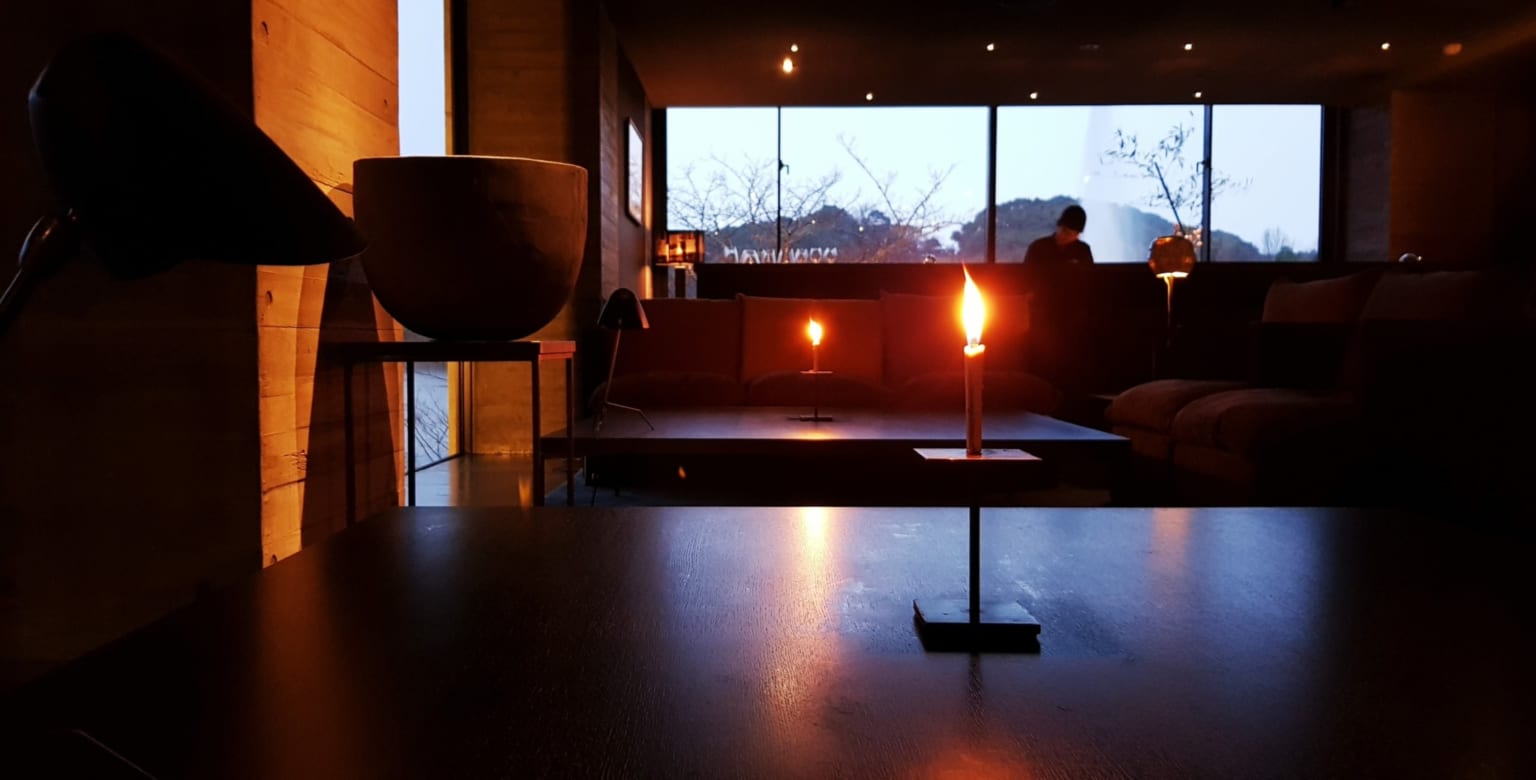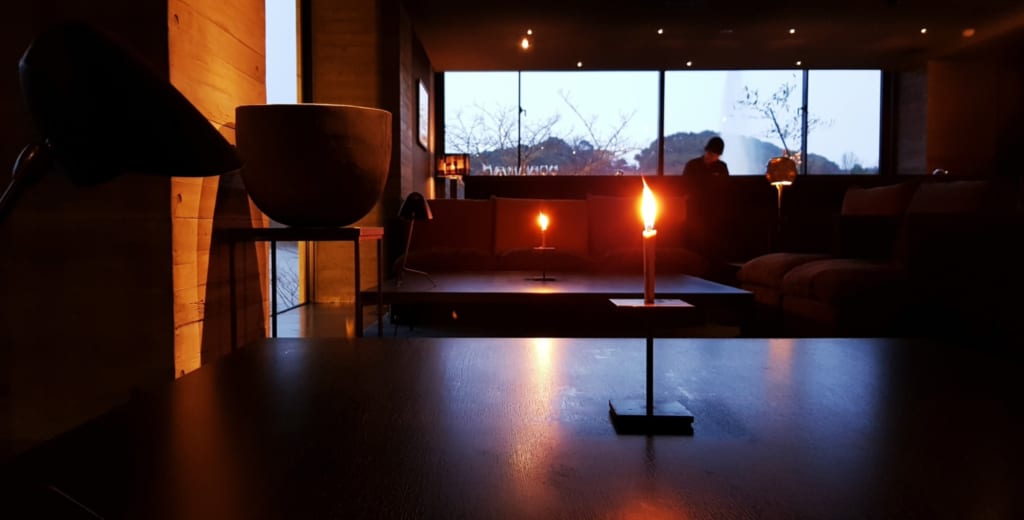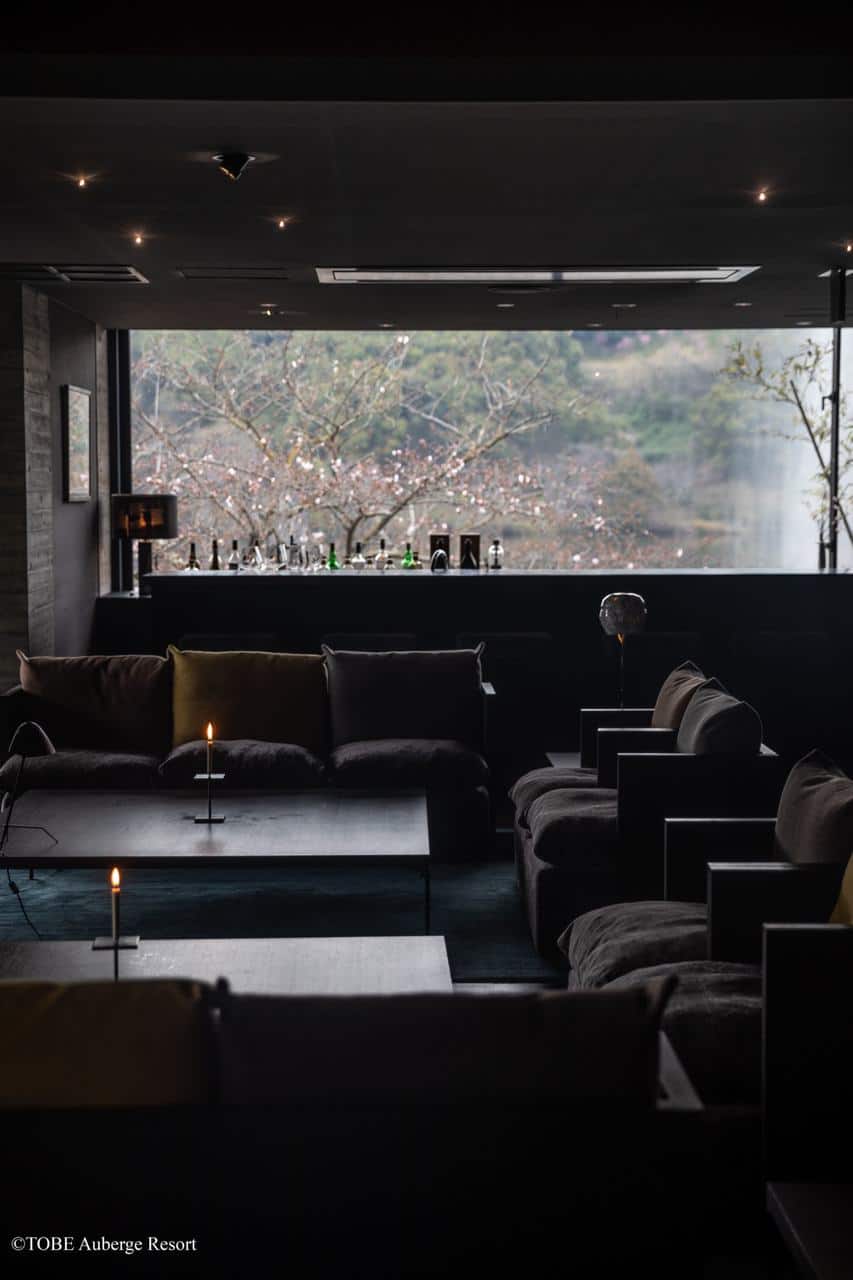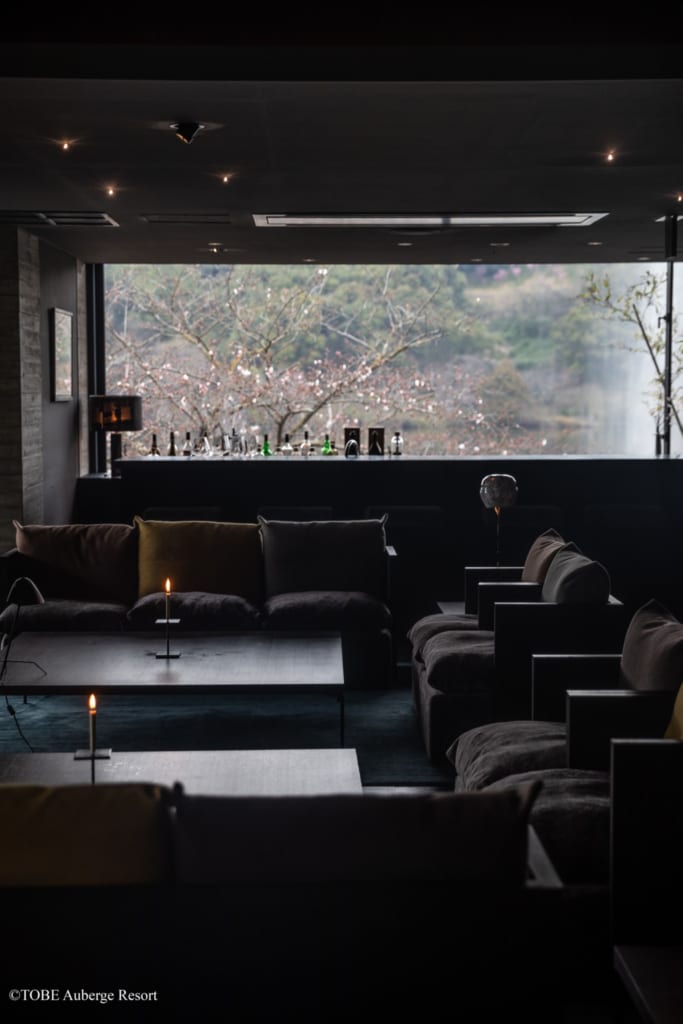 Afterwards, we were driven to our guesthouse in a kind of golf cart, a special feature of the TOBE Auberge Resort. The resort does not have rooms in the main building like an ordinary hotel, but individual guest houses, such as guest villas, each with a view of the lake.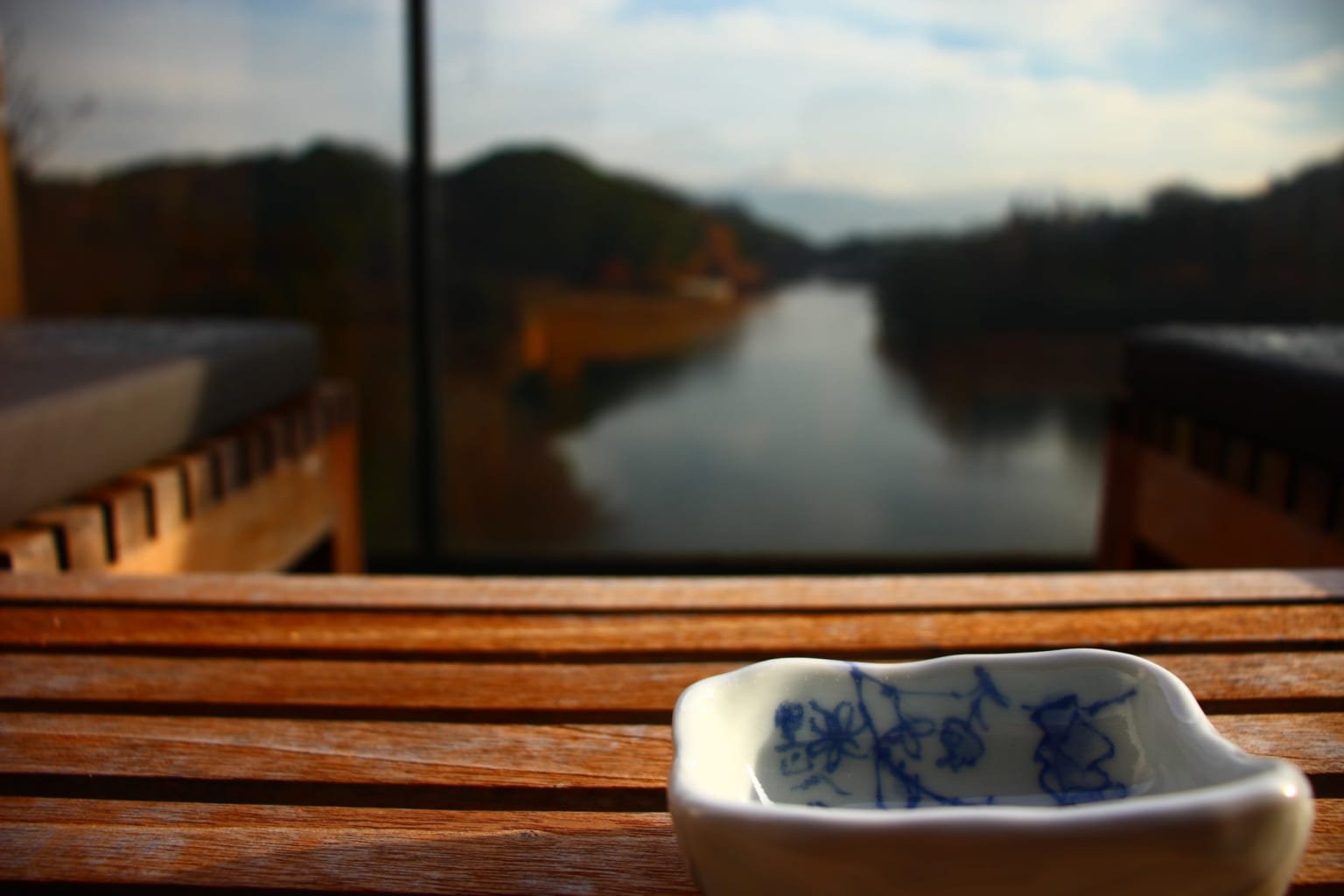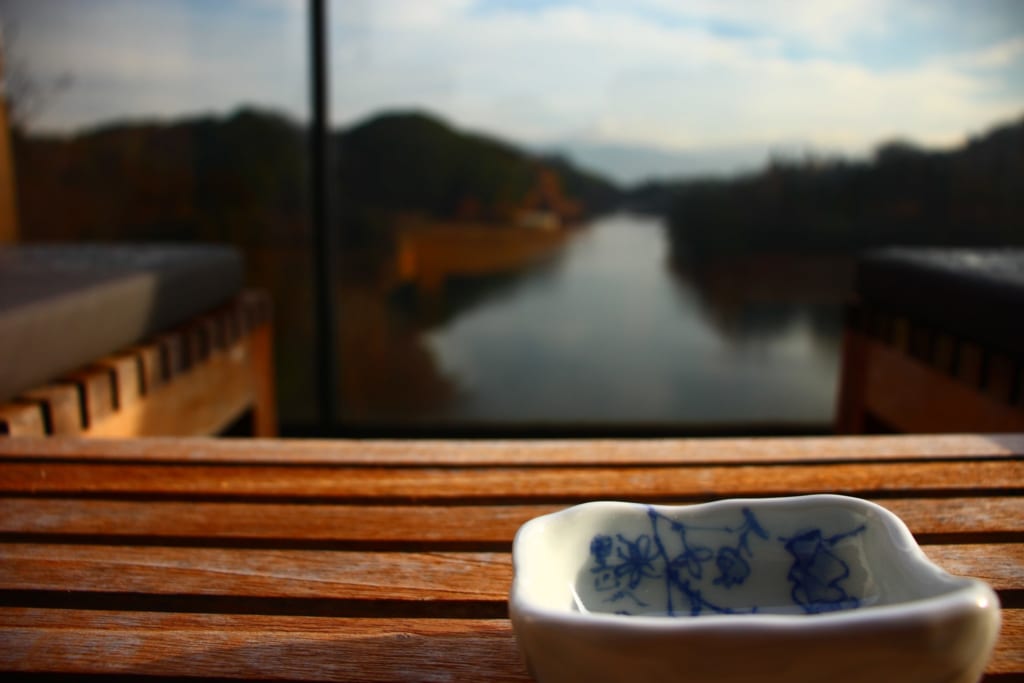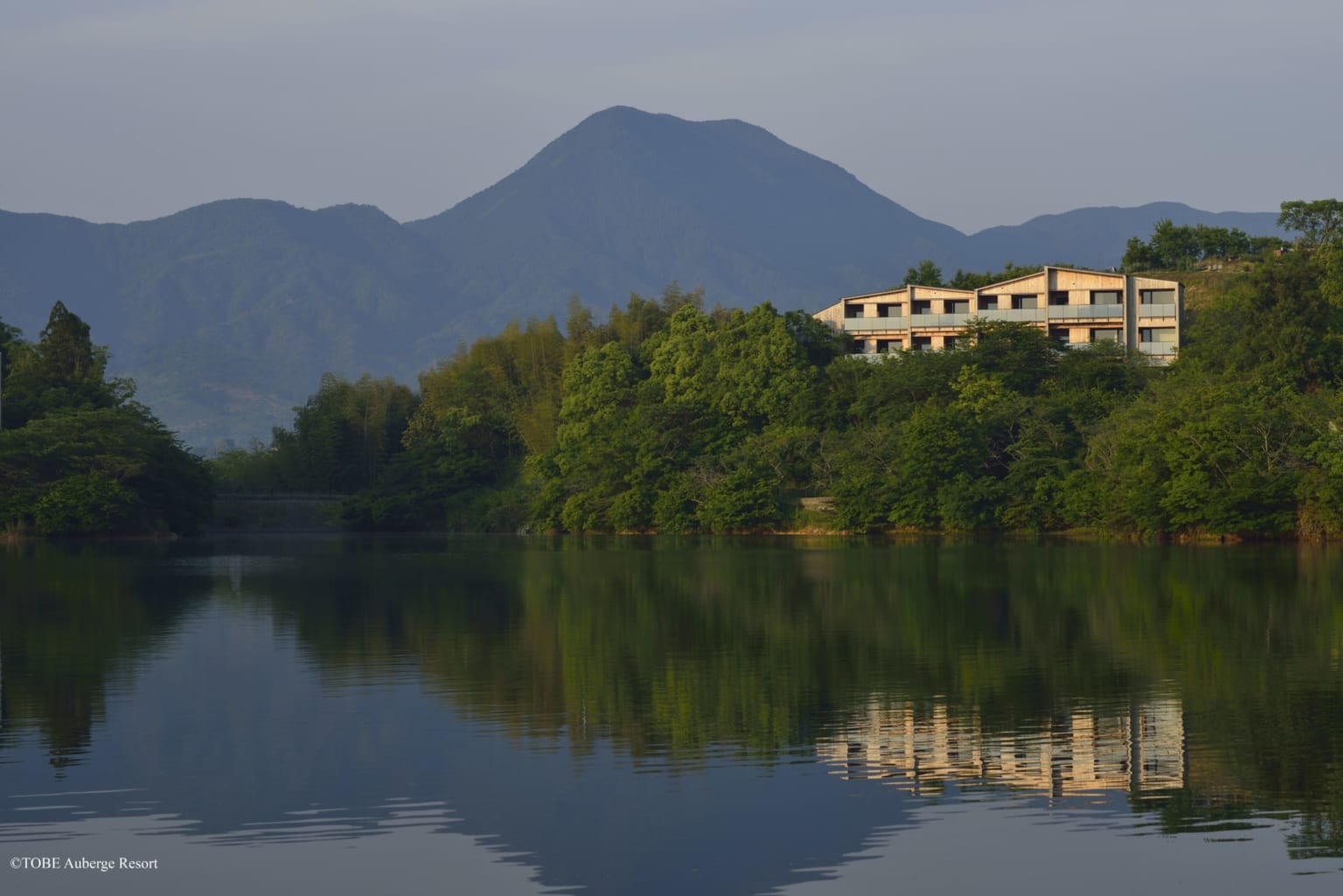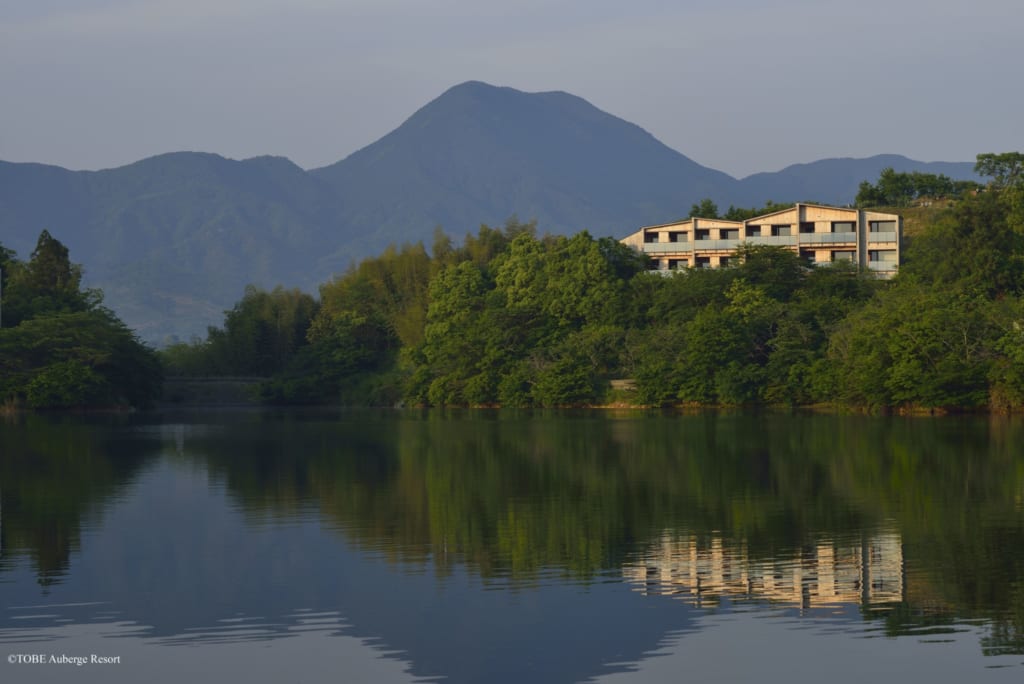 The room was enveloped in the warm glow of the lamps as we entered it and looked around in amazement. The fully glazed bathroom even allowed us to take an outdoor bath by simply opening the balcony door, leaving one side of the bathroom completely open. An incredibly relaxing experience when you sit in the hot water and the cold night breeze tickles your hair.
However, the bathrooms of each of the guest houses differ. So, it might be possible that you can take a bath outdoors and sink into harmony with nature.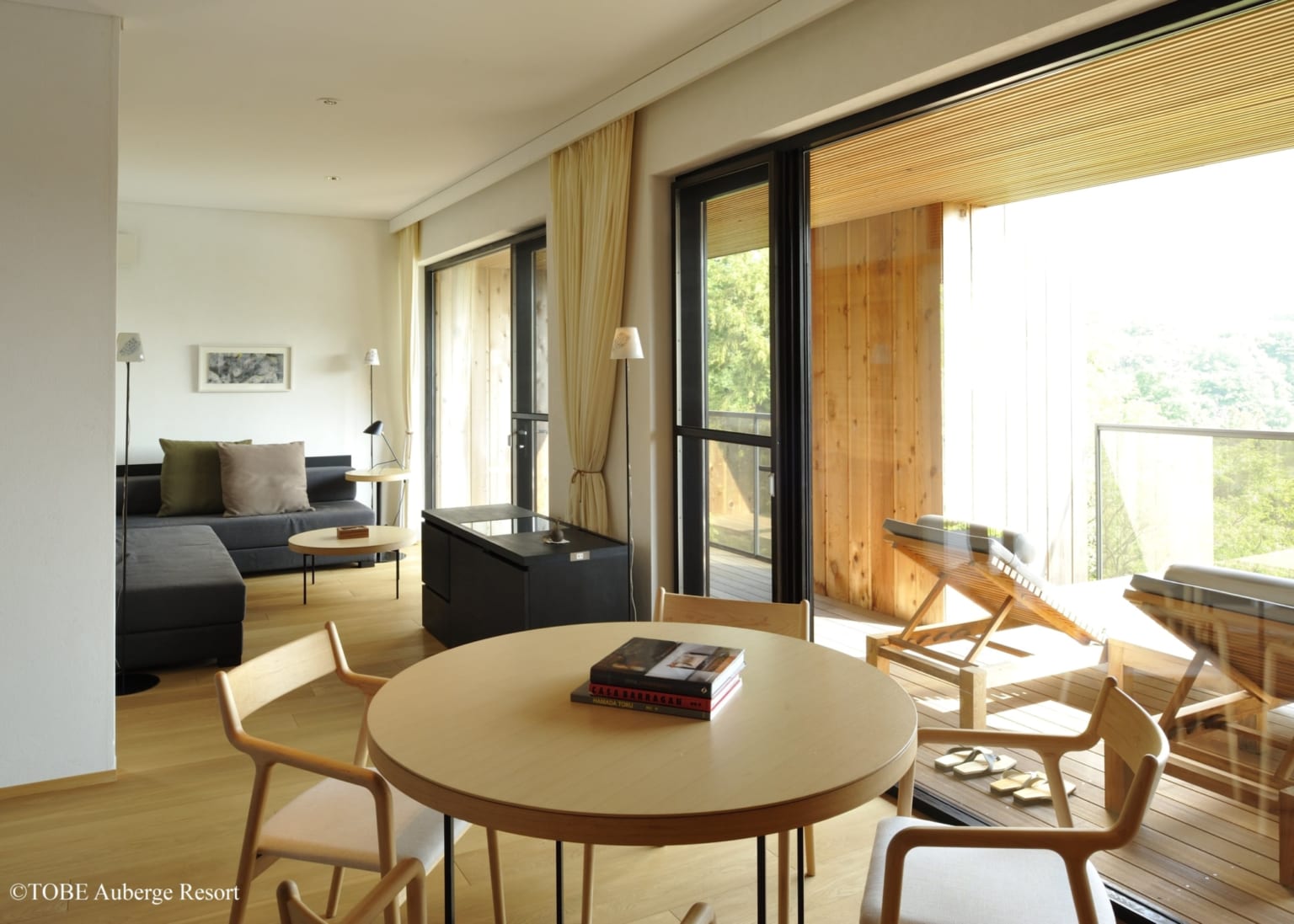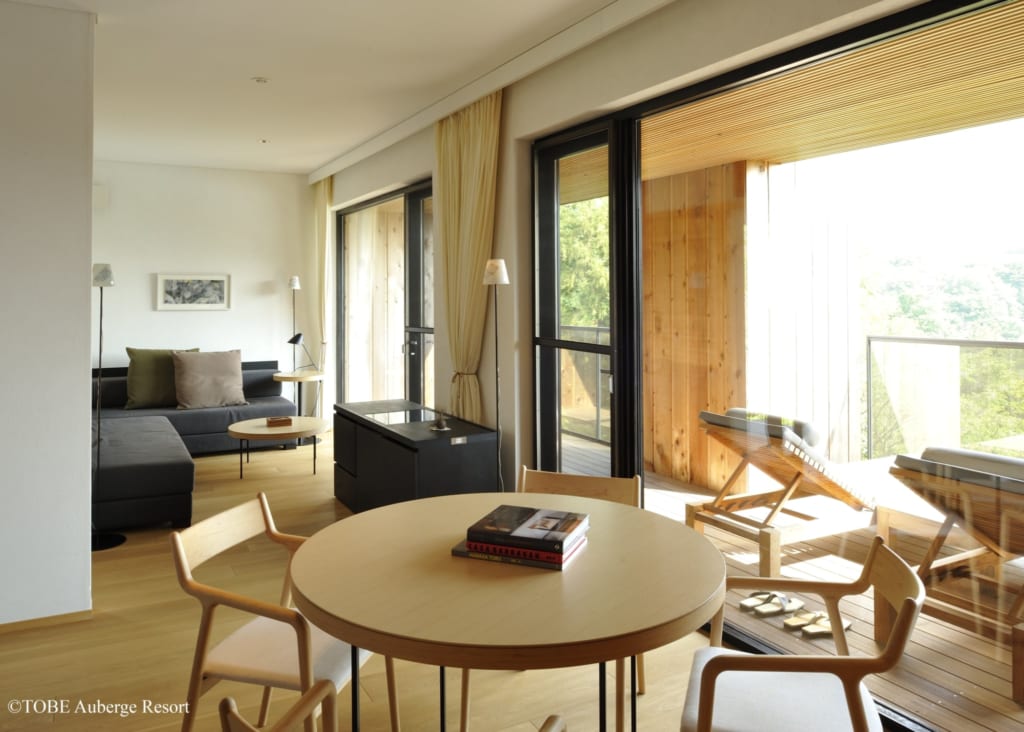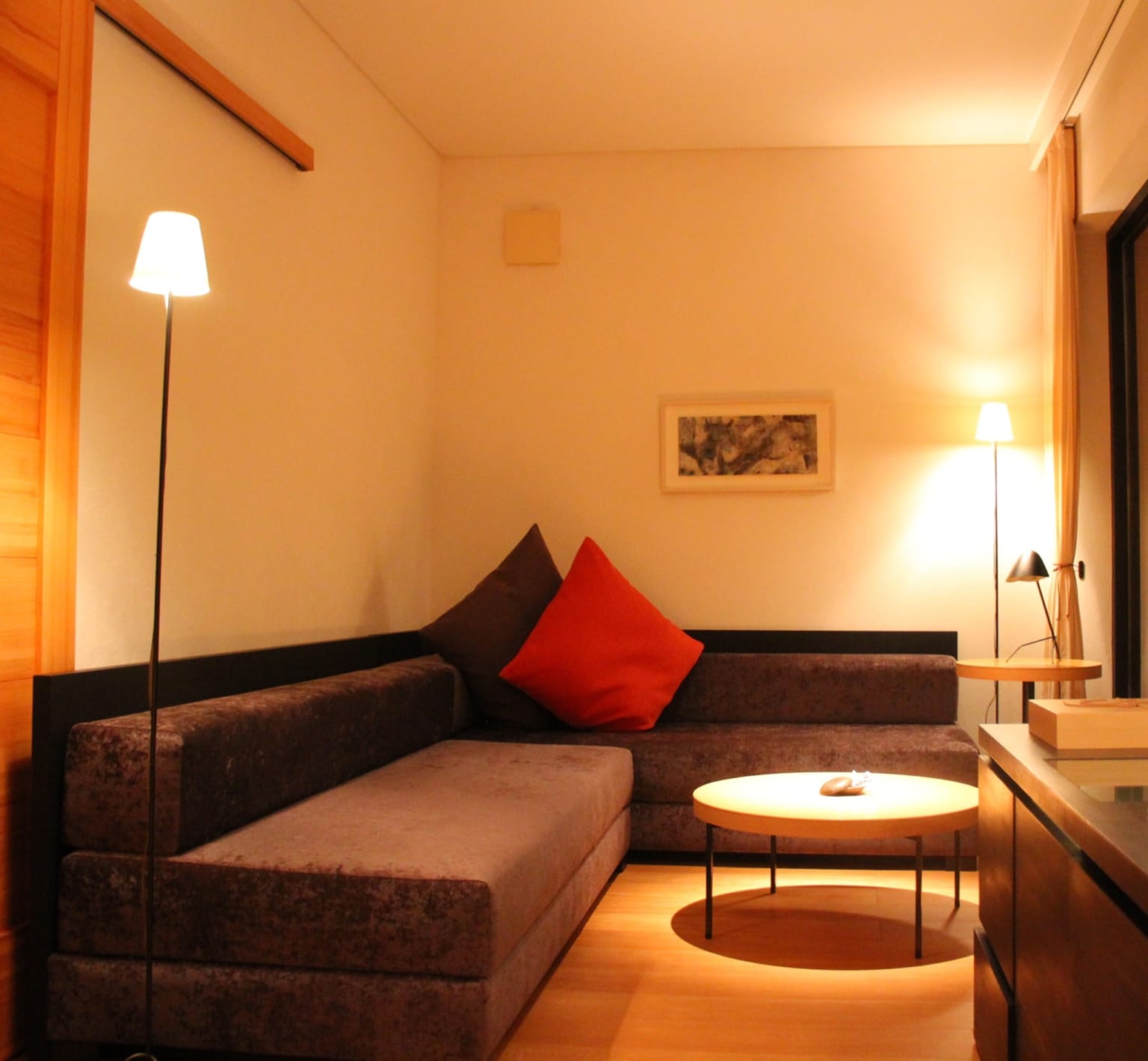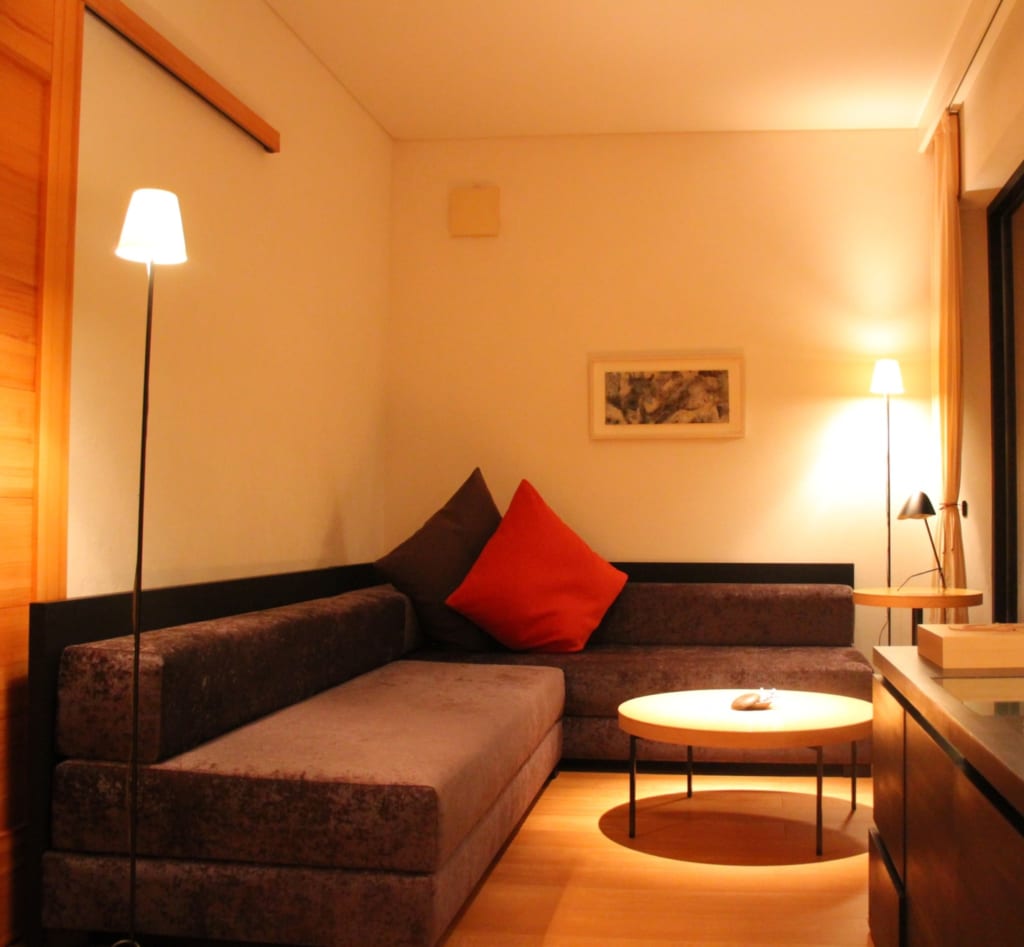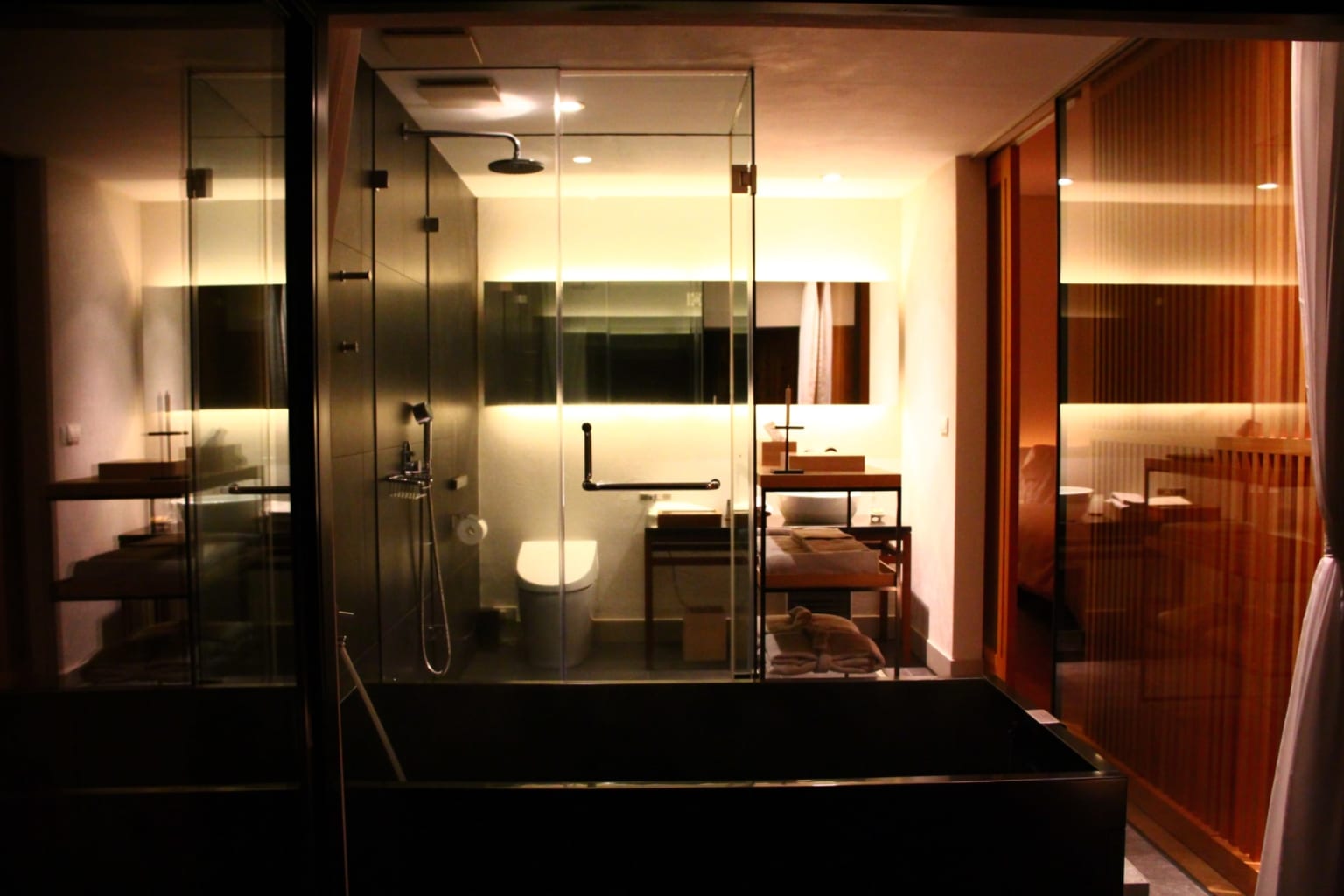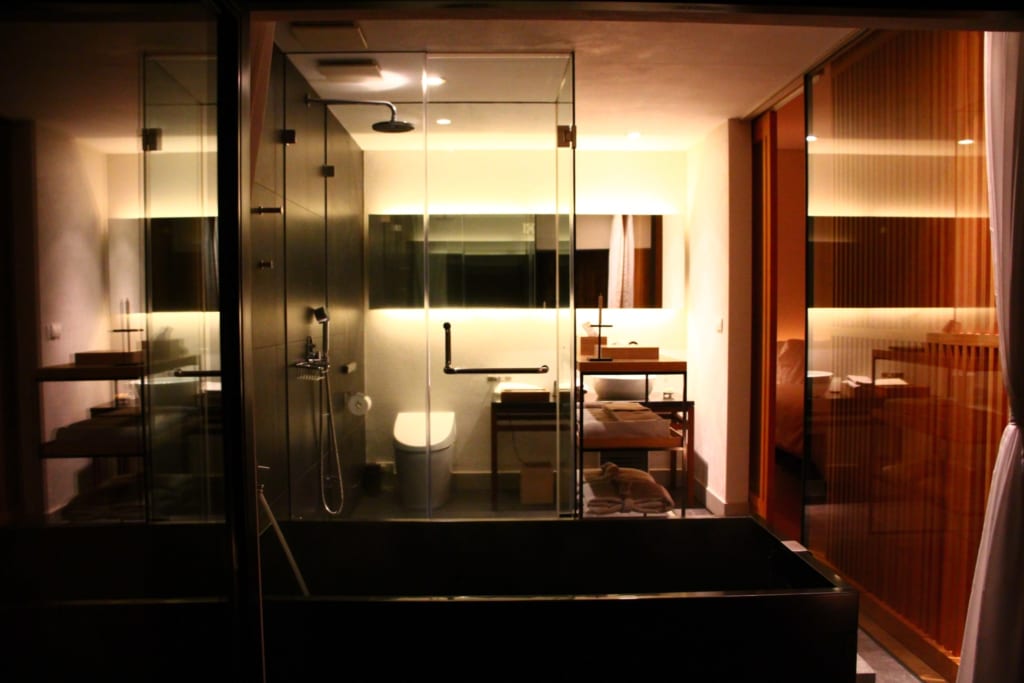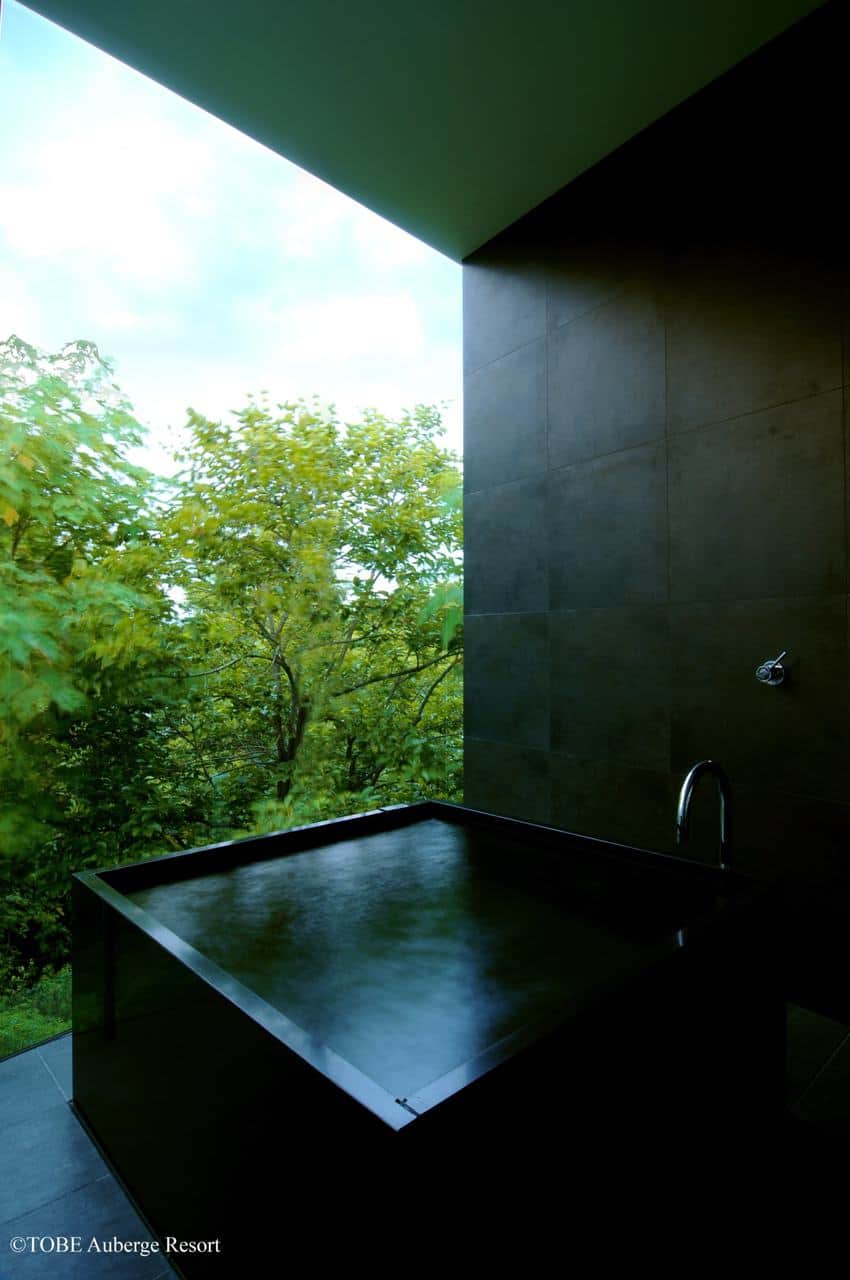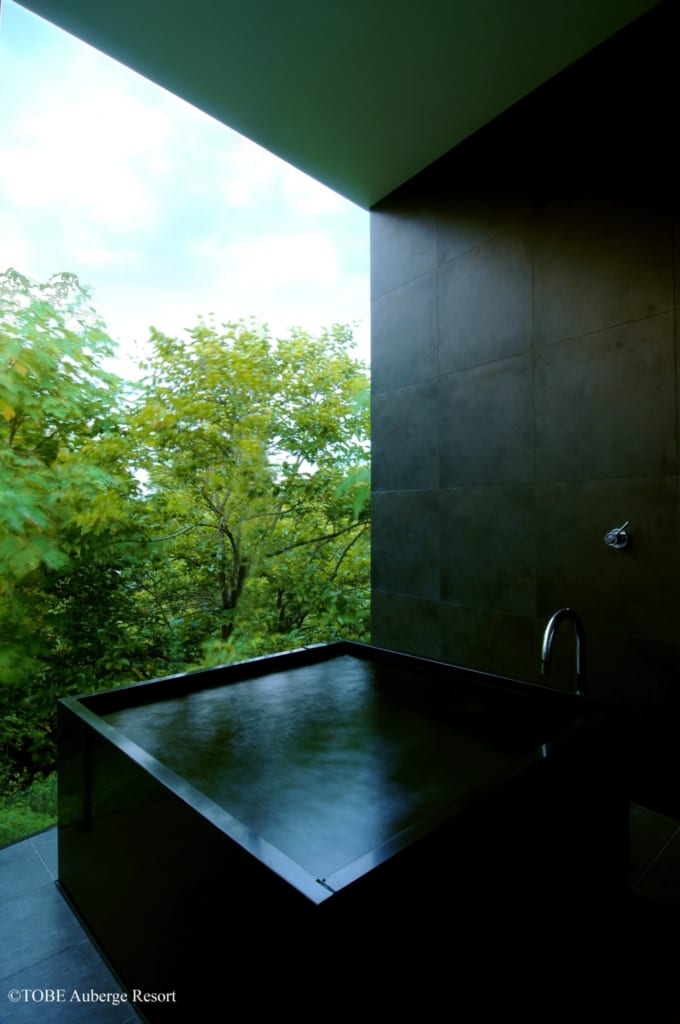 We also found ceramics from Tobe in the fashionably furnished room, which made us smile. As a friendly staff member of TOBE Auberge told us, the resort supports the region and sources all of its products, from food to furniture, from Ehime Prefecture.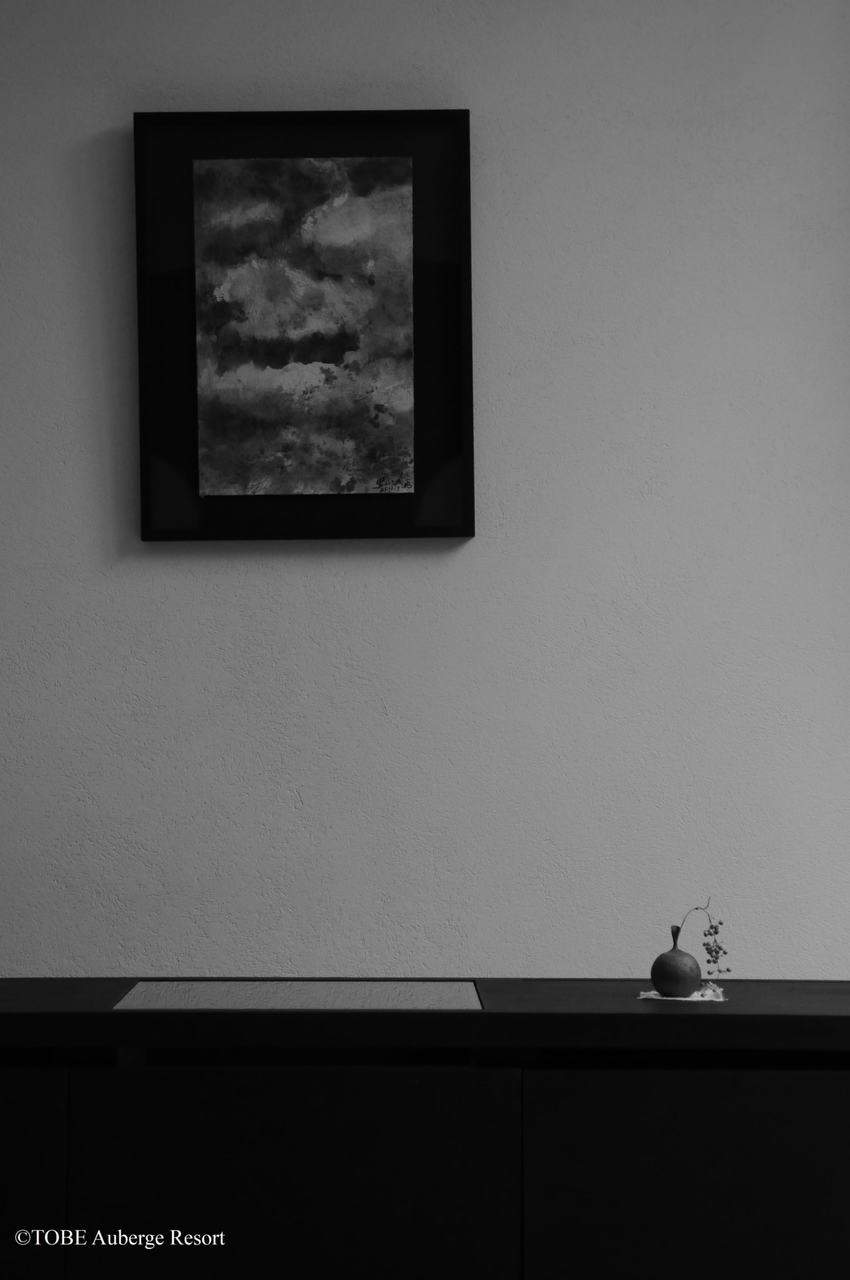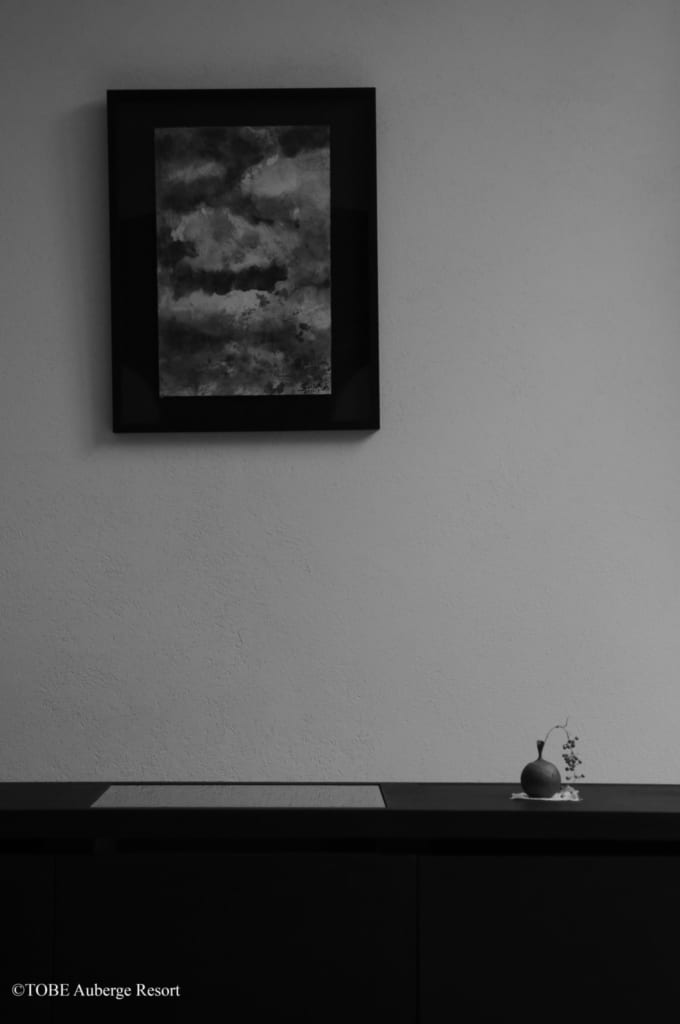 The Restaurant at TOBE Auberge Resort
In the golf cart, we went back to the main building of the TOBE Auberge to have dinner at the in-house restaurant. The restaurant is decorated in the same style as the lobby, dark wood tones, warm light and a modern, elegant interior. We could understand why the restaurant is listed in the Michelin Guide.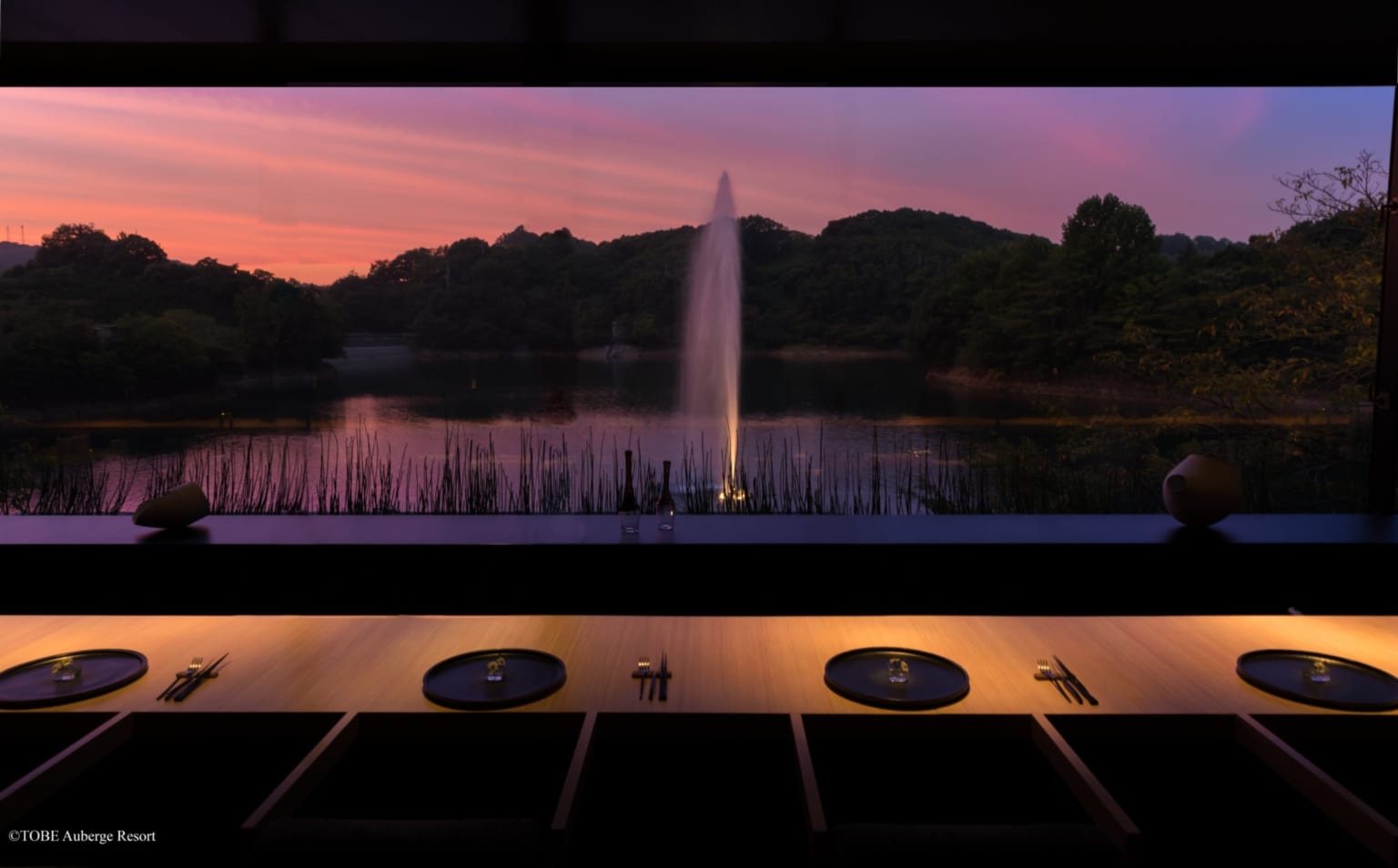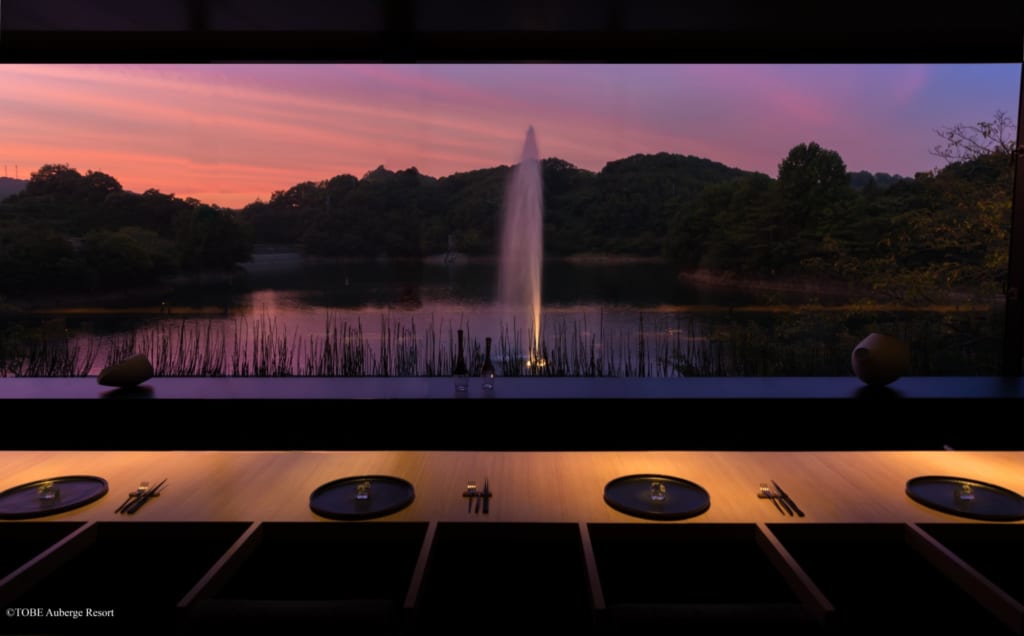 Our menu cards were already waiting for us when we arrived, so that we could at least guess from the names what would await us during the next eight courses. They also take into account dietary restrictions and requests, so my menu was written in English and contained only vegetarian dishes.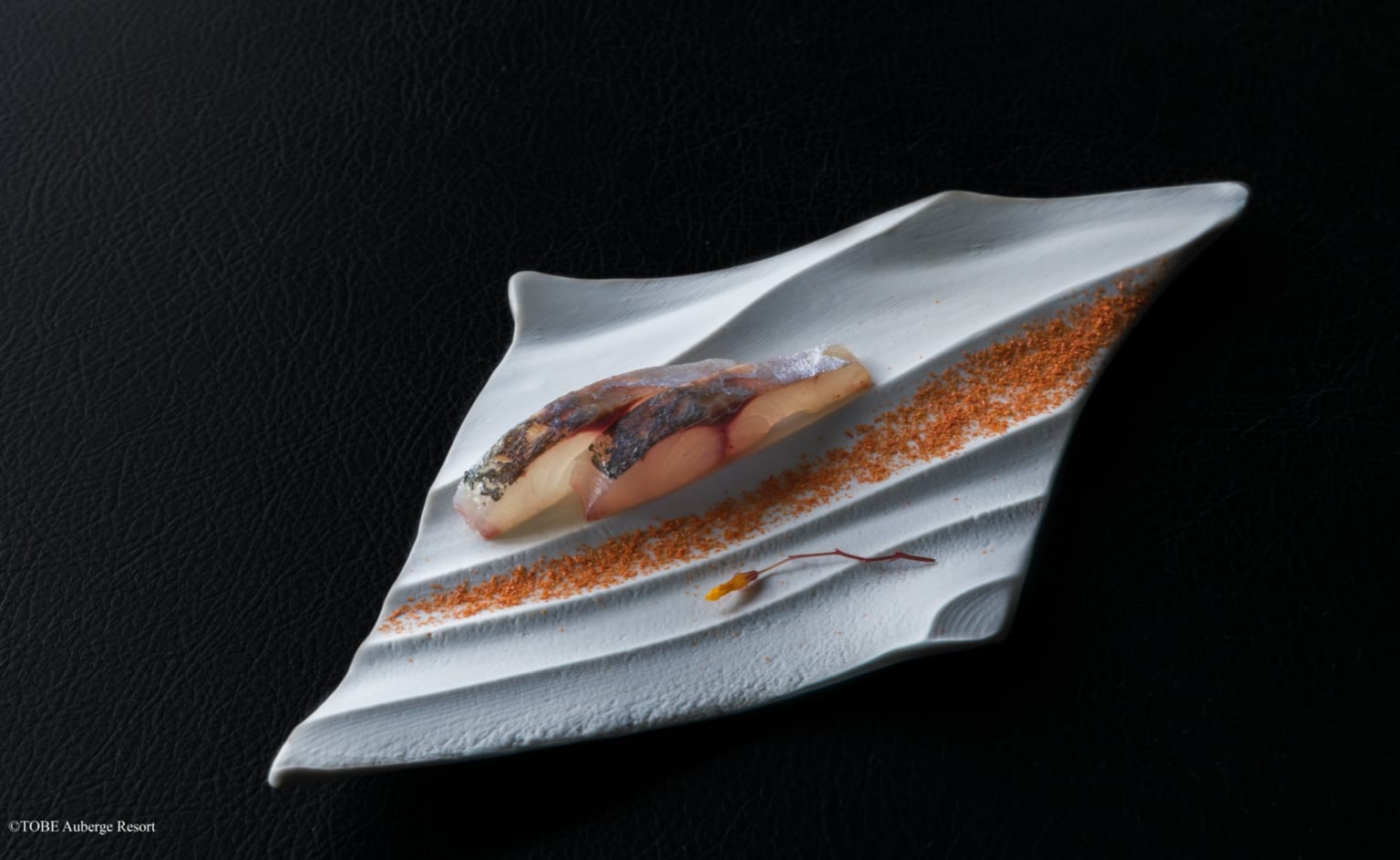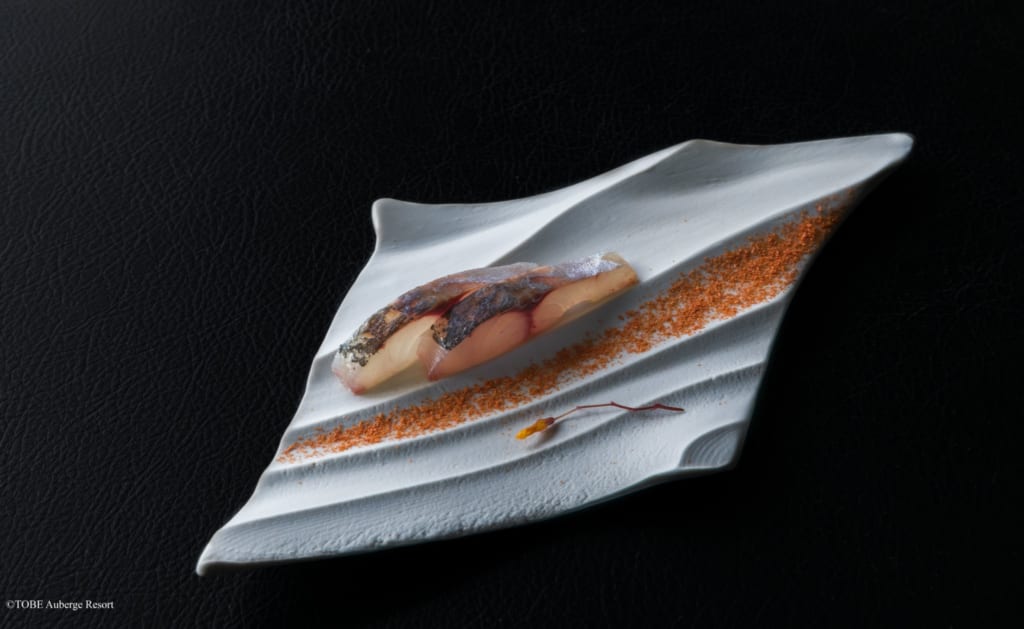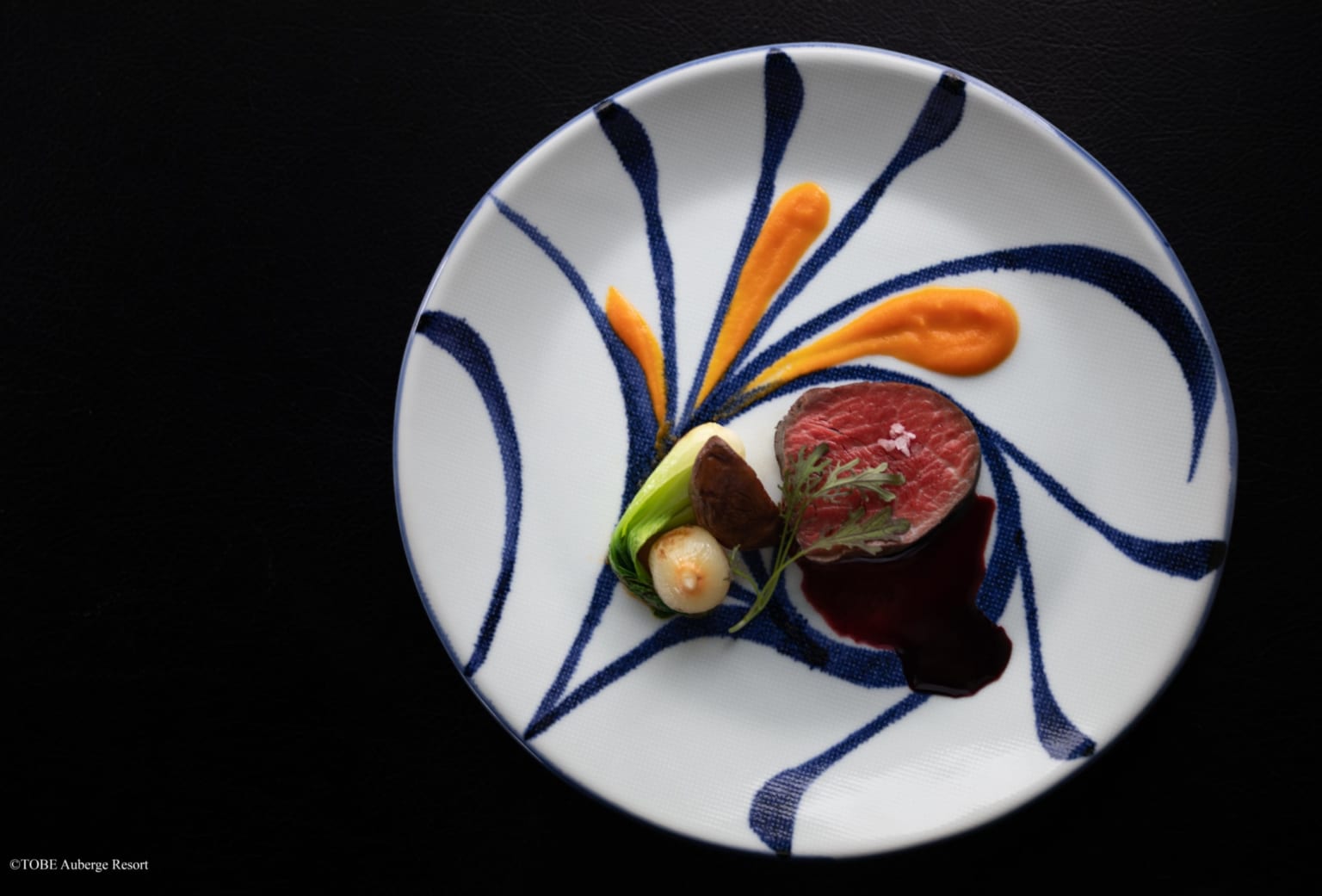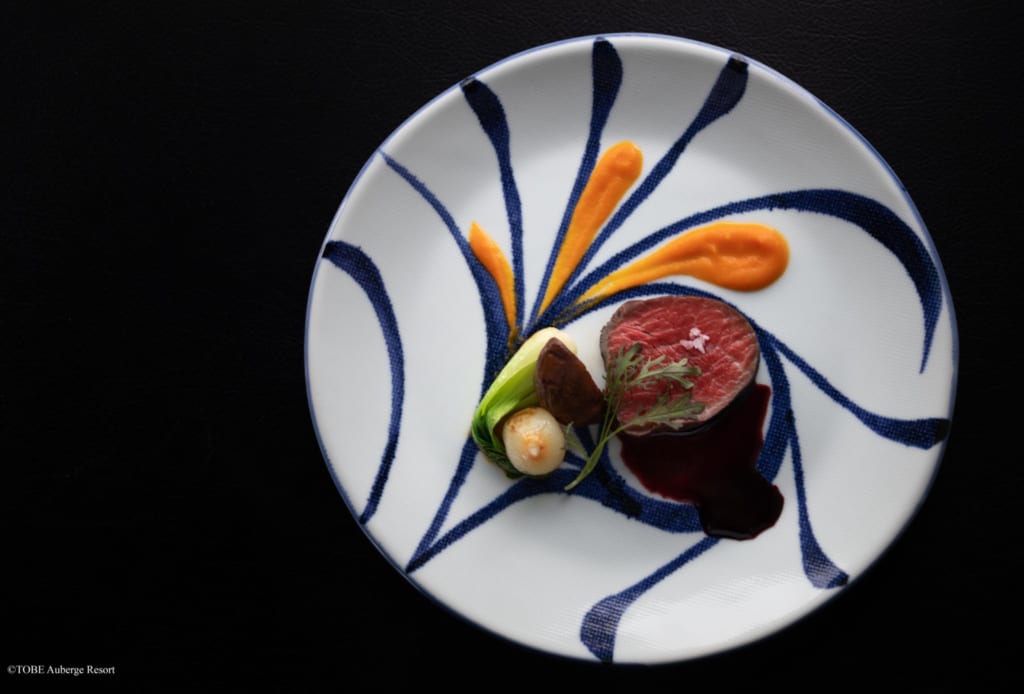 The local and fresh ingredients included the best the region have to offer. Delicious seafood, which is prepared without many spices, so the original taste is not ruined. As well as mild dressings that emphasize the spicy aroma of the fish.
One of the highlights was the Kuroge Wagyu beef, which was served on Tobe ceramic.
The dinner was rounded off with tea or coffee of your choice, accompanied by a fine sake flavored macaron.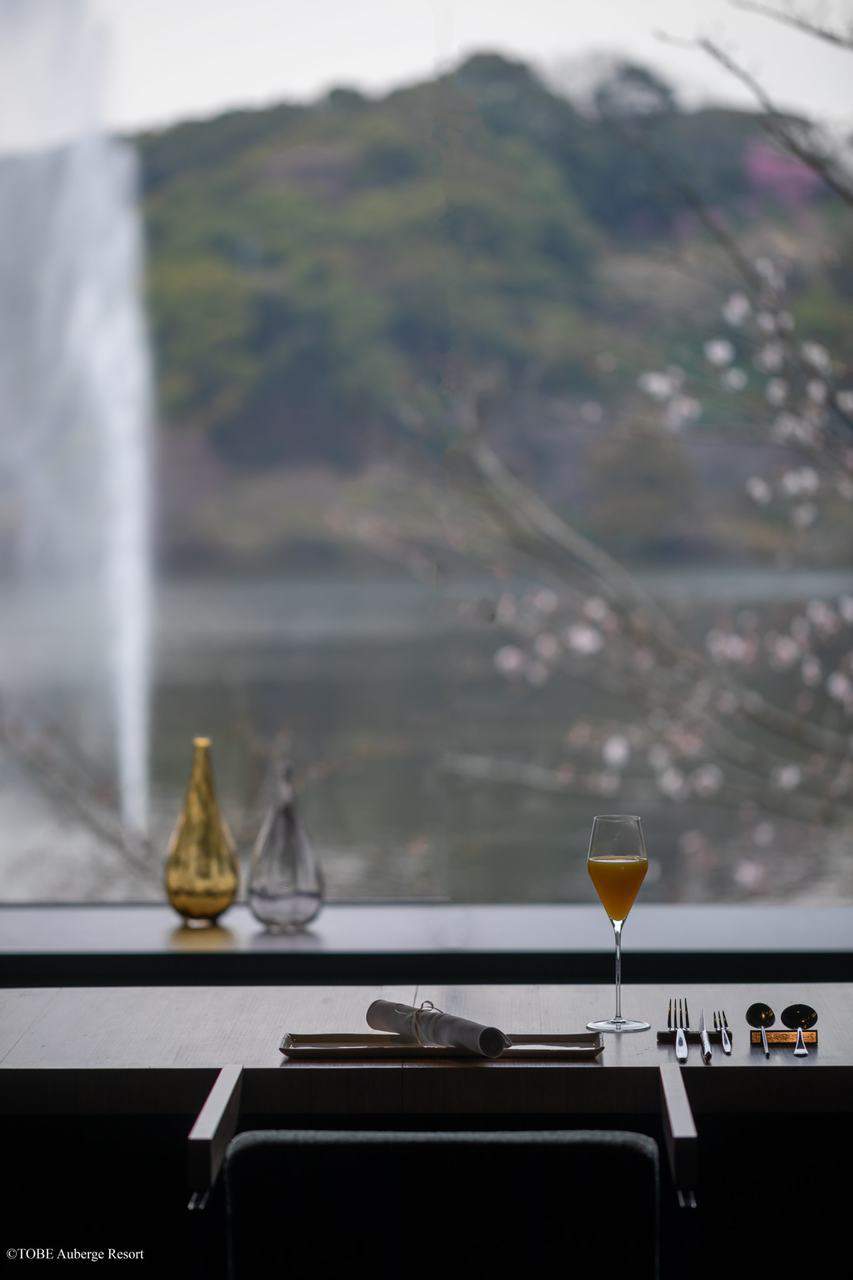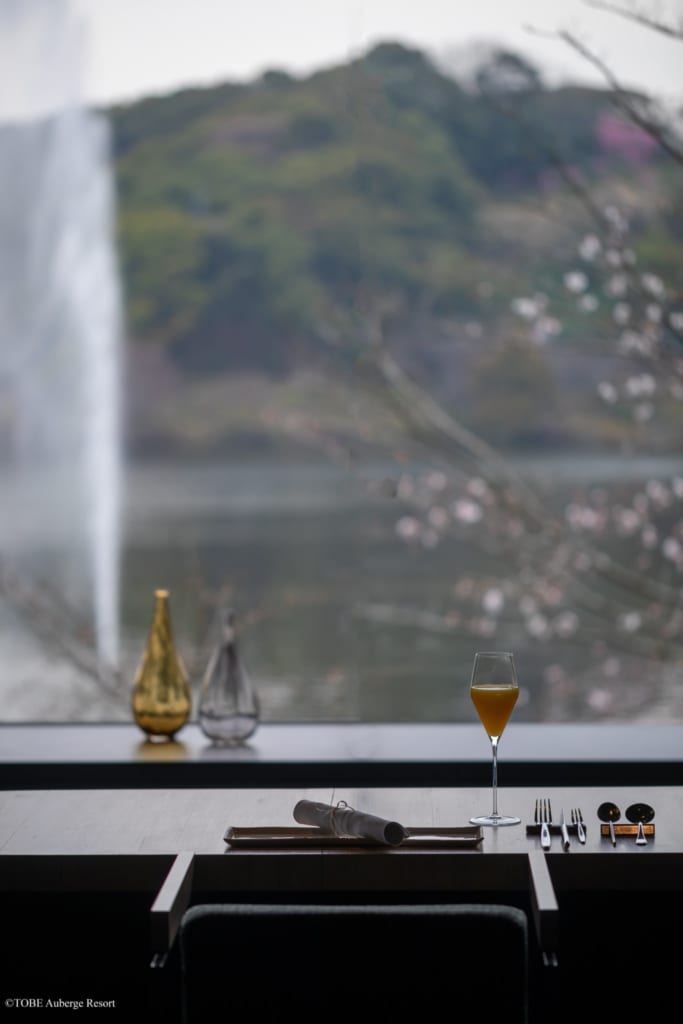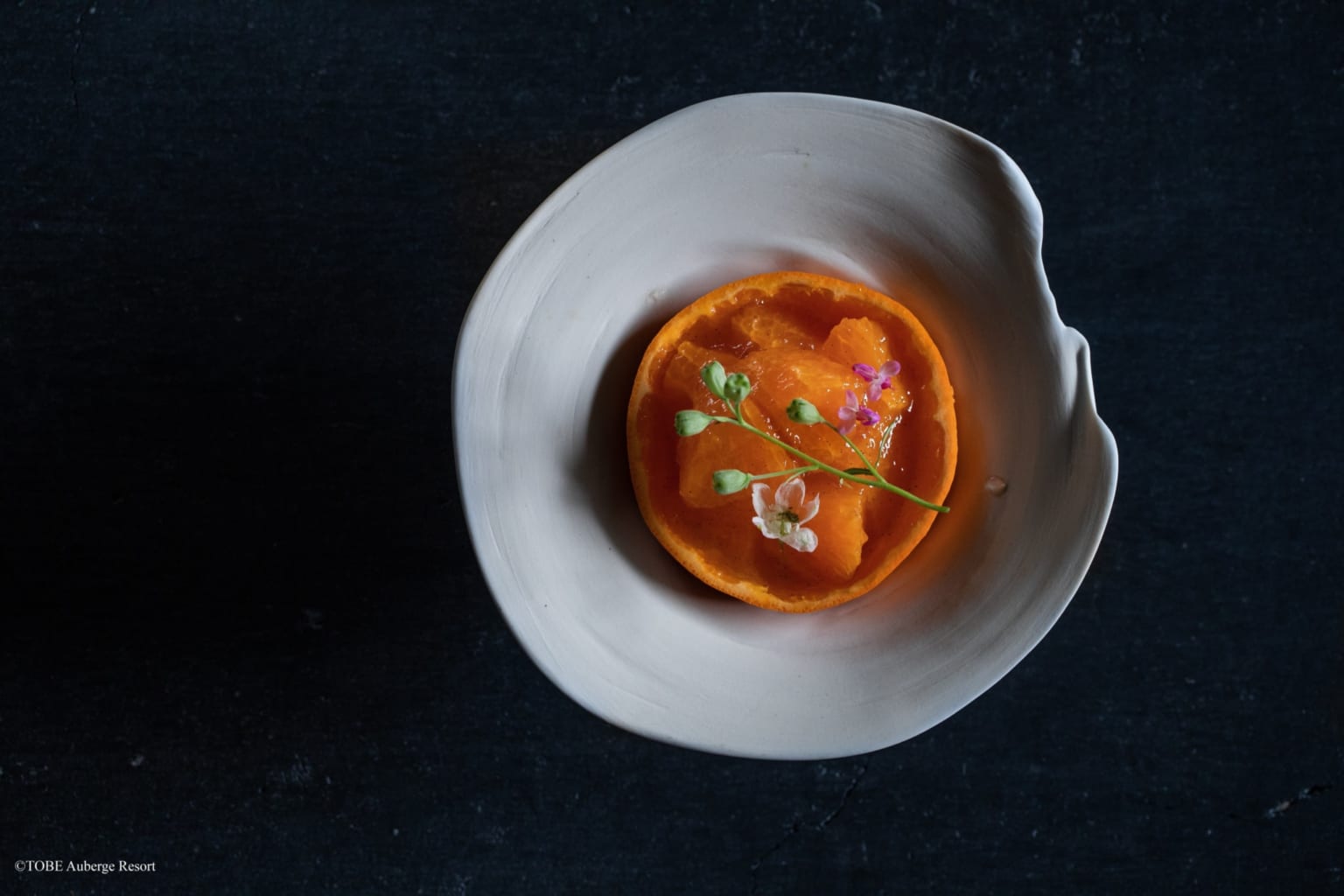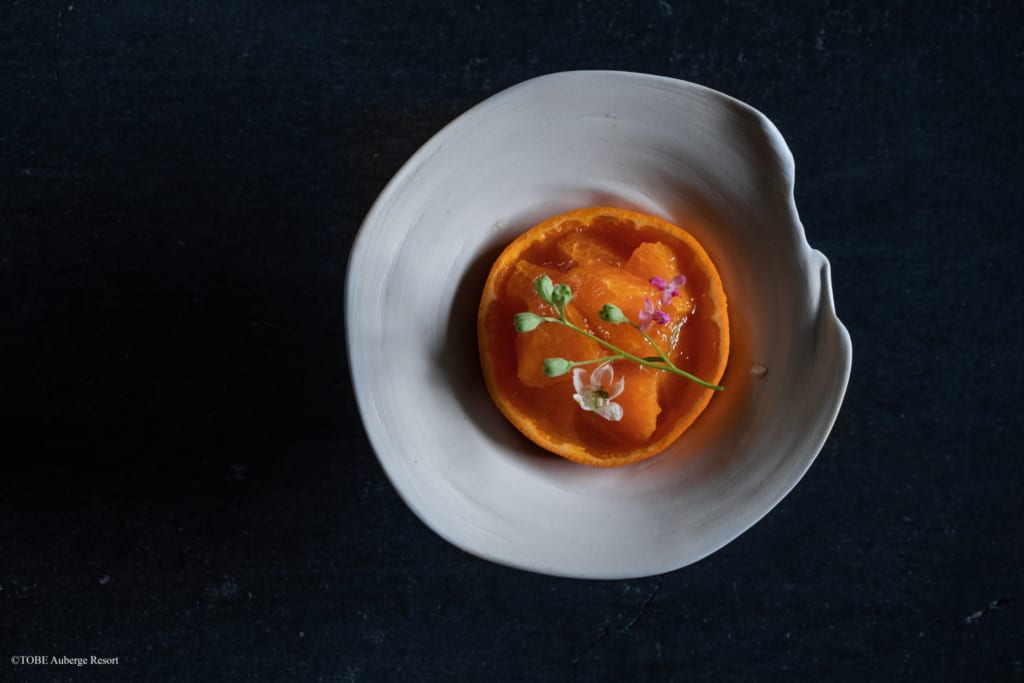 Also, breakfast the following morning was a highlight, which combined fresh and local products. It included a very tasty orange juice that was far superior to normal supermarket juices. The dessert, mikan with vanilla jelly, was an incredibly interesting and fine combination that sweetened our morning.
Useful Access Information
Tobe city can be reached by bus from Matsuyama Airport. First, you take the limousine bus from Matsuyama airport to Matsuyama-shi station, which you can reach in about 25 minutes. Then take the bus towards Kumakogen for 45-minute drive.
Tobe Ceramics – The Pride of a City
Whether in the city streets, in restaurants or at the TOBE Auberge Resort – Japanese ceramics plays an important role in everyday life of the residents of Tobe.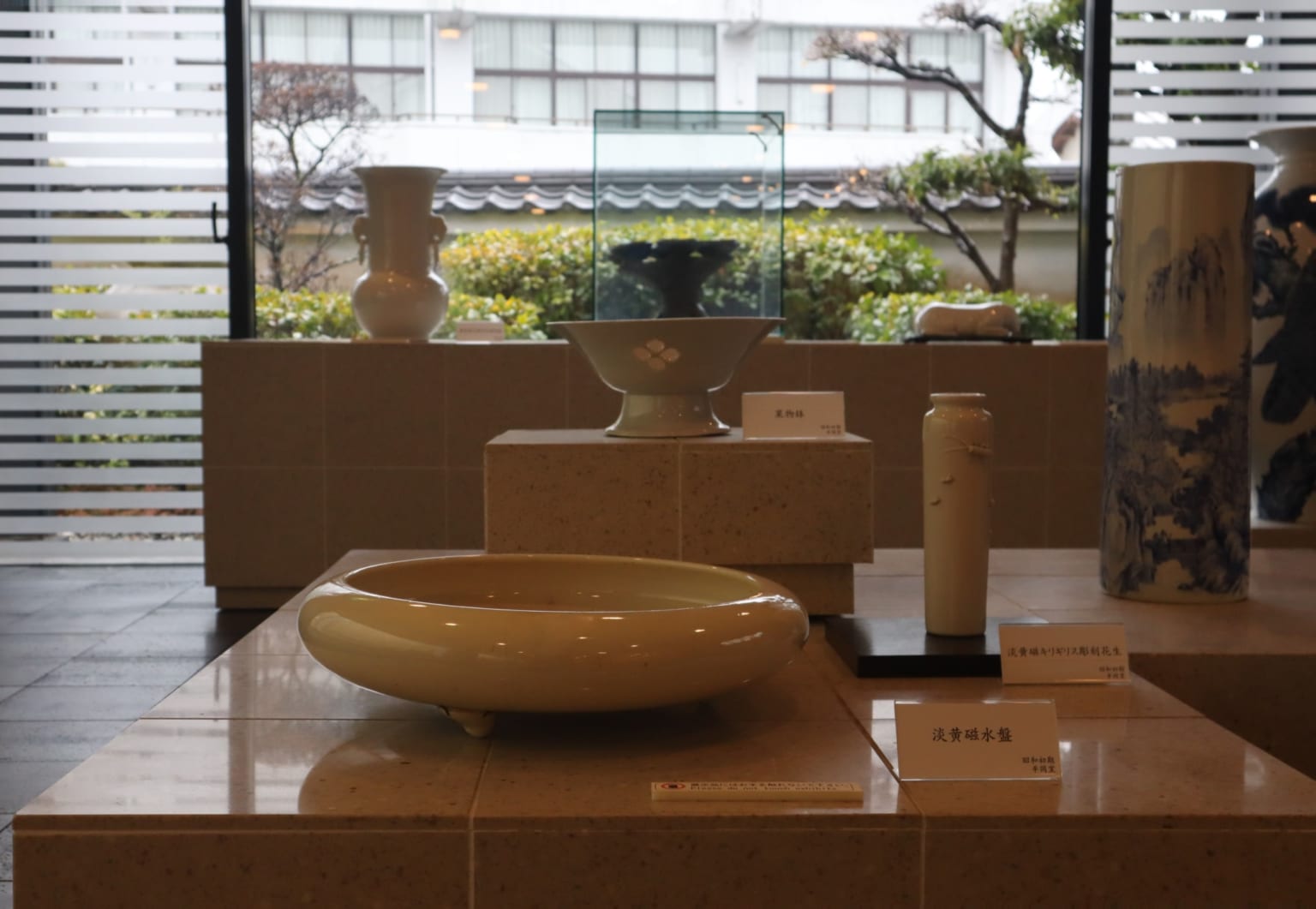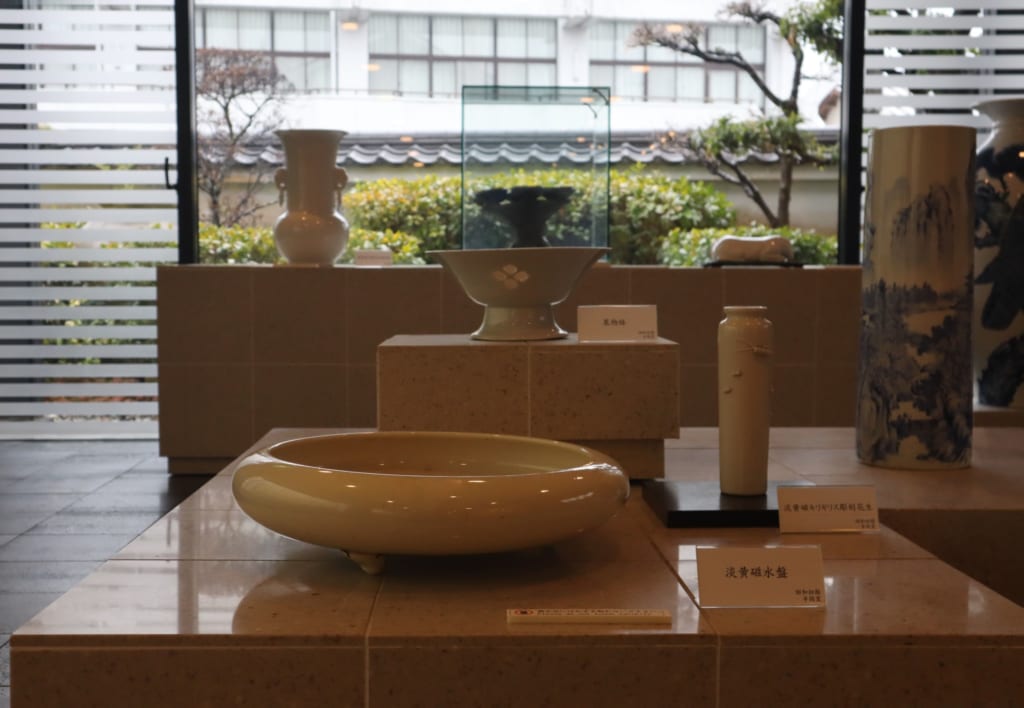 See for yourself with a visit to Tobe, Ehime, Shikoku in Japan. Enjoy your stay at TOBE Auberge Resort, design individual gifts at Tobecho Togei Sosakukan and try Sake Baumkuchen from the Kyowa Shuzo Sake Brewery.
Sponsored by Ehime Prefecture.