Japanese Culture
As an ancient island nation, Japan enjoys a rich cultural heritage that has many unique characteristics, as well as culture that has been borrowed from neighboring countries and more recently, Western culture. With so many layers of history, exploring a single aspect of Japanese culture can take a lifetime to fully understand. Because Japanese people are generally open to sharing about their culture with the world, many visitors to Japan try to experience at least a few aspects of Japanese culture on their visit to Japan. Here are a few of the cultural experiences that interest visitors to Japan.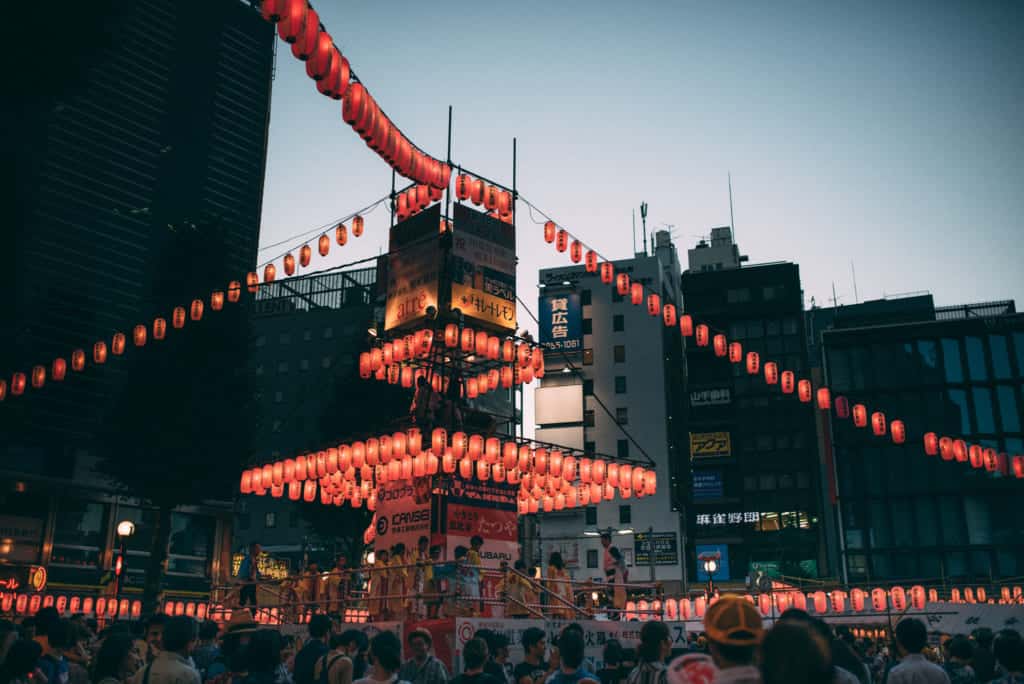 Festivals
There are festivals around Japan year-round though many of the most famous festivals occur in the summer and fall, which are months of harvest in ancient times. Festivals are community events for Japanese people, a chance to gather and have fun in a family-friendly environment. Many festivals have roots in religious ceremonies from Shinto or Buddhism, though often those connections are more traditional than spiritual in modern times.
Many of the most accessible festivals occur in August, which is Obon, the period to honor one's ancestors. Obon is celebrated with dancing, so many neighborhoods host their own small festivals where people can dress in their summer yukata and enjoy festival foods like yakitori やきとり chicken skewers, chocolate-covered bananas, and the refreshing kakigori かき氷, shaved ice with sweet syrup poured over it. Locals and foreigners alike are invited to participate in the dances which range from very simple to incredibly difficult.
There are also unique or rare festivals that take place in various cities around the Japanese countryside. Fire festivals, snow festivals, and even fighting festivals are some of the lesser-known festivals held in Japan. No matter what time of the year you visit Japan, you will likely find a festival that you can attend.
Traditional Crafts
The world of crafts in Japan is so broad, it would be impossible to cover all the different types in this small section. The important things to know about Japanese crafts is that most traditional crafts are being carried on by artisans whose skills have been honed by the experience of generations of artisans before them. Becoming an artisan in a particular type of craft is often a lifetime commitment in Japan, which is why the quality of handcrafted Japanese goods is unparalleled. But most importantly for tourists to Japan, the Japanese are more than willing to let visitors get hands-on with craft making. This creates opportunities for unique experiences and sometimes even souvenirs that you can make for yourself.
Popular craftmaking experiences for tourists include making pottery, dyeing indigo fabric, making washi paper, and if you are really ambitious, making your own Japanese chef's knife.
Onsen
Though many people are nervous about using a public onsen 温泉 hot springs bath for the first time in Japan, almost everyone who does can't wait to do it again. There are so many places to relax in onsen around Japan, you could take an entire vacation just hopping from one bath to another. From famous onsen towns like Hakone where you can enjoy views of Mt. Fuji to lesser-known places like Nyuto Onsen where you can soak outdoors surrounded by snow, there's literally an onsen for everyone, even those who are too shy to share an onsen and prefer something more private.