As wireless connectivity becomes an even more indispensable tool for many overseas travellers, Japan has answered this call by steadily expanding its free WiFi and public hotspots locations throughout its major centres. Hotels, restaurants, convenience stores, train stations, and shopping malls have all been equipped with free WiFi options for both visitors and locals, and free apps are dedicated to helping you find, and automatically connect you to your nearest hotspot location.
Despite the growing numbers of free and paid public WiFi options, most travellers desire a more consistent form of wireless connectivity. Whether they will be wandering through urban streets, or slipping into the rural landscape of Japan's countryside, here are the top ways to stay connected during your trip in Japan:
Here's a brief summary of what type of person each is suited for:
| | |
| --- | --- |
| Renting a Phone | You're a short-term (30 days or less) traveller who requires a local phone number to make and receive numerous calls. |
| Renting a Pocket WiFi | You're part of a group travelling together, or if you have multiple devices that need access to a WiFi network at once. |
| Buying a SIM Card | You're a solo traveller, have one device, or want the freedom to part from your travelling companions while still staying connected. |
Using Your Own Phone in Japan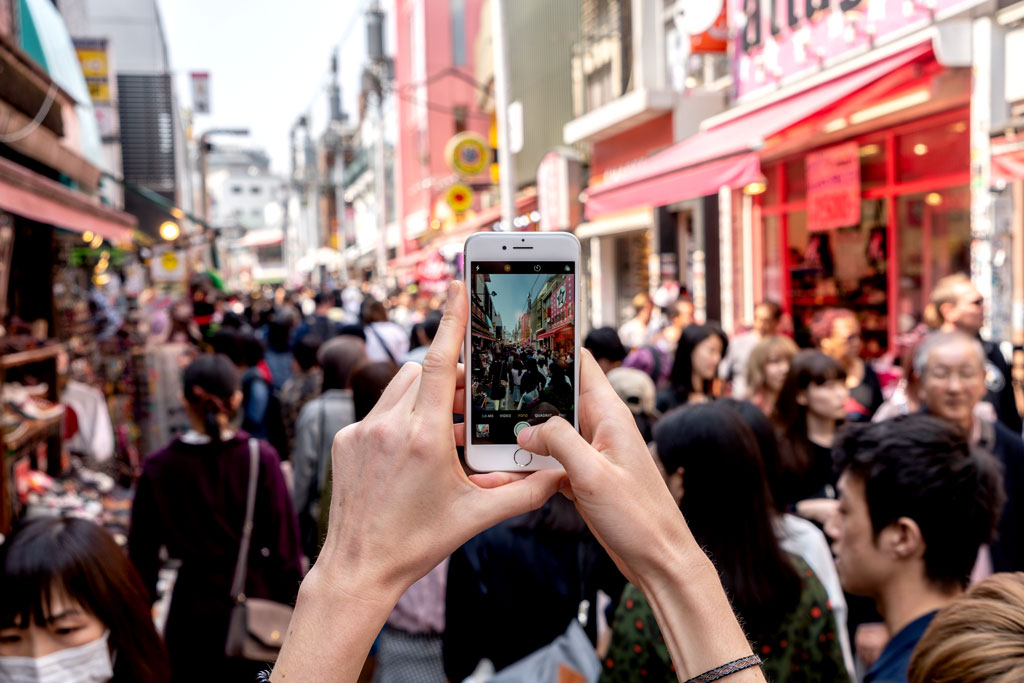 Most modern 3G, 4G, and 5G phones are compatible with Japan's mobile networks, making it a convenient choice if you want wireless connectivity through your own phone. Rather than pay exorbitant roaming fees from your home country's wireless service provider, most visitors opt for a SIM card (a small chip installed in your phone) or a pocket WiFi router (a portable electronic device that creates a wireless network). Keep in mind that your phone will have to be unlocked (not under contract with your wireless service provider from your home country) for a SIM card to work, something which generally needs to be done by your provider before you leave home.
Some technologies in older phone models may not be compatible with Japan's cellular frequencies, so it would be wise to check in advance before you make the trip over. Websites like WillMyPhoneWork.net allow visitors to input their phone's brand and model number to check their phone's compatibility, and many SIM card and pocket WiFi providers will list all compatible phones on their company website.
If your home country's mobile provider has a decent international roaming package and you're a light WiFi user, it may be a slightly more cost-effective method while pairing with the public WiFi hotspots, though not the most convenient.
Renting a Japanese Phone
If you have a locked or otherwise incompatible phone, renting a phone is an easy option for connectivity for short term visitors. There are same day rentals at airport kiosks at Japan's major airports, and require only a copy of your passport and credit card. Inventory at these kiosks tend to be reserved for online orders, so stock can be limited, especially during peak travel season. Advance ordering is a more dependable choice if you're eager to start your trip with a phone at hand, and rates are typically better online and phones can be delivered to your hotel or airport for pickup.
Most large network stores, such as Docomo or SoftBank, and big electronics stores, like Bic Camera and Yodobashi Camera, only offer phone rental plans to long-term residents with a valid residence card. If you're already in the city, ordering online and picking up your short-term rental phone at one of the designated delivery locations will be the easiest option.
Basic Costs and Phone Services for Phone Rentals in Japan
Companies offer a variety of voice, text and data plans, and daily fees range from 200 – 500 yen for flip phones and 1,000 – 2,000 yen for smartphones. Some companies may charge an initial rental fee, with additional rates for calling, texting, and data usage. Outgoing domestic calls range from 40 – 100 yen per minute, while incoming calls are typically free. International calls depend on the country you are dialing to, ranging from 100 – 500 yen per minute.
Voice Plans and Getting a Local Phone Number
Renting a phone in Japan also happens to be the easiest way to get your own local phone number, making it a great option if you're looking to make and receive several phone calls during your trip.
In general, the availability of voice plans to short-term visitors are limited due to Japanese regulations, so many phone rental companies allow rentals for 30 days or less. If you're staying longer, a SIM card in an unlocked phone with internet-based voice services like Skype or WhatsApp will be more cost-effective in the long run. Long-term rentals are normally reserved for residents with a valid residency card, though even they will find more economical ways to stay connected, such as signing up for long term contracts with mobile providers.
Renting a Pocket WiFi in Japan
A pocket WiFi (also called a personal WiFi router, personal hotspot, mobile WiFi), is a portable electronic device that creates your own private WiFi signal. There is no setup required, requires a password to access, and allows multiple devices to connect onto its wireless network at once– handy if you are travelling in a group, or have more than one device (eg. smartphone, laptop, tablet). It's also a great option if you have a locked or incompatible phone, and they can be returned at an airport kiosk or sent via post depending on the company.
Where to Rent a Pocket WiFi in Japan
For same-day pickup, rental kiosks at major Japanese airports (such as Haneda, Narita, Kansai and Fukuoka) offer pocket WiFi rentals if you're just coming off the plane. Airport tax imposed on those kiosks means that you'll be paying slightly higher rates compared to if you ordered online, and with fewer providers and limited inventory, you may run the risk of leaving without one in hand.
Ordering online offers much more favourable rates, and you can pick one up directly at your arrival airport, or designate a pick-up location, such as a post office or your hotel. Be sure to check the business hours with your arrival time, so you're not coming in during non-business hours of your pickup location. Some companies include a free power bank with your rental and a prepaid return envelope for companies that allow returns by post.
Some third-party companies that rent to short-term visitors have offices you can pick up directly from, though they require a pre-order before you visit their office. Big Japanese cellular providers, such as SoftBank and Docomo, have pocket WiFis available for customers coming in from the street, however, these are normally reserved to those with valid proof of residence.
Pocket WiFi Costs and Plans
Most pocket WiFis use 4G or 4G LTE networks, and plans vary with different data allowances, download and upload speeds, number of devices you can add and battery life. There are plans that have a daily data usage amount per day, or unlimited data for a specified number of days. A 20GB plan for 5 days can start at 1,900 yen, and an unlimited data plan can cost 5,000 yen for 5 days or other specified amount of time. Though the cost of a pocket WiFi is on the higher end of the scale from a SIM card, splitting the cost with other members of your travelling group can make it a much more economical choice for all.
Pocket WiFi plans offer more generous download and upload speeds compared to SIM cards, making it an excellent option for data-heavy users who like to stream videos and play online games. Maximum download speeds range from 100 – 600 mbps (megabytes per second), and 10 – 50 mbps for maximum upload speeds. Depending on your provider, it can connect between 5 to 15 users onto the device at once, and battery life can last between 3 to 9 hours.
Almost all plans, including unlimited data plans, will have some kind of fair usage policy in place. This means that your connection will slow once you reach a certain data use limit, so that other users who want to utilize the data can have access without it being monopolized by one heavy data user. This doesn't mean that you'll be cut off entirely, though you may experience a slower connection before your bandwidth was limited. Companies will list this information within their plan specs, and if not, can be asked directly.
Buying a SIM card in Japan
If you're a solo traveller, have only one device, or want the flexibility to separate from your travelling group without getting disconnected from a pocket WiFi, a SIM card is an appropriate choice. Setup includes installing a small electronic chip into your phone and changing the APN settings on your phone. An appropriate SIM card plan will depend on the type of user you are, with plans suited to some doing light browsing, to heavy data users using maps, translation apps, uploading pictures, streaming, and other data-intense activities.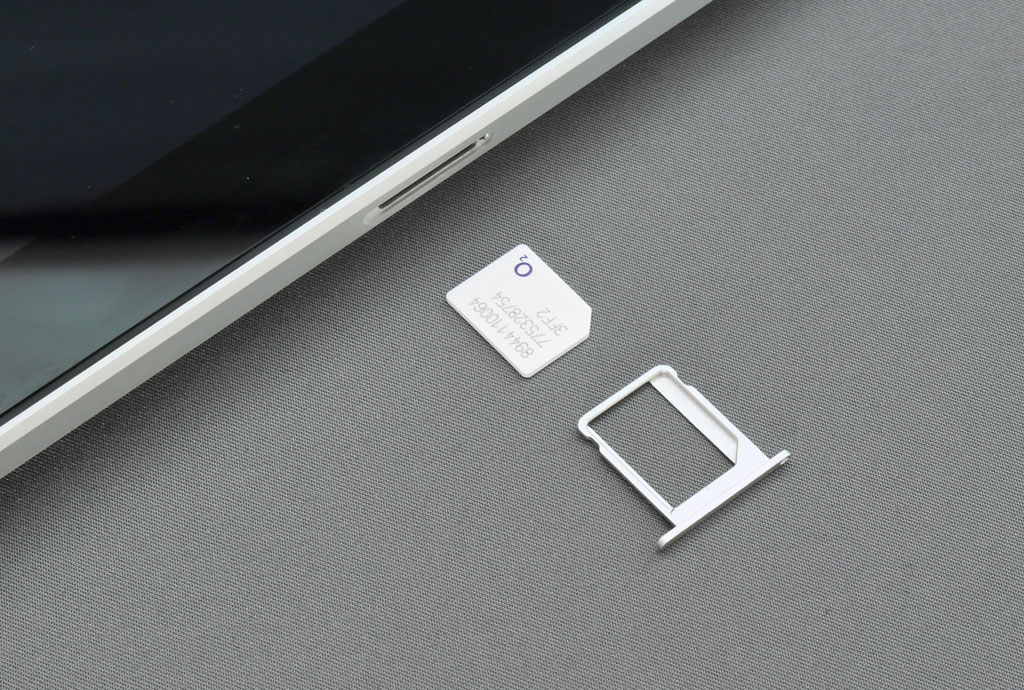 Where to Buy a SIM Card
One of the most convenient ways to purchase a SIM card is to buy one online and have it ready and waiting to be installed when you reach any of the international airports in Japan. Simply bring the QR code you will receive after your purchase and your passport to the airport kiosk and a helpful staff member will help you install your Japan SIM card.
You can also pick up a prepaid SIM card at dedicated kiosks in major Japanese airports. Since many of these kiosks tend to have a low stock on hand, especially during peak travel season, ordering online is the preferred method for its convenience, lower online rates, and no wait time. They can be delivered to your arrival airport, post office, hotel or designated pick-up location, and depending on the company, can be thrown away or returned via post with a prepaid return envelope included in your SIM card kit.
There are also convenient SIM card vending machines available at some major airports. You'll want to be familiar with the setup process, as you won't have the same support as ordering online or at an airport kiosk.
If you're already in the city, big electronic stores like Yodobashi Camera and Bic Camera offer short-term SIM cards for visitors. These often require a setup procedure in Japanese, but friendly staff will likely be able to help you through the process if you're in need of assistance.
SIM Card Costs and Plans
Plans will depend on the overall data amount, the rental period, and daily limits. For example, a light user can get a plan of 100 MB per day for 2,500 yen, and a heavy data user can get unlimited data for 4,500 yen over a period of 8 days. Unlimited data plans will have some kind of fair usage policy in place, which slows down your connection once you reach a maximum data usage limit (often a daily limit). Unless you're downloading large documents or streaming lots of video, other lighter activities such as browsing and using apps likely won't be affected. Companies will list this information within their plan specs, and if not, can be asked directly.
Most SIM card plans are data only, as Japanese regulations limit the availability of voice plans to short-term visitors. While it's not impossible to find a SIM voice-and-data plan, most looking to make occasional domestic and international calls will opt for a data-only SIM plan and use internet-based voice services like Skype and WhatsApp. If having a local phone number is important to you, Skype Number even allows you to purchase a local Japanese phone number with a subscription.
How to Use an Unlocked Phone with a SIM Card
To use a SIM card, ensure that your phone is unlocked, and not under contract with your wireless service provider from home. If you're currently "paying off" your contract that came with your phone, it's likely it's still locked and requires a fee to end it. If you purchased your phone outright, such as directly from a Samsung or Apple store, your phone is likely unlocked. If you're not sure, check your phone settings or contact your carrier.
How to Check if Your iPhone is Unlocked
How to Check if Your Android is Unlocked
1. Go to Settings
2. Go to Cellular > Cellular Data Options (or Mobile Data > Mobile Data Options)
3. Mobile Data Network (or Cellular Data Network)

If you see an option for Cellular Data Network (or Mobile Data Network) your phone is likely unlocked.*
1. Go to Settings
2. Go to Connections
3. Go to Networks (Mobile Networks or Cellular Networks, depending on your phone model and OS version)
4. Select Networks Operators

If more than one network appears, your phone is likely unlocked. If only one appear, or all fail to appear, then your phone may be locked.*
Depending on your OS/iOS version, this method may not be accurate. Confirm with your provider if you're not sure.
When you're ready to install your SIM card, eject your home provider's SIM card using an ejector tool that comes enclosed with your SIM card kit. APN settings need to be changed in order for your SIM card to work, and most SIM card providers will either give you instructions based on your phone model or do it for you if you're at a dedicated service counter.
Tips and Tricks
If you're worried about reaching your maximum data usage on your rental phone, SIM card, or pocket WiFi, or looking for free WiFi alternatives, there are a variety of options available for both tourists and locals to use in Japan.
Public WiFi Networks Available to Tourists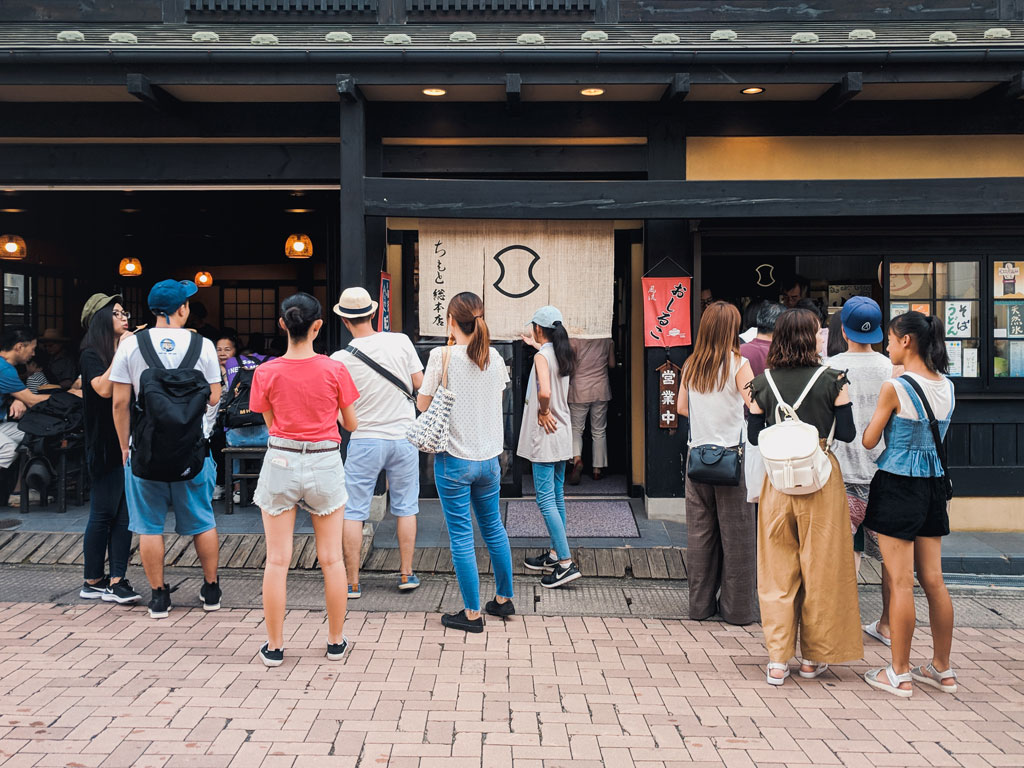 Public WiFi hotspots can help alleviate the strain of data usage if you're close to your maximum data usage limit on your rental phone, SIM card, or pocket WiFi. There's a mix of free and paid options, and plan lengths can vary from 6 hours to 2 weeks. Here are some of the public WiFi networks available to tourists:
Free Wi-Fi Passport (by Softbank)

With over 400,000 hotspot locations, this service is free to tourists for 2 weeks. The setup procedure includes calling a toll-free number from your foreign cellphone (meaning you'll need a global roaming contract from your home country's mobile provider to do so) while being connected to the SoftBank network. You'll receive a password to complete the process.


Docomo Wi-Fi for Visitors

Visitors will need to signup in advance, and access is limited to areas that use Docomo's Wi-Fi service. There are 150,000 hotspot locations, and you can choose from one-week or three-week paid plans.


Wi2

Wi2 offers over 200,000 hotspot locations and varied plan lengths, from 6 hours, 1 day, 3 days or 1 week paid access.
Apps for Tourists
Apps can also be used to automatically connect phones to participating hotspot locations, and require a one-time registration procedure to access several WiFi networks. Here are some of the suggested apps for tourists:
Japan Connected Free Wi-Fi

Requires a membership registration with name, email, gender, and age, and covers over 190,000 hotspot locations. There are also 16 languages to choose from during the setup procedure.


Japan Free WiFi App

Unlike Japan Connected Free WiFi, this app doesn't require registration and only an agreement to their user policy. The app also offers tips on top travel destinations with over 200,000 hotspot locations.
Public WiFi Networks Available to General Public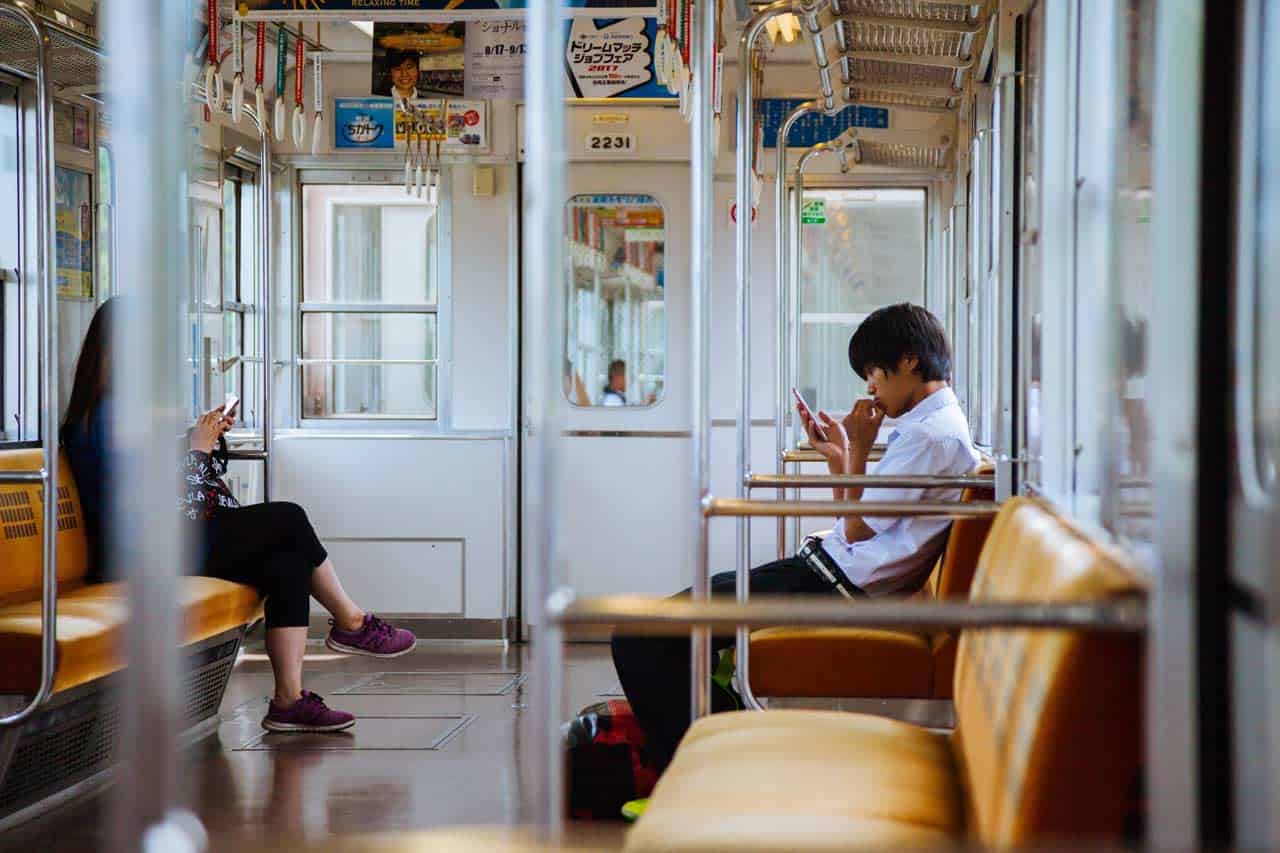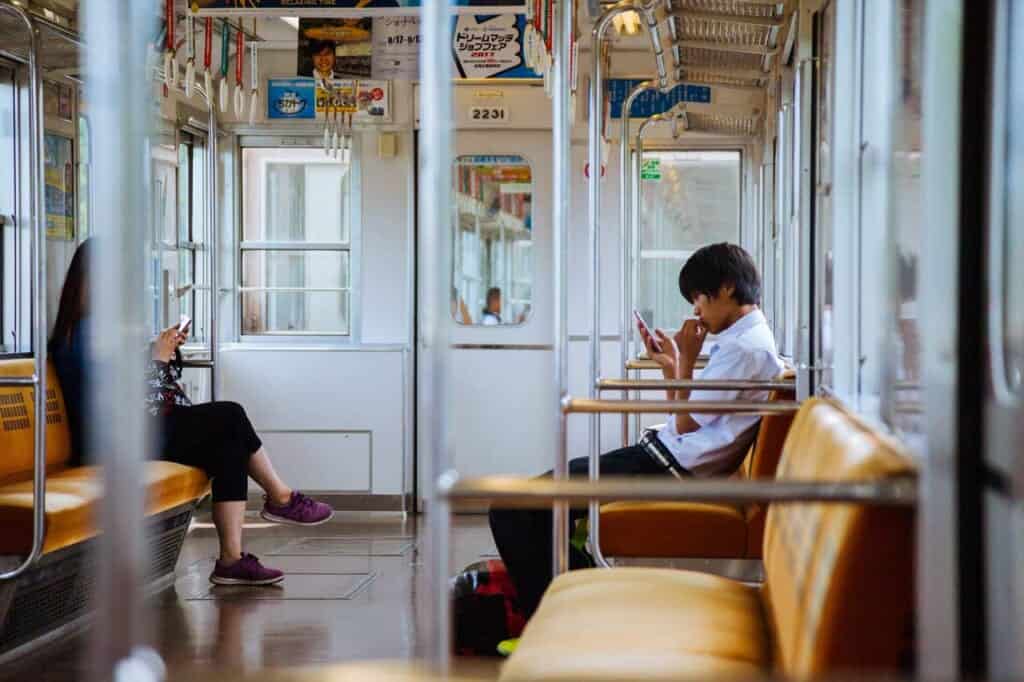 If you're looking for more public WiFi networks, there are several that are targeted towards locals, though visitors can access them as well. Most have a signup procedure (usually written in Japanese) and require personal information such as your name, age, gender, email, and social media accounts. Keep in mind that free WiFi hotspots are unencrypted, which can make you vulnerable to prying eyes or cyber attacks. Here are some free WiFi spots:
Airports
Hotels and traditional ryokan inns (typically free for guests)
Japanese Mobile Network
Many of the phone rentals, SIM card, or pocket WiFi distributors will be operating on one of Japan's major mobile networks. NTT Docomo is one of the biggest, and is considered to have the largest national coverage, and recommended for travellers planning to visit sites outside of major cities. SoftBank is geared towards the urban traveller, with weaker coverage outside of the main centres, but their data allowance restrictions are laxer compared to Docomo.
Reserve your high speed portable pocket wifi online with Rakuten Travel
Whether you're a short-term visitor, travelling in a group, or flying solo, there are a plethora of WiFi options to help you stay connected during your visit. We hope this guide serves you well and good luck!