Japan is a country that is famous for its amazing food. Although many visitors enjoy trying a variety of delicious food only found in Japan, not many have ever heard of soup curry.
What is 'Soup Curry'?
Soup curry is a type of soup that was created in Sapporo to help people warm-up during those cold Hokkaido winters. It is pretty much how the name sounds – it is a soup that has the spiciness of a curry. Even if the name doesn't make it sound that exciting, trust me, it is absolutely delicious.
Soup curry is a new type of food and therefore it doesn't follow any strict rules on what it needs to be, but most places will follow a certain formula. The soup is usually very broth-like, and has a range of different spices added depending upon the cook. You will often see Thai, Indian, Nepalese or Japanese versions and they all taste slightly different.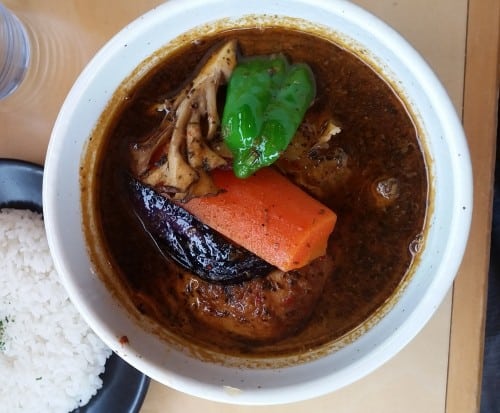 The spiciness also varies according to each restaurant and most restaurants will let you choose how spicy you want it, ranging from mild to your-head-and-your-digestive-system-are-going-to-explode-hot. Some restaurants also have different types of broth to choose from, including coconut milk versions which are great for people who don't like the heat!
Lots of chunky vegetables are added to the soup, for example carrot, eggplant, lotus root, mushrooms, broccoli and pretty much any other vegetable you can think of. If you choose a meat version, the meat will usually come as a whole piece in your soup – like an entire chicken leg. The soup is cooked separately to the meat and veggies, so usually everything in the soup tastes really crisp and fresh.
When your soup arrives you will also receive a side plate of rice which can be eaten with the soup in whichever way you choose. My favourite way to eat it, is to dip a spoonful of rice into the soup before eating, but you could also eat it in other ways like putting rice into the soup, or eating the veggies and meat with the rice.
Where Can You Eat Soup Curry?
As it is a Sapporo speciality, most soup curry restaurants can only be found in Hokkaido. But, now that this dish is becoming more popular, branches from the Sapporo favourites are starting to appear in Tokyo and beyond. I have visited three different soup curry restaurants on my travels – all of which tasted delicious and slightly different to one-another.
Tsubara Tsubara: My Favourite Soup Curry Restaurant
I lived in Niseko (a ski town in Hokkaido) for a few months and there was nothing better on a cold day than heading to my favourite restaurant, Tsubara Tsubara. It is a little while away from the main village of Hirafu, but it is still worth the 10-minute walk or short bus ride to get there.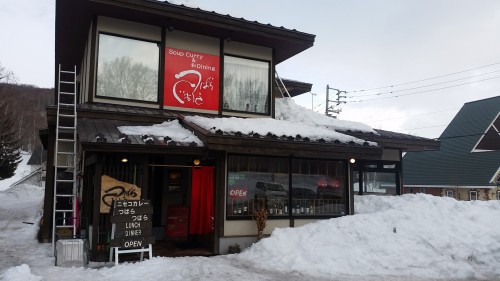 The options at Tsubara Tsubara vary between lunch and dinner, but the three main options are chicken and vegetable, tsumire (chicken meatballs) or vegetarian. You can also choose between the regular broth and the coconut milk broth – with a spice range from 1-20. There is a small additional surcharge if you choose a spiciness above level 5 – which so happens to be my usual choice. I find that this level is hot enough to enjoy without burning my mouth off. If you're visiting with children, they also offer a kids version which uses the coconut milk broth – making it  very family friendly!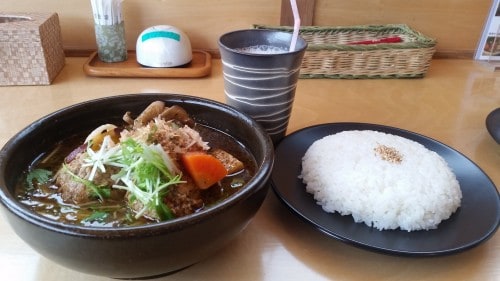 Suage Restaurant: My First Soup Curry Experience
Sapporo has numerous soup curry restaurants all over the city but many of them are pretty hidden. The first place that I tried soup curry is in the entertainment district of Susukino and is called Suage. This restaurant can get super busy at times so you know it must be good.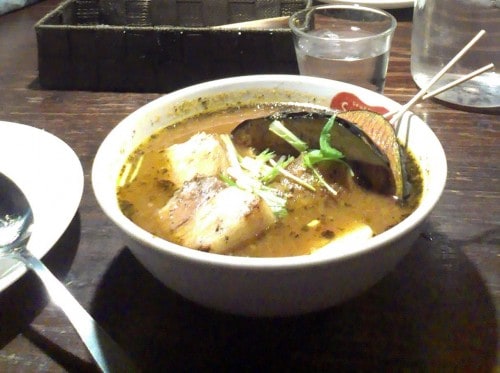 On our visit to Suage we tried the chicken and the pork belly versions of the soup curry and they were delicious. You can choose from regular broth and squid ink broth at this restaurant, and they give you different sized bowls of rice to choose from. They also recommend you to add cheese to the rice – which we decided to pass on as it was our first time trying it – but it is supposed to be good.
Domenica Restaurant: A Diverse Range of Soup Curry
Another option in the Susukino area is Domenica. This restaurant is inconspicuously located inside a clinical, office-type building that you would never know was there unless you were looking. To find it, just search for the address and look for the wooden elephant outside.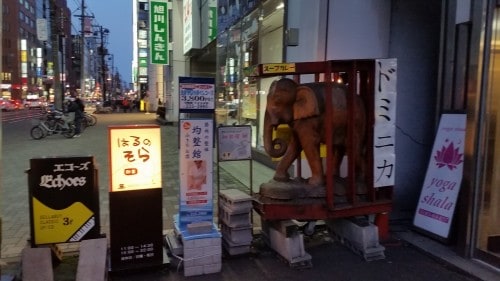 Domenica offers even more choices with four different soup bases named after their colours – yellow (standard), black (rich flavour), white (soy milk) and red (tomato). We tried the black and the yellow, which were both delicious, but the yellow tasted better to me. The meat choices here include chicken, pork, pig neck or lamb and you also choose the size of rice that you want. If you'd like to try something else, there are a range of add-ons available too. I can personally recommend the fried cheese wafer which is so yummy and goes surprisingly well with the food. This restaurant has opened branches in Tokyo so you can still taste it if you don't make it to Hokkaido.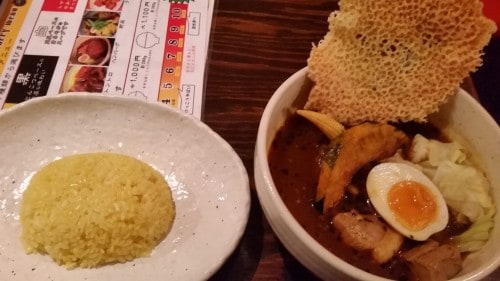 Take Soup Curry Home with You!
Soup curry is a food not to be missed on a visit to Hokkaido. Being delicious and one of the most customizable meals makes it a great option for everyone. If you fall in love with it like me, I would recommend picking up some soup curry mixes from the supermarkets in Hokkaido. To find them, just look for the packets in the curry section. They normally they have a picture of a chicken leg in a bowl of 'what kind of looks like soup curry'!