Sponsored by Kurashiki Tourist Attract Committee
Japan is known for its striking fashion – from the simple and refined styles of Omotesando, to the quirky, over-the-top cutesy outfits seen in Harajuku. No matter where one might find themselves in Japan, it is certain that there can be fashionable people roaming the streets. While Japan tends to have its own take on global fashion, it is no surprise that it takes a lot of influence from other countries, including the United States, when developing its clothing design. One such intersection of Japanese and global fashion culture is the denim district in Okayama Prefecture's Kurashiki City, also known as "Kojima Jeans Street."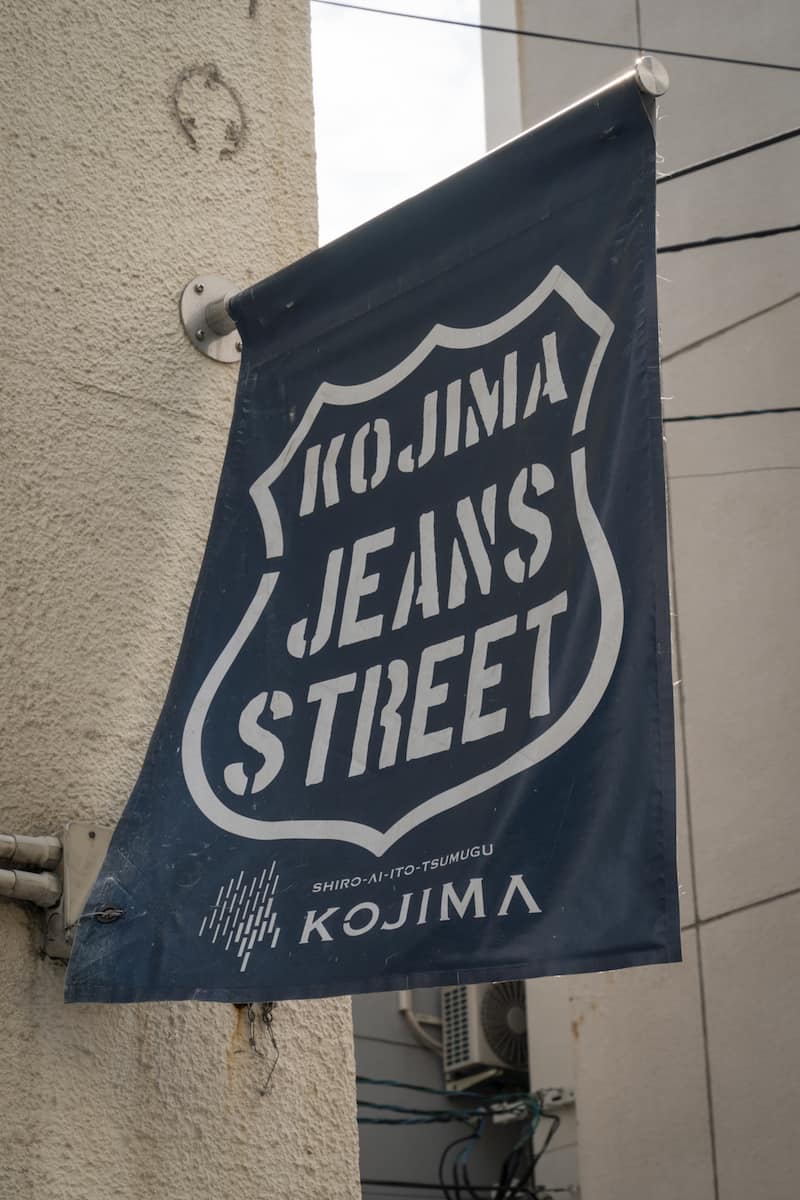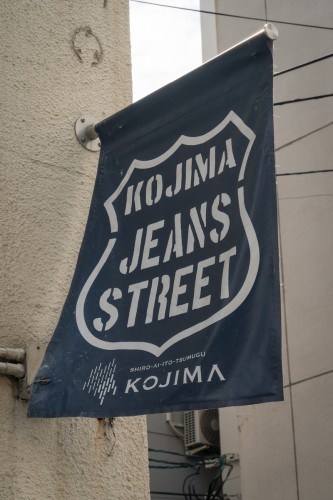 Kojima Jeans Street is famous Japan-wide for being home to some of the country's premiere denim brands and manufacturers, including popular brands such as Betty Smith and Japan Blue Jeans. However, the history fabric production and cotton cultivation in Okayama dates back centuries, as far back as the 1500s. Prior to its establishment, the area now known as Jeans Street was referred to as Ginza Street, as it was home to a variety of different merchants. As the population declined, the area was gradually transformed into the mecca of Japanese denim!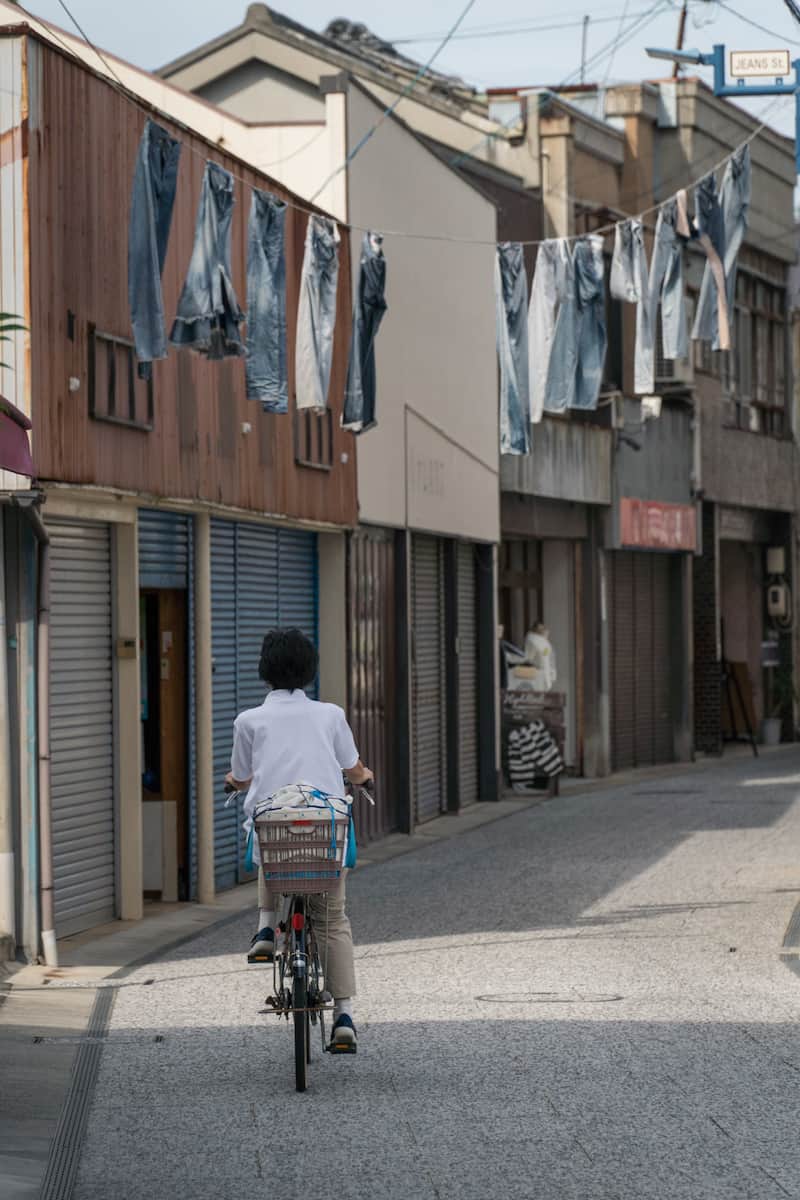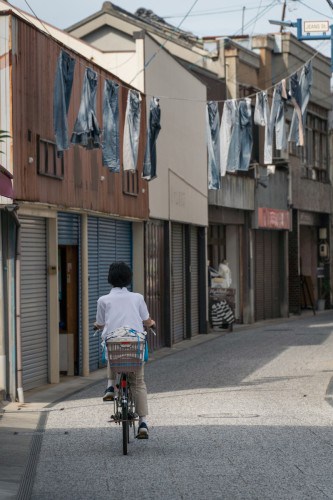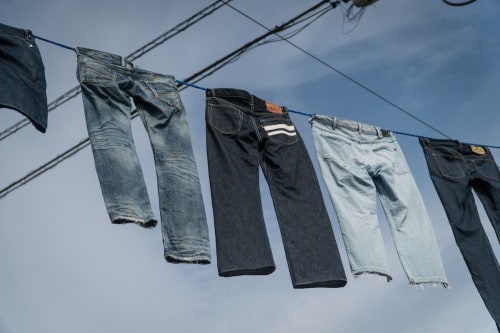 Getting to Kojima Jeans Street
Coming from Okayama station, take the JR Setoohashi line to Kojima station, take a left after the ticket gates and head outside. From there you can take a cab, bus or walk. A cab will run around 1000-1200 yen and the buses run on quite short and infrequent schedules, so for many it is more convenient to walk – and it only takes about 15 minutes walking in a northward direction.
Your Destination for Denim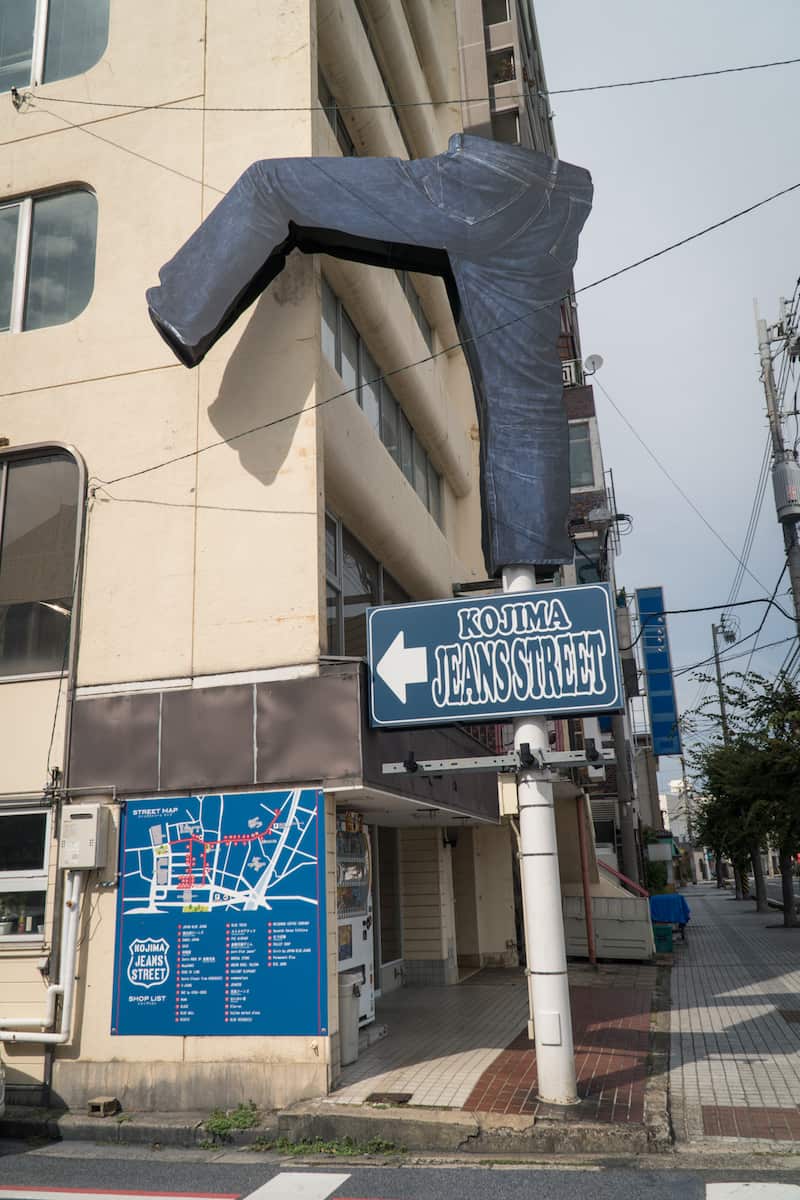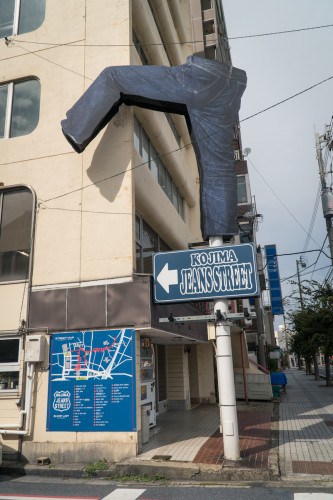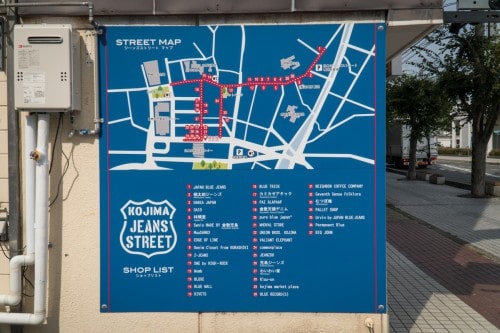 Upon arriving at your destination, you will be greeted with a giant picture of blue jeans with a sign of "Kojima Jeans Street", so you shouldn't miss it. There is also a map showing the lay of the land and specific stores that you might want to visit. At the time of my visit, it was reasonably quiet, but there were some foreign and Japanese tourists exploring the area. The decorations found around some stores was quite interesting as well, with the main street having pairs of jeans draped over them. One shop keeper came out to let me know about a street cover made of marble that he found particularly noteworthy. Quite cool!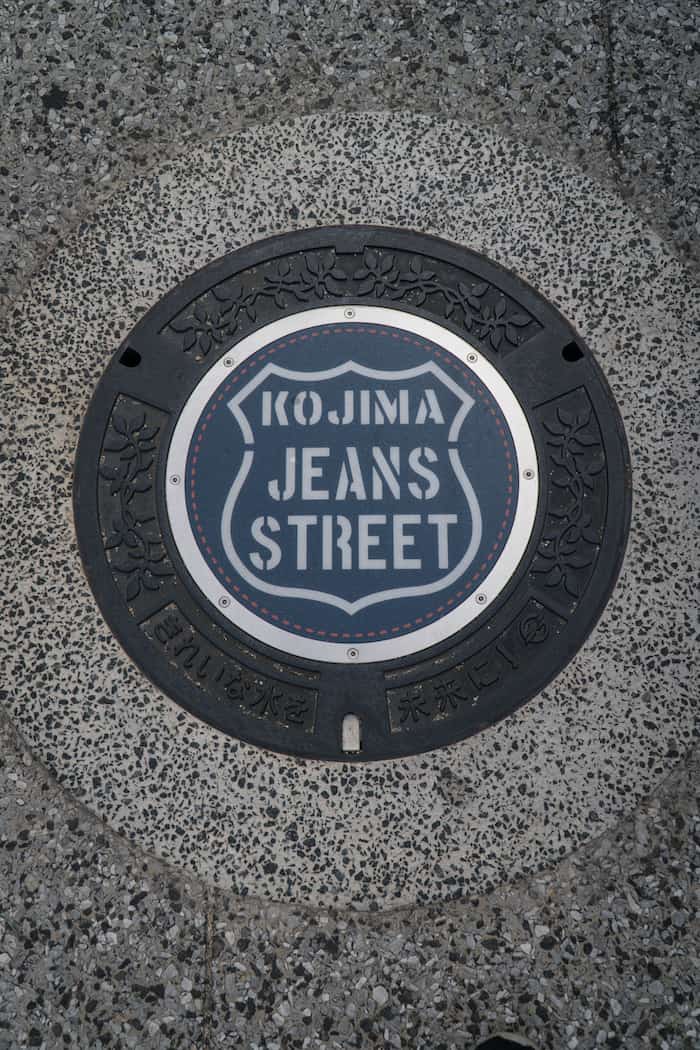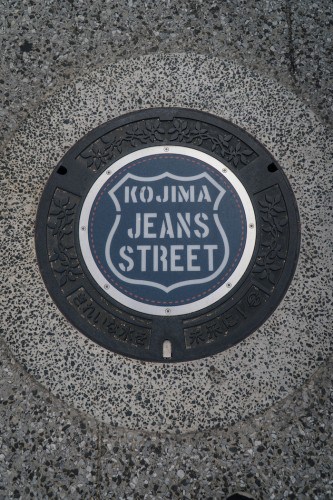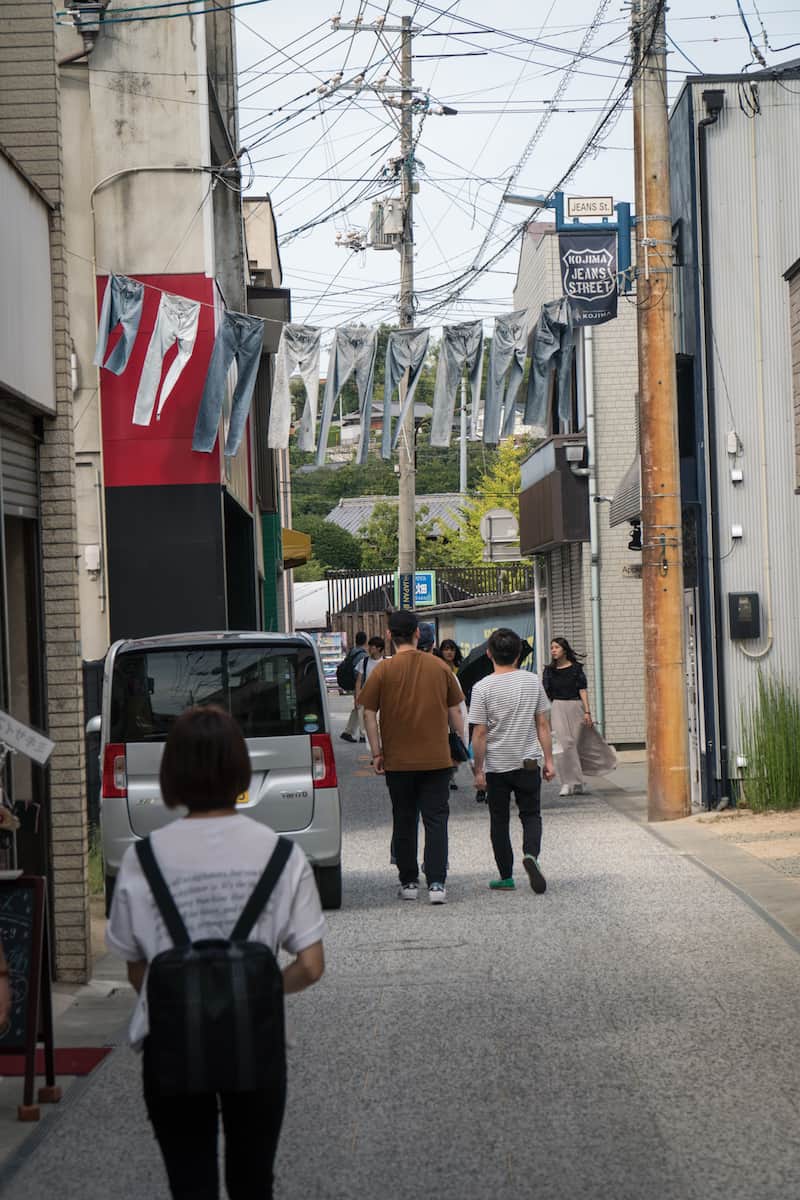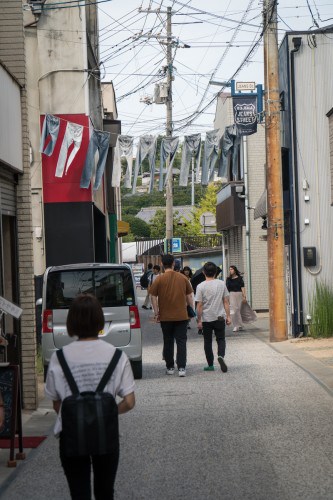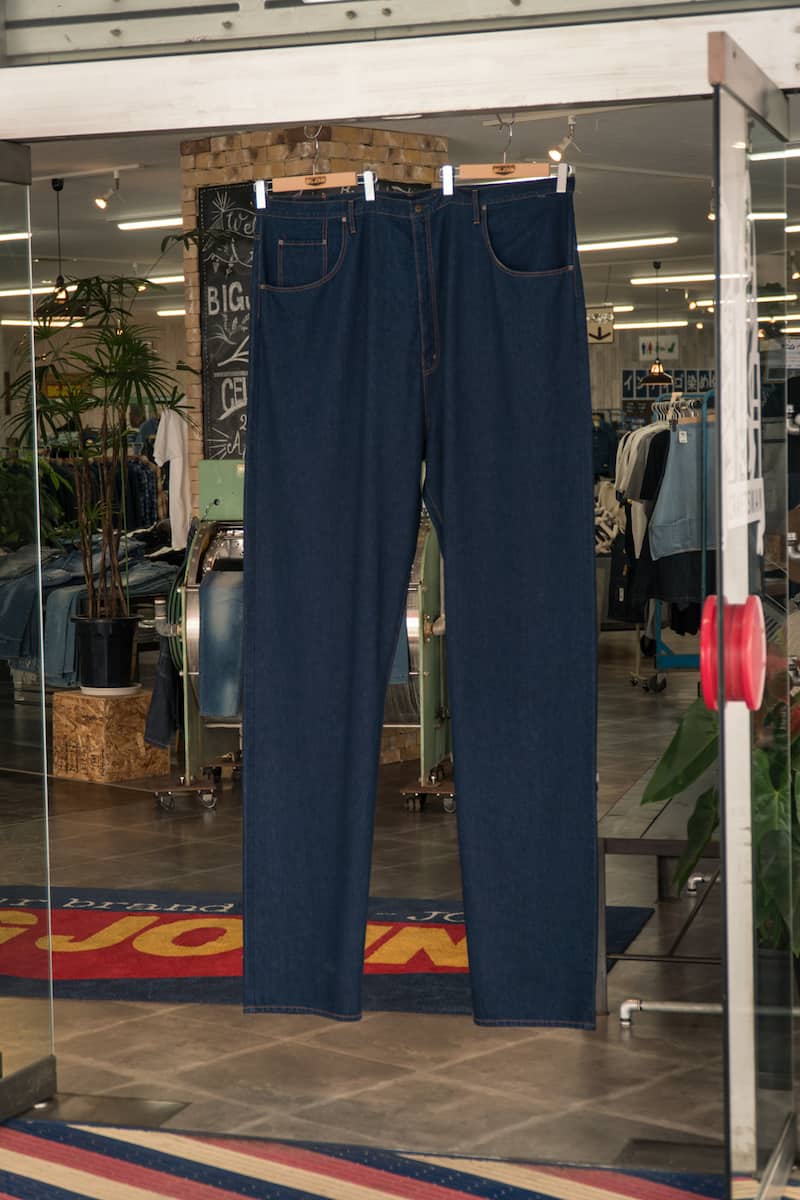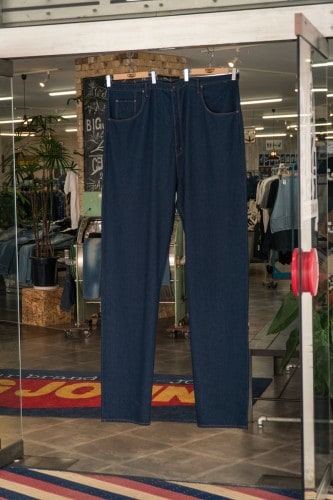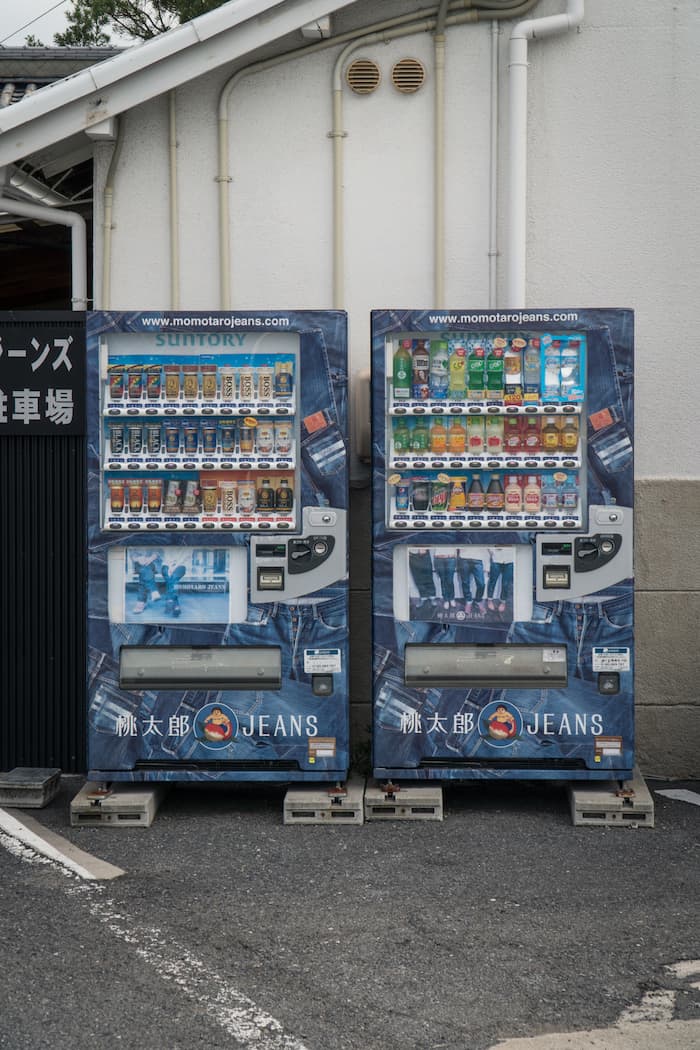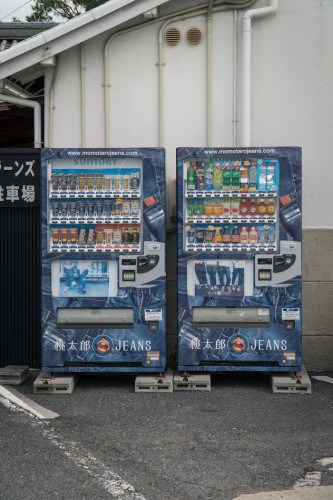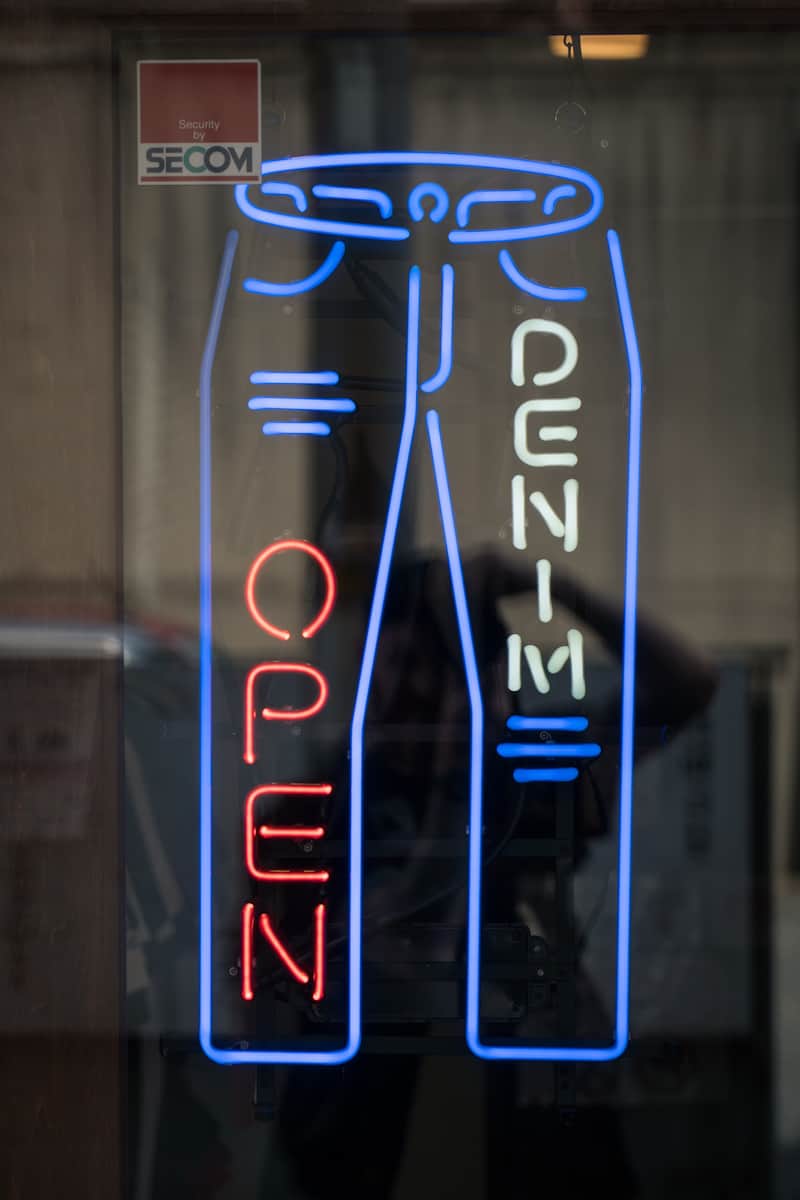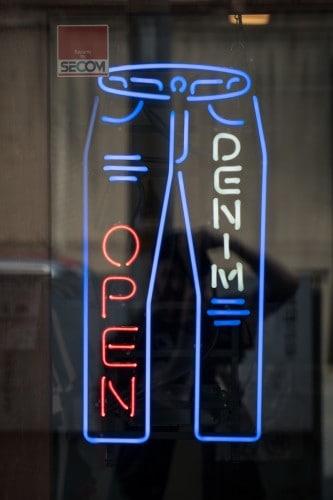 Throughout the area there are countless different brands selling surprisingly varied styles of clothing made from denim, including jeans, jackets, hats and more. Those visitors looking for gifts for family and friends, or something unique for themselves to wear will likely have some good luck finding a piece of clothing or two. While I was indeed visiting Kojima for jeans, I had something a little different in mind!
A History of Denim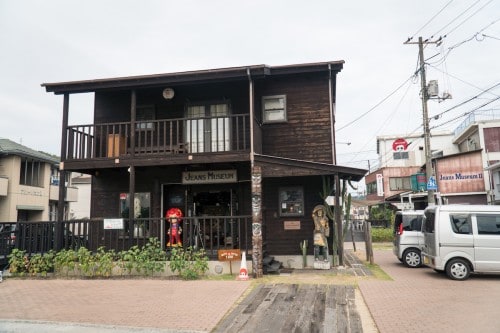 Founded in 1962, Betty Smith is one of the more well-known denim brands in Japan, and offers visitors to Kojima some unique experiences, one of which being its "Jeans Museum". Just a short cab-ride away from Kojima Station, the Betty Smith Jeans Museum gives an interesting visual history of denim, and not just limited to Japanese denim! Stepping into the museum felt like stepping into a saloon in the Old-West. My feelings were justified when I turned a corner to spot a statue of John Wayne! Entry is free, and is definitely worth a visit if you have the time.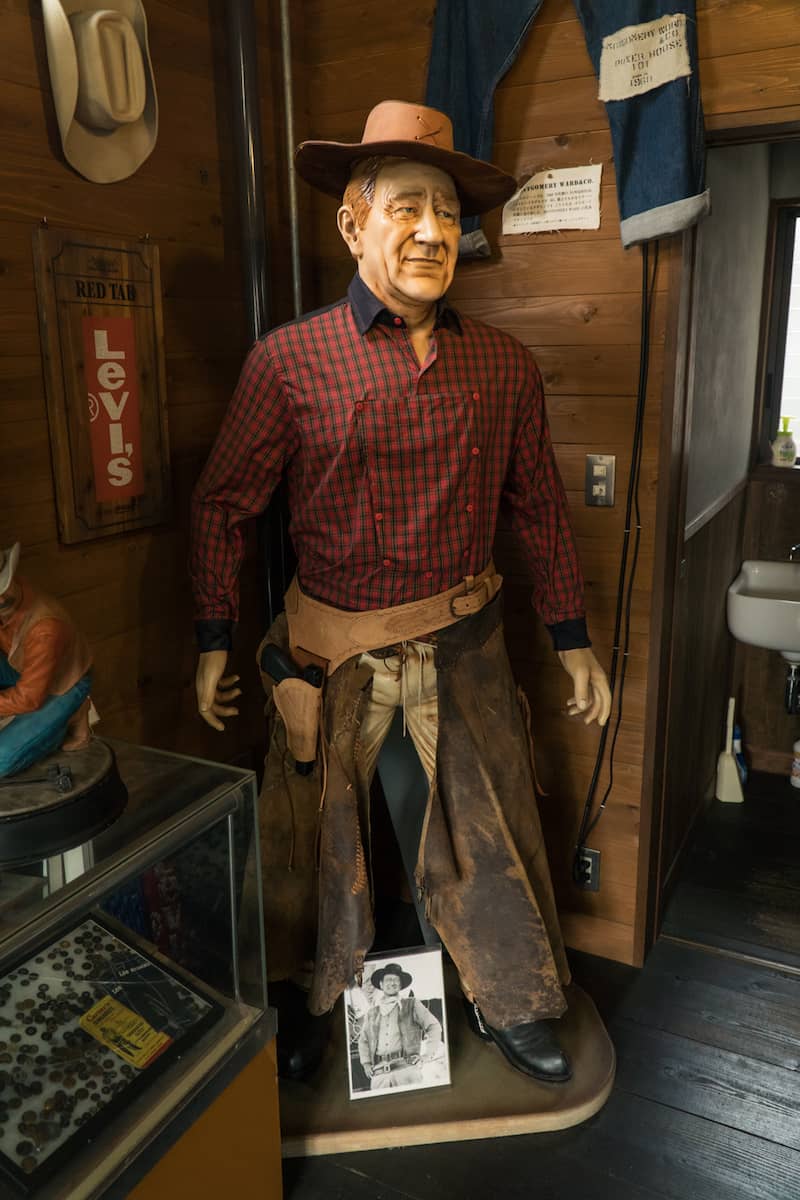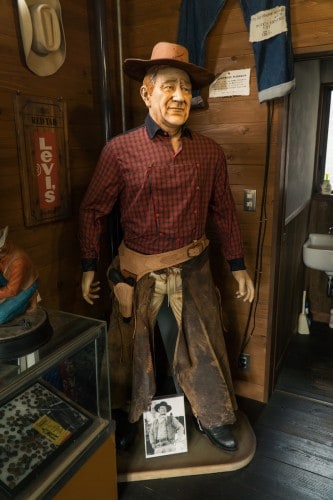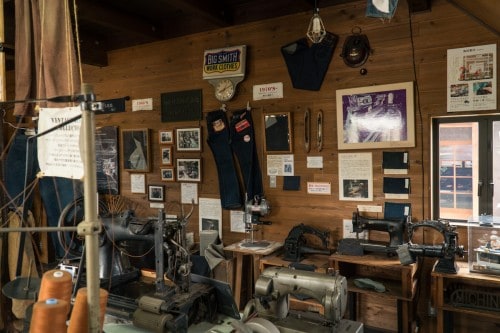 Personalise Your Jeans with Betty Smith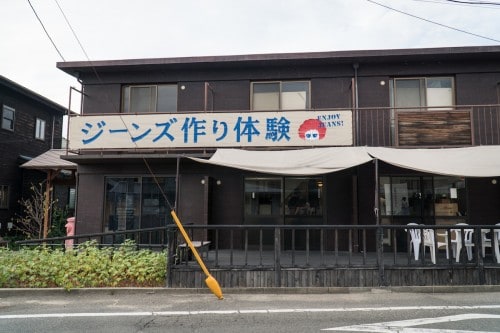 Behind the museum, Betty Smith has possibly one of the most unique and fun experiences I have had travelling in Japan, and offers a souvenir that you definitely won't forget about. The Betty Smith Jeans Making Experience (ジーンズ作り体験) allows visitors to choose the colour, fit, cut, buttons and rivets on their own pair of jeans.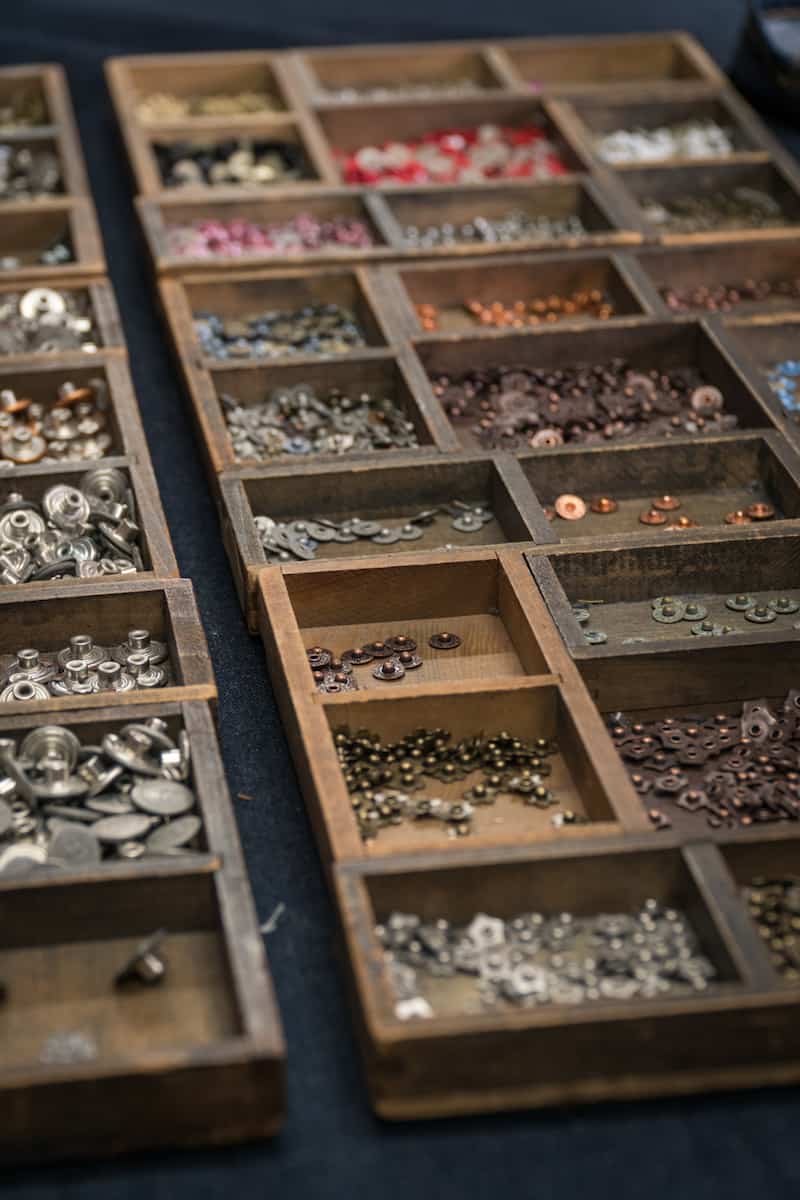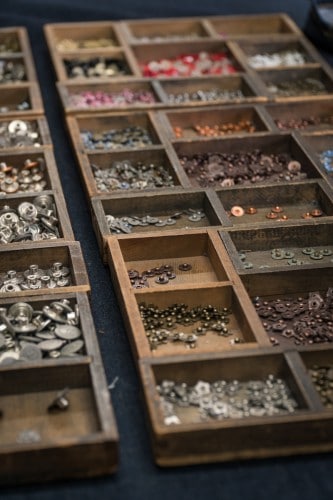 After arriving for my appointment, the helpful shop staff showed me the variety of option and took my measurements (even asking how I liked to roll my cuffs). Afterwards, she showed me to the accessory station, where customers can choose which buttons and rivets to attach to their jeans. No combination is disallowed, so one can be as crazy or as conservative as they wish. I chose to go a little more conservative, as I don't own many good pairs of jeans and wanted to get good use out of them!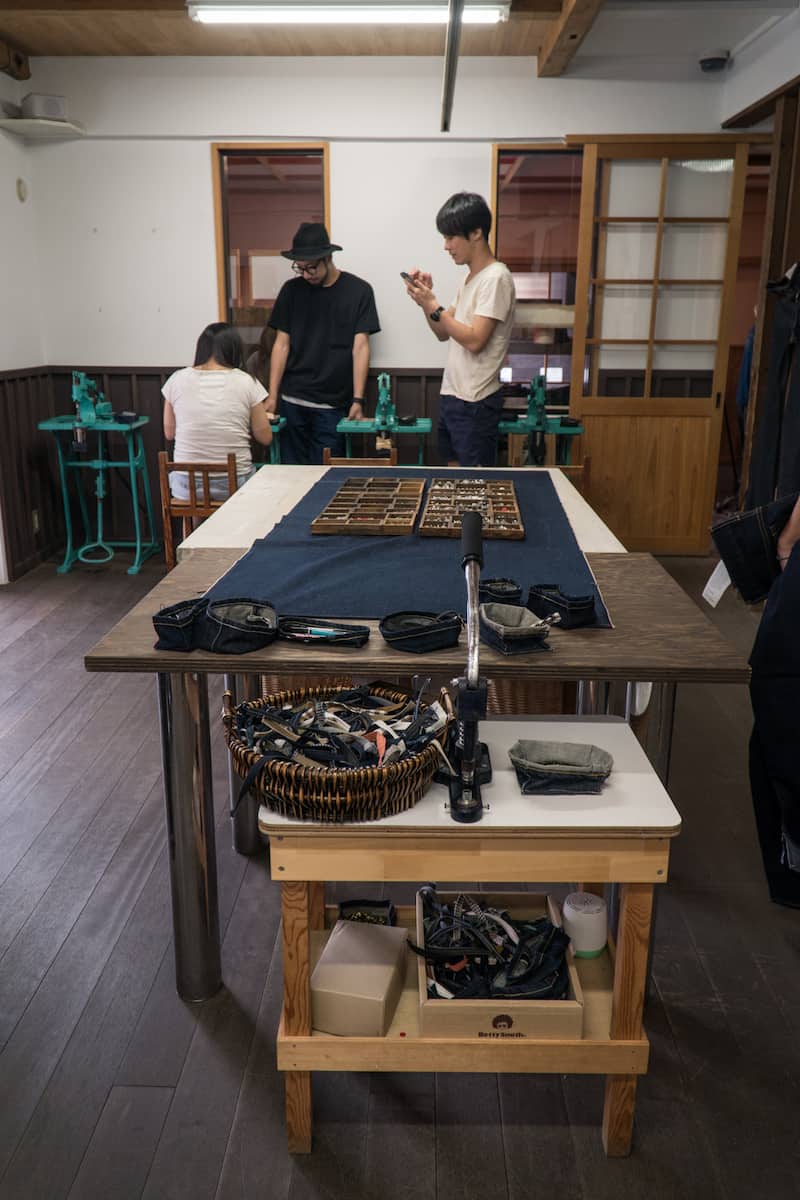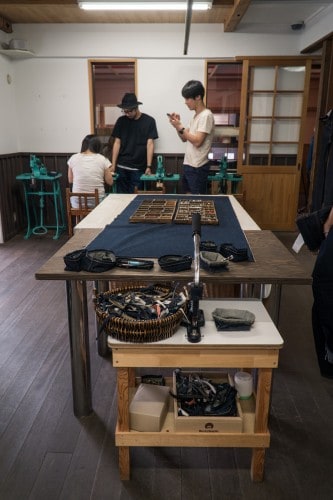 Once my accessories were selected, I was surprised to find out that I would actually be operating the machine to attach the rivets to the jeans. Far beyond just choosing my look, I would be getting the opportunity to have a hand in making my jeans! It was a little tricky at first, and requires a bit of force, but the process boils down to lining up the rivet under the press, and then pushing down firmly with your foot on the pedal underneath. In no time at all my button and rivets were attached.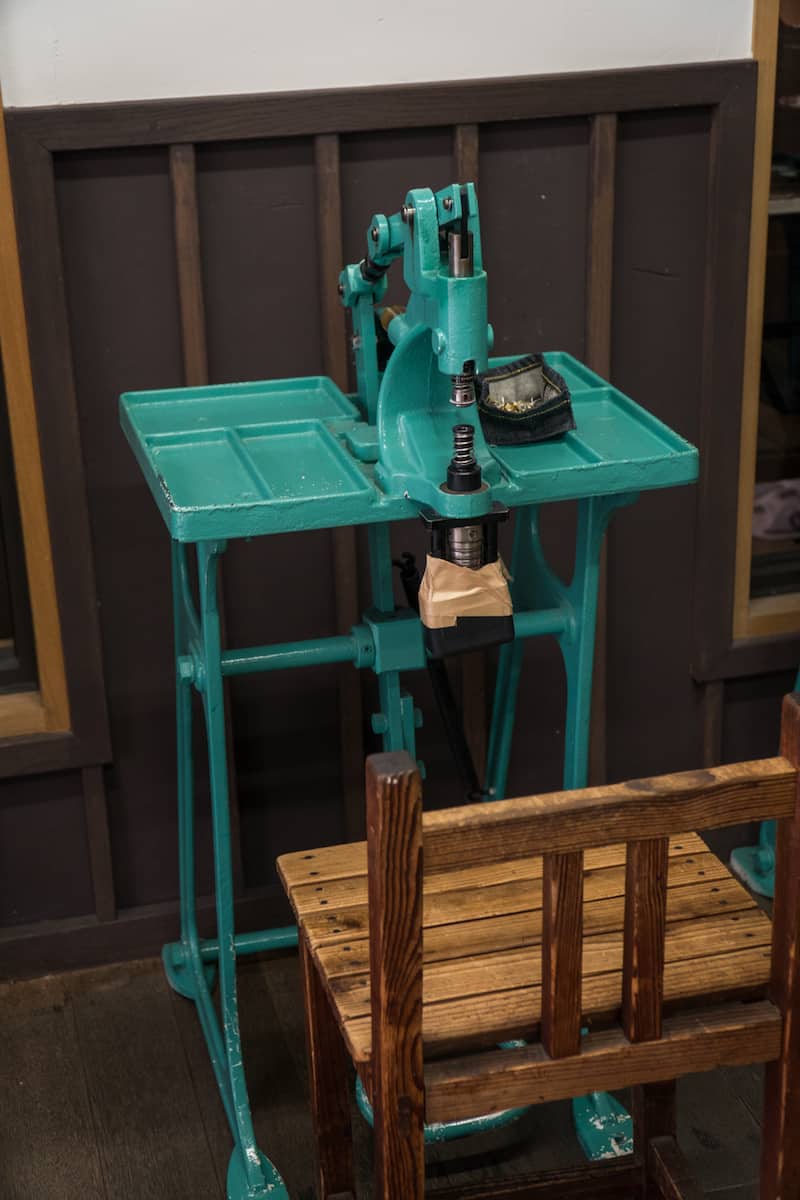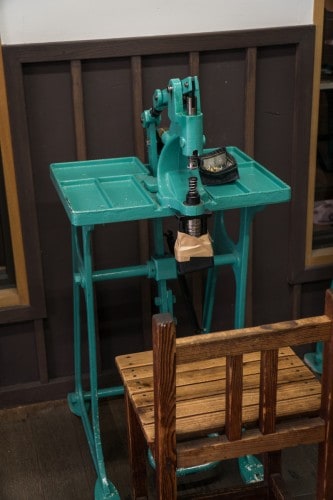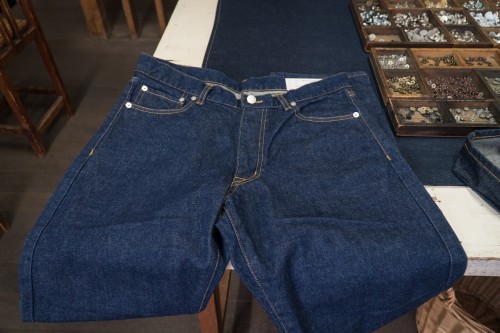 Once the accessories were attached, I chose from a range of patches for the back of the jeans, which would be stitched by the skilled shop staff (thankfully). After this, the measurements are adjusted in about 25 minutes, so I was able to take that time to visit the surrounding buildings, including the outlet store. After receiving my new jeans, I headed back to my hotel to try them on, and no surprise – it was a perfect fit. The quality of the materials was undoubtedly high (that's Okayama denim for you!) and the cut was just right.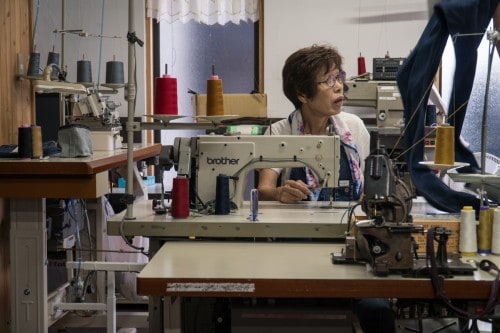 Kojima Jeans Street is an intriguing and interesting place to find in Japan. It is such a long way from any major city, seemingly so far-removed from the high-end fashion of Tokyo, yet here is a place where visitors can find some of the highest quality clothing being sold anywhere in the country. For those with an interest in clothing, denim, jeans or merely a unique experience, the Betty Smith Jeans Making Experience is certainly not to be missed!
[cft format=0]