Sponsored by Niigata City
Iwamuro is a small thermal town located a mere 50-minute train ride from Niigata. Legend has it that the benefits of its waters were discovered after two wounded geese bathed in a hot spring to heal their wounds more than 300 years ago. Since then, Iwamuro Onsen attracts many visitors who go there to unwind, away from the hustle and bustle of big cities. As for me, I visited the high-end ryokan Yumeya to be pampered before exploring the surroundings the following day. Let me show you around!
A special night at ryokan Yumeya
Ryokan Yumeya is a well kept secret, hidden from the rest of the world in a forest green oasis. One can even say you have to earn a visit to the in, traveling through narrow winding roads before reaching the secluded entranceway. Once in the parking lot, a staff member was already there ready to welcome me and take care of me for the rest of the day. We walked a little while longer through the garden before finally reaching the main building. Like I said, this ryokan is a well kept secret!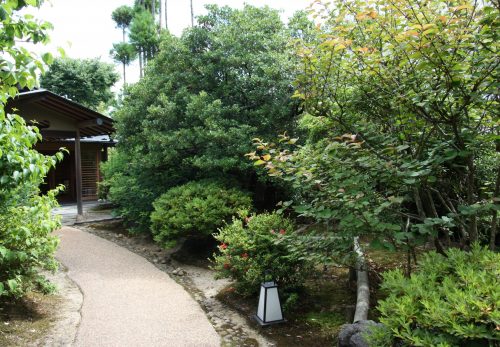 I have to take my shoes off to enter the ryokan and will actually not wear them again until the following morning when leaving the ryokan. Inside everyone walks around bare footed or wearing socks.
In the lobby, there is no front desk insight. It is hidden behind curtains. I am instead guided to the lounge area where I choose a comfortable armchair. A small snack is served there while my check-in is being taken care of. I have nothing else to do than hand over my passport and enjoy my pudding served with green tea. The lounge is beautiful, opening on a Japanese-style outdoor space. Within a few minutes, the tone has been set for the rest of my stay here: a caring staff in an elegant and soothing environment.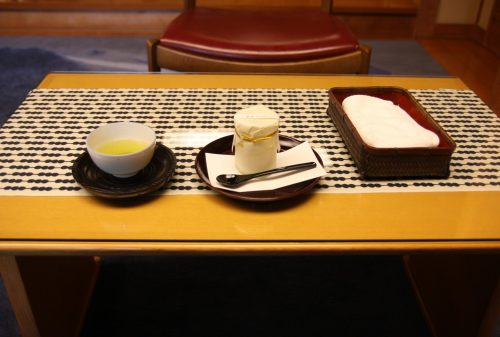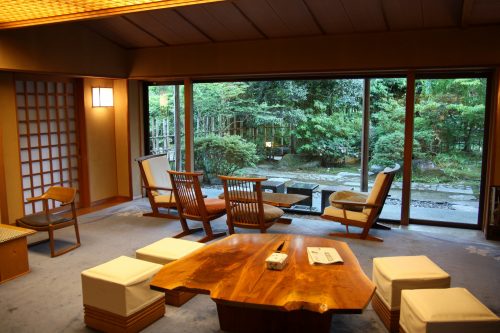 My guide came again to guide me to my room. The ryokan only offers 10 bedrooms and an additional annex and yet the building is huge. We wandered through the well-decorated corridors for a little while. On our way, every window I spotted offered a view, exclusively, of nature. We went up one floor and where I was shown my room.
A high comfort room
I will spend the night in a "standard" room, but I can assure you that nothing was standard about it! With its 33m²  by 9m² veranda you could say it is actually more of a studio than a room. Decorated in a Japanese style, it comes with a tatami-covered floor, sliding doors, a small alcove decorated with a kakemono and a coffee table. The balance between minimalism and attention to detail is perfect.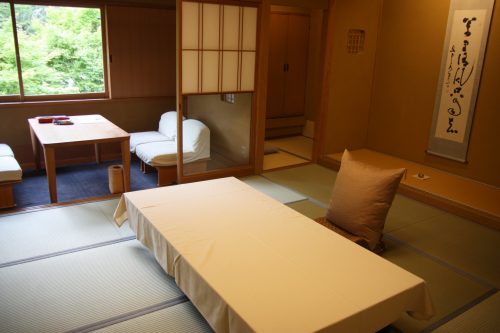 The room is divided into several spaces: the entrance, the bathroom, separated toilets, the main room, which will welcome a futon later in the evening, the veranda and a small room with a closet and dressing table. As you probably have guessed, the room did not lack a single piece of equipment and came with a TV, air conditioning, a fridge, a tea-making set, a hairdryer and toiletries.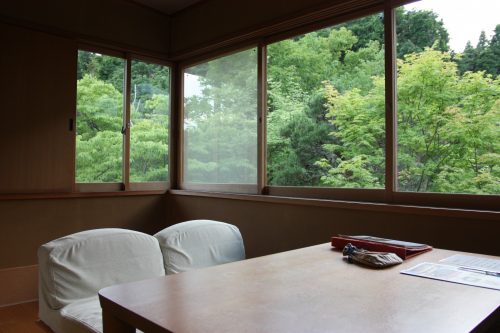 Determined to fully enjoy the ryokan experience, I decided to wear the yukata provided in the closet and sit on the veranda to take in the view before sunset. Just before dinner, I indulged in a stroll to the hot spring baths to take advantage of Iwamuro's mineral-rich waters.
An onsen in an idyllic setting
Women's and men's baths are separated and each side has both an indoor and an outdoor bath, called a rotenburo. Right by the entrance, you will find shelves filled with wicker baskets to store your belongings and piles of clean towels. I chose to go for the outdoor bath with a slightly turquoise color.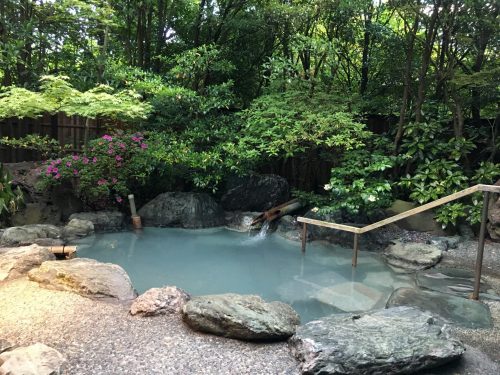 After a relaxing moment in the hot onsen water, I ended up discovering a lovely restroom near the bath's exit. With bay windows opening on the garden, overflowing bookshelves, refreshments, hot drinks and a wooden sculpture shaped like a tree in the center—a fairytale-like decor.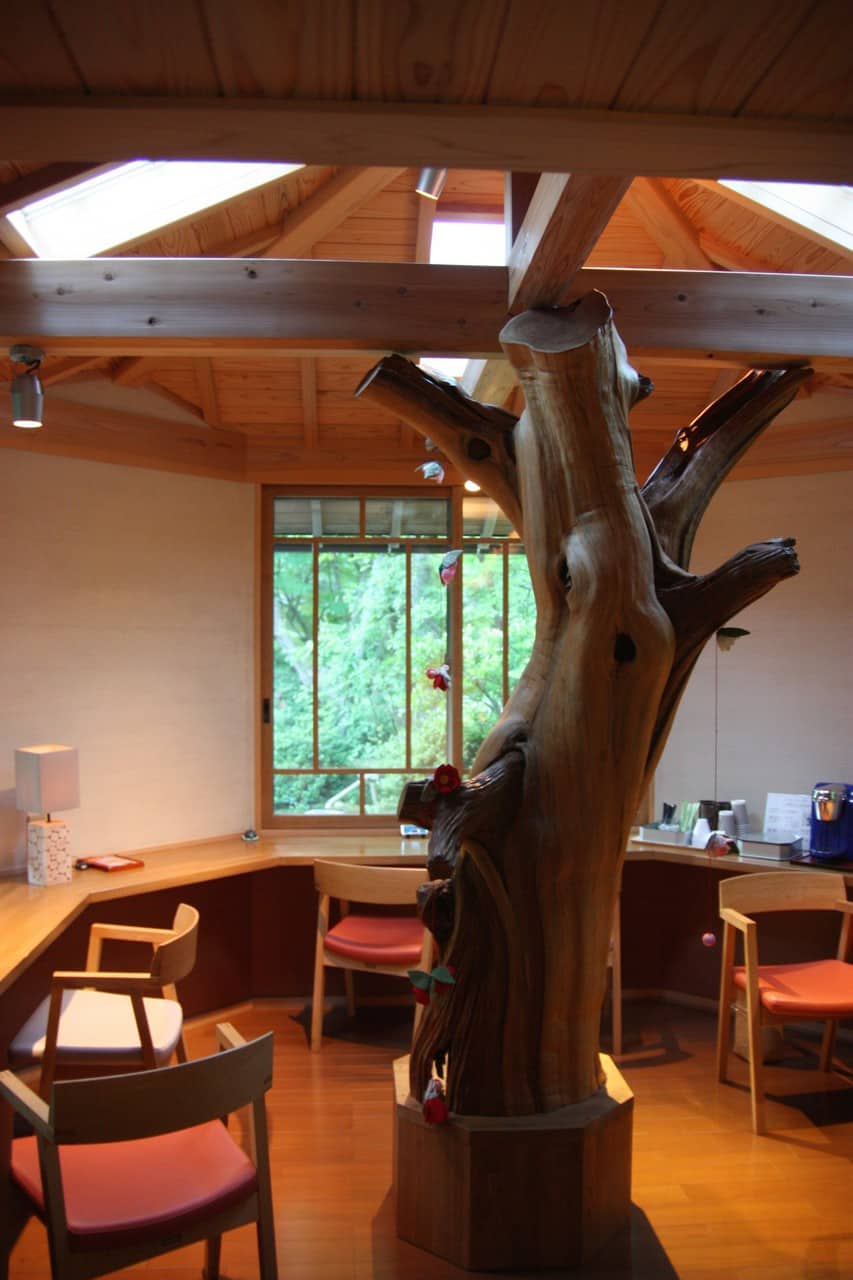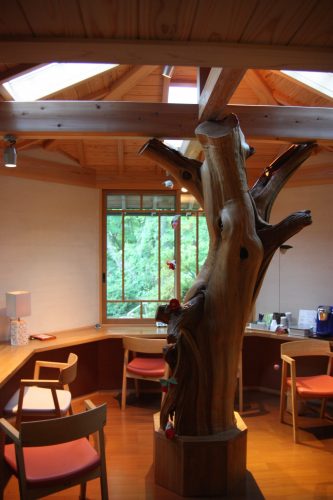 Haute cuisine and explosion of flavors
As for the cuisine, or should I say gourmet cuisine, it is all about quality, freshness, and delicacy. A stay at ryokan Yumeya is a delight both for the eyes and the palate.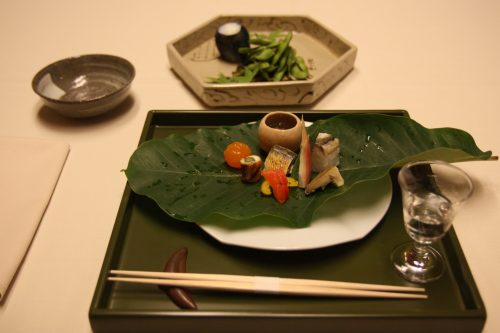 For dinner, a kaiseki course made of several dishes concocted by the chef was served in my bedroom. No worries if you have any food preferences or restrictions as the staff will carefully ask you about them beforehand. Each and every one of the dishes is carefully prepared to highlight the best products of the region: fresh seafood, vegetables in season, and edamame. As the dinner went by, I discovered new textures and flavors (i.e. sea urchin, egg yolk cooked in miso), each presented with incredible refinement.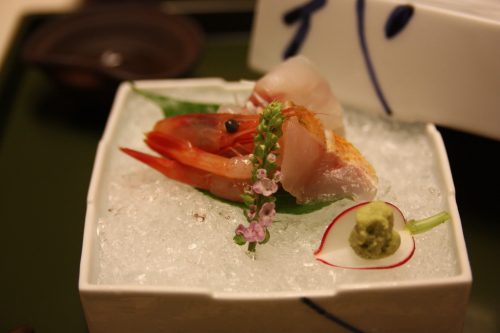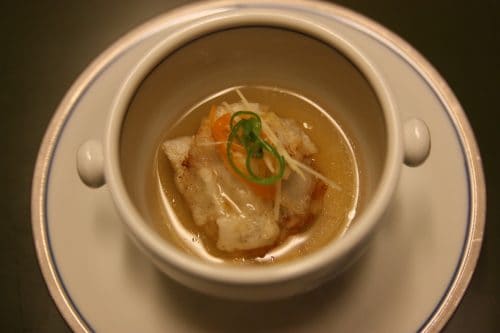 This delicious evening ended with a maid coming in to prepare my futon, bringing a chamomile tea along the way.
After a quiet night, I went for a Japanese-style breakfast served in the ryokan dining room: Japanese omelet, fish, miso soup, and vegetables. I would find the same refinement and freshness of ingredients as the night before during dinner. The perfect meal gave me the energy to explore the surroundings.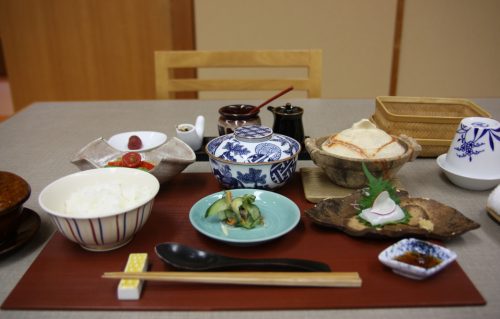 Exploring the Surroundings: Yahiko and its shrine
After a brief stop by the lobby to check out and a few minutes of driving, I arrived in Yahiko, a village with plenty to do. I spent the rest of the day visiting and strolling around town.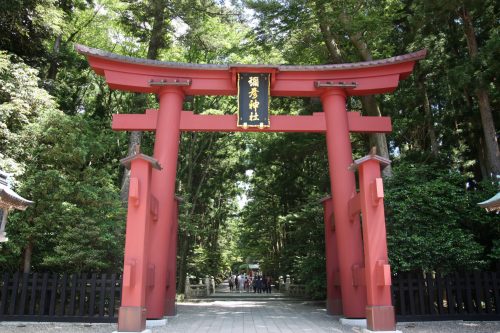 I started at Yahiko Shinto Shrine, the most important shrine in Niigata Prefecture. It was destroyed during a fire in 1912 and the shrine we see today is actually an identical replica of the original one from the 8th century. Located at the foot of Mount Yahiko, the shrine is surrounded by a thick forest, bringing lots of freshness and shadows, even on warm sunny days.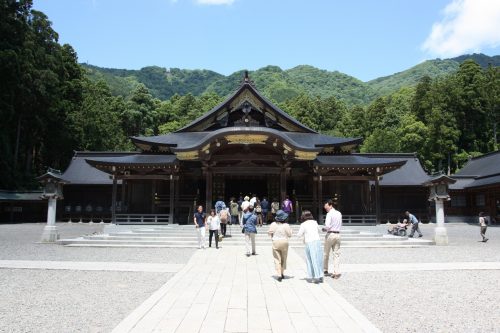 Even though the shrine attracts many visitors, it remains a quiet place offering many quiet corners. You can even find a small animal park with deers and a few chickens.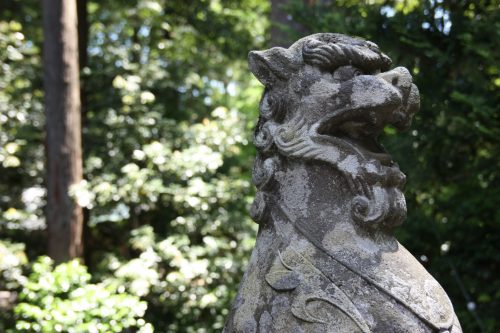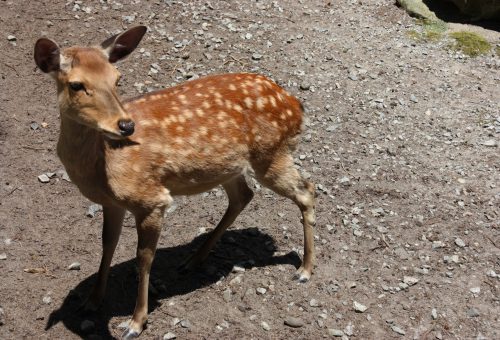 If you wish to gain a bit more height, take the path going to the left when facing the shrine. From there, you will be able to reach Mt. Yahiko's summit.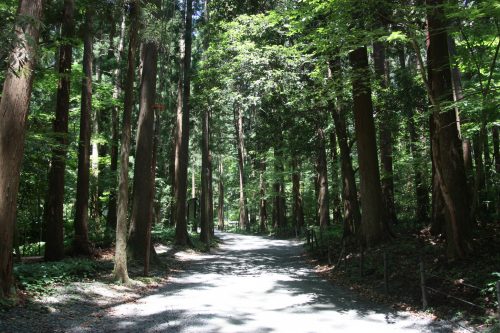 You can travel either by taking a bus and then a cable car, or hiking and then taking the cable car or, for the bravest, hiking all the way to the top of the mountain in about four hours. I personally didn't have time to reach the top and enjoy the impressive view.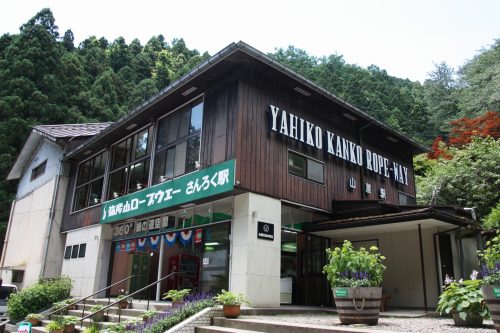 Instead, I kept going with my exploration of the village and its lovely, tiny streets. At area right outside the shrine is lively, with many shops to buy souvenirs and local snacks.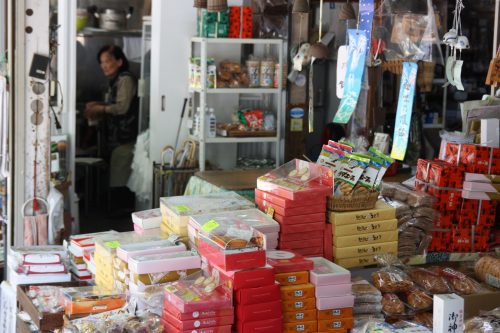 These little streets become far quieter as you walk further away, revealing hidden shrines, lovely storefronts, and lots of green spaces.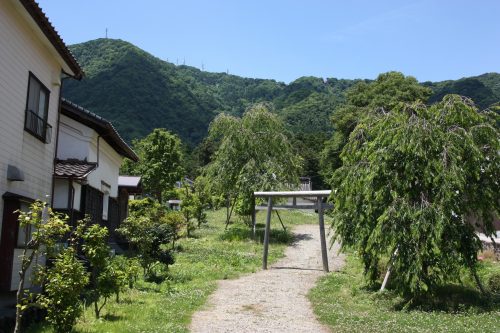 Only a few meters away from the train station—which is worth checking out in itself—two more attractions await visitors.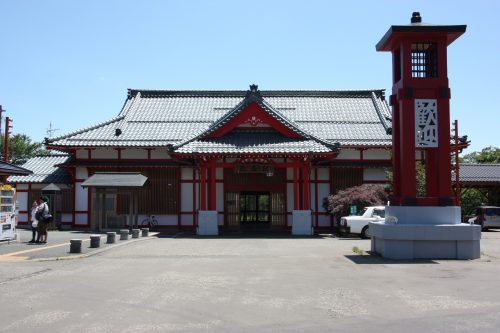 The first one is a small, partially outdoor shopping mall equipped with two free onsen, which locals are fond of for foot baths.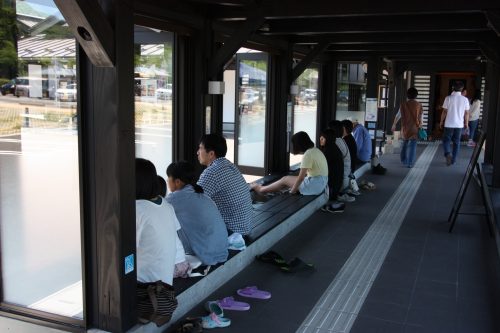 And a bit further, a two-minute walk from the station, is the lovely and hilly Yahiko Park. Very green when I visited in June, this park is famous for its maple valley turning red during fall, which you can contemplate from a bridge higher up.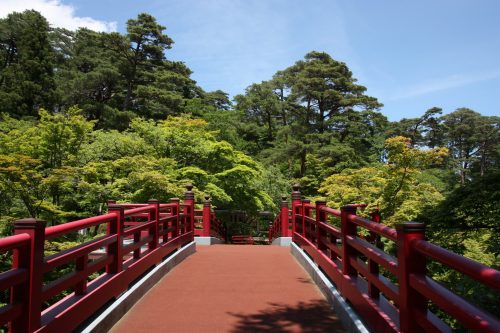 Reaching Iwamuro Onsen
From Tokyo: The trip from Tokyo to Niigata can be easily made via the Joetsu Shinkansen Line in about two hours. From Niigata, the JR Echigo Line will take you to Iwamuro Station in about 50 minutes.
From Kanazawa: You will need around three hours and 30 minutes to reach Niigata from Kanazawa Station via the Hokuriku Shinkansen Line, with a change in Takasaki. From Niigata, the JR Echigo Line will take you to Iwamuro Station in about 50 minutes.
To go from Iwamuro Station to ryokan Yumeya, and then from Yumeya to Yahiko, feel free to ask the ryokan to have one of their drivers pick you up and drop you off.
Practical information
For more information on Iwamuro Onsen, you can check out this website or this one.
For more information on ryokan Yumeya, here is their website (available in English).
And finally, for more details on the village of Yahiko, check out this page.
Do you need more information? You can find up-to-date information on Niigata's history, main tourist attractions, accommodations, gastronomy and transportation right here.