A few years ago, I caught a glimpse of an unforgettable scene while traveling through Semboku (仙北) in Akita Prefecture — just as the cherry blossoms lining the samurai residences in Kakunodate were in full bloom, an impressive layer of snow rested quietly on the onsen in Nyuto. After experiencing the best of Japan's spring and winter within a single day, I couldn't wait to rediscover this region in summer. While Semboku is reputed for being one of Japan's top destinations for skiing in powdery snow and soaking in a steaming onsen amidst a wintry landscape, it's also a great place to engage in summer outdoor activities, especially around Lake Tazawa.
Best Outdoor Activities around Lake Tazawa
Lake Tazawa (田沢湖, Tazawako), the deepest lake in Japan at 423 meters, is an ideal spot to spend your summer days relaxing on the beach, cycling around the shoreline, kayaking or stand-up paddleboarding (SUP) on the water, or as a base before climbing Mount Akita-Komagatake.
Cycling around Lake Tazawa
Renting a bicycle for a leisurely ride around the lake is a popular activity in Tazawako, especially as the route is fairly flat and just a little over 20 kilometers. Tazawako Rent-A-Cycle (田沢湖レンタサイクル) rents out various types of vehicles, including electric bikes and even electric scooters (although a valid Japanese driver's license is required to rent an e-scooter).
This Semboku GT webpage (in Japanese) offers some tips for making the most of your bike tour around the lake, passing by the Gozanoishi shrine torii and the famous statue of Tatsuko.
Guided Bicycle Tour through the Japanese Countryside of Tazawako
There is also another way to discover Tazawako by bike — by following the local guide Makito Kochihira, who is more than happy to share his passion for Semboku with contagious enthusiasm, both in Japanese and English. He guides visitors from the lakeside into the surrounding countryside, largely covered in rice paddies.
Makito not only shares his knowledge about the history and culture of the region, but he also introduces you to local residents of the Ishigami neighborhood. The tour makes stops at several farms along the way to pick vegetables that will be barbecued at the end of your ride.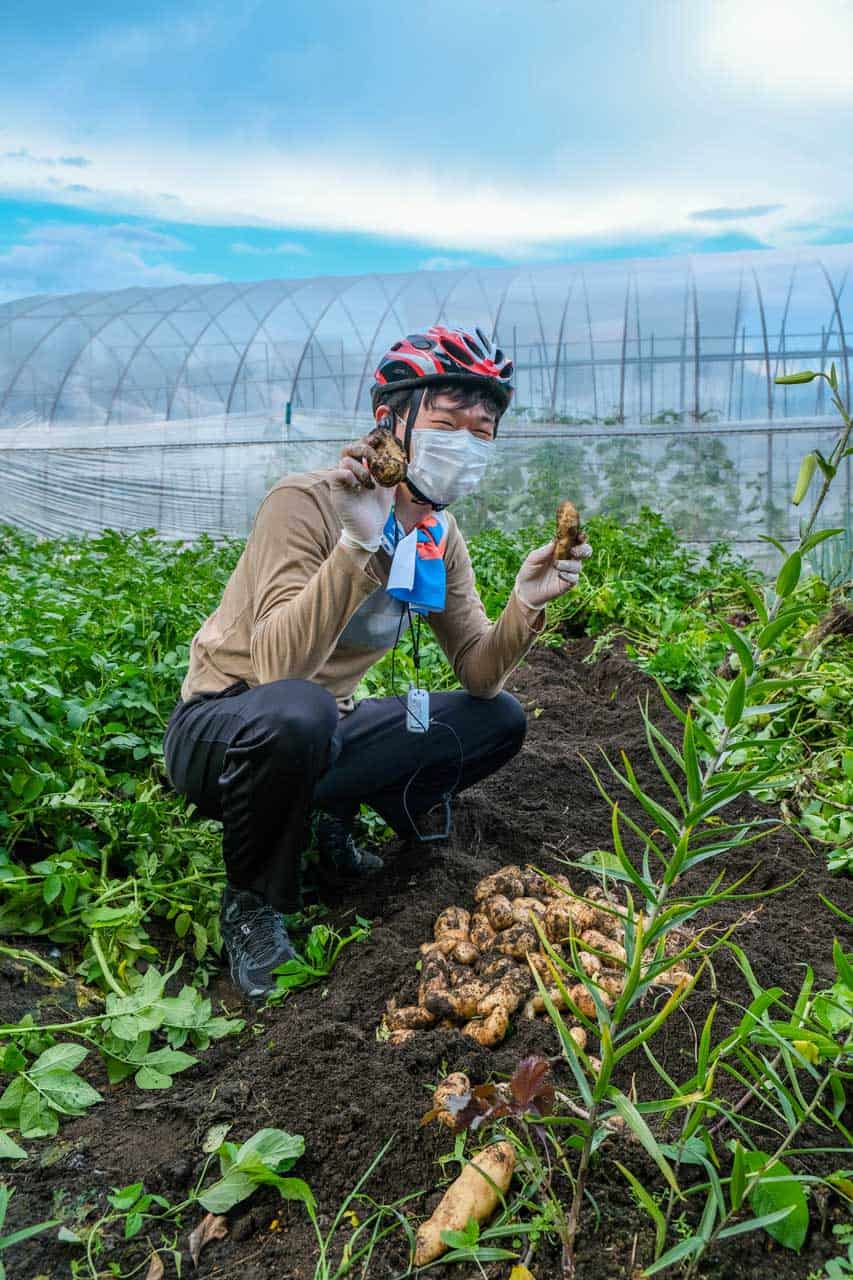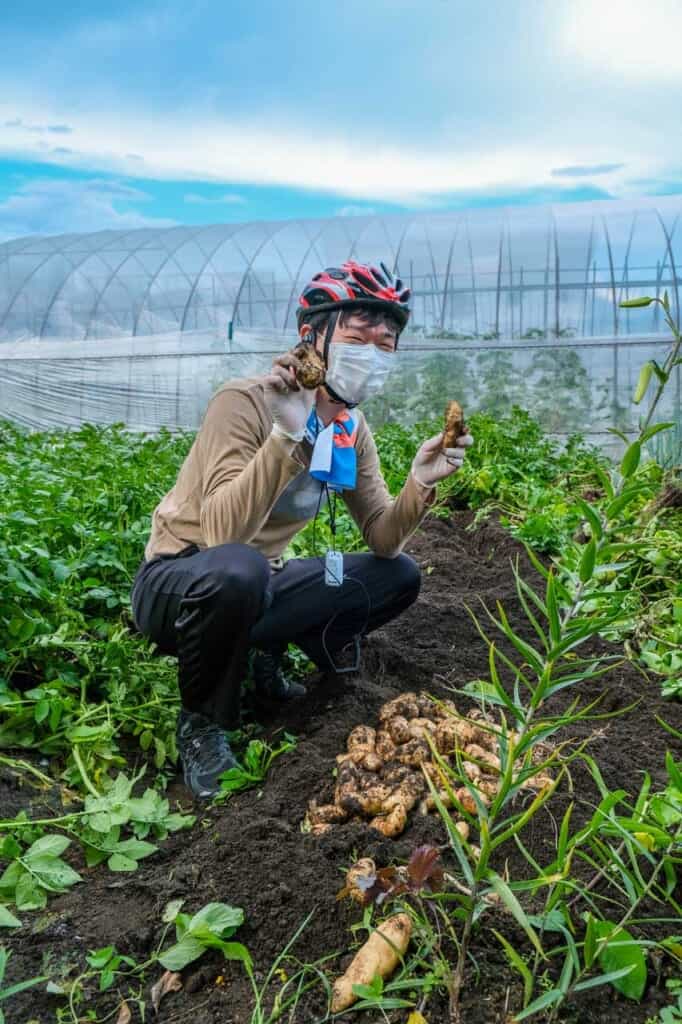 Stand Up Paddleboarding (SUP) on Lake Tazawa
Once I got past the delicate step of actually standing up on the board, I quickly understood that SUP is an activity that is accessible even to beginners and to non-sporty people like me, especially on the placid water of Lake Tazawa.
Our instructor taught us how to maneuver the board, gave us many tips as we moved along, and always looked out for everyone's safety while respecting each person's individual pace and preferences. So we could take our time to thoroughly enjoy these suspended moments in time gliding on the glossy lake, as the color of the water changed from transparent to turquoise to ultramarine, depending on the depth.
Relaxing on the Beach at Tazawako Campground
Among the many different campgrounds in Semboku, Tazawako Campground (田沢湖キャンプ場) offers the most original options: tensile tents suspended from trees on the beach, even a floating tent! The tensile tents can be rented for a few hours or overnight, while the floating tent is a sort of floating living room where you can have a drink in the middle of the lake or rest in the shade after swimming far from the shore.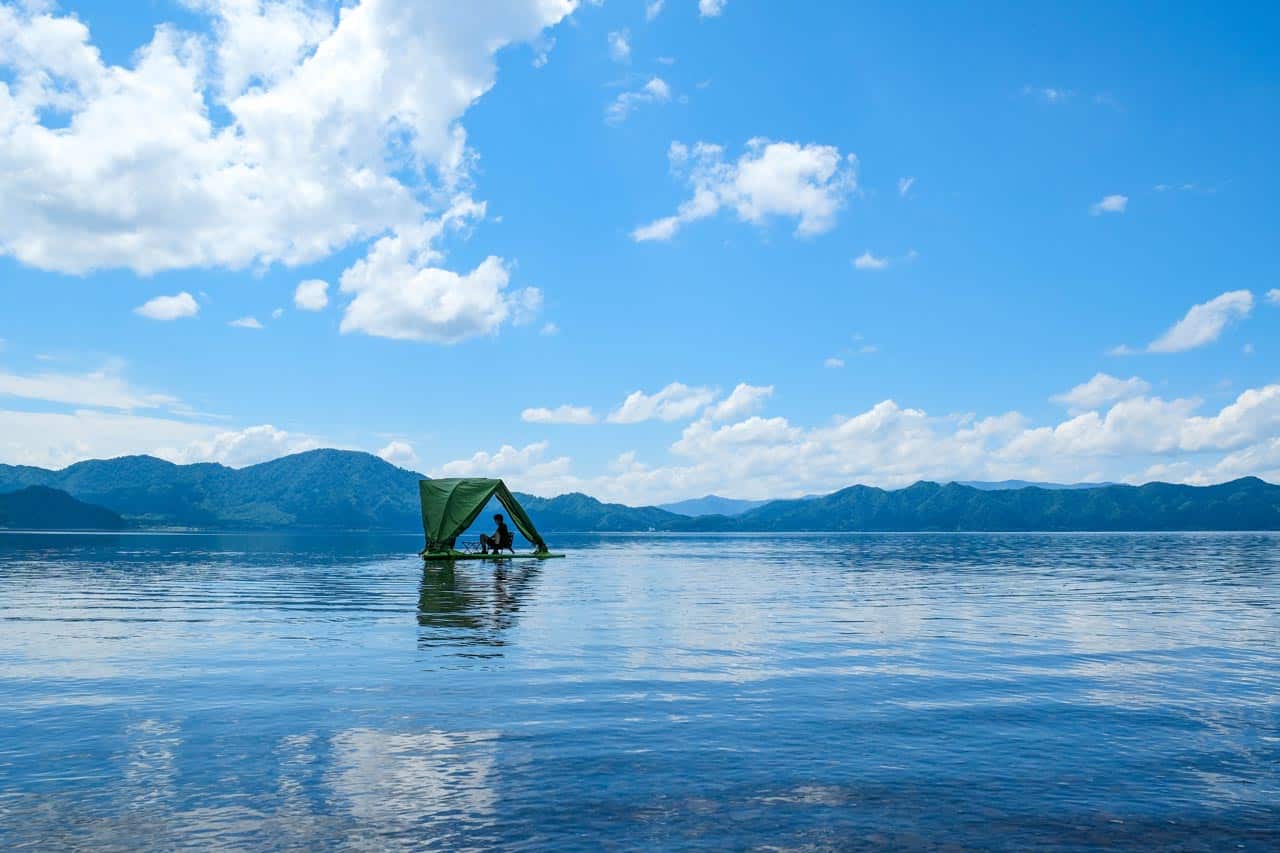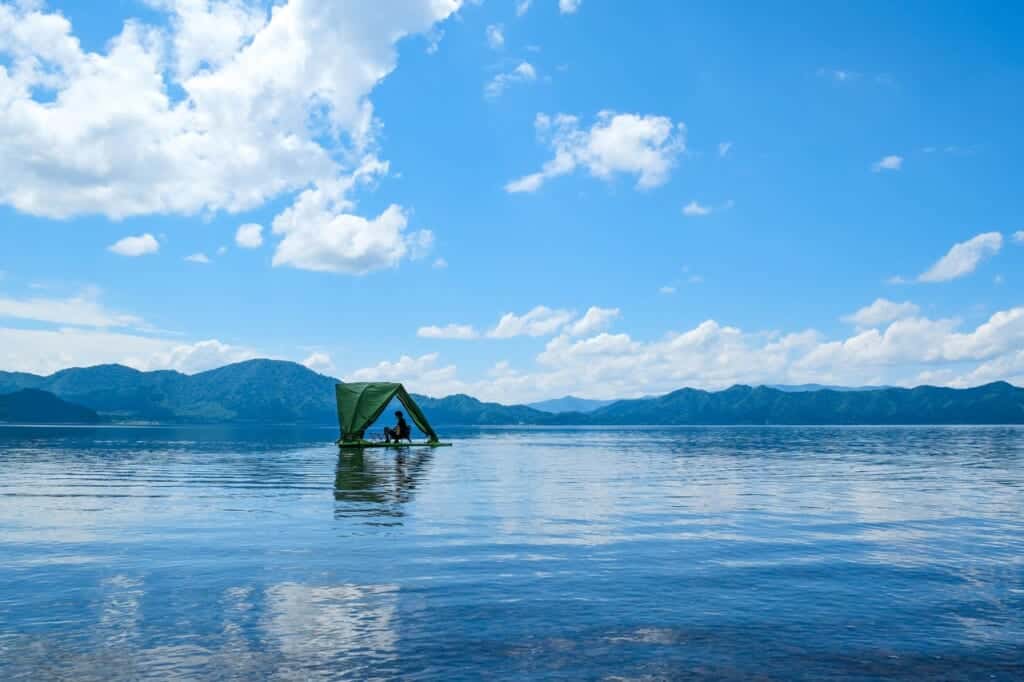 Climbing the rope ladder into the two-story tensile tent suspended from trees requires some initial agility, but once you're safely nestled inside, the childhood treehouse fantasy-come-true and lake view panorama will make you want to stay to watch the sunset and sleep there overnight.
Sauna on the Beach and Orae Restaurant by Tazawako Campground
Just a few minutes' bike ride away from Tazawako Campground lies another surprising tent: the sauna tent. A Japanese fan of Finnish lakeshore-style saunas installed it in an attempt to reproduce the Scandinavian experience of diving into the cool water of the lake directly after emerging from the steamy sauna. While the local environment doesn't quite resemble Finland, the Semboku region is covered with a thick layer of snow through the winter.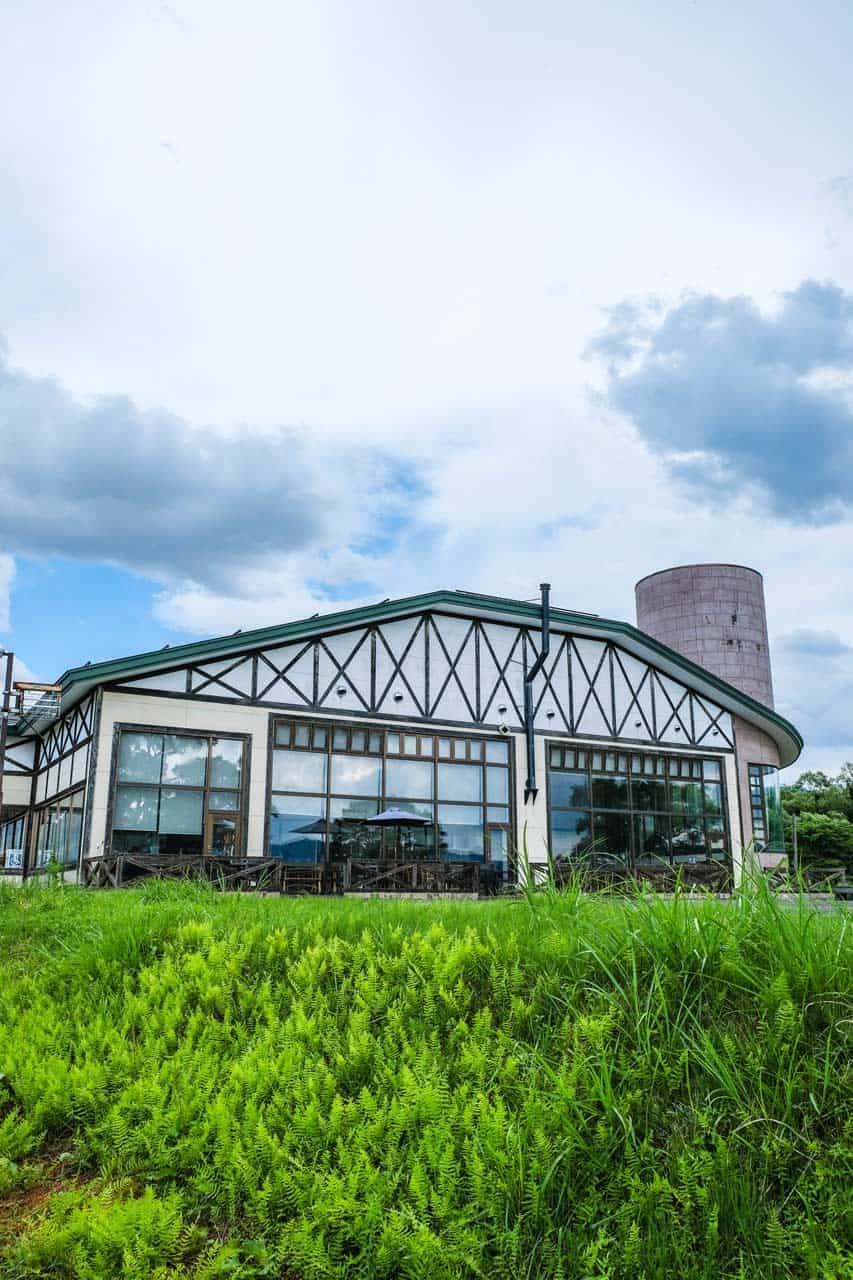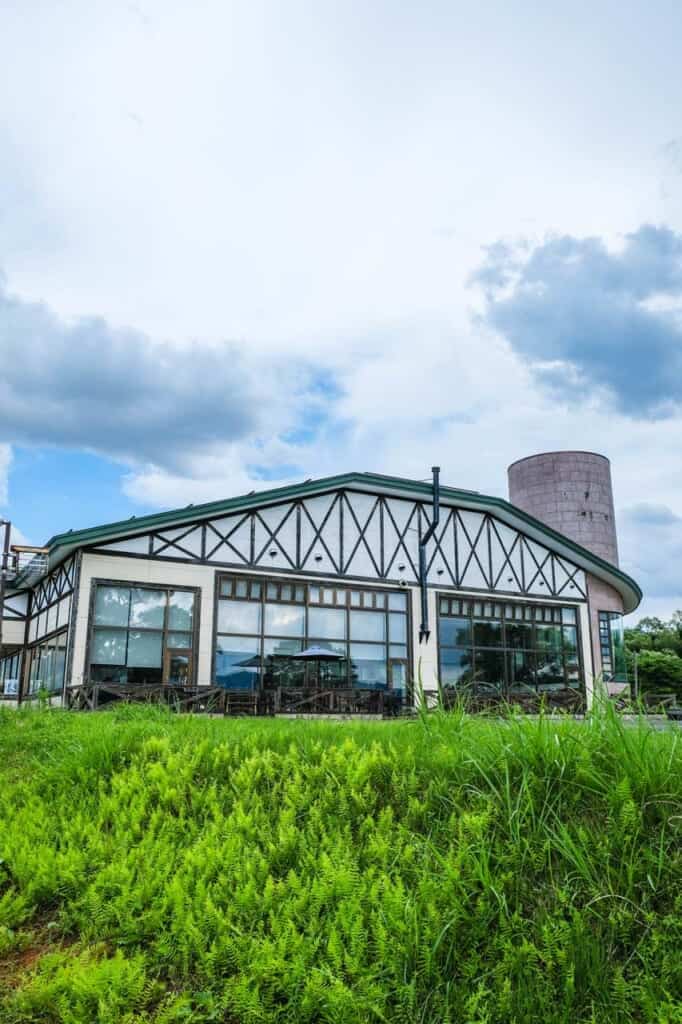 The sauna is located right next to Orae, a restaurant and brewery known for its beer and homemade sausages, which you can also take out and eat at the sauna. The restaurant itself offers a fine view of the lake, with a seasonal menu composed of local produce.
An Alternative to Camping by Lake Tazawa at That Sounds Good!
Instead of camping outdoors, I stayed at a delightful family inn tucked away in a lush green area near the lake called That Sounds Good! (サウンズグッド!). My attentive hosts were Tatsuya and Yuli Sasaki, and their daughter Megumi. Their passion for jazz was expressed throughout the lodge, which transforms into a jazz club on one Saturday each month.
In addition to hosting family-friendly accommodations, That Sounds Good! is also a café, which even offers homemade pizza-making workshops. You can also rent bicycles and barbecue equipment here.
Hiking in Japan at Mount Akita-Komagatake
Among Tazawako's many peaks, the most iconic compose the crest of Mount Akita-Komagatake (秋田駒ヶ岳), which is the highest in Akita prefecture. More than a hundred species of alpine flora populate the spectacular mountainside landscapes of this active volcano.
Various hiking paths for all levels crisscross Mt. Akita-Komagatake and neighboring mountains.
Pension Climber, The Perfect Place to Stay Before and After Your Hike
I stayed at Pension Climber (ペンションクライマー), a full pension tailored to mountaineering buffs. My hosts for the evening were Toshiaki and Emiko Sugawara, themselves dedicated hiking enthusiasts, who have been welcoming visitors to their guesthouse in Tazawako since 1989.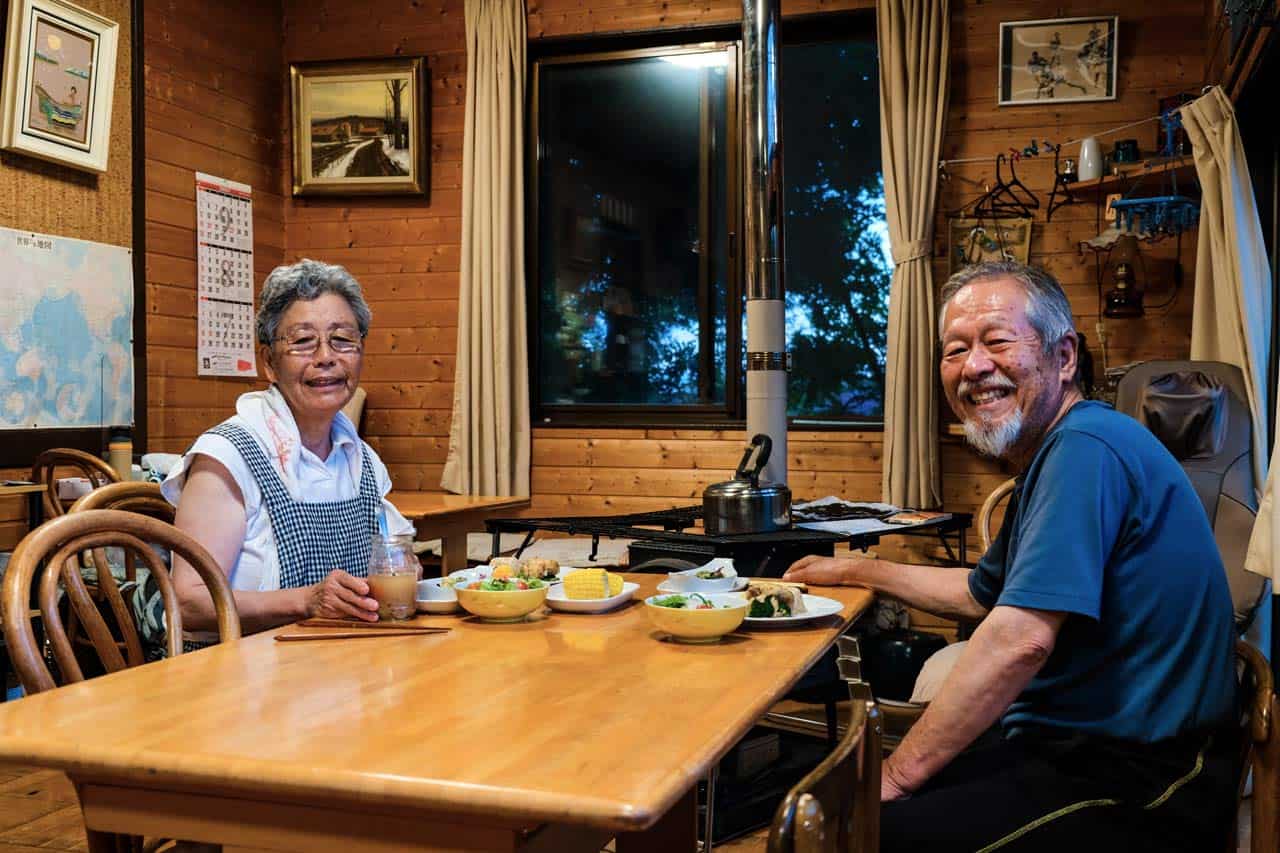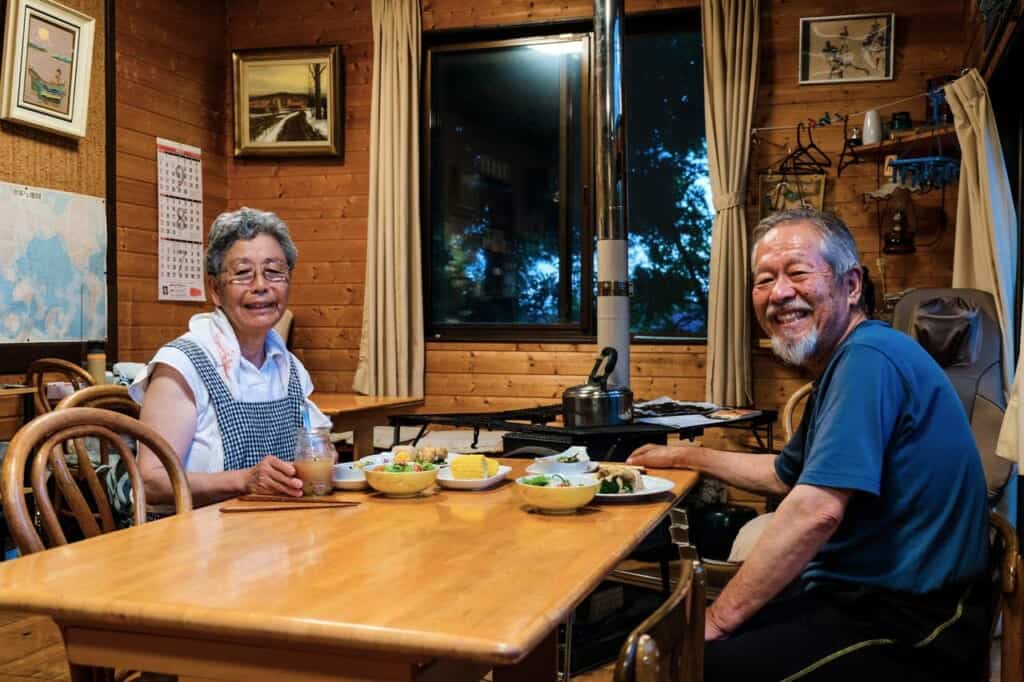 The couple took me in like a member of the family. Emiko prepared a delicious meal with locally sourced ingredients including wild plants foraged in the mountains. Toshiaki showed me photos of alpine flora he took during his hikes and told me about the time he was attacked by a bear—a sober reminder that hiking safety precautions are not to be taken lightly.
After dinner, Toshiaki introduced me to the local Semboku craft of Itaya Zaiku (イタヤ細工), a type of wickerwork traditionally made by residents during the long winter. I was surprised to learn that my host was himself a seasoned artisan, and this shared moment of making a little horse together out of itaya wood (a kind of maple) is one of the fondest memories of my summer stay in Semboku.
Discovering the Local Culture of Tazawako
Tazawako's natural setting may be ideal for outdoor activities, but there are a number of fascinating indoor places to visit as well, either during your bike ride around the lake or as an alternative activity on a rainy day.
Omoide no Katabunko, A Former Rural Japanese School
Omoide no Katabunko (思い出の潟分校) is a school that opened in 1882 and closed in 1974. For almost a century, generations of Tazawako schoolchildren sat on its benches. It's easy to understand why the residents wanted to preserve the school building, now a sort of museum, which opened to the public in 2004. Here you can see classrooms as if frozen in time and examine many artifacts and photographs of life at the school.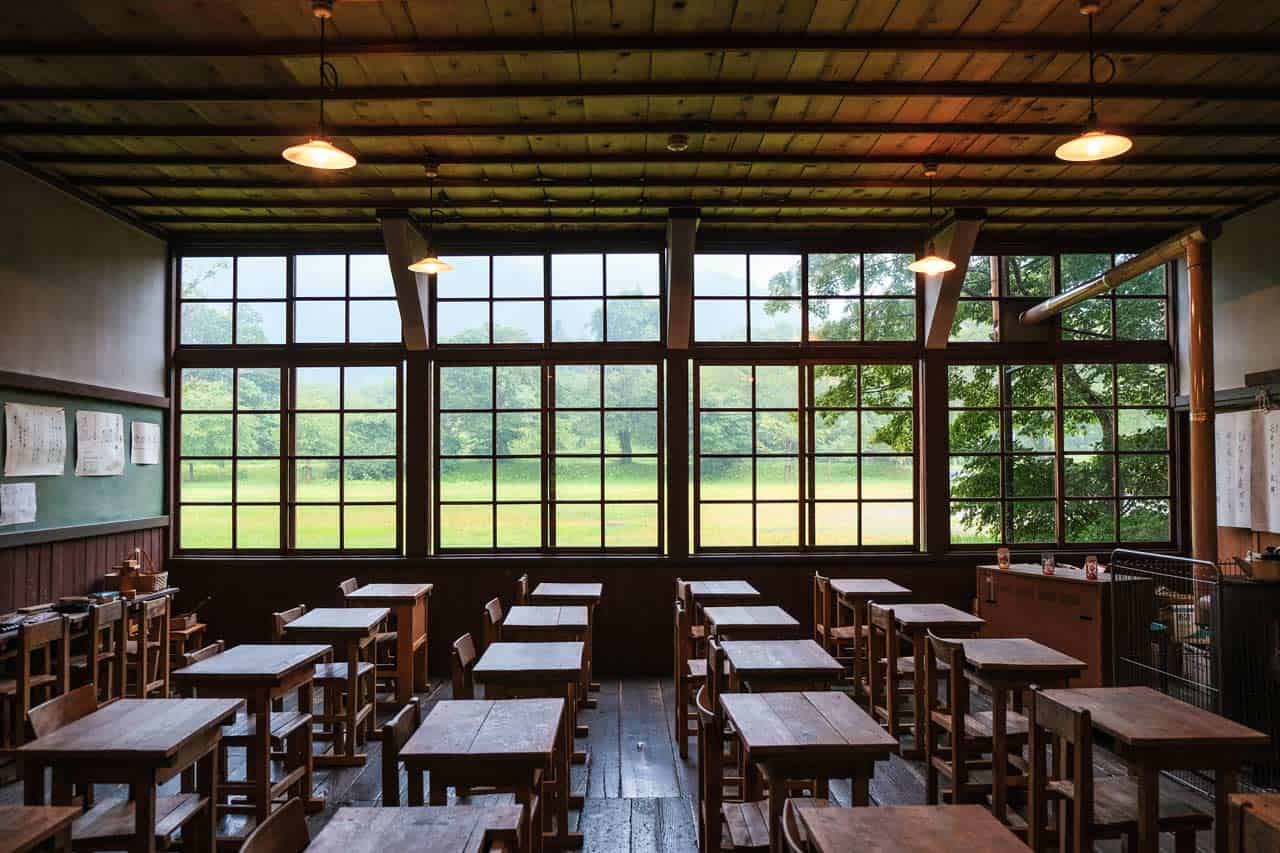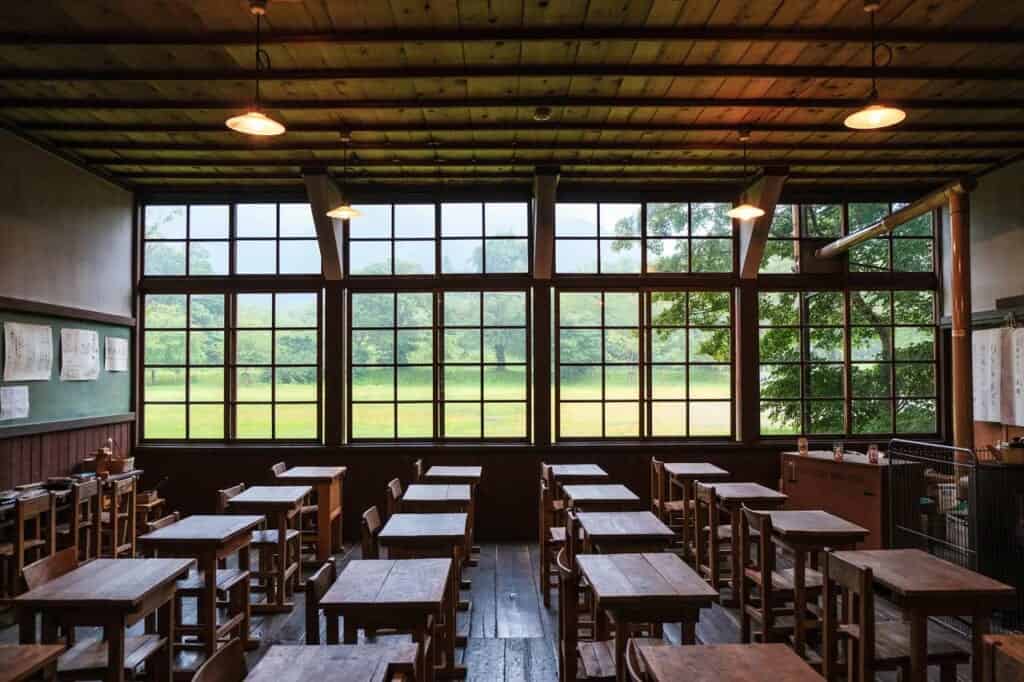 Kunimasu Miraikan, the Lake Tazawa Kunimasu Trout Museum
At first, visiting the Lake Tazawa Kunimasu Trout Museum (田沢湖クニマス未来館, Tazawako Kunimasu Miraikan) didn't seem to be the most exciting thing to do in Tazawako. But once I ventured inside, it wasn't long before I was captivated by a video and audio guide telling me the fascinating history of this native fish, which is also the history of the lake and of the people living in the region.
Up until the 1930s, Lake Tazawa was home to more than 20 species of fish, including endemic species such as kunimasu. In order to ensure adequate food supply during World War II, a hydroelectric project to de-acidify the Tama river water for agricultural irrigation required building a canal that passed through the lake. Unfortunately, this also resulted in making Lake Tazawa more acidic, which in turn led to the extinction of most of its native fish species.
Kunimasu were thus considered extinct, until 2010 when a specimen was found in one of the five lakes of Mount Fuji. In the early 20th century, kunimasu eggs had been sold in an effort to reintroduce this precious fish, and it had worked! Since then, conservationists have been working hard to preserve and study the local species.
Relaxing in the 7 Onsen Hot Springs of Nyuto
Nestled in the mountains of Semboku, Nyuto Onsen (乳頭温泉) is famous for its seven hot springs, which offer not only baths of excellent quality in an exceptional setting, but also the rare opportunity to indulge in mixed-gender outdoor bathing. Rest assured, however, that all the onsen also offer gender-segregated baths and even private baths in some cases.
While summer may not be the most intuitive season to bathe in steaming hot spring water, it only takes one rejuvenating soak to realize that onsen can be appreciated all year round. In Nyuto, you can go onsen-hopping either by bike or on foot (it's about a 90-minute walk between each onsen), combining your stay in a ryokan with active hikes in Mounts Nyuto and Akita-Komagatake… Nothing beats a hot steaming bath after a long day of hiking!
Keeping the 7-onsen tour in mind for a future trip, this summer I started with two of them: Tsurunoyu Onsen and Kyukamura Nyuto Onsen-kyo.
Tsurunoyu Onsen, An Authentic and Timeless Experience in One of Nyuto's Oldest Hot Springs
At Tsurunoyu Onsen (鶴の湯温泉), time seems to stand still. Clients wander between the baths wearing their blue-and-white yukata, or simply enjoy the fresh air in front of thatched-roof buildings, fanning themselves with an uchiwa (flat fan made of paper and bamboo). Given its history dating back to the 17th century, Tsurunoyu is the oldest of Nyuto's 7 onsen. It's also one of the most iconic, thanks to its antique buildings and milky turquoise baths in the middle of the forest.
Tsurunoyu provides different types of rooms for its overnight guests, all in traditional Japanese style with futons laid out on tatami floors, and sometimes even an irori sunken hearth. I stayed in a room with a view of the forest, where I was served a huge gourmet meal featuring sansai (山菜, wild mountain plants) and yamanoimo (山の芋, Japanese yam).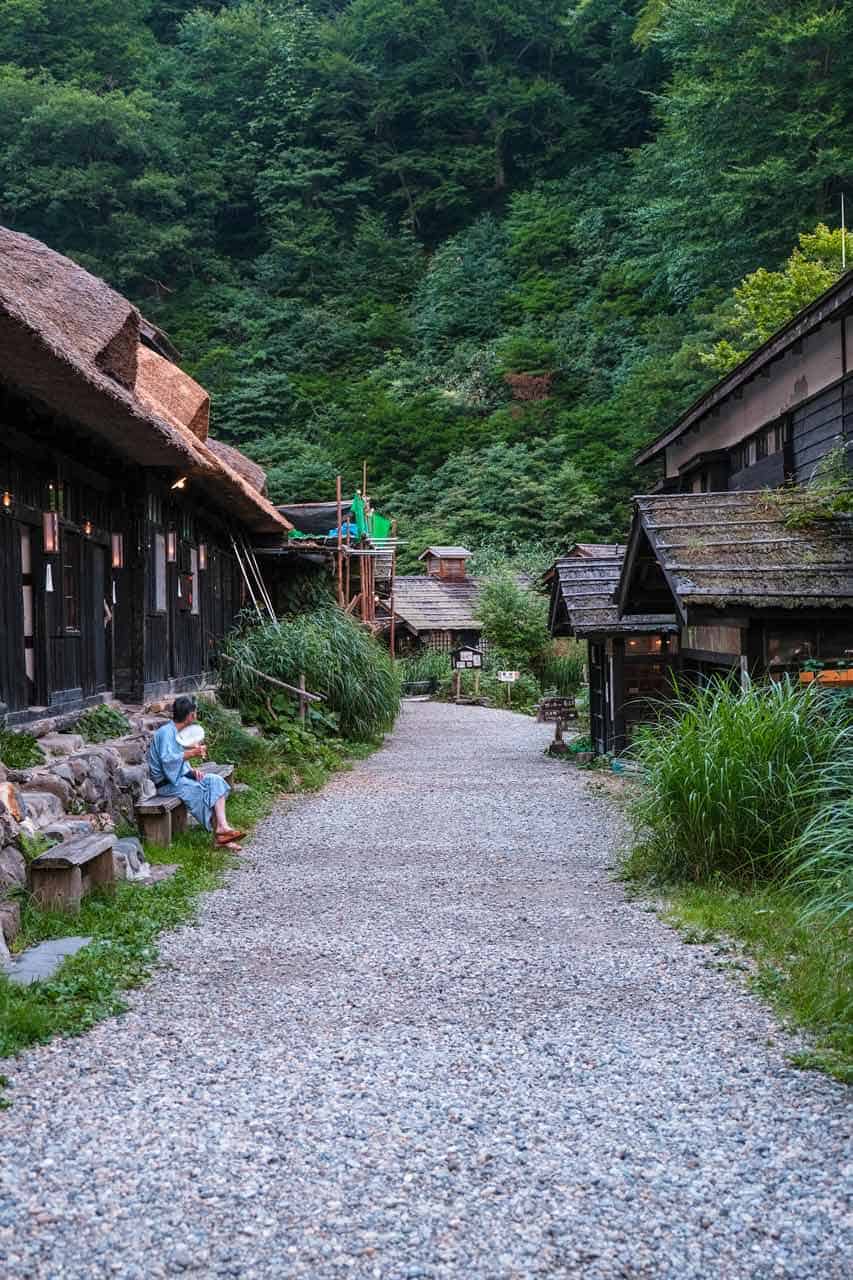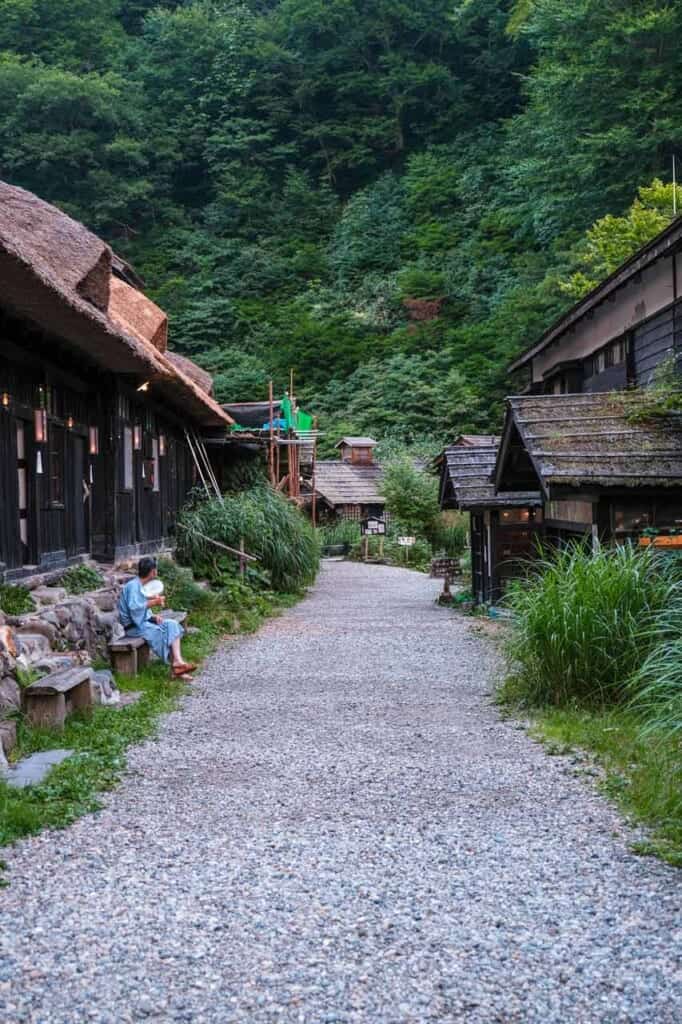 The room had neither air-conditioning nor television, and I almost regretted that the wifi connection was so good, as it was the perfect atmosphere to completely disconnect and savor the moment.
Kyukamura, Modern Comfort in the Heart of Nyuto Onsen
While Tsurunoyu is the oldest of Nyuto's onsen, Kyukamura Nyuto Onsen-kyo (休暇村乳頭温泉郷) is the youngest. It opened in 1965 and has been recently renovated to offer a more modern experience. Clients can choose between Japanese or Western-style bedrooms, enjoy the restaurant and souvenir shop, or use the campsite for an outdoor adventure in summer.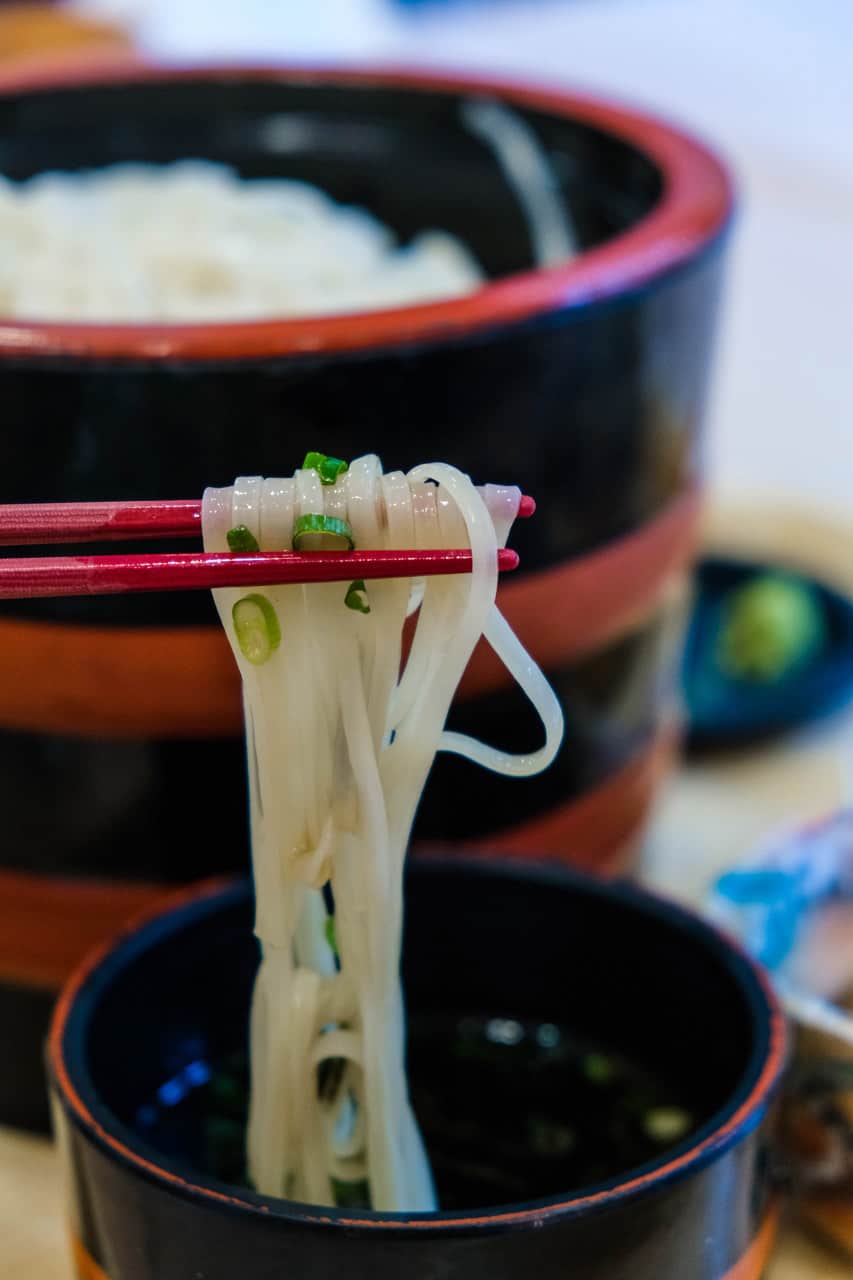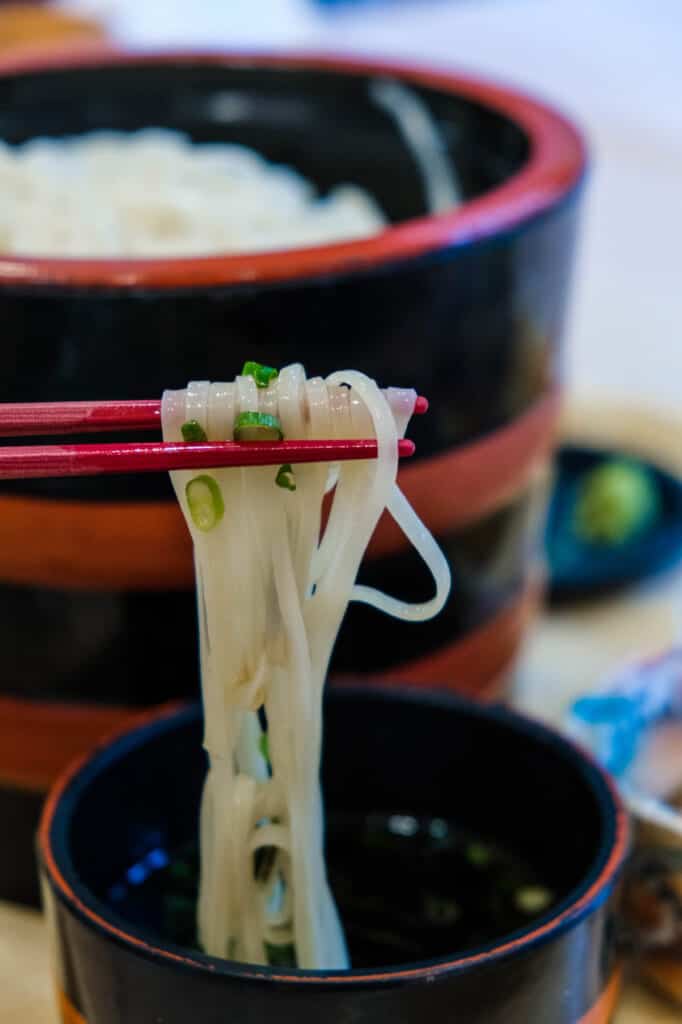 But here too, the main attraction is the onsen. No mixed bathing, but spacious baths that are identical for both women and men: two indoor and one outdoor, surrounded by a dense forest of beechwood.
You can also rent electric-assist bicycles from Kyukamura Nyuto Onsen-kyo and return them at any one of the other six onsen.
Go on a Guided Tour of the Beech Forest Around Kyukamura
Kyukamura also offers a guided tour of the surrounding forest of beech trees. Unfortunately, the day I visited it was raining pretty hard, but I just as soon pulled on my rubber boots and followed the guide, Hiroki Sekiguchi, into the forest. The tour enlightened us about many aspects of the local culture and vegetation, pointing out innumerable details that we would never have noticed alone. For example, I learned that the large leaf that Totoro uses as an umbrella in the animated film by Hayao Miyazaki is a leaf from the fuki (フキ, giant butterbur), which can also be used as a ladle, while the stems can be cooked and eaten.
The tour starts every morning at 7 AM for overnight guests of the ryokan (free) and at 9:30 AM for the general public (¥700). Reservations must be made at the reception the day before.
Discovering Kakunodate and its Samurai Residences
Beyond Tazawako, with its lake and Nyuto Onsen, the city of Semboku also includes Kakunodate (角館), which is famous for its samurai residences and the weeping cherry trees planted in their gardens, as well as along the Hinokinai river. You can learn more about the history of Kakunodate and its samurai by reading Voyapon Editor Todd's detailed article, where he also describes his visit to the Ishiguro and Aoyagi residences.
Visiting the Kawarada Clan Samurai Residence
As for me, I visited the Kawarada Residence (河原田家), the last in the district to have opened its doors to the public. It was built in 1884, with scrupulous respect for the distinctive architectural style of samurai residences during the Edo period (1603–1868). Even after the samurai era, these families retained power and influence. For example, Jiju Kawarada (河原田 次重) actively participated in Kakunodate's modernization by importing the first electric generator in 1910, which was considered an unreasonably extravagant expense at the time.
Various architectural elements help us imagine what daily life might have been like in these luxurious houses. Admiring the garden from the engawa, I could feel a cool breeze despite the stifling summer heat, proof of the original architects' virtuosity, and of their attention to details and the unique characteristics of each passing season.
The house itself exhibits several artworks, such as the fusama sliding doors painted by the local artist Sansei Mitsumori (三森山静). One of the kura (storehouses) of the residence leads to an exhibition that includes samurai armor.
Kakunodate Off the Beaten Path: Local Restaurants and Shops
Before leaving Semboku, my guides offered to show me another side of Kakunodate: the local residential neighborhood, just a few steps away from the samurai houses and cherry trees, with a charm all its own.
We had lunch in a soba restaurant with an excellent seasonal menu, dessert in a retro kakigori shop, bought omiyage in a traditional sweets shop that sold delicious kinkan manju (steamed buns filled with kumquat), and shopped in a local, traditional, and modern craft shop.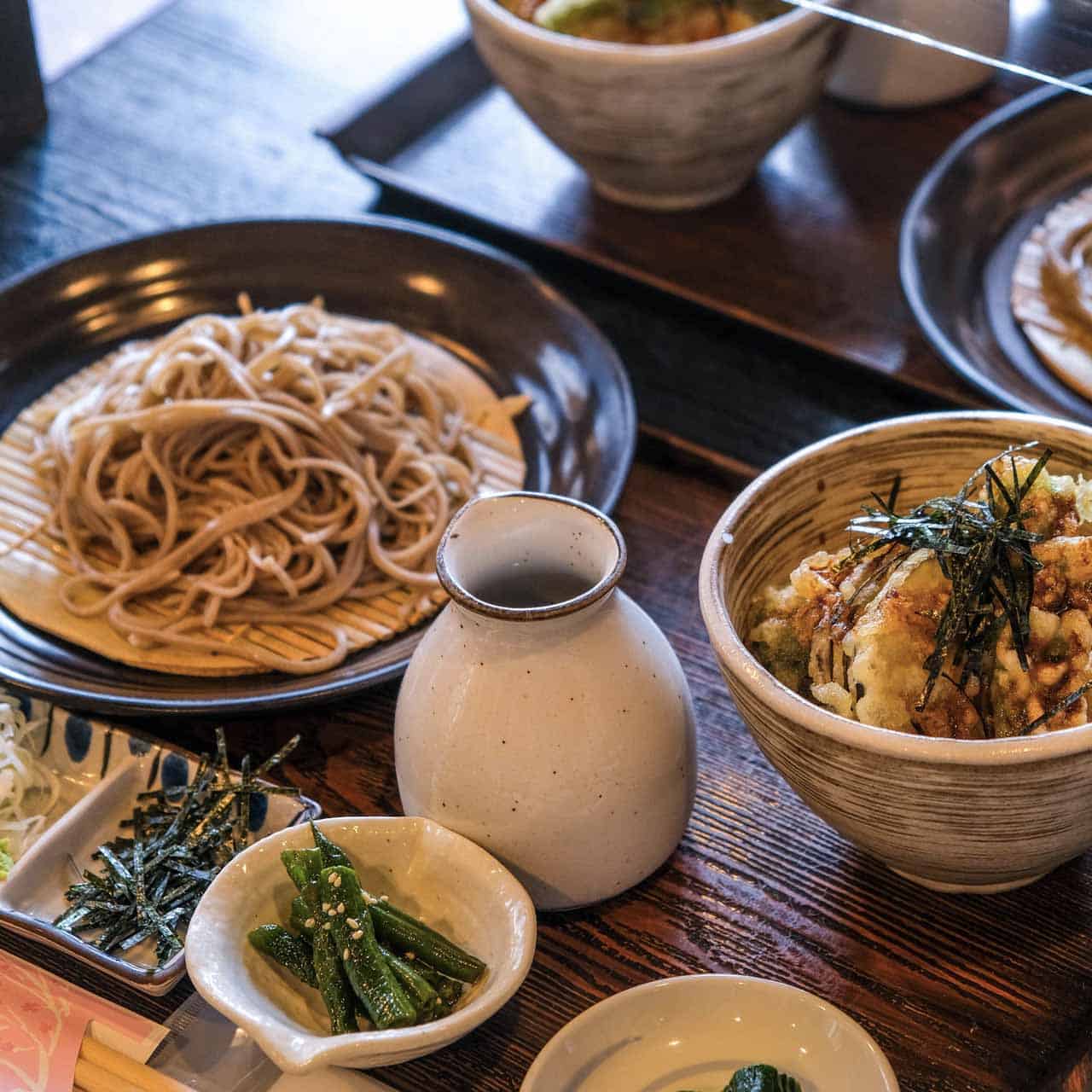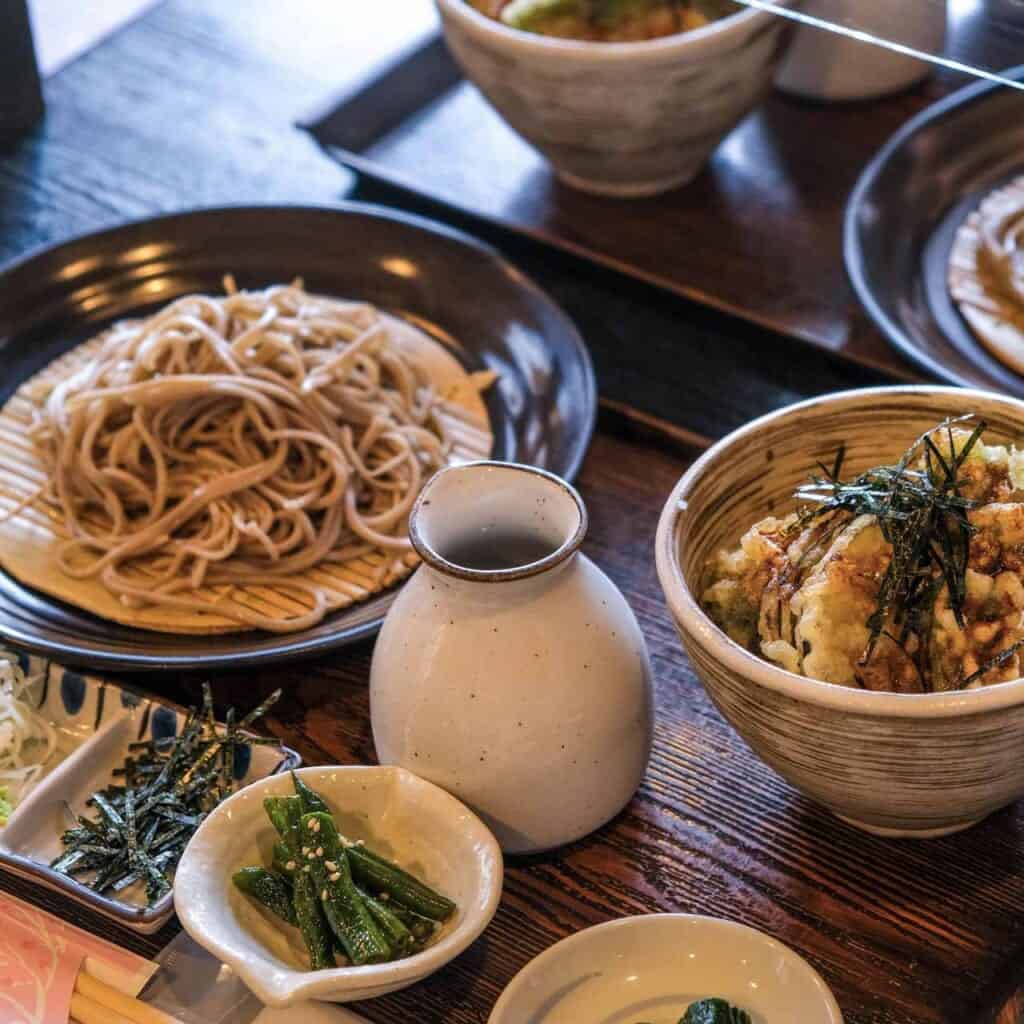 All the addresses are listed on the map at the end of this article.
Kinpo Shrine, a Hidden Gem between Kakunodate and Tazawako
After leaving the car in the deserted parking lot of Kinpo Shrine (金峰神社) and passing under a first torii covered in moss, I found myself in front of a Niomon gate guarded by formidable statues — the mark of a Buddhist temple, and of the religious syncretism that has long prevailed in Japan. Beyond this gate, I could see the paved path lined by multi-centenarian cedar trees, leading to the main building. Time stood still as I walked through the grounds, as if under a magical spell cast by the torii.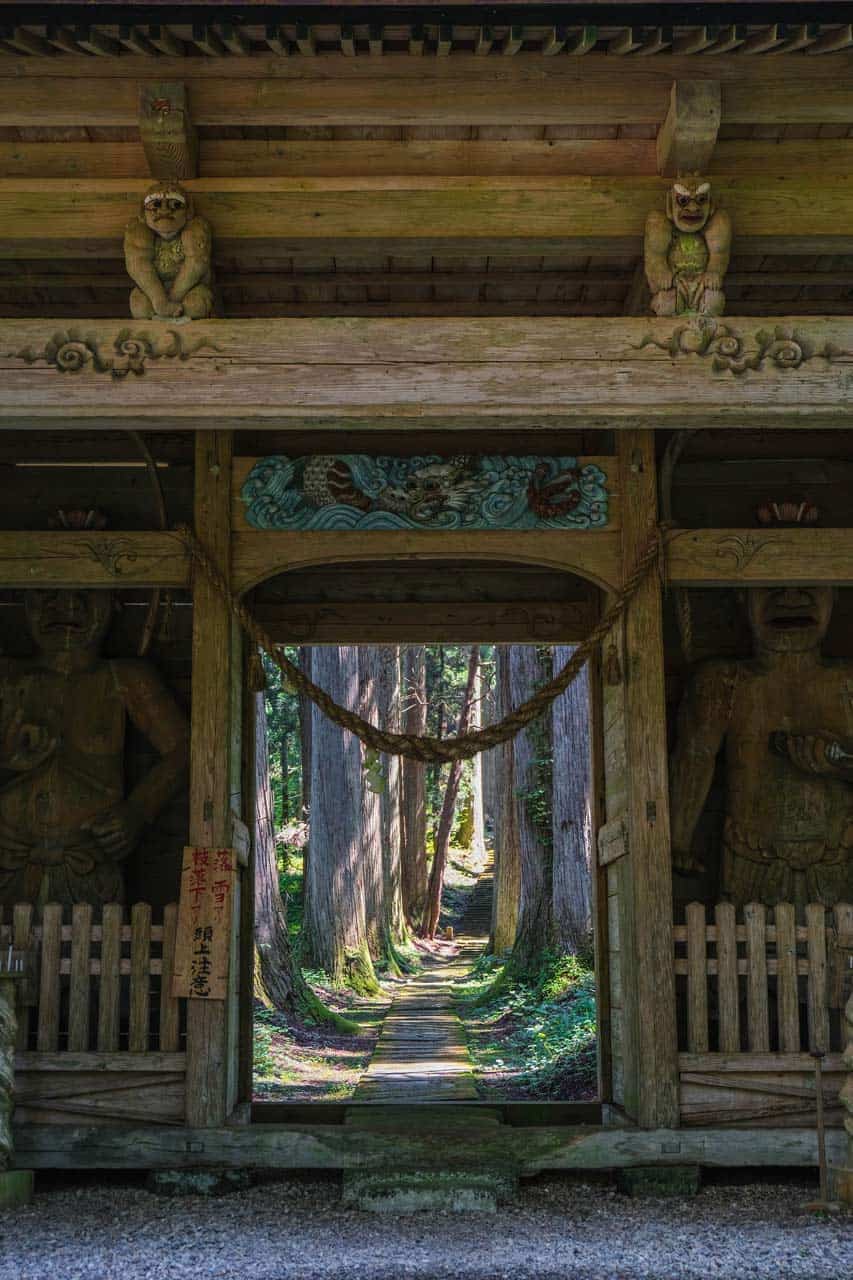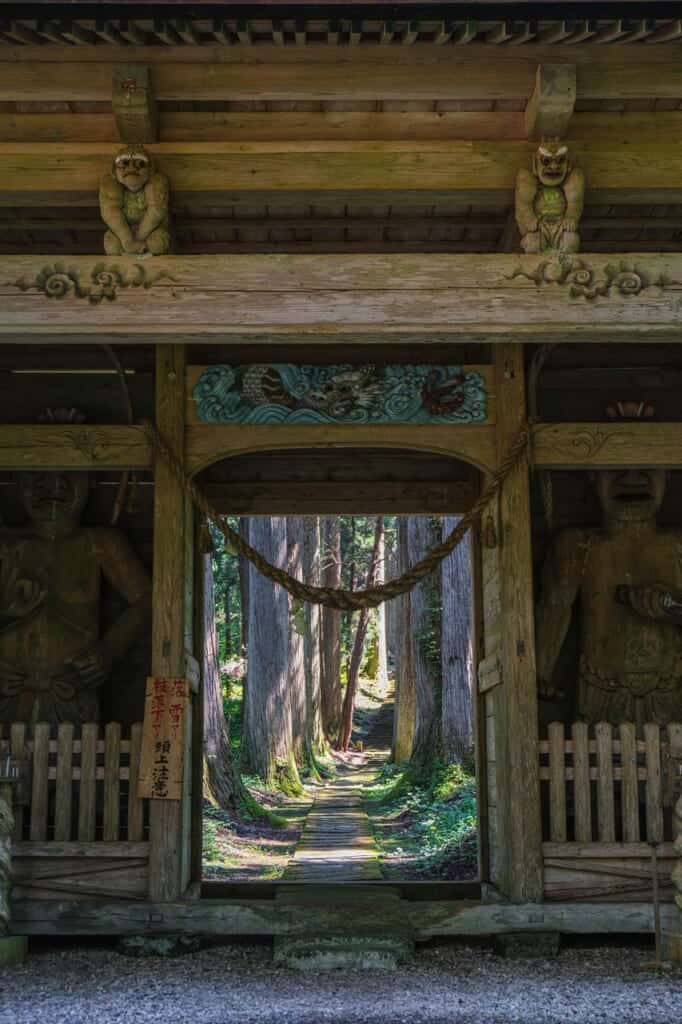 During our entire visit, we didn't cross paths with a single other person. It remains a mystery to me why Kinpo Shrine is so little known, even if this may be in part because it is only accessible by car.
How to get to Semboku to visit Tazawako, Nyuto Onsen and Kakunodate
By train: From Tokyo, the Akita Shinkansen connects to Tazawako (2 hrs 50 min) and Kakunodate (3 hrs) stations, a journey covered by the Japan Rail Pass.
By airplane: The nearest airport is Akita airport. Shuttles (reservation required) connect to Kakunodate or Akita train station. From Akita station you can take a shinkansen or a local train to Kakunodate (45 min / 1.5 hrs) and Tazawako (1 hr / 2 hrs).
From Tazawako station, buses go to the lake and Nyuto Onsen.
All the places mentioned in this article are listed on the map below:
The city of Semboku in Akita prefecture may be renowned for snowy landscapes and blooming sakura, but it's also an ideal destination for summer outdoor activities around Lake Tazawa, hot springs hopping at Nyuto Onsen, hiking in the mountains around Tazawako, and visiting samurai residences in Kakunodate.
Translated by Cherise
Article sponsored by the City of Semboku