When planning a trip to Japan, people often build their itinerary around tourist spots, museums, and other famous attractions. However, there are many other experiences that tourists tend to overlook, experiences that are perfect to help feel part of the place you're visiting and to better understand how people in Japan like to have fun. If you're traveling in early Spring, you can enjoy a picnic under the cherry blossoms, or find out where the locals like to spend a night dancing to music and make new friends. If you're like me and you prefer live music over albums on Spotify, I wholeheartedly recommend going to a live music concert. Especially in larger cities like Tokyo and Osaka, there's something for all tastes almost every night. Buying concert tickets in Japan may seem like a hard task, but for many events, especially smaller ones, it's really a piece of cake ー even if you don't speak any Japanese.
In this article, you'll read about how gigs work in Japan, where and how to buy tickets, and share some tips to avoid any awkwardness once you get to the show.
Concerts in Japan: How They Work and Things to Know
Have you ever spent an entire afternoon standing in line outside the gates of a concert hall, waiting for the doors to open to dash towards the stage and take the best seat? Not the most pleasant experience, especially in the summer heat. In Japan, however, you don't have to worry about waiting times or having to waste a precious afternoon lining up at the entrance to the venue.
In Japan, there is no such thing as first-come, first-serve lineups for concerts. Tickets for medium and large-scale shows are numbered according to purchase order and the concert hall will all you entry in blocks of 10 or 20 people depending on the ticket number, called seiri bangō, 整理番号. You don't need to show up too early; the doors generally open an hour before the start of the event. If you didn't purchase your tickets early enough, you might as well show up 30 minutes in advance (and say goodbye to front-row seats). On the one hand, this system will save you the trouble of lining up hours before the gig starts. On the other, you will have to buy your tickets as early as possible to make sure you get a good seat. It's worth mentioning that the very first tickets to go on sale are usually reserved for the artist's or band's fan club, which requires an annual membership fee, and for presales using a lottery system ー but more on that later.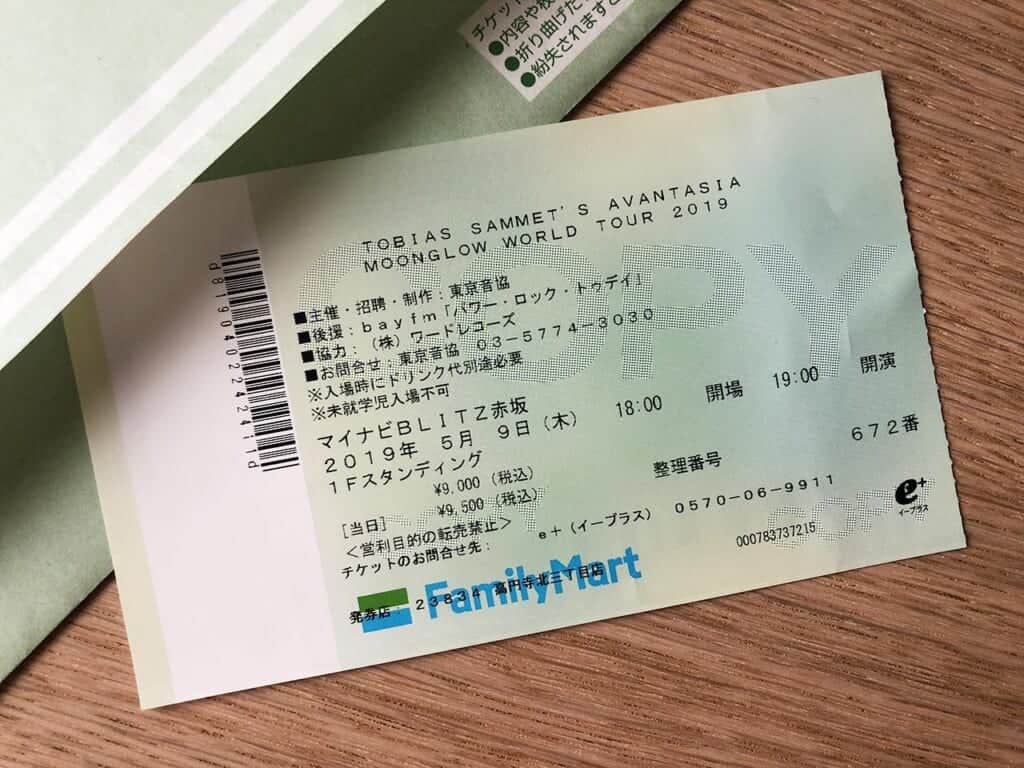 Since the seiri bangō numbers are called out loud, you should probably go over how to count in Japanese. If you're in trouble, simply show your ticket to a staff member who will help you figure out when it's your turn.
Concerts in Japan start pretty early, often no later than 7 pm on weekdays and 3 pm on weekends and holidays. These start times are not ideal for those who work late, but perfect for tourists: you can enjoy the show and have plenty of time to catch the last train and maybe even grab a bite to eat in between.
Ticket prices tend to be in line with the US market for internationally renowned pop and rock artists and smaller local artists, while mid-scale gigs and international artists of relatively niche genres (metal, hard rock, hip hop) are generally more expensive in Japan. For a J-Pop or J-Rock band, you can expect to spend roughly between 6,000 and 9,000 yen (55~80 USD). In addition to the ticket price, you will often be asked to pay another 500-700 yen for a drink ticket at the entrance to exchange for an alcoholic or non-alcoholic beverage at the venue's bar.
Most concert halls have coin lockers where you can deposit your bags and jackets for the duration of the show.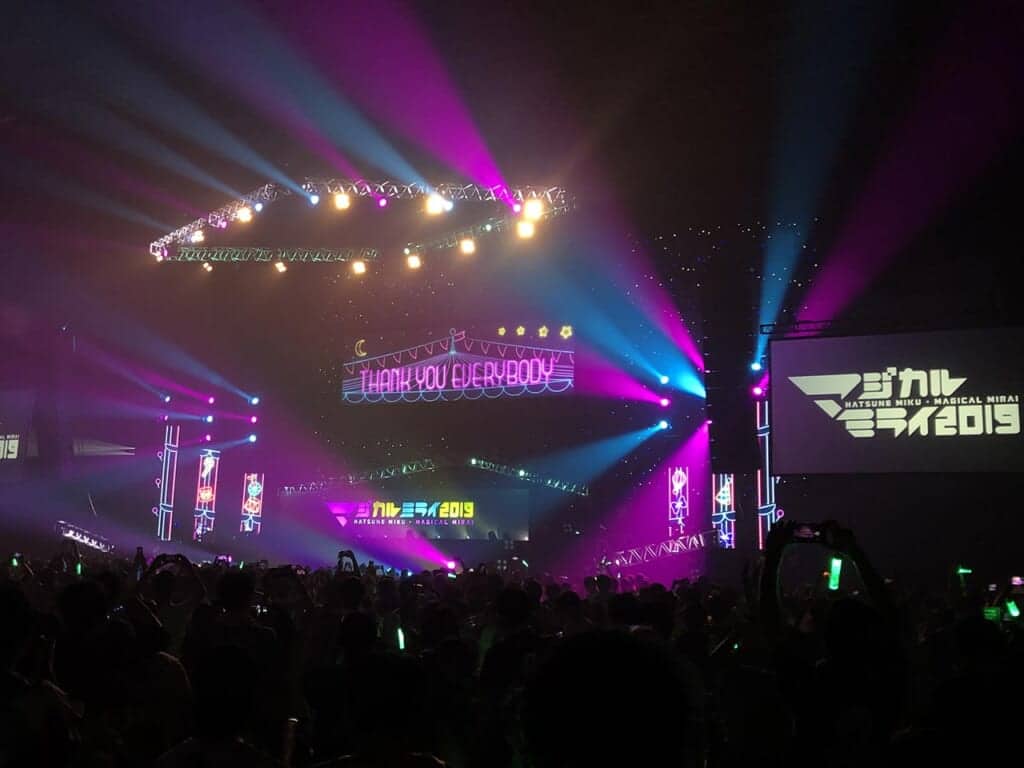 Presales and Types of Tickets
In Japan, concert tickets are sold in several stages. Usually, the sooner you manage to buy your tickets, the earlier you will get into the venue, and a greater chance to get the best seats. Exceptions are concerts with reserved seats, which are rare.
Fan club-only presale (fan kurabu senkō hanbai, ファンクラブ先行販売)
The most coveted and the very first to go on sale are the fan club-only tickets. To get these tickets, you must join the official fan club of the artist or band for an annual fee. For extremely famous artists, this presale can take place by lottery: you participate in a draw and, if you win, you will have the opportunity to buy tickets for the event.
Public presale lottery (senkō chūsen, 先行抽選)
The lottery system is the same as above, but this presale is open to the public. If you're a big fan of the artist and don't want to miss the concert, I recommend trying to buy tickets this way.
Public presale (senkō senchaku, 先行先着)
If tickets have not already sold out in the previous stages, you can preorder them. The differences with the next and final stage are the extra presale costs (usually 500 or 1,000 yen) and the limited payment options offered by some agencies (often only credit cards are accepted).
General sale (ippan hatsubai, 一般発売)
If you're planning to attend a show by a major artist, tickets may sell out before this stage or there may be a rather small number left. When in doubt, it's best to try to get tickets during one of the presale stages.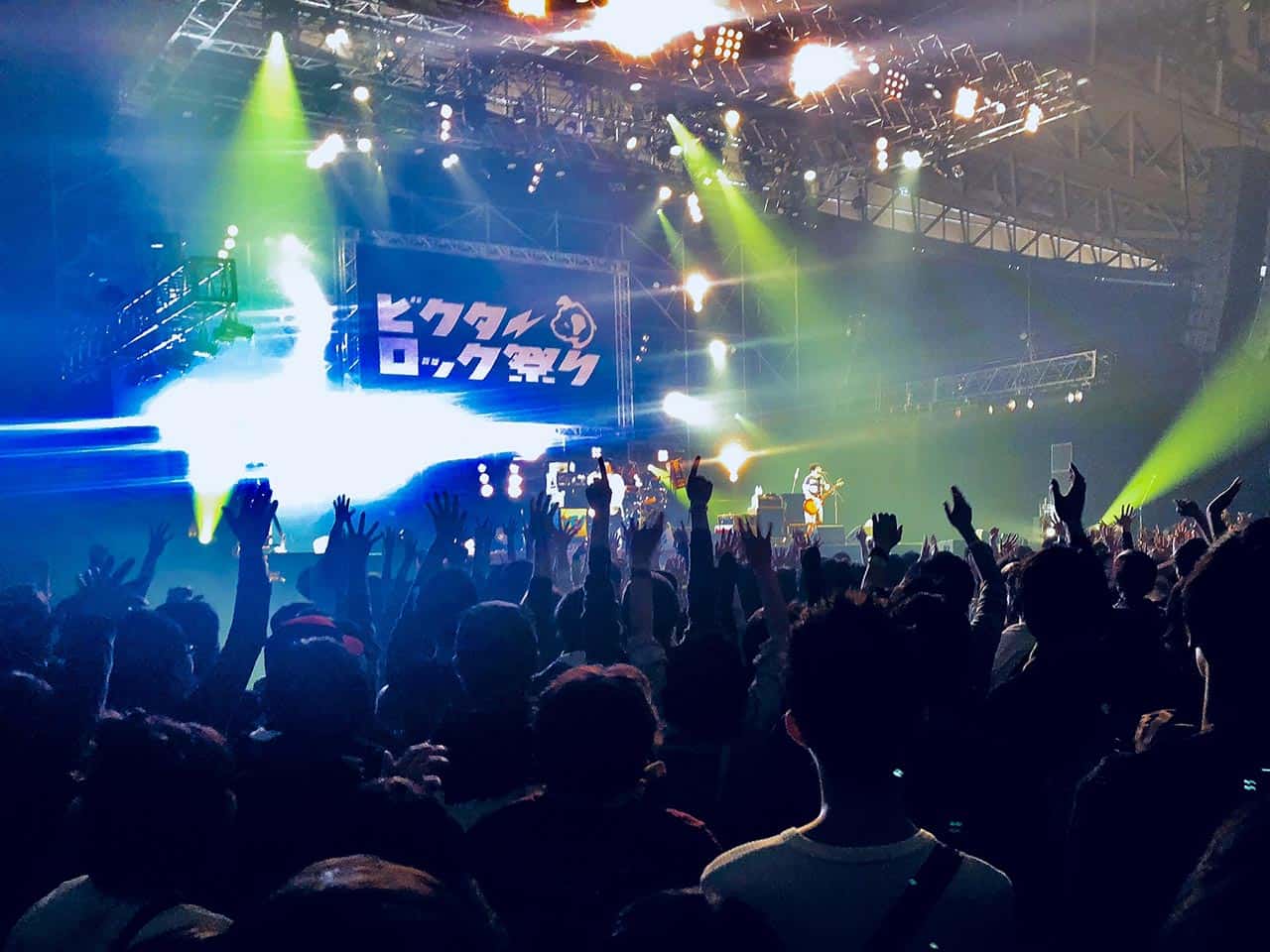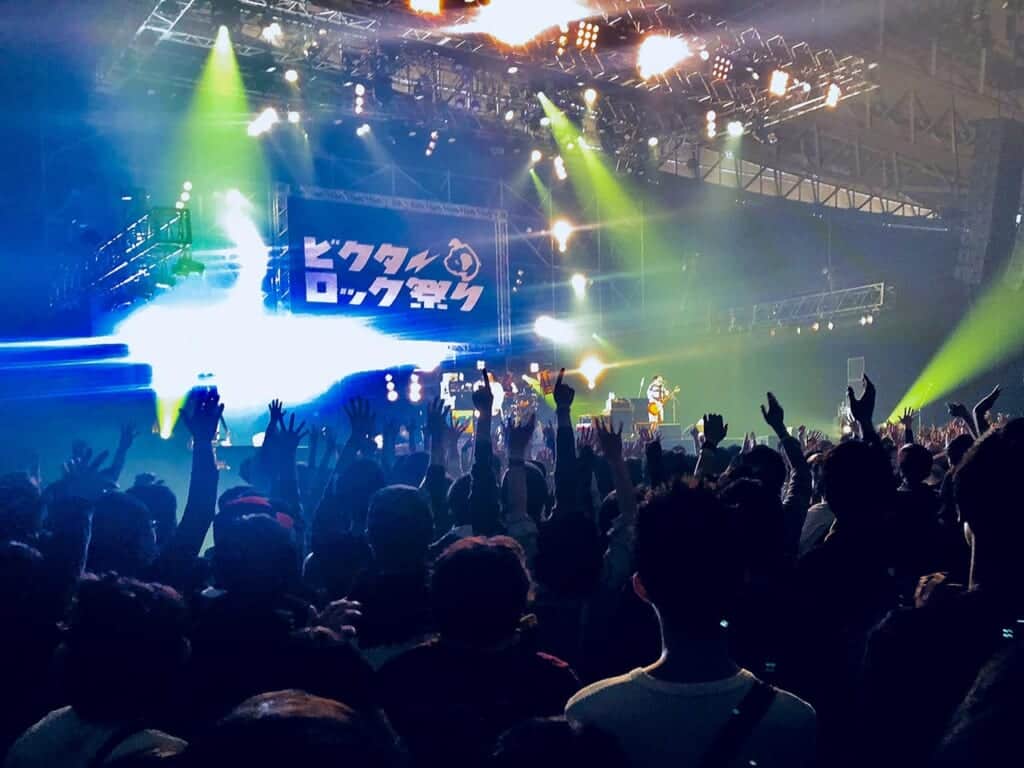 Not all of the stages described above happen for every show. For smaller gigs, there is usually only a presale stage and a general sale stage that lasts until the day of the event.
Where and How to Buy Concert Tickets in Japan
You will have several options for buying tickets for the concert of your choice. Buying tickets directly in Japan is definitely easier and more convenient than doing it from abroad, but if you don't have a friend to ask for help, you can resort to one of the online alternatives.
Buy Online Japan Concert Tickets
To buy tickets online in Japan, you can use agencies such as Ticket Pia (チケットぴあ), Lawson Ticket (ローソンチケット), eplus (イープラス), Rakuten Tickets, and many others. However, while it used to be possible to order your ticket through one of these agencies and then purchase it through a konbini (24-hour convenience store) terminal, creating a new account now requires SMS verification and a Japanese SIM card. Much more convenient is instead to buy your tickets directly through one of these terminals, without having to log in to the website.
Buy Tickets in Person
Tickets for concerts in Japan can also be purchased in person through terminals located at most Japanese konbinis, including Lawson, Seven-Eleven, Family Mart, and Sunkus. These terminals are usually in the ATM and copier area, and you'll recognize them because they lack a slot to insert money. To buy tickets at one of these machines, you must:
Find the live show you're looking to attend by entering its event code (you can check it online), or by directly searching for the artist, venue or date on the terminal's touch screen
Choose the seats (if available) and the number of tickets
Enter your name and phone number (you won't be asked to verify your number, so you can use a non-Japanese one)
Pick up the voucher with the barcode issued by the terminal, take it to the cashier and pay what you owe
Collect the "official" tickets
Among the various options, Loppi terminals (found in Lawson konbinis and in some Ministops), are probably the easiest to use, and detailed instructions can be found (in English) on the official l-tike website.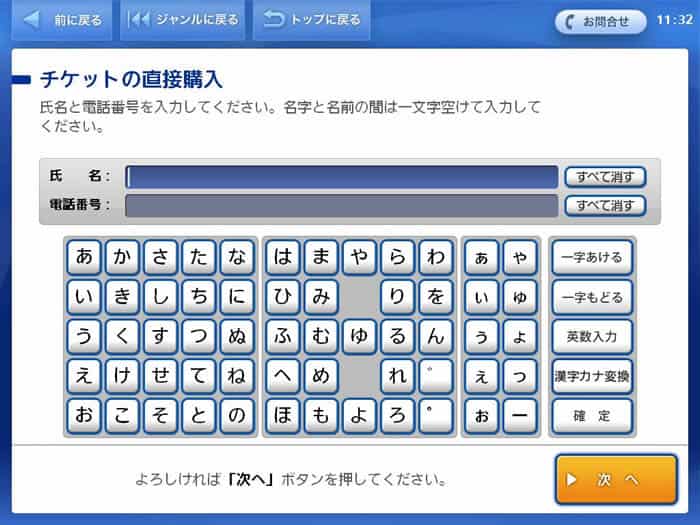 Tickets are sometimes also available for presale at the venue of the show and in some record stores such as Disk Union (sales information can usually be found on the official pages of the artist, the venue itself, or the event promoter).
For smaller gigs, e.g. of local bands, you can buy tickets directly at the entrance of the venue on the day of the show, without preordering them.
How to Buy Japan Concert Tickets from Abroad
To buy tickets for a Japan concert online outside of Japan, you can turn to an agency that sells e-tickets (electronic tickets) for major Japanese events. Japan Concert Tickets is an authorized reseller for promoters including Smash Japan, Creativeman, Avex Entertainment, IndieAsia, RedBull, and Japan Philharmonic Orchestra. It offers a great selection of tickets that can be safely purchased outside of Japan and used during your trip.
Another option is to use a proxy service (Tickets Galore Japan, fdjp.com) that buys tickets from one of the Japanese agencies listed above and delivers them to your door. These services usually accept orders via email, so simply contact them with the event details and the number of tickets you need. You will then be offered a quote that includes service fees (usually a percentage of the ticket cost) and shipping fees. Buying tickets via a proxy service is certainly more expensive than buying them in person, but if you're eyeing an event that you absolutely don't want to miss, this may be the best solution for you.
There are also some international agencies that operate in the secondary market of reselling concert tickets worldwide (Viagogo, Stubhub), so just enter Japan (or a city in Japan) in the search field to see the available options. Tickets for sale on these websites can reach astronomical prices, especially for the most coveted events, so consider all options and make your decision according to your budget and how unmissable the event is for you.
Can I Buy Japan Concert Tickets If I Don't Know Japanese?
As we saw above, there are agencies like Japan Concert Tickets that allow you to buy concert tickets through their English-language websites. The same goes for proxy services and second-hand ticket retailers. If, on the other hand, you decide to buy your tickets through a Japanese agency or in-person in Japan, it will be best to check an online guide or look for a tutorial on YouTube, as almost none of these options are available in languages other than Japanese.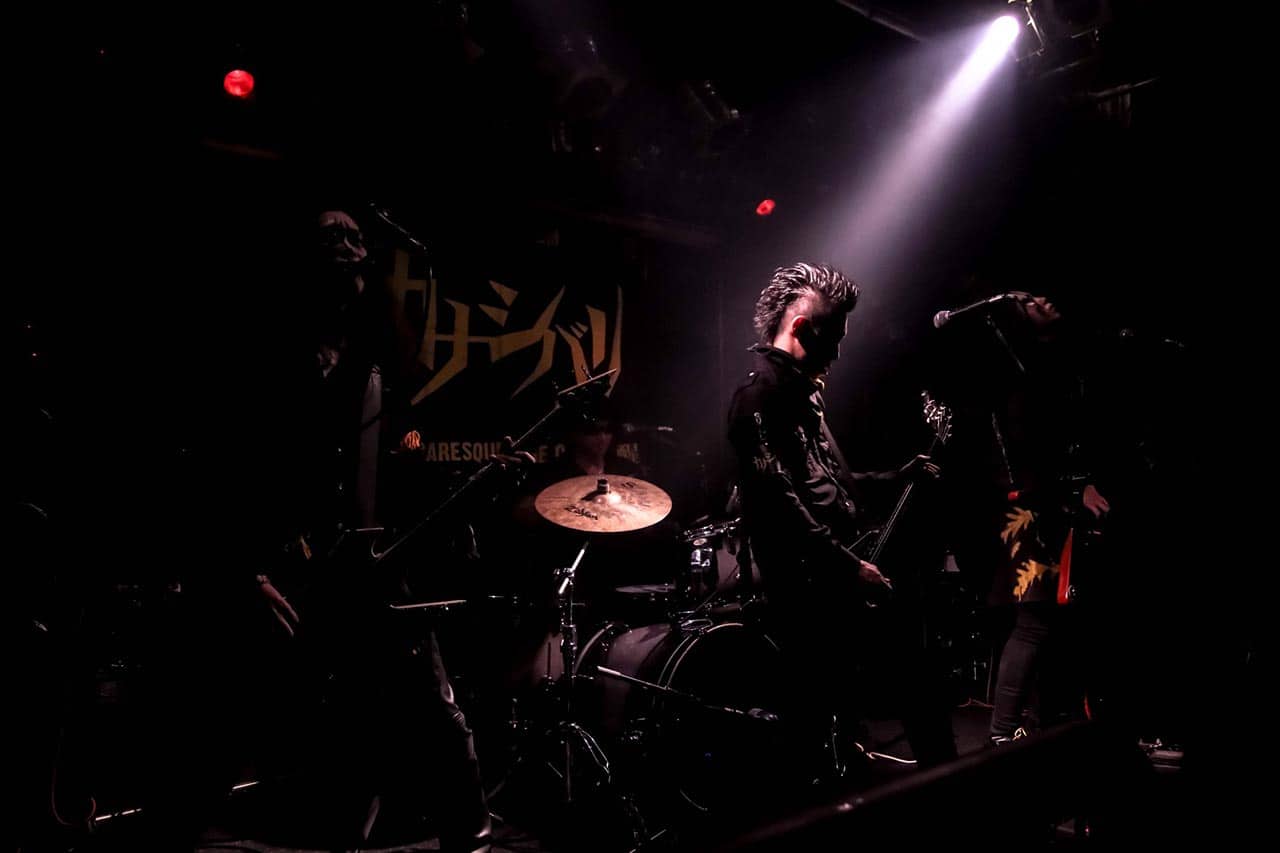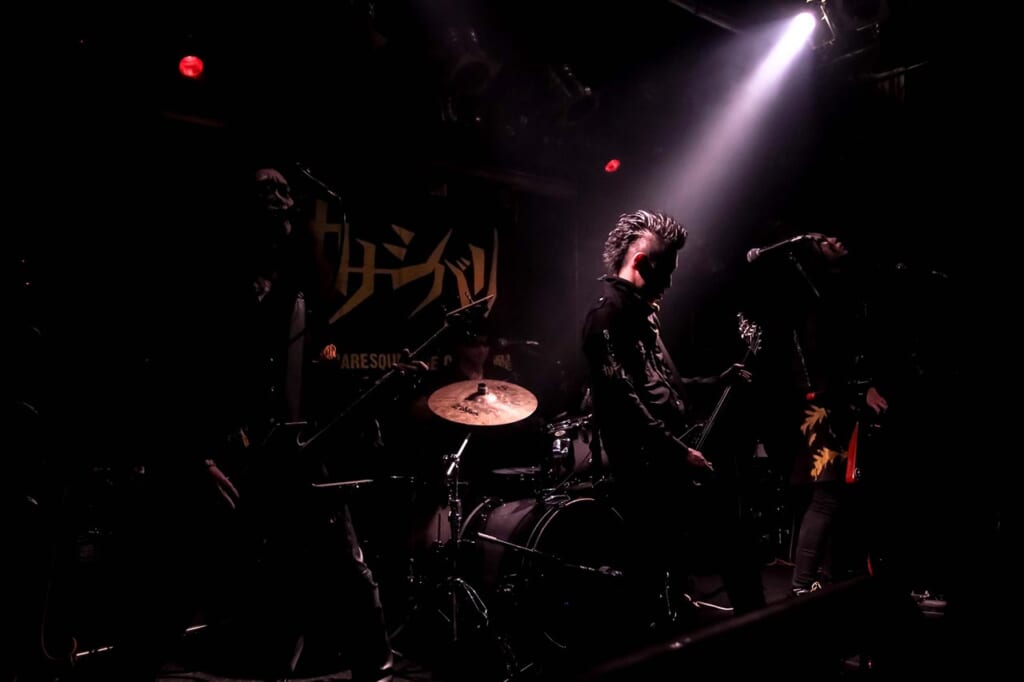 What are the Most Popular Concert Venues in Japan?
All major cities in Japan have a multitude of live music halls and arenas. Below is a list of the most famous ones in Tokyo and Osaka.
Halls and Arenas In and Around Tokyo
Halls and Arenas In and Around Osaka
Which Great International Artists Play in Japan?
Japan is a favorite destination for many artists touring in Asia. It is also home to many music festivals that welcome internationally renowned bands and artists every year. Recently, musicians who have chosen Japan for their performances include Ariana Grande, Britney Spears, Justin Bieber, Lady Gaga, Muse, U2, Kiss, Iron Maiden, and many others.
Then there are artists like Taylor Swift who chose Japan as the only stop on the Asian leg of her tours. Her two Tokyo Dome shows combined, which concluded Taylor Swift's Reputation Stadium Tour in 2018, boasted an audience of more than 100.000!
Whether you want to take the chance to see your favorite artist on tour in Japan or just spend one night at a small neighborhood live house, attending a live show in Japan will be the icing on the cake of your trip. Buying tickets for an event so far away may seem like a titanic task, but as we have seen in this article, the options make it easy and you will surely find the one that suits you. Enjoy your nice concert!