Thankfully, there are several pairs of galoshes (rubber boots) reserved for guests by the door in the rear of Ganiba Onsen 蟹場温泉, a necessity as we crunched 100 meters through the now thickly falling powder snow to the outdoor bath, which is one of several mixed-gender baths in Nyuto Onsen.
I have to admit I was a little apprehensive about this writing assignment, sharing a mixed-gender bath with complete strangers. I imagined the awkwardness of interviewing a fellow bather while keeping my eyes firmly fixed on some object in the distance. As fortune would have it, it was a situation I never had to resolve because the snowy weather and tight schedule made bathing a bit of an inconvenience for myself and my companions, who were in charge of getting me from location to location that day. Still, it would have been nice to use one of the regular segregated baths in this famous onsen region of Japan!
There was, however, a family from Taiwan enjoying the shocking contrast between the hot, slightly acidic water of the bath and the feeling of snowflakes landing and melting on their exposed heads and arms. They were gracious enough to let us take a modest photograph of the incredible beauty and peacefulness of this bath, at the edge of the forest and out of view of any other structures.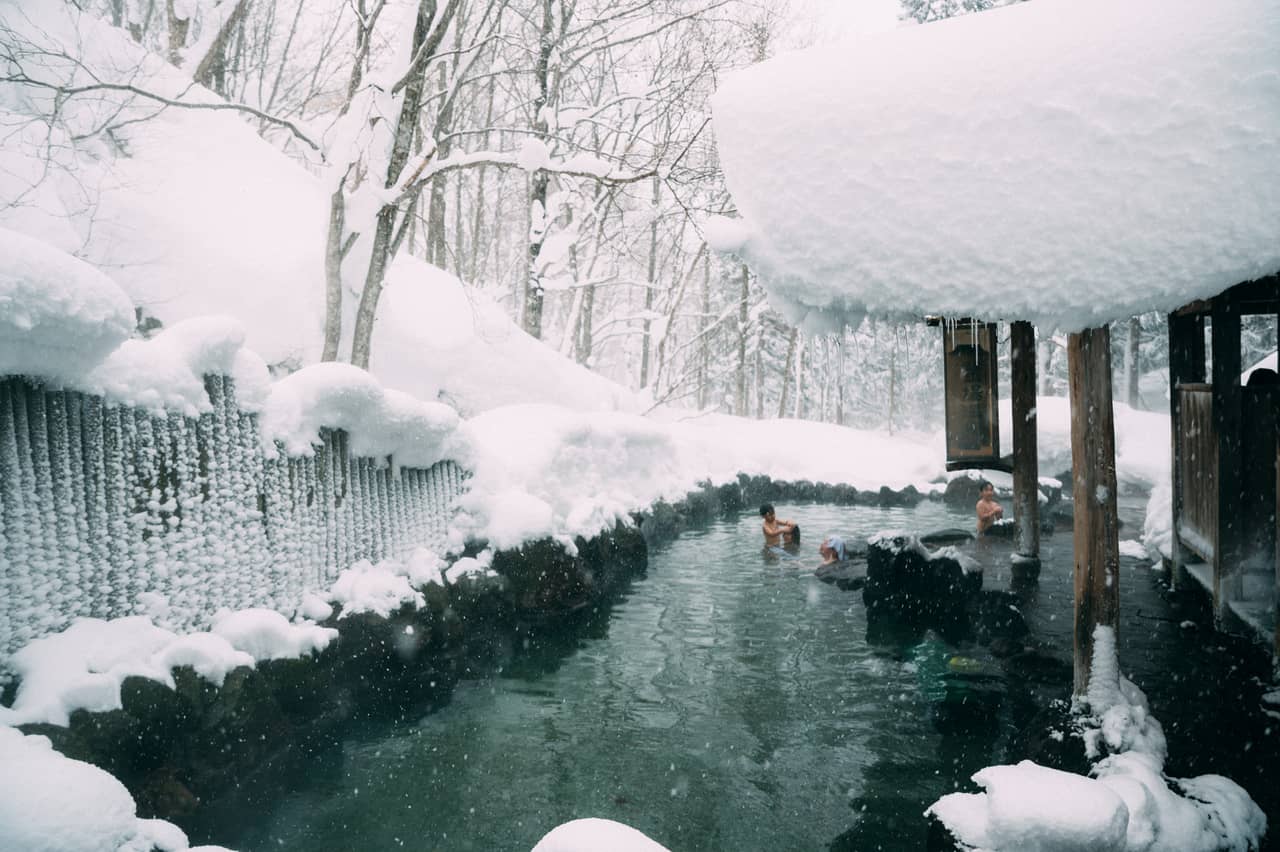 Ganiba Onsen and the others in the area don't just have mixed gender outdoor bathing. There are gender segregated baths too, most of them smaller indoor onsen, but a few outdoors. But mixed gender bathing is becoming such a rarity in Japan, there are few places that you can enjoy the experience, let alone a cluster of mixed gender onsen within a few minutes of each other.
The Nyuto Onsen Seven
Nyuto Onsen 乳頭温泉 is the collective name for seven ryokan in the mountains northeast of Lake Tazawa 田沢湖 in Akita Prefecture 秋田県. (One of the ryokan is a second location for Tsurunoyu, a ryokan we will introduce later.) As none of the facilities are directly related, each ryokan uses different hot spring waters of the area, many of which are slightly acidic and milky in color. The semi-opaqueness of the water is another quality which makes it a bit less nerve-wracking to bathe with strangers of the opposite sex. Like all onsen, healing properties are attributed to the compounds found in the water, from relieving eczema to lowering your blood pressure, making onsen bathing a healthy way to relax.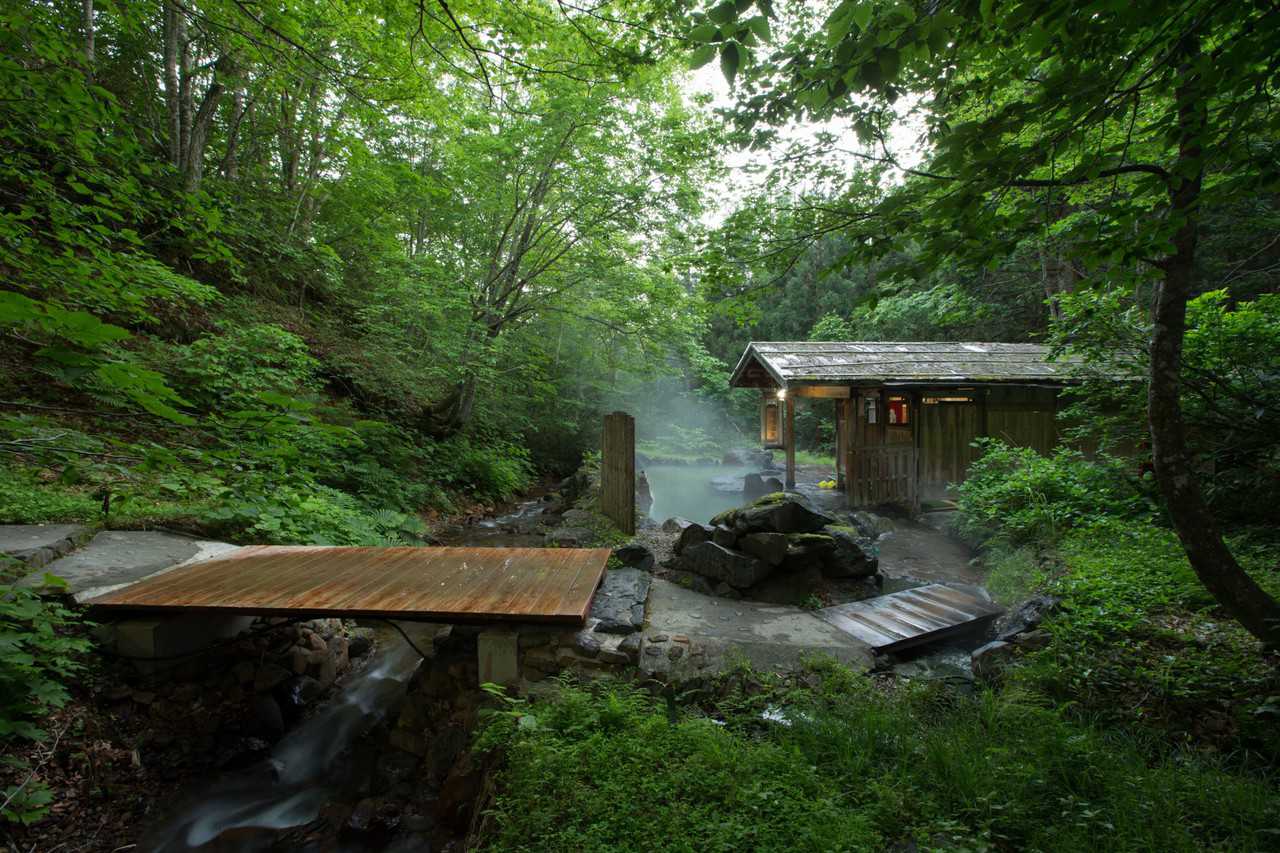 The onsen themselves are private property of each of the ryokan they belong to, but you do not have to be a guest at the ryokan to use them. If you are a guest of any of the ryokan, you can purchase the Yumeguri Pass for 1800 yen, which allows you a single use at each one of the other ryokan's onsen for up to a year. On top of that, a shuttle bus that connects the various ryokan is available for you to use for free. If that is too much onsen for you, a pass for a single onsen will run about 600 yen.
Some of the ryokan of Nyuto Onsen were founded over 300 years ago, quite the history for this quaint location in rural Semboku city. Tsurunoyu, the oldest and most picturesque of the Nyuto Onsen ryokan, attracts a wide range of visitors, both international and domestic, and it is often fully booked for weeks in advance. None of the ryokan would be disappointing however, as each has their own character and rustic appeal of the remote mountainous area that surrounds them.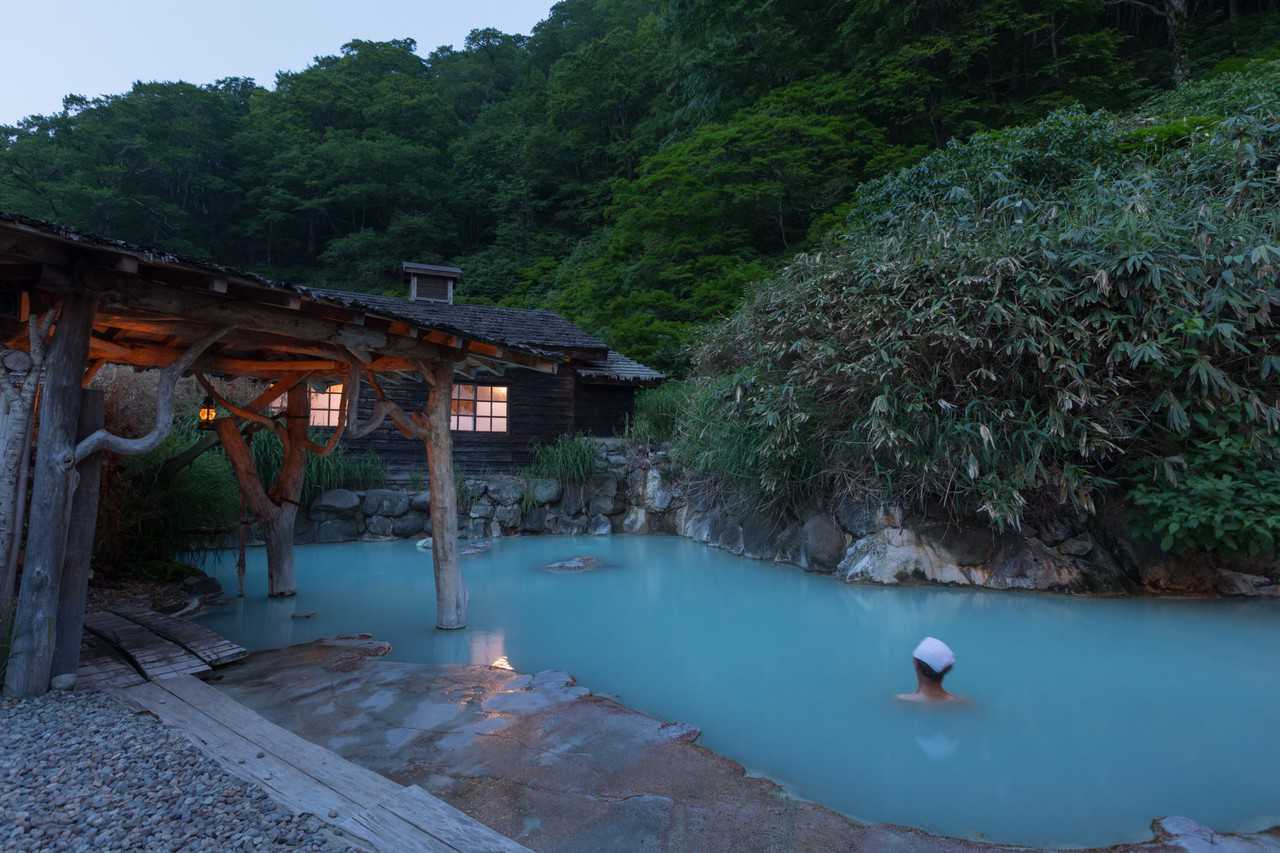 Tsurunoyu 鶴の湯 – The Elder Statesman
Not to diminish the reputations of the other ryokan of the area, but Tsurunoyu has a reputation that is nearly legendary in Japan. That prestige lends itself to long lead times for reservations, however, so be warned if you intend to stay here; they take reservations up to six months in advance.
That said, there is a reason this ryokan has been in business for 330 years. The meals, often centered around a hot pot cooked over your own personal hearth, are works of art using local mountain ingredients. Other specialties include sumibiyaki, foods grilled over Japanese oak and of course a seemingly endless variety of sake, which Akita is known for.
Walking up to Tsurunoyu from the parking lot, we noticed a strange little snow hut built next to the main path. Ducking into the low entrance we found a little snow shrine had been built for the "god of water", who had apparently been working overtime that day with some help from the "god of cold".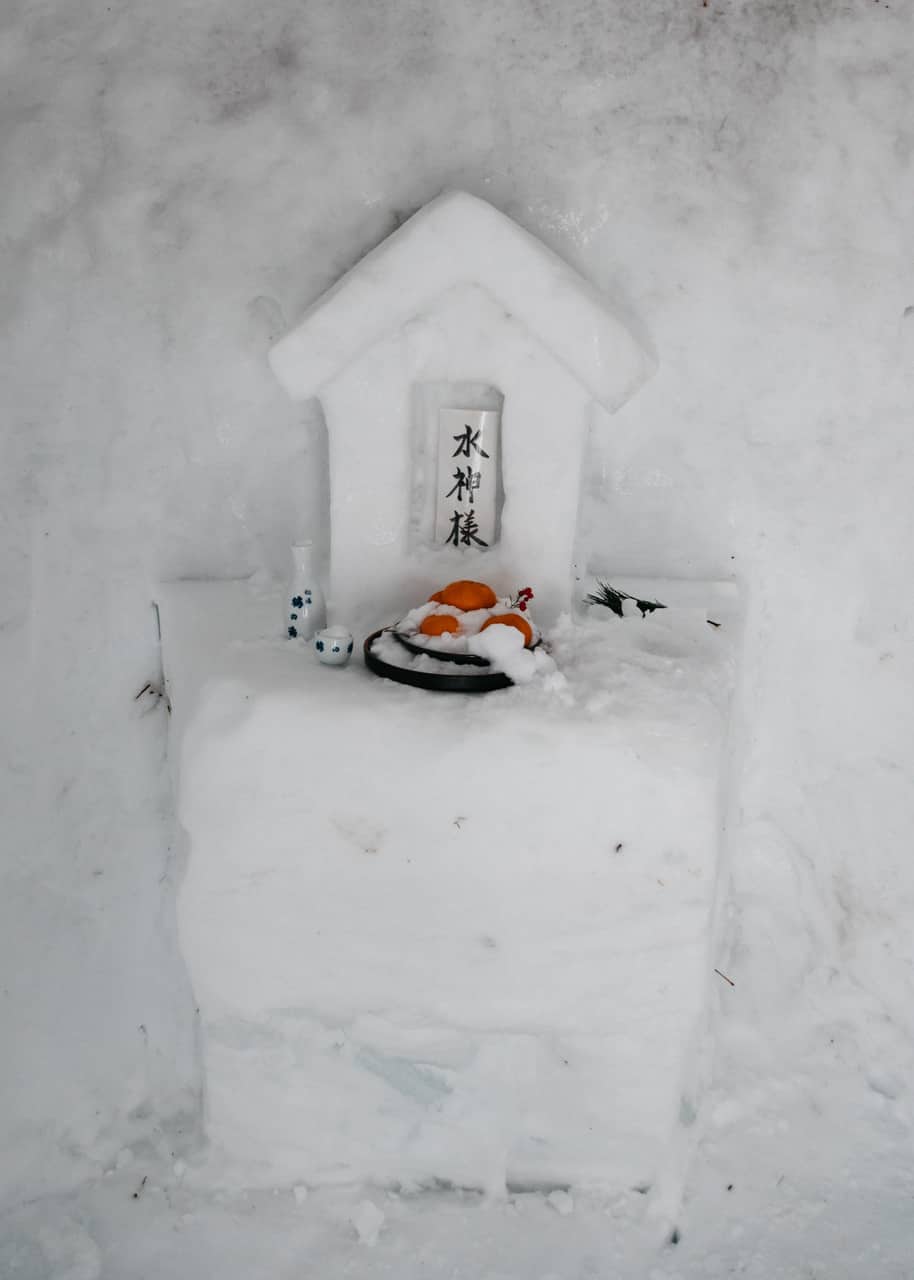 The heavily falling snow did not prevent guests from using the lovely outdoor onsen, however. After agreeing to allow us to take a photograph, they playfully chided us with calls of "10,000 yen fee!". We simply walked away and they could not come after us because, well you know, they were naked.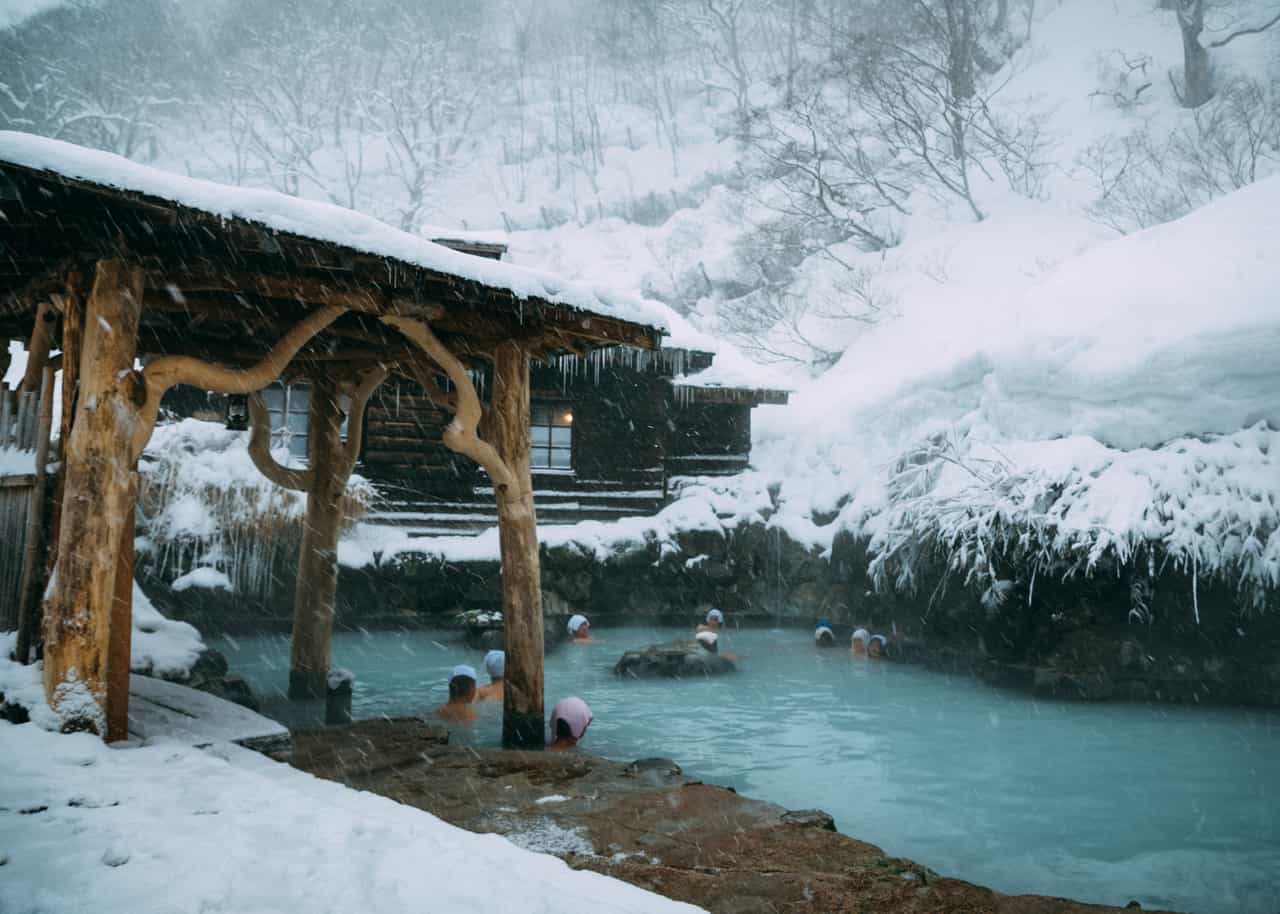 The chief of Tsurunoyu greeted us in the reception area and gave us a quick tour of the compound. Aside from the spacious private rooms, many with their own irori hearth to warm them, Tsurunoyu has a novel way to chill their beverages. Or is it to warm up their beverages? In this weather, it's hard to tell.
With the snow falling quite heavily and sunset almost upon us, we thought it would be prudent to head back down the mountain from Tsurunoyu to our next destination before the gods of water and cold changed our plans for us.
Onsen for All Seasons
Many people come to Nyuto Onsen in the winter to experience outdoor, mixed gender onsen bathing, perhaps imagining life as a Nagano snow monkey. But the Tazawako area is lovely in all seasons and there is no reason to wait until winter to enjoy one of Nyuto Onsen's amazing ryokan. Autumn colors in the Akita mountains are dazzling and Spring brings the world-class cherry blossoms of nearby Kakunodate into bloom. In the summer, countless varieties of wildflowers grow in huge patches on Akita-Komagatake, just above the onsen area.
With so much to see in the area, including the eternally blue Lake Tazawa and the samurai town of Kakunodate just minutes away, a stay at Nyuto Onsen isn't just a soak in a bath, it's a memory that never fades away.
Getting to Nyuto Onsen
It's hard to imagine, but thanks to magic of the Akita Shinkansen line, Semboku city, where Nyuto Onsen is located, is just three hours from Tokyo. The sleek and modern Komachi trains bring passengers to and from Akita Prefecture over 25 times per day. Best of all, if you have purchased a JR Rail Pass, the cost of your ticket is already covered by the pass. Take the train from Tokyo Station to Tazawako Station where you can catch a bus to the Nyuto Onsen area that leaves hourly and takes about 50 minutes.
Sponsored by Semboku City