If you're a lover of nature and hiking and are curious to travel Japan off the beaten path, Yamanashi prefecture is the perfect destination to consider for your next journey. Located only a few hours west of Tokyo by train, Yamanashi is home to beautiful mountains, forests, and parks with a wide choice of activities for all outdoor adventurers.
Whether you're looking to explore the Japanese Southern Alps by mountain bike, spend a couple of days camping and fishing, take in the area's breathtaking sceneries while leisurely sailing down the Katsura River, or just relax in a hot sauna while gazing at Mount Fuji, this prefecture has got you covered. Come along and discover four of the best outdoor activities to try in Yamanashi's great outdoors!
Go Mountain Biking Through the Minami Alps in Yamanashi
When enjoying Japan's outdoor wonders, hiking trails may be many people's go-to. But what if you took a mountain bike instead? The volunteer organization, Yamanashi Mountain Bike Yamamoribito (山梨マウンテンバイク山守人), brings together all types of mountain bike enthusiasts and offers tours and a rental bike service to both locals and tourists. Over the years, they've made it their mission to convey the history and culture of mountains by restoring old mountain roads, with their biking trails currently spanning 15km with a 1,000m elevation from point to point.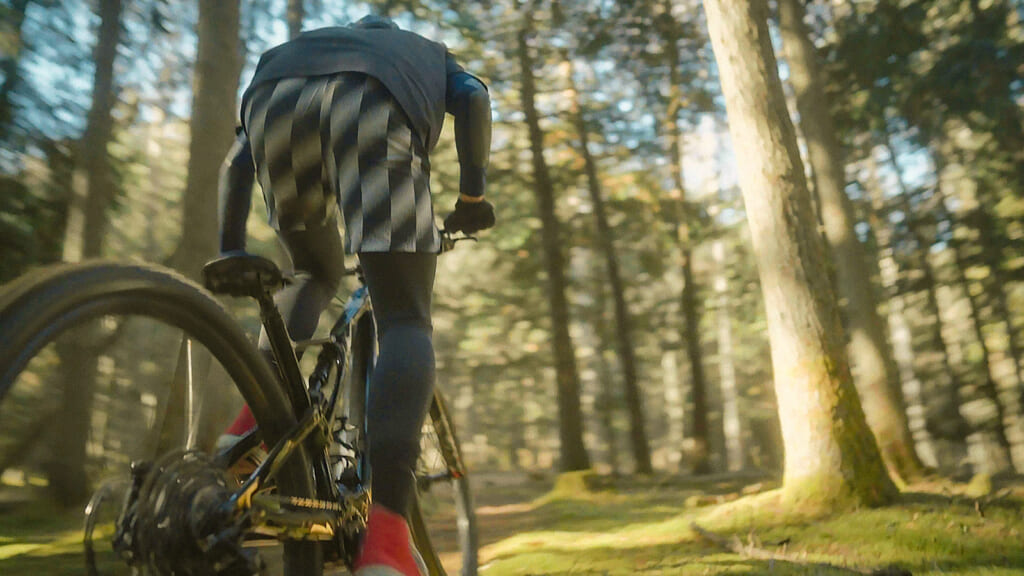 Tours start at two people and include an introductory lesson on riding a mountain bike, a forest trail ride experience, and even a downhill session for the more daring. If you're unsure about your riding abilities, don't worry: the content of each tour is completely customizable based on your preferences and level of experience.
If the idea of exploring mountain trails by bike appeals to you, but you want a little more freedom, a rental bike service is also available, with a selection of pedal bikes, e-bikes, and kids' bikes, as well as biking equipment. It should be noted that online reservations are required at least four days in advance.
Angler's Dream Fishing in Shishidome River
Whether you're a seasoned fisherman or a beginner, the Shishidome River (鹿留川) in Tsuru City (都留市) is the ideal place to spend a relaxing day outside in Yamanashi. This river is famous for fly-fishing and a popular weekend destination for anglers fishing for char, yamame trout, and salmon from the mountain stream. Upstream is a quieter mountain stream, joined by a fantastic autumn leaves season we recommend visiting in the fall to enjoy the beautiful foliage.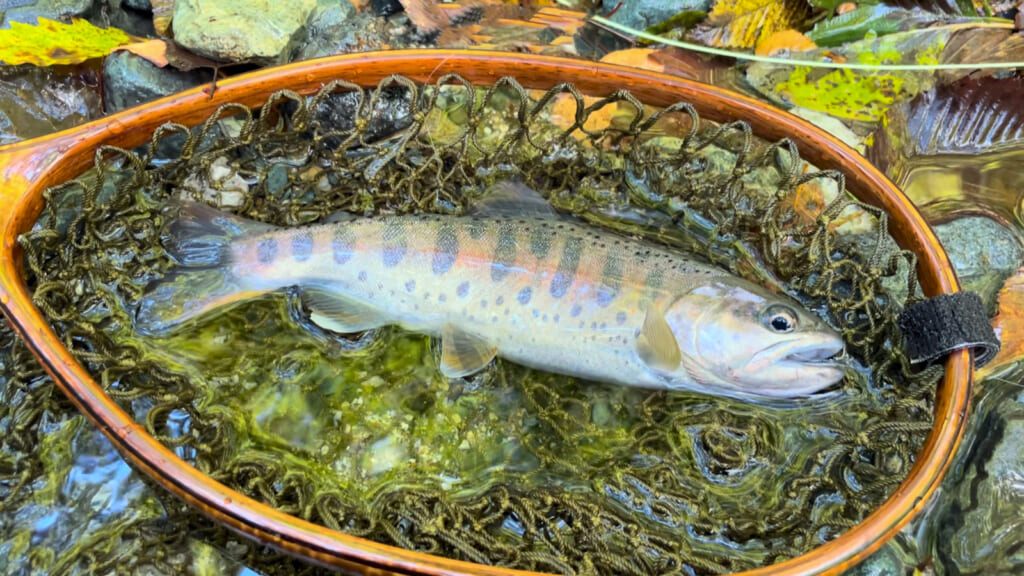 Shishidome is easy to access from the Tokyo metropolis, so you won't be surprised to see weekend and holidays visitors taking advantage of Shishidome River's fishing and natural excursions.
Go on a Sightseeing Boat Ride Down the Katsura River
You shouldn't miss the boat sightseeing tours of the Saruhashi Bridge (猿橋) in the Katsura River gorge. This architecturally unique structure is designated as a Place of Scenic Beauty in Japan. Since its construction in the 18th century, it has inspired several paintings, including Hiroshige Utagawa's ukiyo-e woodblock prints.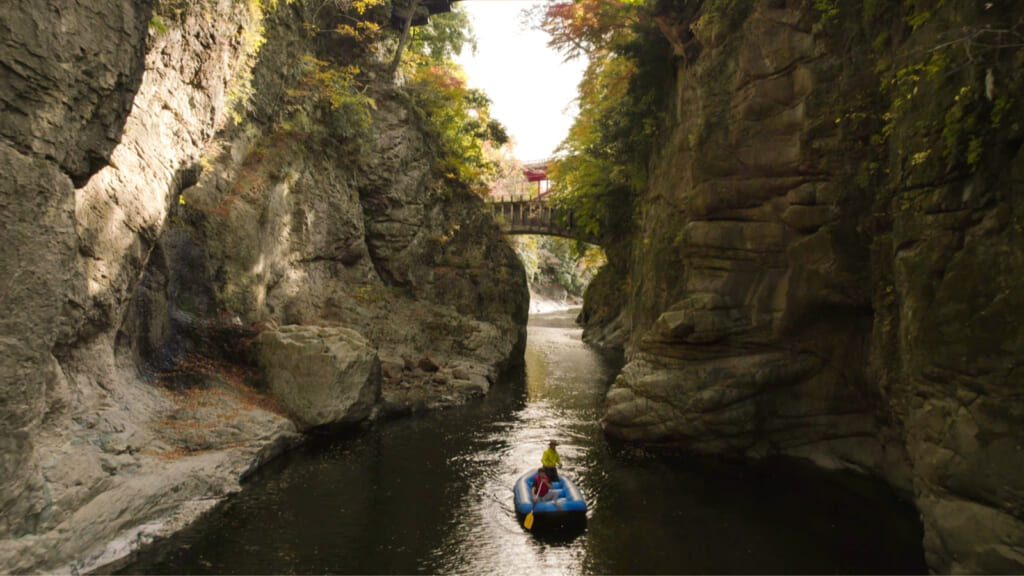 Sightseeing boat tours are available for one to four people in April, May, November, and October. All necessary equipment for the tour (life jacket, boots, hat, etc.) is included in the tour fee.
Warm Up in an Outdoor Sauna at Lake Saiko
After a day of hiking, biking, fishing, and boating, there's nothing like a revitalizing hot sauna to recover from fatigue. Yamanashi is often called the 'Holy Land of Outdoor Saunas' and you can easily find many outdoor sauna venues in the prefecture. The shores of Lake Saiko (西湖), one of Japan's cleanest and quietest lakes with a view of Mount Fuji, are also home to the Koyodai Campground (紅葉台キャンプ場), where you can enjoy an outdoor sauna while surrounded by a picturesque landscape.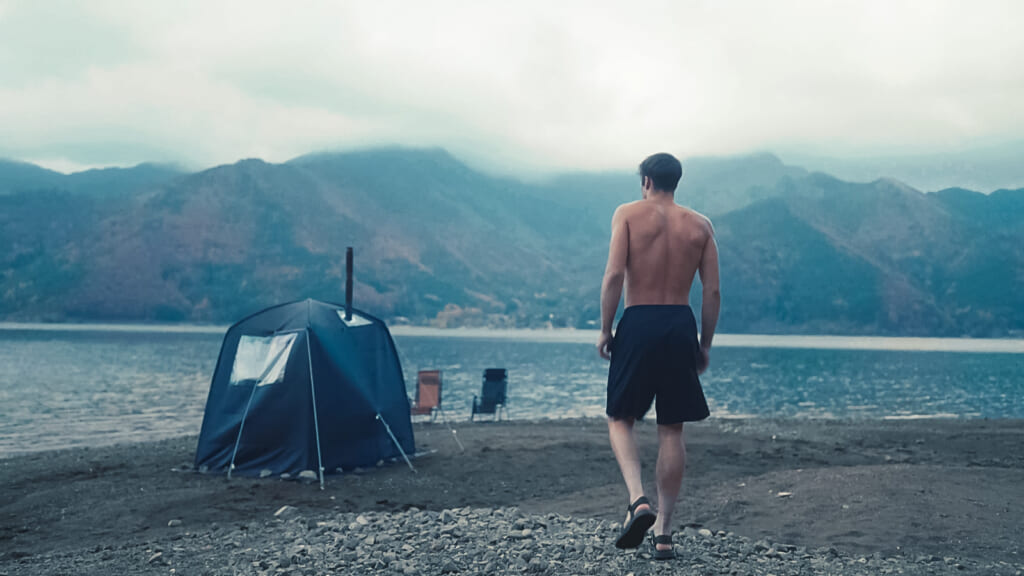 The sauna tents in the campground range in temperature from 80 to 100 degrees Celsius, making them suitable for both beginners and sauna veterans and can accommodate up to four people. The Momijidai Campground also has restrooms, campfire pits, a rental store, shower rooms, Wi-Fi, and other amenities, so you can even rent a tent and stay the night for maximum fatigue recovery.
Read our six-part travel journey for more ideas on what to see and do in Yamanashi!
Unleash the Adventurer in You in the Great Yamanashi Outdoors
How to Get to Yamanashi Prefecture
The Yamanashi main center is easily accessible by JR Tokaido Shinkansen from Tokyo, Kyoto, Osaka, and other major cities. Kofu Station and Otsuki Station are two main hubs from which you can travel to all other destinations via local trains and buses. For those on a tighter budget, the Azusa or Kaiji Limited Express from Shinjuku Station can take you directly to Yamanashi's Kofu Station via the JR Chuo Line (approx. 1 hour and 30 min.) An even cheaper option is to take one of the highway buses departing from all major cities in Japan.
Yamanashi Prefecture is a hidden gem just waiting to be discovered. Hiking, fishing, and camping are only a few of the outdoor activities available in the area. Follow our guide to take some inspiration for your next journey, or pick a starting point between the spots we recommended and enjoy exploring from there. Happy adventuring!
Sponsored by: Yamanashi Prefecture