With 71% of the Japanese archipelago covered by mountains, Japan is the ideal country to go camping (from May to October). What's more, camping has always been popular amongst the Japanese as they have a particular appreciation of the outdoors. Although they may only be camping for a few days, the Japanese take camping seriously; they arrive well-prepared and often reserve their campsite well in advance. Japan has around 3000 campsites nationwide and the majority are managed by public entities. After spending nearly 2 months exploring the camping routes, I am ready to share with you everything I have learned about camping in Japan!
What You Need To Know Before You Camp in Japan
In Japan, wilderness camping is prohibited. However, there are a few free sites that are detailed on Free and Cheap Campsites (in English). It should be noted that many are located on wasteland or municipal parks where you are allowed to pitch your tent.
The sites are equipped with toilets but the majority, including the more expensive ones, often don't have showers. The ones that do are usually coin-operated (we paid both 200 yen for 3 minutes and 100 yen for 15 minutes so prices vary widely)
In Japan, you don't need to bring your own roll of toilet paper. All of the campsite's toilets are well-stocked and the one time I did not find any paper in the toilet, a roll was provided at the entrance!
On your arrival at the campsite, you are usually asked to complete a short form with your personal information. Think ahead and have your passport number to hand!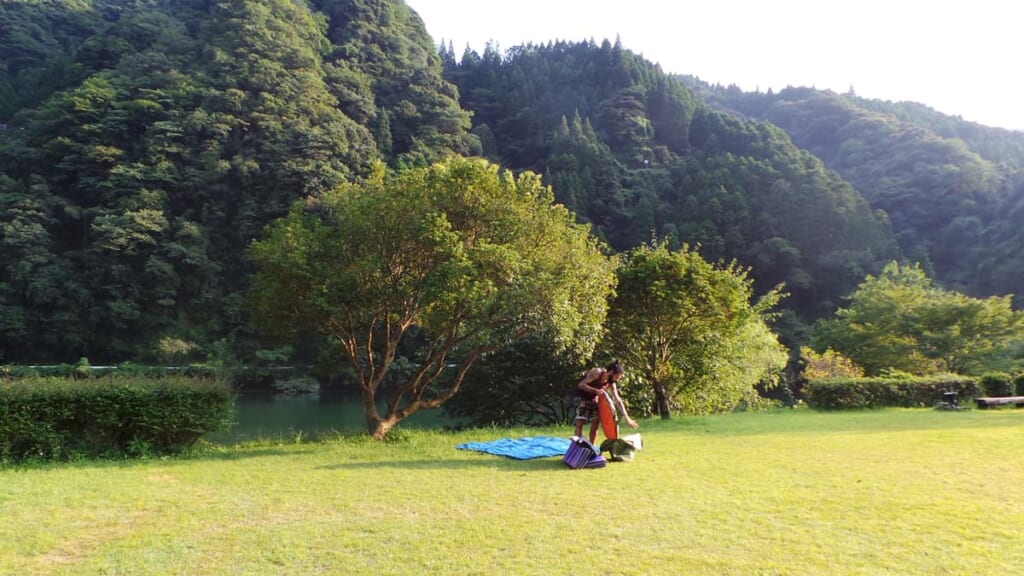 How much does camping cost in Japan?
Camping in Japan is an excellent way to save money. Accommodation in Japan can be costly and, if you're not careful, you will spend a large part of your budget on nights in a hotel or guesthouse. A night in a campsite for two people with a tent and a car will be on average 1500 yen.
Each campsite has a different way of calculating the cost of your stay. Some sites base it on the number of people, whereas others charge according to the tent or if you have a car. It's worth bearing in mind that you can rent many camping accessories at the larger campsites, which brings us to the next point.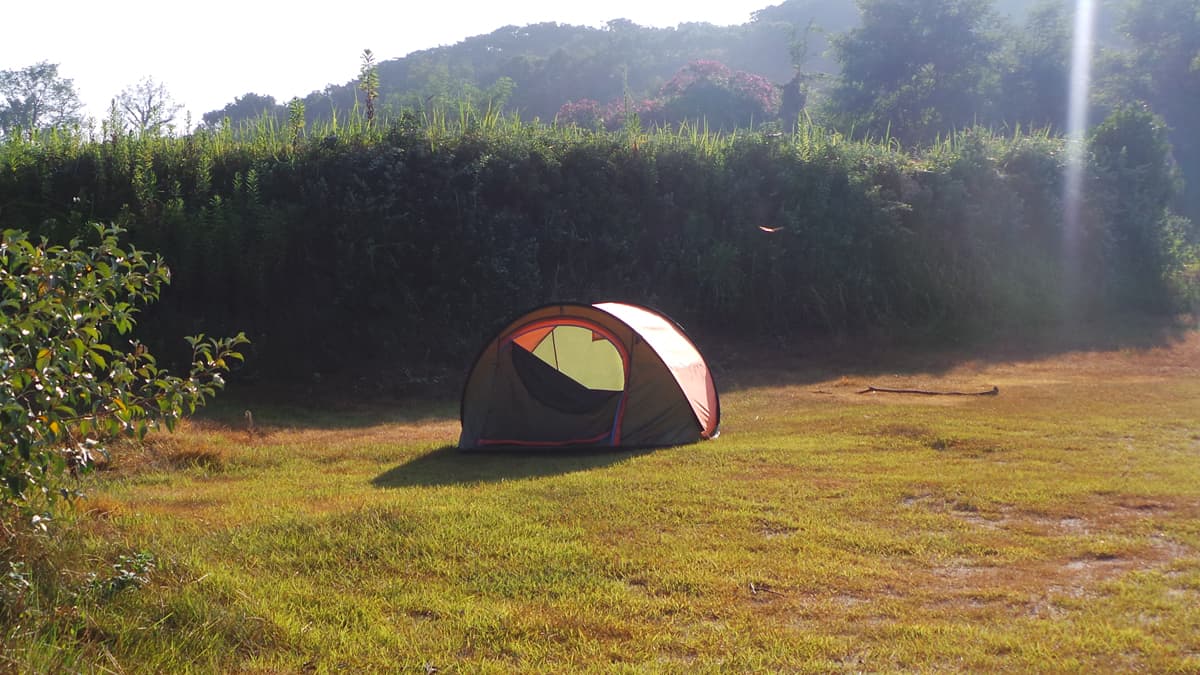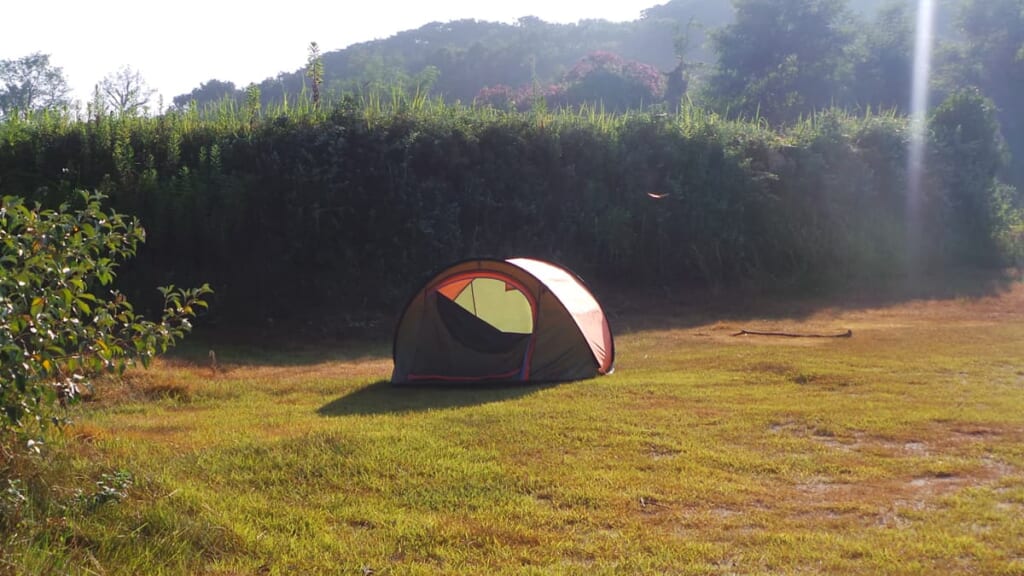 What To Bring Camping in Japan
The minimum that you need to bring is a tent, a sleeping bag and a ground mat. But if you want to camp in the summer in the southern part of the country (anywhere from Kyoto to Okinawa), it is very hot and I would recommend replacing the sleeping bag with a simple sheet. You should also consider bringing a tarpaulin (you can find them in Daiso or any 100 Yen shop) to protect or dry off your tent before repacking it after a period of rain (which is common during the summer months).
If you have your own equipment, I would advise you to invest the money that you saved from camping into renting a car. Most of the campsites are difficult to access by public transport and it is often the case that you arrive to find a site closed and need to consider a plan B. Check out our article about driving in Japan to find out how to drive with a license from your own country.
If you don't have a driver's licence or the means to rent a car, I would advise you to travel light and rent the necessary equipment when you get there. The larger campsites have all the necessities available for a few hundred yen: tents, barbecues, and foldable tables, and even washing up supplies.
The Japanese tend to camp because they love the outdoors rather than to save money. They generally stay in the same spot for a few days in order to get a taste of living in nature. But they like to make it comfortable! Their enormous tents are covered by marquees to provide shelter for their small, improvised kitchens and are the ideal set up for an evening barbecue. With all their paraphernalia and equipment, it's easy to feel like an amateur when camping next to them. Our poor, flimsy tent – which took a matter of seconds to put up – and our two ground mats, made us question our capabilities as campers but we nevertheless persevered!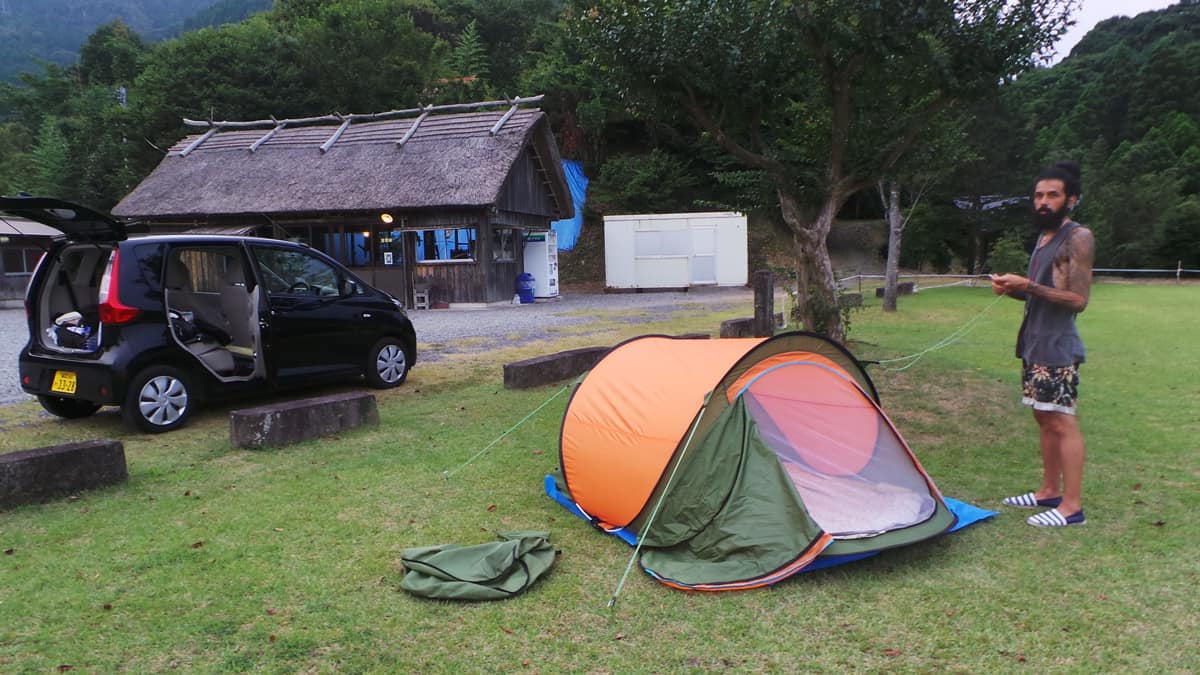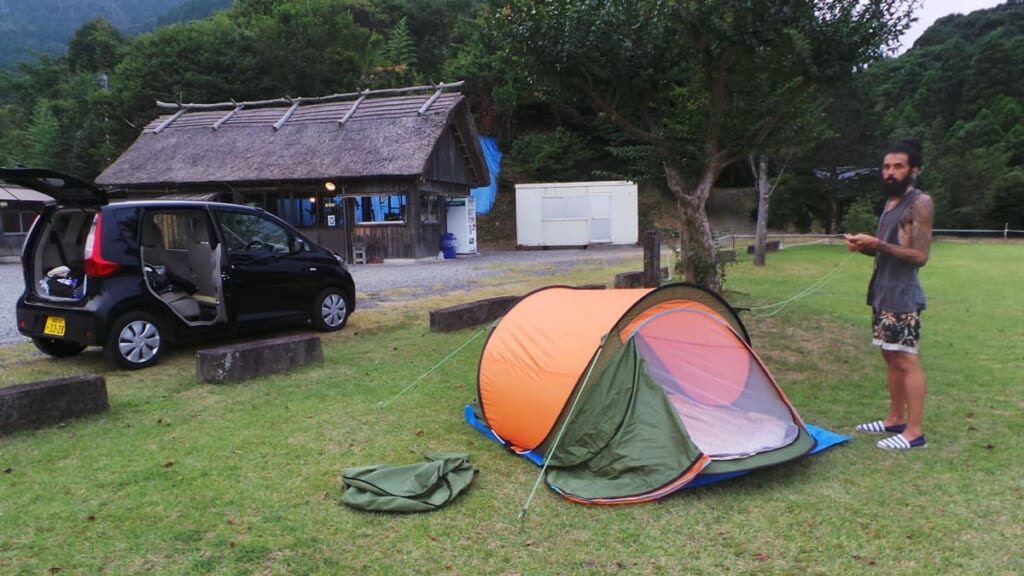 Lastly, if camping makes you think of the aroma and taste of delicious grilled meats, you should know that many of the sites come with makeshift kitchens and fixed barbecues so you don't need to rent a separate one. They are the perfect way to enjoy eating in the outdoors. Be sure to bring a lighter or matches and some skewers (all widely available in the big supermarkets).
How To Find A Campsite in Japan
The website of Japan's National Tourism Organisation, suggests a few campsites and sorts them by region but you can also find them in this document. However, I found Google Maps is the best way of finding campsites. Once you have confirmed your travel itinerary, type "campground" into the application and it will come up with those closest to where you are going. You will often be able to find the address and telephone number for the campsite (telephone numbers are often more useful to enter into GPS navigation systems).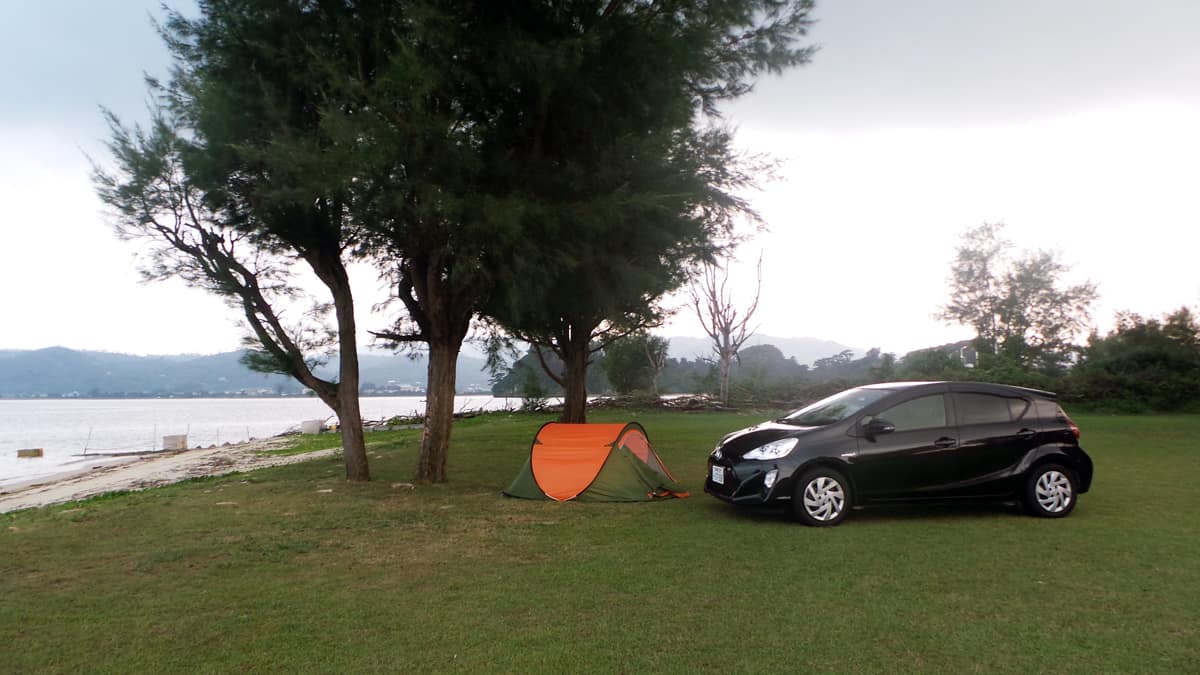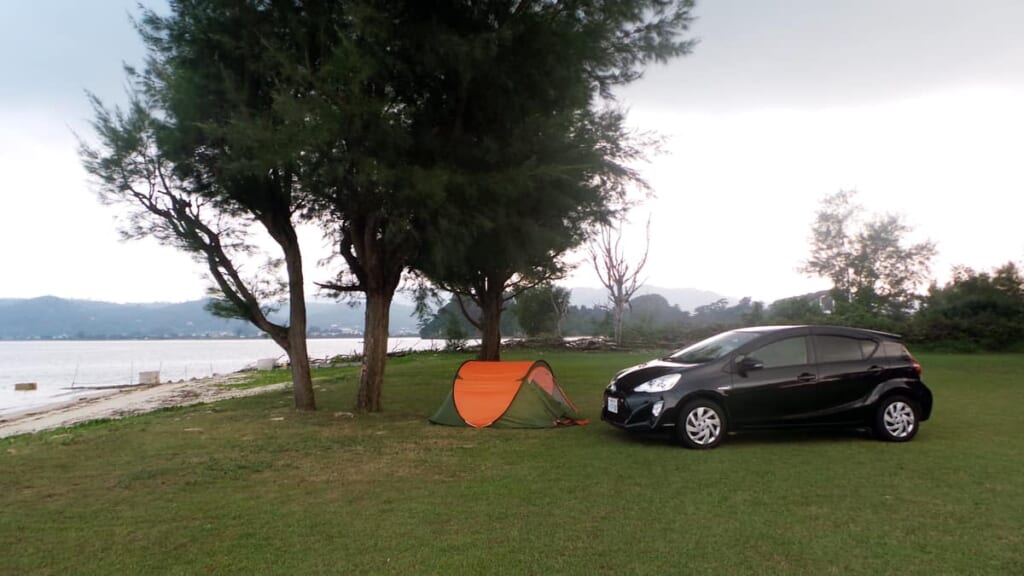 If you choose to camp during the busiest periods (such as Golden Week or summer holiday period from approximately July 20th to August 15th), you should plan ahead to avoid any disappointment. In fact, it's advisable to call ahead in any case, to check that your planned site is open.
If you find yourself without a campsite, you can go to the local town hall for further assistance to find out where you can camp for free. If you are in a public park or in the middle of the open, you can always pitch your tent but ensure that it does not bother anyone and be respectful of others who might also be using the area.
Before pitching your tent, check your surroundings carefully and ask yourself some important questions. Are you sure that you are on public land? Is it clear of environmental hazards, such as ant's nests? Will you be in the shade when the sun comes up in the morning? Above all, ensure that you tidy up after yourself and take your garbage and recyclables away with you.
Lastly, you should know that most campsites have bungalows. The price is often higher than tent sites but they are still much cheaper than a night in a hotel. It might be an ideal compromise for those on a small budget who are put off by staying on a campsite. However, it is certainly necessary to reserve this option in advance.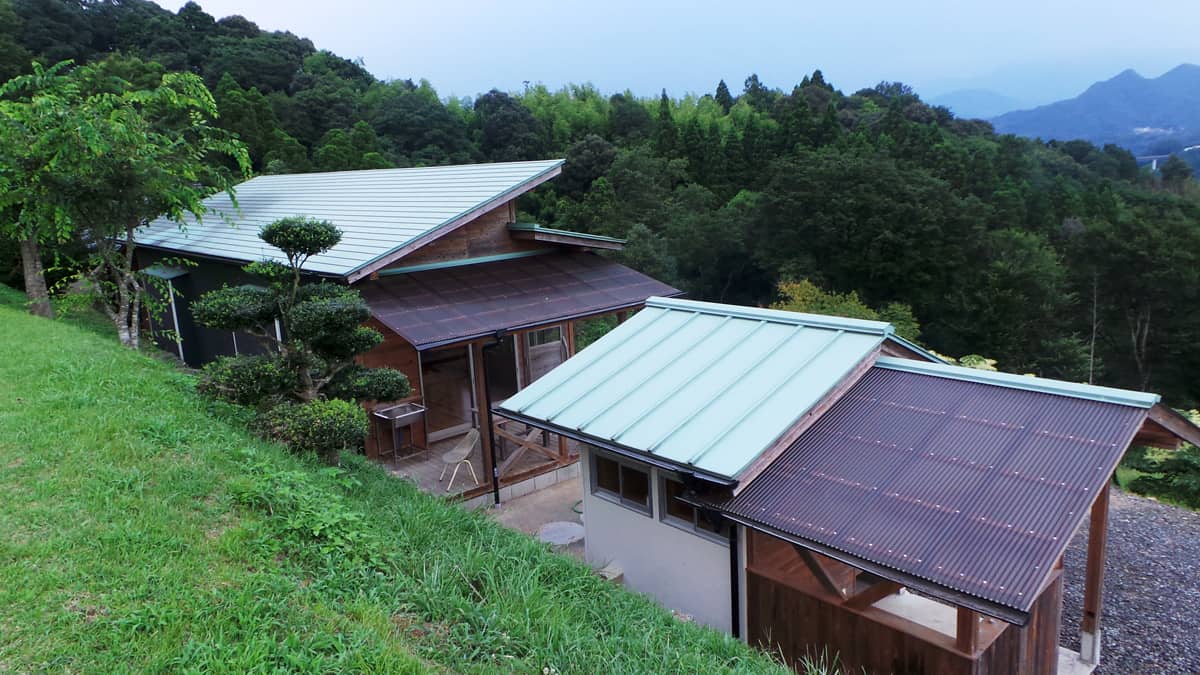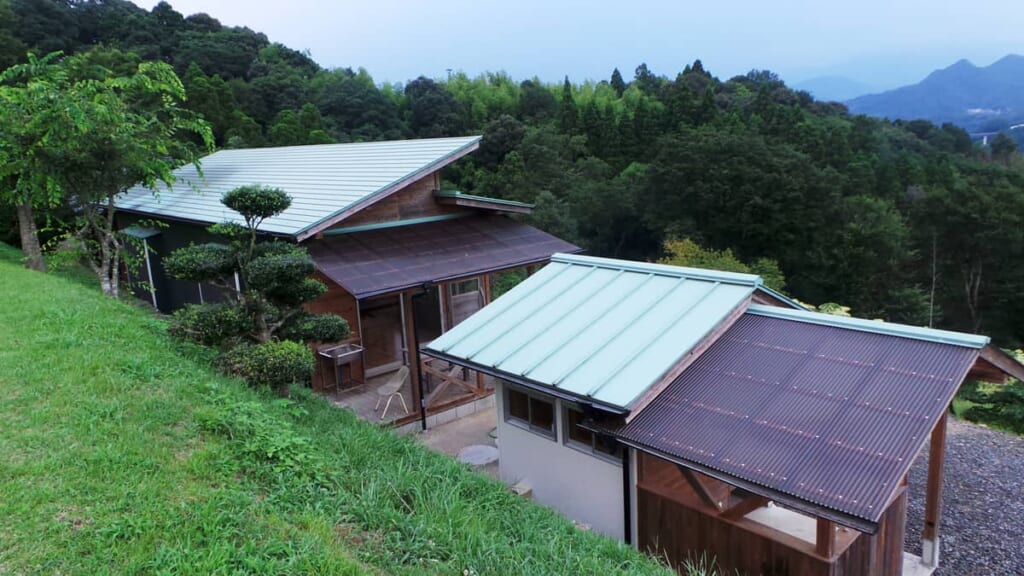 And there you have it! You now have everything you need for camping in Japan! We hope that you will experience the true joy of camping Japan! You will quickly discover that the views from your tent in the morning are often the most magnificent moments of the day and will make for excellent memories of your trip.