The TAKUMI Road runs along Japan's western coast, collectively known as Hokuriku, from Fukui to Niigata prefectures. It is centered around historically significant shipping ports on the Sea of Japan, connecting the towns where the culture, history, and traditional industries are still cherished. The long, cold winters often trapped farmers and artisans at home with little to do, so they began to learn and practice secondary skills, which developed into new industries. Forging and metalwork were skills they could use to make tools and household goods for themselves, so these were the most commonly learned trades. But there were also products created to support old Japan's religious and cultural aspects, such as copperware and paper.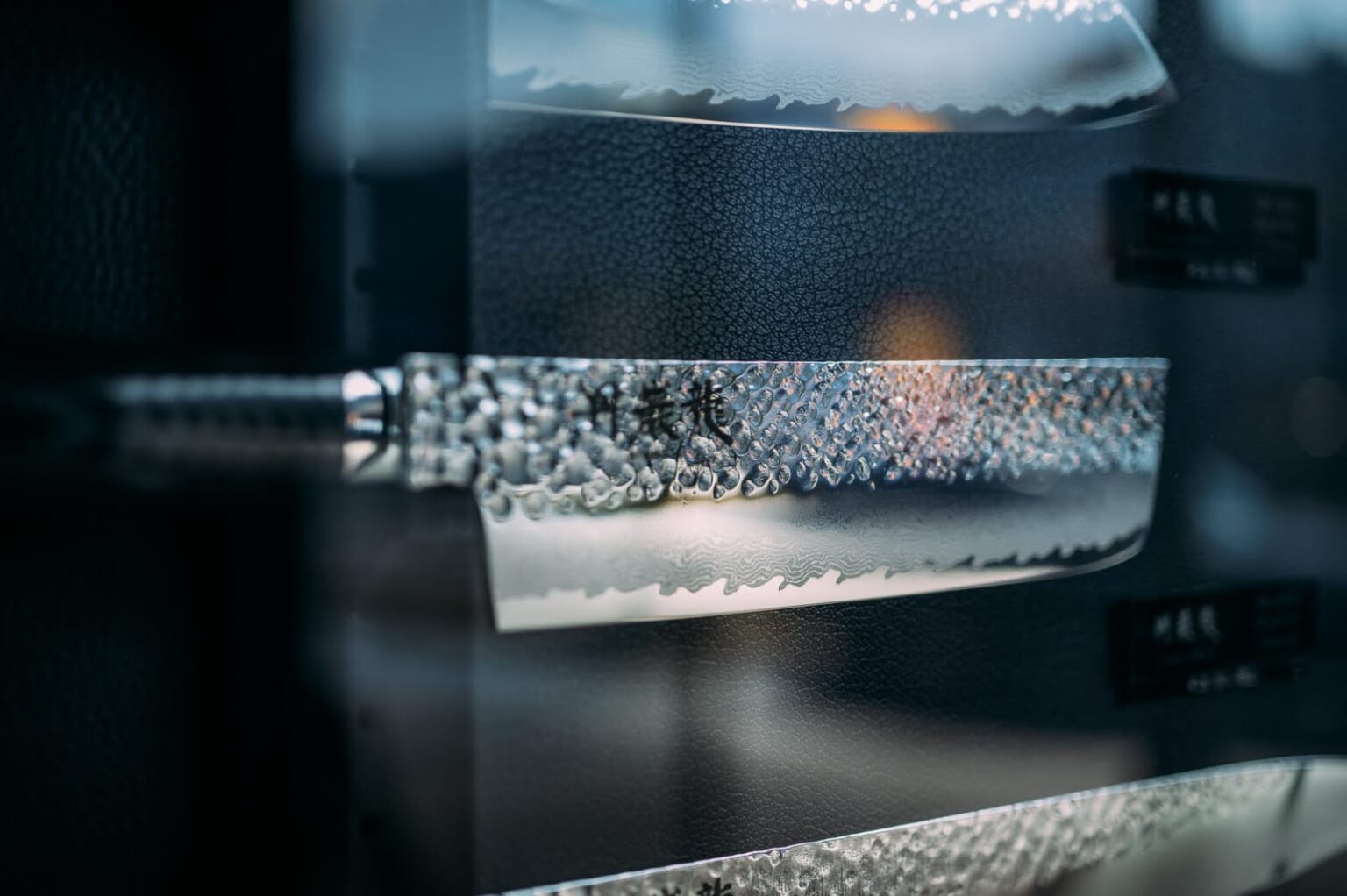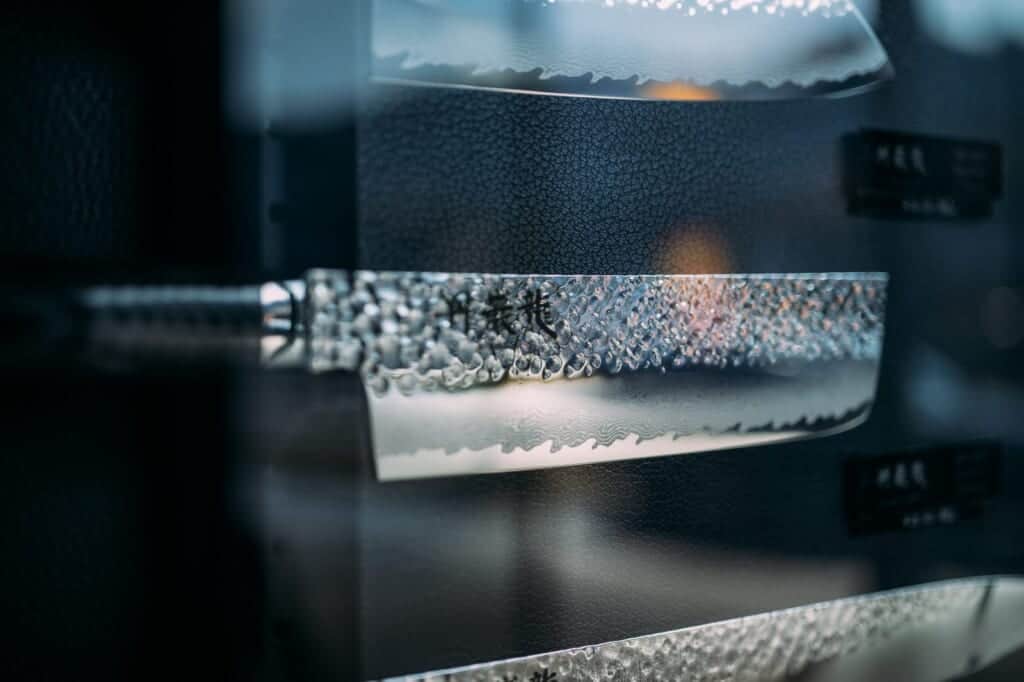 The word "takumi" means "master artisans": an individual whose advanced crafting skills are revered even by fellow craftsmen. The master craftsmen of the TAKUMI Road focused mainly on creating things that would last and not on the quantity of the tools they could make. This tradition of valuing quality over all else remains a source of pride to the artisans in this region even today.
This fixation on quality is what makes products from the TAKUMI Road near legendary in other parts of the world. World-renowned chefs come here for a chance to meet the master blacksmith whose name is engraved on their favorite santoku. Production managers marvel at the attention to detail given at every step of the manufacturing process of precision scissors and wire cutters. Here is where you come to tap into the hearts and minds of what makes Japanese quality coveted worldwide.
The southwestern part of the TAKUMI Road includes the cities of Takaoka in Toyama Prefecture and Echizen in Fukui Prefecture.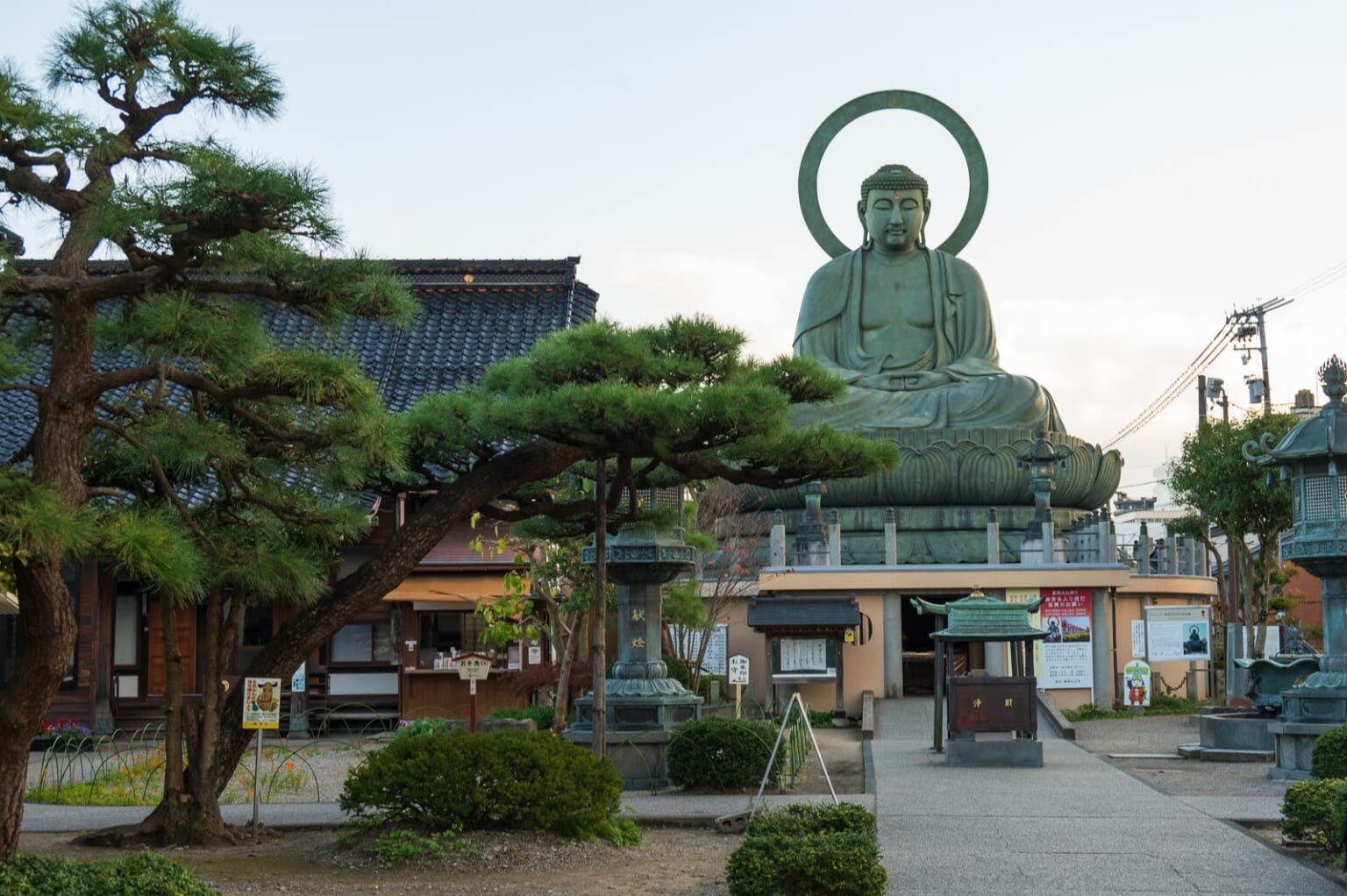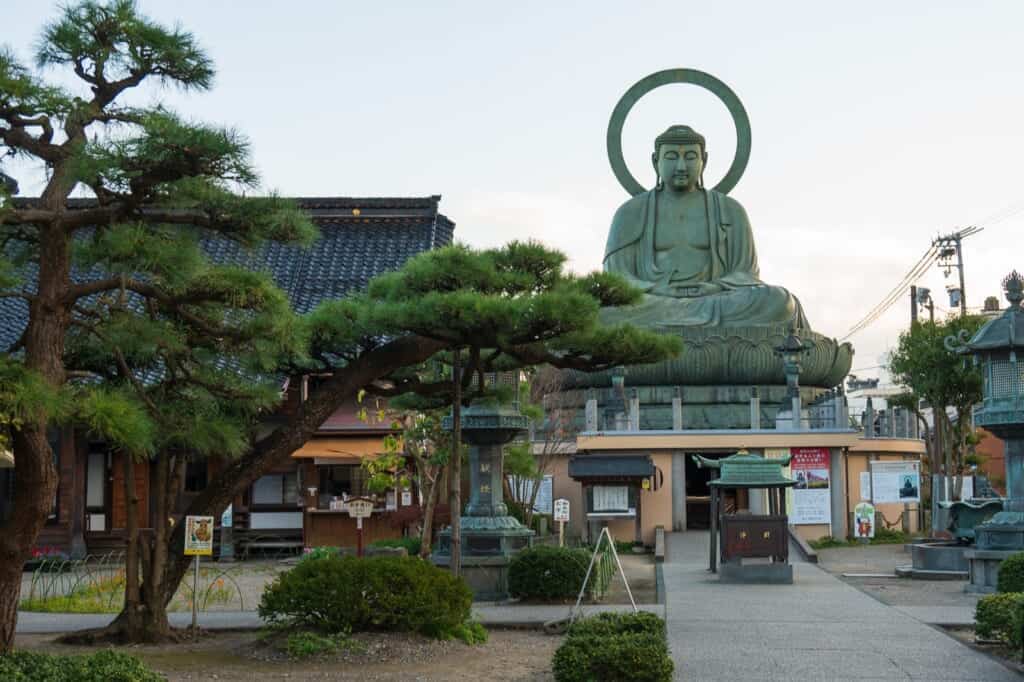 Takaoka City is situated between the rugged mountains of Toyama Prefecture and the spectacular Toyama Bay, one of the most beautiful bays in Japan. In 1609, the Maeda family, who ruled the Kaga domain from nearby Kanazawa city, established Takaoka as a castle town around Takaoka Castle, designed by renowned samurai lord Takayama Ukon, who was a close friend of the Maeda family. Although the castle no longer exists, Takaoka retains an atmosphere of a castle town. With over 400 years of history, many traditional crafts, festivals, and historical buildings still remain.
In the first two days of my journey down TAKUMI road, I witnessed this fine craftsmanship behind the scenes, including a visit to a hammered copperware workshop, traditional forging, and the making of the finest hairdressing shears in Japan. For the next two days, I will continue this craft-infused expedition through Takaoka and Echizen cities.
Day 3: Discover the Master Craftsmen of Takaoka Through Its Unique History
Start your adventure with a tour of the visually striking Takaokayama Zuiryu-ji Temple. Built by the third lord of the Kaga domain, Maeda Toshitsune, in honor of his father Toshinaga, Zuiryu-ji stands out for its beautifully designed symmetry. From the main gate, you'll be able to see how the main gate, temple gate, Buddhist Hall and Dharma Hall are each in perfect alignment. From the square opening of the temple gate, the Buddhist Hall is framed precisely by the doorway like a work of art framed on a wall. Corridors around the buildings are also entirely straight, giving the temple an extraordinarily balanced and peaceful atmosphere. Although I have visited a multitude of temples around Japan, Zuiryu-ji stands out to me as a truly unique example of historic architecture. Perhaps it should be no surprise that the temple gate, Buddhist temple, and Buddhist Hall have all been designated national treasures of Japan.
Takaokayama Zuiryu-ji Temple 35 Seki-honmachi, Takaoka City, Toyama Prefecture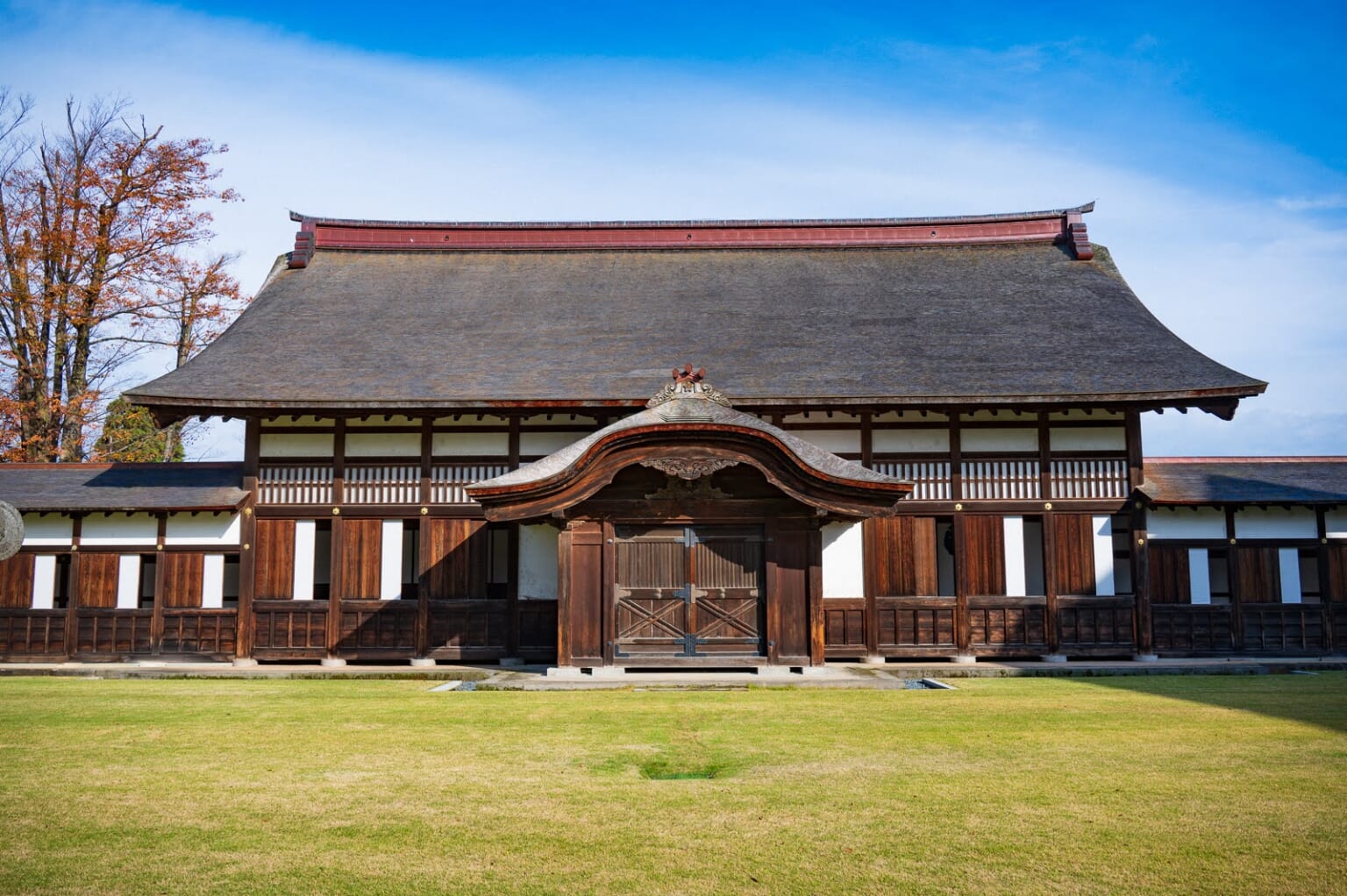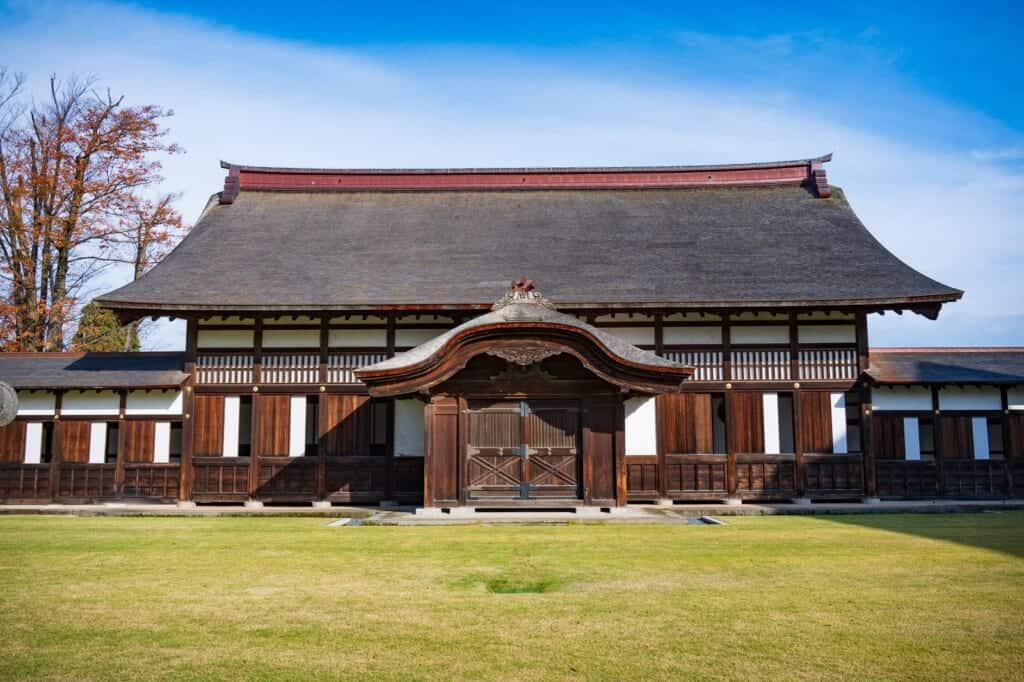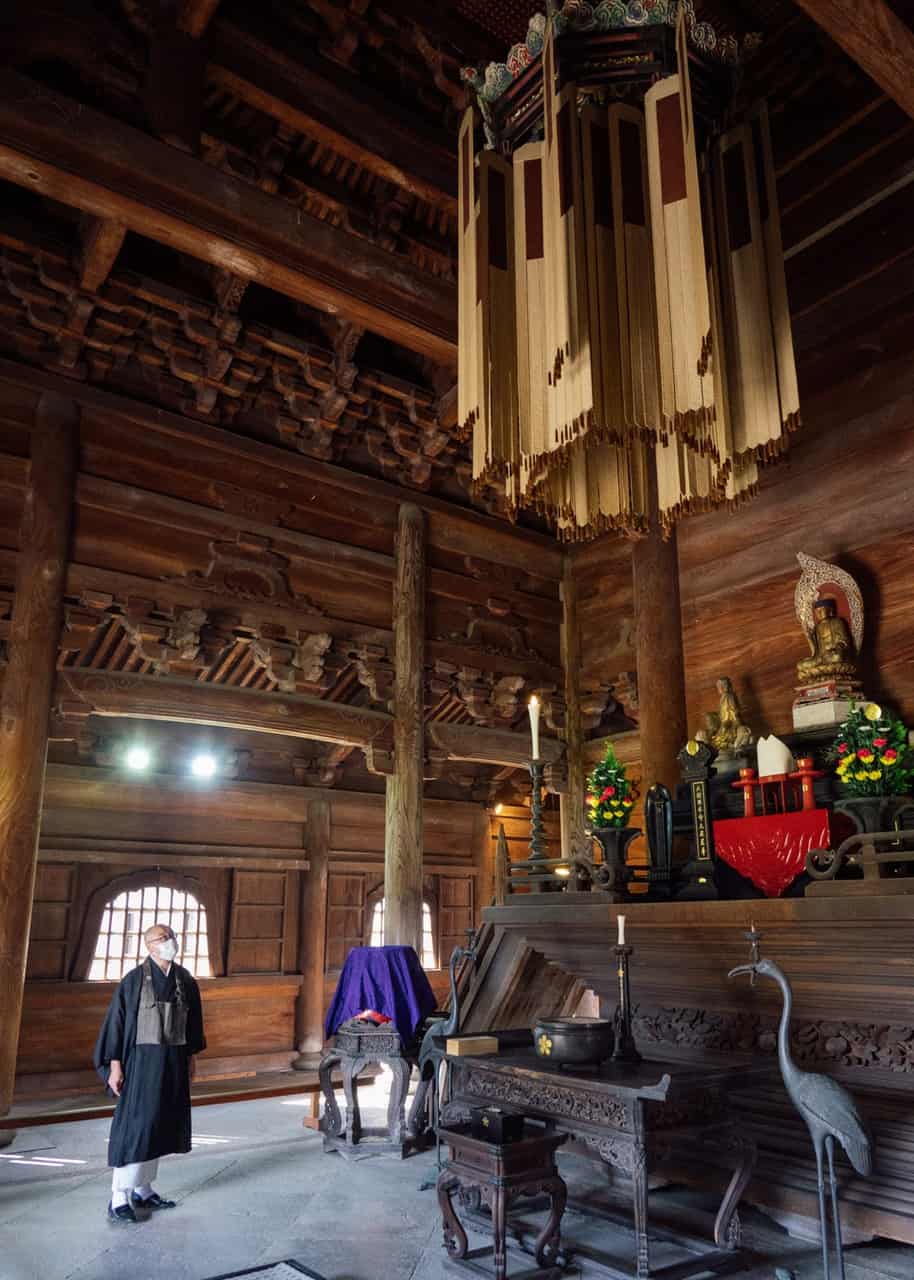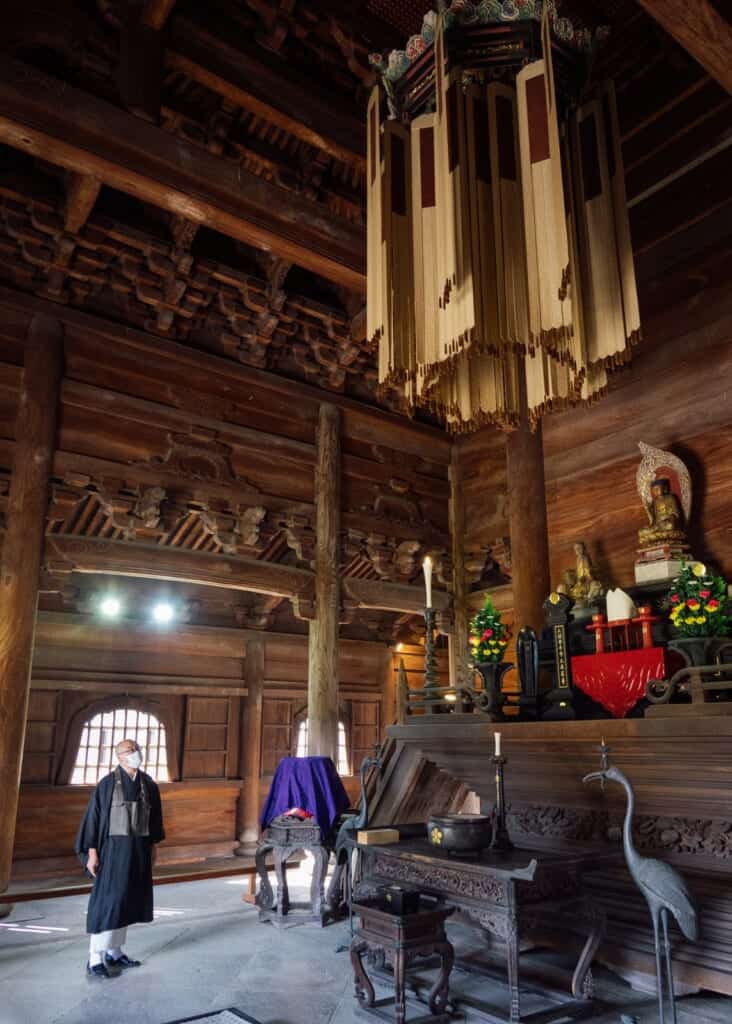 Take a walk through the historical Yamamachisuji area, where the streets are lined with traditional Japanese storehouse buildings. Many buildings have been renovated with modern businesses but retain the original structure from the early 20th century. This is an excellent place for a relaxing walking tour of Takaoka history, and near the fascinating Takaoka Mikurumayama Museum (高岡御車山会館) which displays information about one of Takaoka's, and Japan's, most celebrated festivals.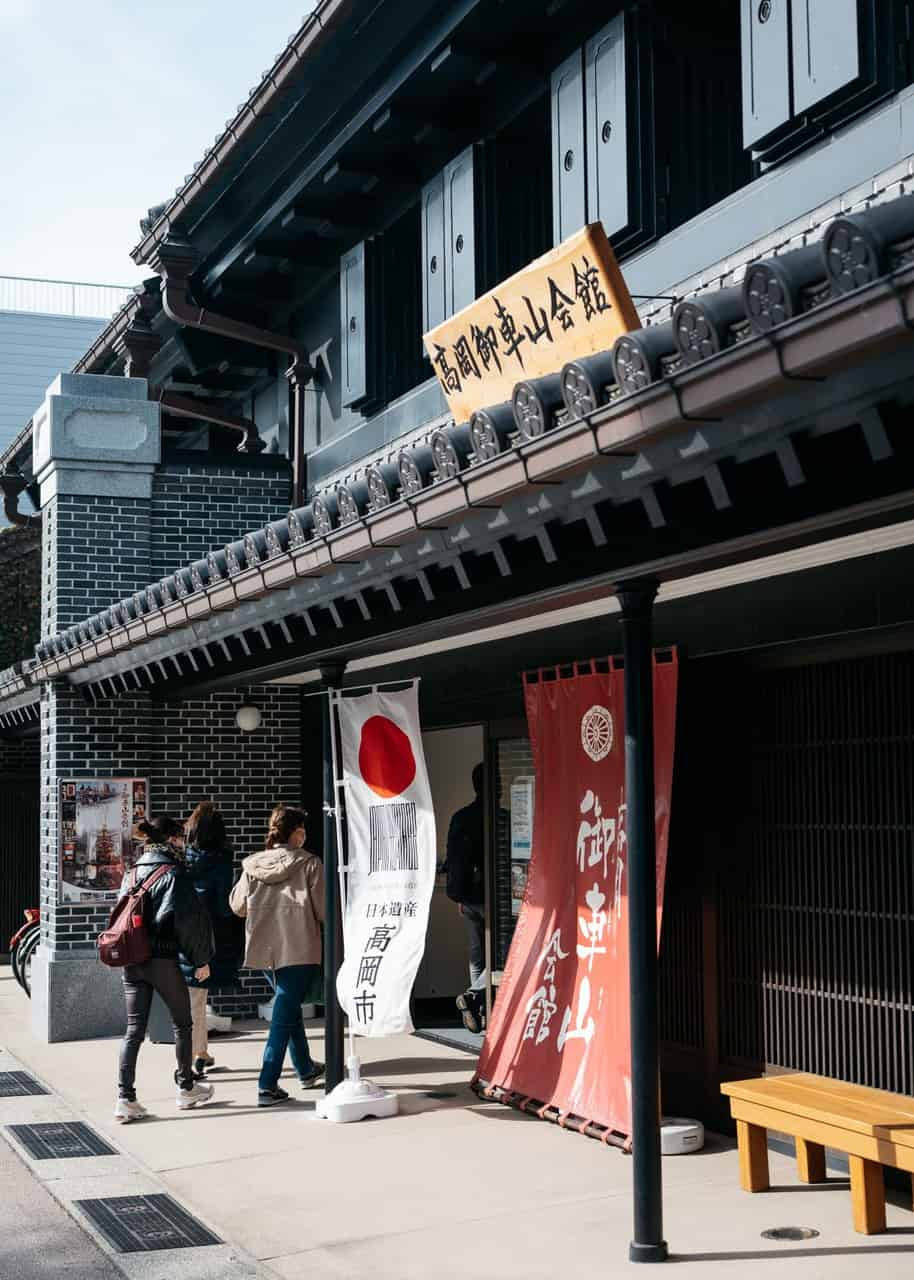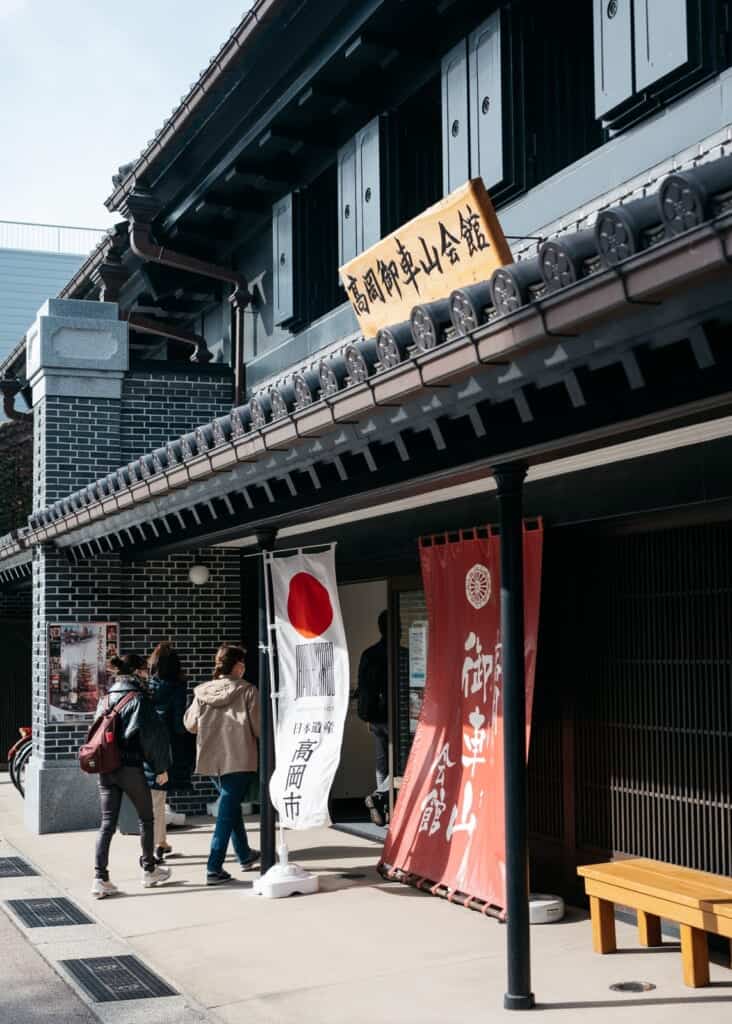 The museum pays tribute to the 400-year-old Takaoka Mikuramayama festival, where seven giant ornate floats called dashi are paraded around the city. The origin of the festival dates back to 1609 when the first Kaga lord Maeda Toshiie presented his imperial carriage to his son Toshinaga who in turn gave it to the people of the city. The current floats are representative of the master craftsmanship possessed by Takaoka artisans in metalwork, lacquer, dyeing, and weaving. In the museum, you can get close enough to the floats to admire the details of these towering dashi, whose gold-leaf-covered wheels are nearly as tall as a person. Some of the dashi even have dolls that move using automated, advanced technology for the era they were built.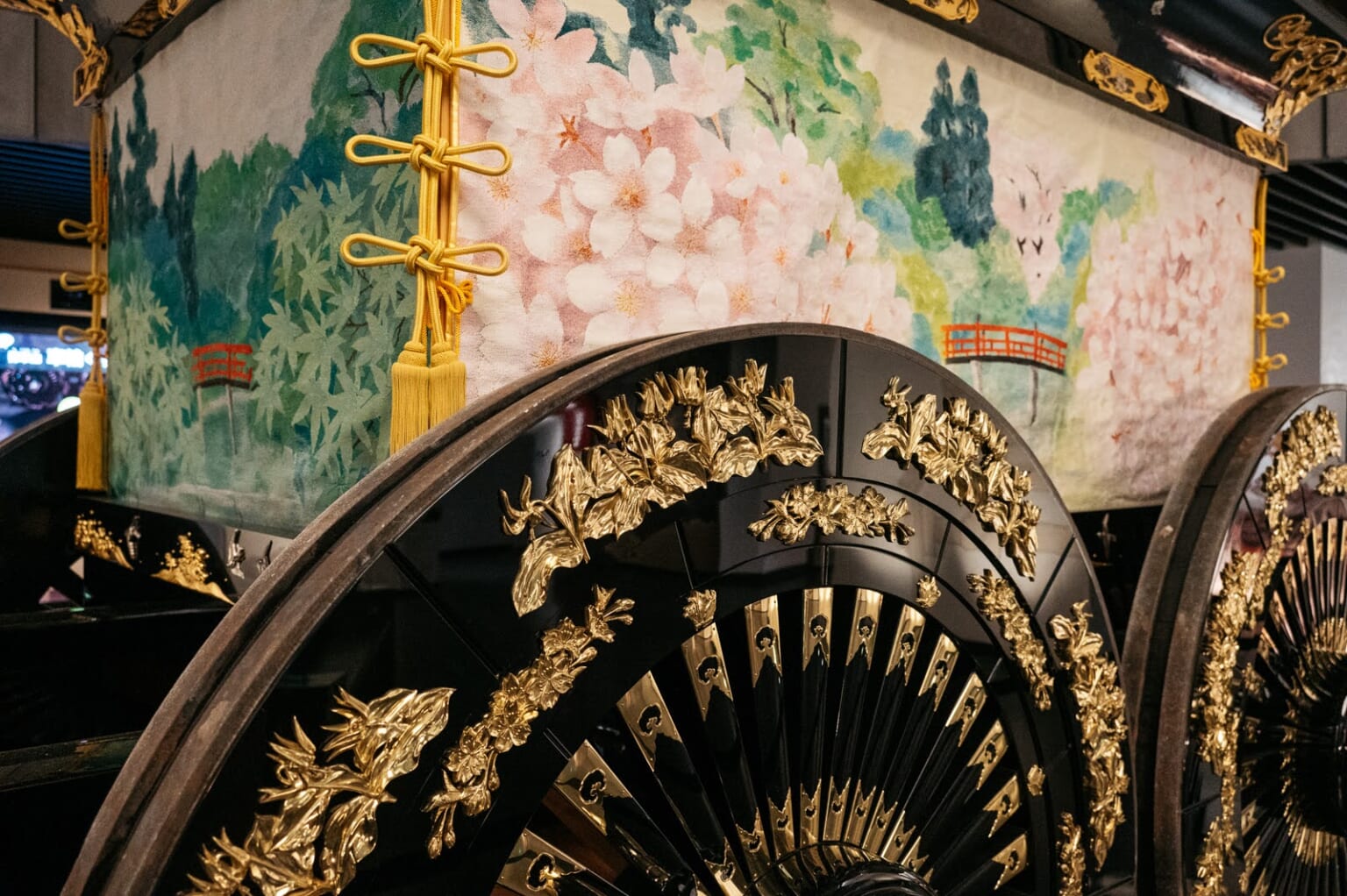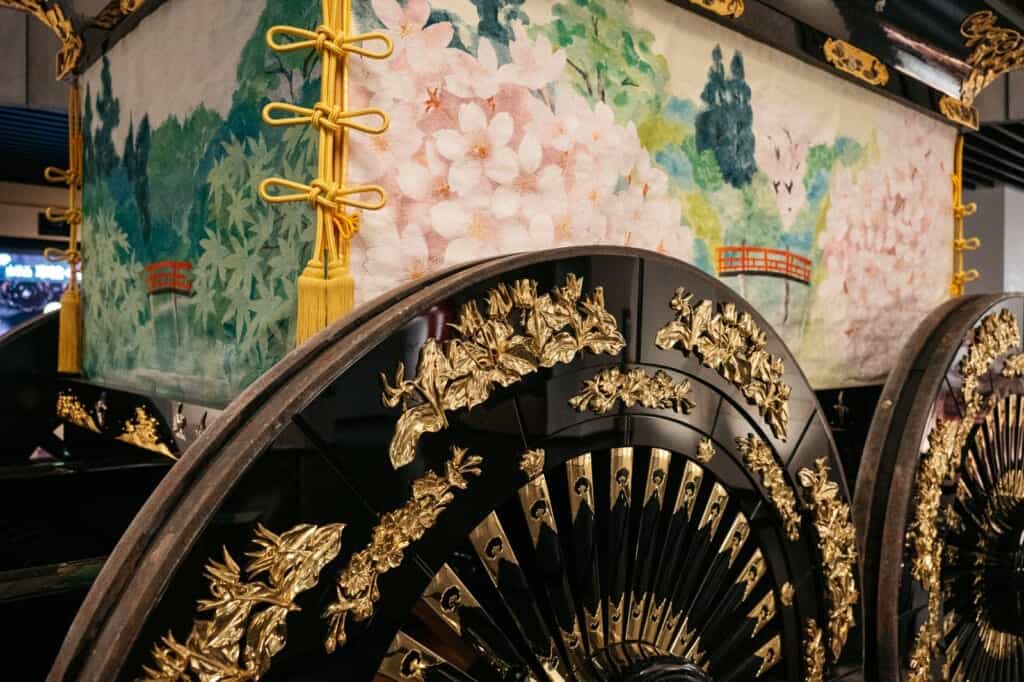 The annual festival attracts tens of thousands of revelers from across Japan each May and is one of the country's best. But to truly appreciate the grandeur of these floats, a visit to the museum is a must. You'll need to view the float from both ground level and the second floor to recognize the sheer size and details represented in its craftsmanship.
Takaoka Mikurumayama Museum 47-1 Moriyamamachi, Takaoka City, Toyama Prefecture
After the museum, head over to Nousaku, located in the suburbs of Takaoka in "Office Park," an industrial zone created to revitalize Toyama Prefecture's industries. The location here is a mix of a factory, showroom, cafe, and store, but for those who want to try metalworking for themselves, there is also a workshop where Nousaku artisans guide you in casting small items. Nousaku began in 1916 as a manufacturer of goods used for Buddhist altars, tea utensils, and flower vases, but now innovates modern designs made from tin, brass, and other materials for modern lifestyles.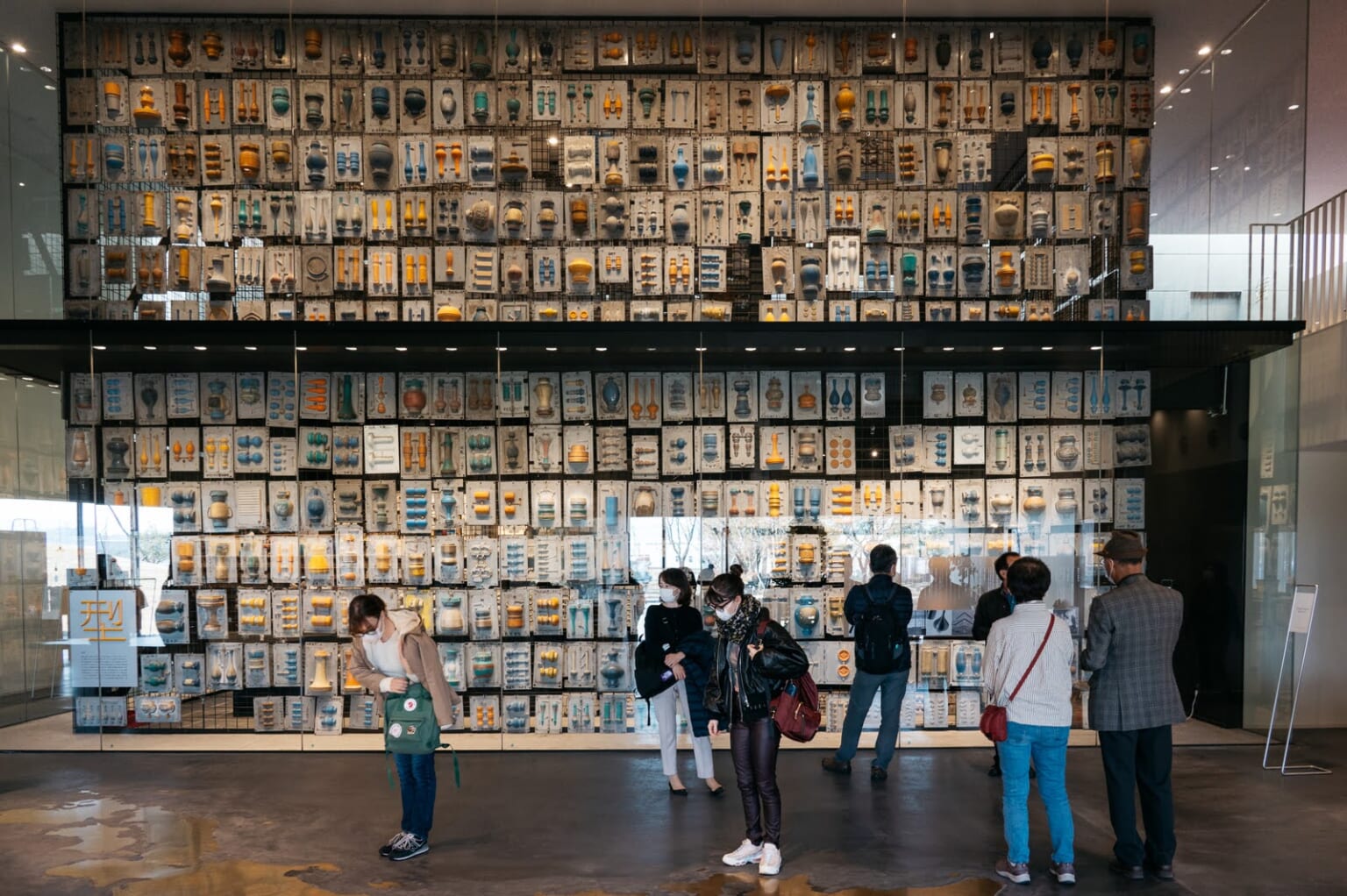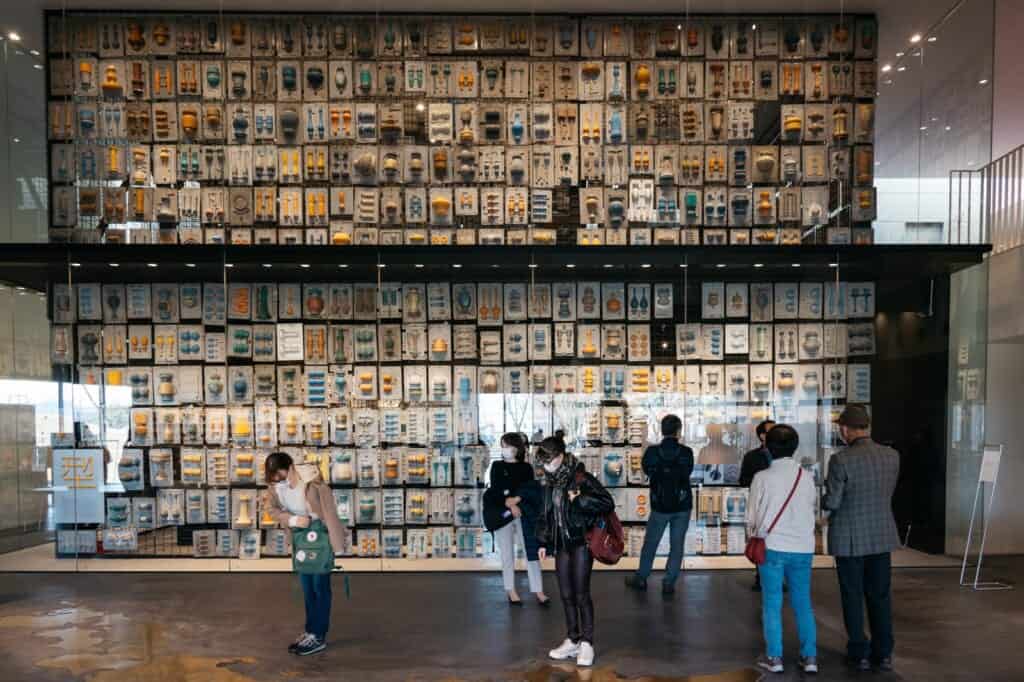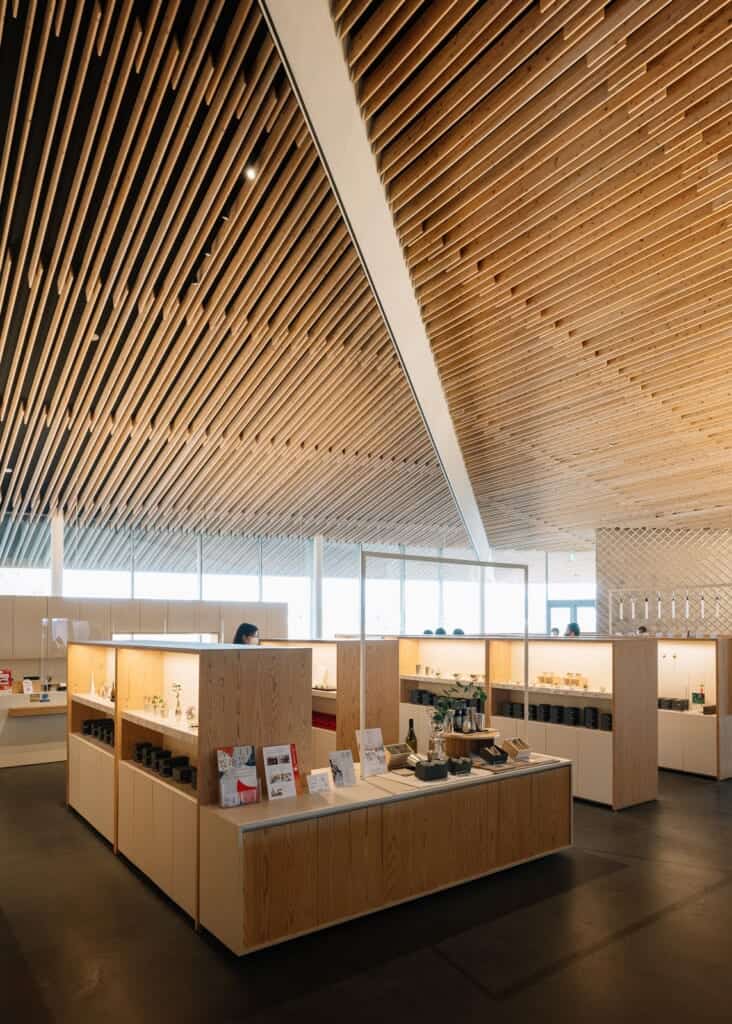 Our group made small heart-shaped bowls from tin in a 90-minute workshop. The process was quite intricate, but with the help of the friendly craftsperson guiding us through each step, from making a mold out of packed sand to pouring molten tin into it, we had beautiful souvenirs to take home with us. The experience gave us an idea of the many skills necessary to make these items, some of which have been relatively unchanged for centuries.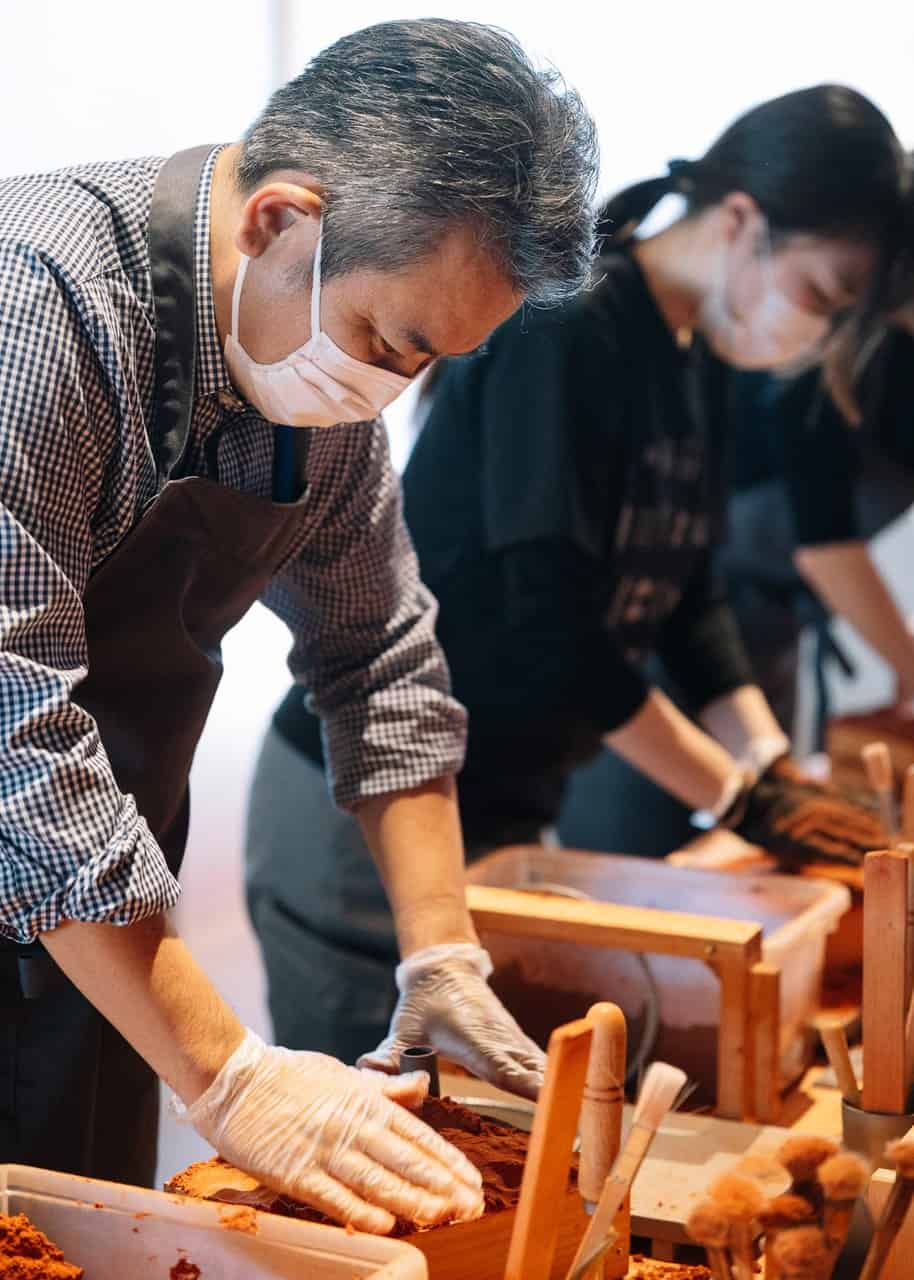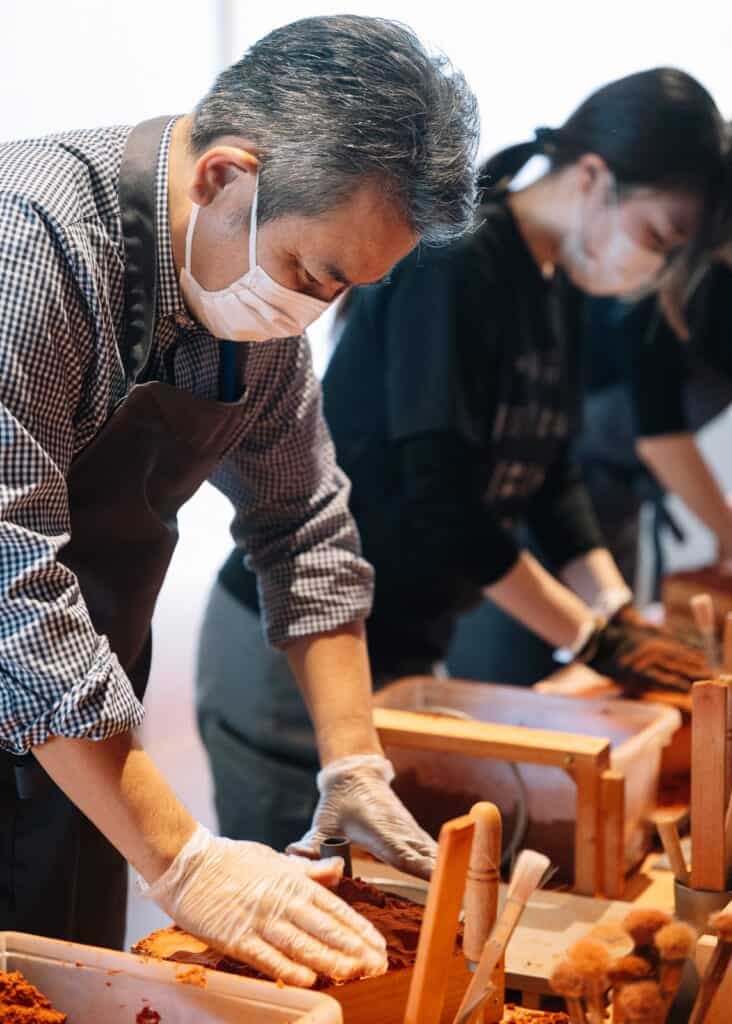 You can also take a tour of the factory where you can see the factory floor from viewing windows on the upper floor and browse the displays of the various products made by Nousaku. The stylish cafe and shop are adjacent to one another if you're feeling a bit hungry or in need of some small gifts to take home.
NOUSAKU 8-1 Office Park, Takaoka City, Toyama Prefecture
Day 4: The Casting Crafts of Takaoka's Historic Neighborhoods
Start the following morning with a walking tour of Kanayamachi, another one of Takaoka's well-preserved historical districts. From the early 1600s, this area produced iron castings for household goods such as pots and kettles and agricultural tools such as plows and hoes. Maeda Toshinaga, the second lord of the Kaga domain invited seven metal casters from Nishibu-Kanaya in nearby Tonami, and they settled in Kanayamachi, where many shops specializing in this type of craft still exist. It is considered the birthplace of Takaoka copperware and the heart of the copperware industry in Japan.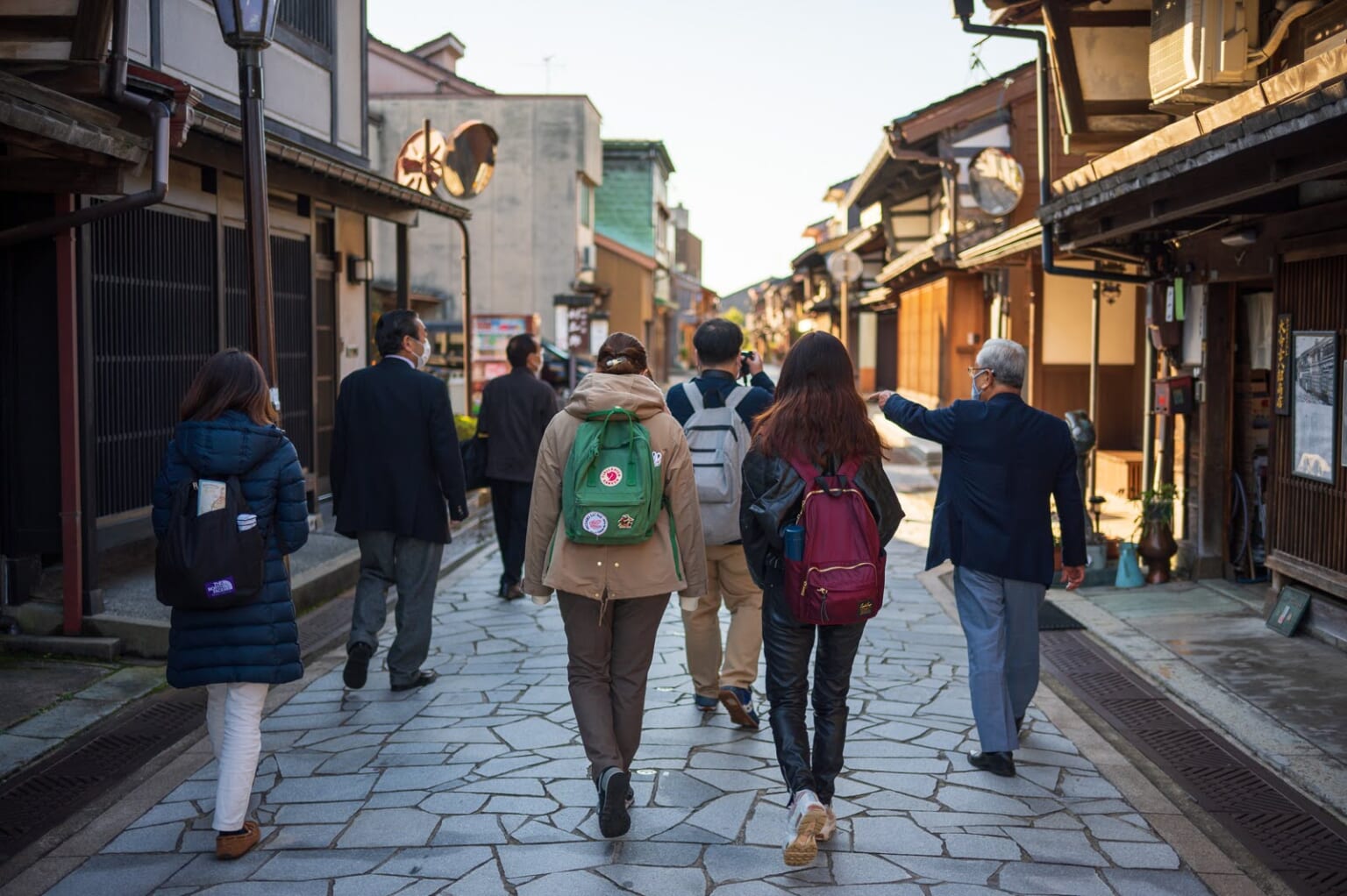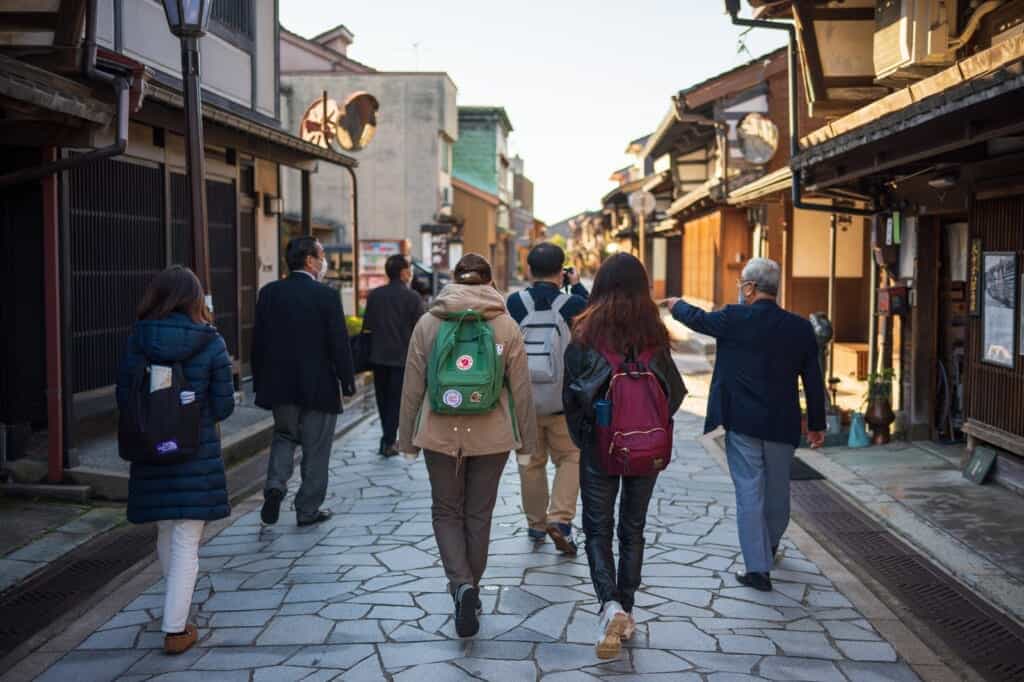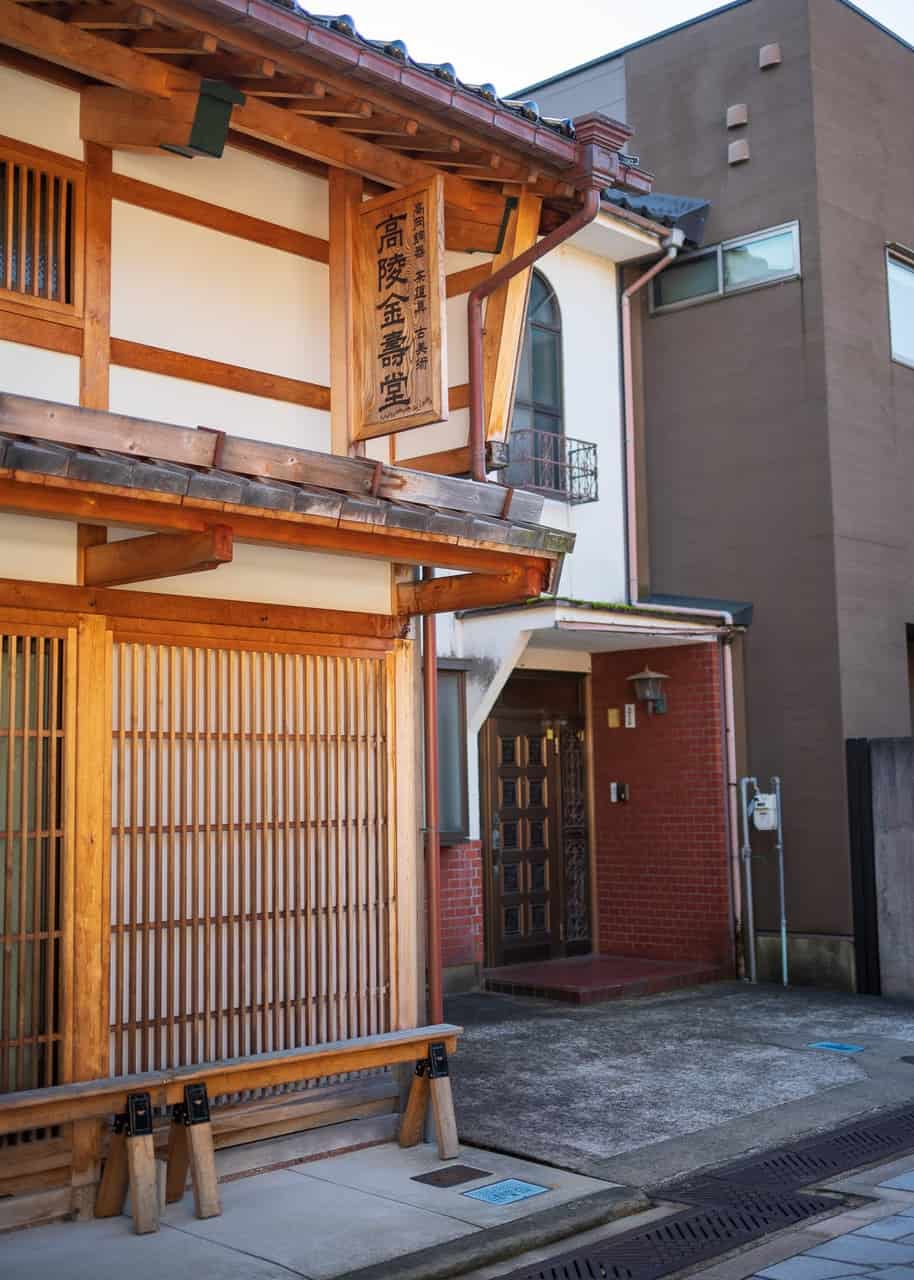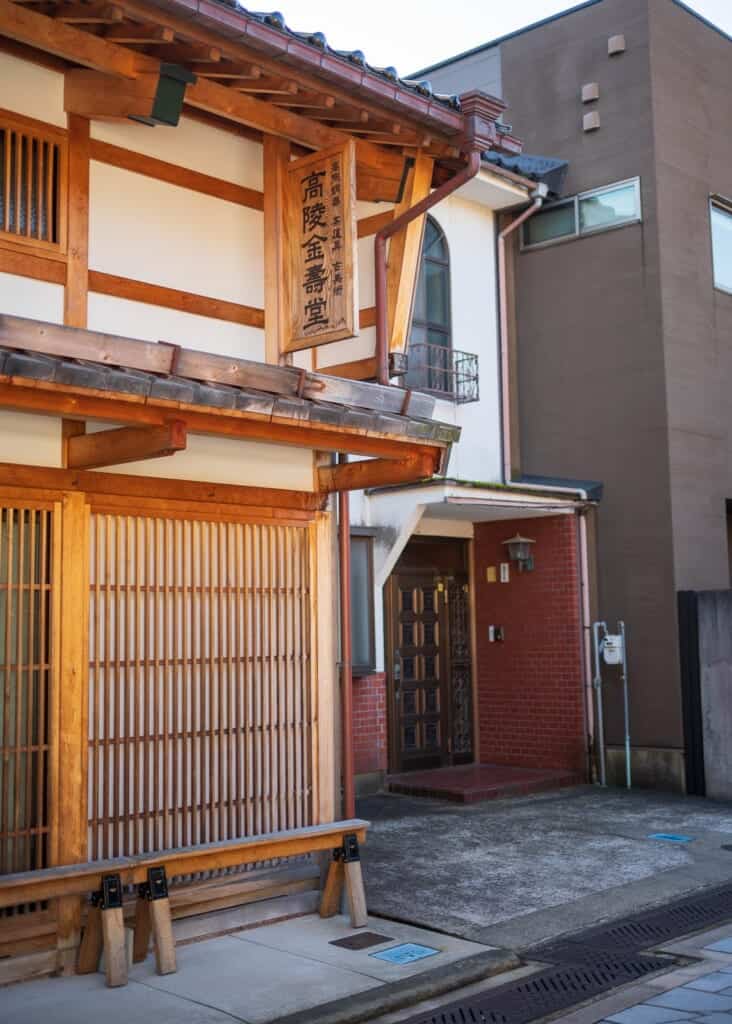 The houses here are built with the traditional senbon-goshi-zukuri lattices facing the stone-paved streets. One can almost imagine the area as it was in centuries past, with the clanging of metalworking tools heard echoing through the streets in workshops behind the houses. Although the area is quieter today than it was then, you'll find some fascinating shops and museums contained in this neighborhood.
Your first stop is the Takaoka Metal Casting Museum, where you can learn about the 400-year history of the casting industry in Takaoka. This small museum contains a large number of exhibits which include historical documents, cast metal products that show early casting technology, and a wide variety of molding and casting tools. Although much of the information is in Japanese, the museum gives you a visual overview of the types of products that were and continue to be made in Takaoka.
Metal Casting Museum 1-5 Kanayamachi, Takaoka City, Toyama Prefecture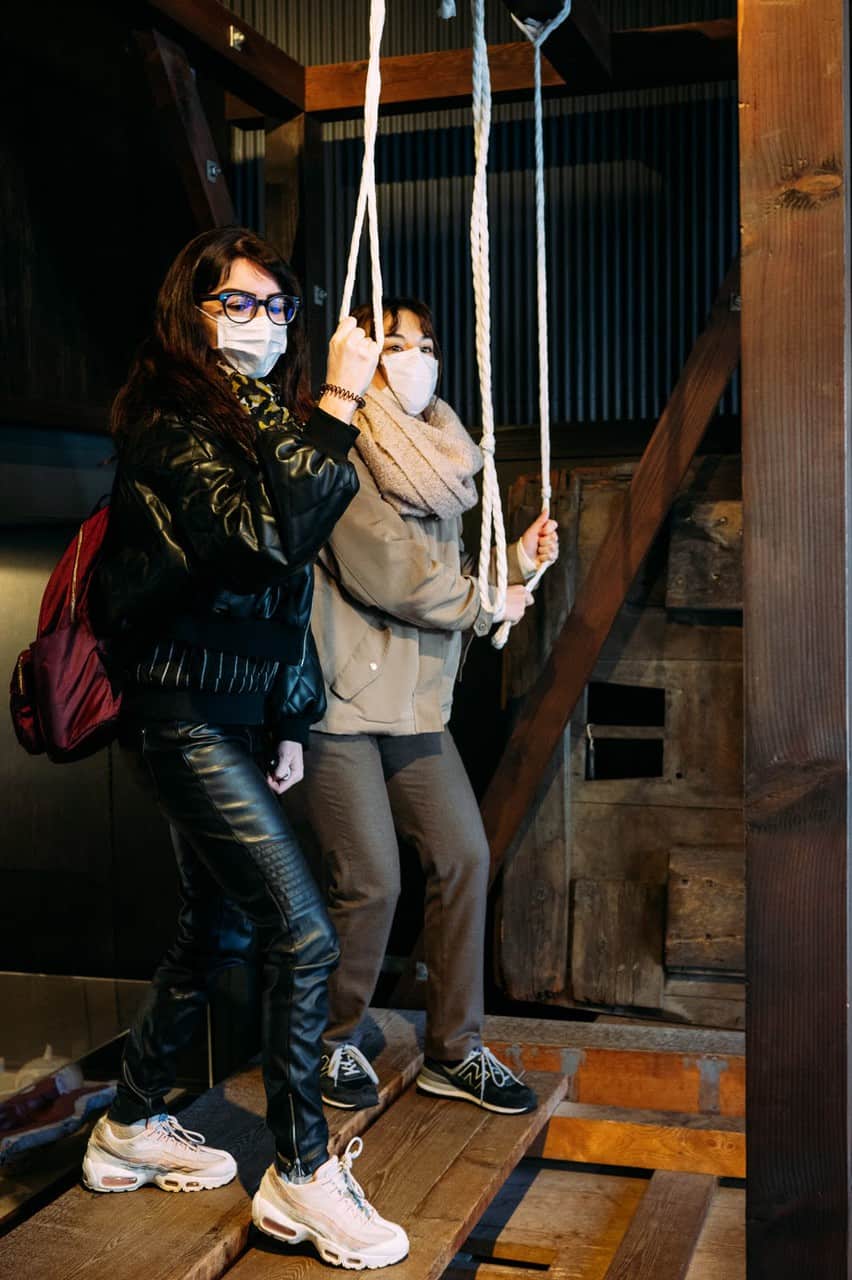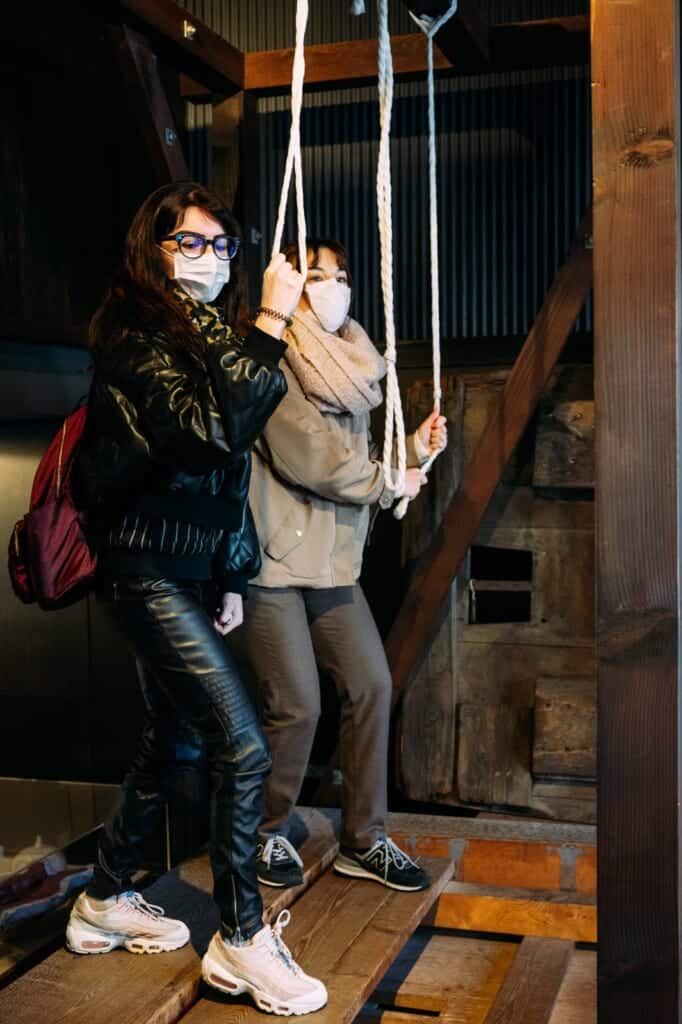 Head over to the casting studio Risaburo, where they have been casting metal objects for over a century, and you can learn about the process firsthand. The master artisan of the studio will lead you through creating your own small tin object.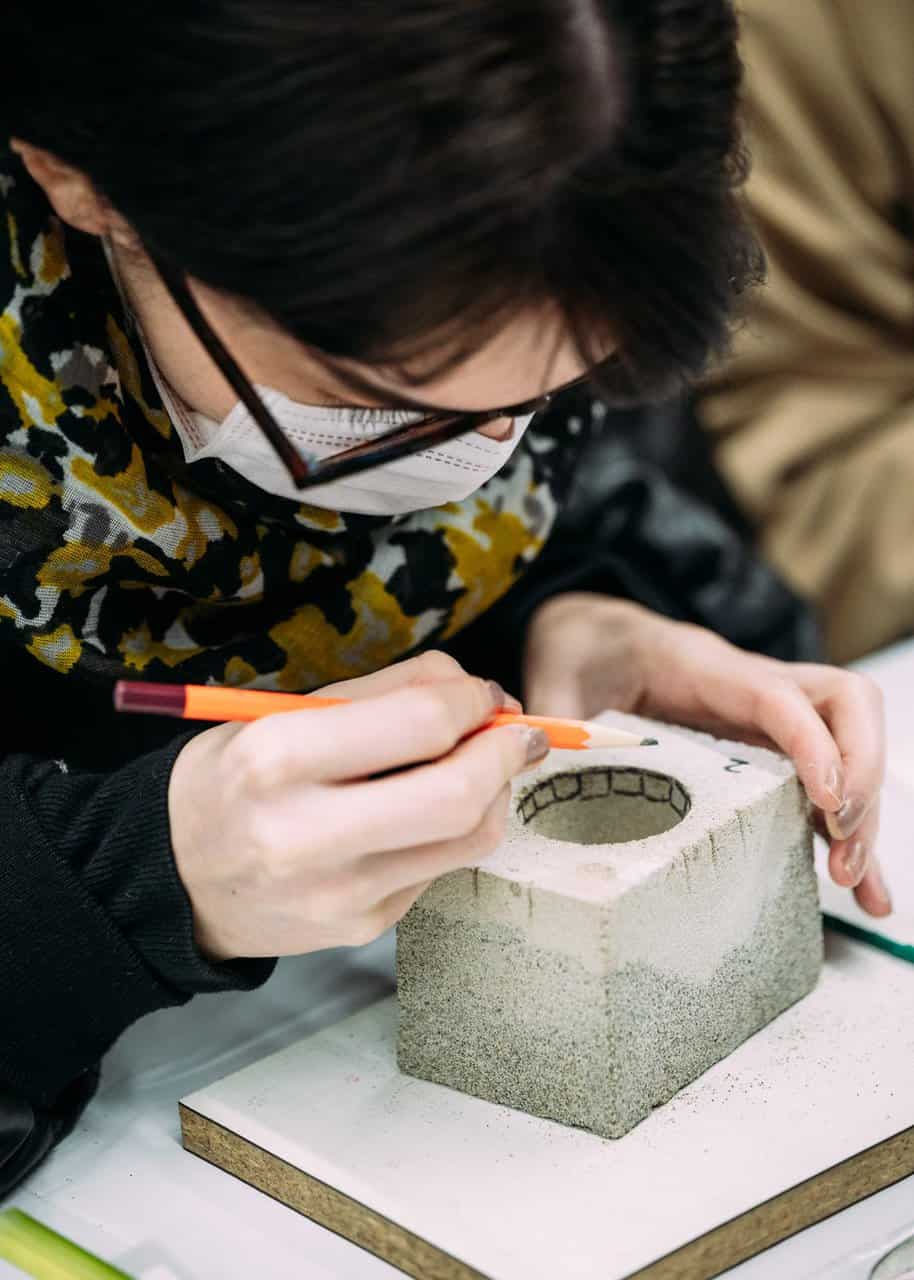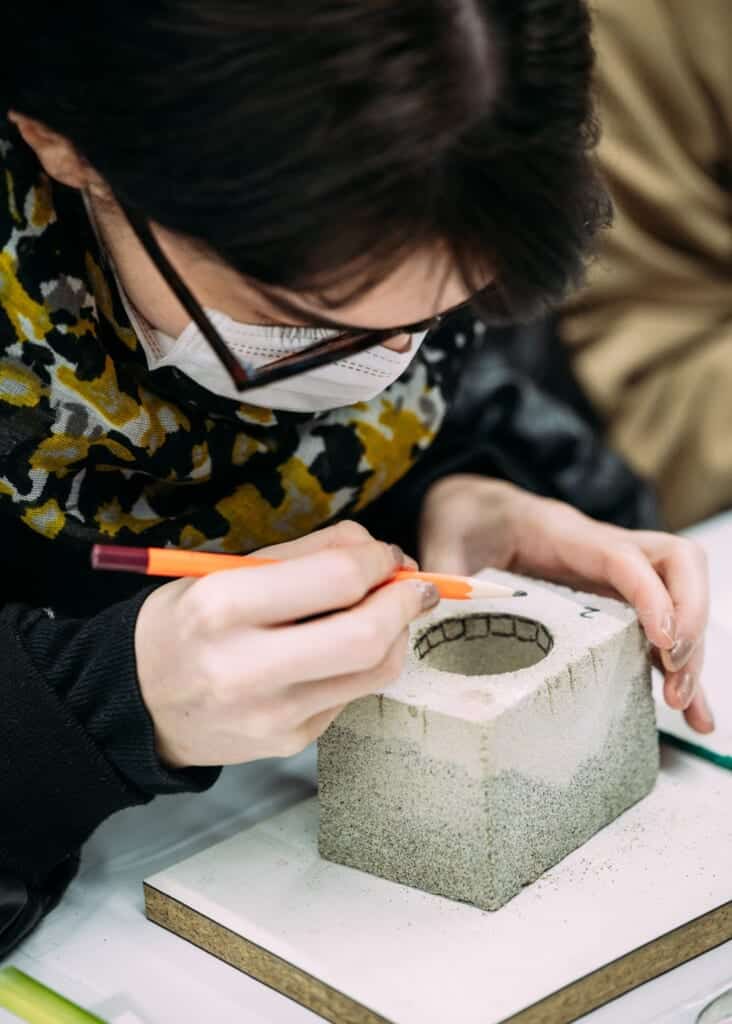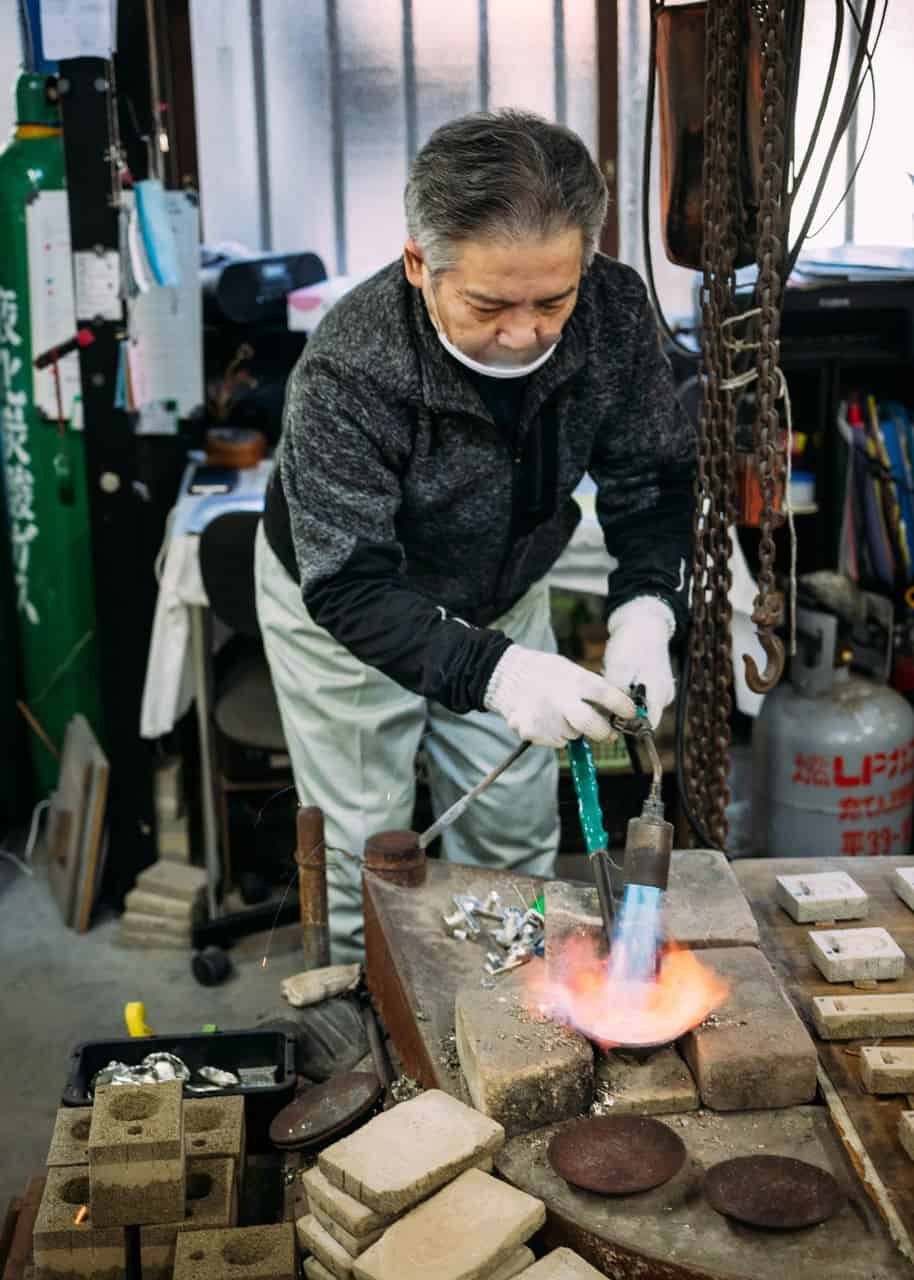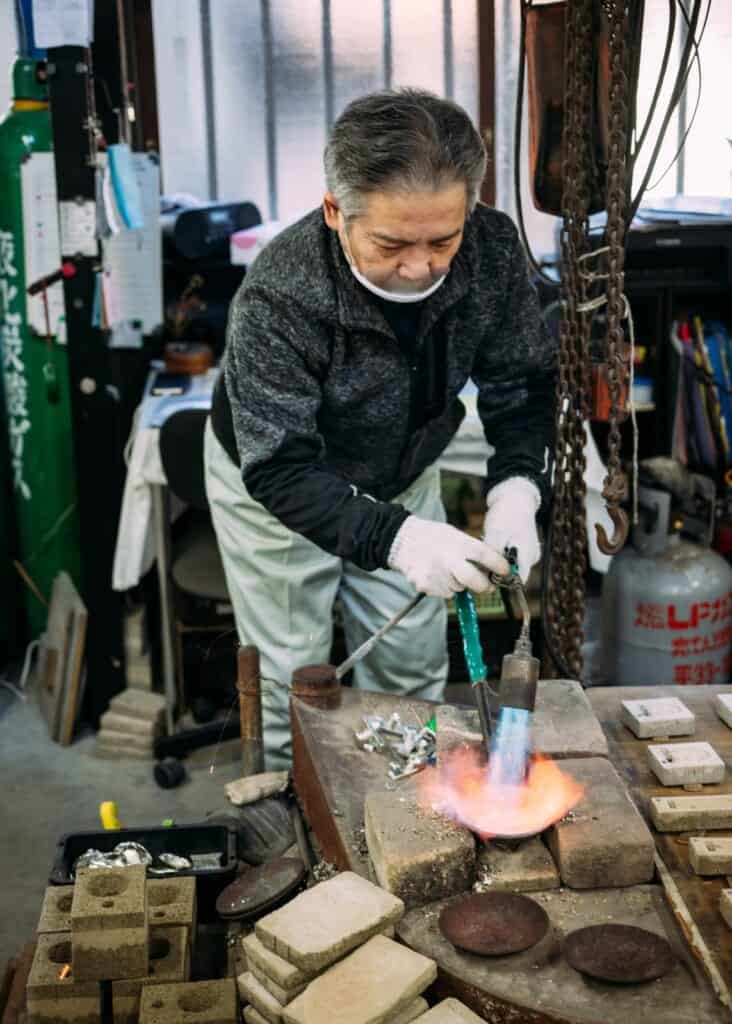 Our group chose a wind chime, and we were provided with a pre-formed sand mold from which we could carve out designs that would appear on the surface of the chime. It turned out to be a bit of a challenge as the designs needed to be carefully chiseled out of the mold in a mirror image of how you wanted it to appear! While the results varied according to the level of patience each of us applied to our work, we could all admit it was a great learning process. For those who prefer a less challenging object to design, you can choose from a wide variety, including small plates or coasters.
Risaburo 8-11 Kanayamachi, Takaoka City, Toyama Prefecture
A short walk brings you to one of Takaoka's famous landmarks, the Great Buddha of Takaoka. This stately 16-meter high bronze statue is representative of the metal casting culture that Takaoka is known for. Along with the large cast metal Buddhas in Nara and Kamakura, it is known as one of the "Three Great Buddhas of Japan." Indeed, standing tall near the city's center, one can understand what the Great Buddha represents to the city in terms of its heritage. At such a large scale, the details and quality of its craftsmanship can be clearly seen. Interestingly, the current Buddha is the third generation statue made in 1933; the first two were made from wood and were destroyed by fires.
The Great Buddha of Takaoka 11-29 Otemachi Takaoka City, Toyama Prefecture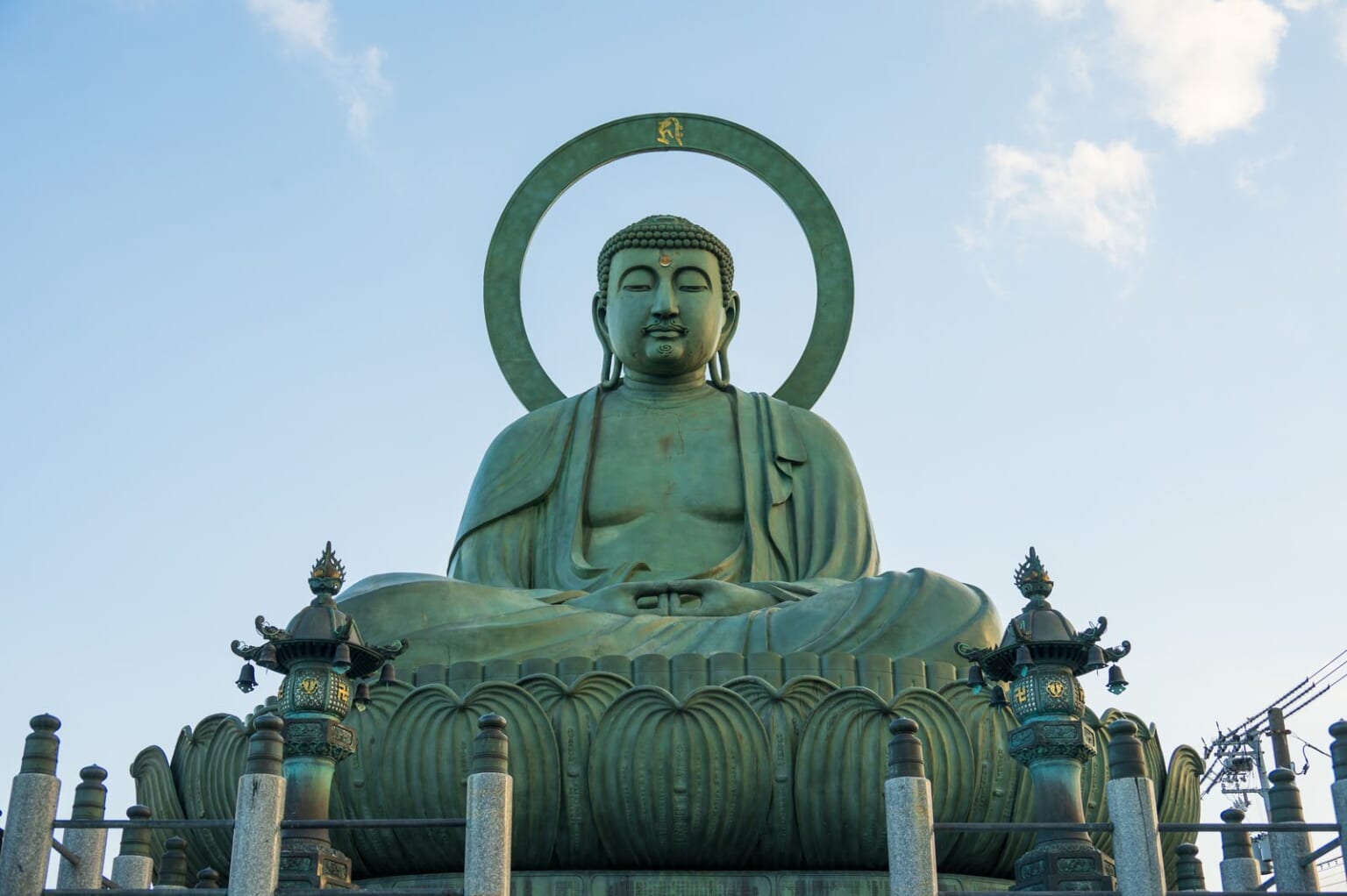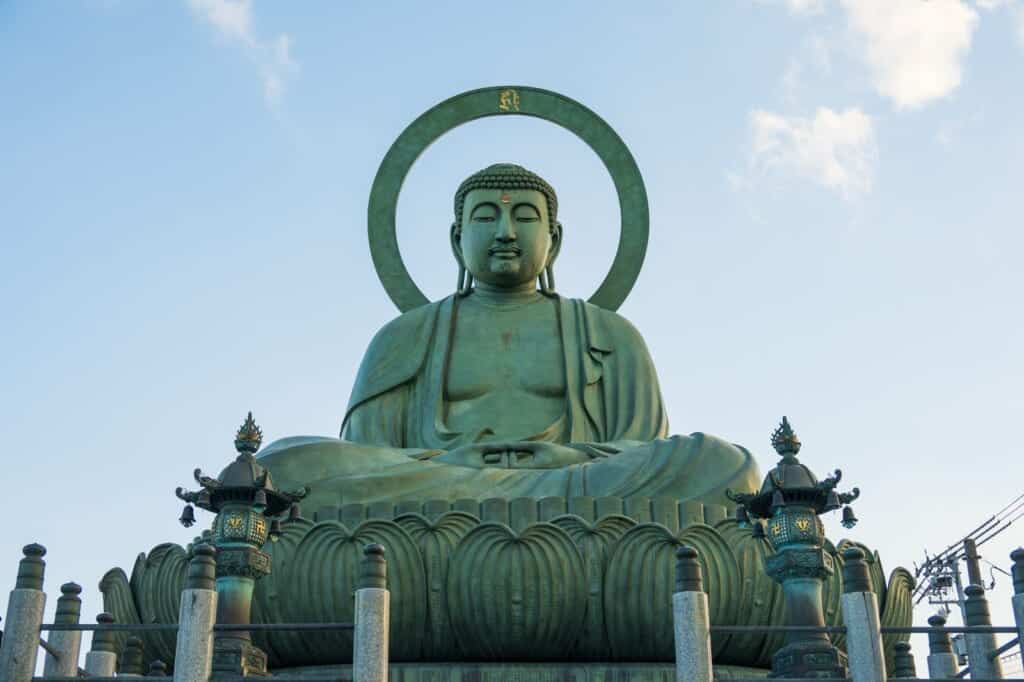 In between destinations, take some time to enjoy the well-preserved historical districts of the city, including Kanayamachi, the old town where many of the cast metal artisans lived and worked. Today, you'll find many new businesses mixed among those which have existed for centuries. Kunimoto sells modern and traditional lacquerware goods inlaid with inlays made from abalone shells and semiprecious stones. Otera Kohachiro Shoten is a historic house turned gallery selling products for many different Takaoka area artisans, while down the street, Kisen creates stylish home products from metal, glass, and wood-based on traditional techniques and forms. For those interested in traditional Japanese tea ceremonies, Kinjudo sells a wide variety of cast-iron goods, including the iron kettles used in Japanese tea ceremonies.
KUNIMOTO 64 Kommadashimachi, Takaoka City, Toyama Prefecture
Otera Kohachiro Shoten 6-9 Kanayamachi, Takaoka City, Toyama Prefecture
Yotsukawa Seisakusho Ltd. (Kisen) 6-5 Kanayamachi, Takaoka City, Toyama Prefecture
Koryo Kinju-do 2-1-16 Miyukimachi, Takaoka City, Toyama Prefecture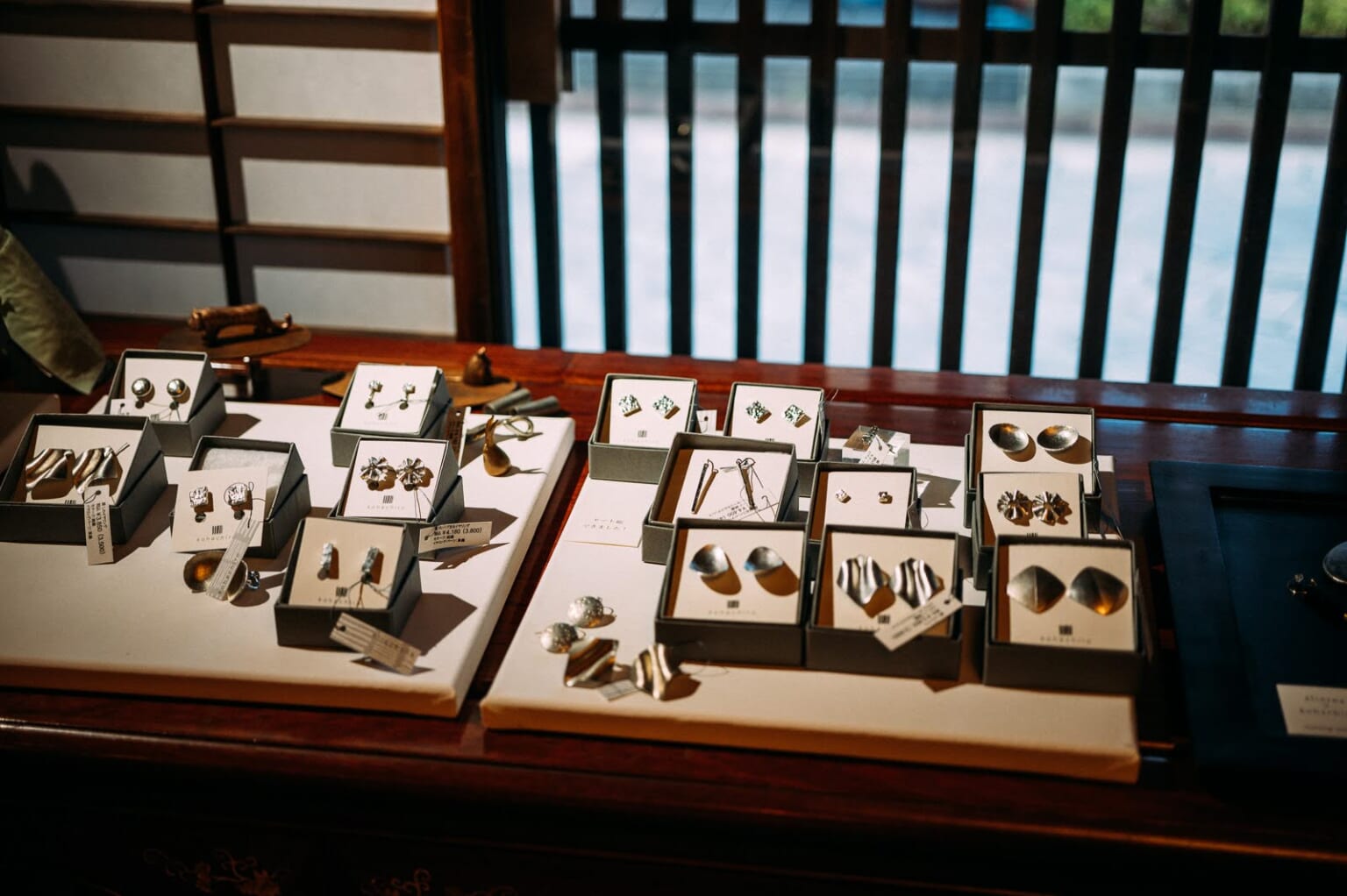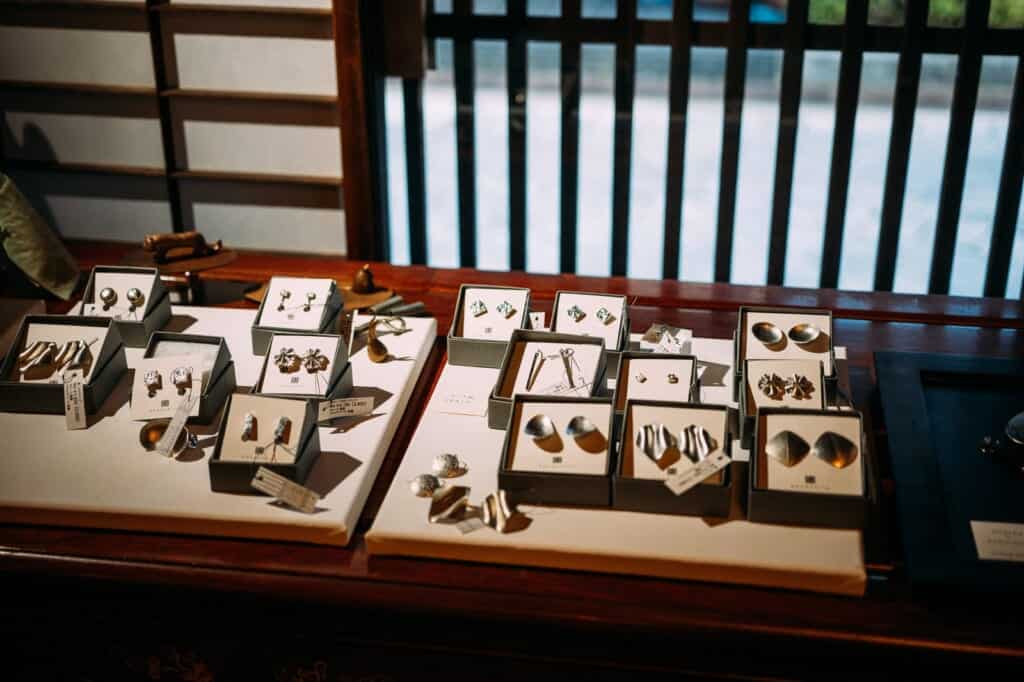 Take a break at Latticework Brewing Taphouse for a taste of Takaoka's own craft beer and a western-style meal. The owner speaks excellent English and is happy to chat with visitors.
Latticework BREWING Tap House (Facebook) 3-15 Kanayamachi, Takaoka City, Toyama Prefecture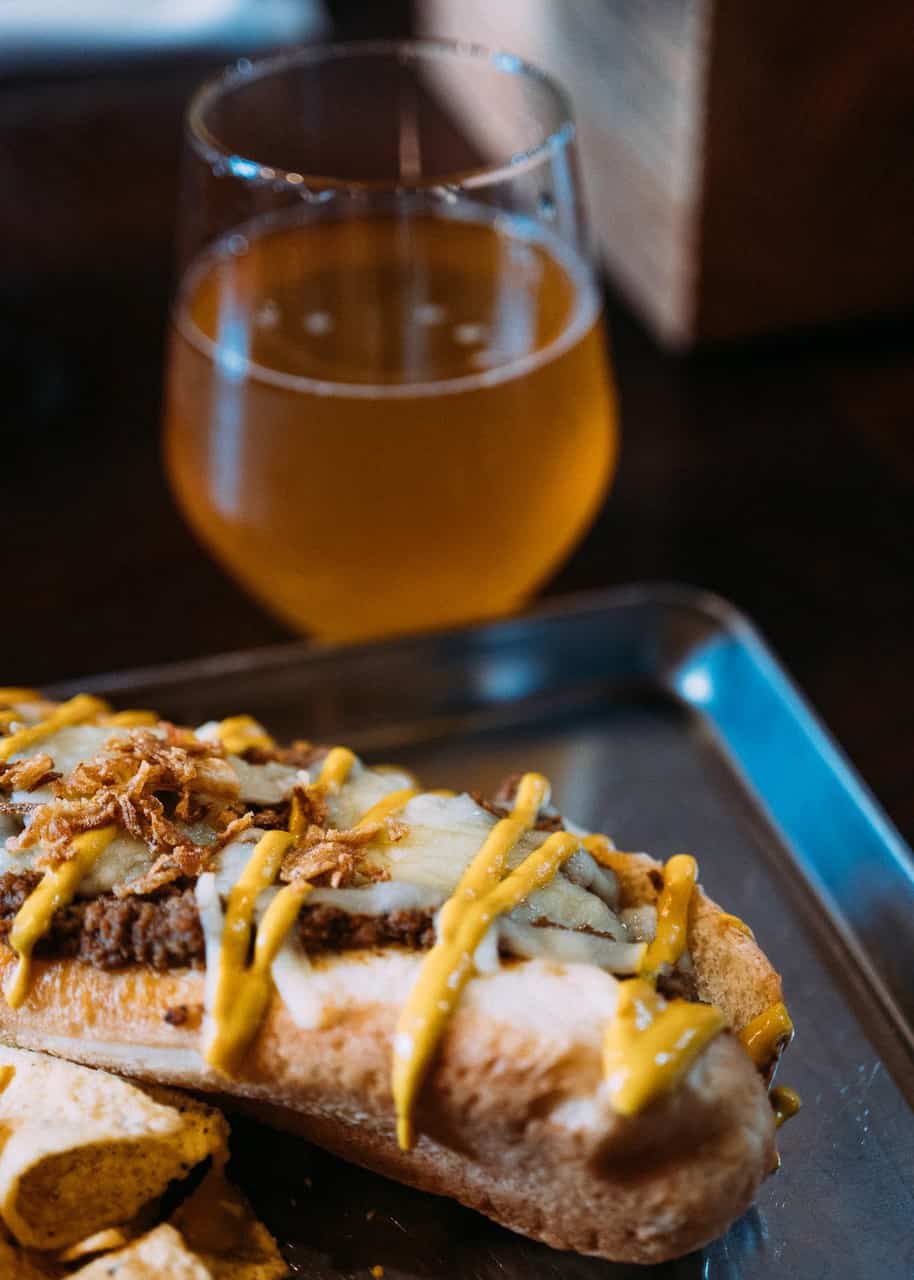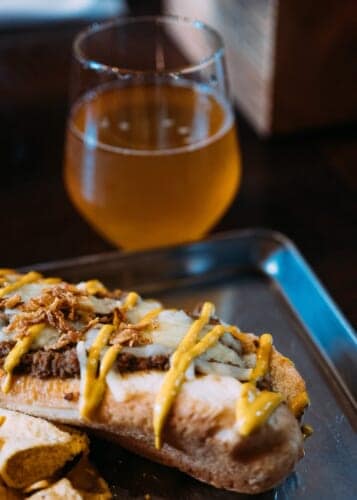 There are two great options for staying overnight in Takaoka, depending on your personal style. Kane no Sanzun are a pair of renovated houses in the heart of Kanayamachi for those who want a taste of both luxury and tradition. The owner has spared no expense in the decor and amenities for both of these accommodations, veritable museums of Takaoka craftsmanship. The interiors are modern Japanese, with luxurious beds, large private baths, and a full kitchen if you wish to prepare your own meals. For an unforgettable stay in ample private accommodation, Kane no Sanzun fits the bill.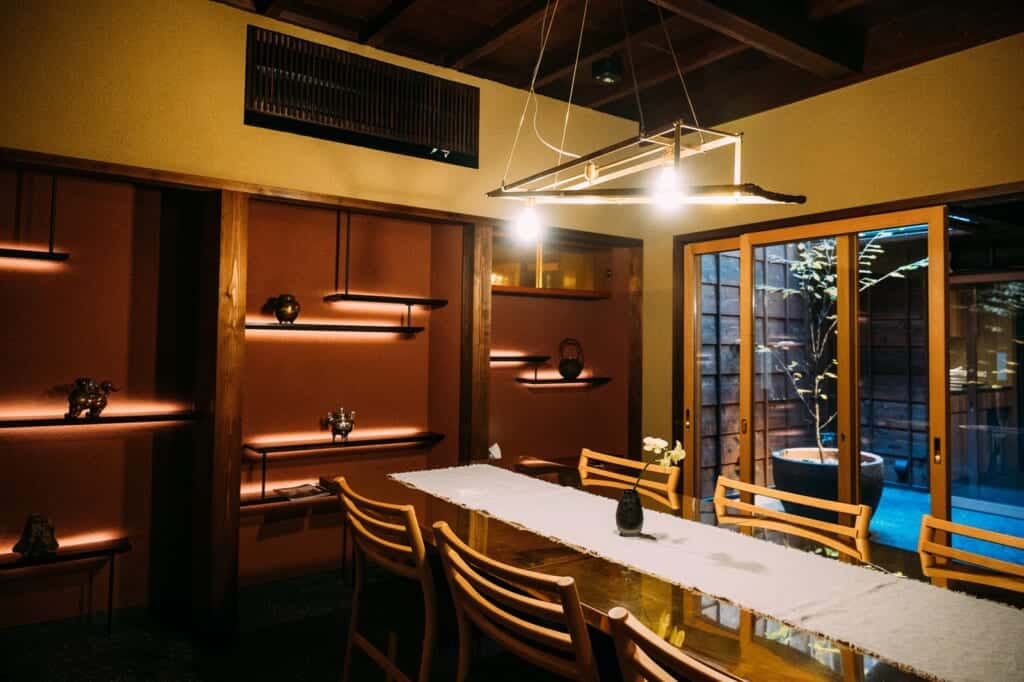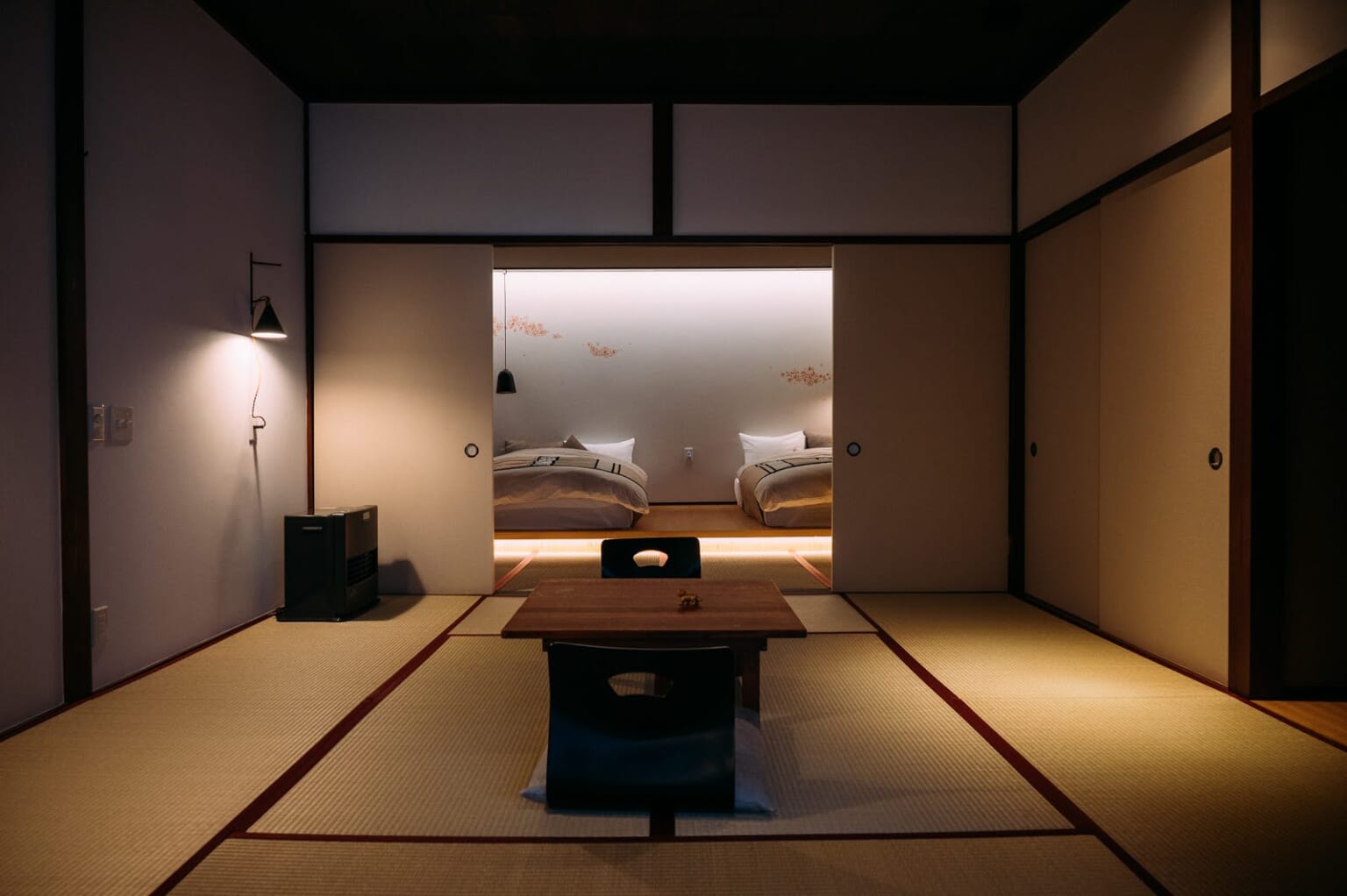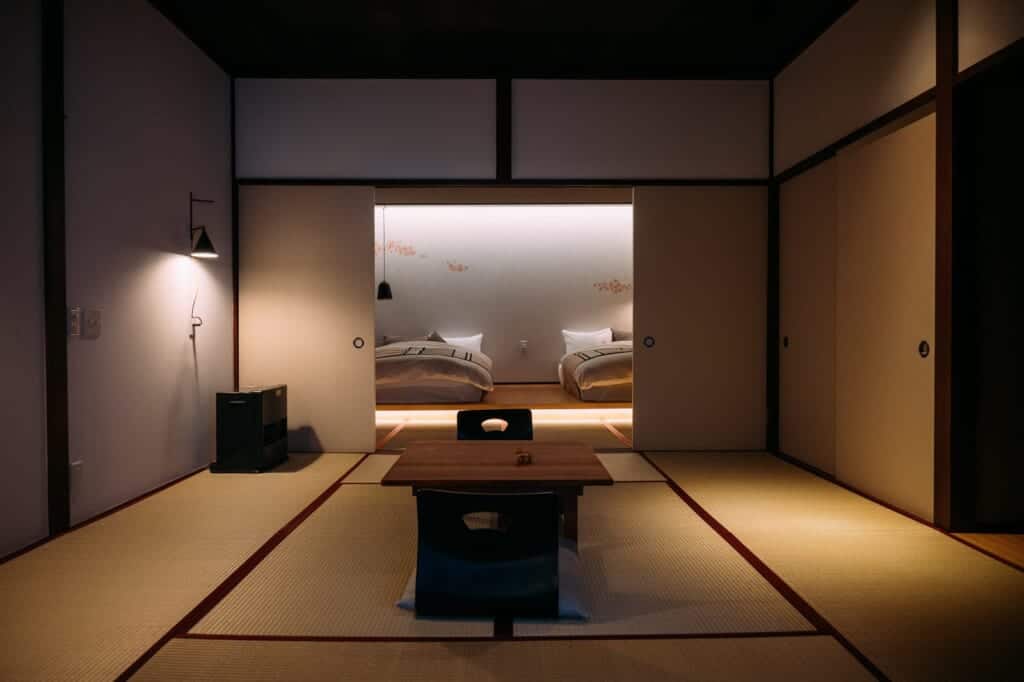 Meanwhile, adjacent to Takaoka Station is the Takaoka Manten Hotel Ekimae. Located in a hub for transportation, dining, and shopping, the Manten Hotel is perfect for those looking for value and convenience.
MINKA Villas Kane no Sanzun 4-12 Kanayamachi, Takaoka City, Toyama Prefecture
Takaoka Manten Hotel Ekimae 1-8 Suehiromachi, Takaoka City, Toyama Prefecture
Day 5: The Exquisite Cutlery Masters of Echizen
From Takaoka, travel by train to Echizen in nearby Fukui Prefecture. In the 8th century Nara period of Japanese history, the capital of the Echizen Province was here, and the area prospered as the political, economic, and cultural center of the time. Dozens of temples and shrines were erected here, many that are unique to Echizen and retain their popularity among local people. Echizen maintains much of its historic charm, with these ancient temples and shrines still surrounded by traditional buildings and old townhouses.
As it has for centuries, Echizen still produces many traditional Japanese crafts, including Echizen cutlery, tansu (chest of drawers), and washi paper. Though the times and customers have changed, the incredible skills and commitment to quality Echizen artisans have for their work remains exceptional.
Your first stop in Echizen will take you to the outskirts of the city, a joint workshop of 13 knife manufacturers known collectively as the Takefu Knife Village. Once competitors, these craftsmen now work cooperatively to promote Echizen cutlery and protect the industry of traditional knife making that has been here for 700 years. Knives made here are recognized for their quality worldwide, and international visitors have been known to make a trip to Takefu Knife Village just to meet the master craftsman who made their favorite knife.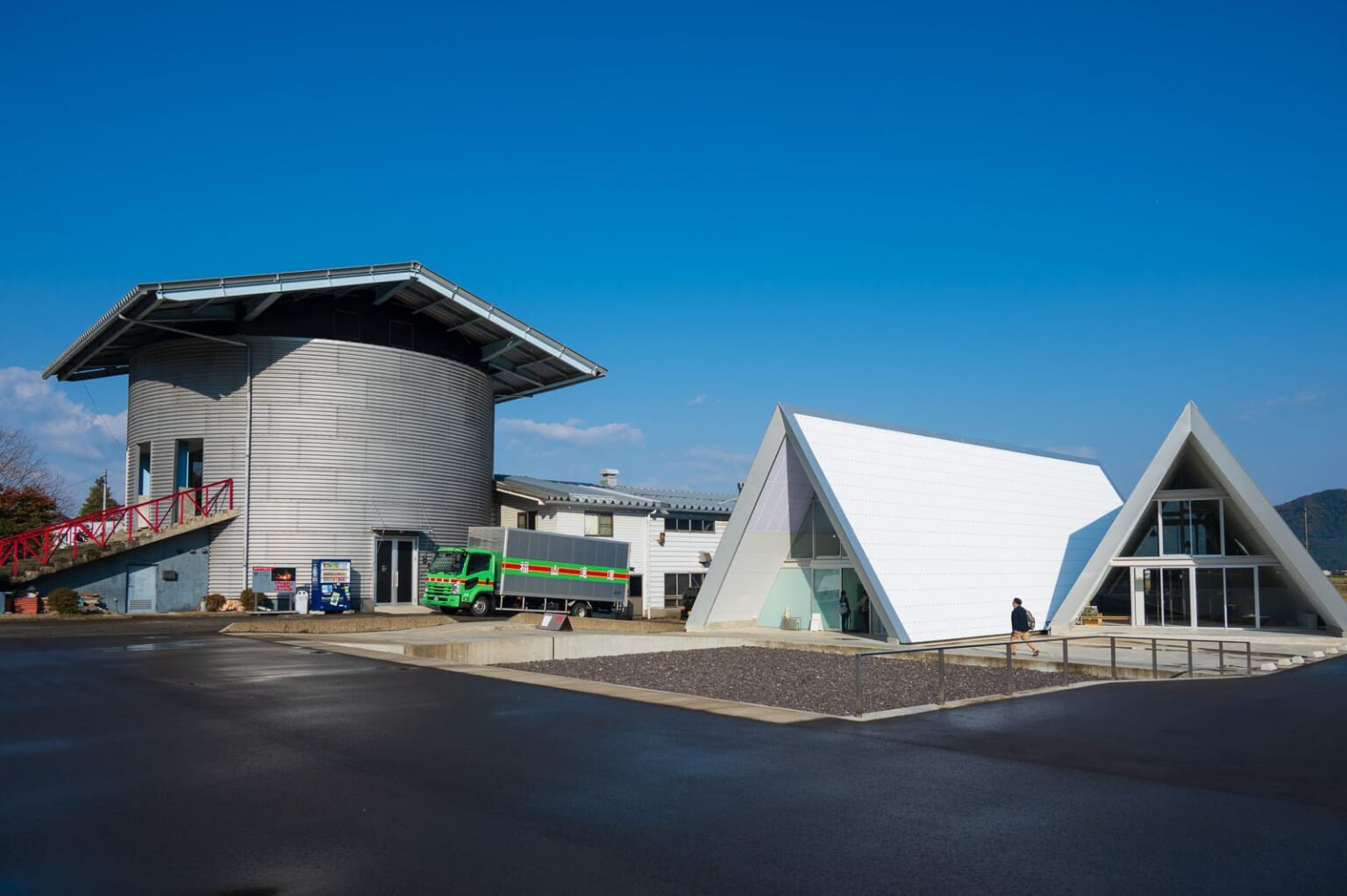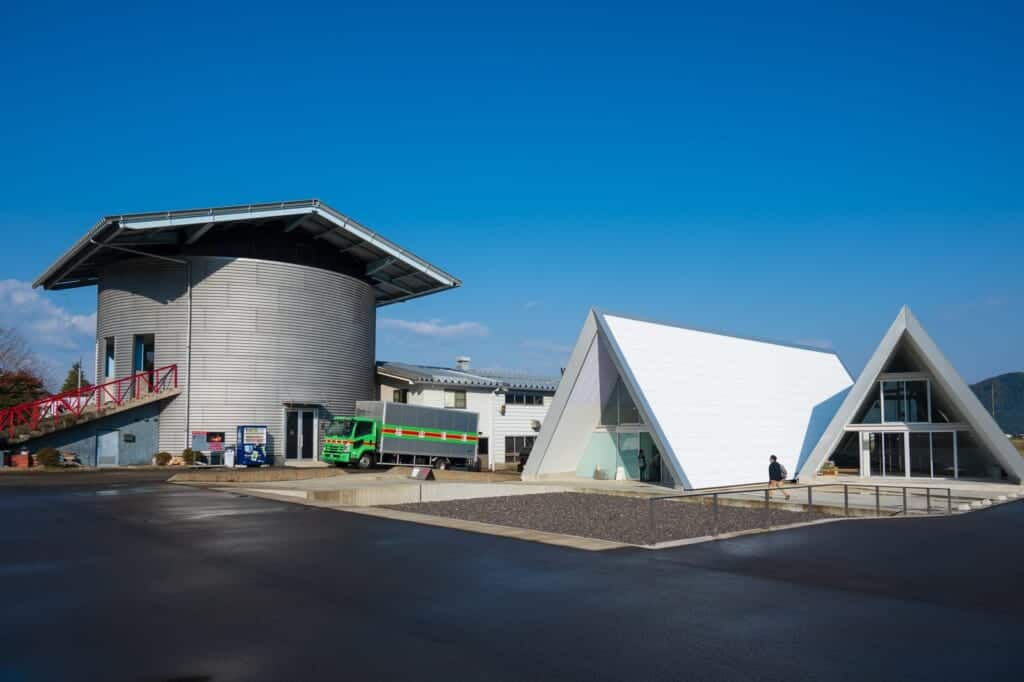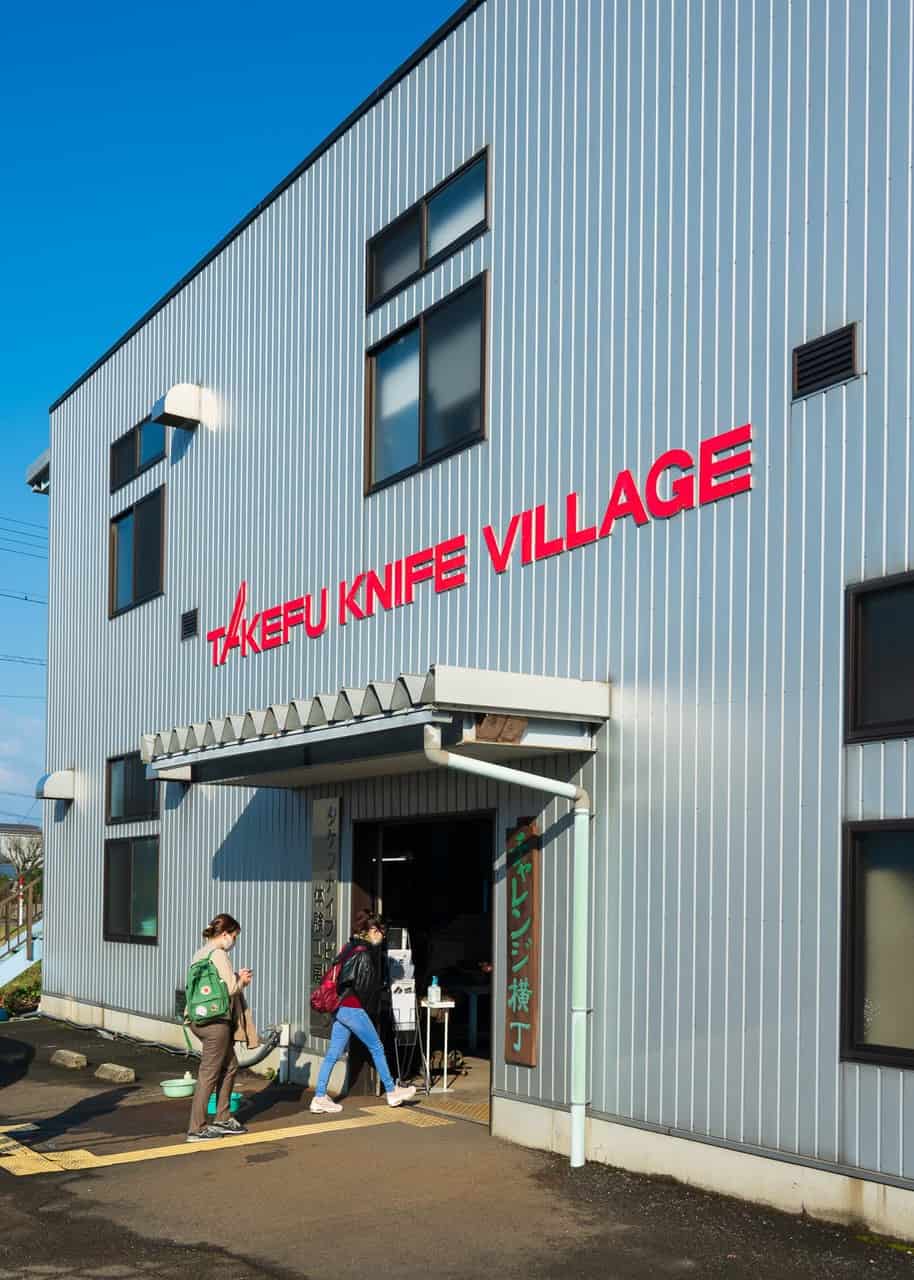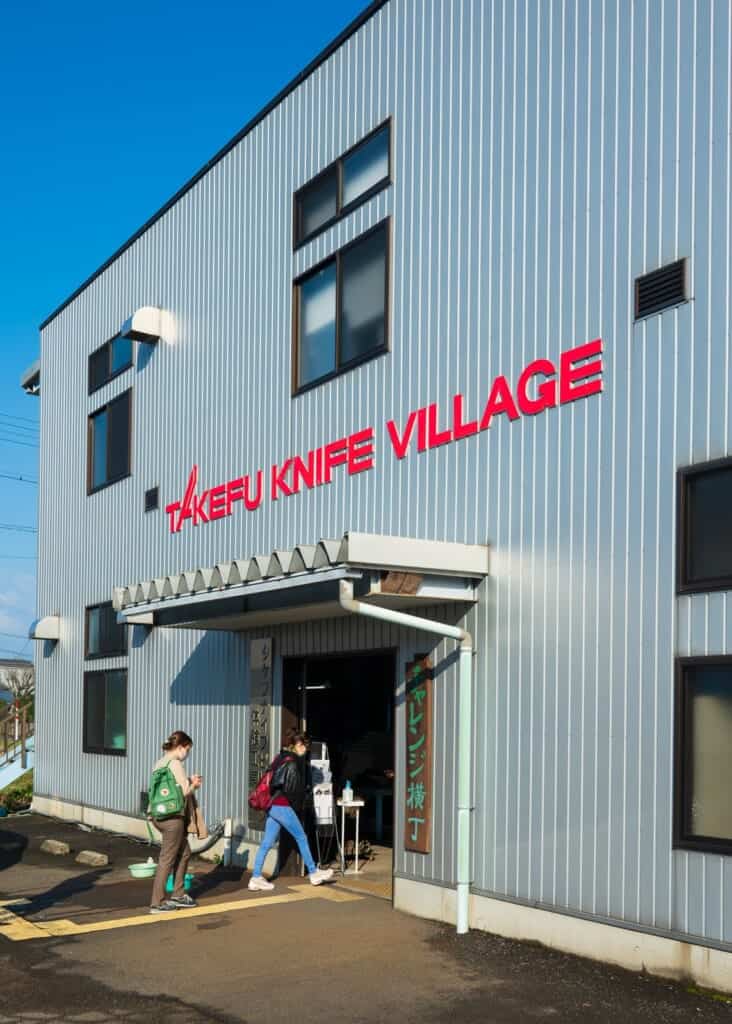 The village contains a large shared workshop area which you can observe by taking a tour, a showroom where you can see and purchase products made by the village's craftsmen, and various programs allowing visitors to make their own knives or other objects. Depending on your level of interest and time constraints, programs range from a few hours to 2 days in length, with the longer programs allowing you to participate in nearly every aspect of making your own knife, guided by a local craftsman. (It is recommended that you are either relatively fluent in Japanese or are willing to hire a translator if you want to participate in the longer programs.)
Our group participated in the shortest and most simple program: making your own letter opener. Although it took only about 90 minutes, we were involved in many aspects of making our letter openers, including choosing and tracing the desired shape onto the metal, filing down the rough edges, and hammering unique patterns into the blade. In the end, each group member had their own one-of-a-kind souvenir to take home, each completely different from one another.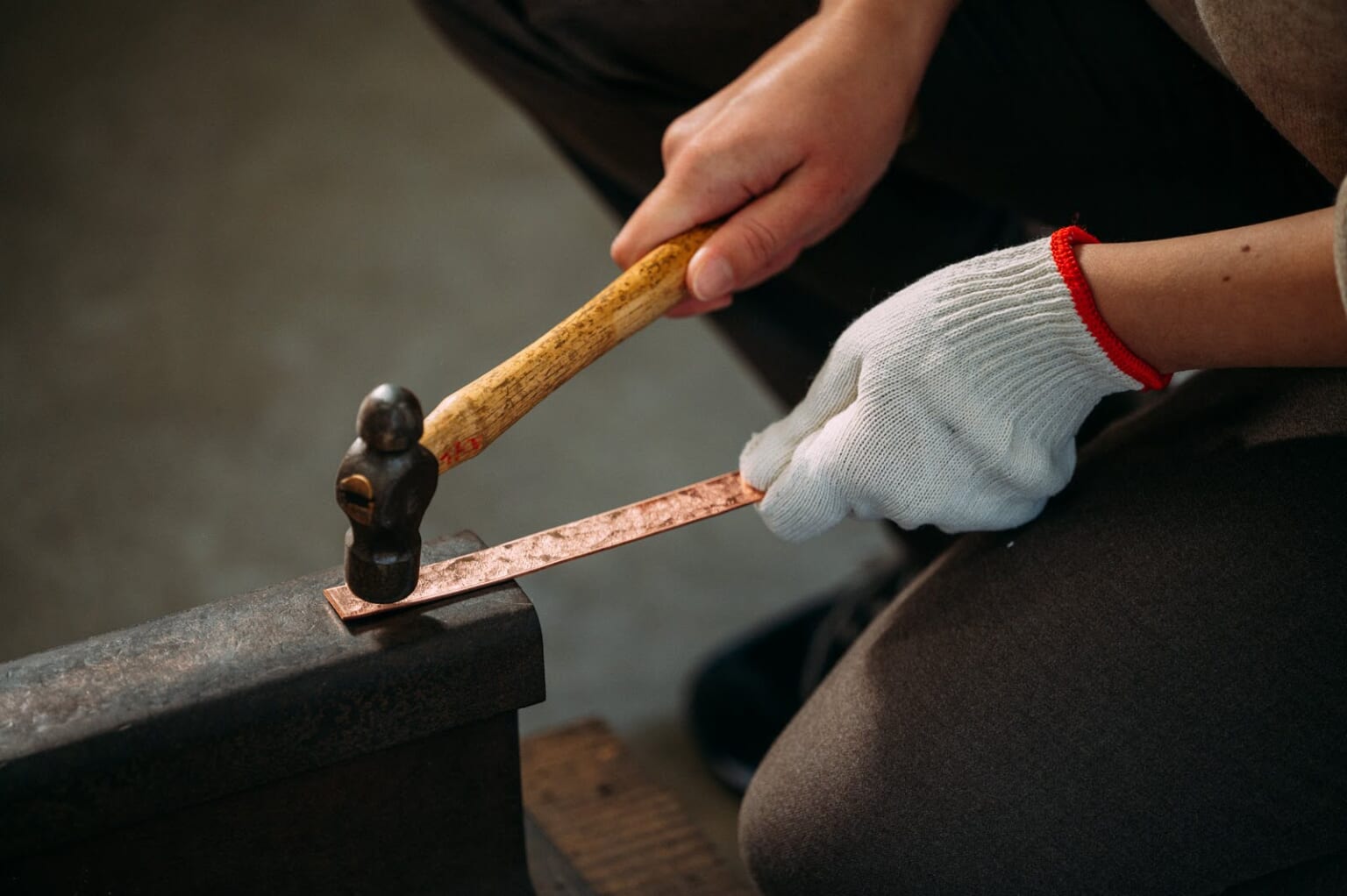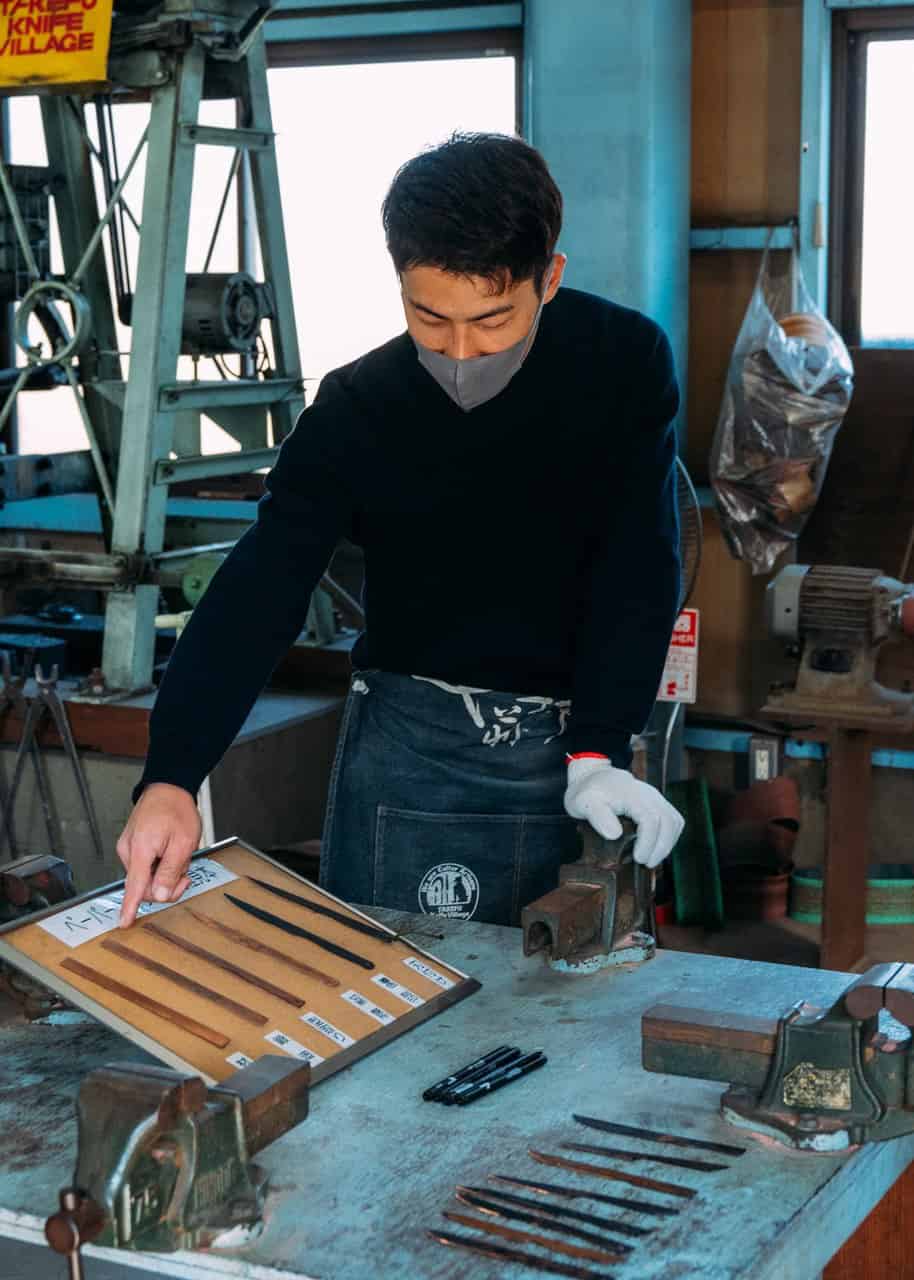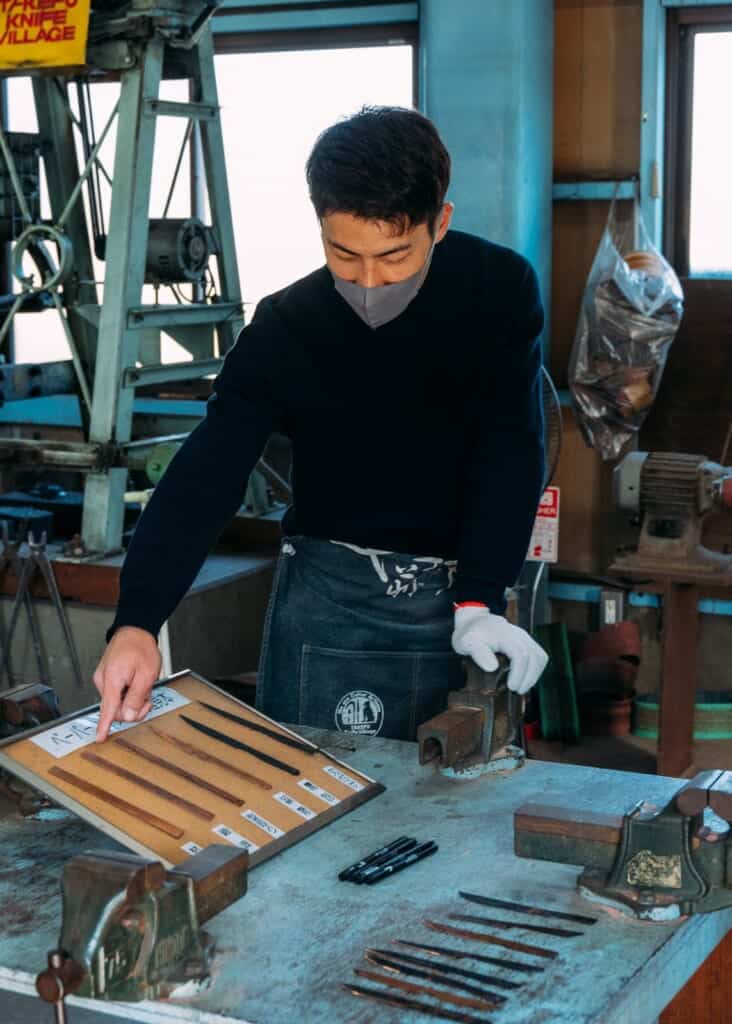 "Touring" the workshop is done from a viewing platform above the workshop floor. From there, you can survey different areas where master artisans are forging, hammering, and sharpening knives into finished products. When all activities are going simultaneously, it can be quite noisy, one of the reasons the Takefu Knife Village was moved from the center of Echizen to its current location. Still, the heat of the forge, the sparks flying from sharp iron, and the clanging of hammers can get your pulse racing, especially when you visit the showroom to see the finished products.
Takefu Knife Village 22-91 Yokawacho, Echizen City, Fukui Prefecture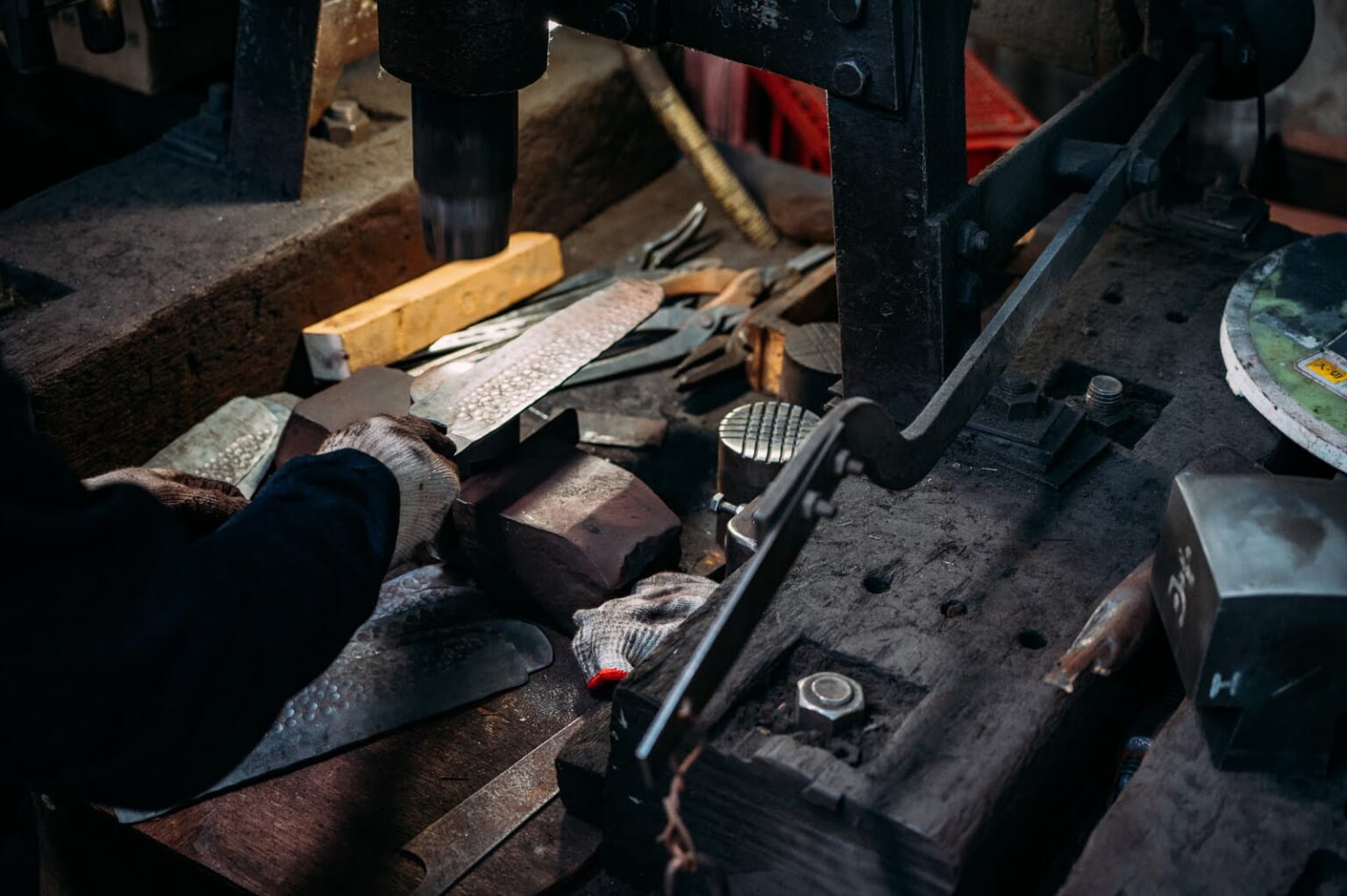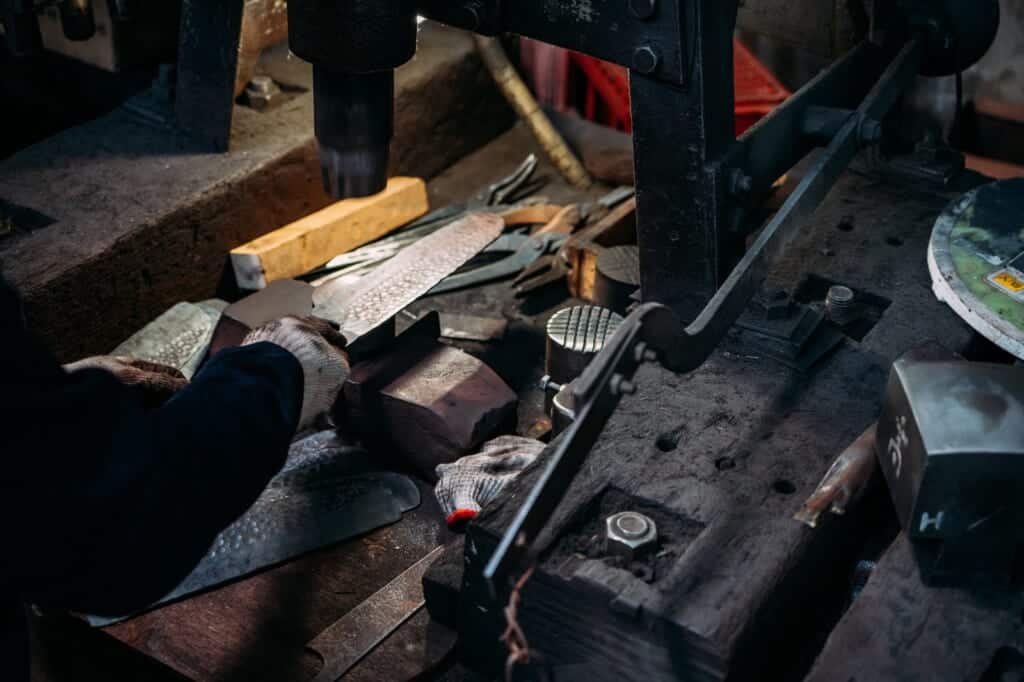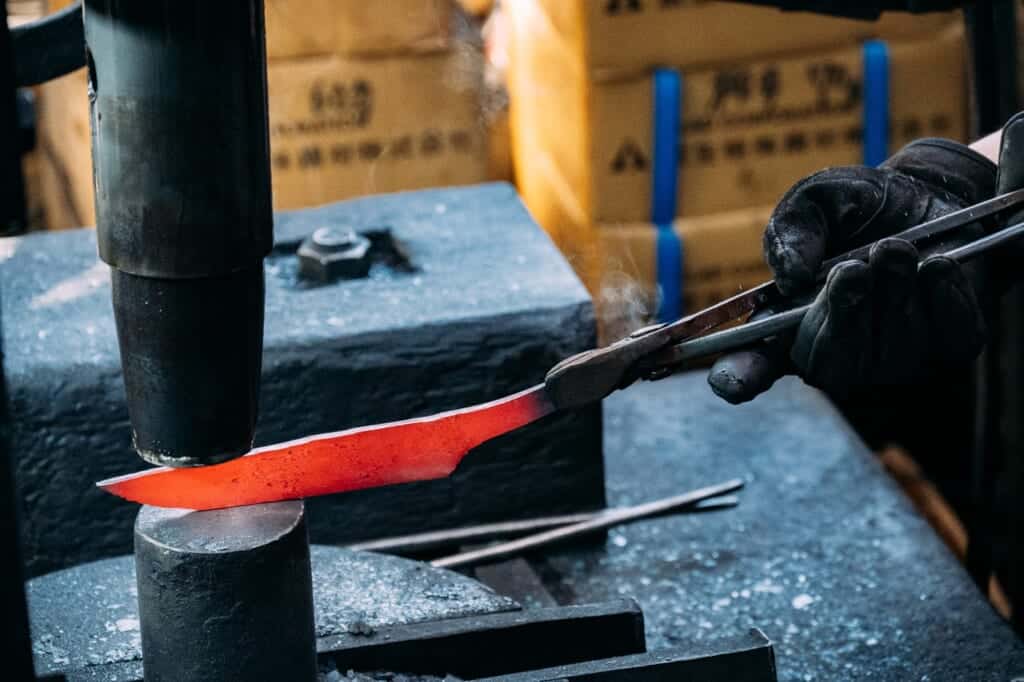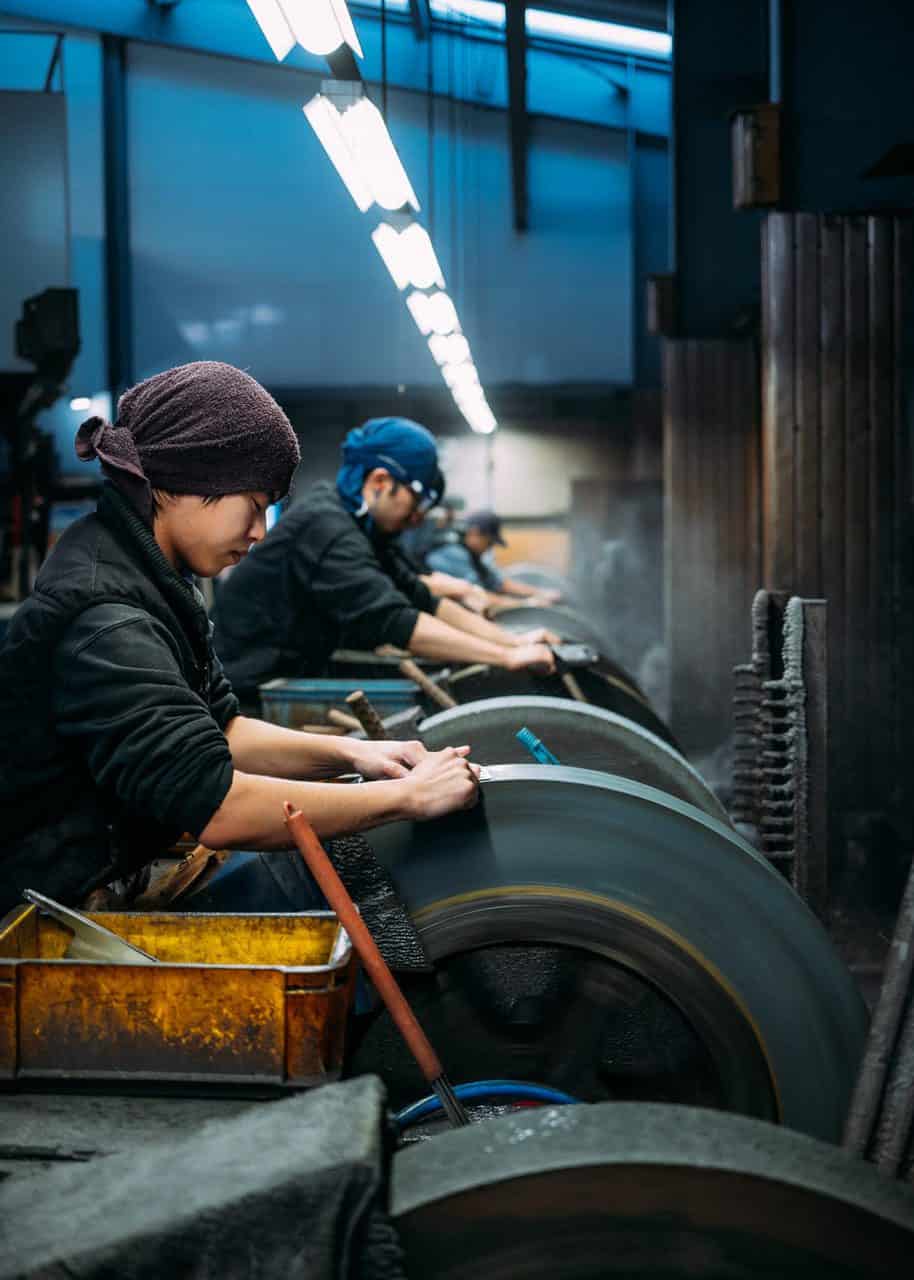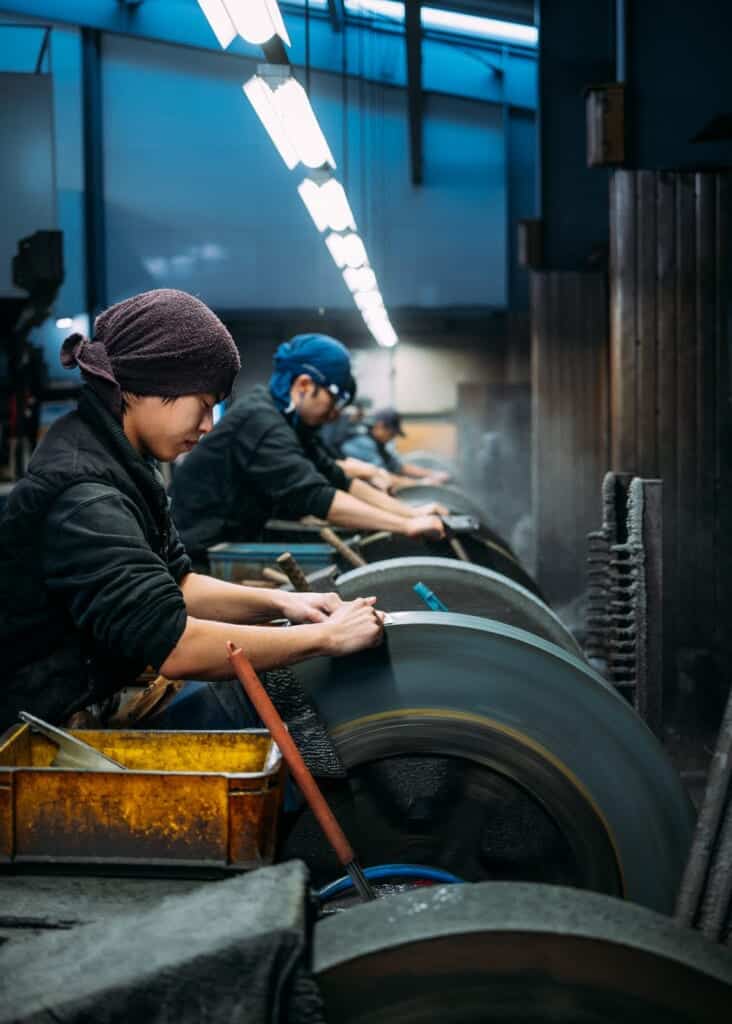 Your next stop is the cutlery workshop Ryusen Hamono. The knives here are individual pieces of art, so it would follow that the showroom would be extraordinary as well. Knives are displayed around the perimeter of the store like museum pieces; in the center, there is a counter where the quality of the knives can be experienced. Take one of the knives on display and use it to slice through a carrot or a soft piece of styrofoam used to mimic the density of bread. These are not just beautiful blades; they are masterpieces of utility.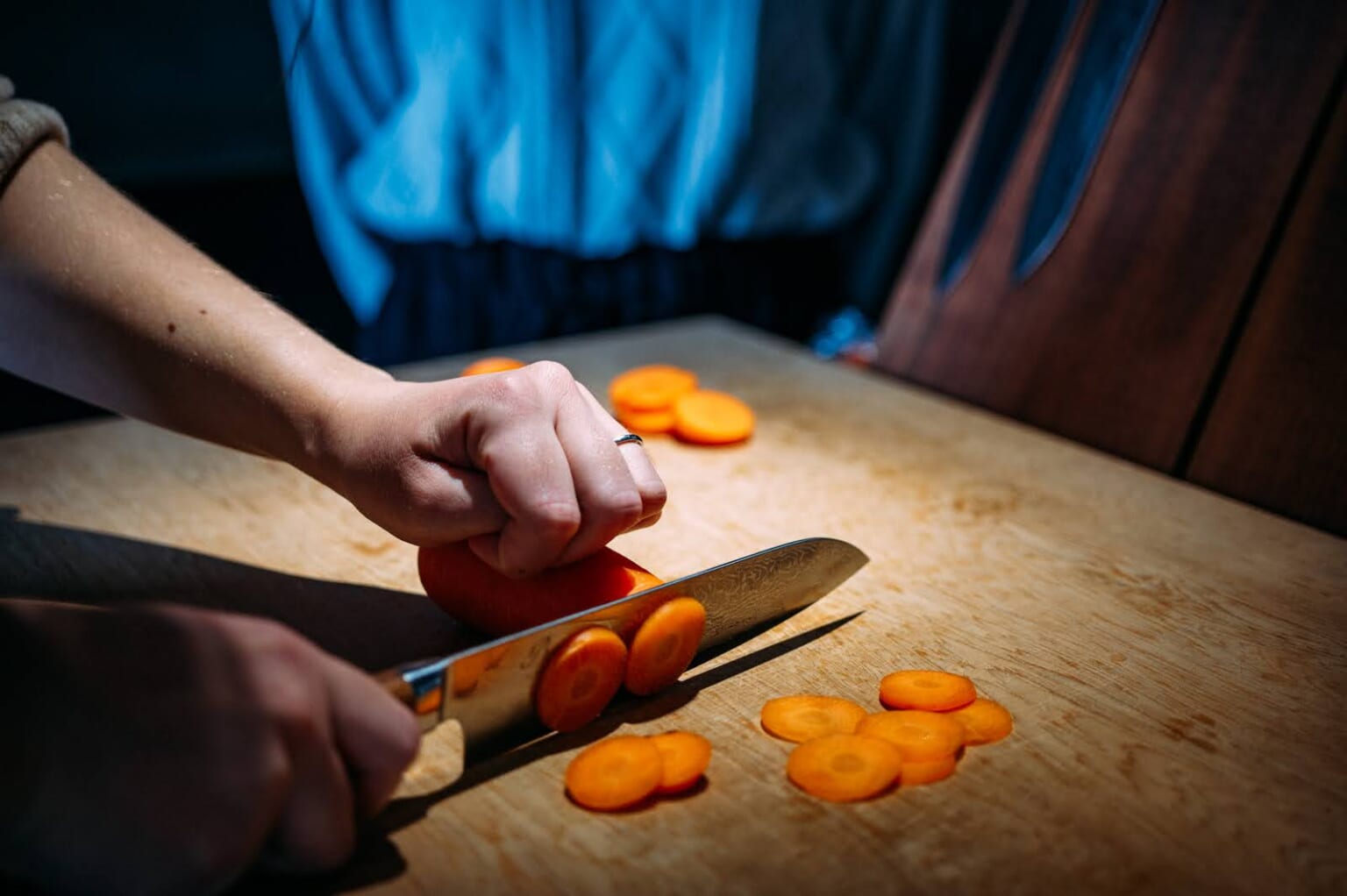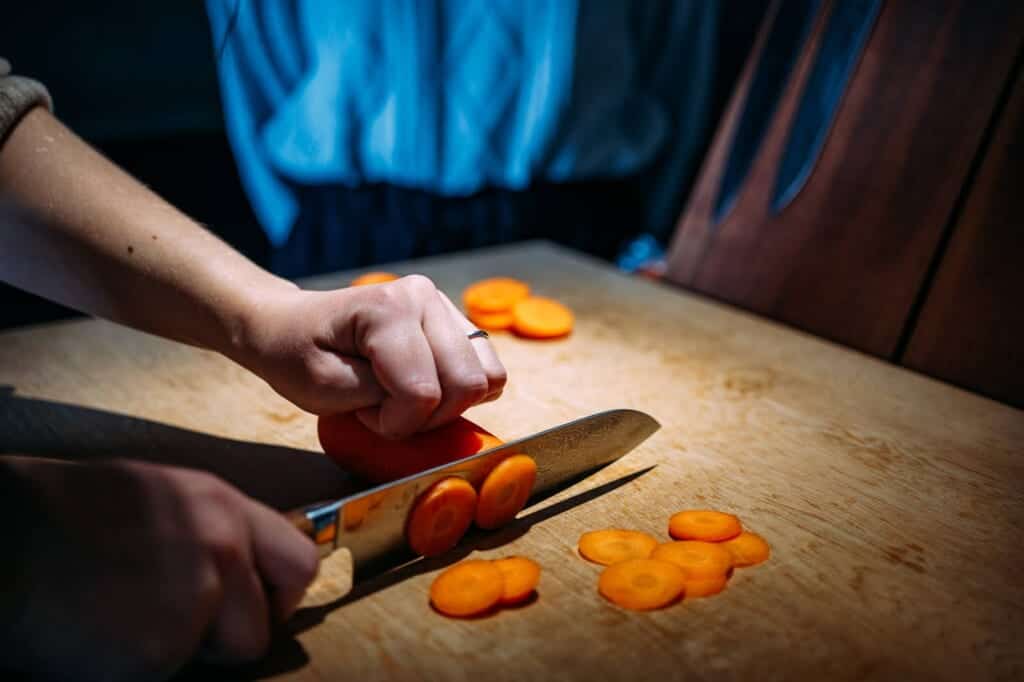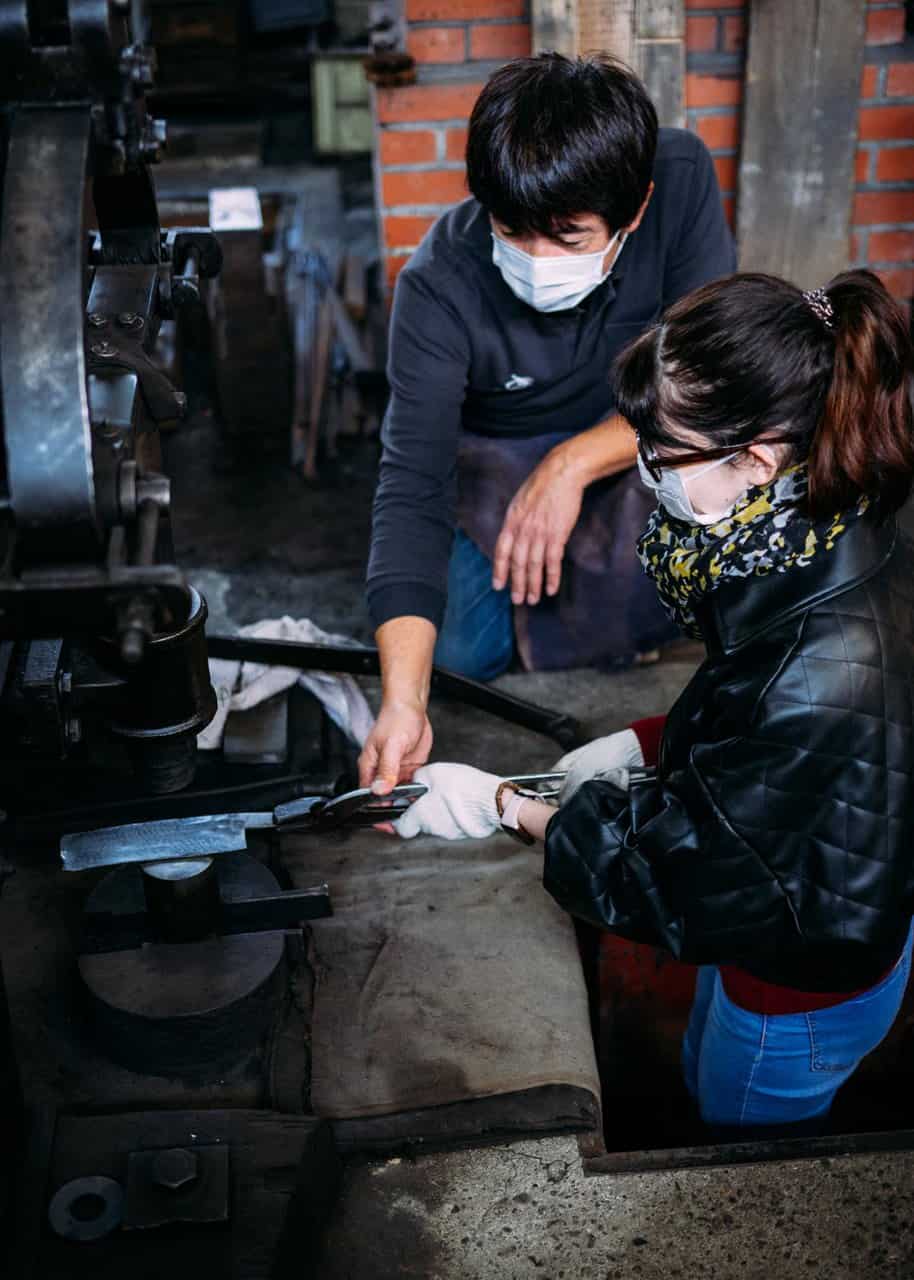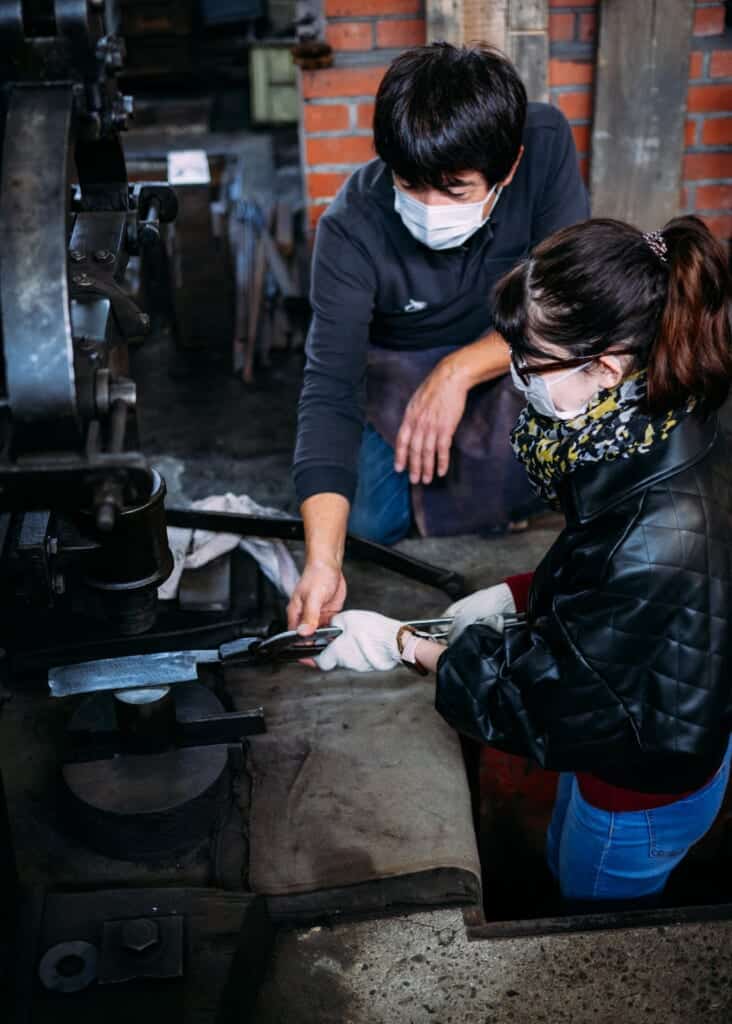 Behind the counter, a large painting of a dragon looms, a reminder of the origin of the unique patterns of droplets called "ryusen-rin" found on Ryusen blades. The pattern is said to be the spray falling from the bodies of dragons, the legendary creatures once worshipped in Japan. While the legend of dragons may sound far-fetched, one thing is indisputable about Ryusen's history — they are forged using the same techniques used to make Japanese katana swords nearly 700 years ago.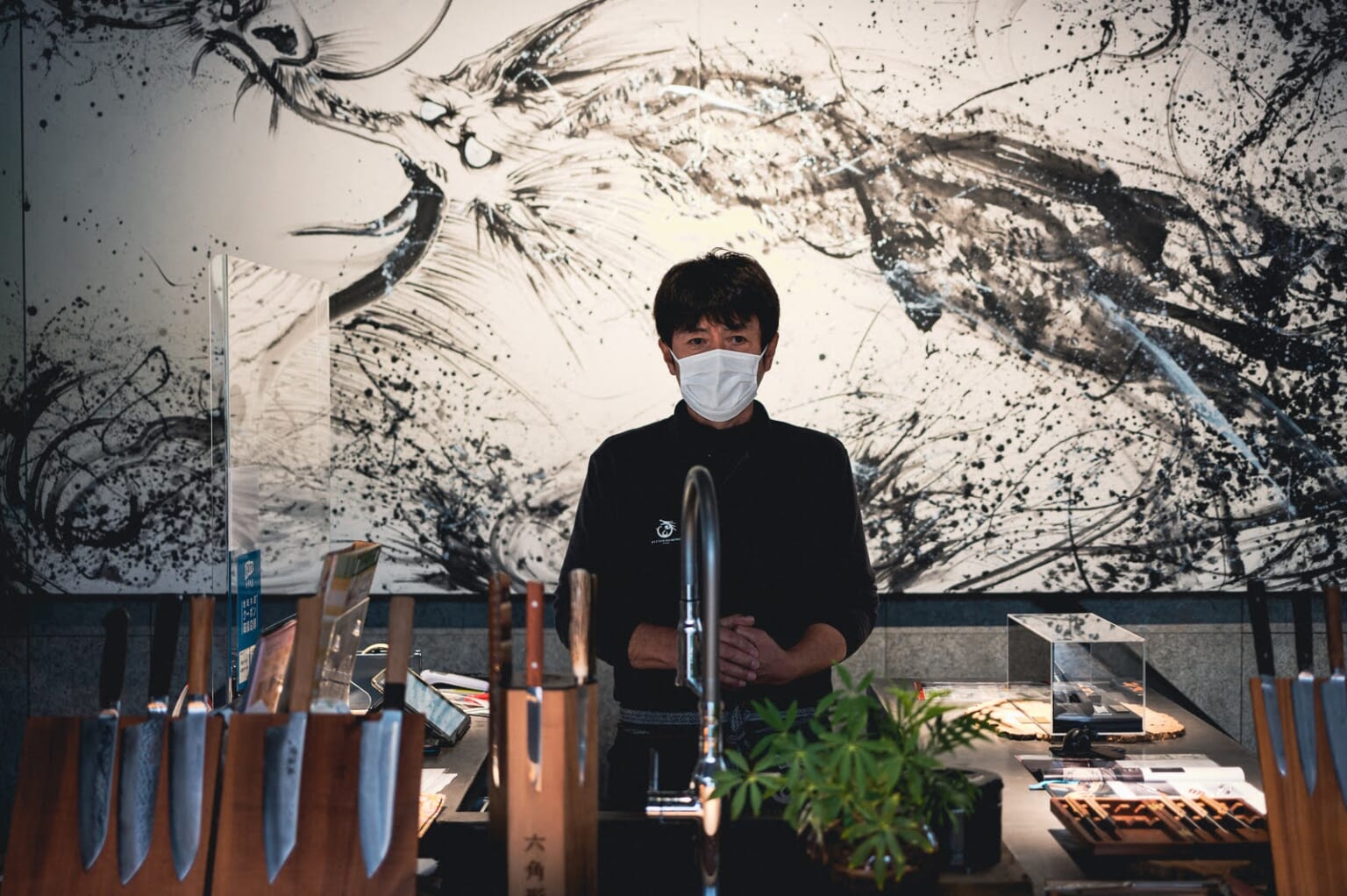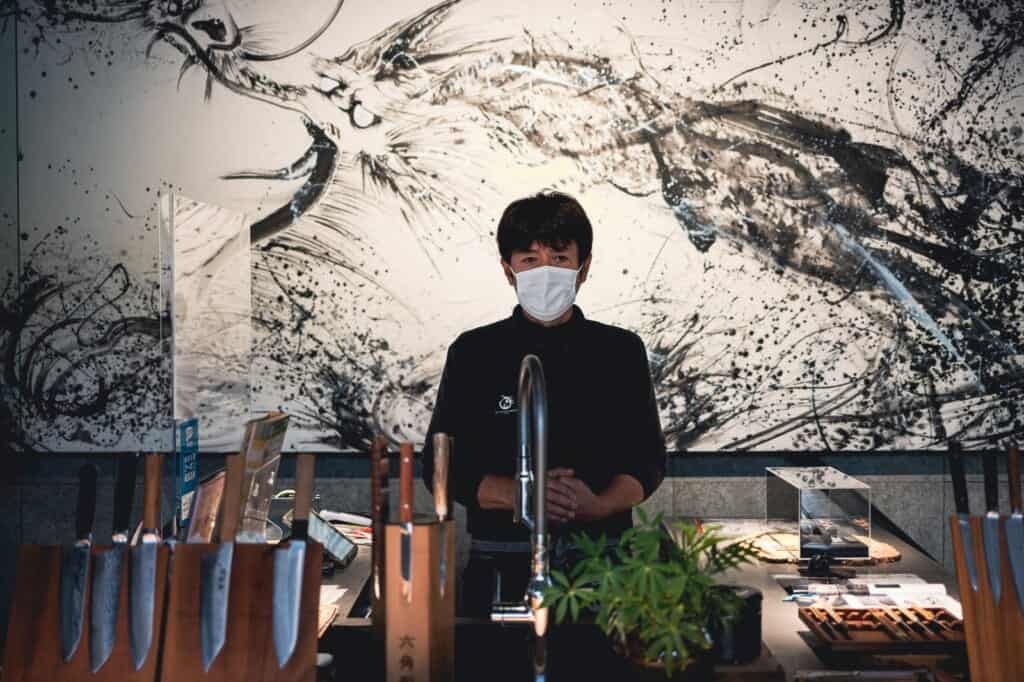 A perfect balance of strength, sharpness, and beauty, it is no wonder Ryusen knives are coveted around the world for their quality. It was an honor to meet the master craftsmen responsible for bringing these magnificent culinary tools to the world and realize their passion for carrying on the traditions their products are based upon.
Ryusen Hamono Co., Ltd. 92-5-6, Ikenokami, Echizen City, Fukui Prefecture
Echizen's Historic Temples and Tansu Chest Craftsmen
After spending time admiring the incredible craftsmanship of Echizen cutlery, stretch your legs with a stroll through the historic streets of the city. Just west of the JR Takefu Station, you'll find a well-preserved district of ancient shrines, temples, and shophouses. Many of the temples here have existed for centuries, containing wondrous treasures and maintaining beautiful gardens and important buildings.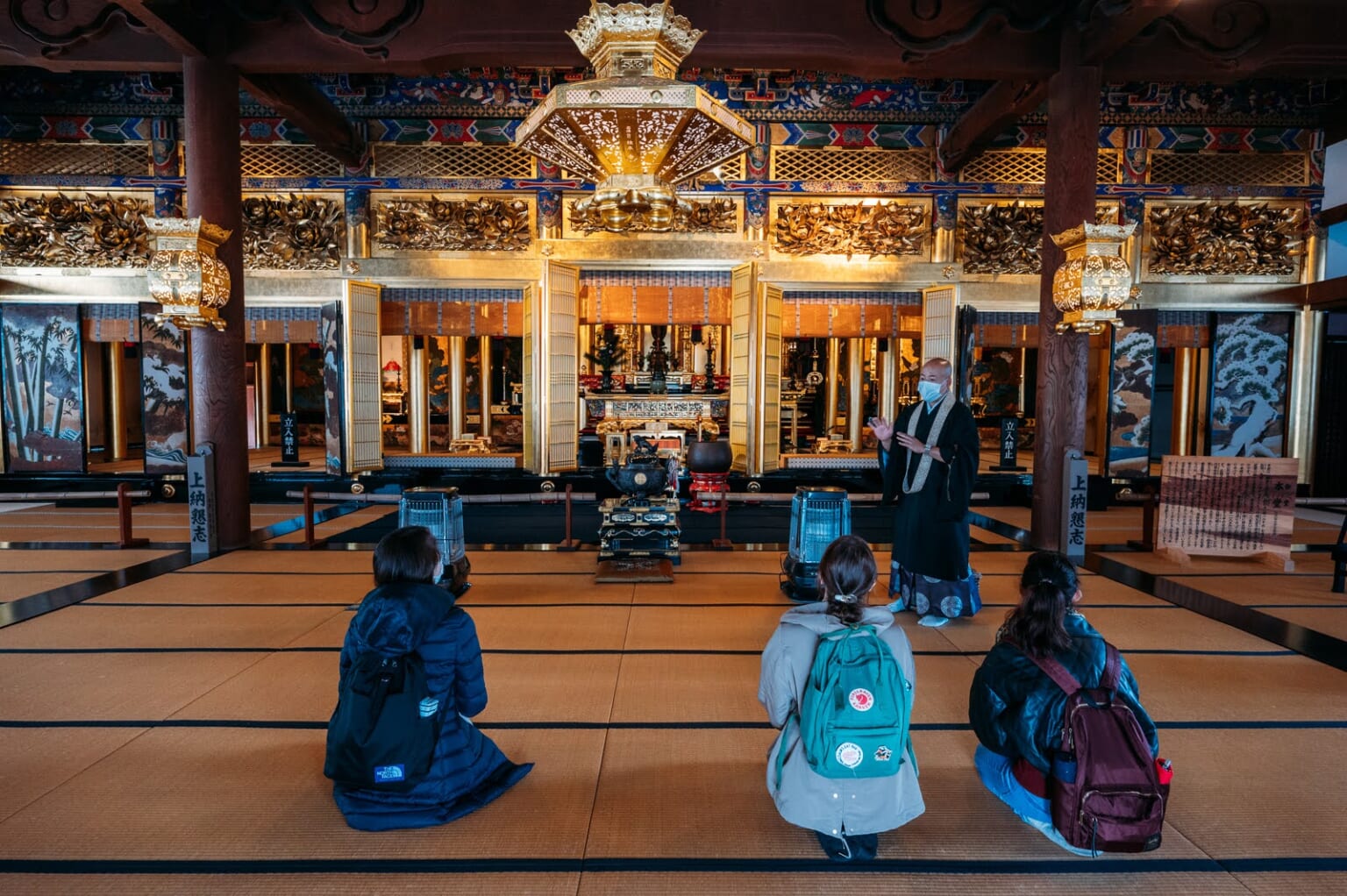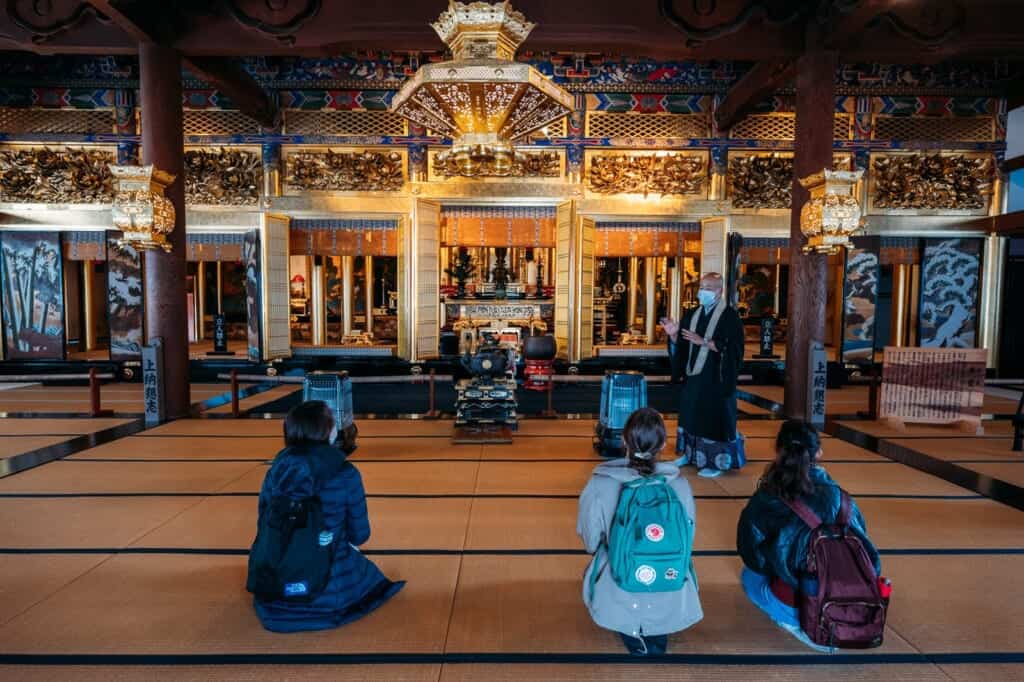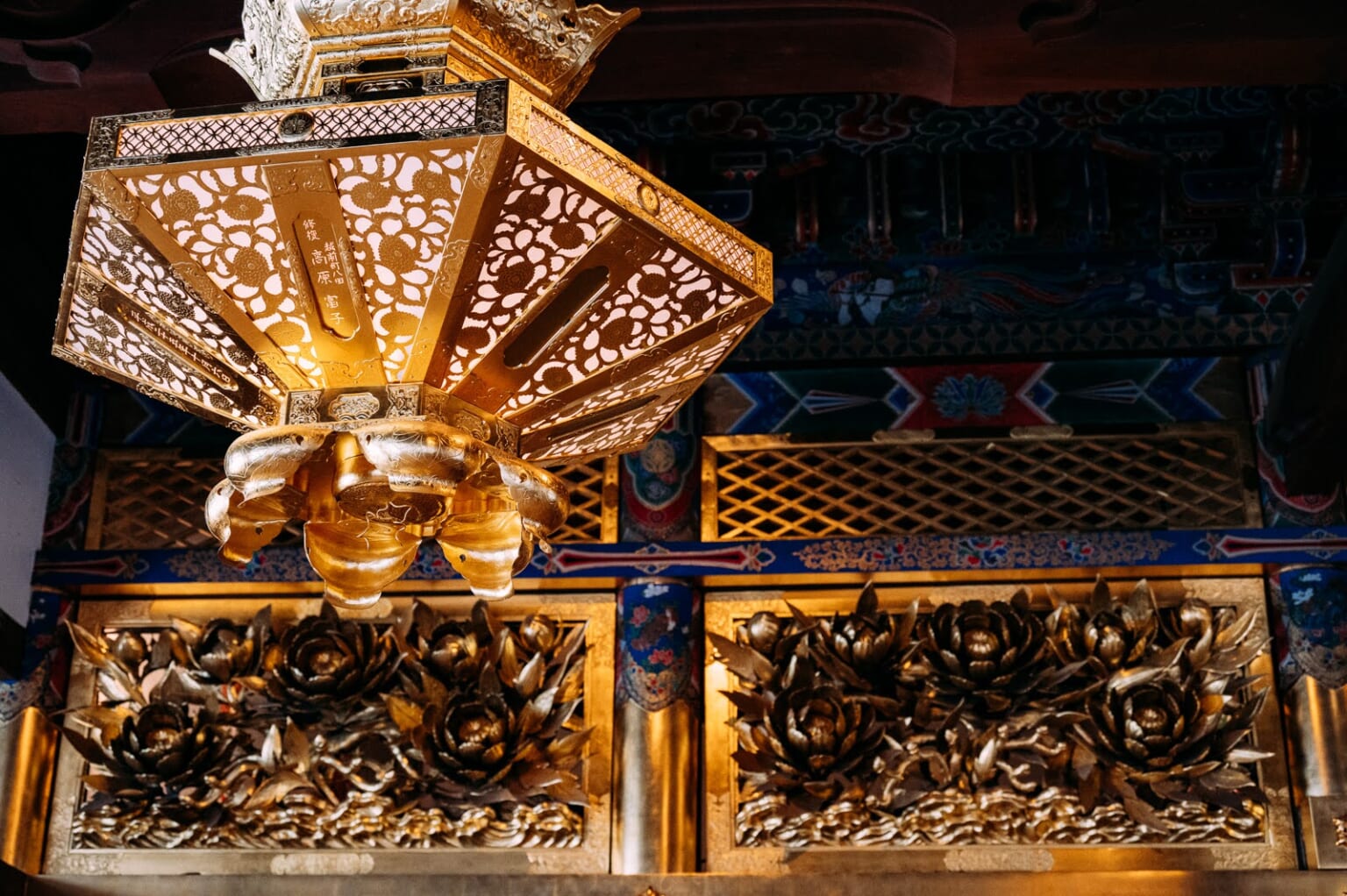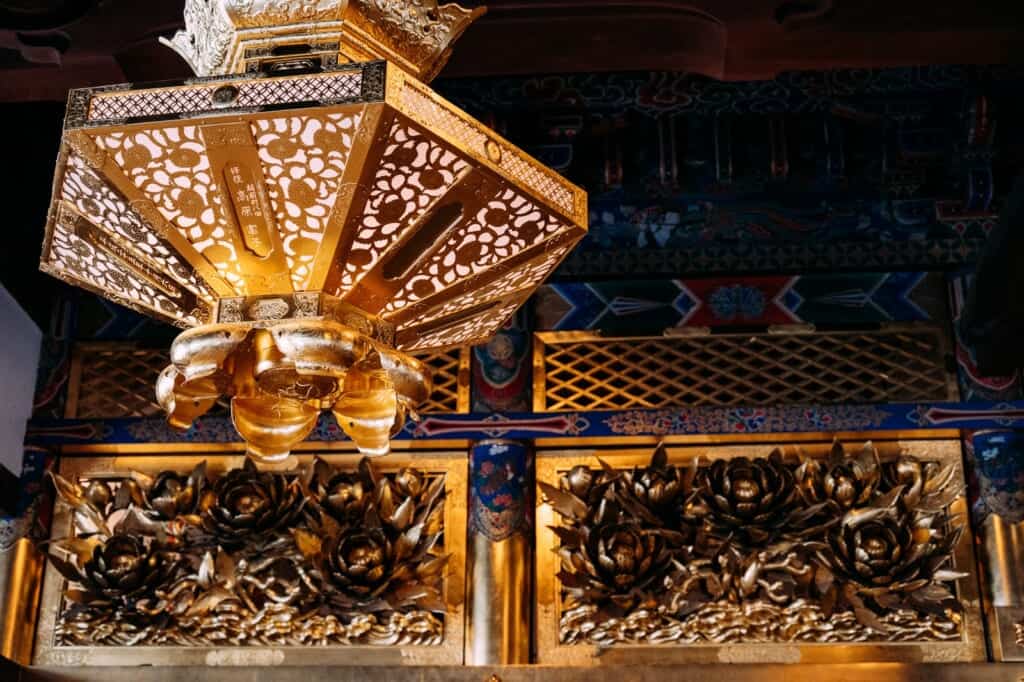 One such place is Yoganji Temple, built in 1471 not long after Echizen city itself was founded. Yoganji benefits from its location in a city of craftsmen, which you will see on a tour of the temple grounds. From its cavernous Mido main hall that seems to glow from the light of its gold-leafed decor to its exclusive Goten Garden, which esteemed visitors could view from the temple's Palace Room, the skills of the craftsmen involved in its construction are evident in every detail.
Mido Yogan-ji Temple 3-10 Hommachi, Echizen City, Fukui Prefecture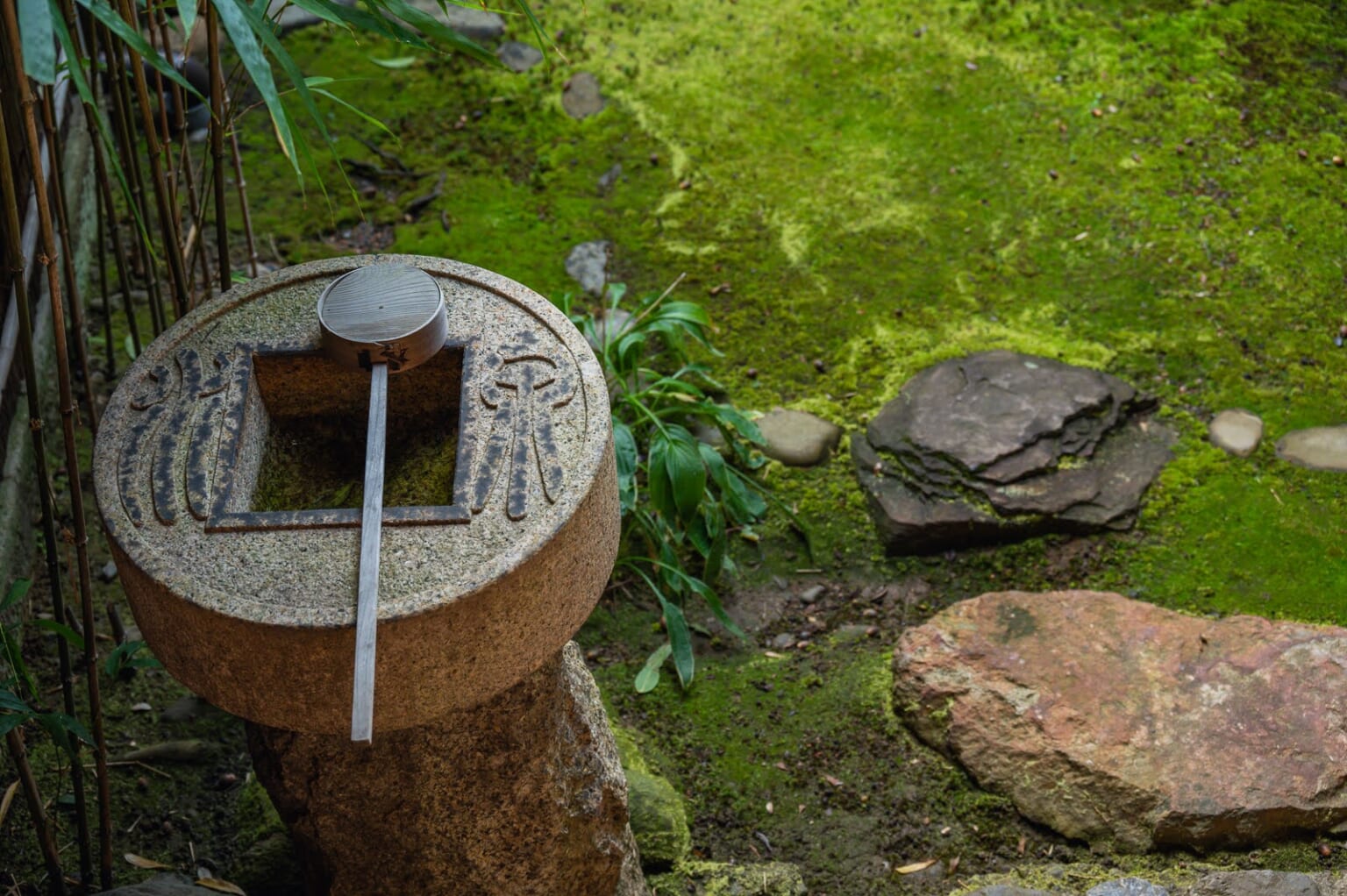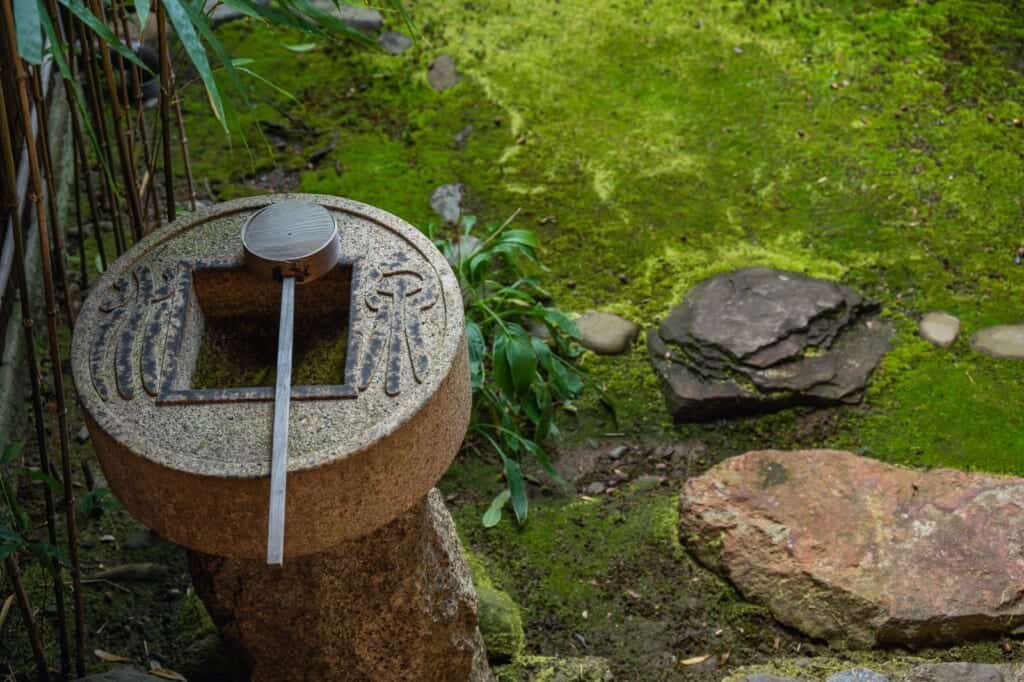 After enjoying Yoganji Temple and its treasures, walk through Tansu-machi, where the shops of craftsmen making Echizen chests are concentrated. Your final stop of the day is Oyanagi Tansu Kobo, an established maker of tansu chests since 1907.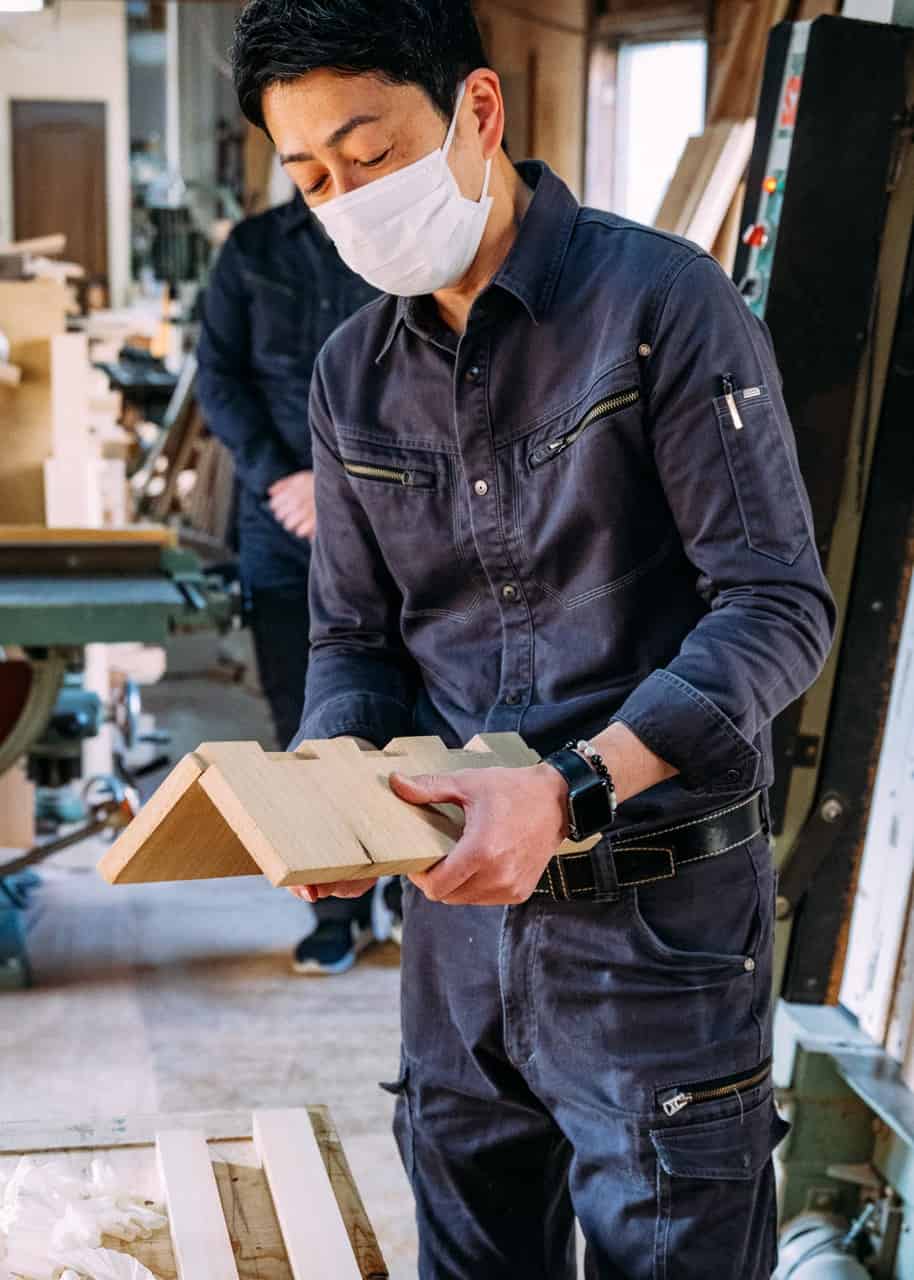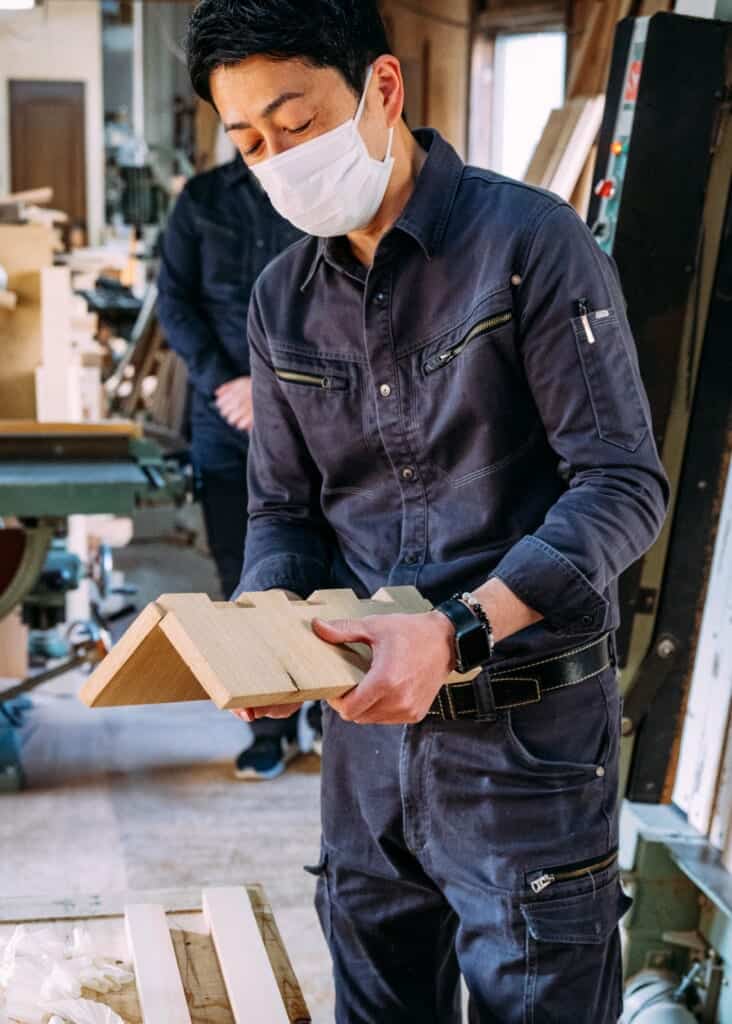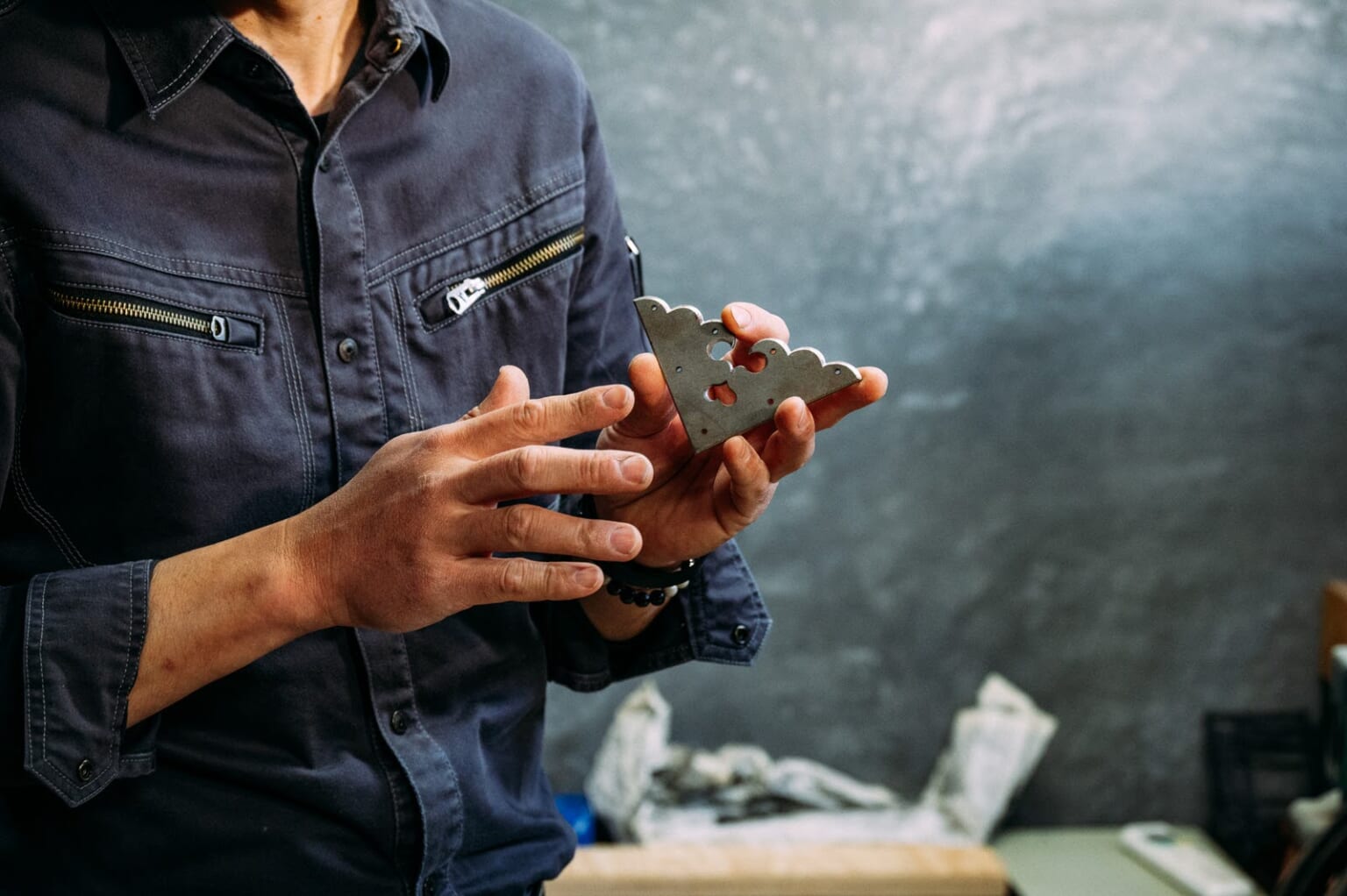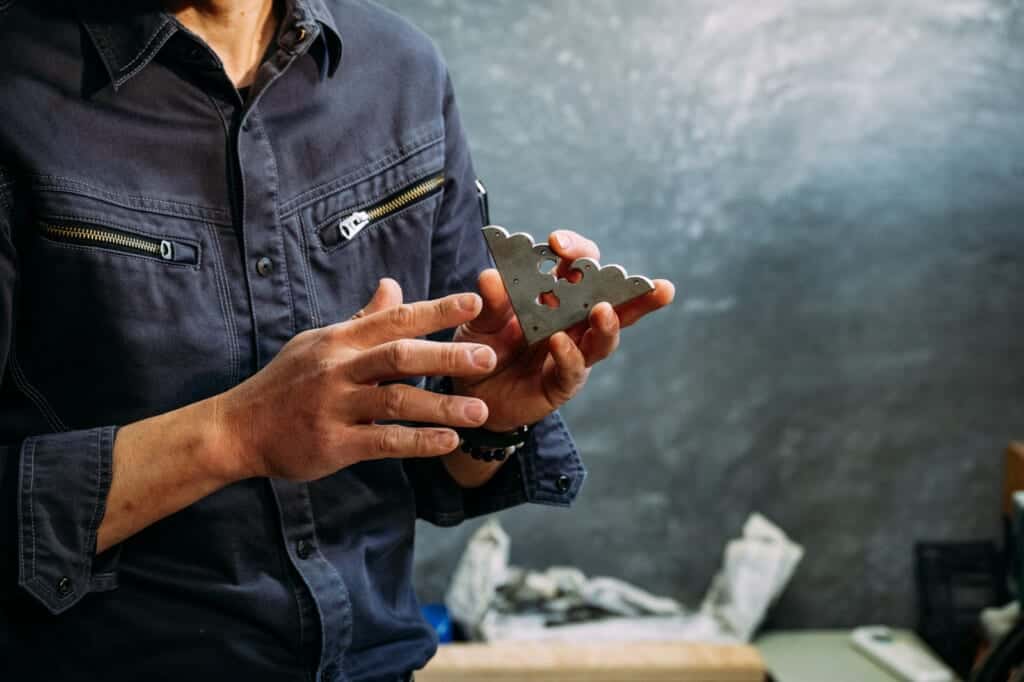 According to Oyanagi Norikazu, the fourth-generation craftsman of the shop, there are three essential techniques that are used in the making of Echizen chests. The first is "sashimono," assembling the wooden components by interlocking them without the use of nails. Second is the use of ornamental metal fittings, which are polished with raw silk and coated with camellia oil to prevent rusting. Finally, the wood is lacquered layer by layer to provide deep colors and protect the wood over time. Most importantly, each of these techniques is done by the tansu craftsman himself, not hired out to other companies.
Oyanagi-san provided a tour of his shop and workshop, demonstrating the work required to perform each of the three Echizen tansu techniques. He invited us to try his plane cutting tool, which planes off a layer of wood so thin it is translucent. It certainly wasn't as easy to do as Oyanagi-san made it look, and we had a good laugh at each other's expense as we attempted to use the tool.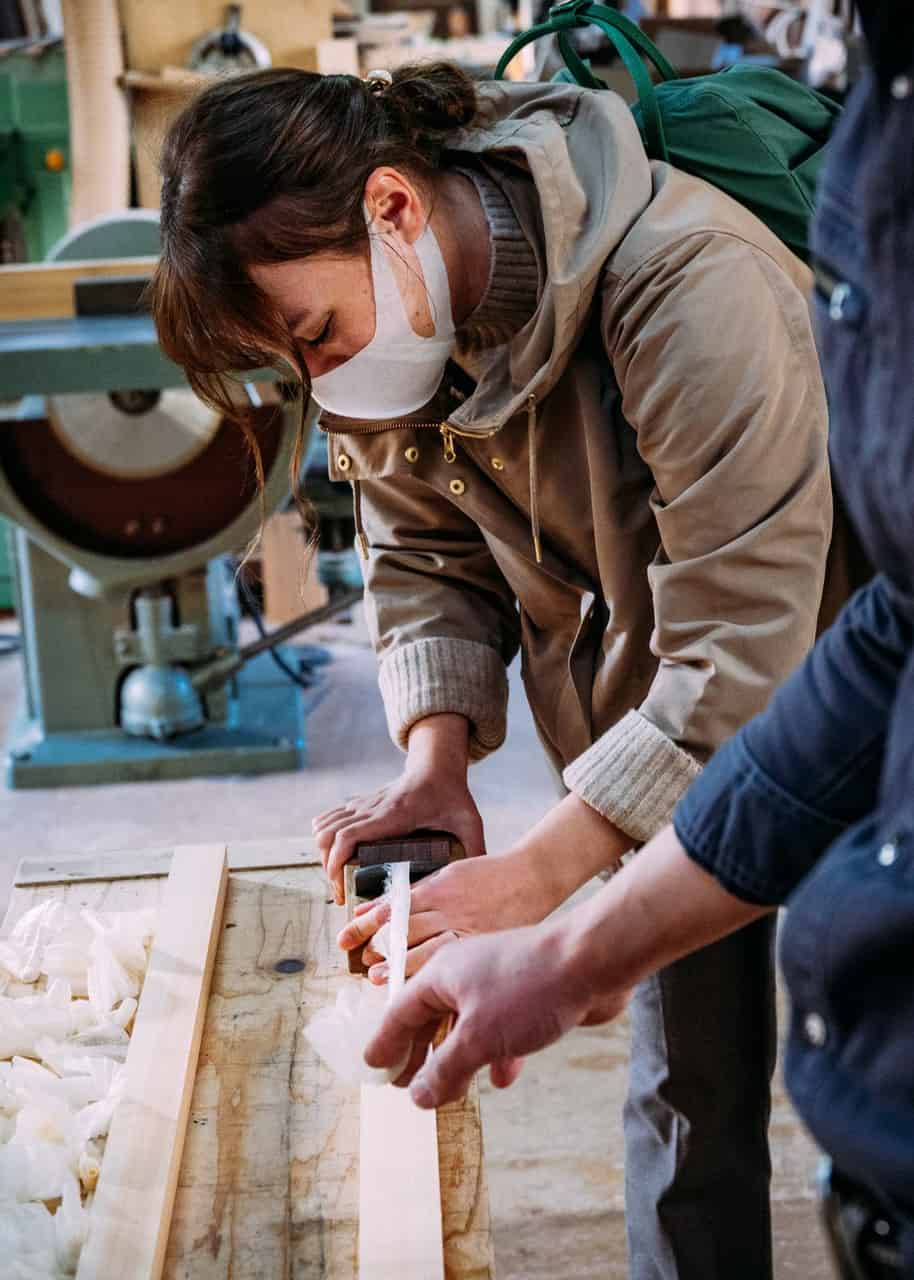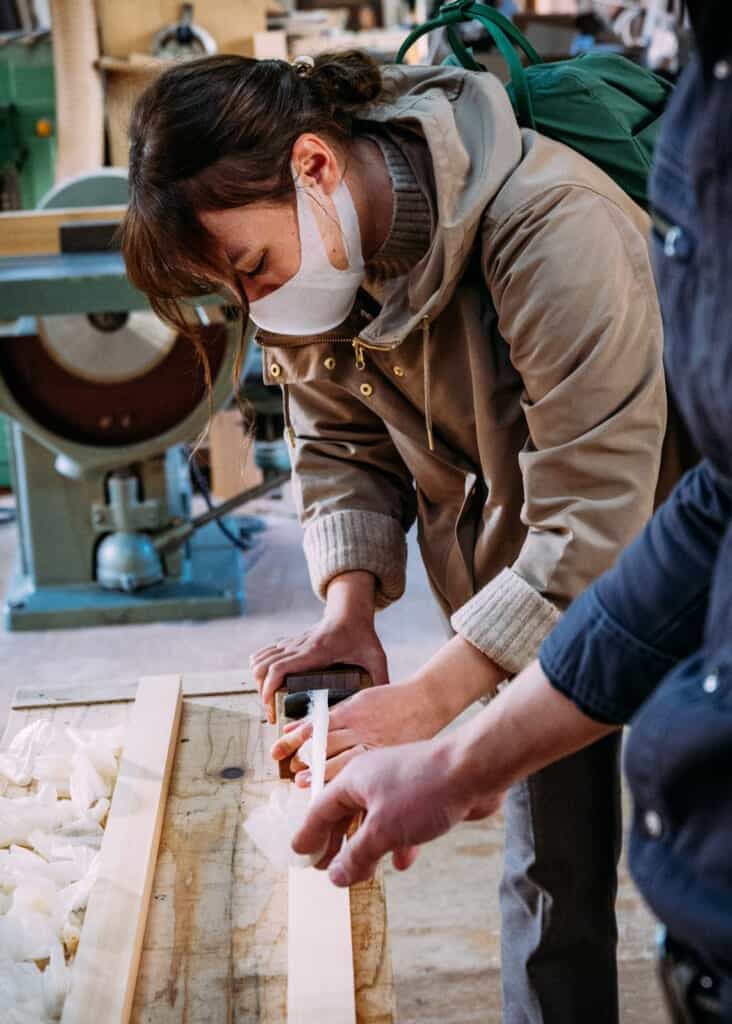 Although Echizen tansu chest making has been done here for hundreds of years, Oyanagi-san continues to innovate. He showed us examples of his creative mind at work, including chests that use magnetic "keys" to lock and unlock, chests that have to be opened in a specific order like a puzzle, with hidden drawers deep inside for valuable objects, and a portable speaker for an iPhone to amplify your music or video without the use of electricity, made with the same techniques he uses to build chests.
Oyanagi Tansu Kobo 10-7 Takefuyanagicho, Echizen-city, Fukui Prefecture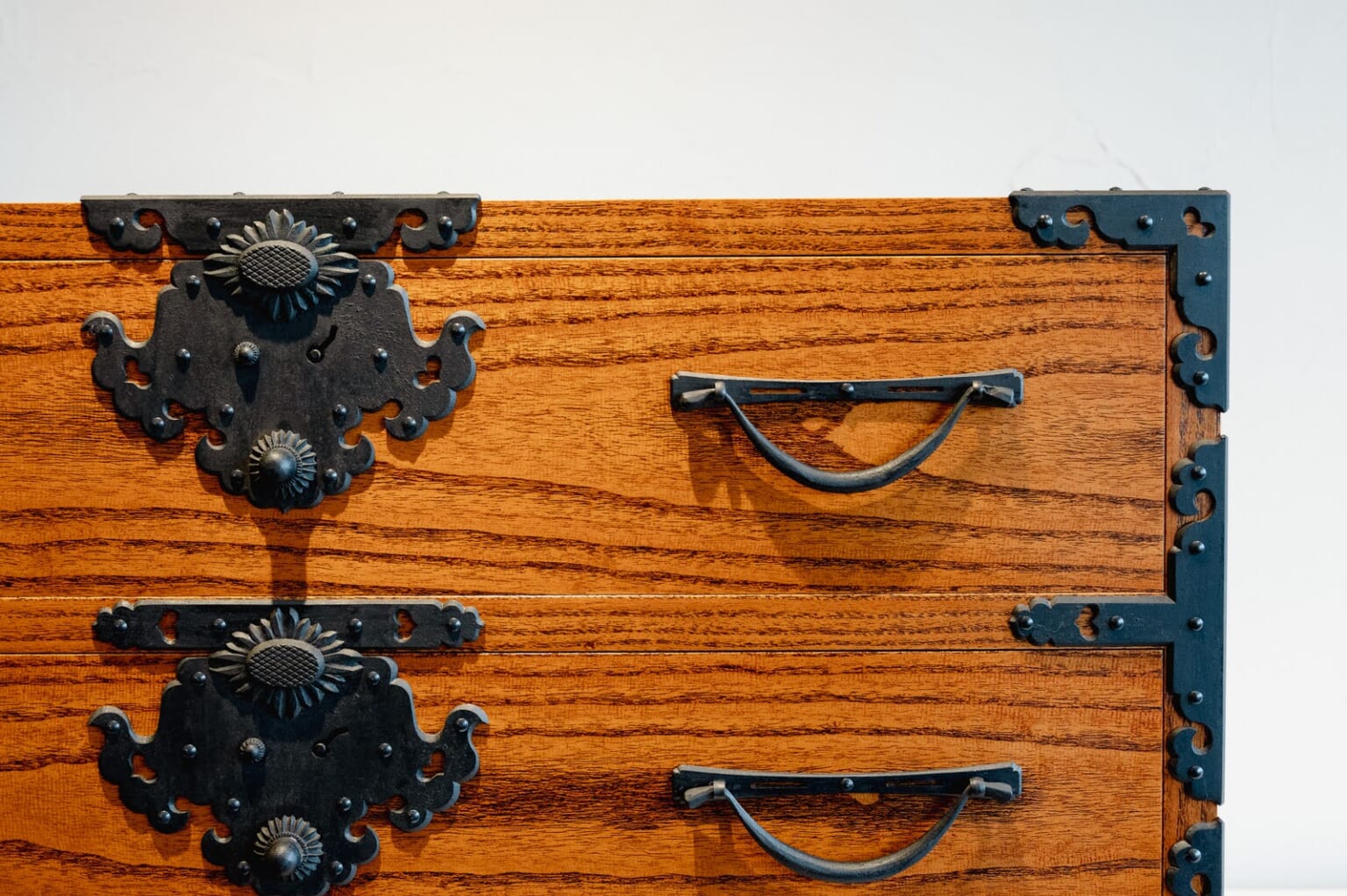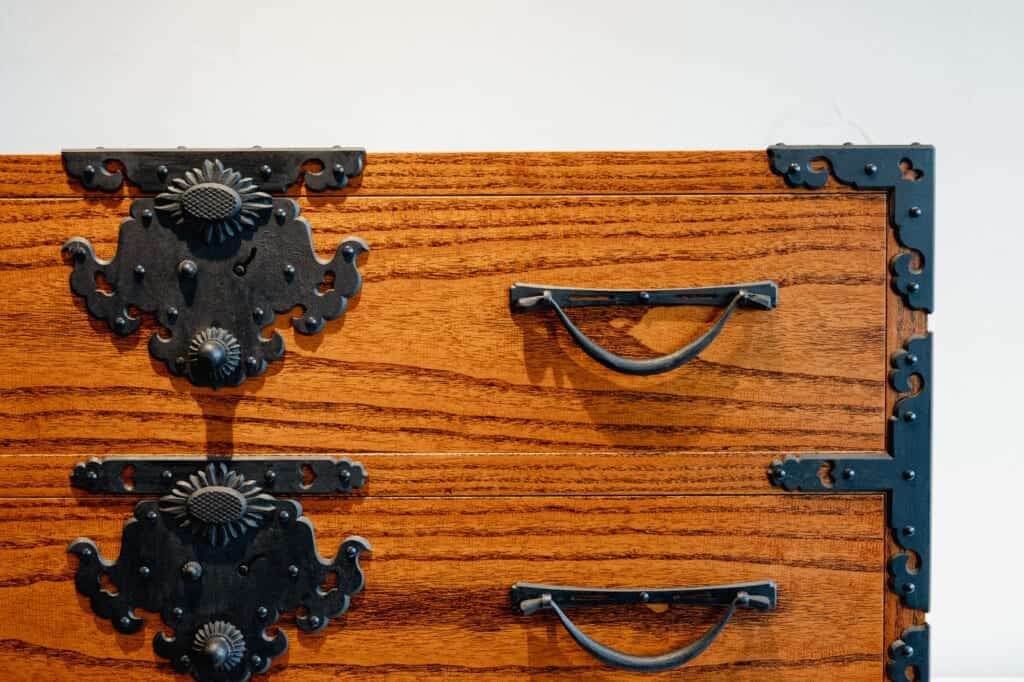 Day 6: Echizen Washi Paper Masters
Spend your final day in Echizen and along the TAKUMI Road experiencing one of the area's oldest crafts, handmade washi paper. Legend has it that the goddess Kawakami-Gozen appeared to the villagers in this area 1,500 years ago and taught them the art of paper-making. According to the goddess, there wasn't much in the area except good water, so they should use it to make paper. Whatever its origin, the washi paper of Echizen is renowned across Japan for its high quality.
The first stop of your day is Washiya Sugihara. This 150-year-old paper company now inhabits a large storehouse from over a century ago that was converted into a gallery and shop. The paper manufactured here is used for many high-end applications, such as art prints and interior design materials for luxury hotels and buildings. Enjoy browsing the shop, which contains many unusual items made of durable washi paper, including business card holders, wallets, and book covers.
Washiya Sugihara Washipaper, Inc. 17-2 Oizucho, Echizen, City, Fukui Prefecture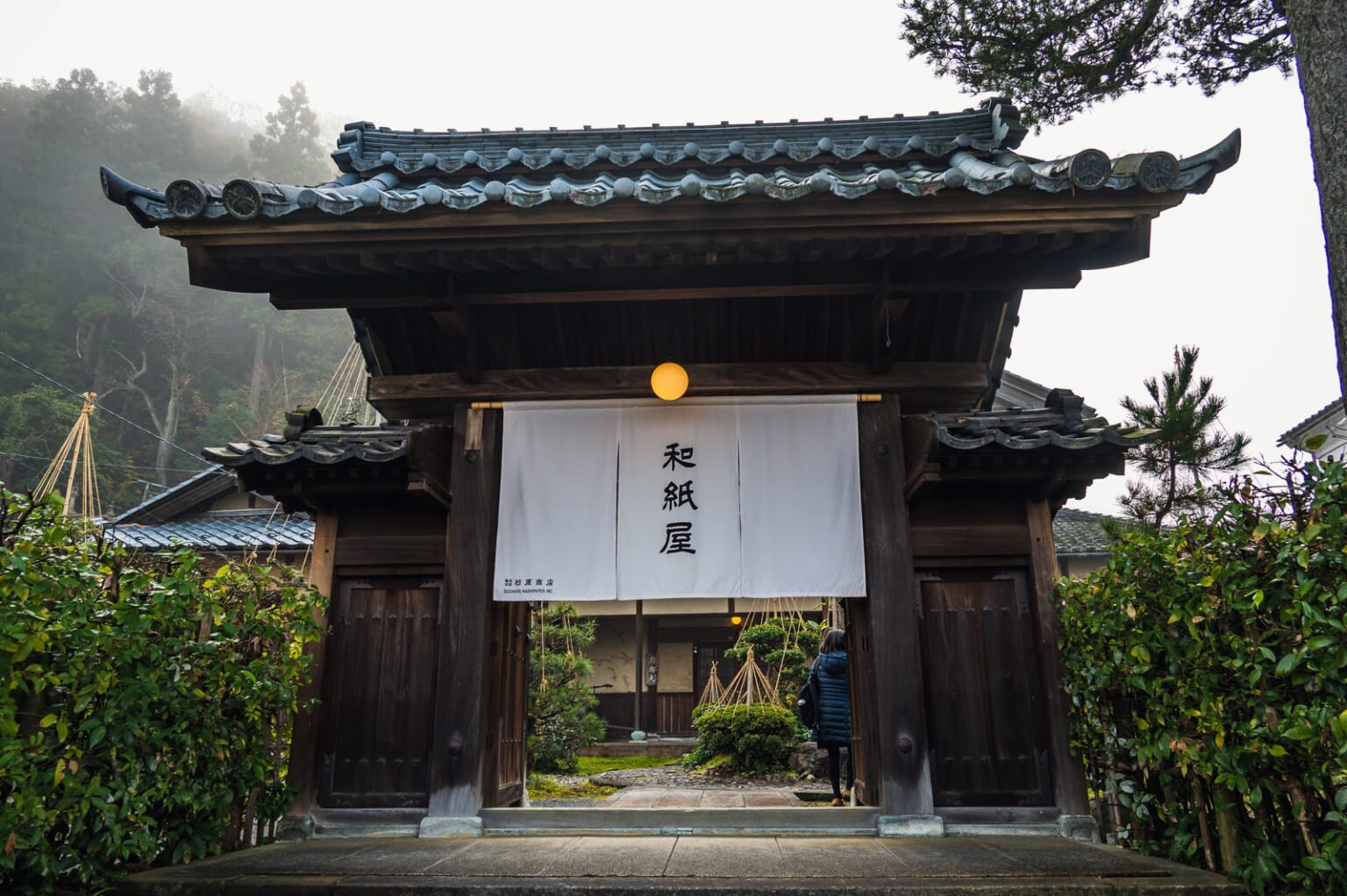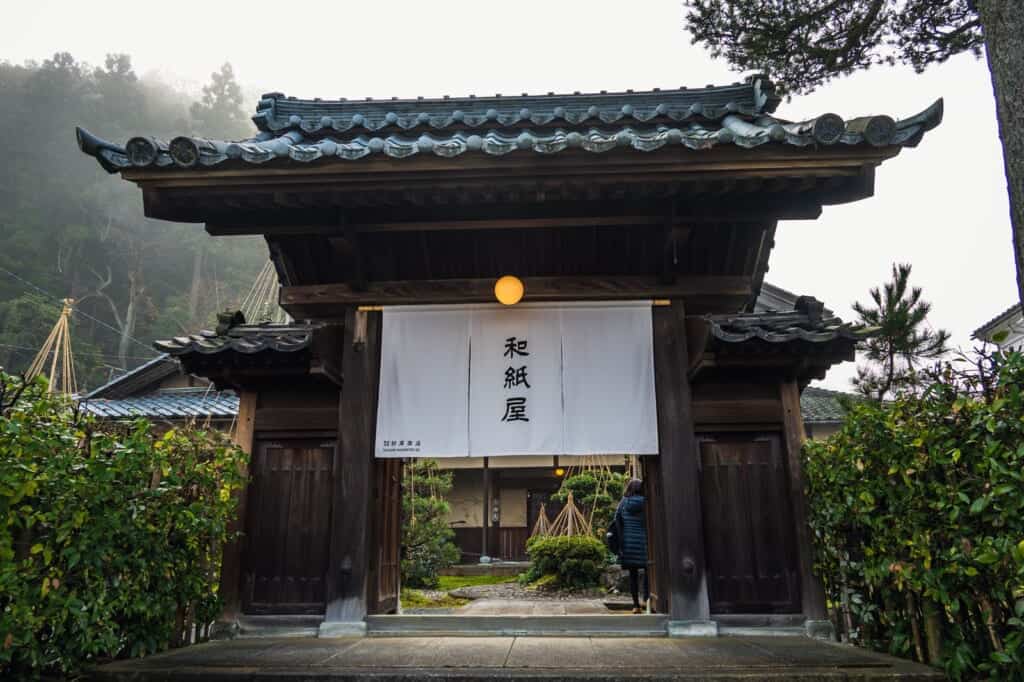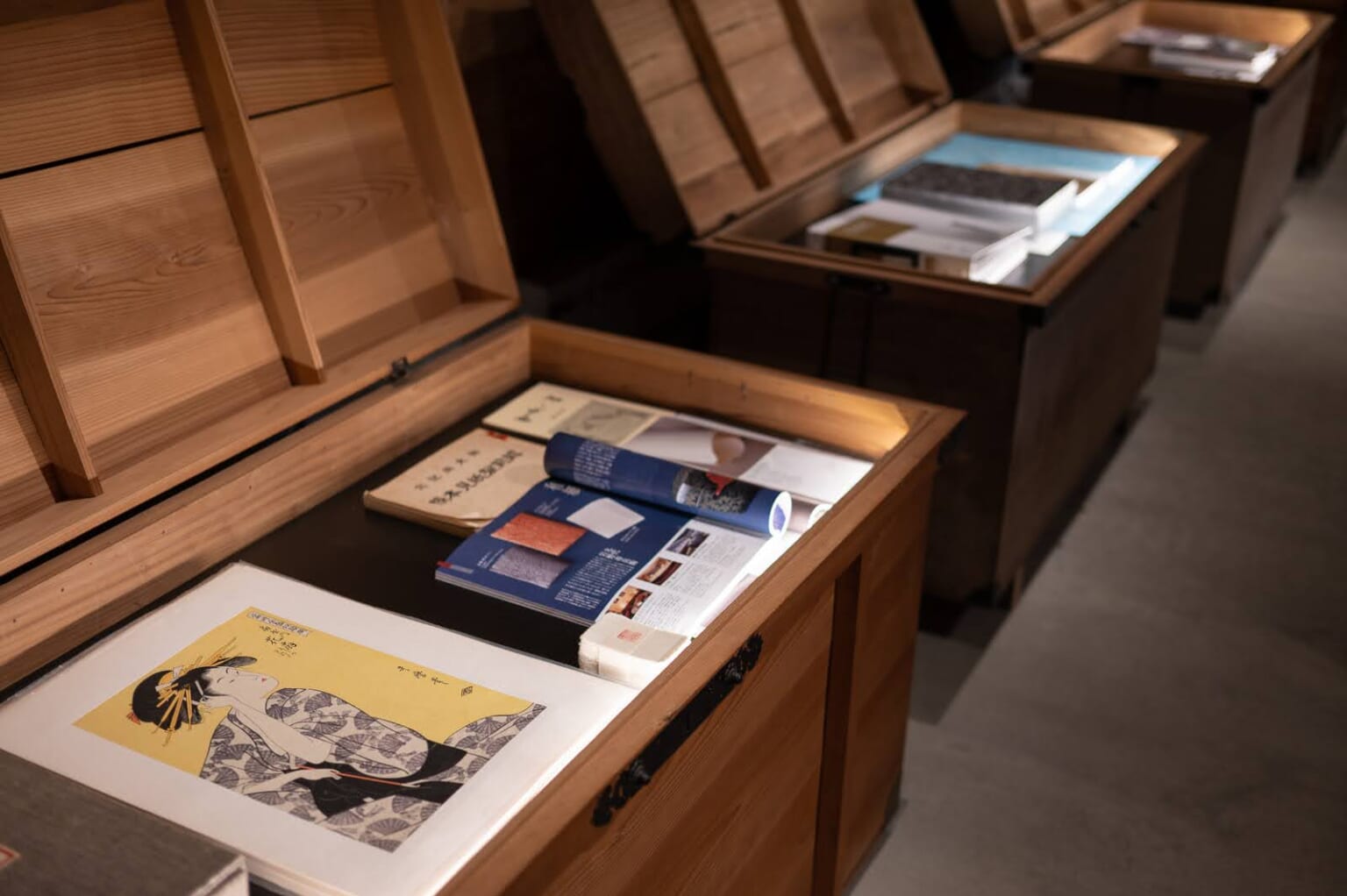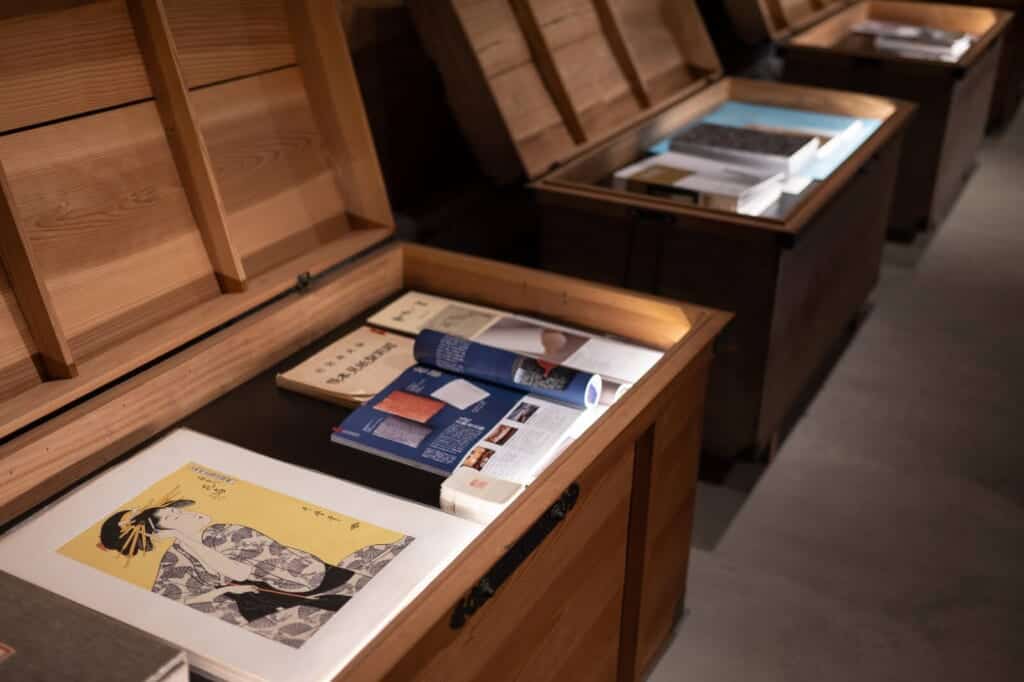 From here, visit the shrine that honors the legendary origin of Echizen washi paper-making, the Okamoto Otaki Shrine. This is the only shrine in Japan dedicated to Kawakami-Gozen, the aforementioned goddess who brought the knowledge of paper-making to Echizen.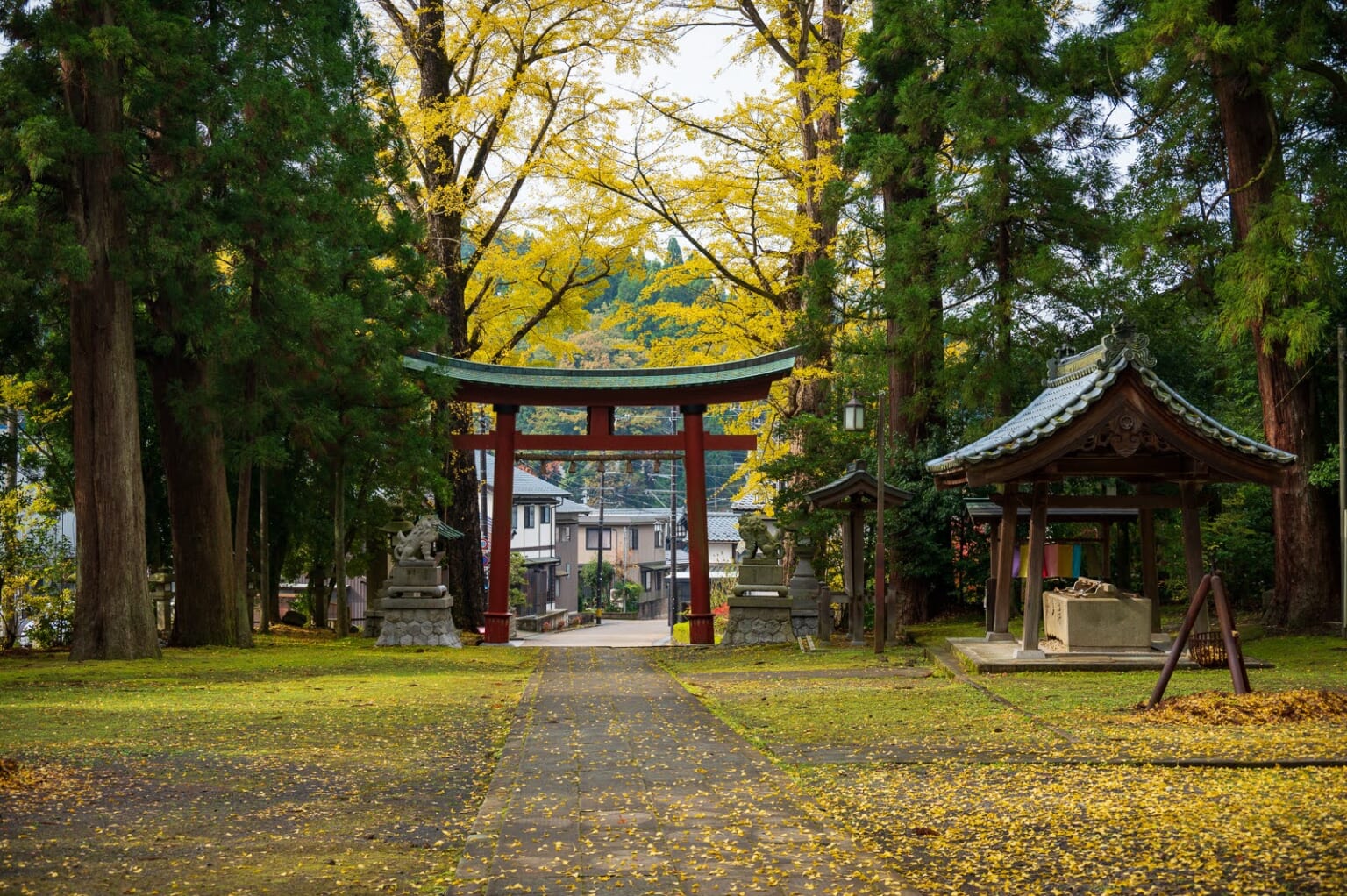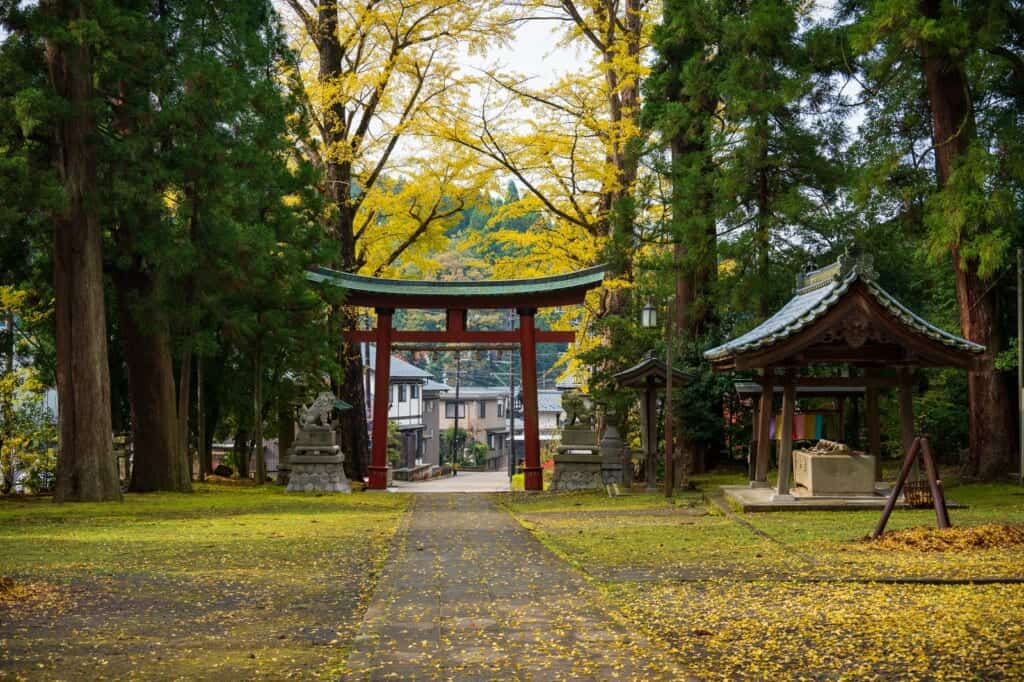 Nestled in trees at the foot of a mountain, the shrine is a sacred place that has, over time, become one with nature. It was designated an important cultural property in Japan due to its one-of-a-kind architecture. The moss-covered roof is unusually intricate and totally unique. Next to the shrine building, a mossy rock topped with a stone lantern and encircled with a shimenawa rope seems to have stayed in this perfect state for centuries.
Okamoto-jinja Shrine, Otaki-jinja Shrine 13-1 Otakicho, Echizen, City, Fukui Prefecture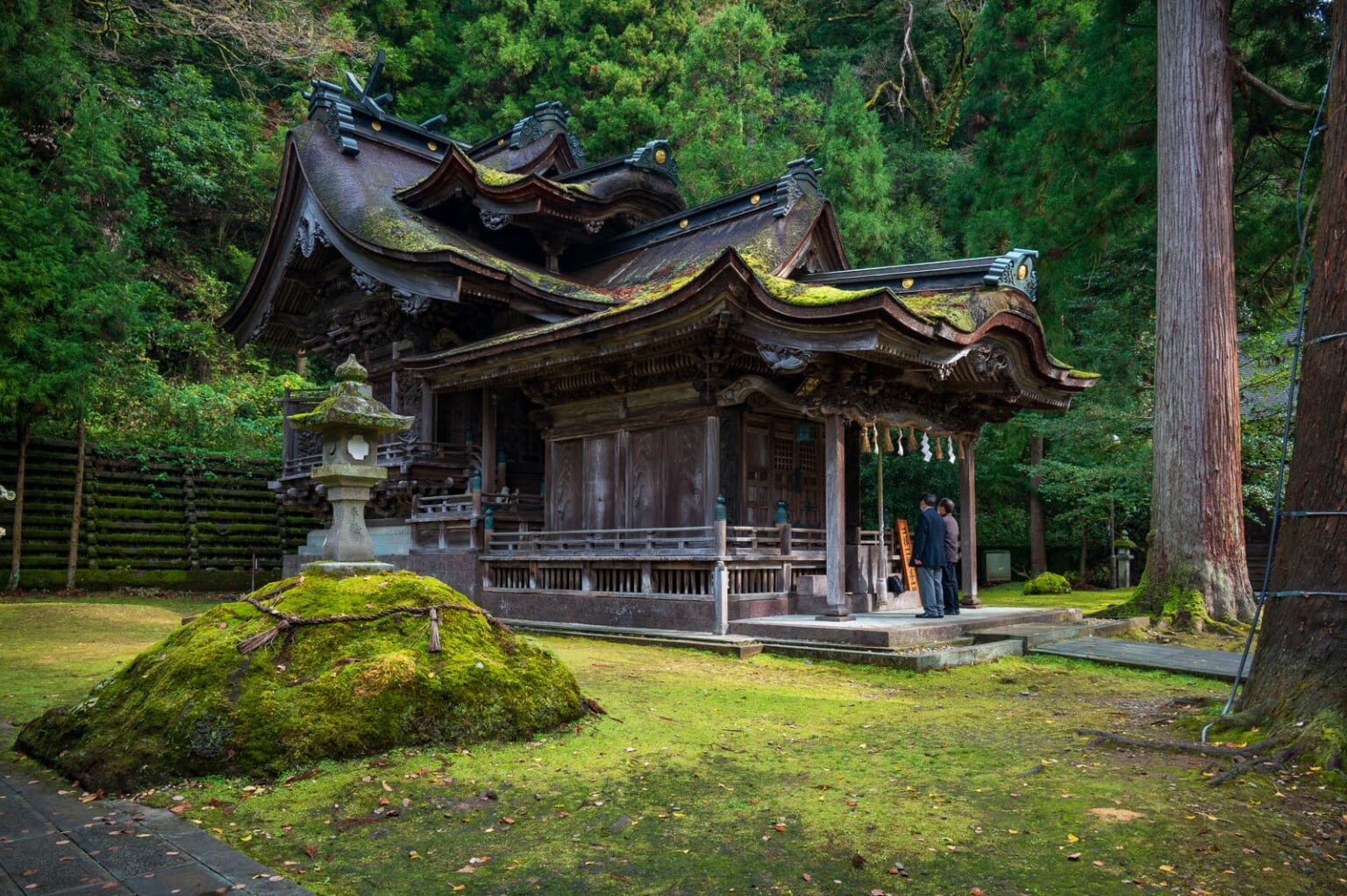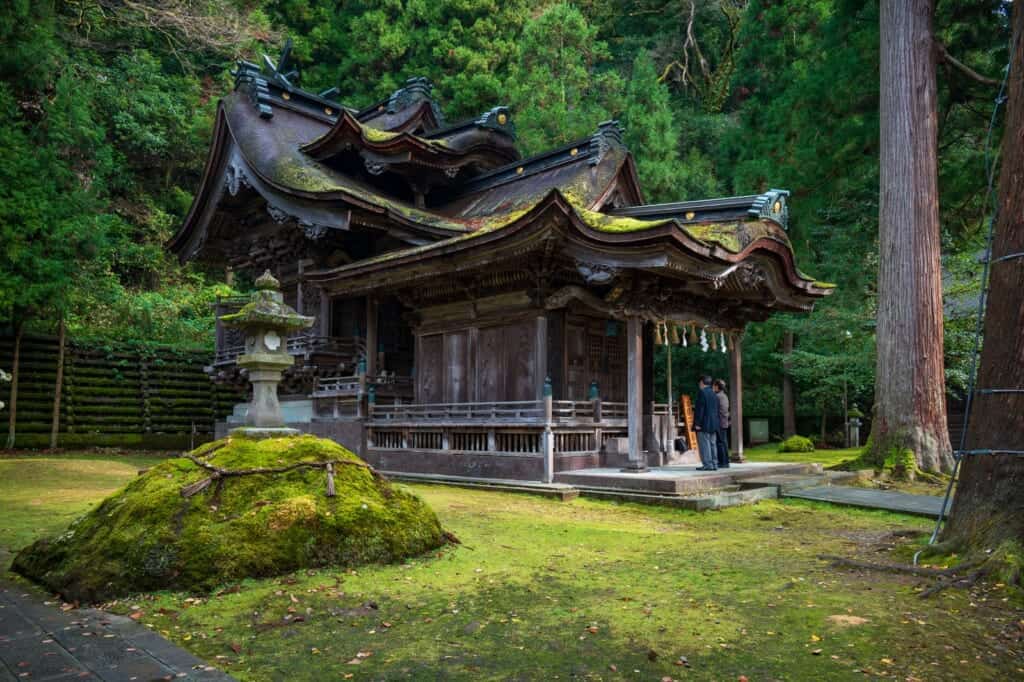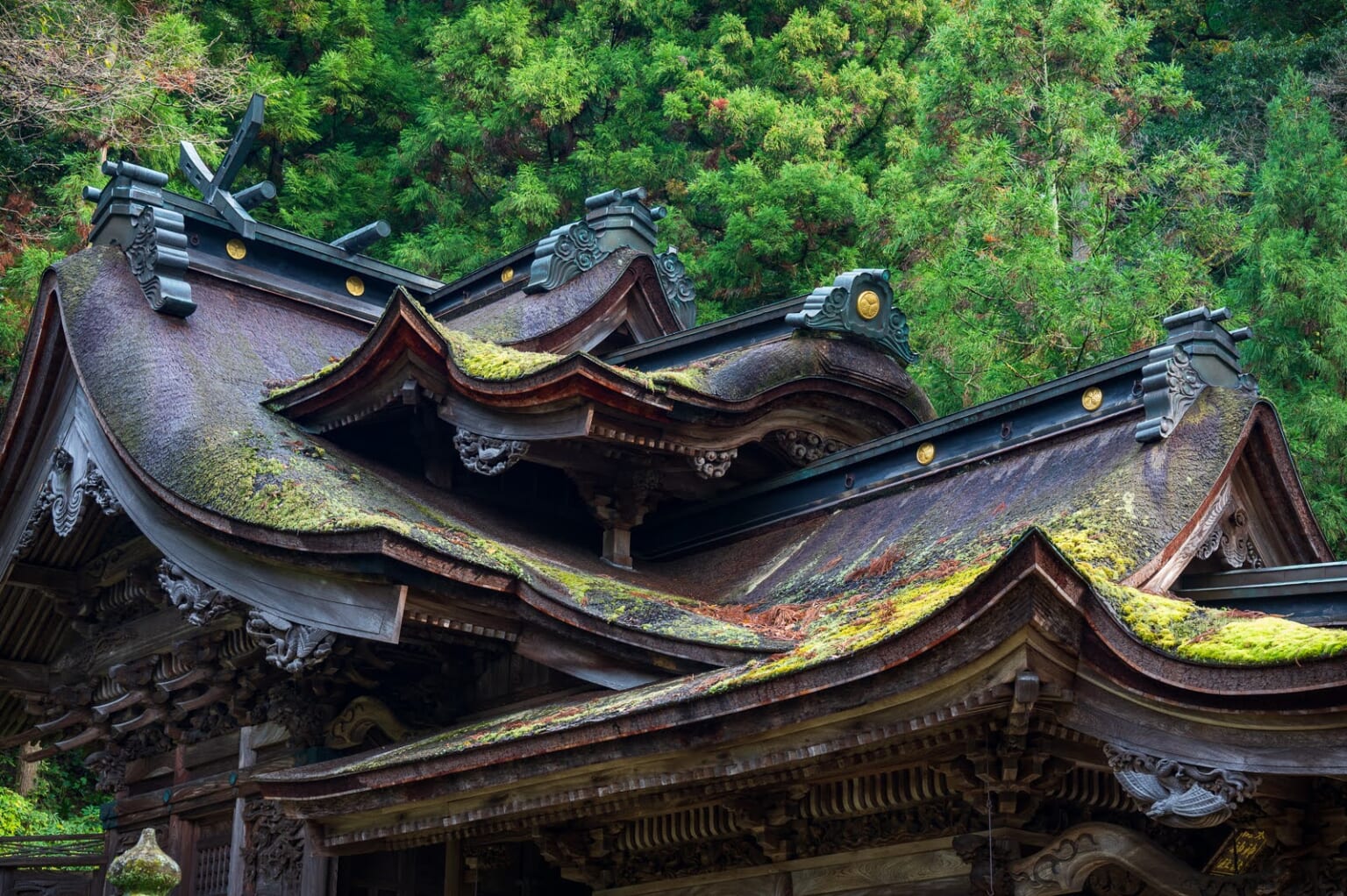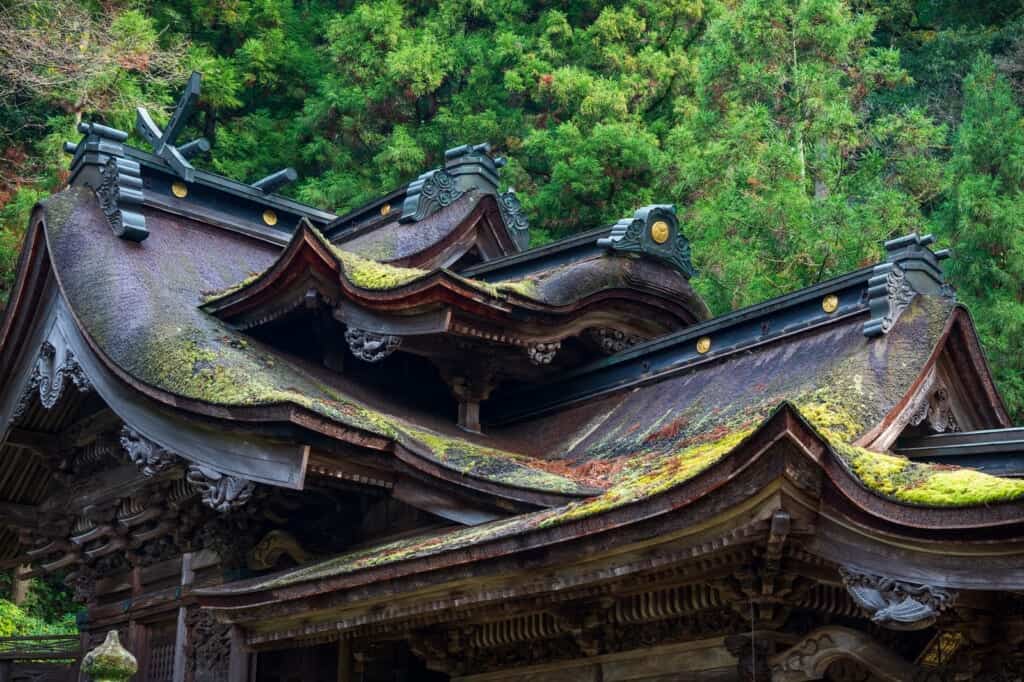 Iwano Heizaburo Seishisho is not far from the shrine and is currently one of the largest handmade washi workshops in Japan. We were guided through the workshop by Akiko Tamamura, a certified washi craftsman with over 6 decades of experience. Despite, or perhaps because of her long experience making paper here, she talks about the art of making paper with fondness and passion. At one point, she breaks out into a traditional song that workers would sing during the long workdays.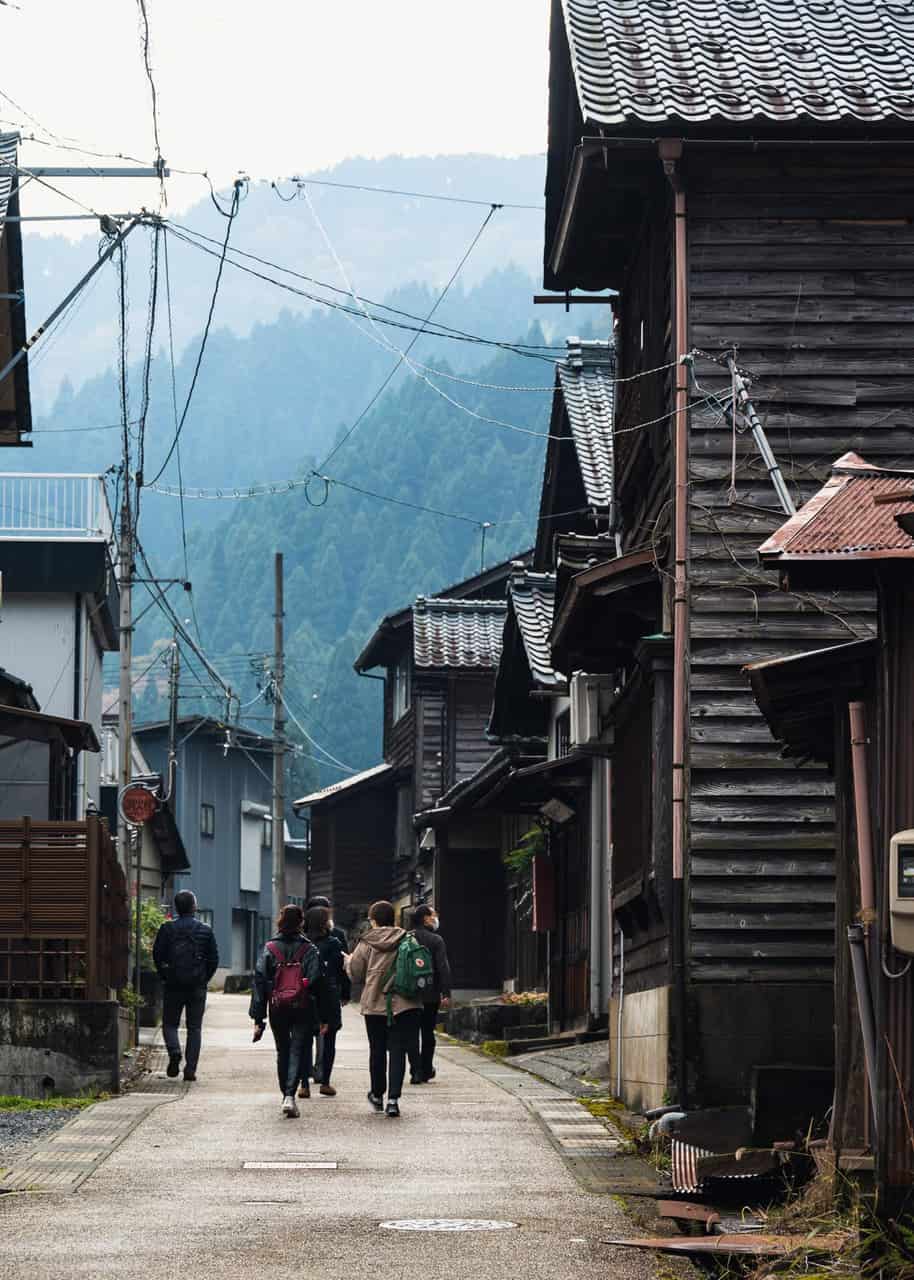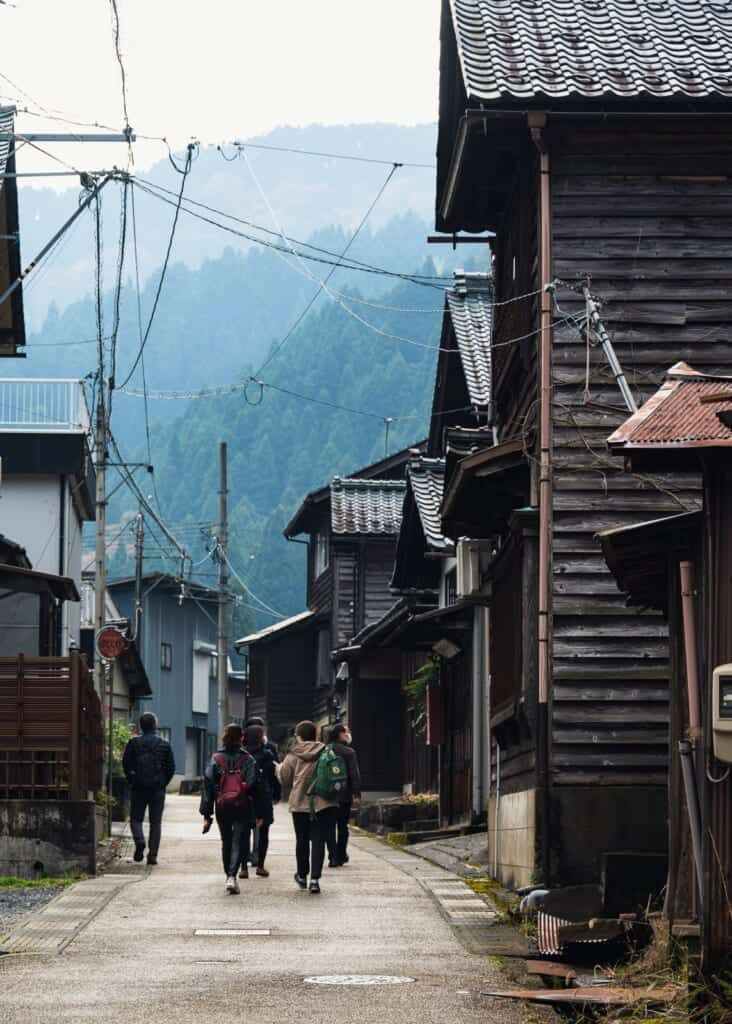 They have been making paper here for over 150 years. It's difficult not to notice that the majority of the artisans working here are women; perhaps it goes back to the legend of Kawakami Gozen, who was a woman herself. Akiko suggested that perhaps it was because women's hips were particularly suitable for the gentle rocking motion used in the paper-making process. Using a water tank called a suki bune, a team of two craftsmen works together in synchronized motion, making one sheet of paper at a time. It can take years to master the art of getting the paper thickness precisely right. This workshop produces one of the largest washi sheets in Japan at about 2 meters by 2.7 meters, which takes a team of 4 people to accomplish.
Iwano Heizaburo Seishisho Co., Ltd. 27-4 Otakicho, Echizen, City, Fukui Prefecture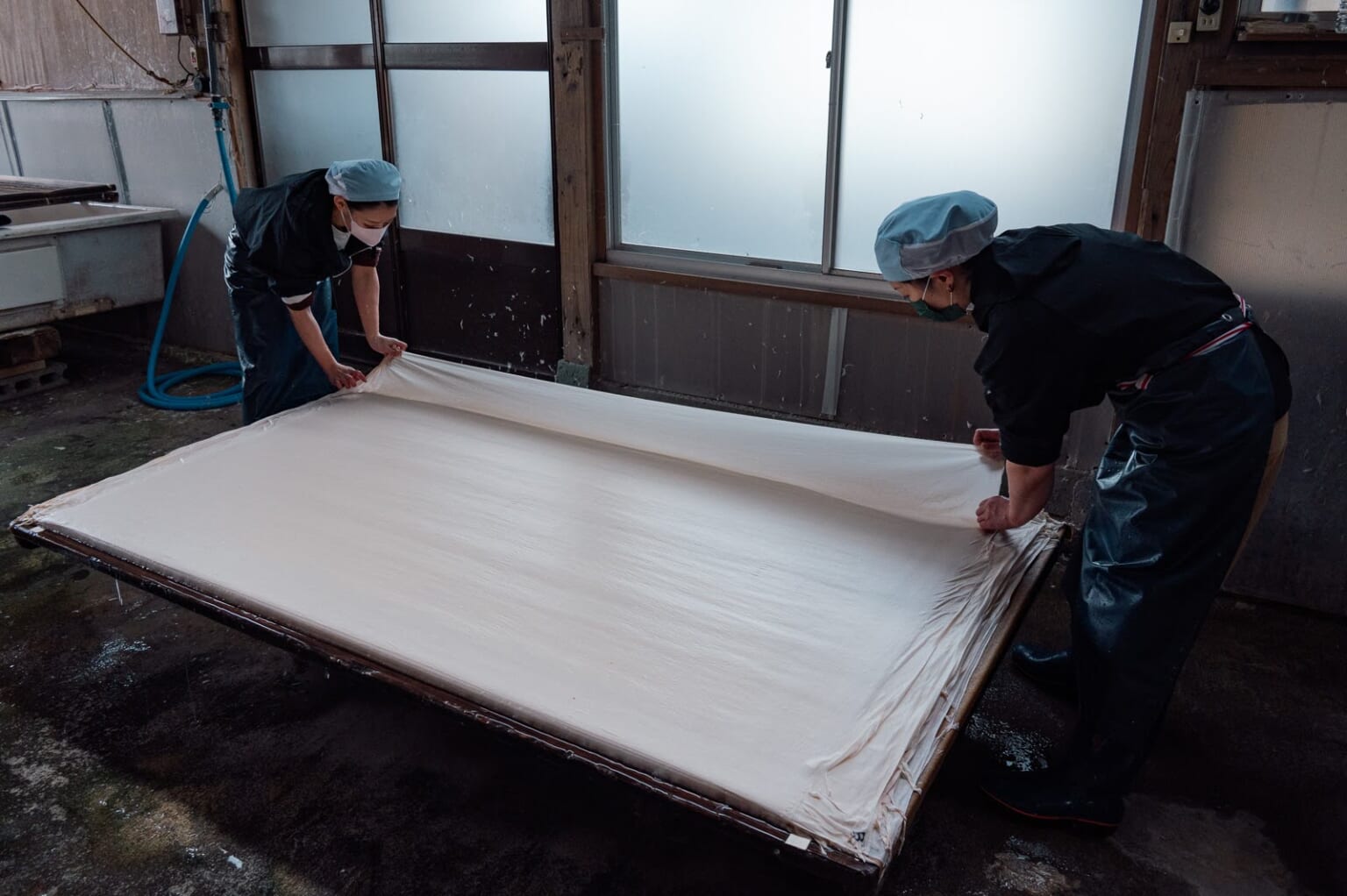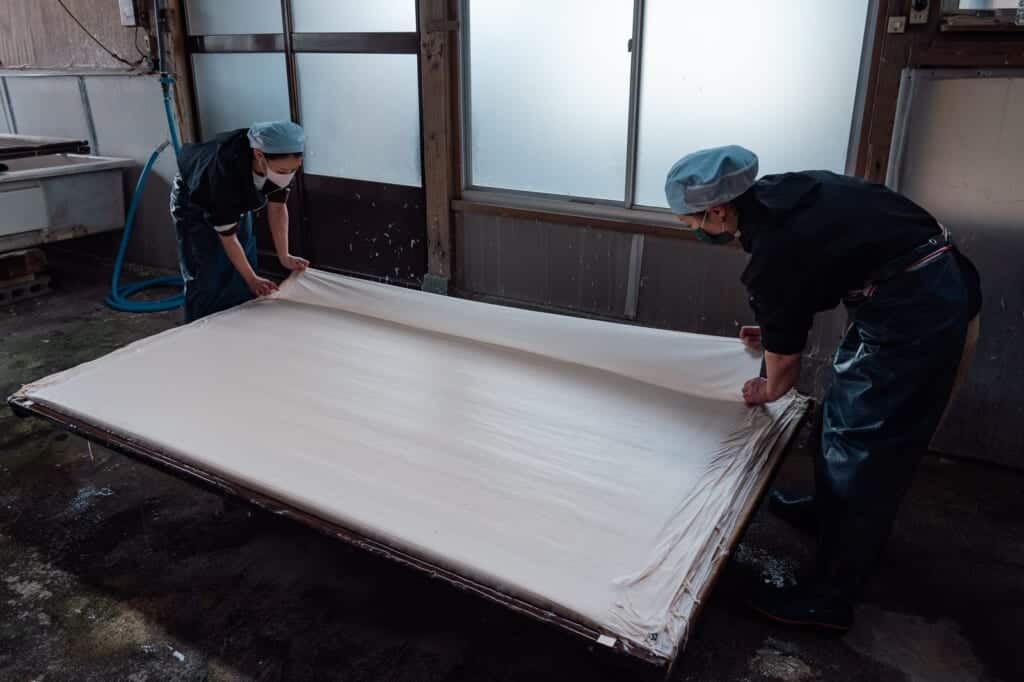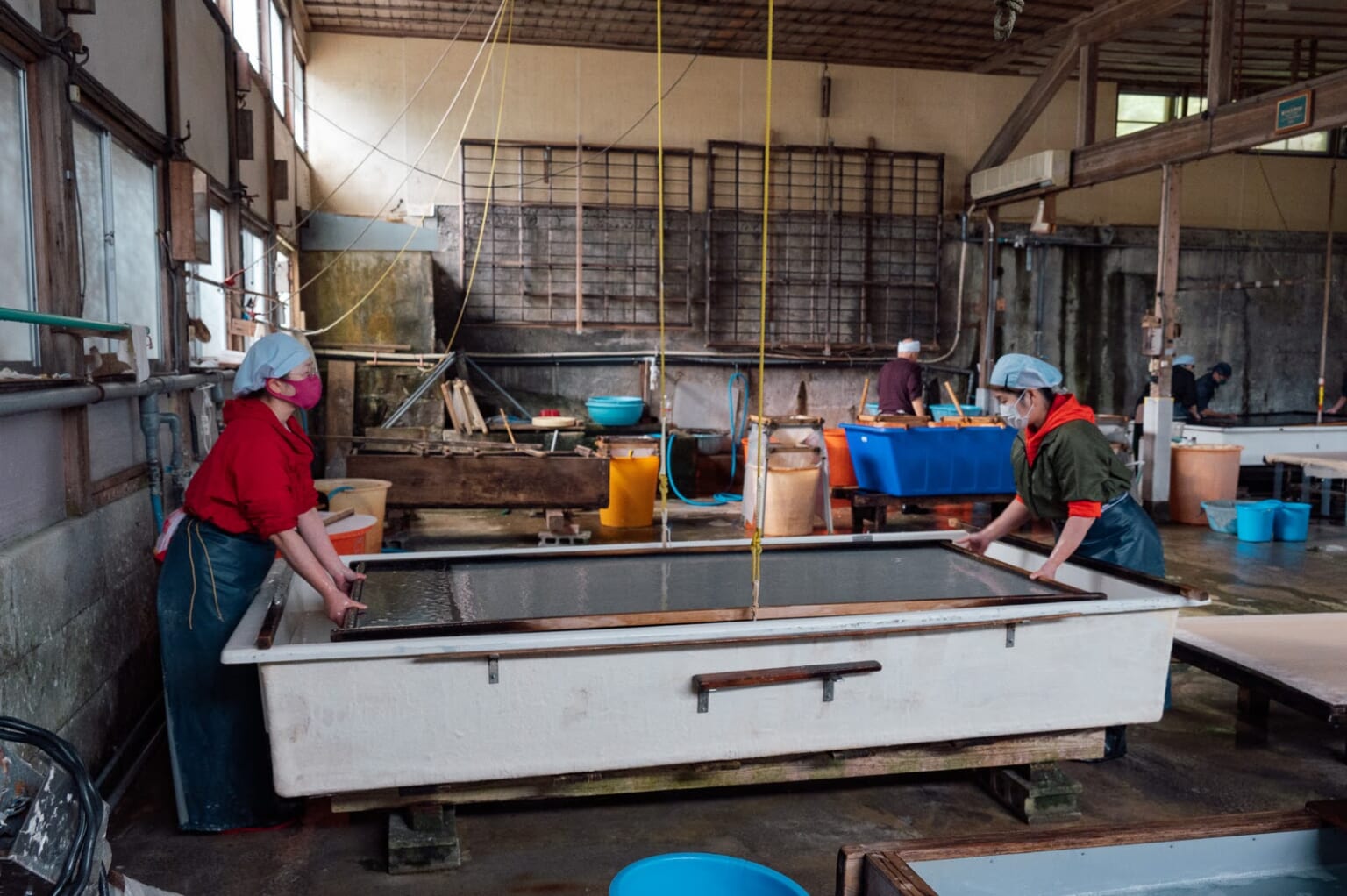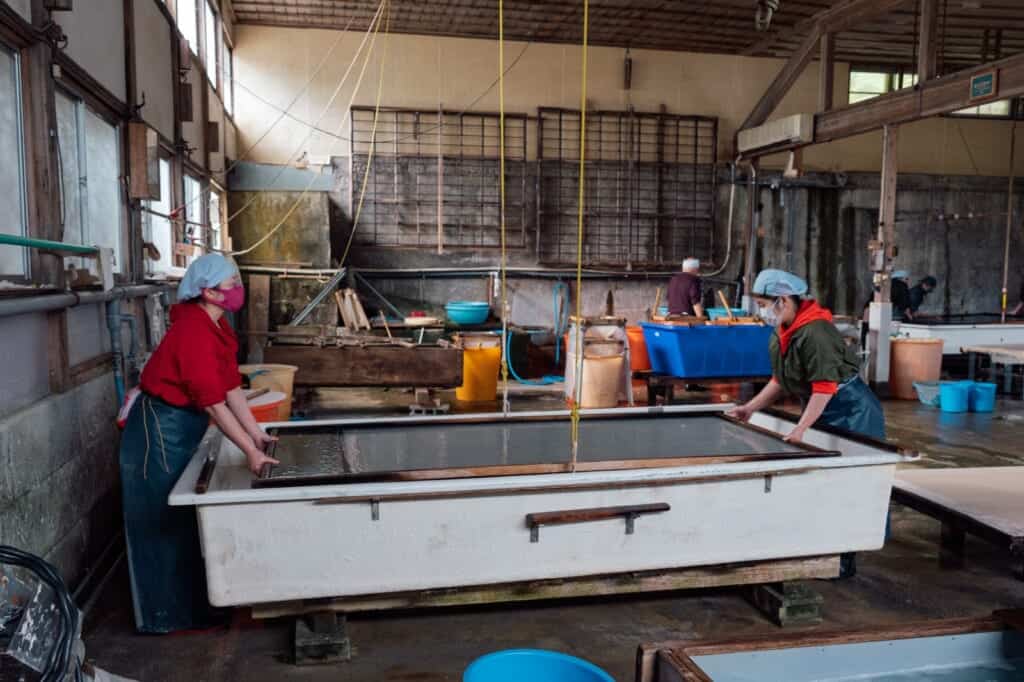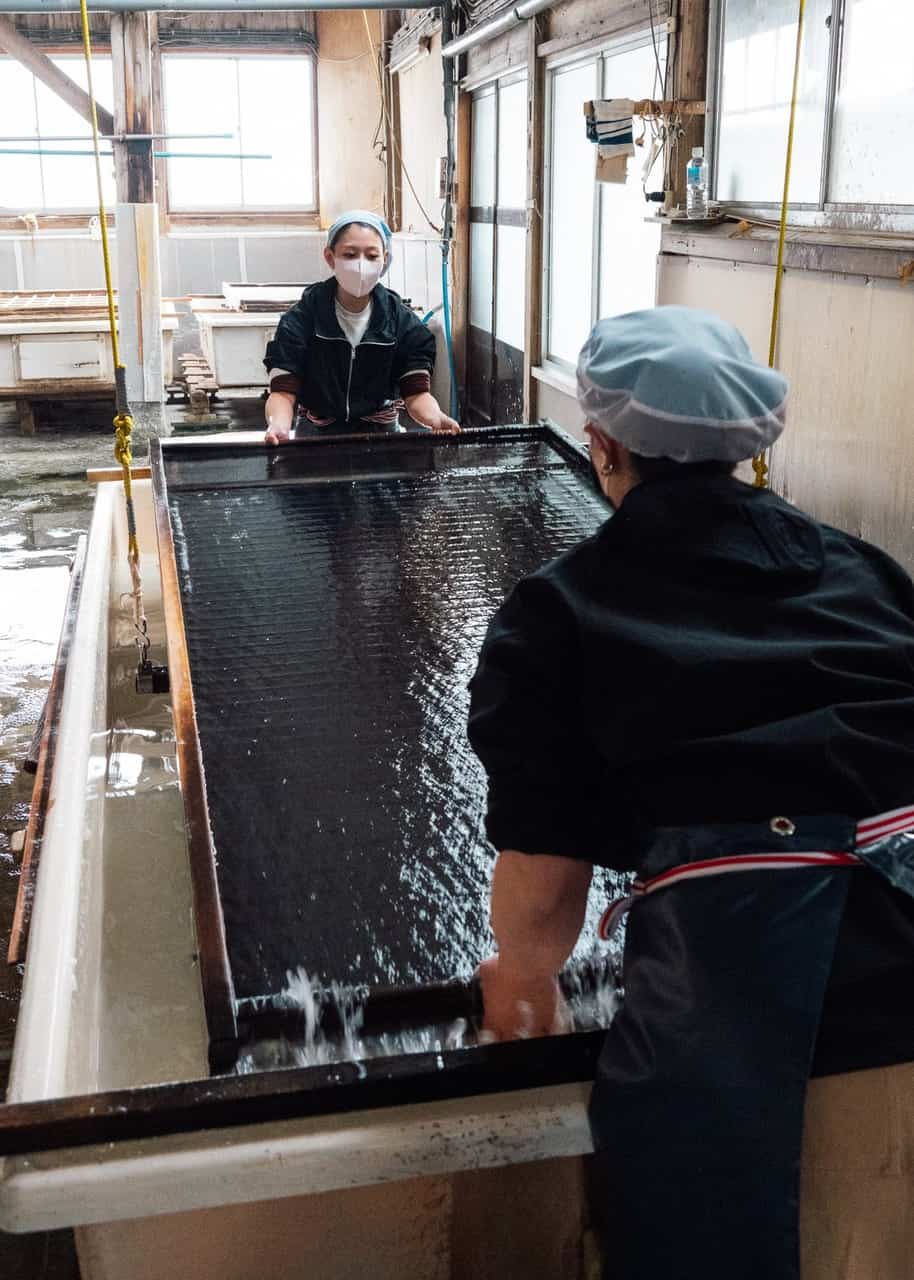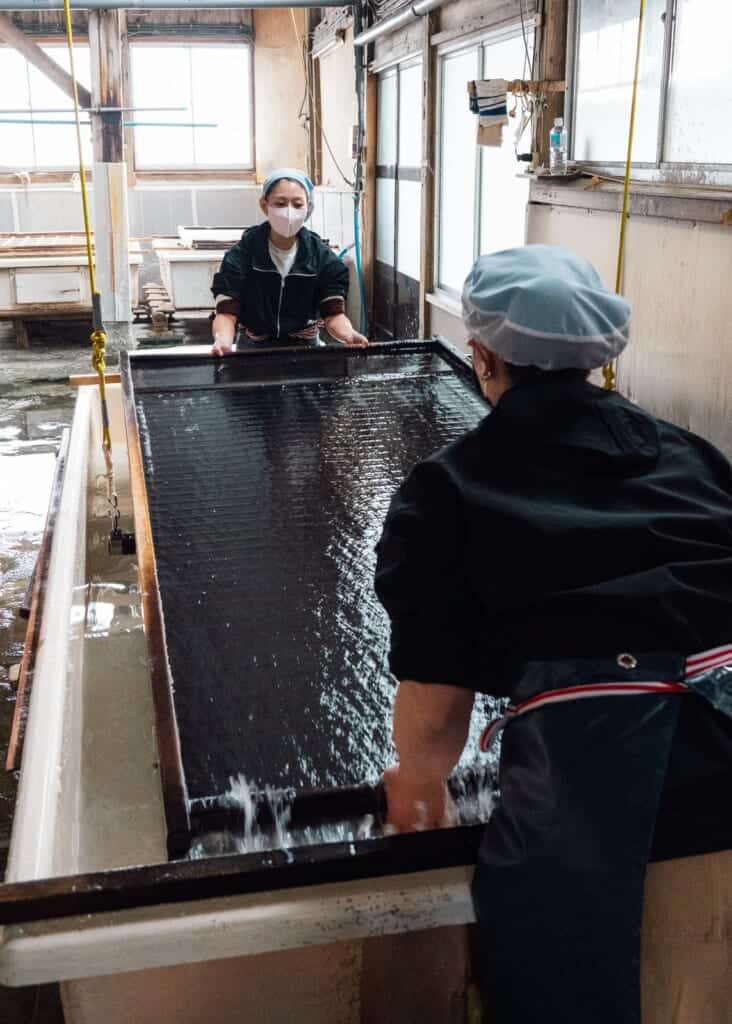 Now that you've witnessed how the master craftsmen of the TAKUMI Road make paper, you'll likely want to try it for yourself. Visit the Echizen Washi Village and Papyrus House, which consists of a large shop and a workshop where visitors can experience making their own handmade washi paper.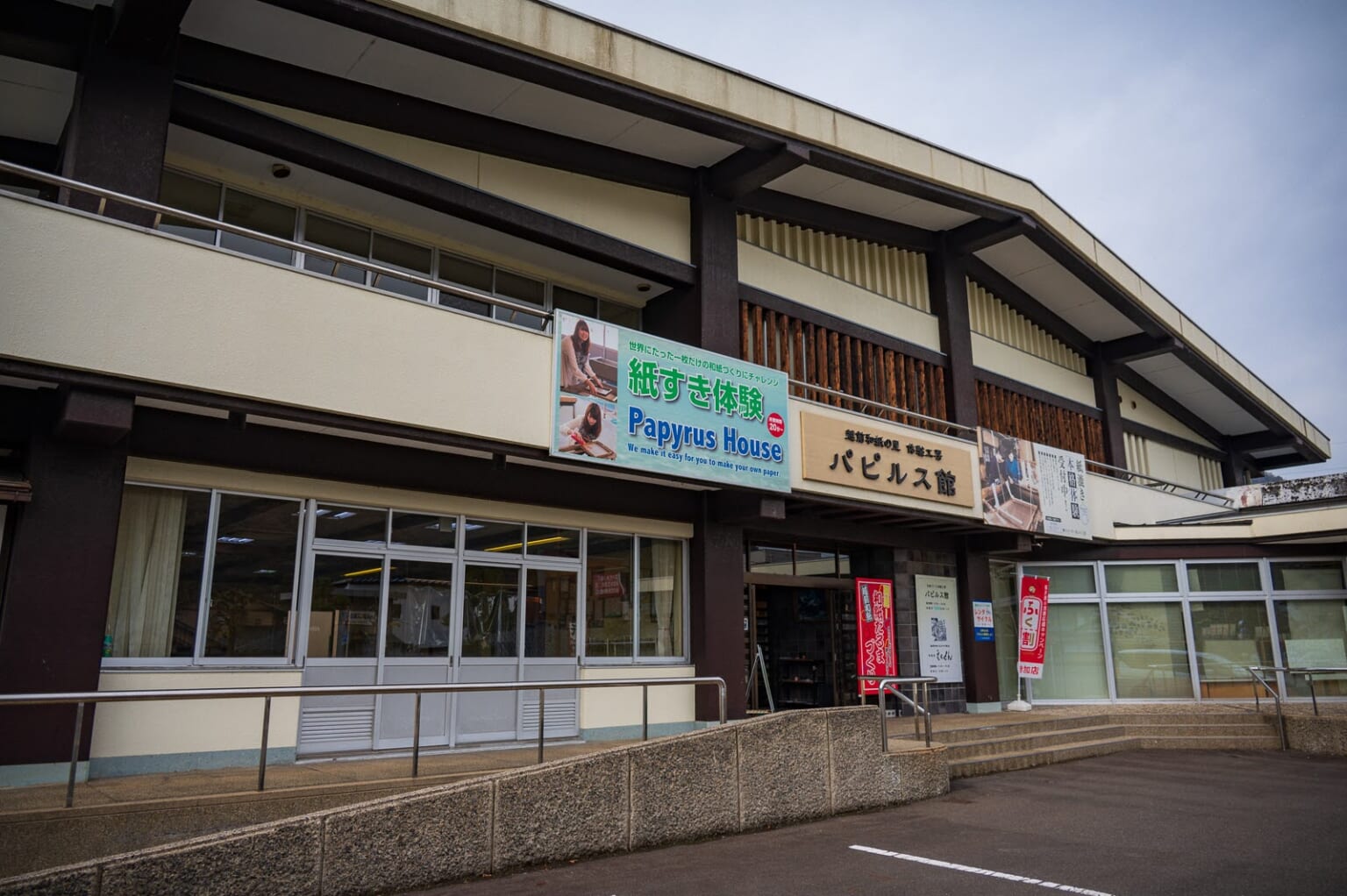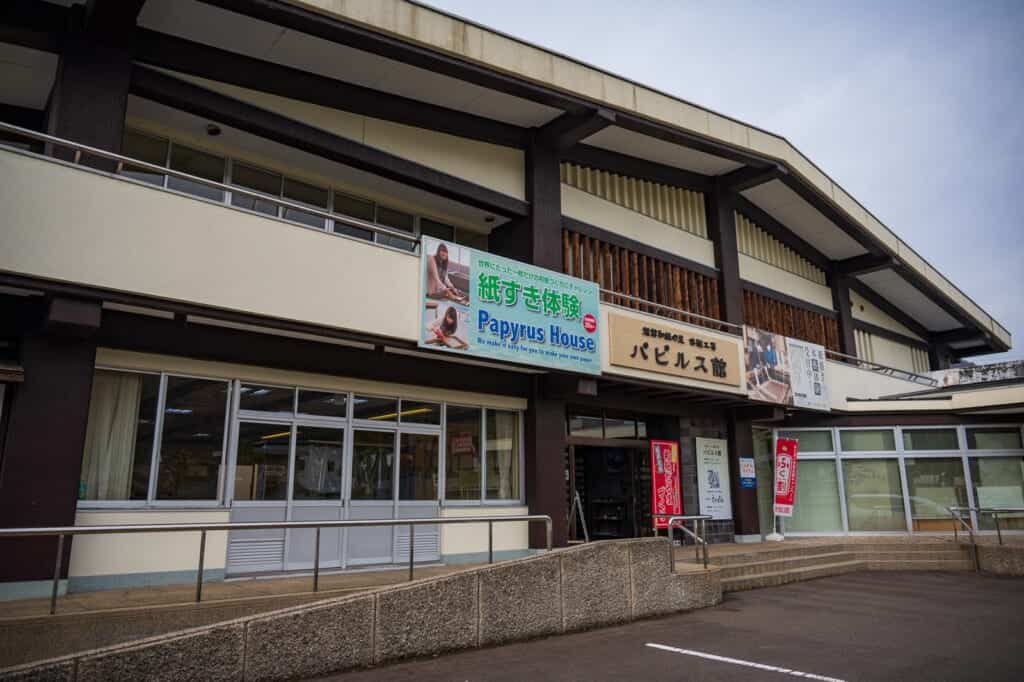 After you finish browsing and shopping in the shop, which carries a wide variety of paper-related goods from many of the 67 different Echizen washi workshops, head over to the Papyrus House workshop, where you can design and create your own set of washi postcards. A craftsman will guide you through the steps, which consist of making the paper base from plant fibers that have been soaked in water, adding various natural elements like leaves and flowers, adding a dash of color with dyes, and finally, running your paper through the vacuum dryer to remove excess water. It's an enjoyable experience that you may find yourself wanting to repeat, so if you have more time, make more washi! Indeed, the experience was an insight into why Akiko-san still has a smile on her face after making paper for over 60 years.
Echizen Washi Village 8-44 Shinzaikecho, Echizen, City, Fukui Prefecture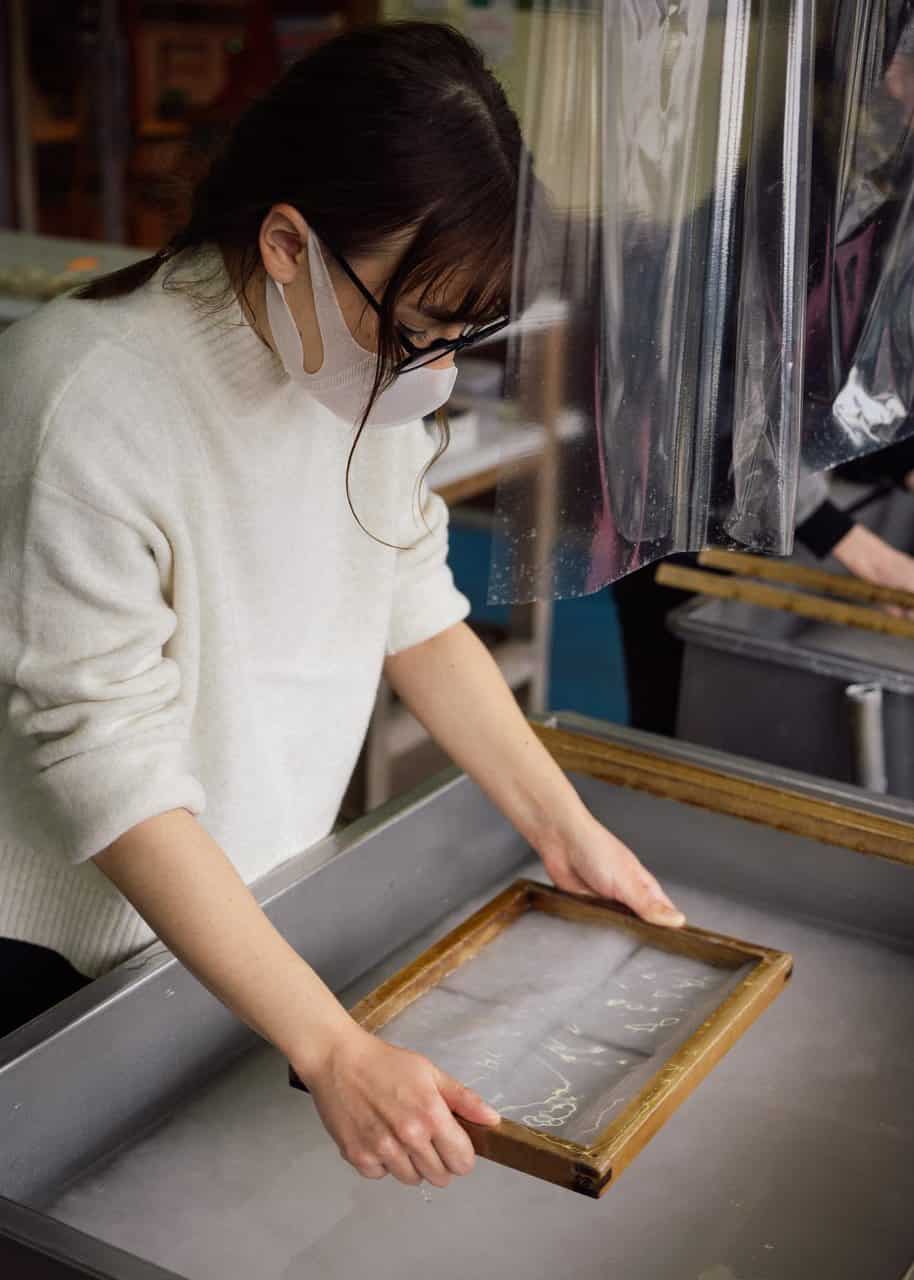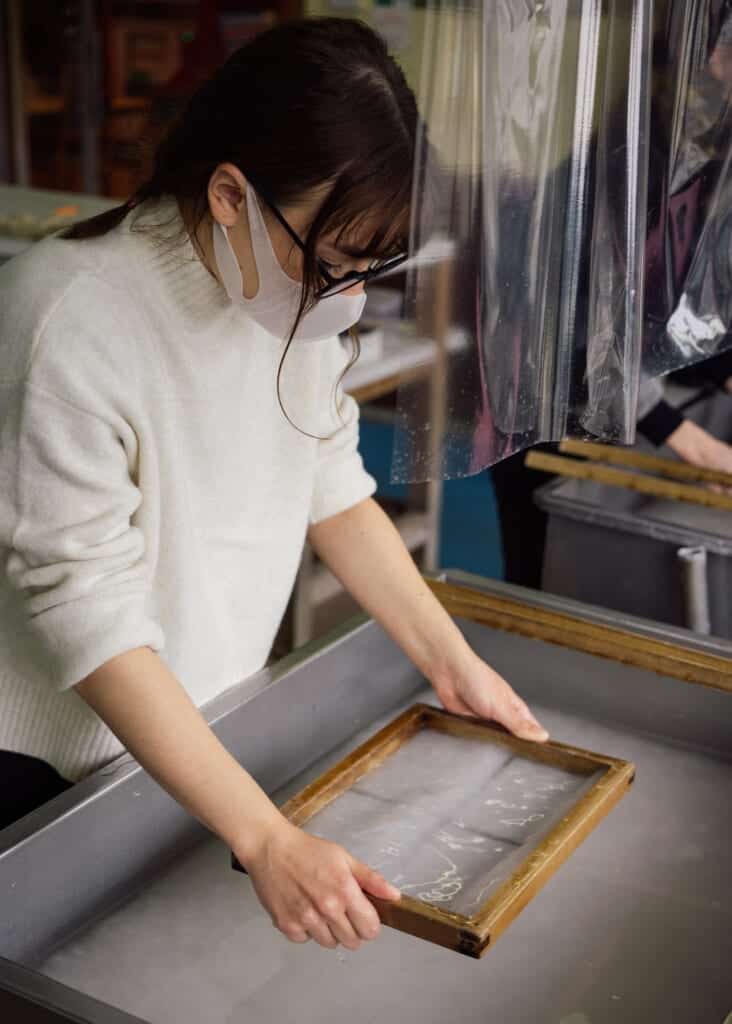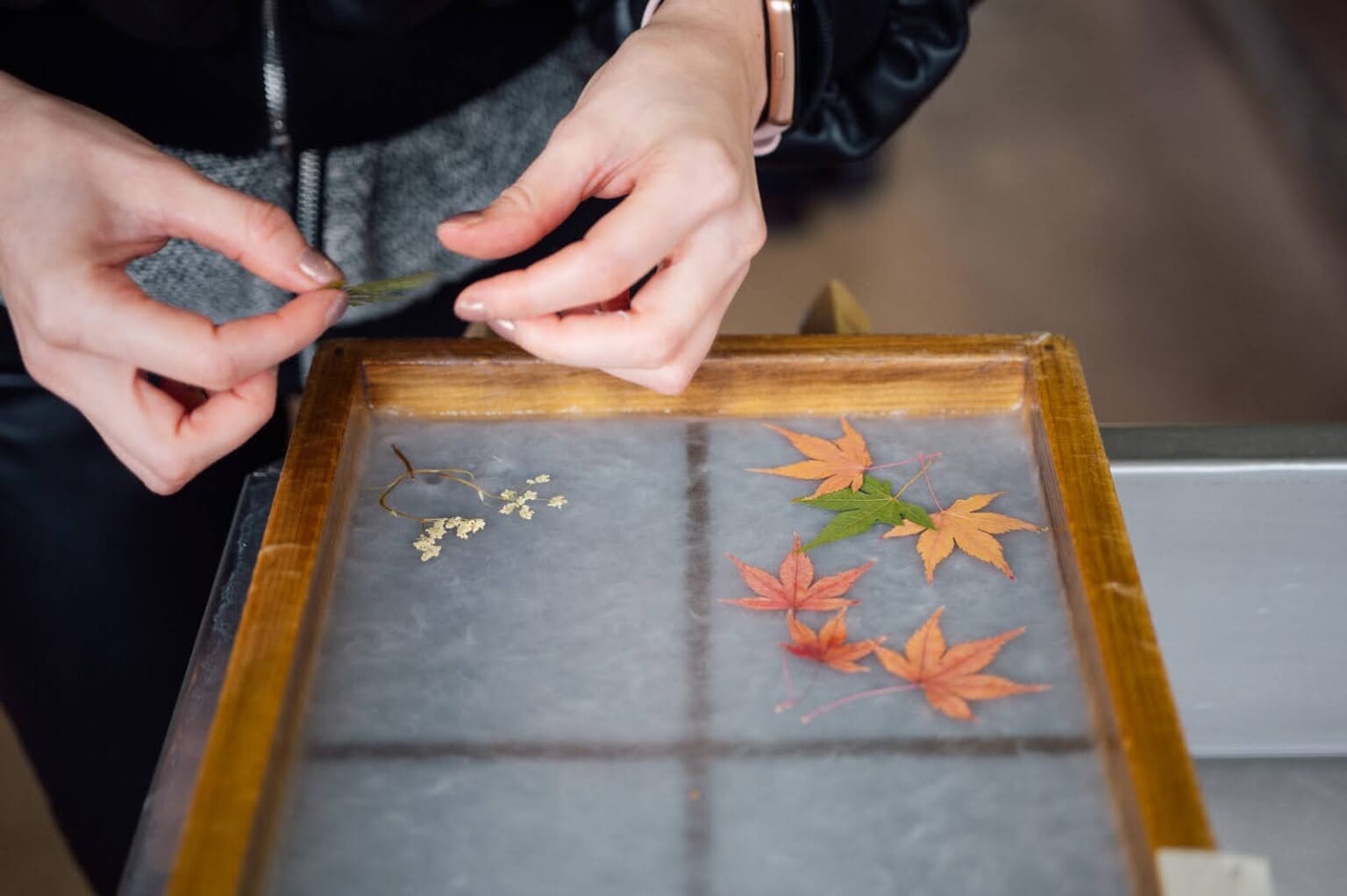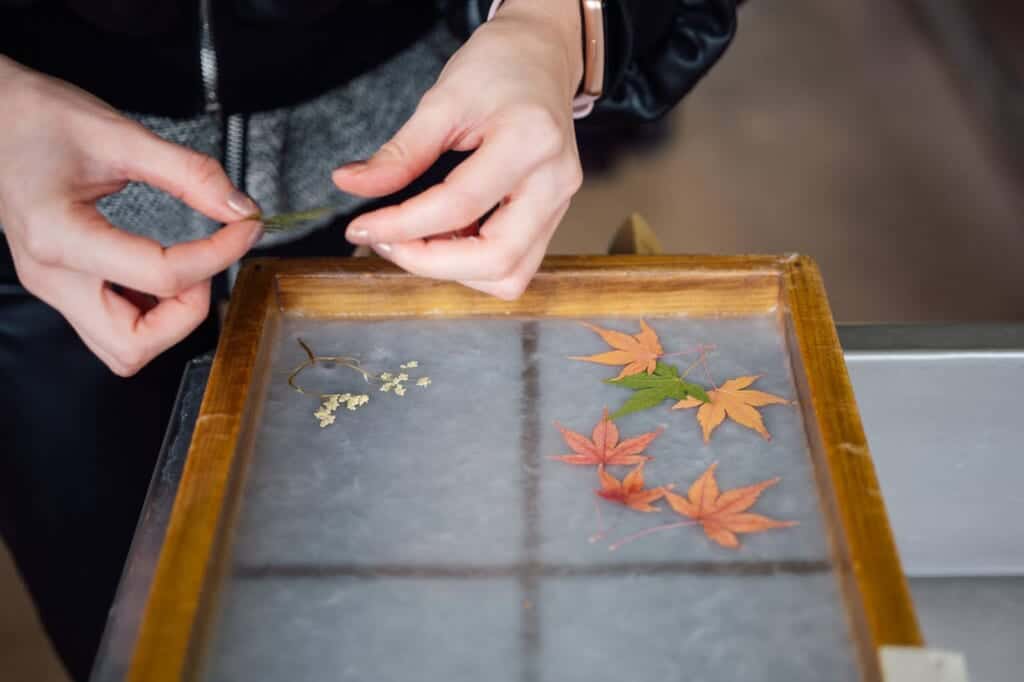 Echizen City: Where to Stay and What to Eat
As you tour the workshops and meet the master craftsmen of the TAKUMI Road, don't neglect one of the other outstanding aspects of this region: its cuisine. The long coastline along the Sea of Japan provides Echizen with a feast of seafood while the spring waters running down from the mountains feed crops such as rice, buckwheat, and vegetables.
Suya is a lovely Japanese inn near the Echizen Washi Village serving traditional Echizen cuisine, changing with the four seasons. From the dining room, there is a view of their lovely garden and historic teahouse. For a small fee, you can take your meal in the teahouse when it is available.
SUYA 29-41 Awatabecho, Echizen-city, Fukui Prefecture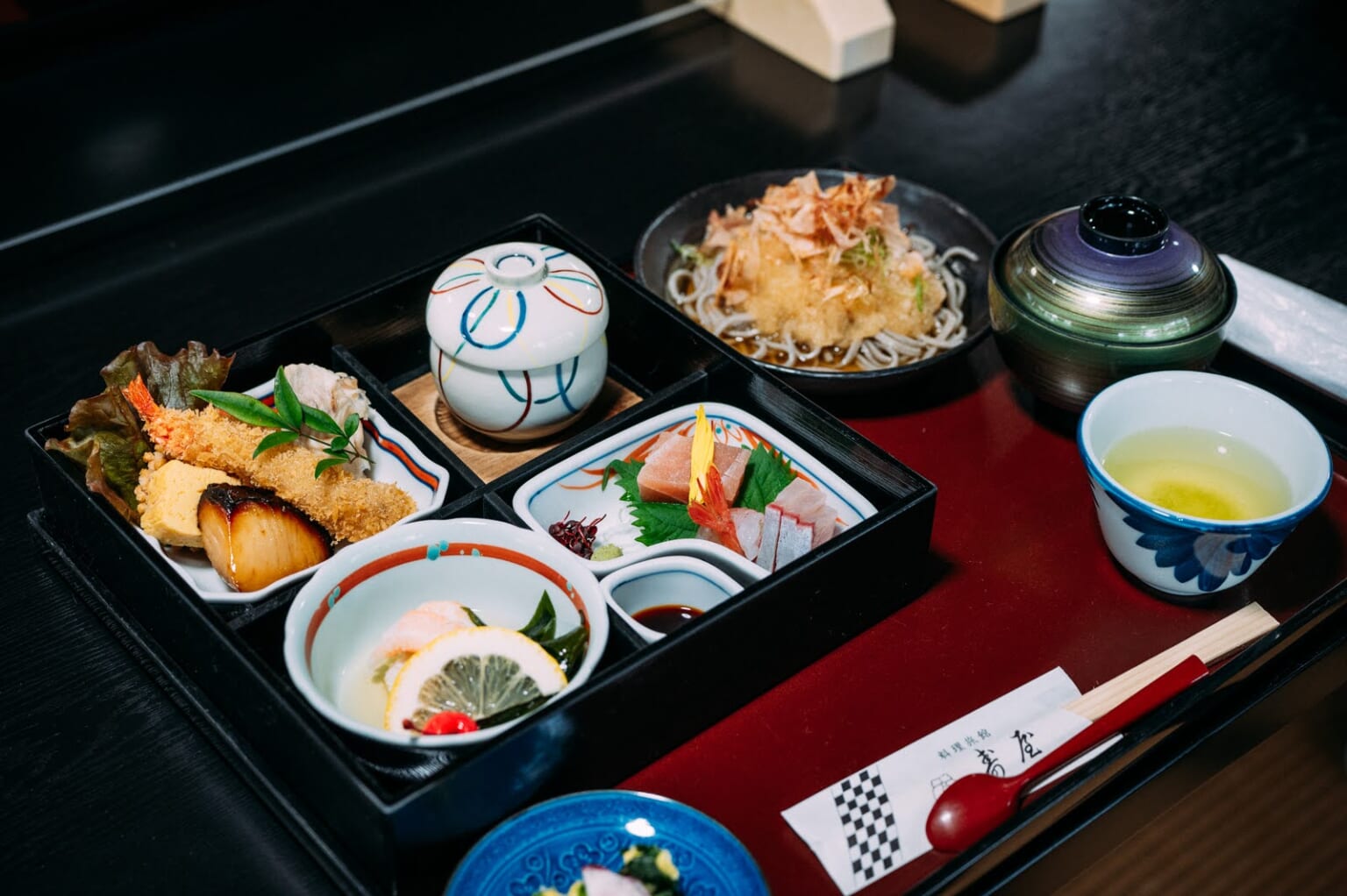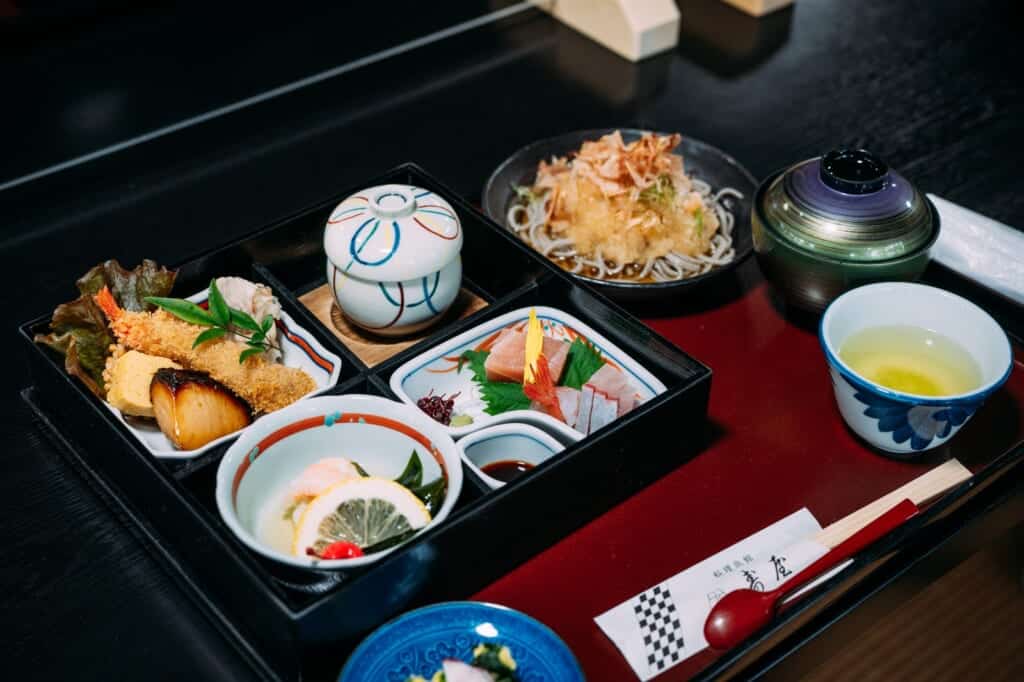 Mantani is a luxurious restaurant in the heart of Echizen's temple district. Its elegantly decorated historical building and flawlessly prepared kaiseki-style dishes of Echizen's finest ingredients make it a perfect place for an intimate night out.
MANTANI 3-1-3 Kyomachi, Echizen-city, Fukui Prefecture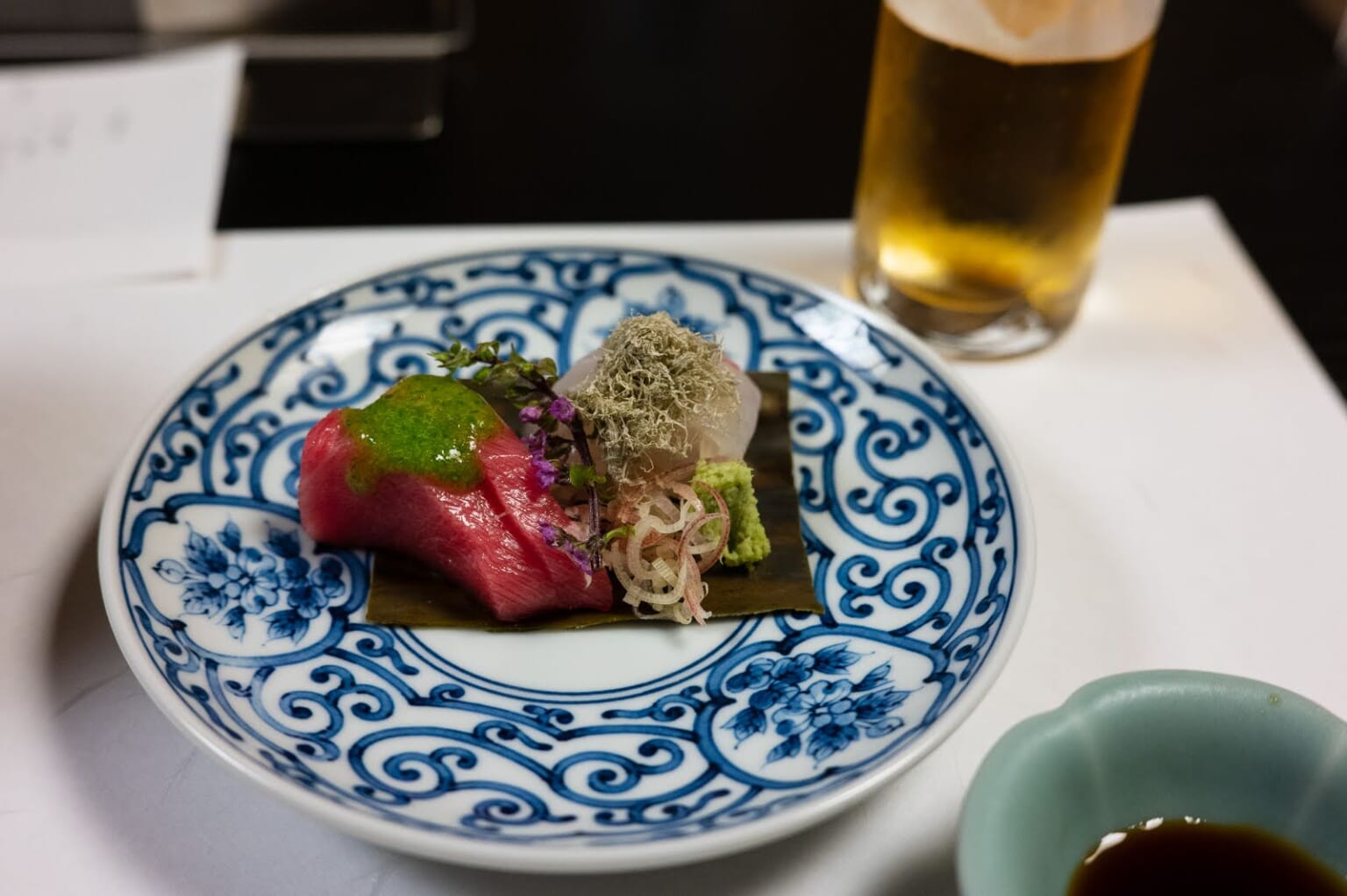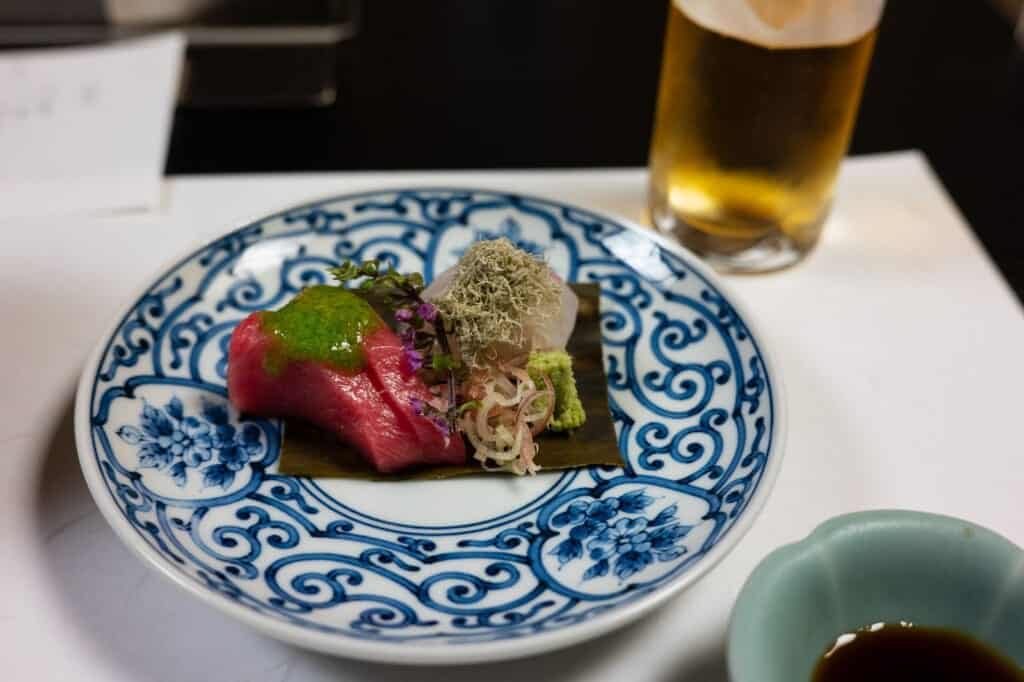 One cannot visit Echizen without trying its locally famous soba. Saiya in Echizen Washi Village serves huge bowls of flavorful thick Echizen soba, served with spicy grated daikon radish and flakes of katsuo (dried bonito tuna).
Saiya 9-15 Shinzaikecho, Echizen, City, Fukui Prefecture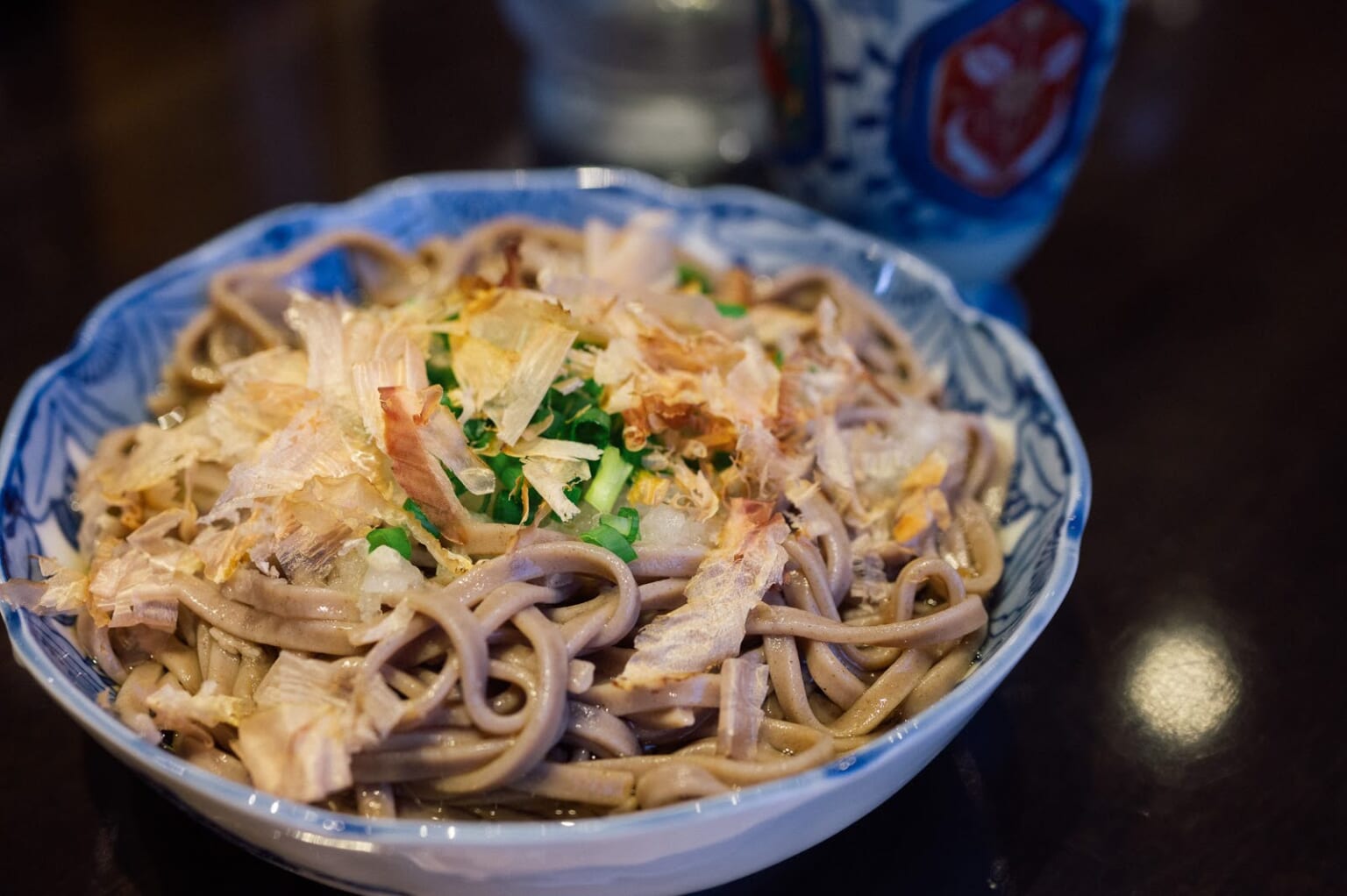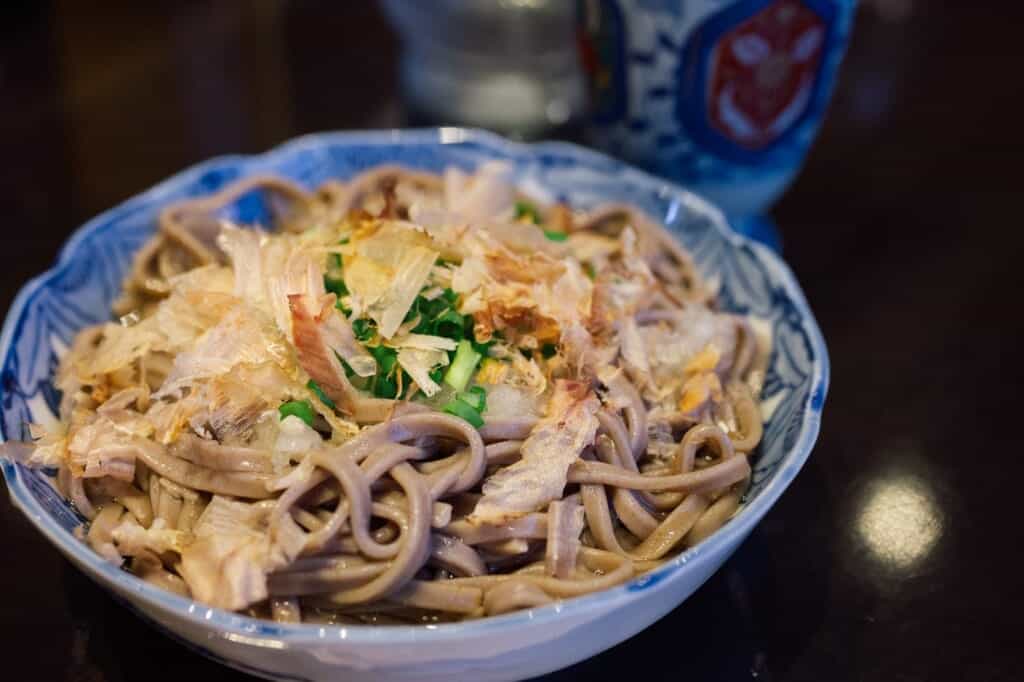 Izakaya Oishinbo Heychan is as fun as its name implies. This restaurant near the JR Takefu Station and several large hotels serve an enormous variety of dishes and alcohol. If it feels a little overwhelming, the owners are happy to help choose some dishes based on the types of food you enjoy; just ask them!
Izakaya Oishinbo Heychan 2-17 Horaicho, Echizen, City, Fukui Prefecture
For accommodations in Echizen, nothing beats the Super Hotel Echizen & Takefu, a recently built hotel with clean comfortable rooms just minutes from the train station.
Super Hotel Echizen, Takefu 2-15, Horaicho, Echizen-city, Fukui Prefecture
As I travel the length and breadth of Japan, I am constantly amazed by places like this and wonder how I have never heard about them before. After spending six days traveling the TAKUMI Road meeting the master craftsmen who carry on the region's traditional crafts with such passion, it pains me to think how few foreign visitors are aware that such a place and culture exists here. Consider this your notice, friends. See a side of Japan few have seen before along the TAKUMI Road.
Sponsored by Hokuriku-Shin'etsu District Transport Bureau