There's something surreal about driving through the countryside of southern Niigata Prefecture and suddenly seeing a giant window — complete with curtains blowing in the wind — pop up along the road. That's the charm of the region, however. Art intermingles with nature and the everyday.
While Niigata is best known in Japan for heavy snowfall in the winter and delicious rice, it also houses an array of artwork, from the installations dotting the landscape of Echigo-Tsumari to the flawless steelworks crafted in the Tsubame-Sanjo area. Creativity overflows here, and a trip to this prefecture reveals memorable works almost everywhere.
Nature And Art Come Together In Echigo-Tsumari
I've always associated the area around Echigo-Yuzawa Station with heavy snow. It's home to dozens of ski-and-snowboard rental stores, hotels, and courses devoted to winter activities. I'm here in the middle of September — when temperatures still resemble the peak of summer — and driving through feels like I've stumbled on a town in reverse hibernation, at least near the main entry point, with snow swapped out for lush green forests.
Yet the Echigo-Tsumari region has also become a year-long destination for creativity in the 21st century. Every three years since 2000, it hosts the Echigo-Tsumari Art Triennial, a modern art festival highlighting work from creators hailing from all over the world. While the next edition of the Triennial isn't happening until 2021, installations from previous installments remain standing. I'm lucky enough to be driven around during this visit, which is a must if you want to see all of the art the area has to offer.
Tunnel Of Light
What's most striking about the art is how it interacts with Niigata's natural wonders. On the first morning, I head to the Kiyotsu Gorge, one of Japan's three biggest valleys. A 750-meter tunnel cuts through the middle of it, and for the 2018 Triennial renowned designers, MAD Architects transformed this passage into the Tunnel Of Light. The path forward is lit by different colored lights while soft music plays, creating a slightly unnerving atmosphere that I want to venture down nonetheless. Along the way, I come across art areas situated next to scenic spots facing the forests and river around the gorge, culminating in a final panoramic view designed to make it feel like nature spreads out infinitely.
Artwork coexists with nature throughout the area. The aforementioned biggie-size window — For Lots Of Lost Windows, by Akiko Utsumi — turns the shared sight of fields and mountains into something that feels more personal.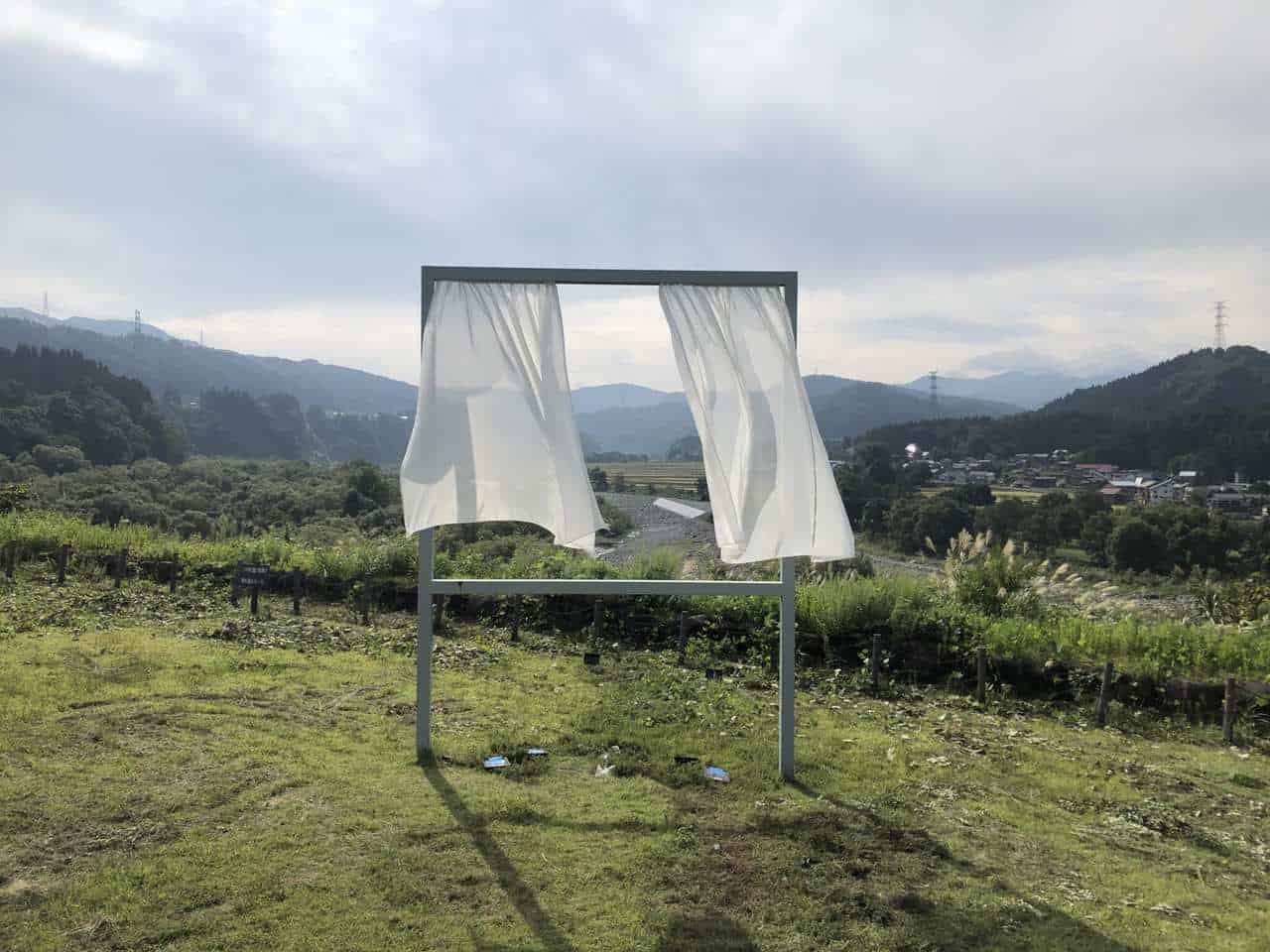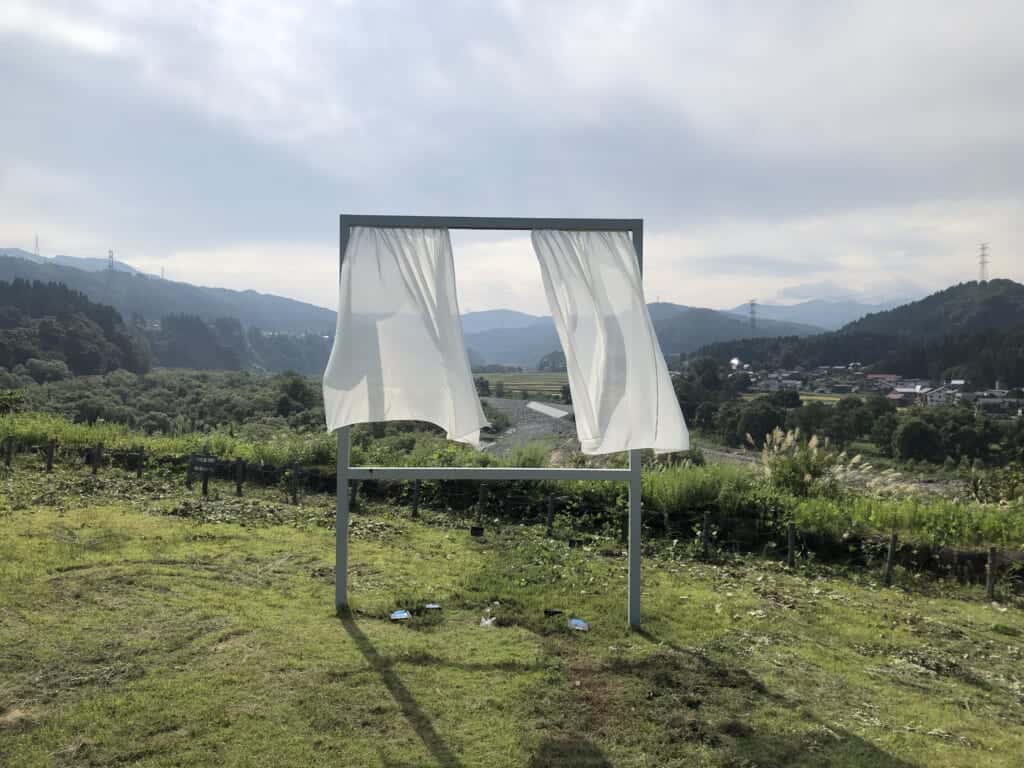 Hachi And Seizo Tashima Museum of Picture Book Art
After a short drive, I arrive at the Hachi And Seizo Tashima Museum of Picture Book Art, a former elementary school transformed into another world. The story told within follows three children as they encounter ghosts and otherworldly creatures in the building, and designer Seizo Tashima made all of the art here out of natural objects, such as driftwood and nuts. These installations offer a new perspective on the familiar and show the creativity that even the most common elements of the environment can inspire.
House of Light by James Turrell
That's at play on the initial day's final stop, the House Of Light. This structure debuted at the first Triennial, created by artist James Turrell. It's inspired by traditional Japanese dwellings in the area but has been built to allow light to come in from different angles, bathing anyone inside with the sun. I'm encouraged to sprawl out on the tatami floor and stare up through an opening in the roof, looking up at the sky above. I feel relaxed and start dreaming of the possibilities after the guide present reveals groups can rent the whole House.
A Region Celebrating Creativity
Day two starts with an early morning alarm to see one of the most beautiful natural sights Niigata has to offer. I'm driven through twisty mountains to get to the top of the Hoshitoge Rice Terrace, a series of tiered fields that have helped the area become among the best 100 villages in Japan. I wait for the sun to rise, and even in slightly cloudy conditions, the scene of the light poking out above this space makes my sleepy state worth it. Plus, I take a nap before heading out to the hub of art in Echigo-Tsumari.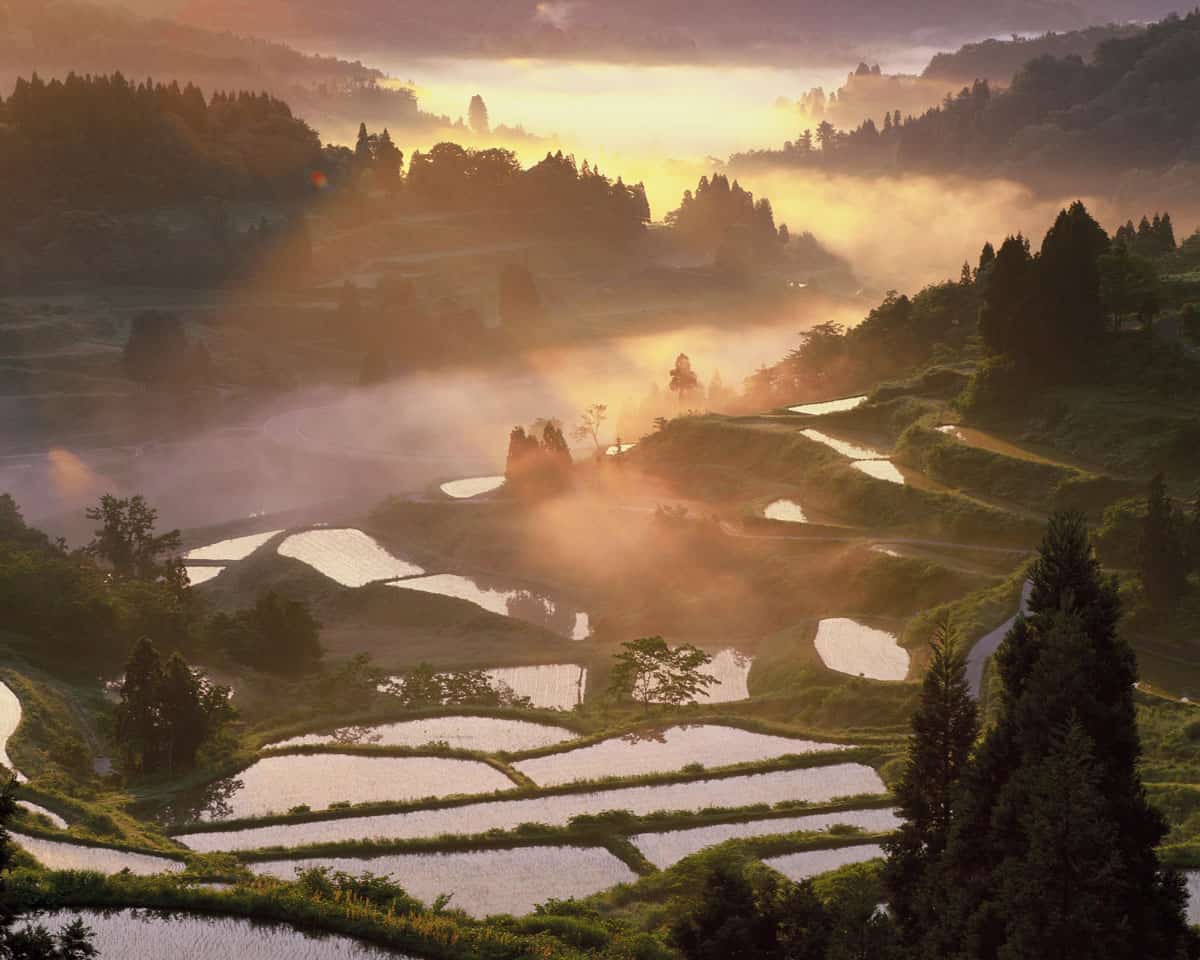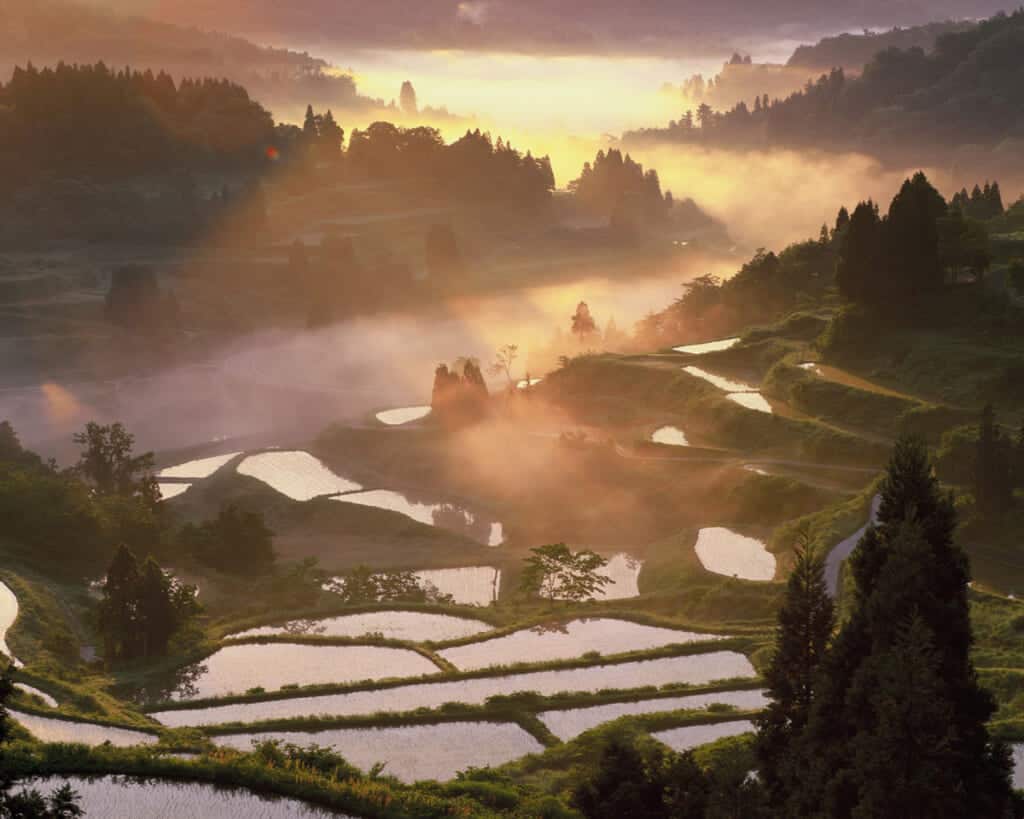 The space near Matsudai Station, in particular, boasts a wide assortment of installations using nature as part of their design. Famed artist Yayoi Kusama's Tsumari in Bloom imagines a psychedelic flower opening up to the world, marked by her trademark polka dots. I can see a towering red dragonfly sculpture off in the distance and what appears to be a series of spikes hanging in the air. Those end up being giant pencils, each one sporting the name of a different country on the side. This is Reverse City by Pascale Marthine Tayou, and staring up at the surprisingly sharp-looking writing instruments dangling over me inspires an unnerving feeling.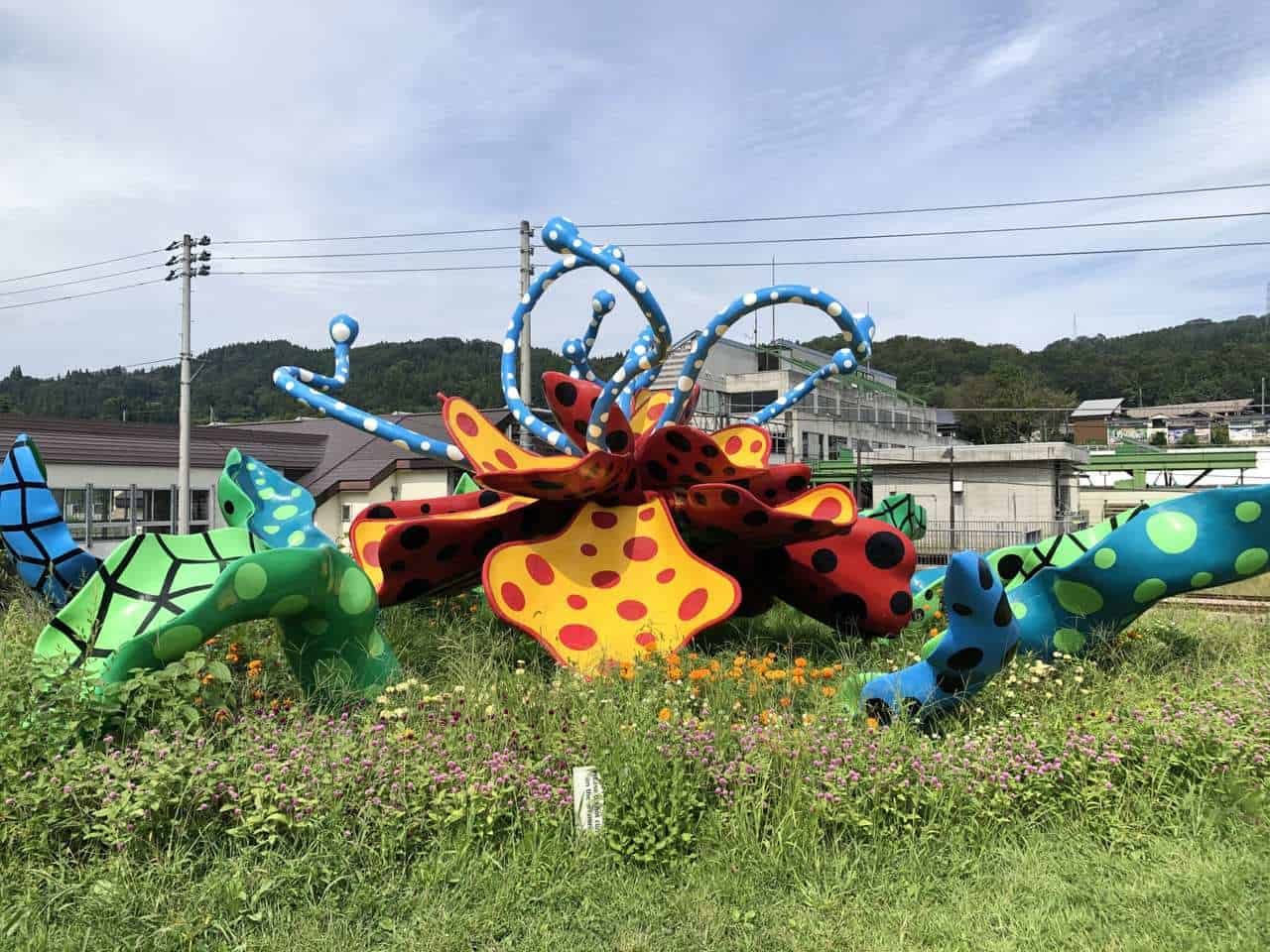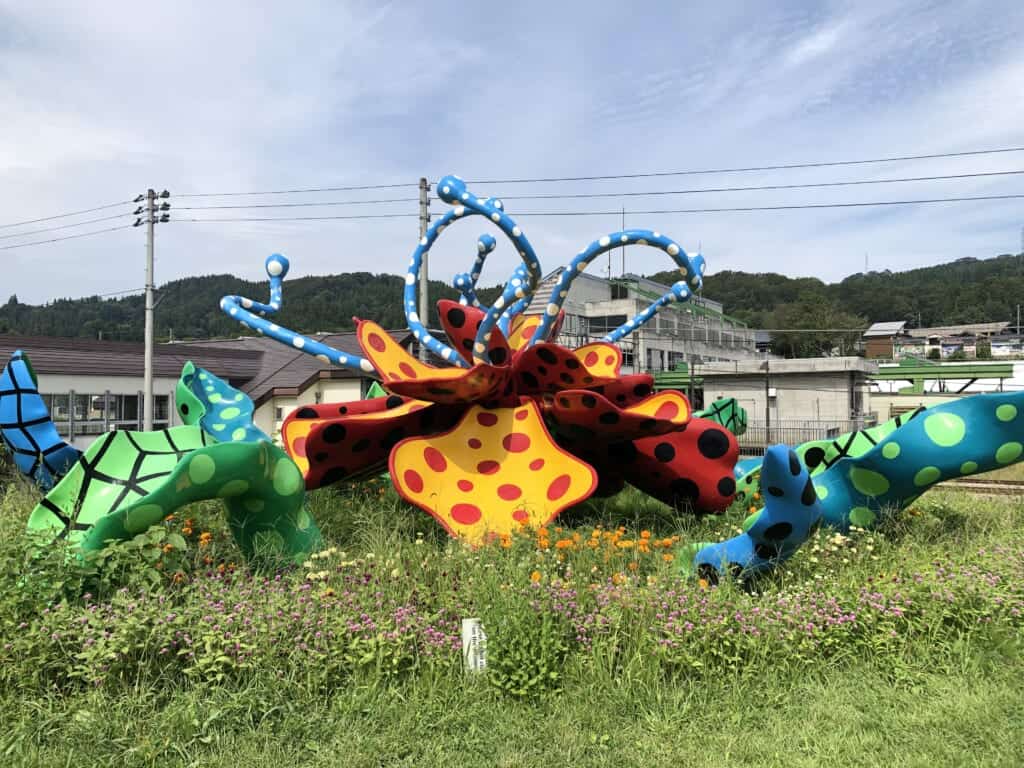 I feel far more secure inside Nohbutai, a cultural center sitting in the middle of many of the region's most well-known works. After passing by a pair of frog statues, I head inside and start exploring what the building has to offer, including an exhibit inspired by the Showa era and a room where everything — from the wall to the desks to the globes — is made out of the same material as a blackboard.
A balcony allows me to see The Rice Field, a multi-faceted piece featuring poetry suspended in the air, with sculptures of traditional Japanese farmers behind it in the rice fields. Every element of the Niigata countryside comes together to leave an impression.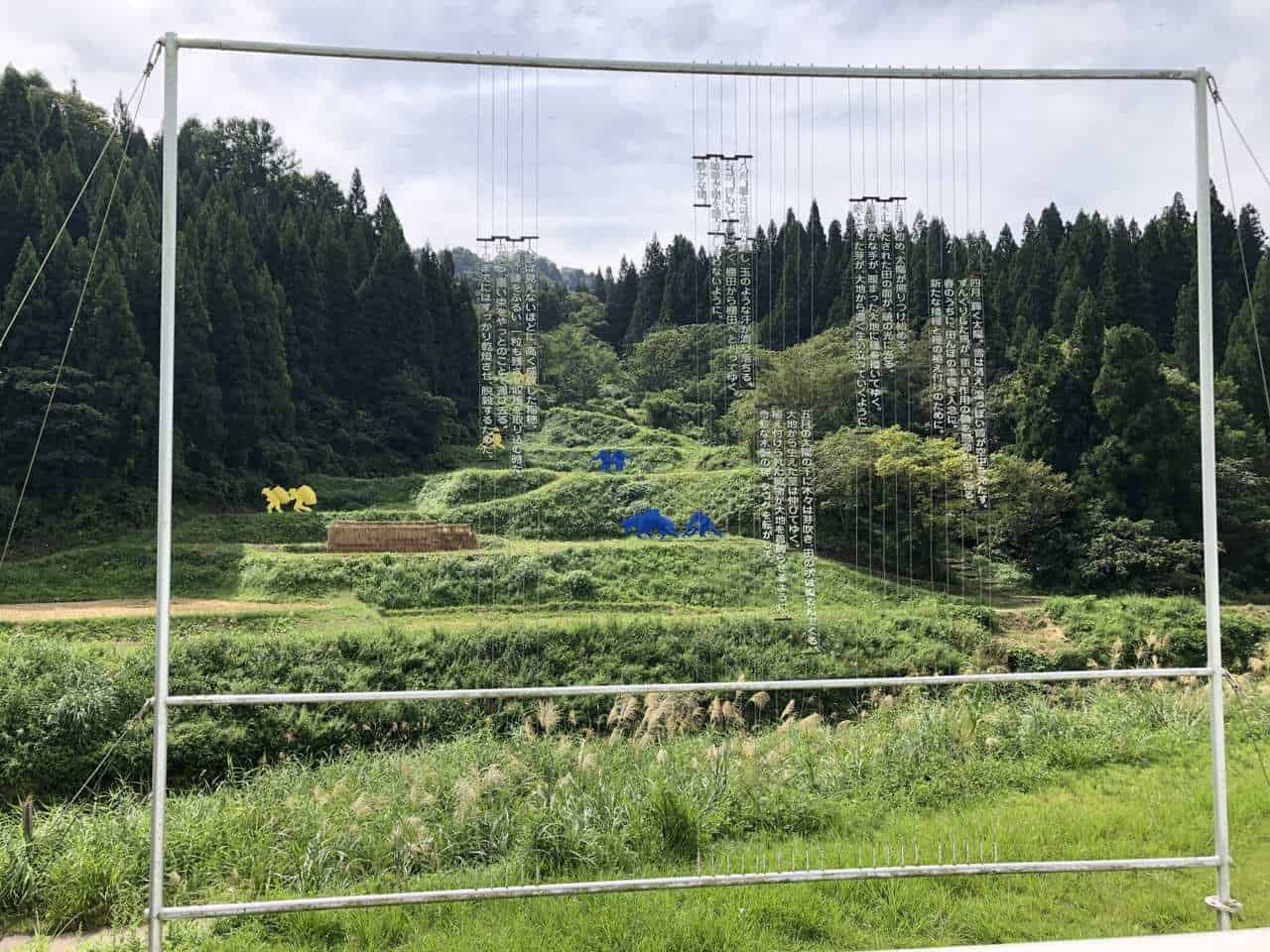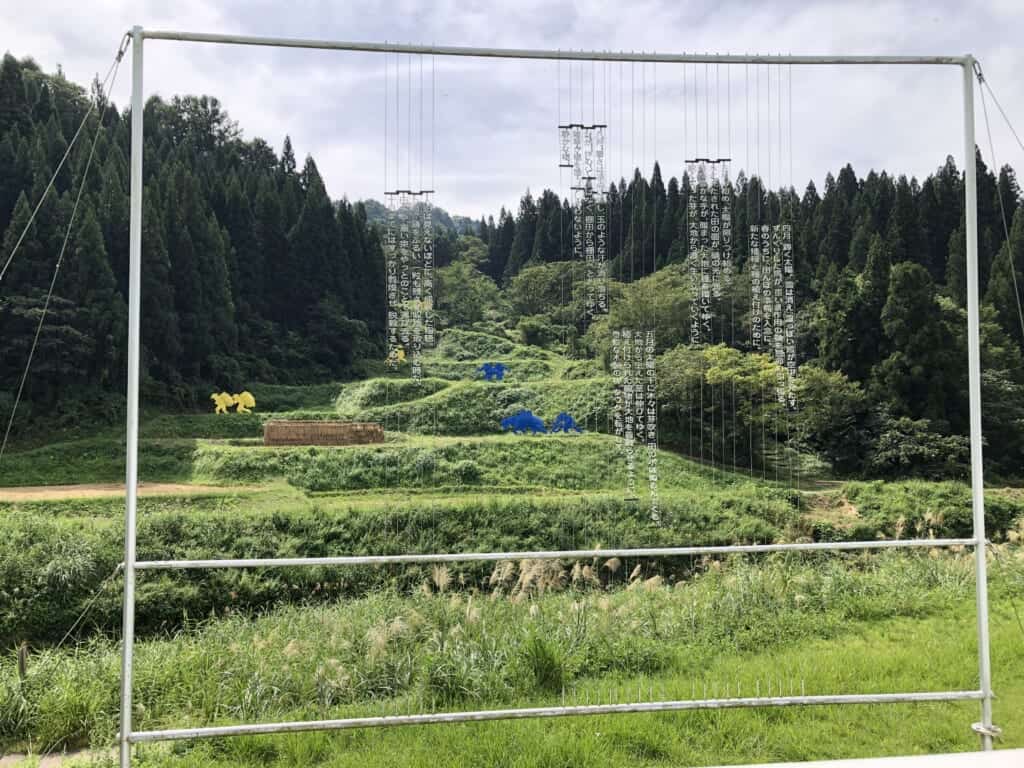 Similar usage of natural elements can be found at the Echigo-Tsumari Satoyama Museum of Contemporary Art [Kinare], about an hour drive away in Tokamachi. Renovated in 2012, the center of this open-air building features a large pool, helping to add a dash of the wilderness to a modern structure. The exhibition halls capture the intimacy of traditional Japanese structures such as shrines and temples, and houses various exhibitions (including the particularly charming wall featuring samples of soil from all across Niigata), plus a cozy café. It's a physical testament to the area's embrace of art.
The Art Of Luxury And Craft
Art manifests itself in many forms across Niigata. At the end of the second day, I check into Satoyama Jujo, a hotel based out of a 150-year-old building in Minamiuonuma. It's luxury redefined, featuring a stunning interior complete with pieces from famous artists and a hot spring bath offering guests a view of Niigata's green expanse. The elevation comes from how Satoyama Jujo incorporates nature into its experience, whether from the use of materials to the food served at their all-organic restaurant Sanaburi. When I dine there, I try locally sourced beans, eggplant, fish, steak, fruits, and more. It's a master class in culinary creativity.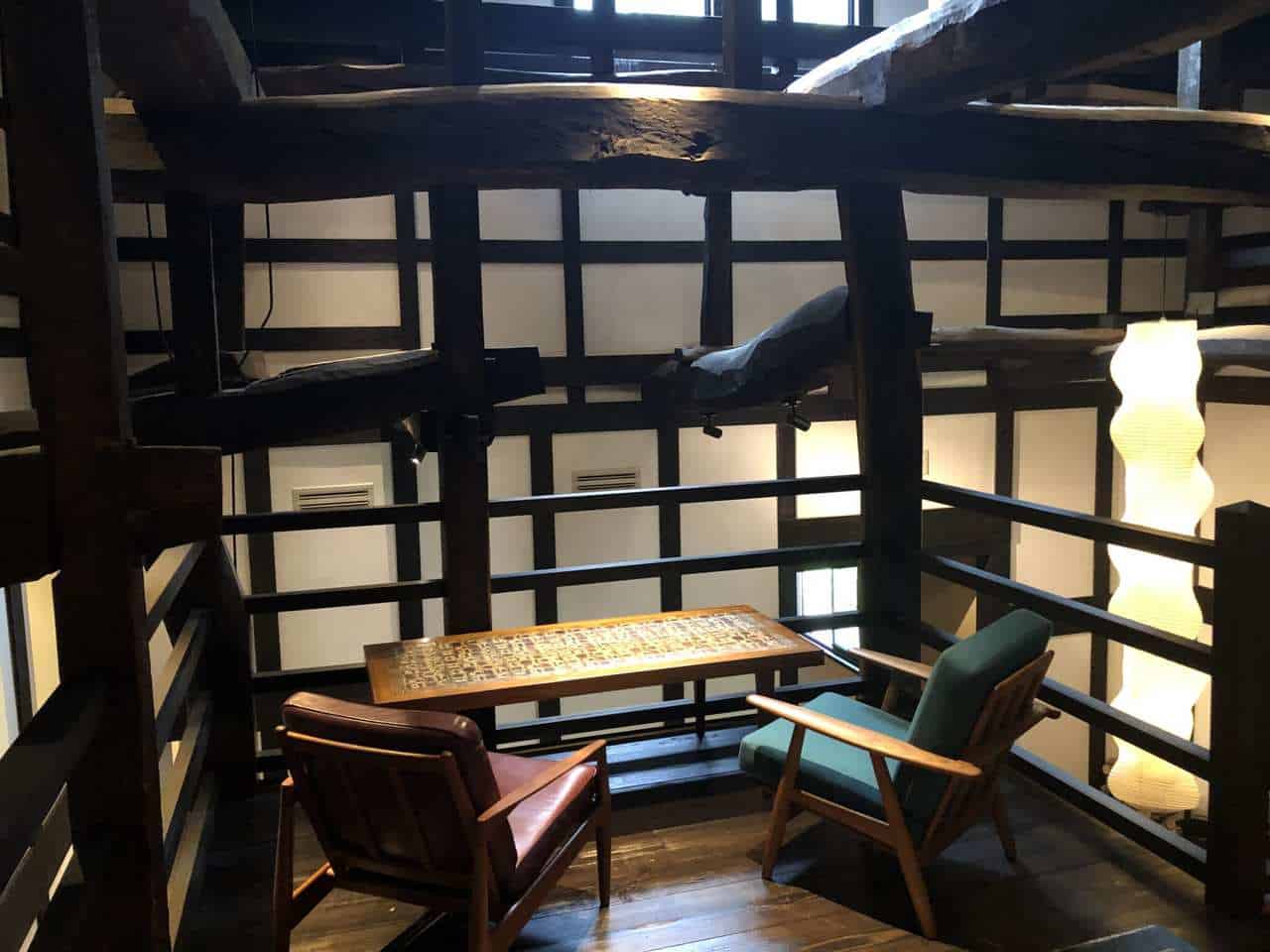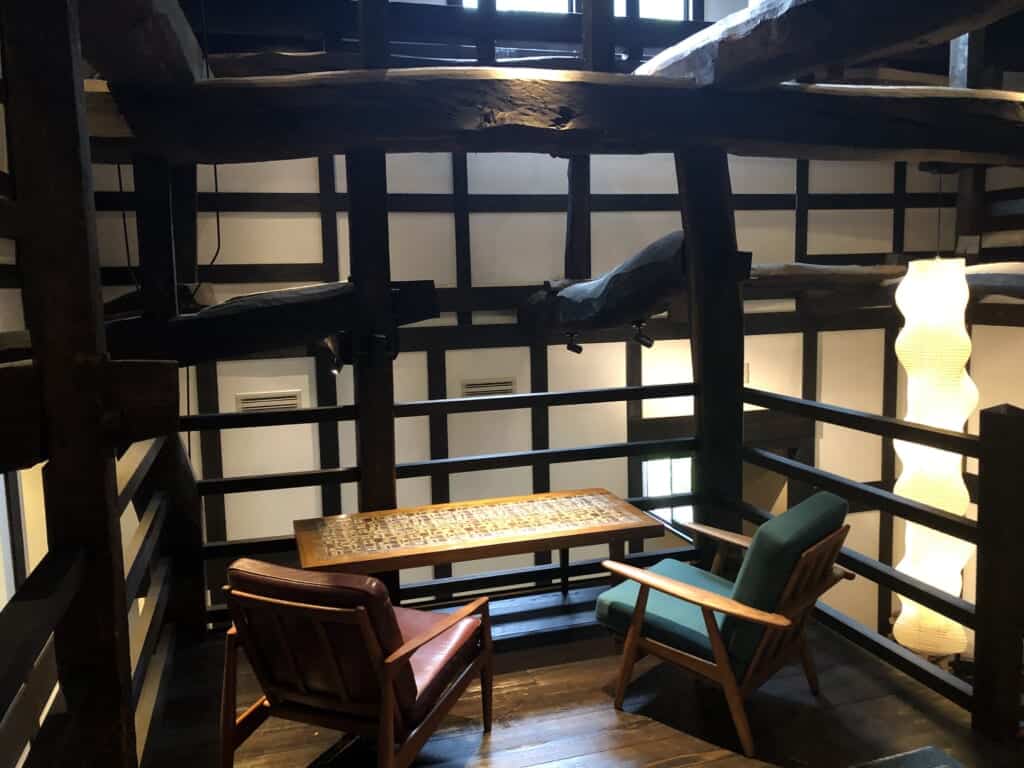 Metal Work of Niigata
A longer drive follows as I head up to the Tsubame-Sanjo region. This area, which constitutes Tsubame and Sanjo cities, is renowned for its metalwork, with a proud tradition of creation stretching centuries back and reflected by manufacturers operating for hundreds of years. My visit includes stops at three of these places, starting with long-running knifemaker Tojiro and their open factory.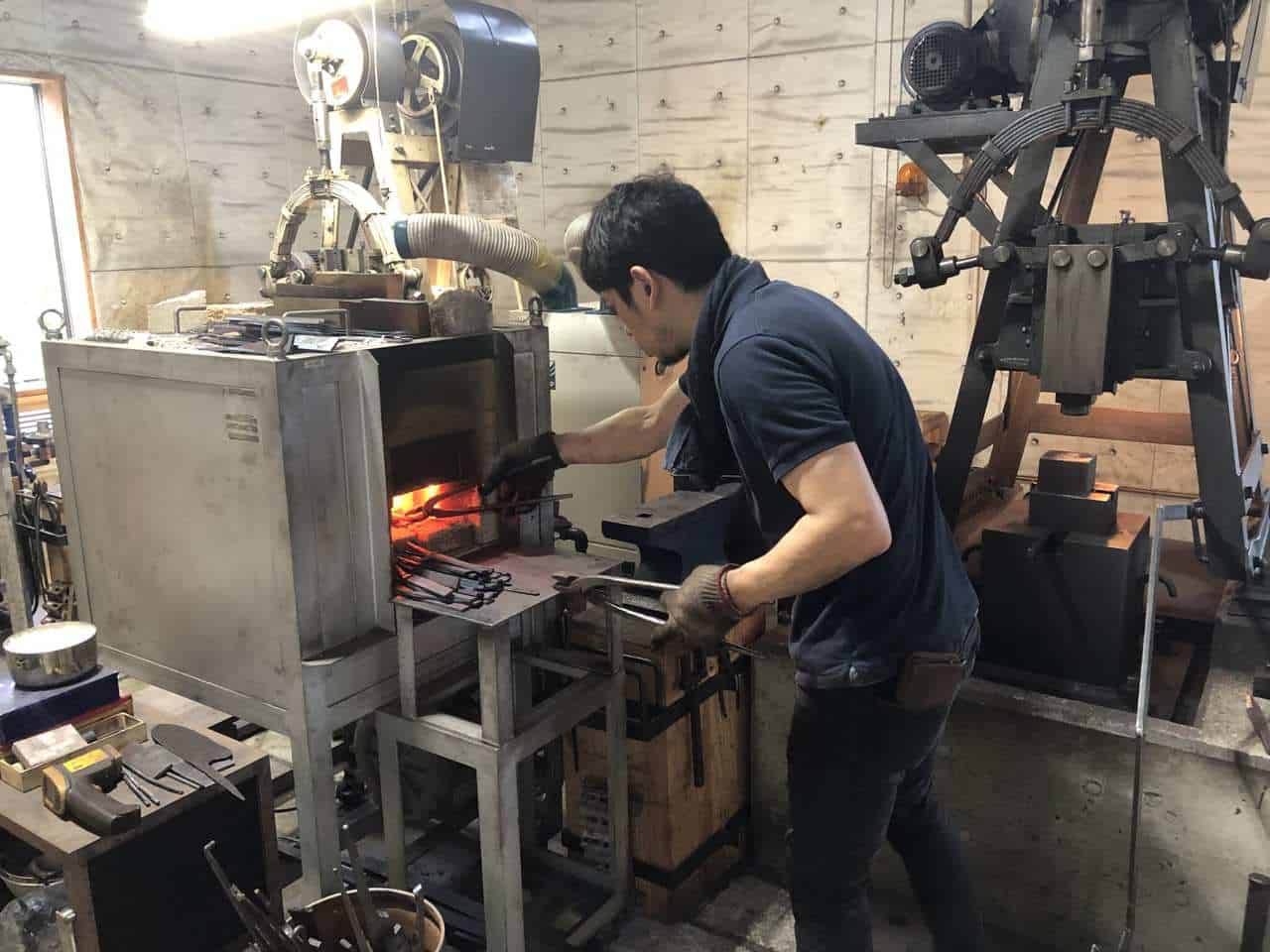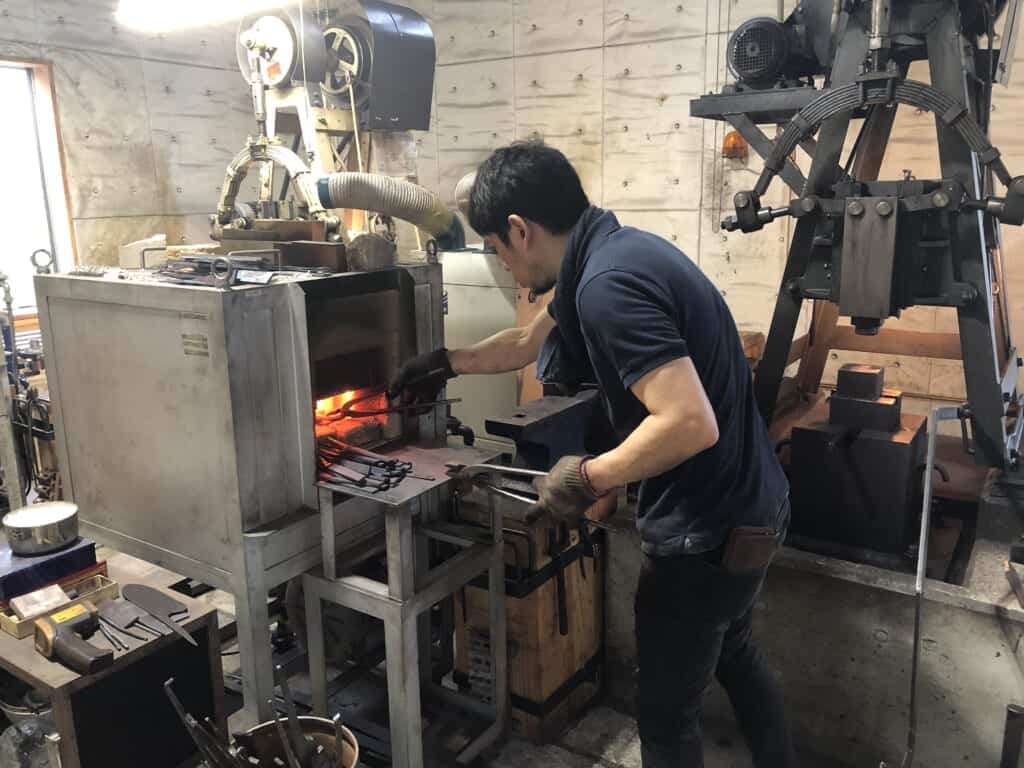 Founded in 1955, Tojiro has become world-renowned for its cutlery, with many famous chefs worldwide using them. After browsing the Tojiro Knife Gallery, I begin the tour of the factory itself, watching as people give all of their attention to creating knives. The Tojiro guide leading me says some of the people here have been working for decades, honing their craft and making sure every knife that leaves here is perfect.
Blacksmith Tool Makers of Niigata
That's a similar ethos echoed at Suwada Blacksmith Works, Inc. Started in 1926, it started out crafting tools for local farmers, but in the decades since, they've expanded to items such as nail cutters, bonsai tree trimmers, and much more.  Their open factory boasts a sleek, modern design (complete with a café serving up Italian coffee and gelato) in the basement's production space. A walk-through allows me to see every aspect of production, from seeing craftspeople who have been shaping metal for decades to the quality control section, examining every item to make sure it is fit for sale. 
Copper Crafters of Niigata
Both Tojiro and Suwada have created stylish new spaces for people to observe their meticulous process, while Gyokusendo leans into tradition. Founded in 1816, this workshop has become one of the most respected metal crafters in the world today, with their work being highly sought after all over the world. They work out of an old-fashioned Japanese building, with upwards of a dozen people pounding away at pieces of copper with metal hammers, creating a hypnotic beat (as you'd expect, they all have earplugs in).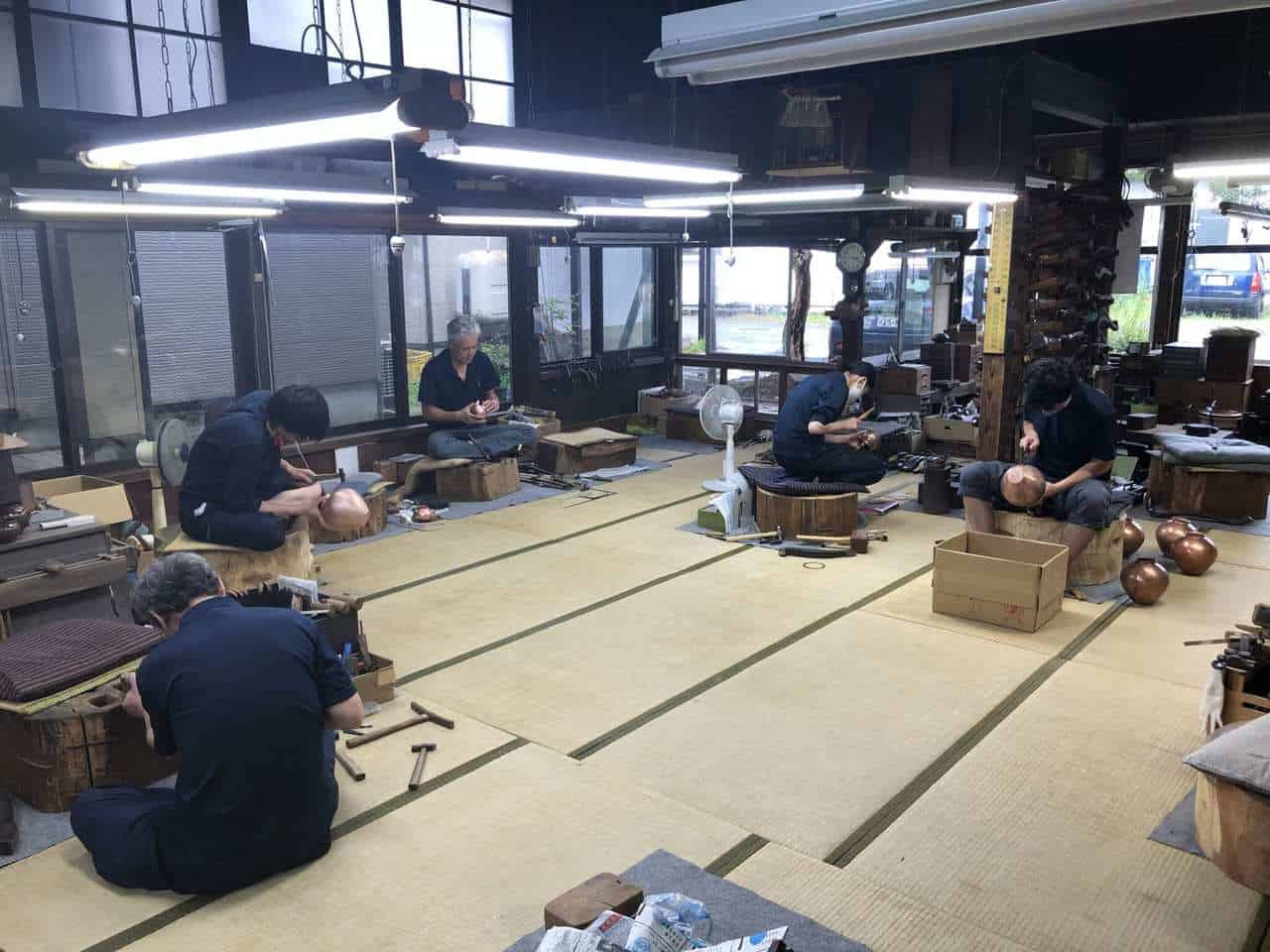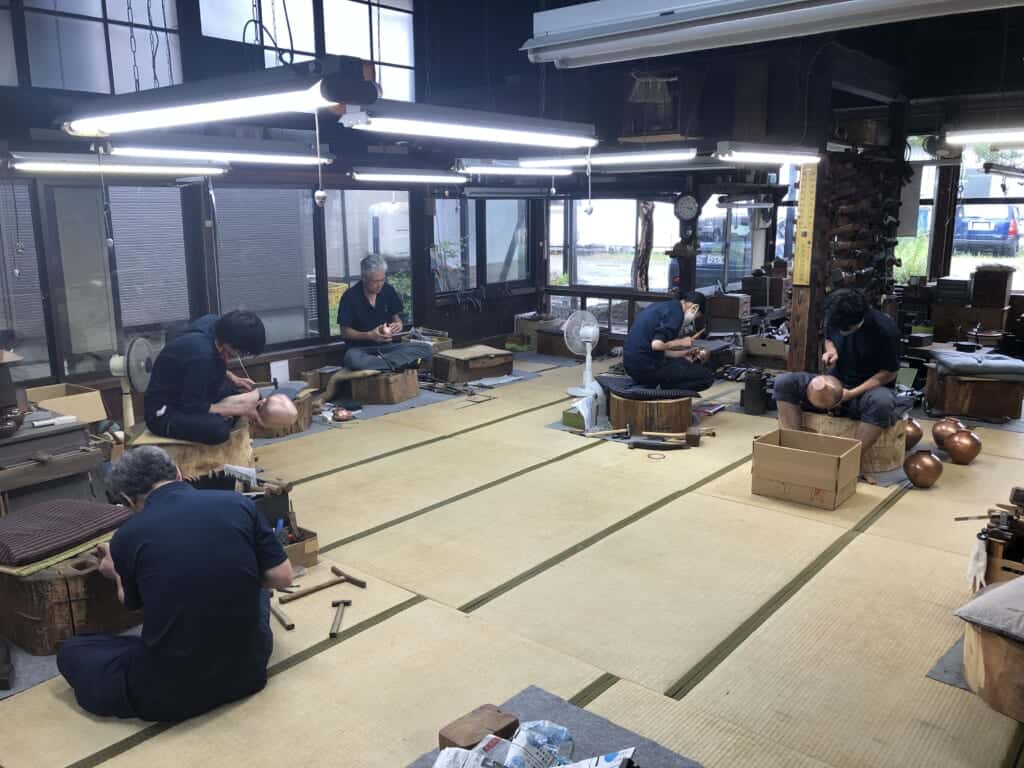 Given Gyokusendo's reputation for high-end items — their teapots, cups, and other creations sell in places like Tokyo's Ginza, often for very high prices — I'm a little surprised by how simple their set up and the process is. Like any great artist, though, they use their approach to create something memorable and long-lasting. It's a good summary of Niigata's artistic spirit, and leaving the prefecture later that night, I feel like I'm departing from a dream back to the ho-hum realities of Tokyo.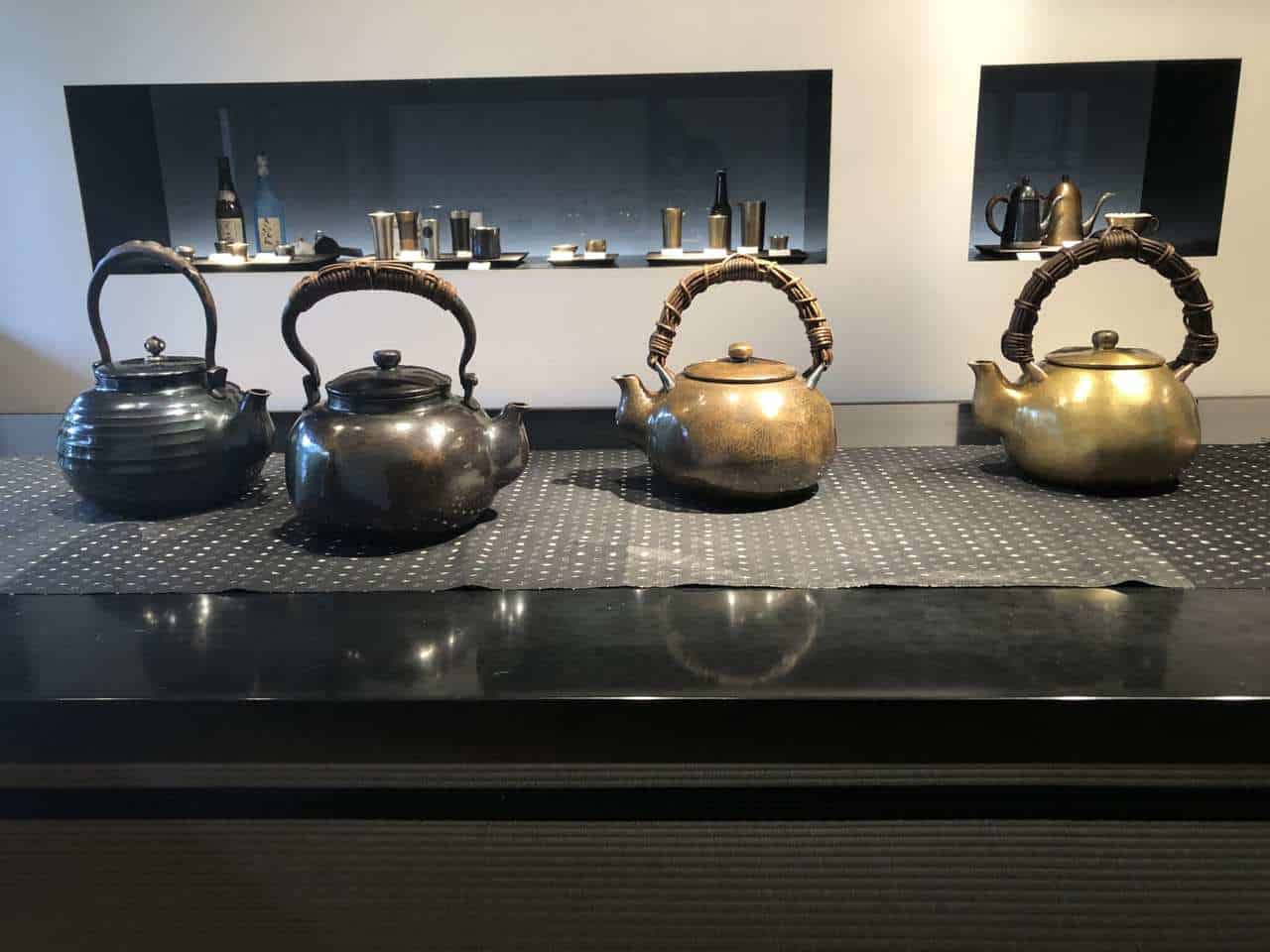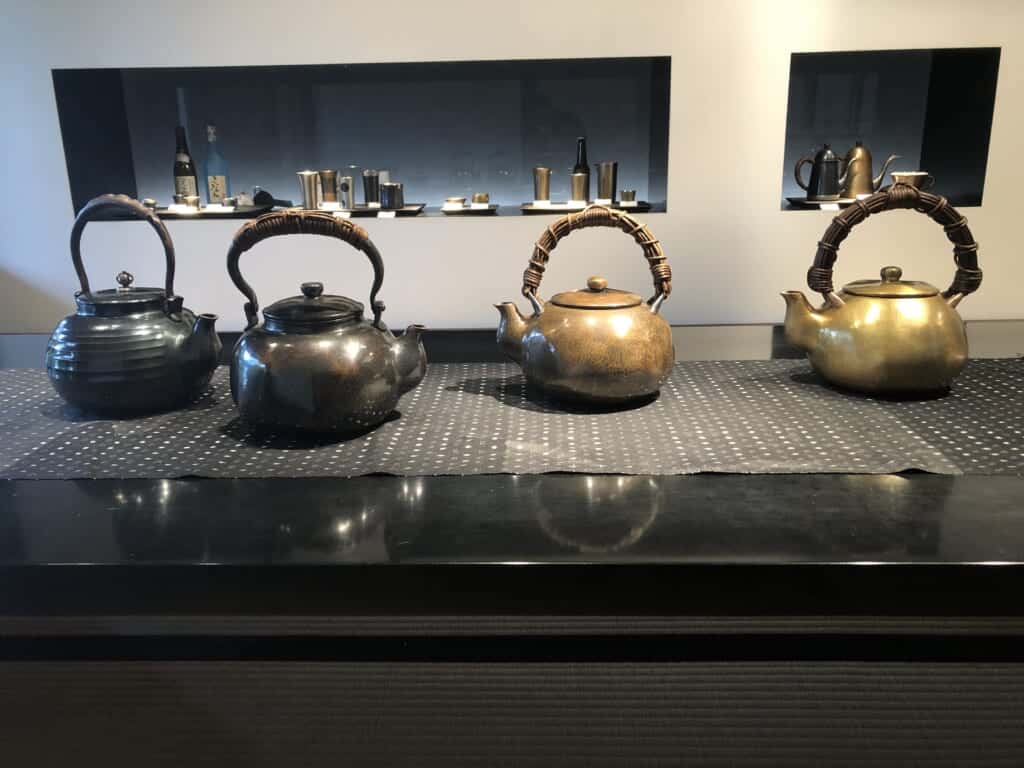 How To Get There / Get Around
Niigata Prefecture can be reached in about 90 minutes from Tokyo to Echigo Yuzawa station. The Echigo-Tsumari area can be reached by Echigo-Yuzawa Station, while those hoping to see the metal craft side of the region should head to Tsubame-Sanjo Station, a little further up the line. Buses from Tokyo also run to the area.
To get to Kiyotsu Gorge (清津峡, Kiyotsukyo), take the Morimiyanohara express bus from Echigo-Yuzawa station for a 30-minute ride to Kiyotsukyou-Iriguchi bus stop. It's about a 30-minute walk from the bus stop to the gorge.
For those driving, the Kanetsu Expressway will take you to Niigata. Once in the prefecture, having a car is the best way to get around (at least during non-winter months, when there is no snow on the ground), especially in the Echigo-Tsumari region. For those coming by train, it's possible to rent a car at Echigo-Yuzawa Station, and you can also book a taxi tour of the area to see all of the art in the area.
Sponsored by Niigata Prefecture