Sponsored by Toyama prefecture
Located in Japanese mountains dividing Toyama and Gifu prefectures, two villages preserve traditional Japanese architecture which is very different from what is found in Japan today. Shirakawa-go in Gifu Prefecture is the most visited village by tourists, while Gokayama in Toyama Prefecture offers a very different atmosphere. Quiet surroundings, far from the hustle, offer a certain authenticity closer to tradition as well as an opportunity to discover its crafts.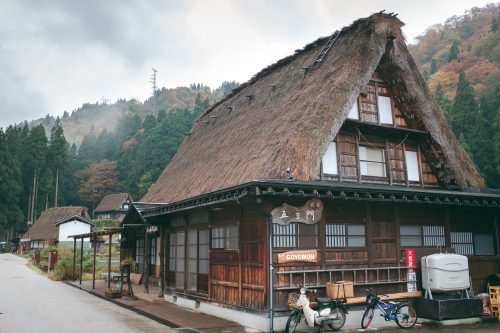 Gokayama : a UNESCO World Heritage Village
The village of Gokayama was declared a UNESCO World Heritage Site in 1995. The area has been preserved as it was originally built, so it is difficult to find traces of modernity in this village. Surrounded by mountains, we find ourselves immersed in tradition.
Right away, you will notice what makes Gokayama so unique: its architecture. These are houses vaguely reminiscent of European cottages fused with characteristics of traditional Japanese houses. The straw roofs are the most atypical and protect homes against the harsh winters and the impressive amounts of snow that fall each year. These roofs are still maintained by hand in a traditional way.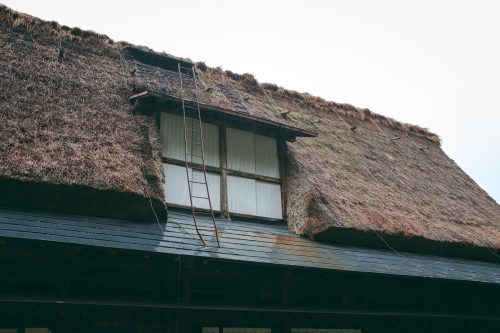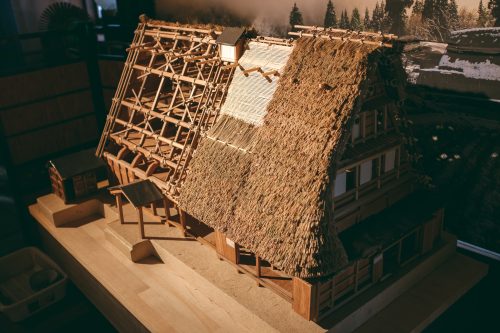 Roofs need to be renewed regularly. One side of the roof is renewed every 10 years, while the entire roof is renewed every 20 years. No nails are used, only old ancestral techniques which remove straw from the roof without damage. The straw itself is grown by the inhabitants of the village. An impressive commitment to traditional techniques allows the village to maintain its unique appearance for centuries.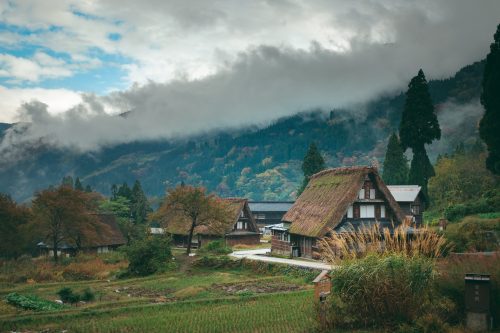 You can spend the night in a house in the village, although winter can be rough because the villagers live with less modern conveniences and comforts that most visitors are used to. But the stay is a deep dive into Japanese culture in a grandiose natural environment.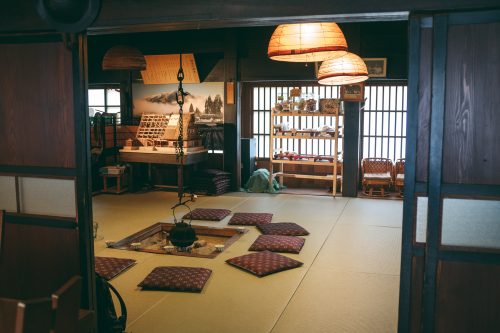 The village inhabitants have an inexhaustible kindness and are passionate about the history of their village, and they are happy to share it with their guests. And it's a rare opportunity to stay in a house that is so close to Japanese tradition and history.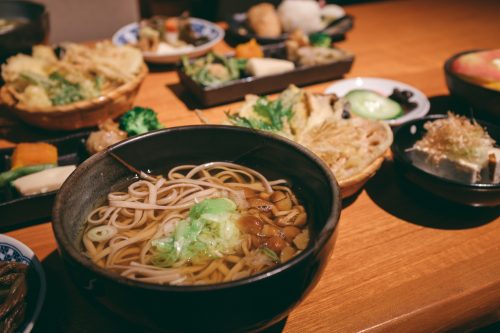 A small restaurant in the village serves soba and homemade tofu, together with vegetables harvested from the mountain. You can't miss these delicious local foods during a visit to Gokayama.
Learn about ironwork in Takaoka
Accessible by car or bus from Gokayama, Takaoka City is known throughout Japan for its metal industry. The ironworks of Takaoka have played an important role in the making of bells for all of Japan, and the tradition continues today. It is possible to learn about ironwork in Nousaku, a workshop in Takaoka.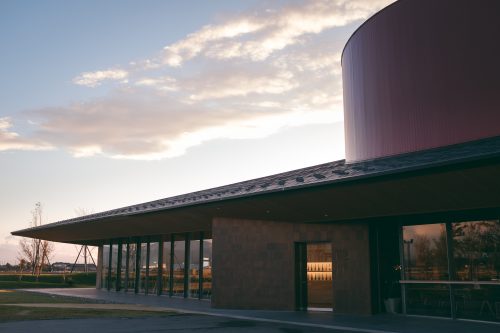 I must admit that I had no idea how to create a metal cup using a traditional method before visiting Nousaku. The procedure requires a little care but it is actually relatively simple. First, they use a model cup and make a mold from sand.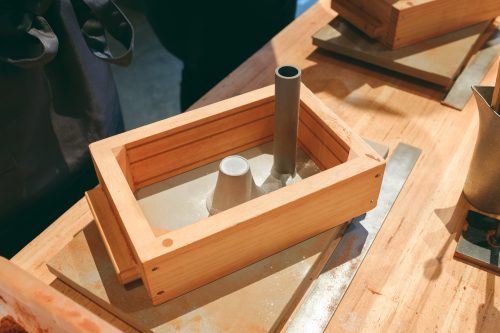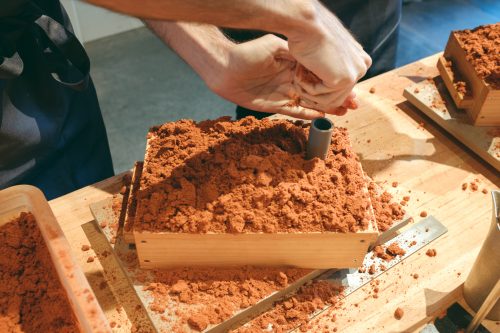 This involves packing the sand as tightly as possible on both sides of the model, and then separating the two parts of the mold as gently as possible to keep the shape intact.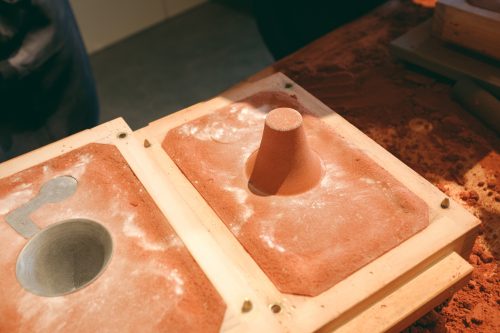 The iron is then poured into the molds. I was surprised at the speed how fast iron reverts from liquid to solid. After just five minutes, it is possible to "break" the mold, and let the sand scatter again. And our cup is in the middle of all this.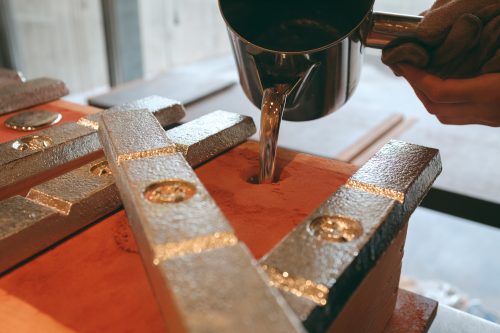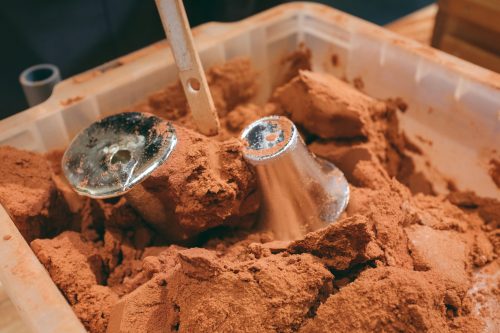 We are free to polish the cup in our own way and to engrave our initials. Not only can we bring home a unique souvenir, but we also learn how to mold metal objects in a traditional way.
And a visit to various Nousaku workshops makes it possible to continue this discovery. Spoiler alert: iron and copper objects are made in exactly the same way in the workshops! Everything is done in a traditional way with the same sand molds. Only the polishing and finishing part of the objects is more elaborate, but everything is done by hand.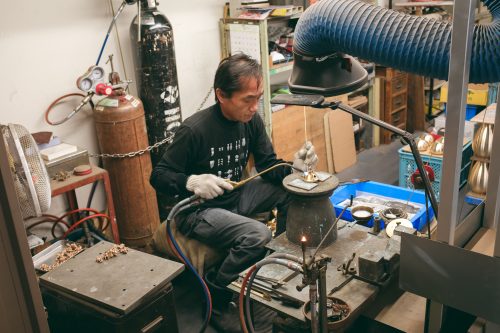 Spend a night in a ryokan by sea
Toyama Prefecture is particularly famous for its bay. You can look out over the huge bay and see views of snow-capped mountains at the same time. It's no wonder that Toyama Bay is one of the 'Most Beautiful Bays in the World Club.' Not far from Takaoka, in the small town of Himi you can spend a night in a ryokan directly overlooking the sea.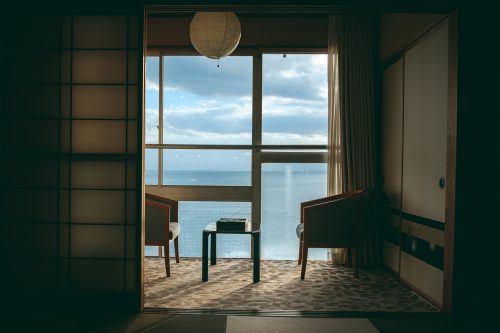 Rooms at Himi Umiakari Onsen overlook Toyama Bay directly, and totally unobstructed views can be found everywhere in this luxurious hotel. The hotel has two onsens (hot water baths); one of them is outdoors which offers the same magnificent sea view.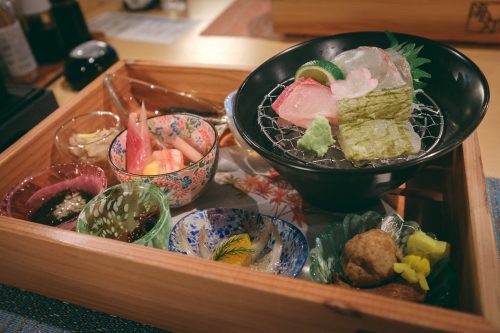 The dinner consists mainly of seafood which is the specialty of Toyama Prefecture. In particular, there are small white shrimp and Firefly Squid, both of which are caught in Toyama Bay and are popular throughout the Japanese archipelago.
And what a pleasure it is in the morning, not only having a view of the sea in front of the room but enjoying your delicious breakfast there as well!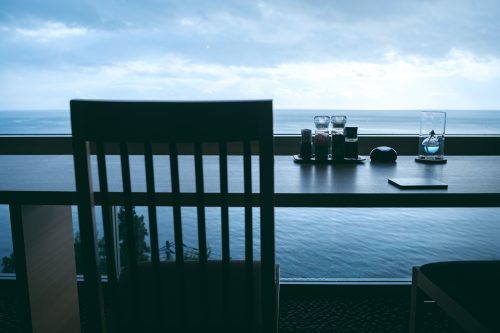 From the mountains to the sea and unique local handicrafts, Toyama Prefecture is still relatively unknown to tourists, but makes wonderful memories for those who will take the time to visit it!