Experiencing an authentic aspect of traditional Japan is a dream come true for any fan of Japanese culture. While traveling around Japan, you may have many occasions to witness its deep-rooted culture, such as a matsuri (festival) or tea ceremony. But if you want to immerse yourself in a complete experience that includes several of these traditional aspects, it's worth making arrangements to stay at a ryokan.
What is a Ryokan?
A ryokan (旅館) is a traditional Japanese accommodation with tatami floor rooms, sliding doors (shoji — 障子), and futons for sleeping. This is a place where you can sleep in traditional Japanese style, as well as a quiet space for guests to enjoy a relaxing moment with a unique experience.
Staying at a ryokan can be a pleasantly indulgent for both foreigners and Japanese, so many of these accommodations are in high demand throughout the year. It's best to reserve far in advance, especially during a holiday season (such as Golden Week or the New Year) and on weekends in spring (March – April) and autumn (October – December). Note also that prices can vary greatly during busy periods and high seasons!
What is so Special about Staying in a Ryokan?
For me, staying in a ryokan is like being in an alternate world. It's a place to disconnect from your life and focus on your immediate surroundings: a forest, a small town, or an onsen village. It's not a typical accommodation to leave your bags and go; a ryokan is an experience in itself.
Speaking of relaxing in Japan, don't miss bathing in a traditional onsen (hot springs). If you stay at a ryokan, a yukata (a summer kimono) will be waiting in your room so that you can enjoy Japanese-style comfort. But often you can also wear it directly to the nearest onsen for a soak in hot spring waters. Some ryokan have their own onsen, including rotenburo (outdoor bath). Depending on the ryokan and the grade of luxury you choose, you may even have a private bath inside your own room! Each ryokan is a unique experience. Keep in mind that many rooms have no shower, as it's customary for guests to either enjoy the onsen or large public bath on site.
Another typical feature of many ryokan is exquisite cuisine. Dinner and breakfast are included in most room rates, so you can indulge in these Japanese-style (washoku — 和 食) delicacies, made with local ingredients. In addition, many ryokan offer kaiseki cuisine (懐石料理) for dinner, a set menu of various dishes carefully prepared to capture the essence of the place and the moment. Don't forget the complete breakfast, also featuring many Japanese-style favorites, to start the day off full of energy. As an international foodie, I highly recommend dining in a ryokan!
Last but not least, at a ryokan you will receive typical Japanese hospitality (omotenashi — お持て成し). In Japan, omotenashi goes beyond a simple welcome, the aim is to make guests feel at home and maintain a completely harmonious atmosphere. The staff pays very close attention to all guests, covering all your needs down to the smallest detail. At a ryokan, omotenashi might include picking you up at the train station, offering you a small snack upon your arrival, introducing each dish of your meal at dinner, or simply treating you so perfectly that you feel you're in another world.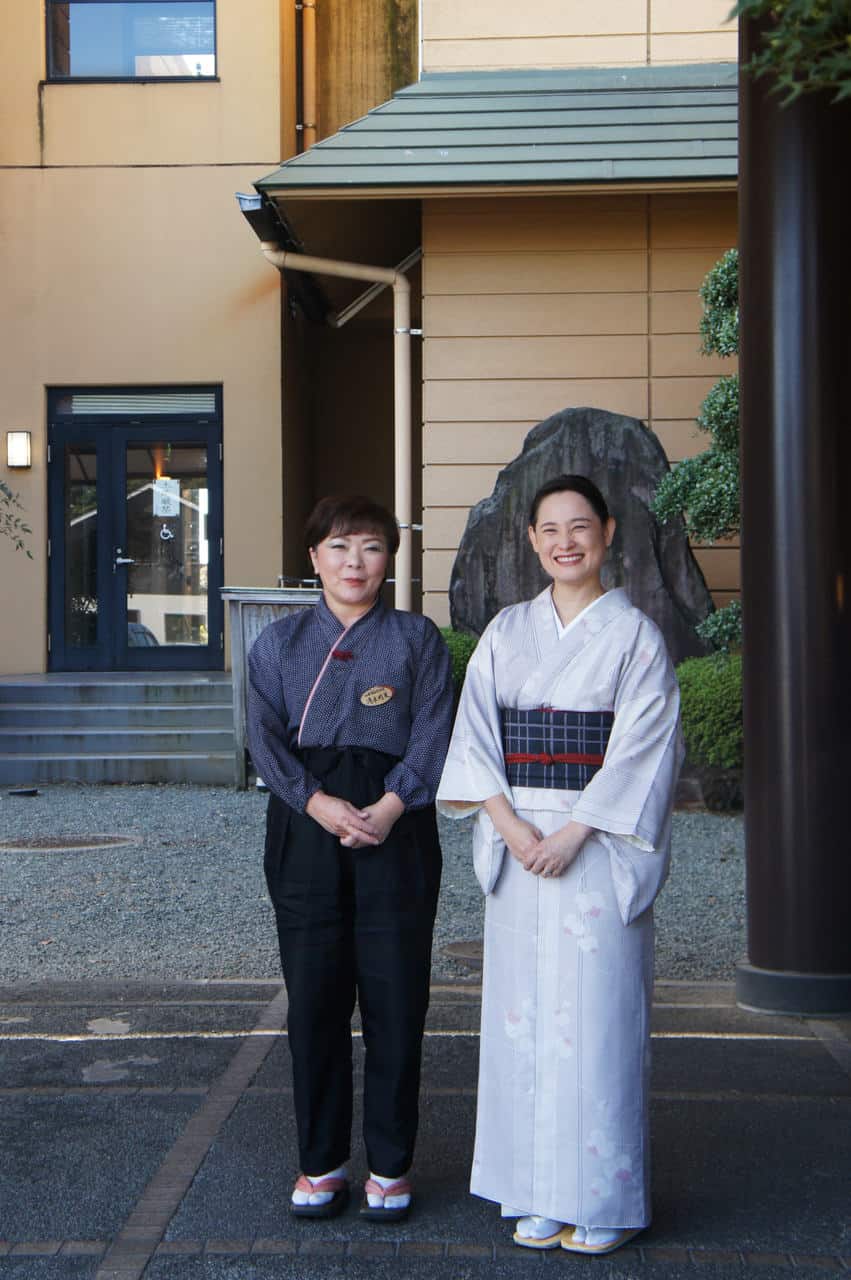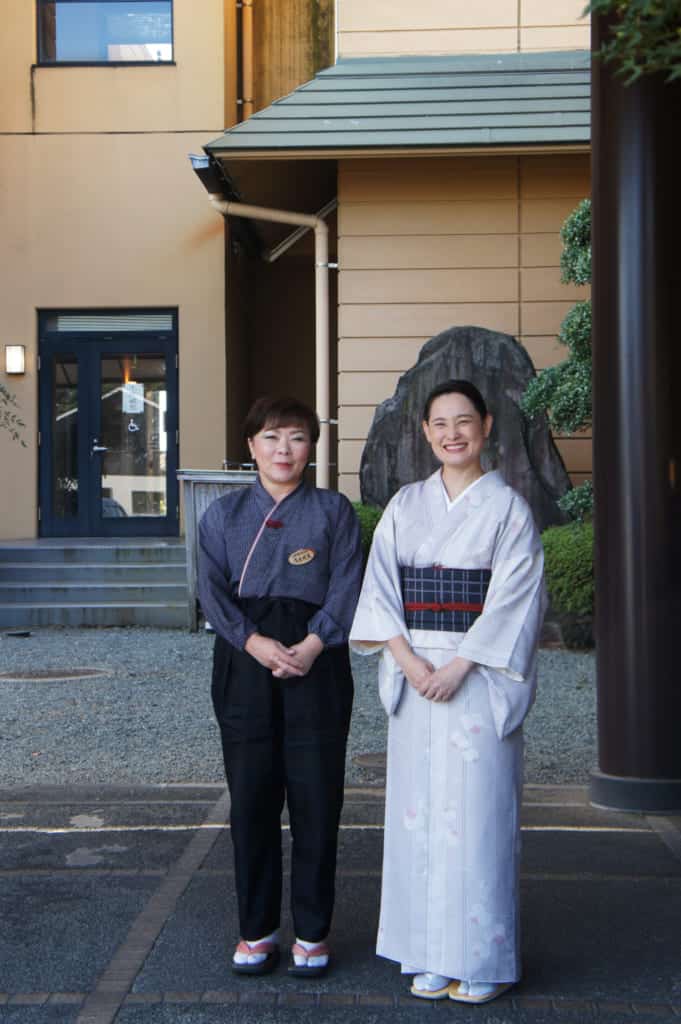 What are the Origins of Ryokan?
The earliest vestiges of ryokan-like lodgings date from the Nara period (710-784). Fuseya (伏屋) were free inns where travelers could spend the night. In ancient Japan, traveling between different towns was dangerous. Due to an increase in mortality among travelers, these humble lodgings were created to offer shelter for the night and a place to eat. One of the best-known individuals who built several fuseya was the Buddhist Monk Gyoki, who also constructed bridges and roads in dangerous locations to improve travel conditions for people.
During the Heian period (794-1185) shukueki (宿駅) appeared, also called shukuba (宿場), post-towns for pilgrims and wealthy travelers. Shukueki were former private houses of aristocrats and religious institutions that provided accommodation and care for horses. Then during the Kamakura period (1185–1392), kichin-yado appeared, consisting of a simple accommodation where travelers paid only in firewood to prepare their own food.
During the Edo period, commercial routes within Japan increased thanks to a new class of merchants, along with therapeutic trips to hot springs called toji (湯治). In response to the increasing demand for accommodations for these travelers, hatago (旅籠) were created. At the same time, upper-class inns called honjin (本陣) were designated by daimyo (feudal lords) and reserved exclusively for people with high positions and influence.
After the Meiji Restoration, these two types of accommodation hatago and honjin eventually combined to create ryokan.
What to Keep in Mind at a Ryokan
Although there are no established rules in these accommodations, keep in mind that in Japan there are some important unwritten rules that exist to maintain a smooth and harmonious relationship between staff and guests.
When to Wear the Yukata
When should you wear the yukata? It will depend on the ryokan. Although it is recommended to wear yukata when you go to the onsen or large public bath, there are also spaces where yukata are not allowed. Restaurants are one example, as diners may include people who are not staying at the ryokan. There is usually a sign saying "yukata ok", so be sure to check before entering or ask the staff.
It's prohibited to take the yukata or large towels from the ryokan with you when you check out. However, you are welcome to keep the small towel with the name of the ryokan on it as a souvenir.
Each Ryokan has its Own Rules
Keep in mind that many ryokan close their doors at night. So if you are planning a late check-in, it's best to notify reception beforehand so that the door won't be locked. It is also advisable to ask in advance if your ryokan accepts credit cards, or if payment can only be made in cash.
If your dinner or breakfast consists of a buffet, it's preferable to go back to the table several times for more helpings rather than to leave any food on the plate. This is considered a very rude offense to the staff. Tipping is unnecessary, but if you want to acknowledge the staff's efforts, they will always appreciate your own efforts to say nice words such as arigatou gozaimashita (ありがとうございました — Thank you very much) or gochisousama deshita (ご馳走様でした — Thank you very much for the food).
As mentioned earlier, you must wash yourself thoroughly before entering the bath (this general rule applies everywhere). Although in the West we use bathtubs for washing, bathing in an onsen is specifically for relaxing. You are expected to enter the restorative spring water with a squeaky clean body. If you have long hair, tie it up with a clip or a towel so that it doesn't touch the water. And of course, taking photos is strictly forbidden in a shared onsen.
Another rule to keep in mind at a ryokan is related to tattoos. As you may already know, there are some traditional places in Japan where you can't enter with a visible tattoo. So if you have a tattoo, when making your ryokan reservation, be sure to ask if you can go inside the common bathing area with a tattoo, as well as any requirements, such as covering it with a bandage.
"Don'ts" to Keep in Mind Inside the Room at a Ryokan
At a ryokan, the futon is usually folded inside the closet, and the nakai (仲居) is the staff in charge of preparing it for you. So unless instructed otherwise, don't prepare the futon or put it back inside the closet.*

*Currently, due to the COVID-19 situation, many ryokan may ask you to prepare it by yourself.
Don't drag your suitcase across the tatami, as it may damage the floor. If possible, put your luggage in a corner out of the way of the staff when they enter your room. Bear in mind that some closets are only large enough to store the futon, so can't be used to hang clothes.
Don't bring any food to eat inside your room. As a ryokan stay usually includes dinner and breakfast, there is no need to bring in any outside food. This also helps to prevent strong smells or soiling the room. If you want to eat something extra, go outside the ryokan and eat at a shop or a conbini.
Although there are other unwritten and unspoken rules, don't worry. No matter how many questions you have, the ryokan staff are happy to help you if you ask (if not in Japanese, through English, drawings, signs, or a translator)!
Where are some Recommended Ryokan in Japan?
You will find many ryokan throughout Japan. Although they are usually known as traditional accommodations, recently there are some modern ones in big cities such as Tokyo. If you want to experience a traditional ryokan, it's best to look in more rural or remote areas of Japan.
Our Voyapon writers have stayed at many ryokan across the archipelago. Here are just a few examples:
There are also onsen areas with several ryokan to stay at and enjoy the hot springs. For instance, you can go to Kusatsu Onsen in Gumna, Yunomine Onsen and Kawayu Onsen along the route of the Kumano Kodo, the famous Nyuto Onsen in Akita, or Kurokawa Onsen in Kumamoto Prefecture.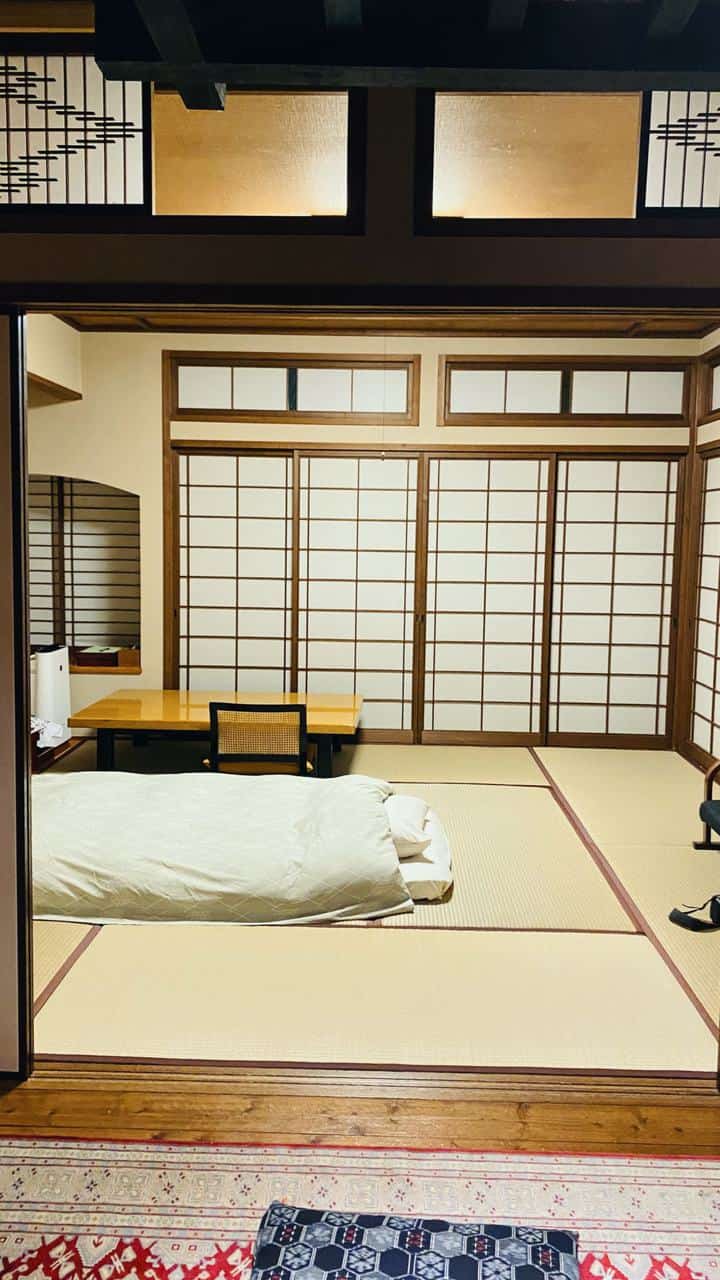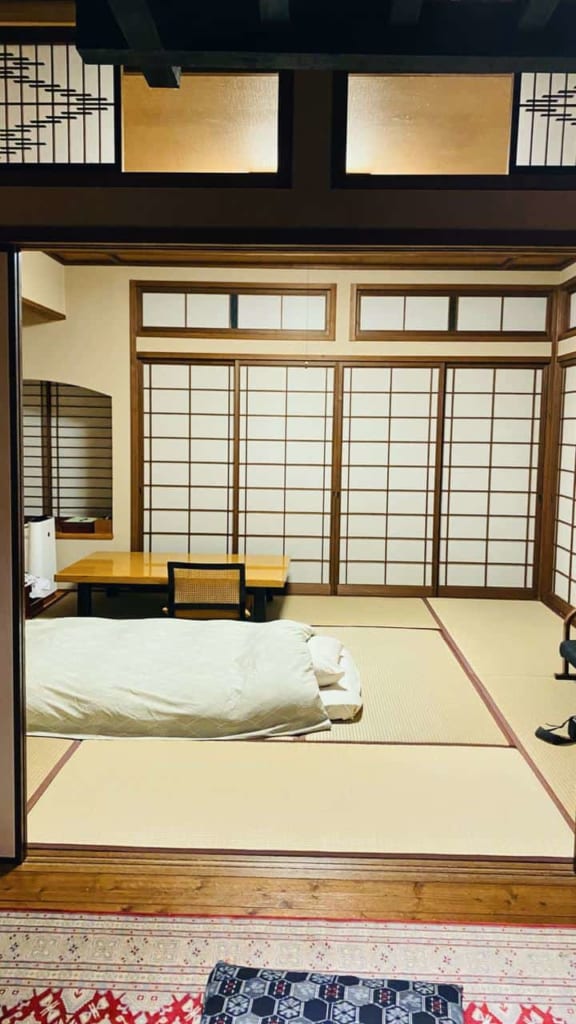 How to Enjoy the Ryokan Experience on a Budget
Ryokan prices can vary widely. The most "simple" ones can cost between 5,000 and 10,000 yen a night (between 40-80 euros). These low-cost ryokan are perfect for those traveling on a budget but still willing to try a traditional Japanese experience. Likewise, it may not include dinner, or the rooms may be small without luxuries.
A standard ryokan, with hot springs, large rooms and included meals can cost between 20,000-30,000 yen (about 150-250 euros). And of course, you can always find more luxurious ryokan for a higher price.
Minshuku, the Ryokan's Cheap Alternative
If a traditional ryokan is beyond your budget, a minshuku is a good alternative. It's similar to a Western-style bed and breakfast, with personalized hospitality. In a minshuku you will have a private room, but you will share the toilet and bath. As in a ryokan, your room will have a tatami floor and sliding doors, you can wear a yukata and sleep on a futon. Most also have home-cooked dinner and breakfast options. It's like a more homey (and inexpensive) ryokan experience.
I stayed at Flora Togari minshuku in Iiyama in Nagano prefecture, and our experience was top-notch. The host family treated us very kindly and showed us a degree of hospitality that we had never before experienced in an ordinary guesthouse.
One of my best memories in Japan is in staying at a ryokan, where I was able to relax, dine on exquisite cuisine, and immerse myself in Japanese traditions and culture. Don't hesitate to stay at a ryokan, it will be an experience you will never forget!