Sponsored by Tourism Oita.
In Japan, there are traditional Japanese inns, so-called ryokan. They offer us a gorgeous experience to spend a beautiful night as well as onsen (hot springs bath), rotemburo (open-air bath) and traditional rooms. Follow the guide to discover a luxury ryokan and enjoy a vegetarian meal in Yufuin.
Ryokan Tanokura
Entrance hall
Ryokan Tanokura (由布の料理宿 旅亭 田乃倉) in Yufuin shows us extended hospitality with a well-designed entrance hall as you enter, making me feel a warm atmosphere.
A ryokan
A staff will guide you to your room while explaining how the onsen bath is for public use. There are many onsens, but you can not get into all of them. The entrance is separated by gender, in other words, you only need to remember two kanjis: 男 and 女. The first indicates that it is for men, while the second is for women. This is to avoid making mistakes. But if you really have a doubt, red is about women and blue is equal to men. Closing hours of onsen is from 1 am to 5 am.
Upon request, a shuttle service is available to use for free, picking you up and taking you back to the station.
Bedroom
The habits and customs
A room consists of several small rooms. In order to explore them, you must take off your shoes and leave your shoes in the room entrance.
In Japan, there are shoes for each rooms and here it is no exception to the rule. You have them for your bathroom, the toilet and outside. But be aware that you have to walk barefoot on tatami floors!
Bathroom
The bathroom has all the necessary amenities: hairdryer, razor, shampoo, and towels, etc.
If you want to take a bath, you have to wash your body in advance as the bath in Japan is a symbol of relaxation to be shared.
The main room
The room is large with true Japanese style with its sliding paper doors and all-wood decoration. Decorated as simple as possible, they are nonetheless very refined and elegant.
There is a traditional Japanese table as well as a futon to sleep in. And you can watch TV while drinking Japanese tea or any other drink.
The exterior
There is a rotemburo, which is a private onsen outside in small garden. Same as before, you have to take a shower before going inside. Also you must not put your head under water either.
After entering the water, you will enjoy its warmth and its benefits for your skin and body.
The relaxation area
The room also offers a relaxation area with a small table and two chairs. In the evening at dusk, take a moment of reading or writing while drinking tea and listening to the sound of water and birds.
Finally, the ryokan offers you a yukata which is light summer kimono, so you can wear at any time.
In Short
This charming accommodation in the heart of Yufuin offers an idyllic setting for all the attractions to spend the perfect stay. There are different onsens where you can soak in hot baths as many times as you want. You can have a great sleep in a spacious and relaxing room which offers all the amenities. And if the onsen was not enough, or you need more privacy, you can enjoy a private rotemburo. A haven of peace and relaxation, Tanokura Ryokan is the perfect place to stay in Yufuin.
Vegetarian meal at Restaurant Yunotake-an
After taking a hot spring bath, it's time to go eat. Restaurant Yunotake-an (湯の岳庵) is located near Lake Kirin and only a few steps away from Tanokura Ryokan. This restaurant offers not only a great meal course (Kaiseki ryori), but also a vegetarian meal.
A staff takes me to a coffee table or a higher table.
The entrance
Greeted warmly by a smiling and friendly staff, the meal starts with a fig and its sauce. A tasty mixture brings an explosion of flavor in the mouth thanks to its sauce.
The dishes
Once the entry is over, I am curious to discover what next awaits me, that is a sansai nabe. This dish is a true delight for me. Once again, it's a very nice surprise.
But that's not over yet. As a Japanese meal without rice is a rather rare thing, and rice of course has its place in this meal. It comes with tsukemono and miso soup with tofu. A real treat!
Dessert
Finally, the dessert consists of a pudding with its caramel and cold coffee sauce.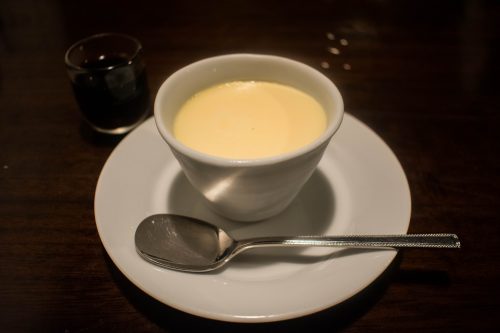 After this delicious meal, nothing better than going to walk beside Lake Kirin so that you can digest. Taking adventure around there is such a great idea.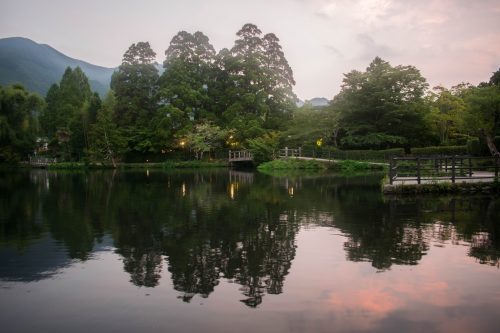 In short
This restaurant near Ryokan Tanokura, will meet all your expectations and those of your taste buds. Quality food is served by friendly staffs. Cooked as it should, these are highlighted and bring their share of surprises in the mouth. It was a real treat for both my eyes and mouth. Having dinner in a beautiful setting, almost two hours have passed without seeing the time so much that meal I hypnotized by its quality.
Useful links to stay in Yufuin
Yufuin onsen
Ryokan Tanokura
Restaurant Yunotake-an and Ryokan Kamenoi besso
Map