Izumi (Kagoshima prefecture) is a city with many surprises. After my experience staying in a traditional rural house and seeing the Izumi's cranes, it was time to explore the samurai town. It was a complete immersion in Japanese culture: I took part in a Japanese tea ceremony inside of a traditional samurai residence while wearing a kimono.
The Samurai Quarter of Izumi
Izumi is a border city between prefectures and it was once a strategic geographical location for sea and land transportation. For this reason, Izumi maintained a samurai town which was used for managing the regions.
Today, there are 150 samurai residences that remain. The vast majority are private residences, but there are two houses open for visitors. Since the government designated Izumi as an Important Preservation Districts for Groups of Traditional Buildings in Japan, there are strict rules for people living there governing changes to the physical appearance of houses, gardens and trees. The result? We are able to virtually travel back 400 years ago to see how the structures were like back then.
Japanese Tea Ceremony with Kimono
We began our journey through time by choosing a kimono. The people in charge of this experience are members of the Izumi Kimono Association. When I arrived, two friendly women dressed in kimono were waiting for me. They let me choose the one I liked the most, then they dressed me in it, making me feel like I had become a real Japanese person. At the end of this experience, surprisingly, they let me keep the kimono, obi and the tabi socks!
After I got dressed, I walked towards the samurai residential area, just a 2-minute walk. The street had an exquisite beauty. I had never seen such an authentic traditional Japanese area. We went to Saisho's residence open to the public for our second event: a Japanese tea ceremony in one of the rooms.
When I entered the house, I couldn't believe it. It really felt like I was going back in time! There was near silence and the only sound I could hear was a Japanese instrument played gently. As I kept walking, I discovered the room where I was going to do the tea ceremony. There was a lady playing the koto (the Japanese harp) and the tea ceremony teacher, both of whom were wearing a kimono. With all these elements, I felt I was in a very special atmosphere.
If you participate in tea ceremony, you must follow some rules. But don't worry, throughout the tea ceremony they explained the procedures I had to follow. After the ceremony, the lady playing the koto gave me an opportunity to play a song with the instrument and she patiently explained to me how it was played.
After that, I toured the house and learned a little about samurai life. What amazed me the most was an underground tunnel that was used for evacuating children and women if there was any immediate danger.
Experience Information
Kimono / yukata experience + Japanese tea ceremony: 8,000 yen per person. For this price, you can keep the kimono / yukata (only for women). Minimum participants: 5 people (for a smaller number, the tea ceremony is not included).
Tea Ceremony for less than 5 people: 5000 yen.
Wear a kimono/yukata without tea ceremony: 4000 yen per person.
Reservation is needed before 10 days of the activity.
For reservations, visit this website and fill out this form.
Walk Around with an Oxcart
Another experience you can try is walking around the area with an oxcart on a 40-minute tour. It moves slowly since the streets are made of stone which hinders the movement of the animal and the vehicle. Gisha Kai is the name of the association in charge of this activity.
Experience information
From 11 am to 3 pm, Saturdays, Sundays and holidays. Canceled during rainy weather. For reservations please contact: mail@hotelking.info
Price: 1000 yen (adults), 500 yen (4 years old through elementary school), free for 3 and under.
Izumi citizens are in charge of these experiences. They already have regular jobs, but they want to promote tourism and collaborate in these activities.
Local speciality: Izumi Oyako Stake Gohan
The area is also well-known as one of Japan's leading egg and poultry production areas. In 2011, some restaurants in the area agreed to create a special dish for those tourists who wanted to have an Izumi regional food experience. Thus, Izumi Oyako Steak Gohan is a dish that allows you to taste incredibly fresh chicken and egg prepared in a local style.
You can eat this dish in four restaurants: Uomatsu restaurant, Gran Chateau Tsurumaru, Hotel King and Takenoko restaurant. I went to eat it at Uomatsu.
Uomatsu Restaurant
The first thing I noticed in the restaurant was their great hospitality. We sat in a traditional Japanese room and they gave us an apron to keep our clothes from getting dirty. Then, they lit a candle under a small individual grill. That's how my dining experience began! On the grill, you can cook the chicken breast and thigh to your taste. You can season it with different miso sauces and salt.
Besides the chicken meat, there was rice and a two-yolk egg. I wondered: How do I eat this egg? Is it cooked? Wrong! It turned out to be a raw egg and the local way to eat it is to mix it with the rice. I don't eat raw egg, so I made a western version and when I finished cooking all the meat I made a fried egg on the grill. There's no wrong way to eat this meal!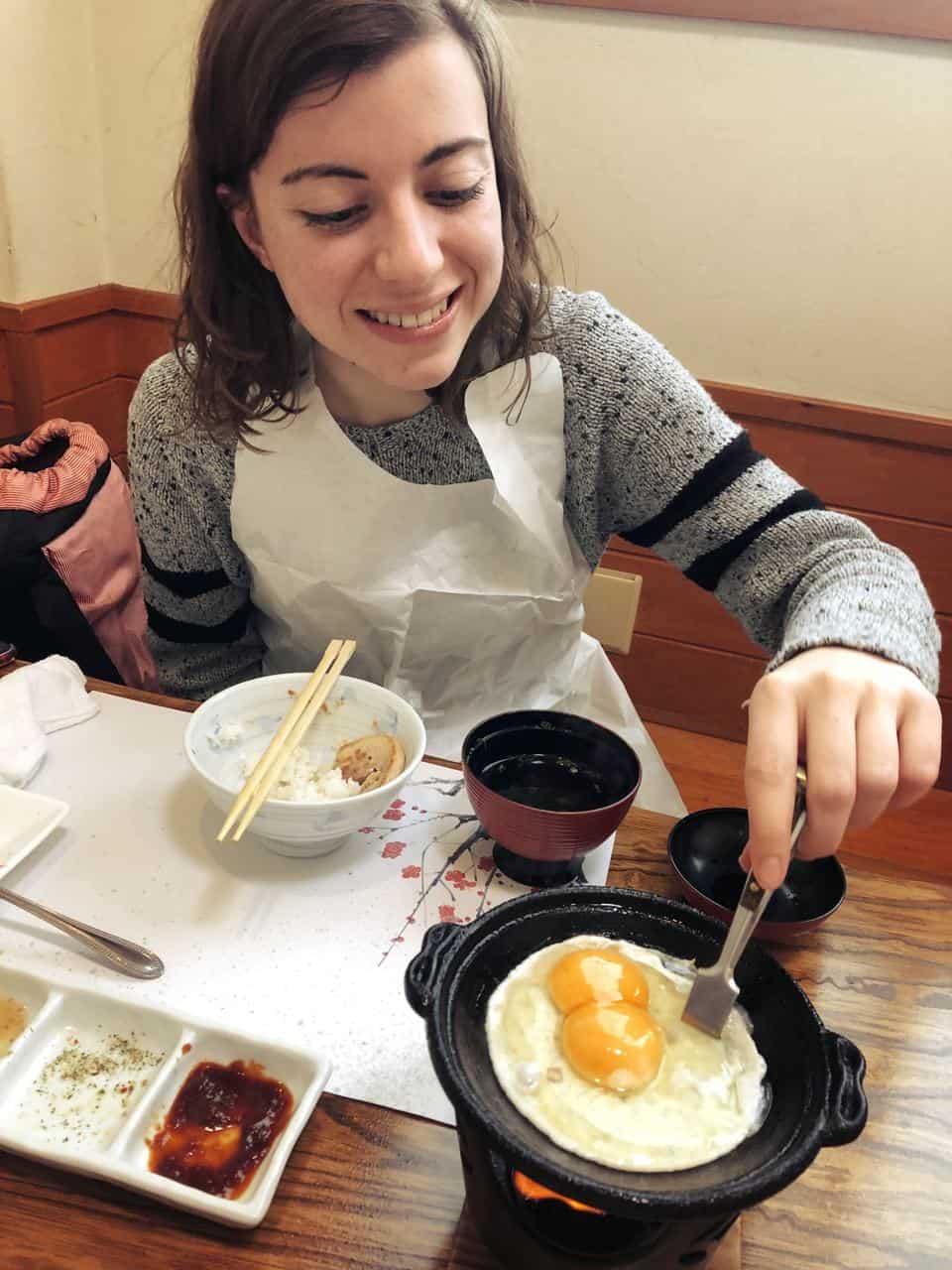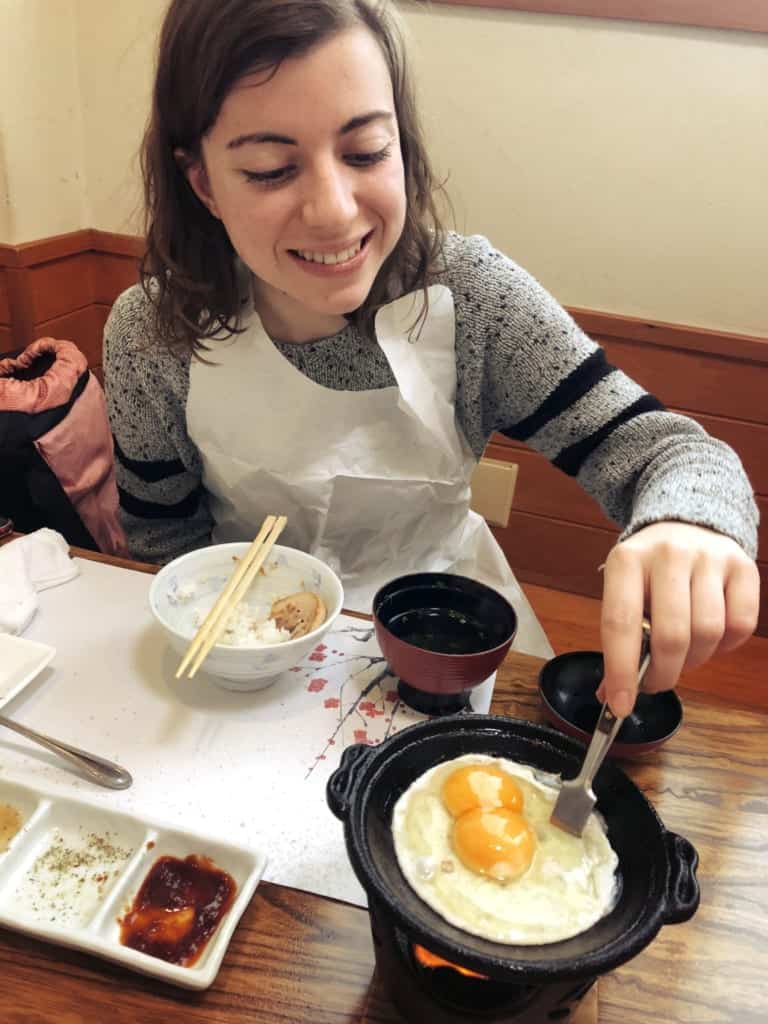 In addition, the meal also included a sweet potato cream, an original soup created by the restaurant, a salad with another type of chicken, dessert and coffee. The price for this feast is 1300 yen. A very good price considering the quality and kindness of the restaurant!
The End of My Izumi Experience
All good things must come to an end. The last thing we did was try on a funny crane hat and took a picture, laughing at how we looked. Mostly unknown to foreign tourists, Izumi is a true hidden gem of Kyushu. I was able to experience many wonderful things in just two days and each of the people I met made me feel at home.
How do I get to Izumi?
If you travel from Tokyo or Osaka, the best option is to take a plane. The flight takes about two hours (from Tokyo) or one hour (from Osaka) to Kagoshima Airport. Once there, go outside the airport terminal and to the left side, to find the ticket machine for the bus. The trip to Izumi is 1700 yen, and if you have any problems figuring out how to purchase a ticket, the workers in the area will kindly help you.
If you have an activated JR Pass and you are in Osaka (3 hours and 50 minutes), Hiroshima (2h and 16 minutes), Fukuoka (1h 11 minutes) or Kumamoto (32 minutes), you can take the bullet train, the Kyushu Shinkansen. You can also travel by bullet train from Tokyo, although the trip would take about 7 hours and you would have to take 2 trains (Tokaido-Sanyo Shinkansen and Kyushu Shinkansen).
Sponsored by Izumi City