Tsuruoka City (鶴岡市) and its surrounding region are, without a doubt, one of Japan's most unique, hidden gems for travelers. Full of a long, rich history that touches on Japan's spiritual roots in Buddhism, a dense and creative culinary tradition, beachside hot springs, and deep forest hiking trails: Tsuruoka has something for every type of traveler, and should not be overlooked when planning an itinerary to Japan.
Located on Japan's main island of Honshu in the northeast along the western coast, Tsuruoka is a chilly, snowy area blanketed in snow during winter months, and cozy and comfortable in shorts and T-shirts in summer months. A formerly critical location along a major trade route the Kitamaebune (北前船) running from Osaka to its northernmost prefecture Hokkaido, Tsuruoka has soaked up a diverse array of cultures during its history. Locals, too, can find plenty to enjoy, and its location relatively close to its eastern companion city Sendai makes it easy enough to get to by train, plane, or car.
Hike the Sacred Mountains of Dewa Sanzan
The standout feature of Tsuruoka is definitely the three sacred mountains of Dewa Sanzan (also known as "the three mountains of Dewa"), Mt. Haguro, Mt. Gassan, and Mt. Yudono. The region is stunningly beautiful in all seasons, and merits return trips for those who want to absorb all the area has to offer. There's hiking along short and long trails, waystations for travelers, live-in monks along the way, personal guides if so desired, traditional structures like temples, shrines, and pagodas, and much more.
Renowned 17th-century Japanese poet Matsuo Bashō, who developed the unique poetic form "haibun" — a kind of travelogue poem interspersed with prose lines — loved the Dewa Sanzan area. When he was traveling through the Tsuruoka region, as he did all across Japan, he wrote extensively on the area's natural beauty, mystery, and spiritual heritage.
For intrepid nature lovers (and those who have time), there's even a 3-day, 2-night, 33 kilometers pathway through the Dewa Sanzan range called Rokujūrigoe Kaidō. It's been a key pilgrimage spot for 1,200 years — in 1733, in fact, records show that over 150,000 visitors undertook the trek.
The mountains are a regional hotspot for Shugendo, an extreme, ascetic that made the mountains their home after being founded in the 7th century by mystic and wanderer En no Gyoja (役行者, En no Gyōja). They were responsible not only for establishing the region's spiritual heritage, but its relationship to the natural environment through the cultivation of heirloom crops, also grown off-mountain for hundreds of years by local farmers, and the development of a Japanese "vegetarian" cuisine, shōjin ryōri. There is another form of esoteric asceticism in the Dewa Sanzan called "sokushinbutsu," meaning "live self-mummification." The practitioners who undertook this now-outlawed practice were different from the Yamabushi in Mt. Haguro. The self mummified monks belonged to the Shingon sect of Buddhism. Through a long and harsh training in Mt. Yudono, they believed it was possible to transition to an enlightened state in their own bodies before death.
Mt. Haguro's Five-Tier Pagoda and Ancient Cedar Tree
Mt. Haguro, or the 414-meter tall "Black-winged Mountain," is where the pilgrims of the Dewa Sanzan converge during winter when there is too much snow on Mt. Gassan and Mt. Yudono to complete the pilgrimage. The Dewa Sanzan Shrine is at the mountain's top, where most of the Yamabushi rituals and ceremonies are held throughout the year.
While Mt. Gassan represents the past, and Mt. Yudono the future, Mt. Haguro represents the present, and it is there that hikers and travelers can undertake the 2,446 stone step pilgrimage to the Japanese "torii" gate at the top of the main trail.
The steps up Mt. Haguro take hikers through key locations, each one stationed to represent the path towards enlightenment practiced by regional Buddhist monks of the Shingon sect. After crossing the "bridge of the gods" at the base of the path, travelers can take in Mt. Haguro's five-storied pagoda, first built 1,000 years ago but then rebuilt 600 years ago after a fire.
The second station along the way up Mt. Haguro takes travelers to a small tea house called Ninosaka Chaya (open 8:30 am to 4:30 pm, May to November). There, visitors can have a small green tea and mochi break before taking another 30 minutes to reach the summit.
The final station before the summit is a lodge for Shintō pilgrims, Saikan. Once a Buddhist temple, it was converted in 1869 on order from the government. Travelers can stay over there if they'd like, and on reservation, partake in a traditional shōjin-ryōri meal.
Shōjin-ryōri refers to a simple, quality-focused cuisine of local heirloom foods and mountain-grown vegetables that was once eaten by monks. This cuisine was in harmony with their non-violence principles of not eating animal meat and to help them reach spiritual awakening by avoiding food with strong tastes and flavors. Now removed from that original purpose, shōjin-ryōri at Dewa Sanzan encompasses a cuisine that incorporates refined, time-honored food preparation methods to allow the pilgrims to purify their bodies as part of their religious practice. As a bonus, it contains no red or white meat by default but does contain fish stock. People who would like a completely vegetarian or even vegan meal can still enjoy this food and make requests to omit certain items when making a reservation (3-days in advance for completely vegan).
It's important to note that while the entire trek is doable for those who are physically able, and have the time, it still requires exertion and effort. Visitors should expect to take about 3 hours round-trip for the entire excursion. Yamabushi priest guides are available to escort travelers on their way and to provide explanations. For those who want a deeper dive into the region, and first-hand teaching from someone closely connected to the region's cultural heritage, this might be a good option.
The Mountaintop Summit of Mt. Gassan
Mt. Gassan is less of a deep forest hike and more of a grassy, mountaintop stroll full of astonishing vantage points and panoramic views. The dips and rises of its 2.5 hike to the summit are sure to provide picture-lovers with endless opportunities for beautiful, shareable shots. Along the way, travelers can take in more than 60 native flower species. For this reason, and because it is a National Park protected by the Ministry of the Environment, picking flowers or other plants along the way is strictly forbidden by law.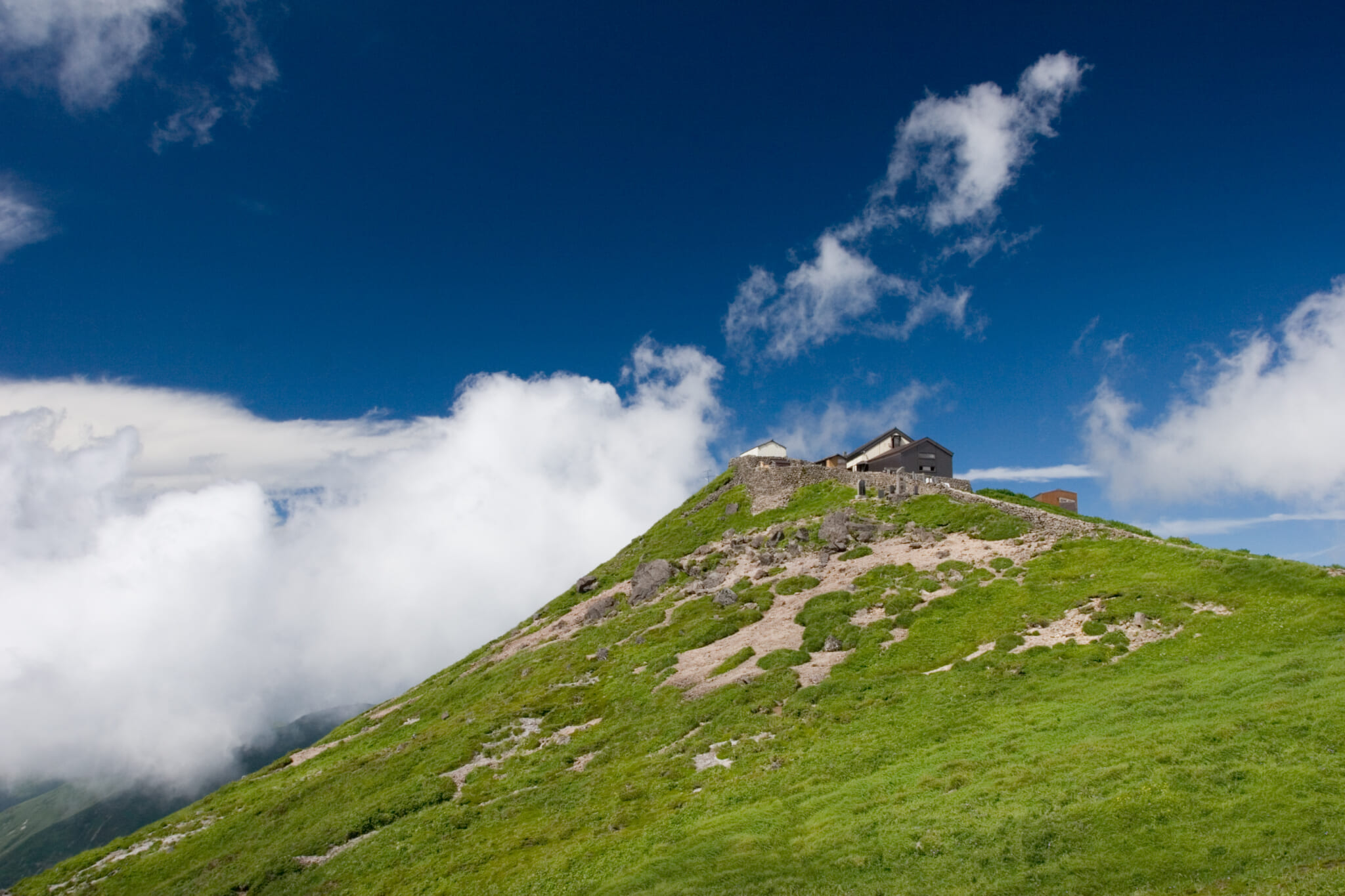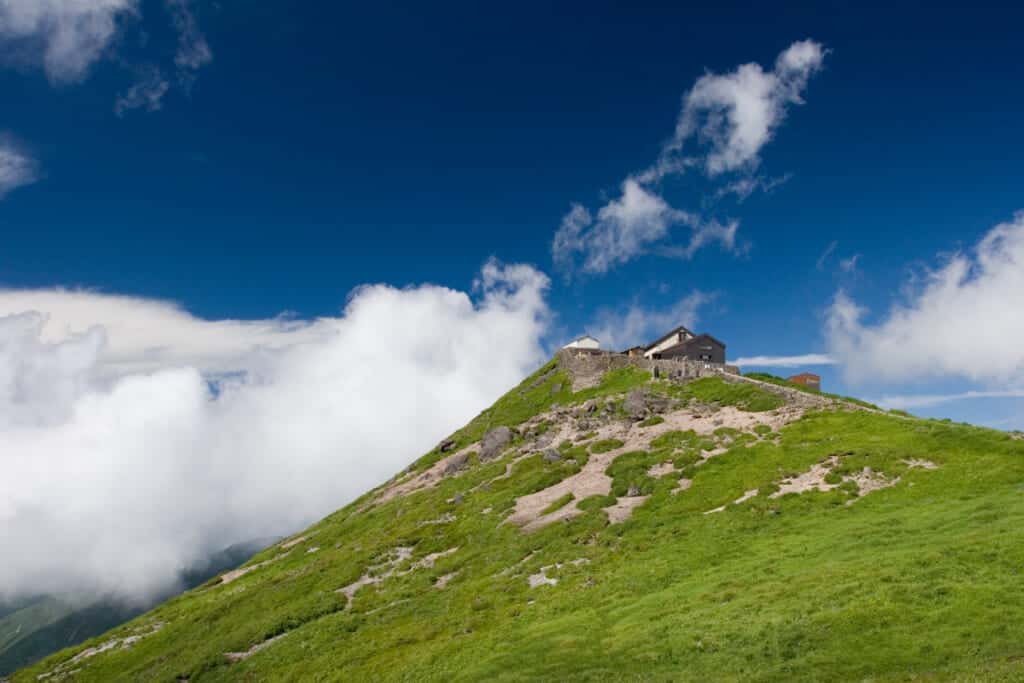 Unlike Mt. Haguro, the "Black-winged Mountain," Mt. Gassan is known as the "Mountain of the Dead." Thankfully, this doesn't mean that's known for its hauntings, but rather because it honors the past: namely, those who've passed away. The locals believe that the souls of the dead congregate on its summit and that passersby can pray for them on their passage through Dewa Sanzan.
Once at the top, there are a number of options to finish this leg of your journey through the three sacred mountains of Dewa Sanzan. You can simply backtrack if you'd like, head down another path towards the final mountain, Mt. Yudono.
As stated, Mt. Gassan isn't open to hiking during the winter, as it's the recipient of heavy snowfall. Its trail is open from July 1 to mid-October. Be aware, though, that most structures along the way close down by September 15, and itineraries after that point might be altered due to snowfall. If you're planning a visit, the best time might be after mid-September when Mt. Gassan's "red grasses" are in bloom for a couple of weeks.
Mt. Yudono, The Spiritual Heart of Shingon Buddhism
A forested mountain hike, Mt. Yudono is the third of Dewa Sanzan's three sacred mountains. You can visit it in tandem along with the other two mountains, or just by itself. Although if you're already making the trip to Tsuruoka, you should definitely get the most out of the experience by including Mt. Yudono in your itinerary.
Mt. Yudono was a spiritual center of the Shingon sect of Buddhism, formally founded by the monk Kōbō Daishi (always known as Kūkai) in the 9th century. This esoteric sect not only played a role in developing the aforementioned shōjin-ryōri cuisine but in preserving the cultural heritage of the Tsuruoka area. Most famously, though, they are known in this area for their practice of self-mummification. Because of the mountain's connection to enlightenment, it's considered the mountain of the future.
Because of its spiritual relevance, travelers are encouraged to observe particular etiquette while visiting Mt. Yudono. For example, travelers need to enter Mt. Yudono's main sanctuary barefoot, as well as partake in a 500-yen Shinto cleansing ritual. Then, they have to pass through a pathway of hot water to reach the inner sanctum.
Rokujurigoe Kaido Pilgrimage Path and Sokushinbutsu Mummified Monks
The Rokujūrigoe Kaidō is a 33-kilometer pilgrimage path centered on visiting one of the highlights of the entire Tsuruoka region: the sokushinbutsu (即身仏), the mummified remains of monks who submitted to an excruciating, painful death in order to gain enlightenment. Two of these monks now preside over the Rokujūrigoe Kaidō. Travelers can visit two of them along their journey to pay homage, pray, or just wonder at the dedication necessary to commit to such a choice.
The sokushinbutsu were once members of the Shingon sect of Buddhism who placed a strong emphasis on strict ascetic practices. Those who chose to undergo sokushinbutsu training sought to redeem themselves for the faults of past lives. The word "Sokushinbutsu," in fact, means "Buddhas in their own body," and this is exactly what practitioners believed they were attaining: enlightenment here, on Earth, in one's own body rather than in a future, alternative form.
The first monk to successfully self-mummify was Honmyōkai-shōnin in 1683. There are 17 sokushinbutsu still in existence in Japan, four of which are in Tsuruoka. The practice was outlawed during the Meiji Era.
The Rokujūrigoe Kaidō has three sections, which pilgrims have been using for hundreds of years. For the truly adventurous, the entirety of the path can be completed in 3 days, 2 nights. The 12-kilometer-long section passes the three temples – Honmyōji, Chūrenji, and Dainichibō – and also the two sokushinbutsu on display to the public. The 11-kilometer hike to Mt. Yudono takes about four hours to complete, and passes by Buddhist stelae linked to the mountain's history, and also includes a view of the gorgeous Nanatsu Waterfall and other forested areas. There's also a third route that takes visitors to or from the town of Nishikawa. Lodging is available along the way, such as at Tamugisō along the section that passes the sokushinbutsu.
Stay Overnight in Tsuruoka's Seaside Onsen Hot Springs
For those visiting Tsuruoka, more awaits you even than the three sacred mountains of Dewa Sanzan. Not only are hot springs available for rest and relaxation, but they're often located right on the beach. Take a stroll in the sand, walk through the surf, wade in the ocean, and then head back to some truly lovely, modern accommodations that reflect a traditional aesthetic. There, enjoy hot springs in a public bath, or even in your own room. Local seafood delicacies from the adjacent Sea of Japan cap the experience and make it truly worthwhile, especially if you're looking to rest after a long day of hiking at nearby Dewa Sanzan.
An All-Inclusive Luxury Stay at Yunohama Onsen
Yunohama Onsen is a truly stunning, all-inclusive set of hot springs, hotels, Michelin-star restaurants, museums, and more. Hotels such as Kameya afford visitors the chance to feel like you're simultaneously hanging out on a beach, while also hiding away in hot springs typically found in Japan's forests. The experience is naturally well-suited for couples, but also for families or larger groups.
Yunohama Onsen's location makes it a prime choice for seasonal foods such as salmon grilled with ginger, oysters with lemon juice in fall, mackerel boiled in miso, cod soup, and more.
Atsumi Onsen
The history of Atsumi Onsen stretches back over 1,000 years to a tale surrounding Kōbō Daishi, the founder of the Shingon sect of Buddhism. As the story goes, he had a vision of a crane in the hot springs of the nearby mountains, the waters of which flow out to the Sea of Japan through Atsumi Onsen. These hot springs are not only connected to the region's rich cultural history but are reputed to have potent healing properties.
Visitors to Atsumi Onsen will find themselves in easy striking distance of the nearby town, cafes, foot bath facilities, souvenir shops, walks along the Atsumi River, cherry blossom trees during the spring, and much more. Tourists often visit a local morning market that offers seasonal foods like bamboo rolls and pickled red turnips.
Try Zazen Meditation at Zenpoji Temple
Away from the spiritual heritage of Dewa Sanzan, Zenpōji Temple stands as a centuries-old Buddhist temple close to the western shoreline of Japan. On the temple grounds, visitors can try zazen meditation and even yoga. The monks of Zenpōji follow the teachings of Gautama Buddha, and also the temple itself has also been consecrated to a dragon god of the ocean associated with fishing, rice growing, fertility, and the healing of diseases. As such, it's a common site for fishermen to visit to pray for a good upcoming season. Among other features, it contains a hall of 500 "Rakan," Buddhist statues used to mourn the dead.
How to Get to Tsuruoka and Mt. Haguro
From Tokyo Station, take the Toki shinkansen bullet train to Niigata Station, then transfer to the Inaho Limited Express to Tsuruoka Station (鶴岡駅, Tsuruoka-eki) (4 hours). From Akita Station, take the Inaho Limited Express to Tsuruoka Station (1 hour and 50 minutes). One of the trailheads up to Mt. Haguro start from Haguro Zuijinmon (羽黒随神門), which you can reach by bus from Tsuruoka bus stop (37 minutes).
A Waystation of Rest, Adventure, and Fulfillment at Tsuruoka
All in all, Tsuruoka contains activities to excite, interest, and soothe any and all visitors. For those seeking some physical exertion, and time spent surrounded by the beauty of nature, numerous hiking options await. Visitors who want to connect to the deep cultural and spiritual history of the region will find numerous temples, shrines, and more throughout the area, especially the utterly unique self-mummified monks of Shingon Buddhism, sokushinbutsu. A regional array of stunning seafood, relaxing hot springs, time on the beach, and more: no matter the season, Tsuruoka has something for you.
Article sponsored by and photographs courtesy of DEGAM Tsuruoka Tourism Bureau