Mount Fuji (富士山) is possibly the most iconic symbol of Japan, and it is both beloved by tourists and regarded as a holy mountain by residents. Many people dream of reaching the summit in order to witness the sunrise from Japan's tallest and most sacred mountain.
Reaching the peak at 3,776 meters is no small feat, but each year thousands flock to Mt. Fuji in hopes of crossing the achievement off their bucket lists. Before you attempt this major climb, here are some things you should know, from the best time to start your climb to what to expect when you reach the summit!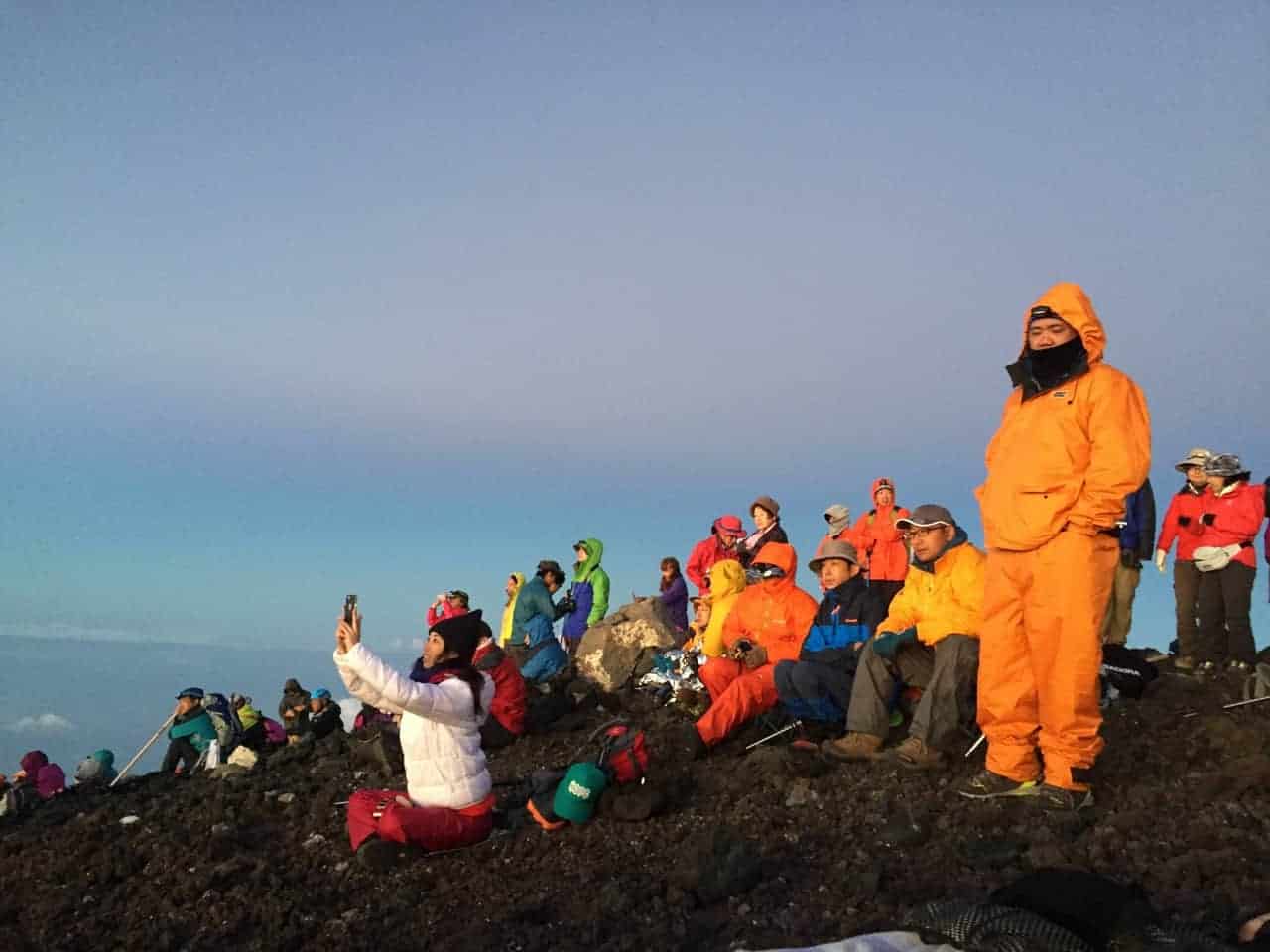 1. There is a Mt. Fuji Hiking Season.
Though you can theoretically climb Mt. Fuji at any time of the year, it is strongly recommended that people hike during the official hiking season, which is usually between July and September each year. Not only is it the warmest and safest time to hike the mountain, but cafes and shops from which you can procure supplies and souvenirs are open during this time.
Only experienced climbers are allowed to climb Mt. Fuji during the off-season and the rules and regulations governing those climbers are very strict. You must demonstrate you have all the necessary equipment and fill out a climbing plan and have it approved. The authorities are very concerned for the safety and well-being of climbers so they have these rules in place to protect people. You can read about the guidelines for climbing Mt. Fuji in the off-season on the official website.
2. There Is More than One Way Up!
There are four trails that you can choose from when hiking Fuji, and they differ in difficulty and estimated hiking time. Fuji is divided up into 10 separate rest stations, and most trails begin at the 5th station. Weigh your options before choosing a trail!
Yoshida Trail: This is the most popular route, which may in part be due to the beautiful view of the Fuji Five Lakes you can observe from the starting point.
Fujinomiya Trail: One of the more popular trails is the Fujinomiya trail, and although it is the shortest trail, it is also the steepest, so some say it is not necessarily the easiest.
Subashiri Trail: This trail starts at a lower elevation than the other trails, so you can enjoy a hike through the forest at the beginning of your journey.
Gotemba Trail: The most time-consuming trail to climb; the Gotemba trail is not recommended for inexperienced hikers.
3. Pack Accordingly!
This is a given; of course you must pack accordingly to hike the tallest mountain in Japan! But what exactly does this mean? There are a few absolutely indispensable items that you should bring along with you in order to be prepared for any circumstance.
Hiking boots – Fuji's terrain varies as you climb along the mountain, but generally it is very uneven and rocky (remember, it's a volcano) and there is pretty much a 100% chance that you will stumble and land on your bum. To minimize how many times this will happen, it is important to have sturdy hiking boots. No, sneakers don't count!
Warm clothing – Though it is often unbearably hot at the base of Mt. Fuji during the hiking season, you will find that by station 7 it will feel as if summer has just turned into winter. It gets very cold at the peak, particularly at night and in the early morning. Bring heat packs if necessary, but do have multiple layers to put on and remove as needed.
Flashlights – Any flashlight will help you climb Fuji at night, when it is extremely difficult to see your next step. However, most hikers opt for flashlight helmets or headbands so that their hands are free for climbing. It will make your life a whole lot easier!
Water – The recommended amount is 2 liters per person, but feel free to pack more than that if you are able to carry the weight. Keep in mind that there are no trashcans on Fuji, so you will have to carry any plastic bottles with you and dispose of them once you are off the mountain.
Snacks – This can range from onigiri rice balls to bonafide mountain-man jerky and trail mix… Pack whatever gives you the energy boost you will need!
(Optional) Walking stick – You can purchase walking sticks at a gift shop at the mountain's 5th station before embarking on the hike, and as you walk along the stations you can get imprints on your stick to indicate your progress. The imprints will cost you a few hundred yen each time though, so keep that in mind! Walking sticks definitely make the hike easier, and they are nice souvenirs.
(Optional) Compressed oxygen – If you suffer from altitude sickness, compressed oxygen can help alleviate some of the symptoms of dizziness or shortness of breath. Cans are available at the 5th station.
4. Start Climbing at Night for Sunrise Surprise at the Summit.
You are free to begin your climb at any time you prefer, but many hikers choose to begin at night in order to reach the summit by early morning, just in time to view the sunrise, known as goraiko (ご来光). Viewing the sunrise from Mt. Fuji's peak is not only a breathtaking experience, but it is also said to be good luck.
5. Beware of Altitude Sickness!
Most people associate altitude sickness with flying, but in reality it can be quite common when climbing to extreme elevations. Symptoms of altitude sickness include dizziness, headaches, trouble breathing, and nausea. In order to avoid discomfort, you should plan to rest at each of the 10 stations along the way for a minimum of 20 minutes in order to adjust to the elevation changes. You can even sleep in cabins along the trail, but you need to call ahead of time to make reservations and pay a fee of around 6,000 yen in order to do so.
6. You Have to Pay to Use the Restrooms on Fuji.
It is extremely important to remember to bring a handful of coins when hiking Fuji because the restrooms on the mountain are not free. Not only that, but costs increase as you go higher up the mountain. Factor in between 200-300 yen per bathroom break you take. Fees for using the facilities make sense when you consider how many people use them during the season and how difficult it is to service the restrooms.
7. You Can Pray at a Shrine, Eat Ramen, and Even Send Postcards from the Summit!
The summit of Fuji is brimming with the excitement of climbers who have achieved their goals. At the summit you can find the Kusushi and Okumiya shrines, restaurants, gift shops, and more. Most interestingly, you can also find a functioning post office from which you can send postcards to your loved ones letting them know that you have reached the summit in one piece!
And while you are up there, do NOT forget to check out the crater — Fuji is a volcano, after all!
Make Mt. Fuji Part of a Larger Itinerary
Climbing Mt. Fuji is a major accomplishment but it shouldn't be your only activity in this part of Japan! Consider the climb part of a larger itinerary and take in some of the sights and activities nearby. We recommend a visit to the Kawaguchiko Music Forest, a visit to some of the shrines and caves in the area, and enjoying the luxurious hotels, spas and onsen of nearby Hakone.
Good luck, and happy hiking!