While wandering along the Lake Kawaguchi shoreline after taking in the spectacular view of Mt. Fuji, I made a spontaneous decision to visit the Kawaguchiko Music Forest 河口湖オルゴールの森 (Japanese website). It is a small theme park and museum focused on automated musical instruments. Apart from the amazing instruments, the whole park has a distinctly old-European theme that feels both oddly out of place in rural Japan yet delightfully unique.
What Is the Kawaguchiko Music Forest?
In the museum, visitors can see and hear antique music boxes, mechanical organs, and other automatic musical instruments mainly from European countries. The largest of these instruments is an enormous French fairground organ from 1905, which takes up an entire hall and plays every 30 minutes.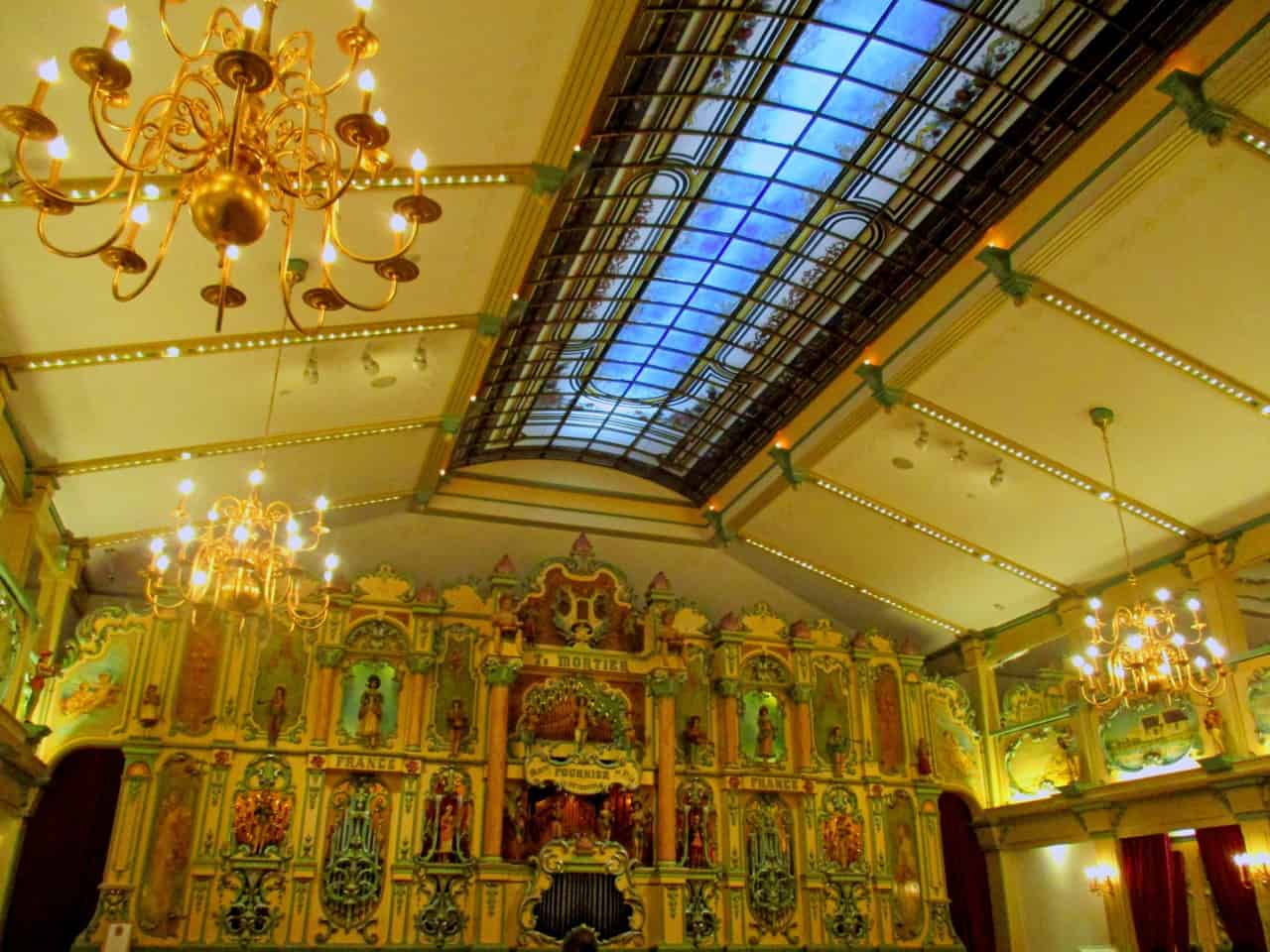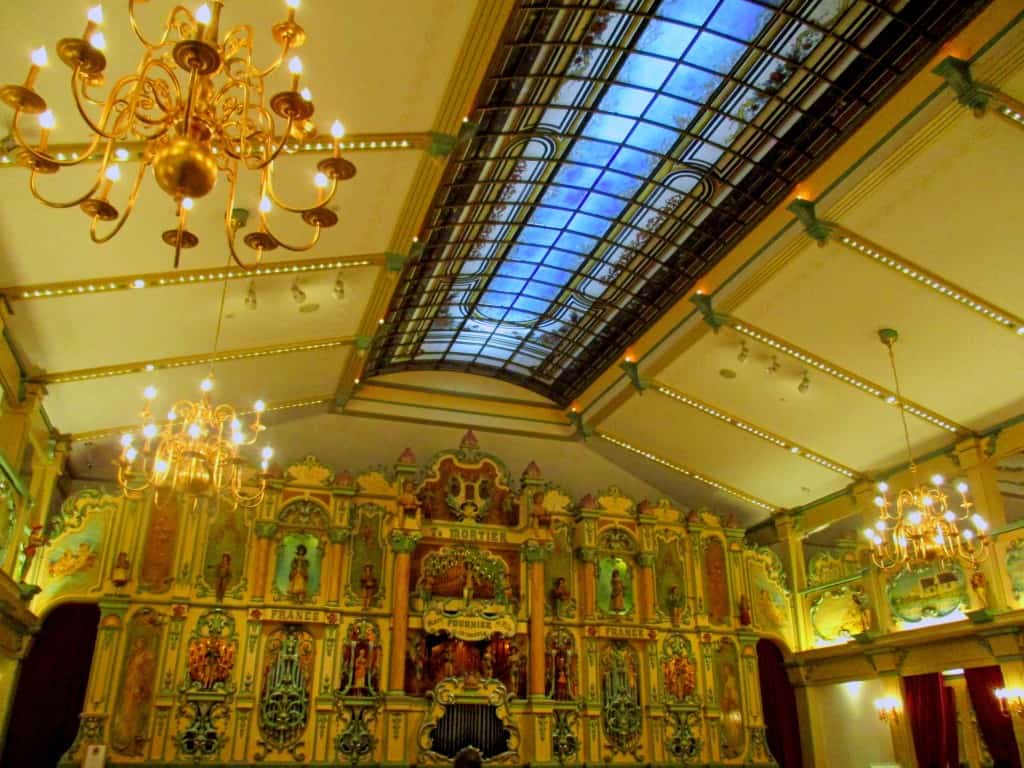 The main building also houses a concert hall where classical musicians perform roughly every hour. There are performances by performance artists, opera singers, and dancers, performing along with the automated music. When I was there, I watched a music performance along with a performer creating fantastic sand art.
Surrounding the museum buildings, Kawaguchiko Music Forest has a European style garden. On clear days, the view of Mt. Fuji is breathtaking, framed by the garden and buildings. The garden has a small lake which has dancing musical fountains. On the hour, a mechanical conductor pops out of the top of one of the buildings and "conducts" music while a large central fountain spurts water in time with the music.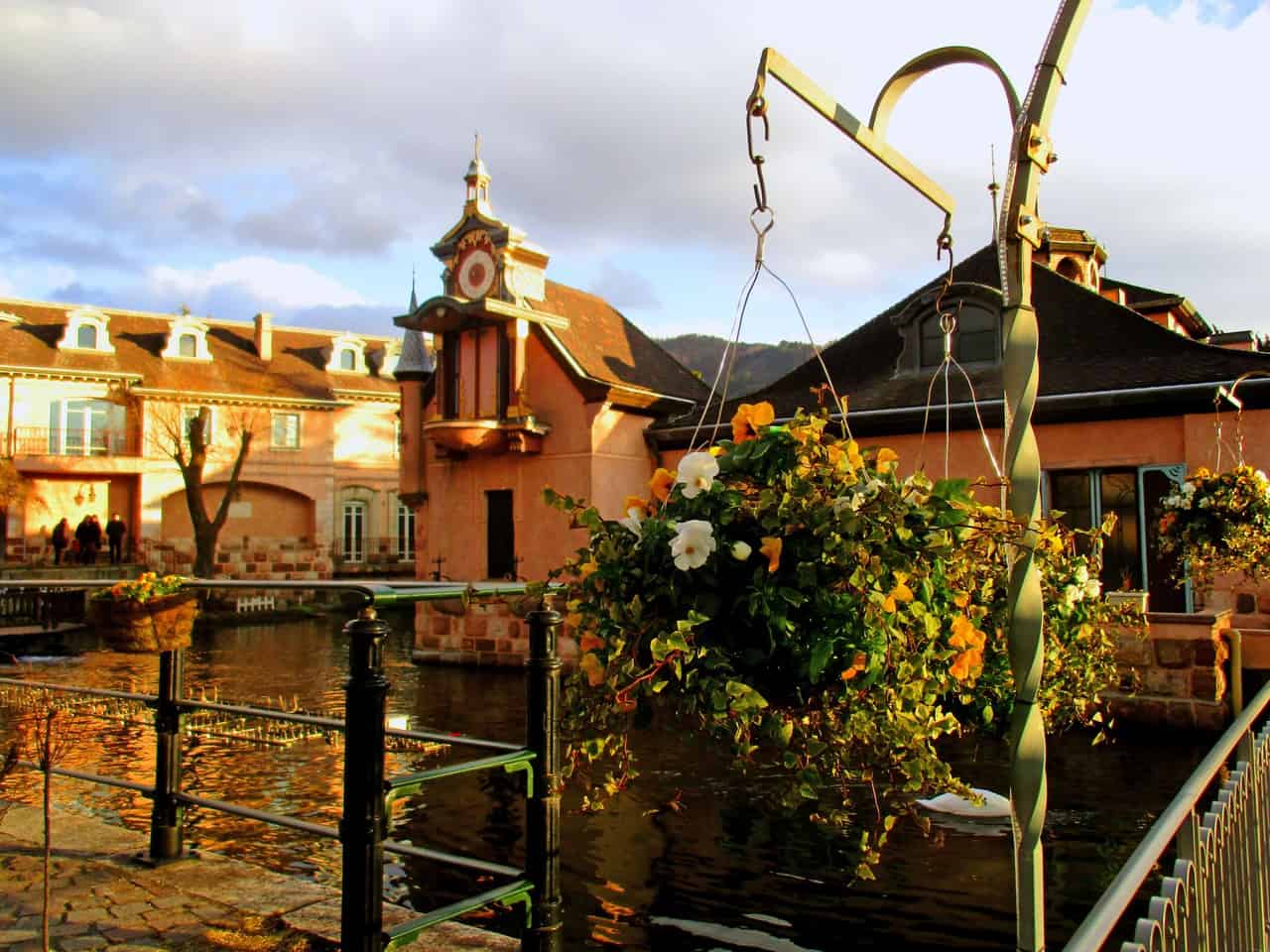 Adding to the European atmosphere are people strolling about wearing European classical clothing, which can be rented in the Music Forest. The rental fee is 1000 yen for three hours. You can rent the clothing and take beautiful pictures, posing as if you were somewhere in European countryside.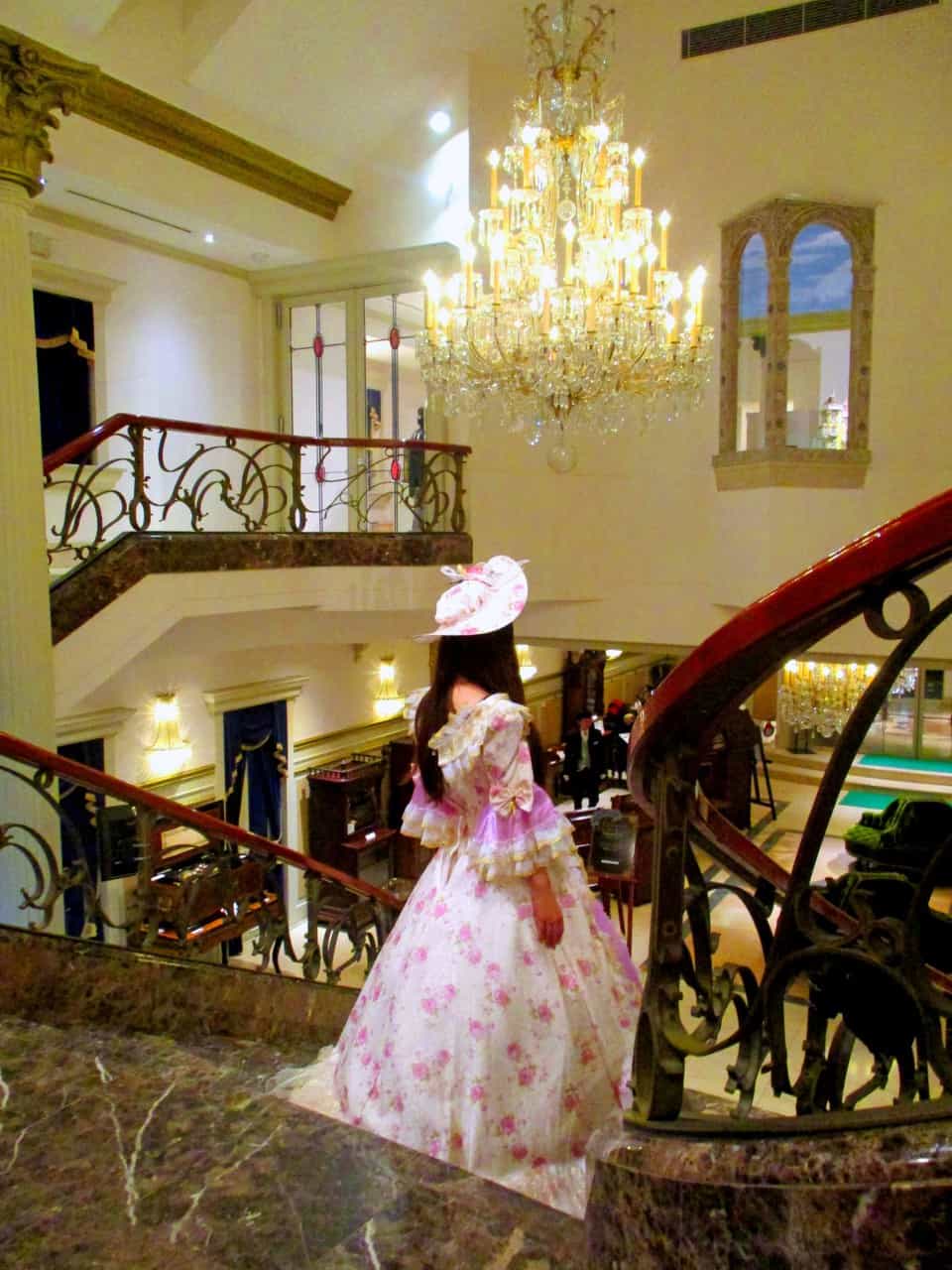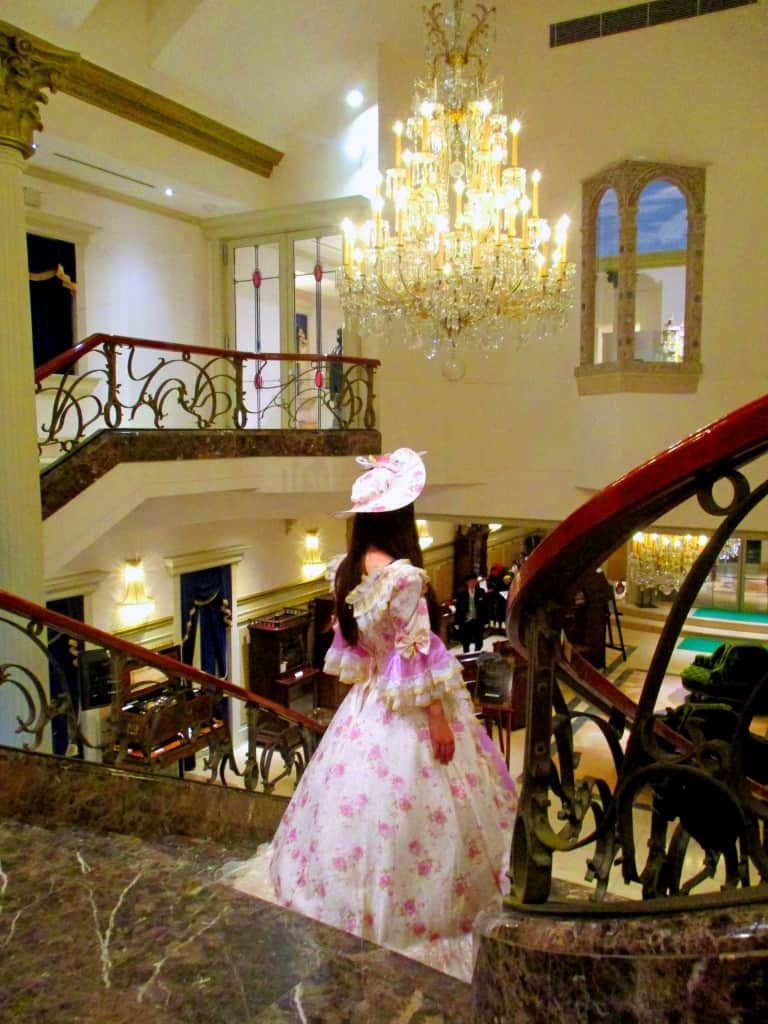 Winter Illumination in the Gardens
I visited Kawaguchiko Music Forest in winter when there is a special seasonal illumination. The days are shorter in Japan during this time of year, so the park gets dark before closing time. The spectacular lighting event takes place from November until mid-January every year. The winter also happens to be the season with the most clear days, so you have a higher than normal chance to see Mt. Fuji, capped with snow, no less!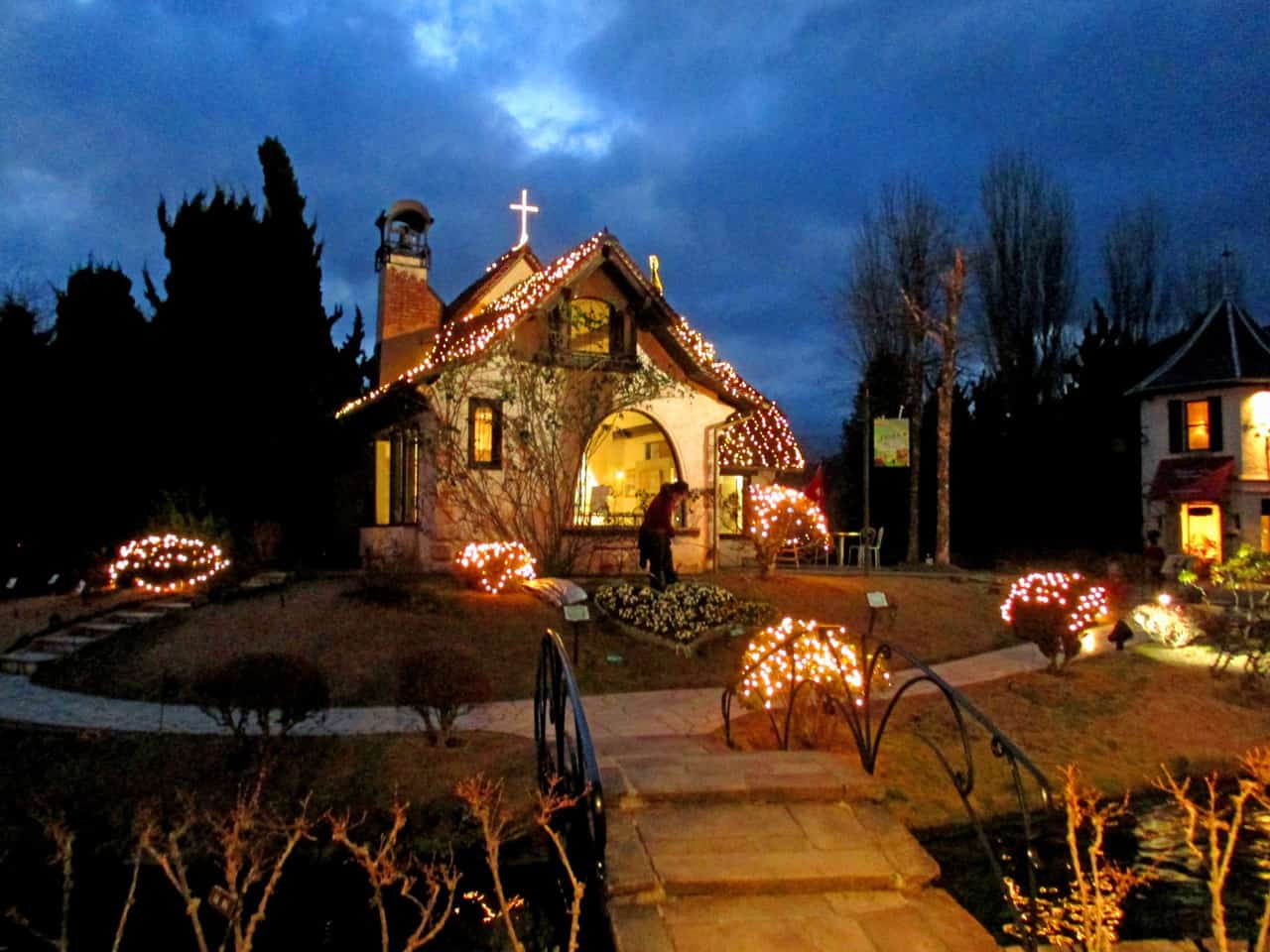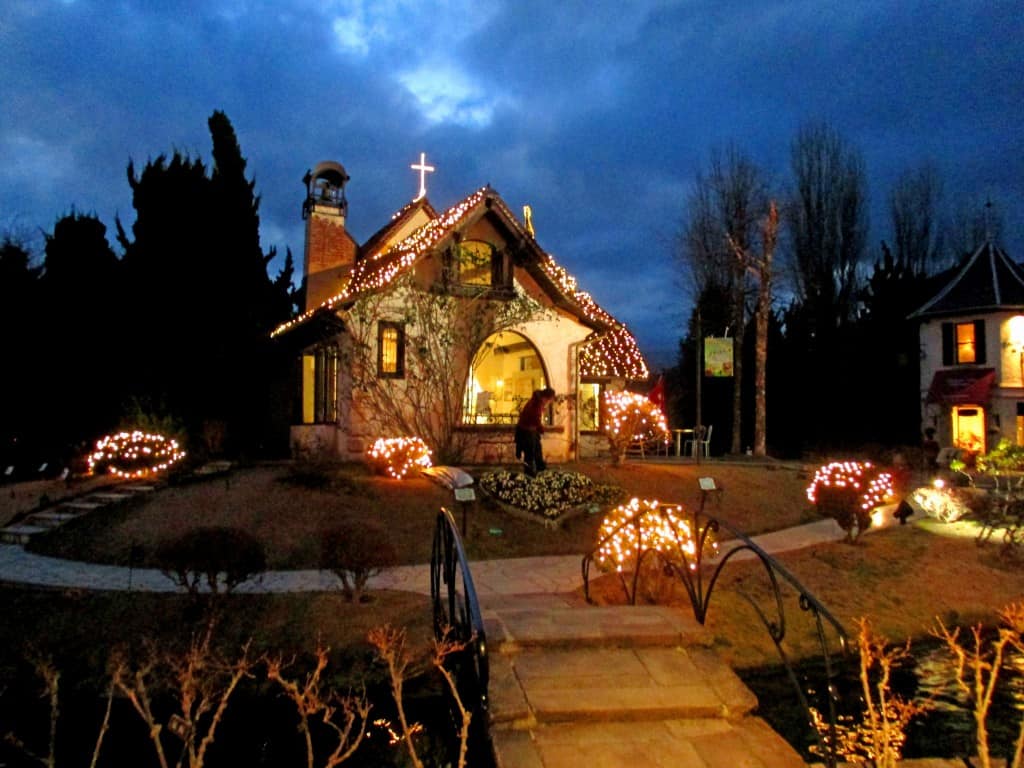 Although "forest" is in its name, you won't actually find too many trees there. However, there is one rather large glass tree that's a popular backdrop for visitors taking pictures. The tree is incredibly beautiful during the winter illumination.
Overall, if you are looking for a family-friendly attraction near Mt. Fuji or just looking for a place to enjoy a classic European atmosphere, I recommend Kawaguchiko Music Forest as a place worth visiting.
Kawaguchiko Music Forest General Information
How To Get There
From Shinjuku Station in Tokyo, take the Limited Express Fuji Excursion train for direct access to Kawaguchiko Station in about 2 hours. You can also use a number of other Express or Rapid Trains on the Chuo line from Shinjuku, transferring at Otsuki Station to the Fujikyuko Line, but it will take closer to 3 hours on those trains. Whichever train you use, they will be covered by a JR Rail Pass, otherwise, the one-way fare will be from 2,510 to 4,130 yen depending on the type of train.
Retro buses along the Kawaguchiko Line operate between Kawaguchiko Station and the Kawaguchiko Music Forest (about 25 minutes). Get off at Ukai Orugoruno Mori Bijutsukan bus stop.
If you drive yourself by car, the museum has a free parking lot nearby.
Kawaguchiko Music Forest Entrance Fee
| | | | |
| --- | --- | --- | --- |
| | Adult | High School | Elem. / Jr. High |
| General Admission | 1,800 yen | 1,300 yen | 1,000 yen |
| Group of 10+ | 1,500 yen | 1,100 yen | 800 yen |
| Evening Only (after 4:00pm) | 1,000 yen | 600 yen | 600 yen |
From the Kawaguchiko Music Forest webpage, 4/25/2020