Sponsored by REVOLATOR co.,ltd
Climbing Mt Fuji, Japan's Highest and Most Prominent Mountain
Mt Fuji (also known as Fuji-san) is arguably one of the most famous mountains and natural landmarks in the world. Every year thousands of tourists and locals alike make the trek up the mountain in Japan's Shizuoka prefecture, braving both blistering heat and bone-chilling cold temperatures. Recently some friends and I made a road trip from Tokyo to Mt Fuji to conquer Japan's most sacred and beautiful mountain. Here are some of my experiences and some tips to help you ascend to the top and catch a beautiful sunrise from almost 4km above sea level.
When to Climb Mt Fuji?
You may not be aware of this, but Mt Fuji has a climbing season. Legally speaking, you can climb year-round, but it is dangerous outside of the official climbing months, which are from July to September. The most popular time is in August, when most Japanese people get some time off work, so it might be better to climb before or after this. Even during the quieter times it can still get quite crowded on the climb up.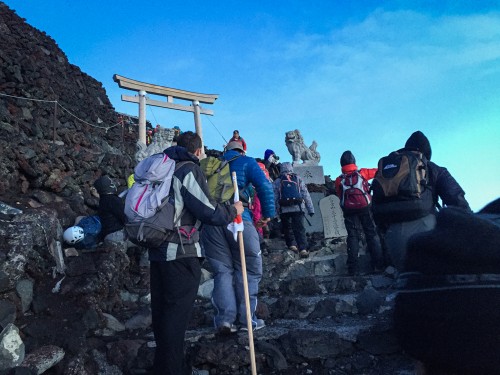 How to get to Mt Fuji by Car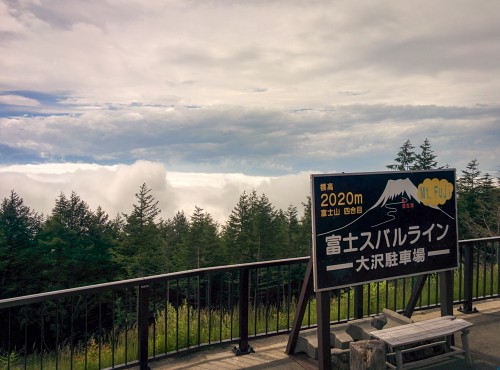 Mt Fuji is accessible by bus or by car. From Tokyo it is fairly easy to book a bus ticket that will take you directly to the Fuji Subaru Line 5th station, which is about 2300m above sea level, and about halfway up the mountain itself. This is where most people begin their ascent. Considering we were making a road trip out of it, we drove directly to the Subaru Line 5th station. Note that the Fuji Subaru Line is closed to private drivers after July 10th, and the toll for driving up the mountain is around 2000 yen. I would say it is only worth it if you travel as a group. The parking at the 5th station was free, however, which was a pleasant surprise.
After July 10th you can drive to Kawaguchiko station and take a shuttle bus to the 5th station.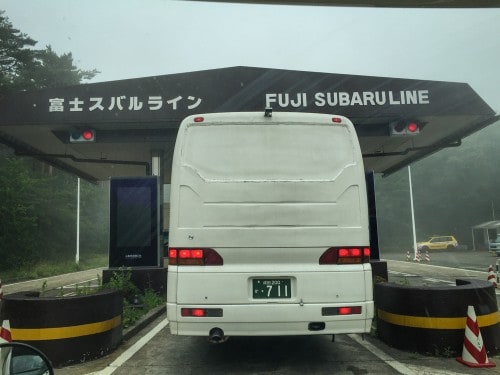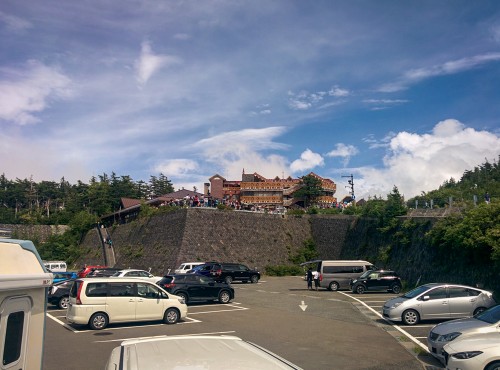 Some Preparation Tips before Climbing Mt Fuji
Do not pack too much. This might sound obvious, but I overpacked for the climb and it weighed heavily on me as I hiked up.
Hiking boots. Hiking boots. Seriously, hiking boots! I bought some from Amazon for about 5000 yen the week before I left, and they saved my feet. There are so many loose rocks on the way up and down, and without good supportive hiking shoes, you might injure your ankles.
Sport or wool socks. Avoid cotton socks because they will absorb sweat and potentially cause blisters. Try to find some synthetic sports-type or wool socks. Your feet will thank you for it!
Skins/Thermal clothing. Any kind of thin sports-type clothing that you can wear under regular clothing is helpful. It should not get too hot at the beginning of the climb, but when it gets colder it will keep you warm. I brought some Uniqlo Heat-tec pants and a shirt to wear underneath my regular clothing and it helped the whole way up and down!
Water. This is a no brainer! I would say bring around 1.5-2 liters. You will need it!
Calorie mate. This is a snack you can find from the convenience store. It is basically a block of shortbread with everything you need to keep your body going.
Change. Toilets are 200 yen per visit.
Stay in Mountain Huts, If you want to see the Sunrise from the Top of Mt Fuji
I am just climbing the mountain, you might think. So why do I need accommodation?
If you are not an experienced mountain climber, and plan on catching the amazing sunrise from the summit of Mt Fuji, it is highly recommended that you stay at a mountain hut about halfway through your journey to rest for a few hours, enjoy a meal and reenergize for the rest of the climb. Mountain huts cost between 5000 and 8000 yen per person, and some include a meal, usually some curry rice.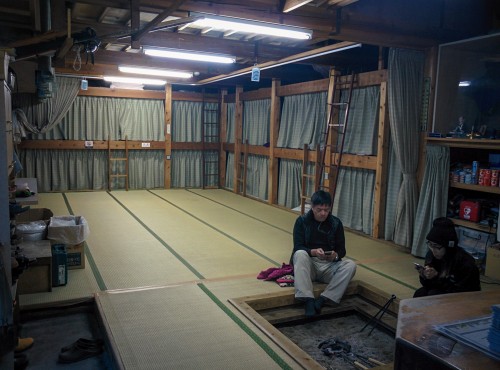 How to book
All of the mountain huts accept booking via phone, but not all speak English. Japan's Ministry of Tourism has published a list of all the huts on Mt Fuji, including operating dates, phone numbers and language ability.
You can check out the list here.
We stayed at Toriiso (pictured above), which was a nice, small and quiet hut at the 7th station. They provided us with as much curry rice as we could eat (the condition being that we have to finish the whole bowl, so no wastage). It was 200 yen for the first toilet use, but no charge afterwards.
It is worth checking if the hut provides dinner, as you will definitely need a hot meal after you have climbed for a few hours.
Take A Yoshida Trail, Start Climbing Mt Fuji!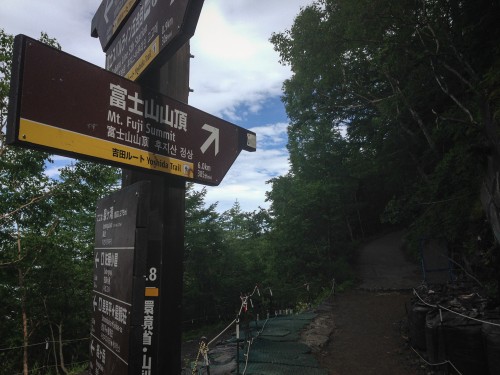 From the Subaru 5th station we took the Yoshida trail, which at the time we climbed was the only route officially open. There are also the Fujinomiya, Subashiri and Gotemba trails, which are considered to be more difficult than Yoshia trail. However, if you are a more experienced climber and prefer it to be less-crowded, consider taking one of these other paths! As we wanted to catch the sunrise, which is around 4am, and have a chance to rest for a few hours, we decided to start climb at around 3pm. Because of potential altitude sickness, we arrived at the 5th station at around 2pm and allowed our bodies to adjust to the altitude.
The first part of your climb has you go through a forest area, but soon you will clear through it and begin the actual mountain climb.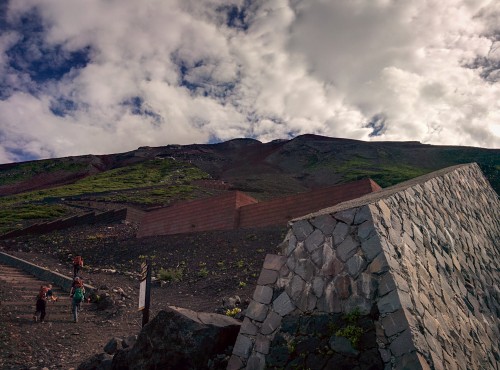 Your view looking ahead.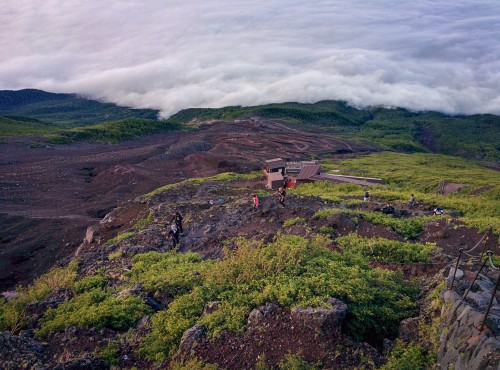 Your view looking back.
From here, you will just continue until you reach your mountain hut. Pay attention as you pass each station, and make sure to remember which station your mountain hut is located. Ours was on the 7th station, which took us about 3.5 hours to reach.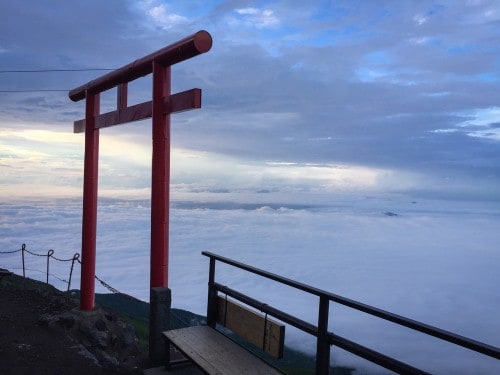 By the time we reached our mountain hut, the sun had almost set completely and the clouds had completely enveloped the world below. It felt surreal to be so far above the world, hearing nothing but the wind. Here were ate our curry rice and slept for a few hours, and headed out again at about 1am.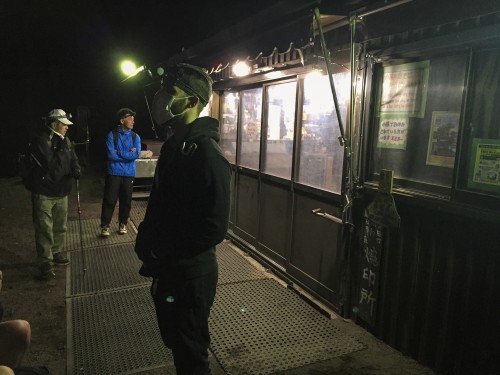 From here, we were told it would be about another three hours until we reached the summit, with the sunrise being predicted for around 4:30am. Not wanting to miss it, we knew we had to hustle.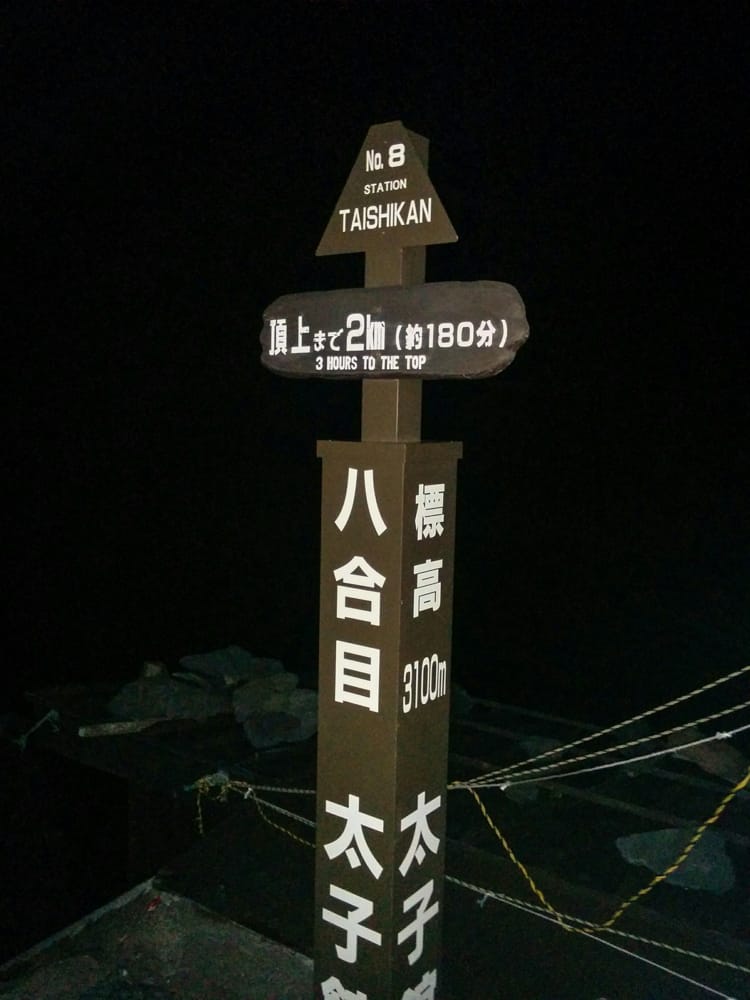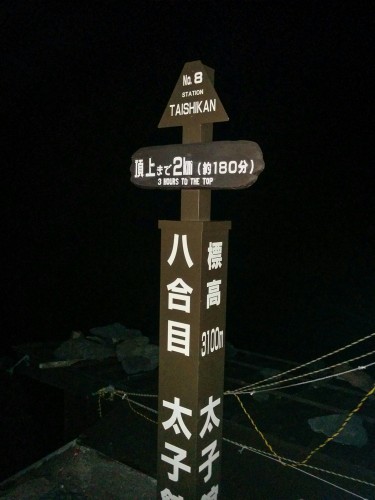 The "approximate time left" notices on signs up the mountain are usually a lot more generous than need be. If you maintain a decent pace you will easily beat what it states.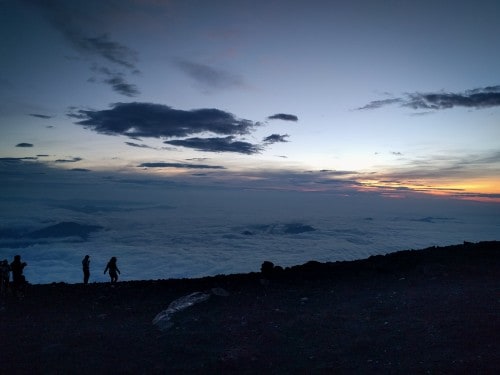 Soon enough, after our legs had finally started to give out from the long ascent, we approached the summit. It was surprisingly crowded near the top and our climb slowed to a crawl for about half an hour as a result. Luckily we still made it in time to catch the view that made it worth all of the effort.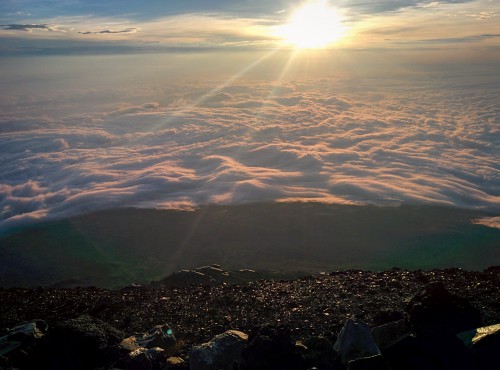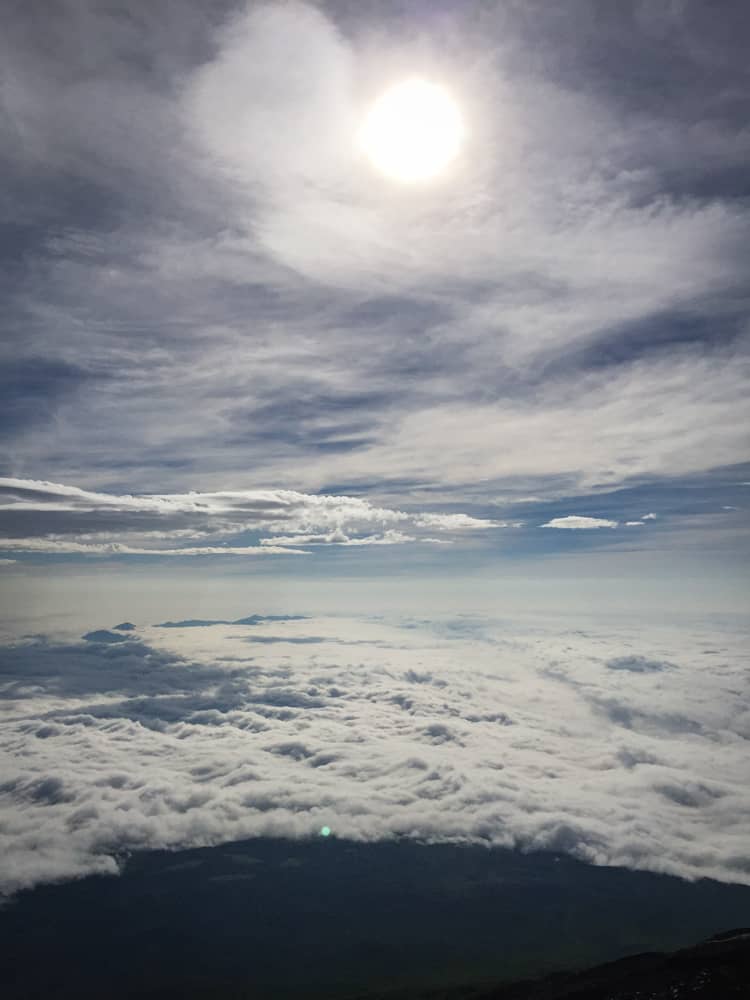 Due to poor weather at the top of the mountain, and considering we climbed during Japan's rainy season, I was worried that I would also miss the famous Mt Fuji sunrise. But, thankfully, fate smiled upon us and we were able to witness the new day begin at the peak of Japan's tallest mountain. We spent a little bit of time snacking, drinking water and checking out the crater, before the freezing winds got the better of us and we decided to make our descent.
It's Not Over, Folks!
After about seven hours of solid climbing, your journey is still not over. The hard part is just beginning! The descent from the summit of Mt Fuji is difficult due to loose volcanic rock, making it difficult to move quickly. Be careful on your way down, as we saw several people falling over and injuring themselves during our descent.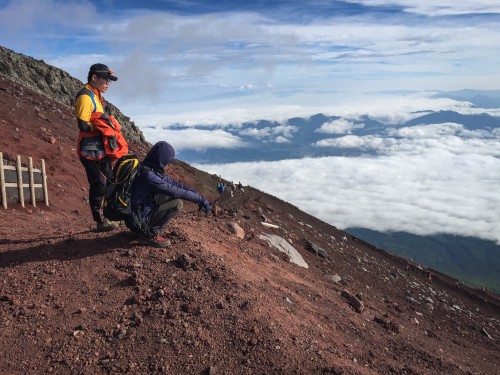 However, you can enjoy some majestic views on the way down!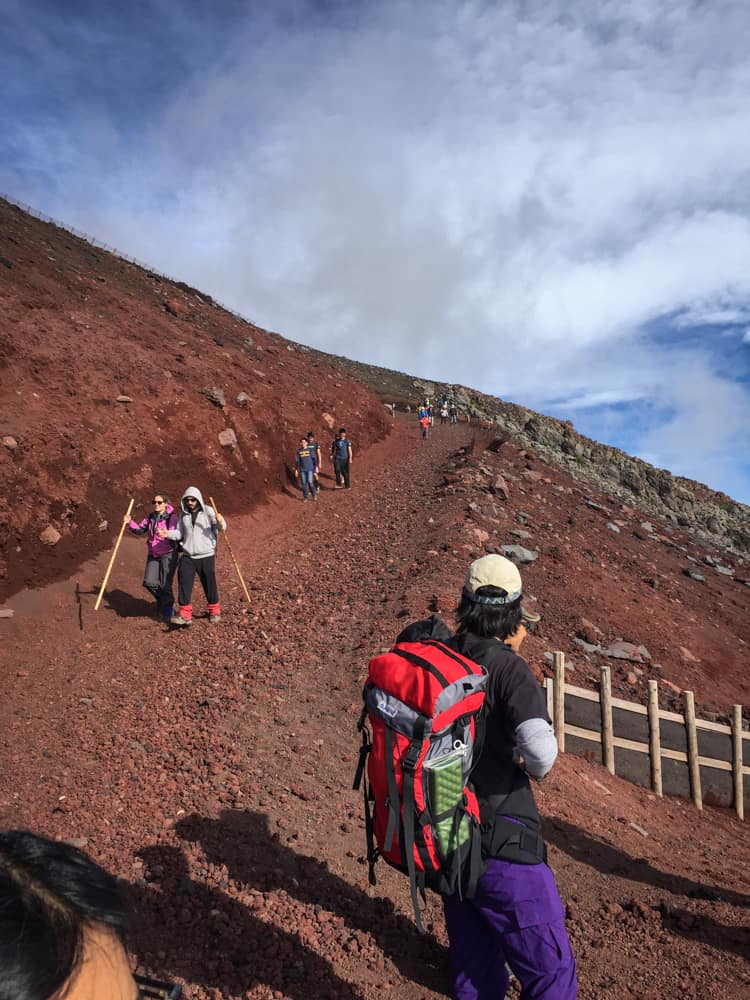 The climb down took about four hours, and afterwards we were absolutely exhausted. As we approached the bottom, the temperature became warmer, the sun came out and the climb began to take its toll.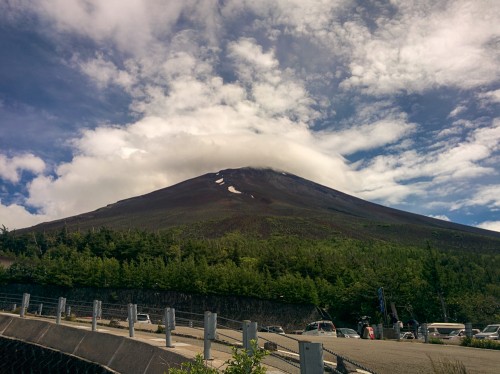 Before leaving, we took one last view of the mountain we had just conquered. It looked so massive and far away, that it was still hard to believe that we had actually just climbed it. At this point I was just so tired and sweaty that all I could think about was having a shower and a nap. When we finally descended, we jumped in the car and drove to Hakone to enjoy one of their famous onsen (hot spring baths).
Climbing Mt Fuji was one of the hardest, yet most rewarding experiences I have had in my short life. Achieving this feat with my best friends created some memories which I will hold on to for the rest of my life, and I absolutely recommend to anybody considering climbing to do it with friends. Good luck, stay hydrated, and enjoy your hike!
Have I missed anything? Comment below to let us know your Mt Fuji climbing tips!
Useful links
Mt Fuji Mountain Hut List (pdf)
| | |
| --- | --- |
| Name | Fuji-san Subaru Line 5th Station |
| Category | Toll road |
| Address | Minamitsuru-gun, Narusawa-mura 401-0320, Yamanashi Prefecture |
| Access | [map]Minamitsuru-gun, Narusawa-mura 401-0320, Yamanashi Prefecture[/map] |
| Opening Hours | - |
| Price Range | 2000 yen~ for the parking |
| Payment options | Cash |