When I came to Japan with my Working Holiday visa in March 2019, sakura blossoms were about to bloom. The cherry blossom season in Japan is extraordinary but, at the same time, ephemeral. At that moment, I felt sad because I knew I wouldn't be able to witness them the next year since my visa would end when they would bloom again. But luck was with me: In February 2020, a month before my departure, I discovered the existence of kawazu sakura (河津桜), a type of cherry blossom from Shizuoka Prefecture that sprouts in early February.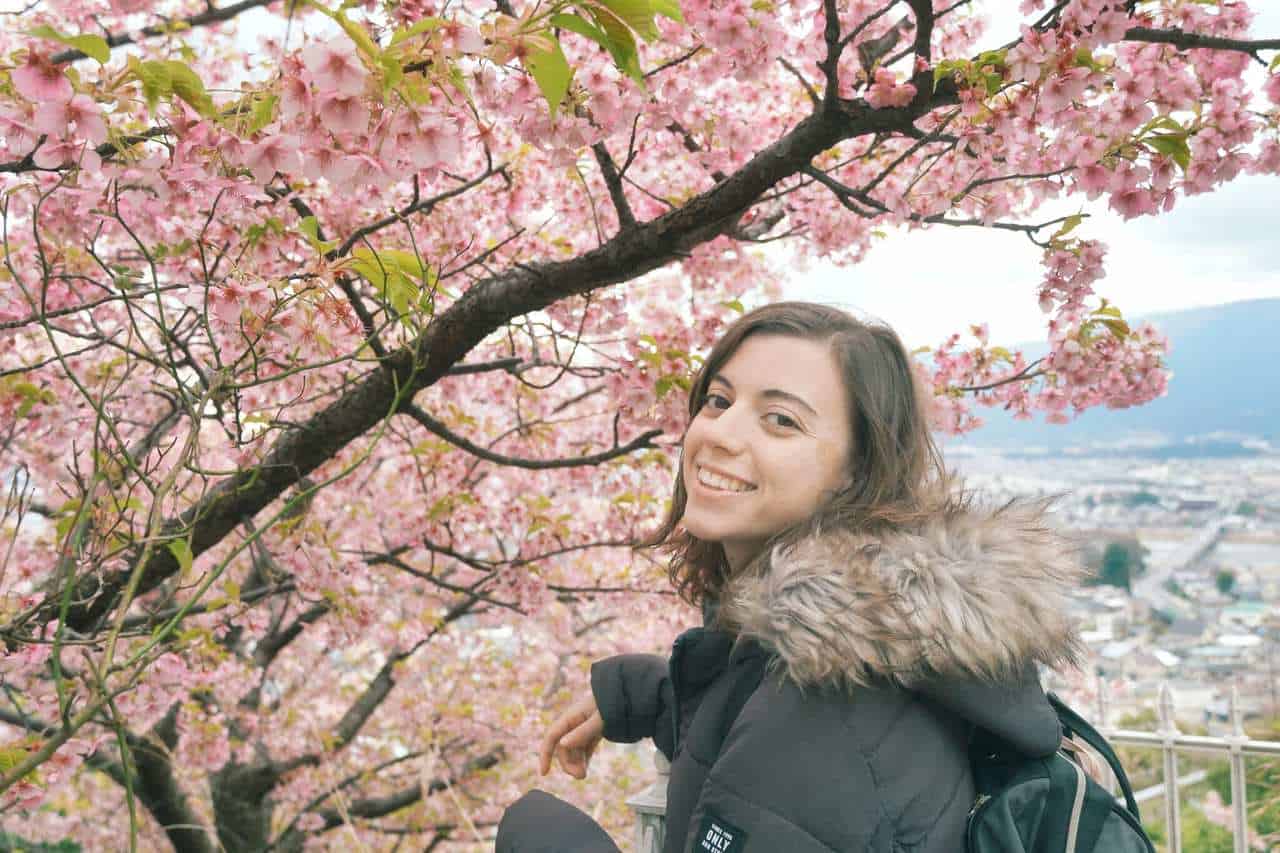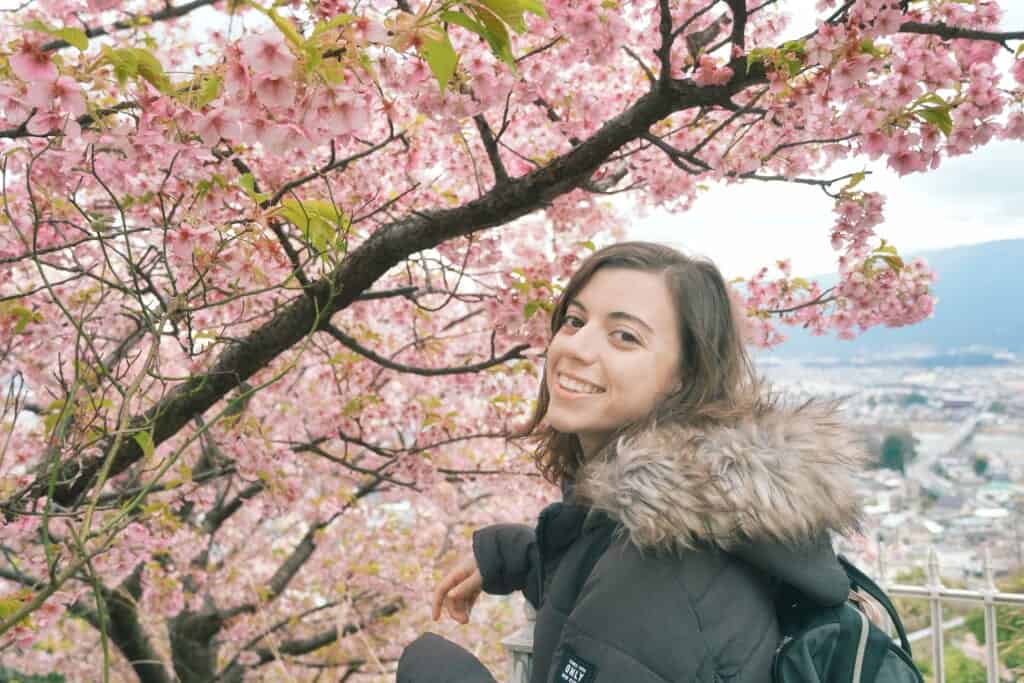 There are different places where you can see this type of sakura in Japan, and I chose the Matsuda Cherry Blossom Festival. If you want to enjoy the cherry blossom spectacle and travel to Japan during February, it would be a shame to miss this place if you're near Tokyo.
A Sakura Cherry Blossom-Viewing Spot Near Tokyo: Nishihira Park in Matsuda
Matsuda is a small town located in Kanagawa Prefecture near Odawara city and the Hakone area. There you can find the Nishihira Park (西平畑公園), a small hill with many things to offer. Throughout the year, it is frequented by school groups and families for its popular pastimes, such as a scenic ride on the Furusato train, a small steam railway that runs around the mountain. However, Nishihira Park is also known for its 360 kawazu sakura trees that bloom during February.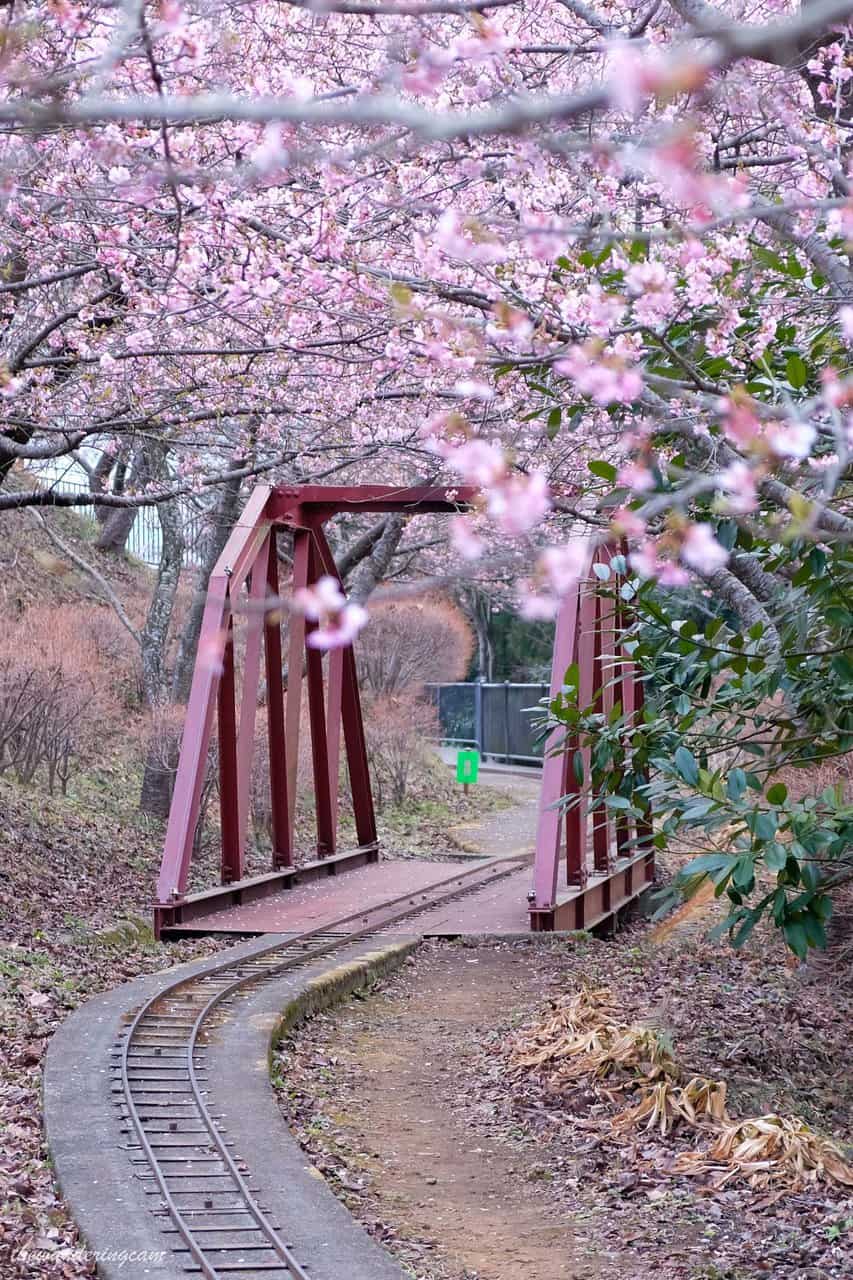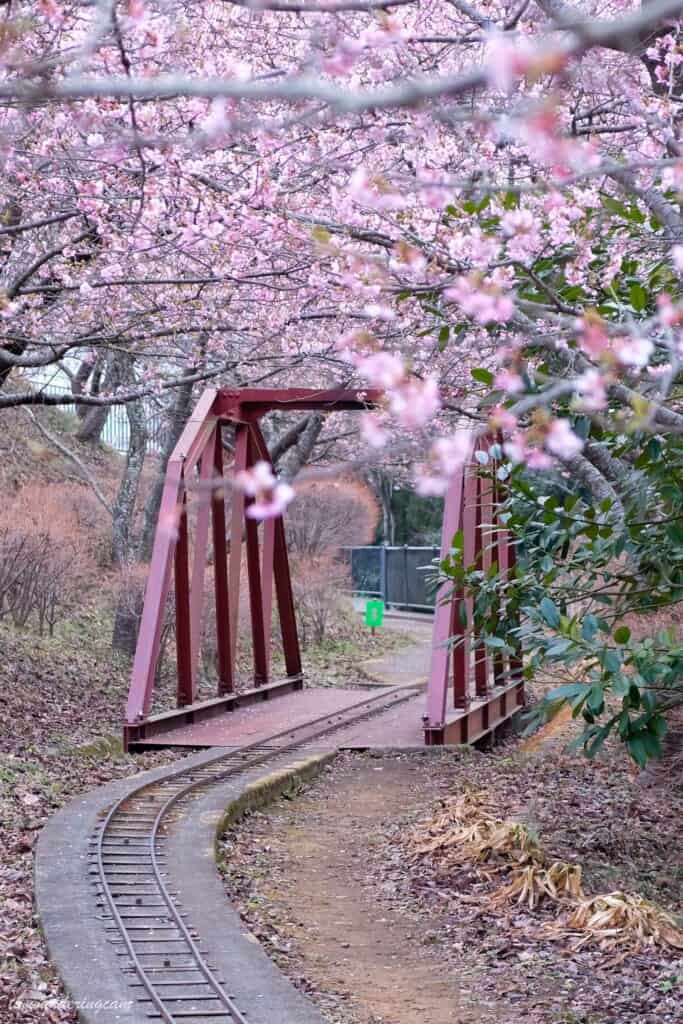 My Experience at the Matsuda Cherry Blossom Festival
After one hour of traveling by train, we arrived at Shin-Matsuda station. We bought our lunch in a conbini (convenience store), and we headed towards the festival. I was excited and, at the same time, a little incredulous. I had recently discovered this type of sakura, so I couldn't believe that they could bloom so early.
After a 15 minutes walk following Google Map indications and signs showing the direction of the cherry blossom matsuri (祭り – festival), we went through a tunnel. Once on the other side, we raised our heads and there it was, at the bottom of the hill, the entrance to the Matsuda Cherry Blossom Festival (まつだ桜まつり). We couldn't believe it. Sure enough, there was a pink grove that stretched across the entire mountain! We paid our entrance fee and started our way up the hill.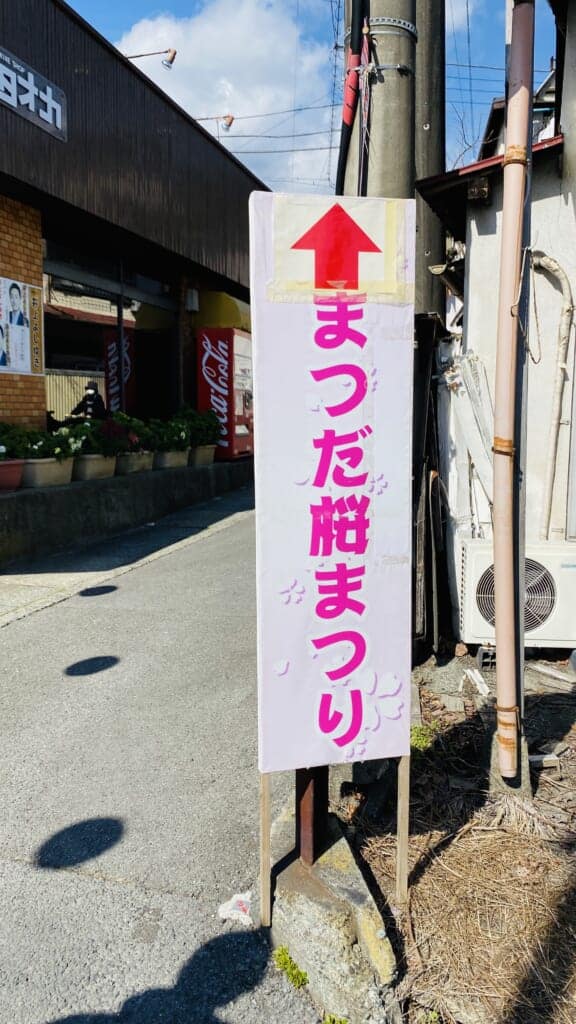 Having Lunch Between Sakura and Rapeseed Flowers
The path was flanked by pink lanterns that marked the way up the hill. Sakura was already showing a very advanced point of flowering with their petals falling off. I couldn't believe it, as it was just the last week of February. But this is kawazu sakura, a winter gem. Just as you think this scenery can't be improved, the rapeseed flowers also blossom at the same time. So, the mixture of the pink sakura, the fresh green of springtime leaves, and the yellow of the rapeseed created an unbeatable atmosphere.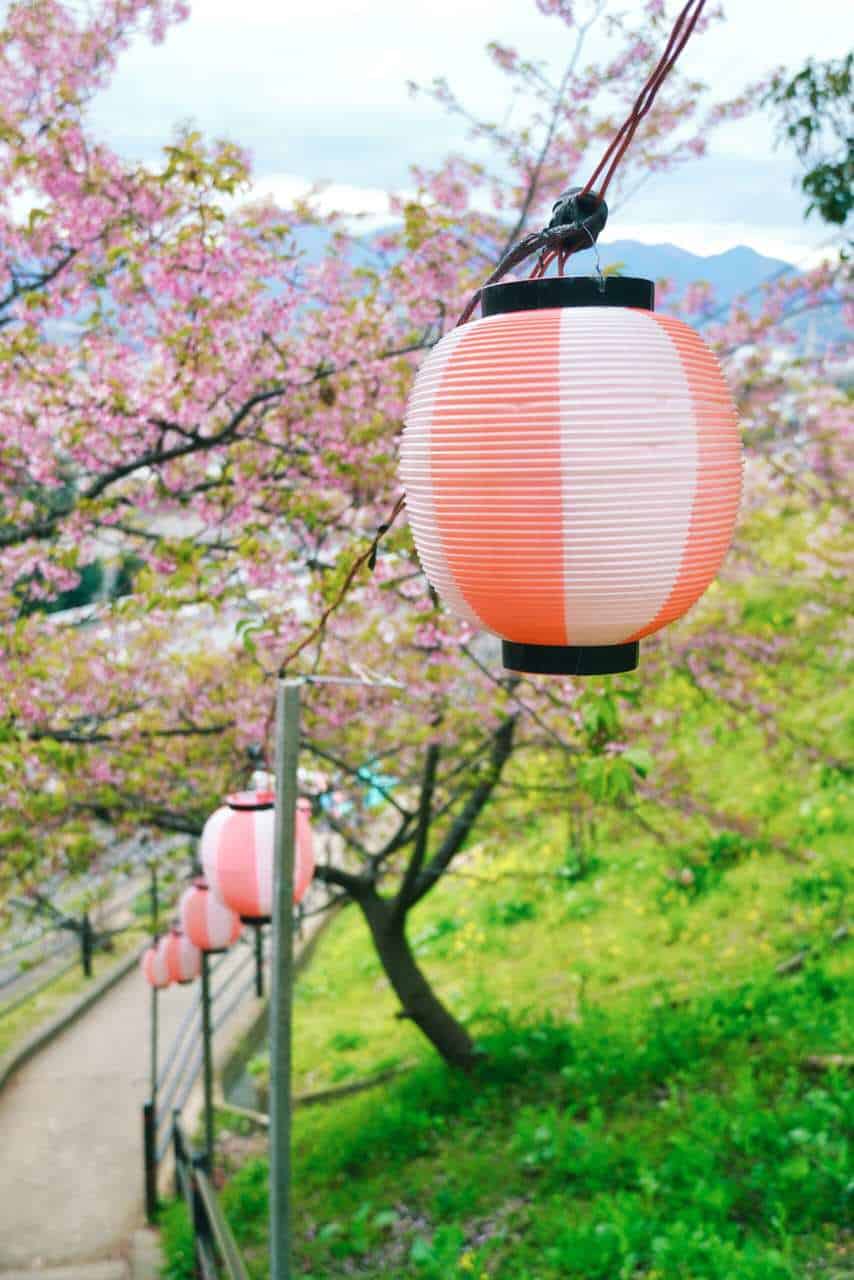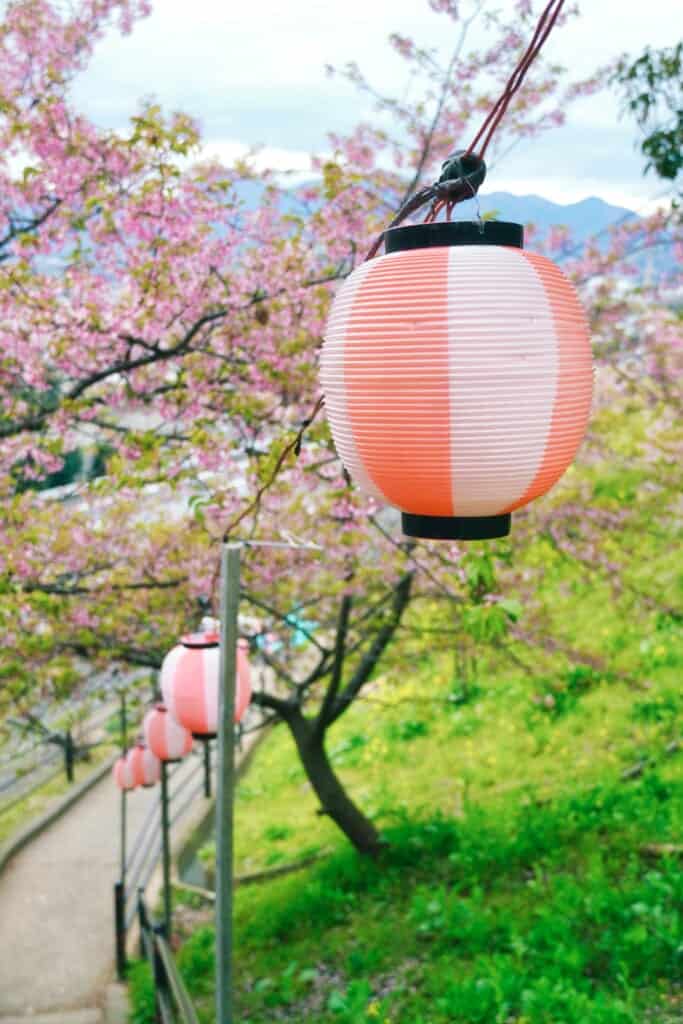 We walked up the hill surrounded by quiet tranquility. The color of the trees was very intense, and, sometimes, we witnessed a shower of petals falling to the ground. We stopped at the middle of our climb, sat on a bench, and ate our lunch under this showering pink rain of petals. We had plenty of time, as it is a straightforward and fast hike to the mountain's upper portion.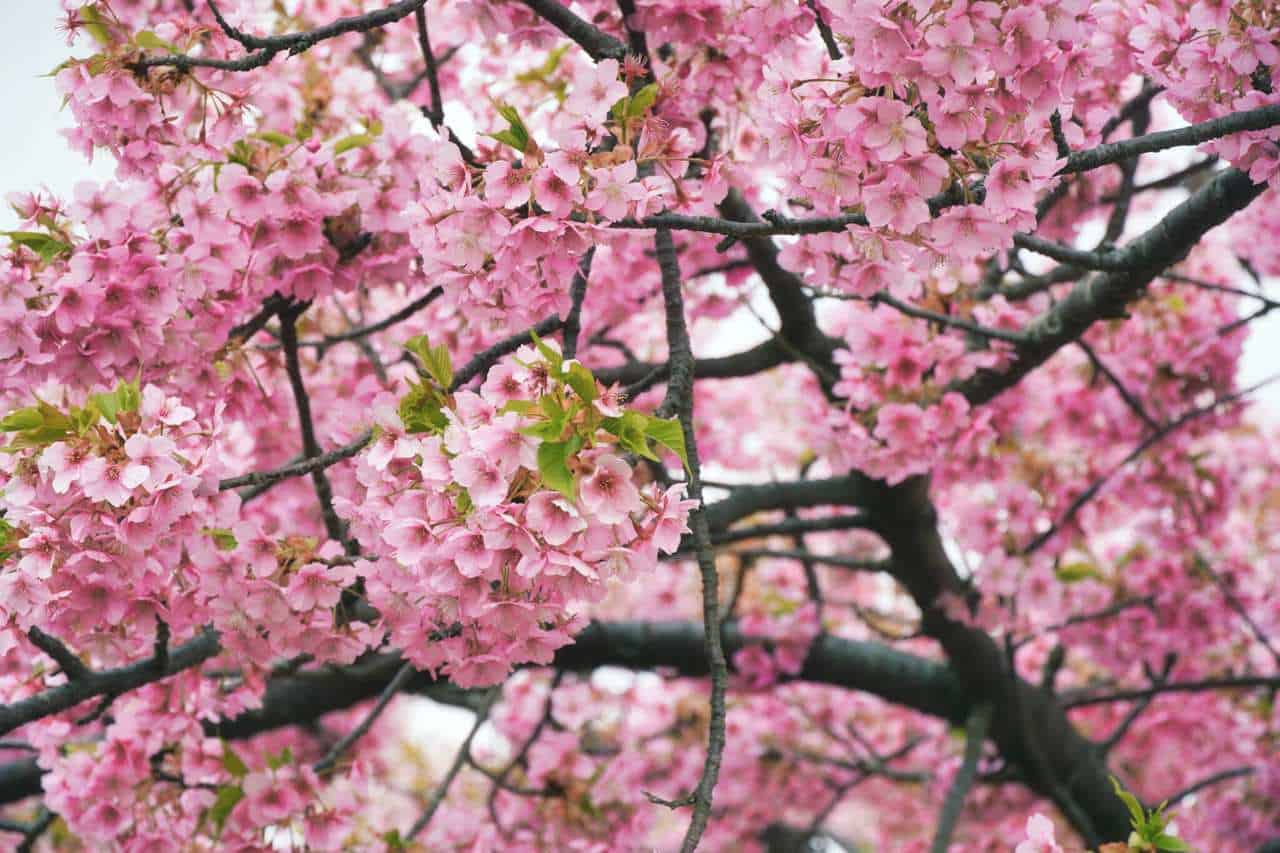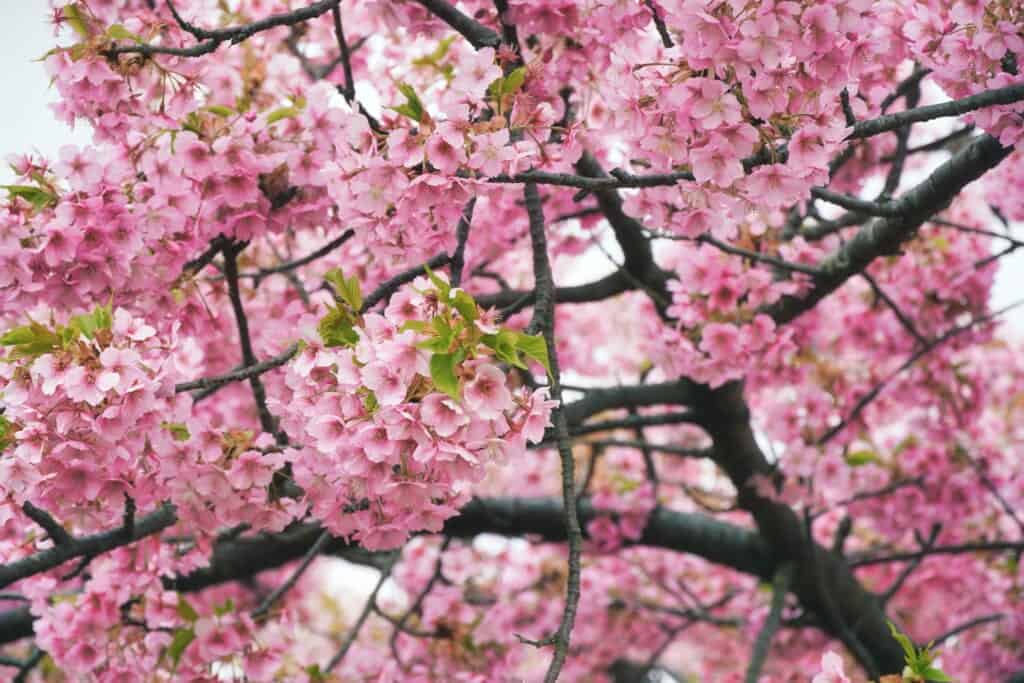 Mountain Views from Atop Nishihira Park
At that point, in the upper side of the hill, there was "the children's house" (こどもの館), a wooden structure with a round roof. This space can be rented for group excursions, but that day there was occupied by Hina Matsuri dolls and other Japanese decorations. Several volunteers were working, inviting visitors to enter and giving origami pieces as a gift! At this point on the hill, we were able to enjoy magnificent views of the city of Matsuda. On clear days, you can see views of Mount Fuji.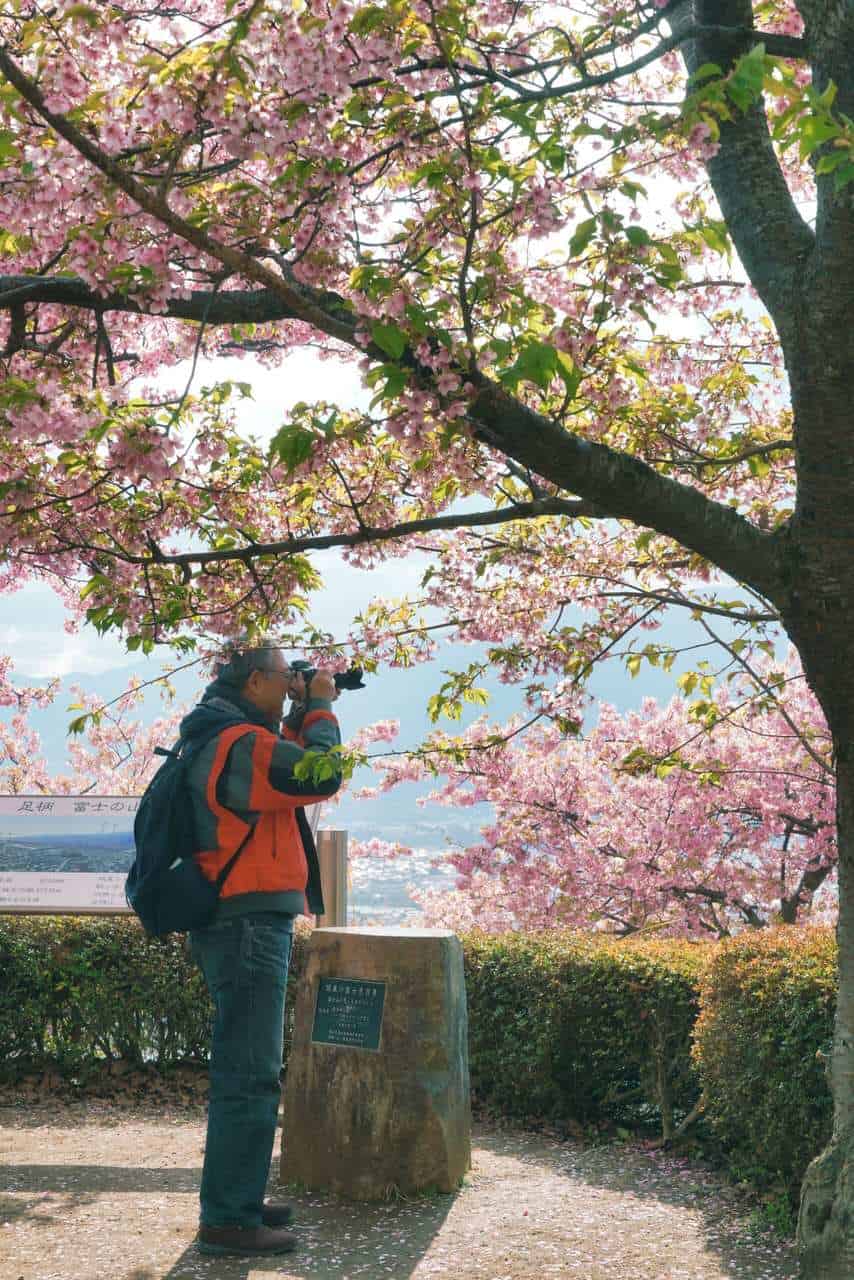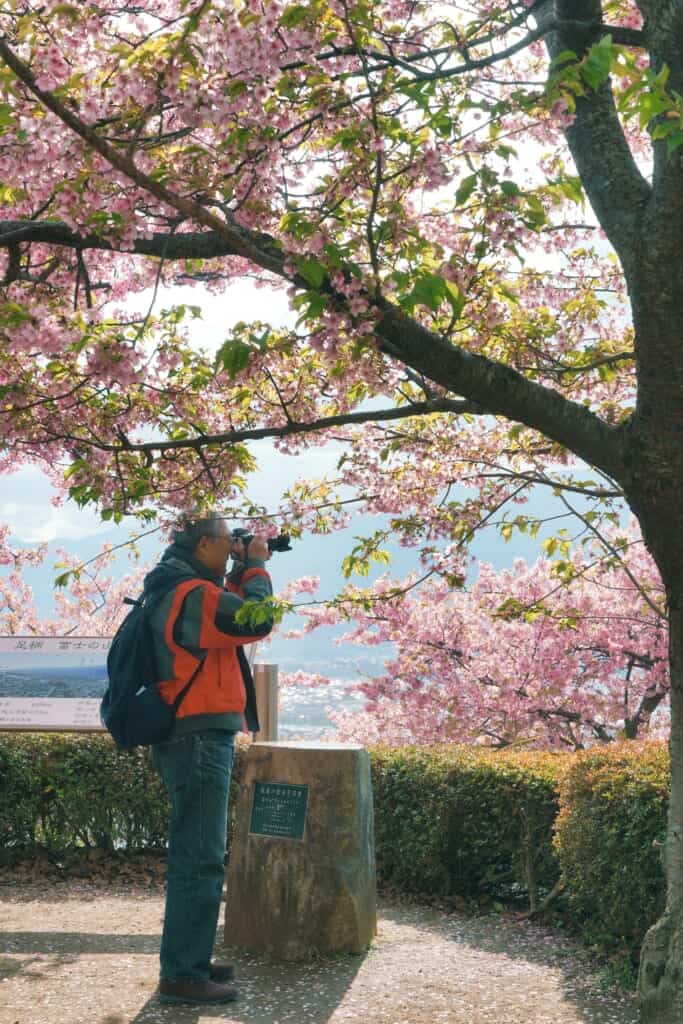 There were still more areas behind the hill to explore, but we decided not to go any further. After taking lots of photos and enjoying the surroundings, the sun was starting to go down. As we walked down, we discovered a slide visitors can take to go down the hill under the foliage of sakura branches. Fully recommended for children… and adults!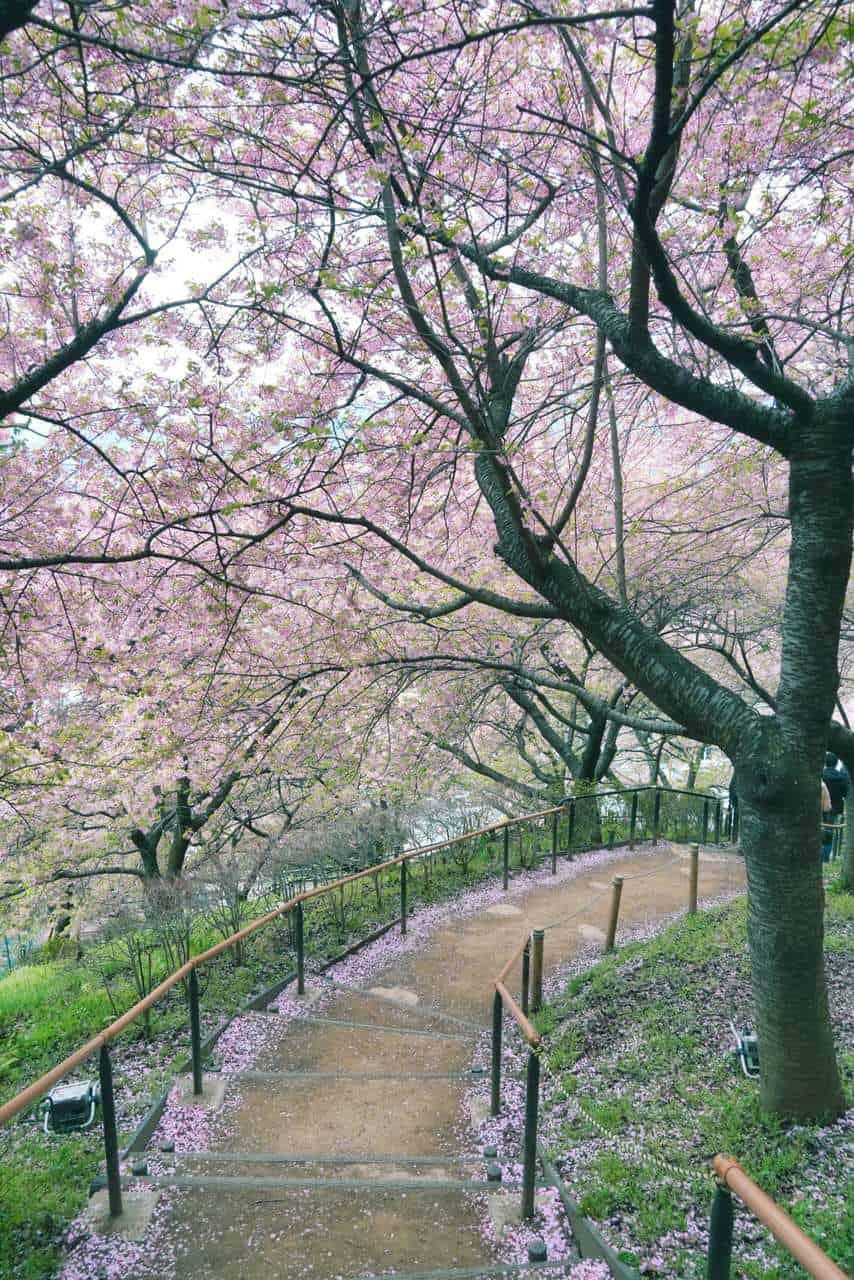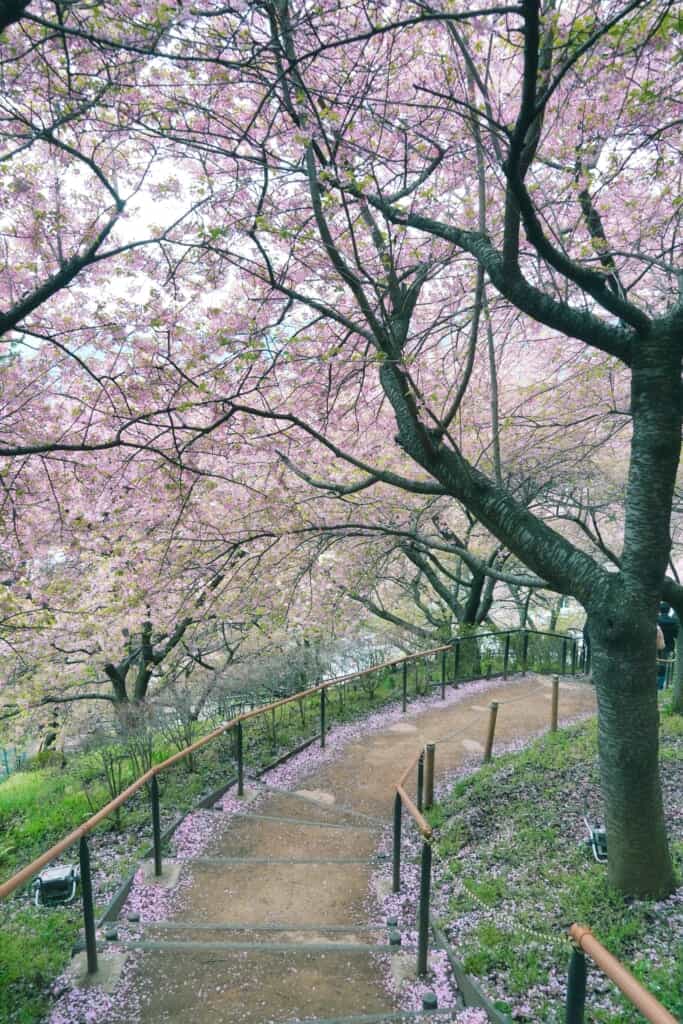 How to get to the Matsuda Cherry Blossom Festival?
The nearest train station is Shin-Matsuda and can be reached by the Odakyu Line (direct train from Shinjuku). It takes about an hour and a half. If you have the JR Pass, you can take the Tokaido-Sanyo shinkansen from Shinjuku headed towards Odawara. There, you can change to the Odakyu Line. All in all, it will take about an hour.
From the station to the festival, it takes about 15 minutes on foot. Follow the route with signs on the street that indicate the festival's direction, but it is better to use Google Maps, so you don't get lost.
You can also travel by direct bus from Shinjuku, taking about 1 hour and 20 minutes, and will take you directly to the Matsuda Cherry Blossom Festival hill.
Discovering the Matsuda Cherry Blossom Festival was a gift before leaving Japan. It was seeing sakura and being able to know this wonderful place surrounded by nature and tranquility. Without a doubt, it was the best farewell I could have had.