Have you ever taken a trip on the Shinkansen in Japan? It is said that the speed and stability of the Shinkansen, which Japanese people usually use for travel and business, make it one of the best passenger trains in the world. On this trip, I rode on the Hokkaido Shinkansen, which opened in March 2016. The line connects Shin-Aomori Station in Aomori Prefecture and Shin-Hakodate Hokuto Station in Hokkaido, running through the world's longest undersea tunnel on the way. By March 2030, the line is scheduled to be extended as far as Sapporo, the central city of Hokkaido.
A 3-Day Journey on The Hokkaido Shinkansen
Many visitors to Japan head to the cities of Tokyo, Osaka, and Kyoto on the so-called Golden Route but miss out on the stunning natural beauty and unique culture of Hokkaido. On this trip, I took the Shinkansen to enjoy Akita Prefecture, Aomori Prefecture, and southern Hokkaido in winter. I experienced everything from playing with cute Akita Inu in Odate to learning how to balance a 10-meter pole on my hand in Akita, to panoramic views of historic Hakodate, marvelling at ancient Jomon settlements in Aomori, and enjoying winter activities in this snowy wilderness in Onuma Quasi-National Park in southern Hokkaido. By the end of my journey, I had completely fallen in love with this part of Japan and gained an understanding of what makes Akita, Aomori, and Hokkaido so unique. 
For the rest of my trip, I was joined by my friend, Jonathan, who has a passion for Hokkaido and was excited to experience some of the lesser-known parts of this island with me.
Odate: Home of the Akita Inu
Odate, a mountainous city in Akita Prefecture, is surrounded by dense forest. It feels a world away from the bright lights of Tokyo, and not many tourists would have heard of it, let alone have visited. However, Odate is known as the birthplace of one of Japan's most famous dogs, and there's a world-famous bronze statue in Shibuya of him: Hachiko, the loyal Akita dog.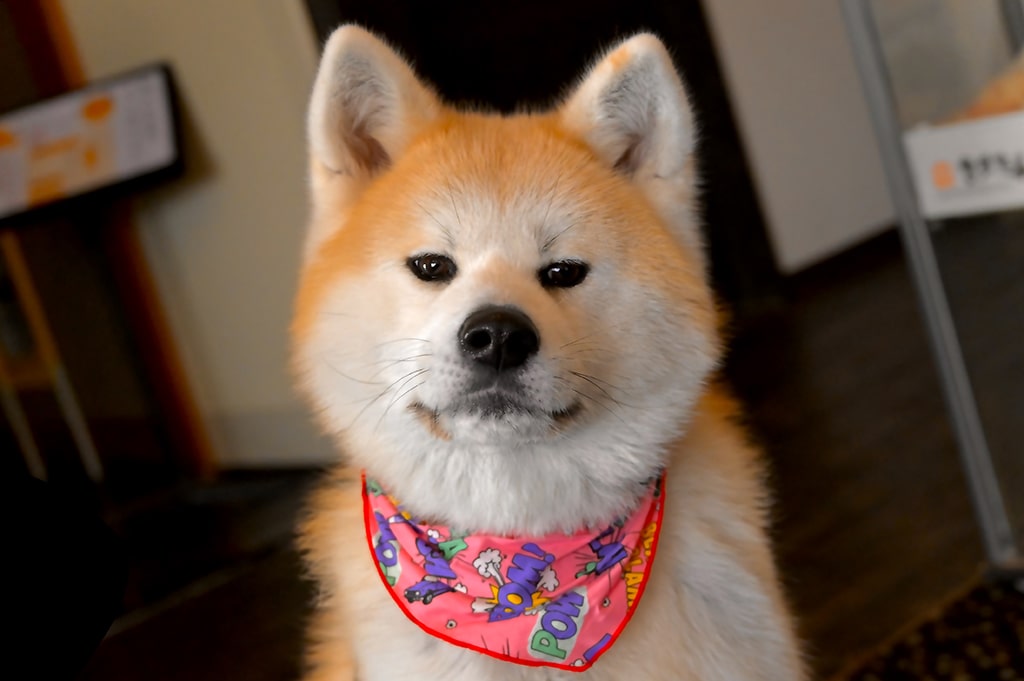 Hachiko is commemorated for his loyalty to his owner when tragedy struck in the early 1900s. Hachiko's owner was a professor at a University in Tokyo, and each evening he would come to greet his owner at Shibuya Station when he arrived home from work. Unfortunately, one day in 1925, his owner did not return as he had died suddenly from a cerebral hemorrhage at work. For the next nine years, Hachiko returned to the same spot to wait for his owner. This famous story was also made into a movie in the United States starring Richard Gere. These days, a statue proudly stands in Shibuya Crossing in memory of Hachiko, and there is often a long line of tourists waiting to take their photographs.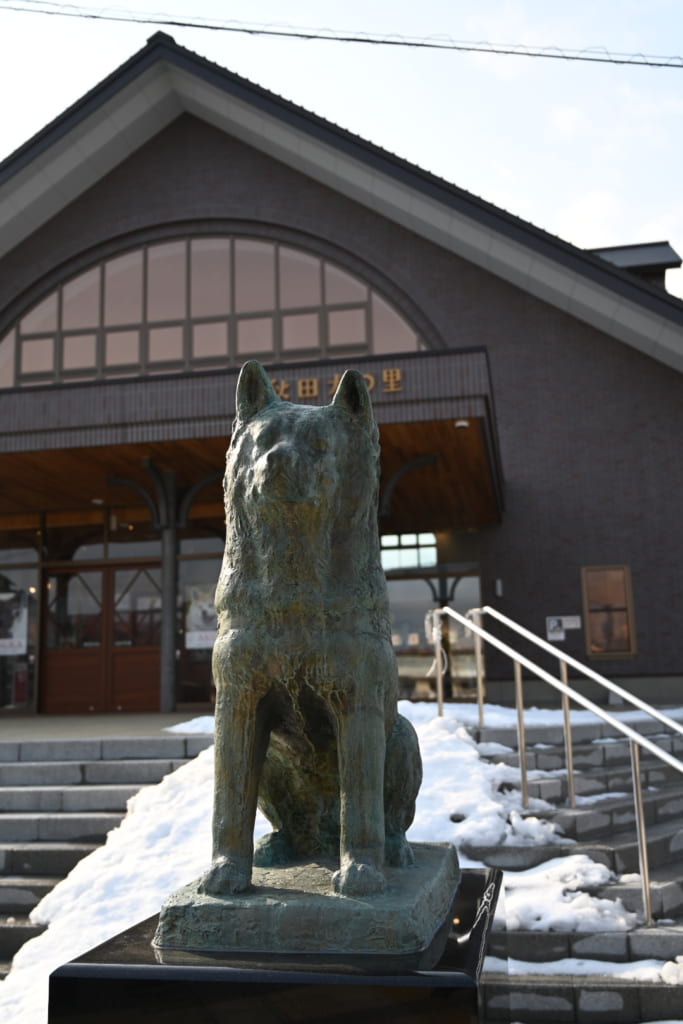 Odate was covered in a thick layer of crisp white snow when we visited on a cold February day. The streets seemed quieter than usual, which could have been due to the weather. As we relaxed in the hotel's hot spring on the 5th floor, we looked out over the city and marvelled at the grandeur of the mountains in the distance. They looked rugged, and my mind drifted to the wildlife that indeed inhabits these parts.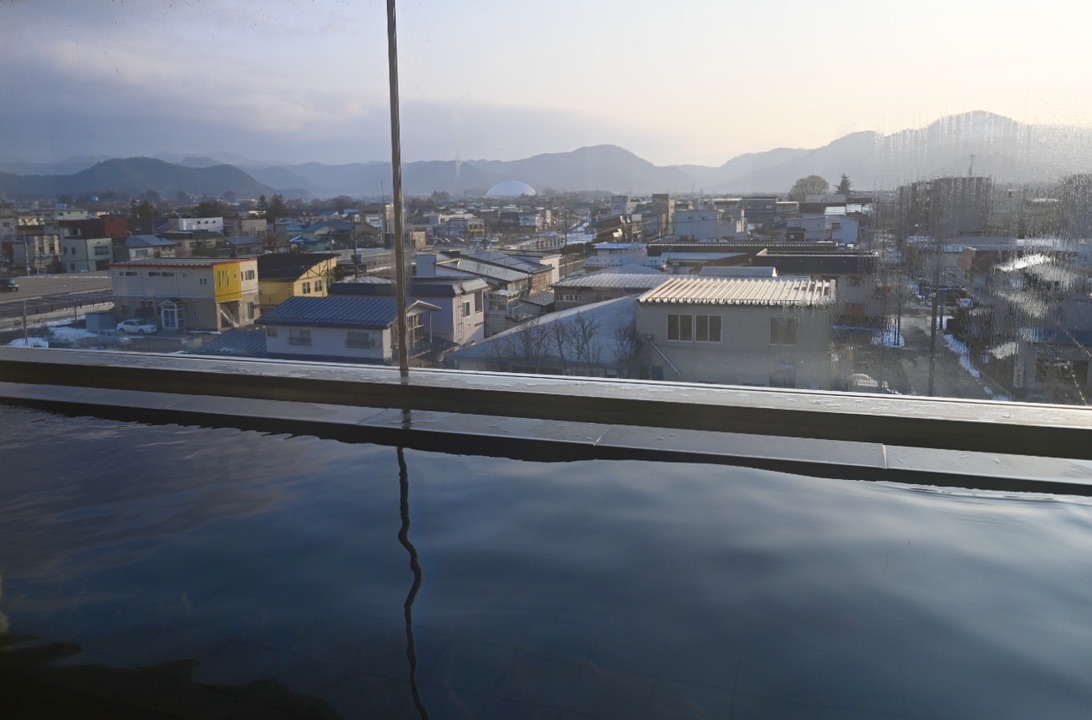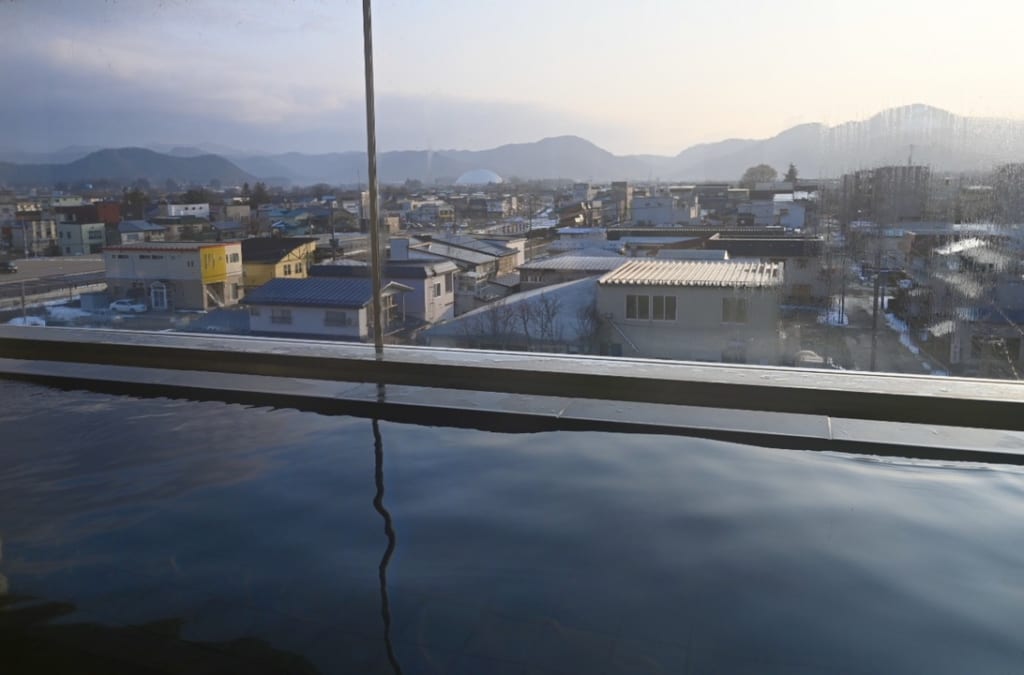 The hotel in Odate was just a 4-minute walk from Odate Station and conveniently located for catching trains to Akita and beyond. The hotel had 102 rooms and sufficient parking and would easily cater to both leisure visitors thanks to its convenient location and business guests with its conference facilities. On the 5th floor, the hot spring features a blend of mineral-rich water to soothe aches and pains. Although each room had an ensuite bath and shower, the large washing area around the hot spring, with its plentiful supply of toiletries, was a more spacious way to get clean. 
We began our day with a buffet breakfast in the hotel's communal dining area and were impressed by the available items.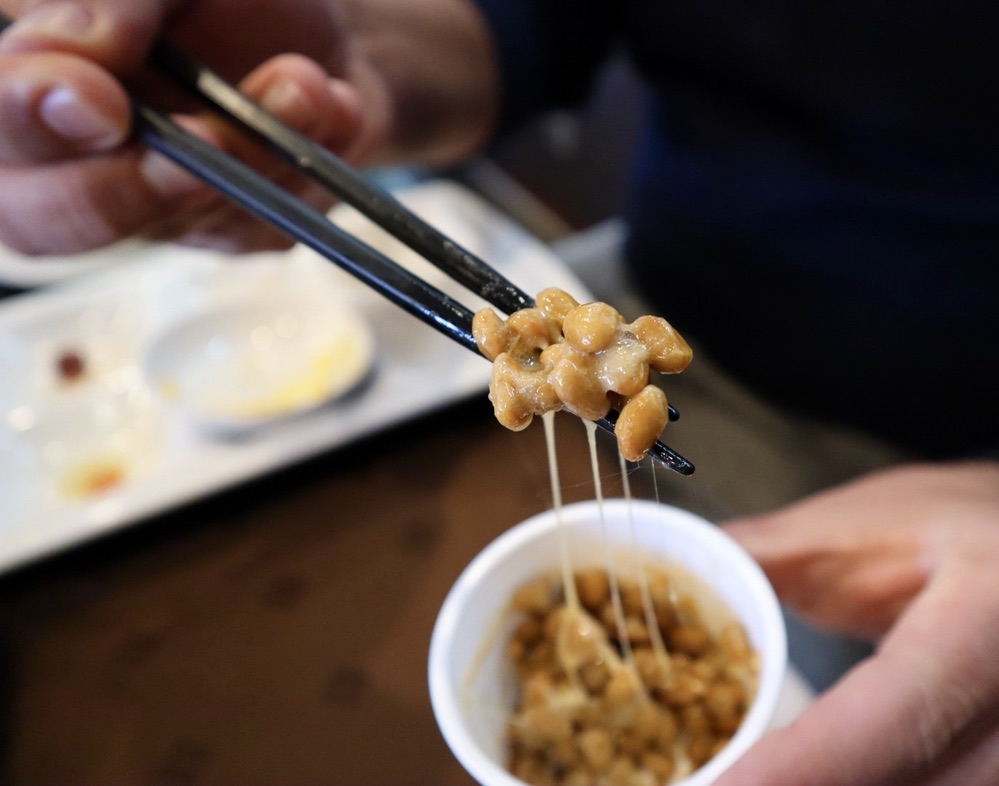 The self-service buffet had a range of Japanese and Western-style foods, and the service was excellent. When we walked in, we were warmly greeted by the waitress who promptly asked if we would prefer chopsticks or a knife and fork. Even though we both prefer to use chopsticks, it alleviated any inconvenience of having to ask for a knife and fork and meant that we could enjoy our breakfast straight away. At the end of breakfast, we were directed towards a coffee area where we could get coffee to take away. 
While checking out of the hotel, we had the pleasure of meeting one of the hotel's mascots. Hina-chan is a 2 1/2-year-old Akita Inu dog and is one of two dogs living at the hotel whose job is to welcome guests.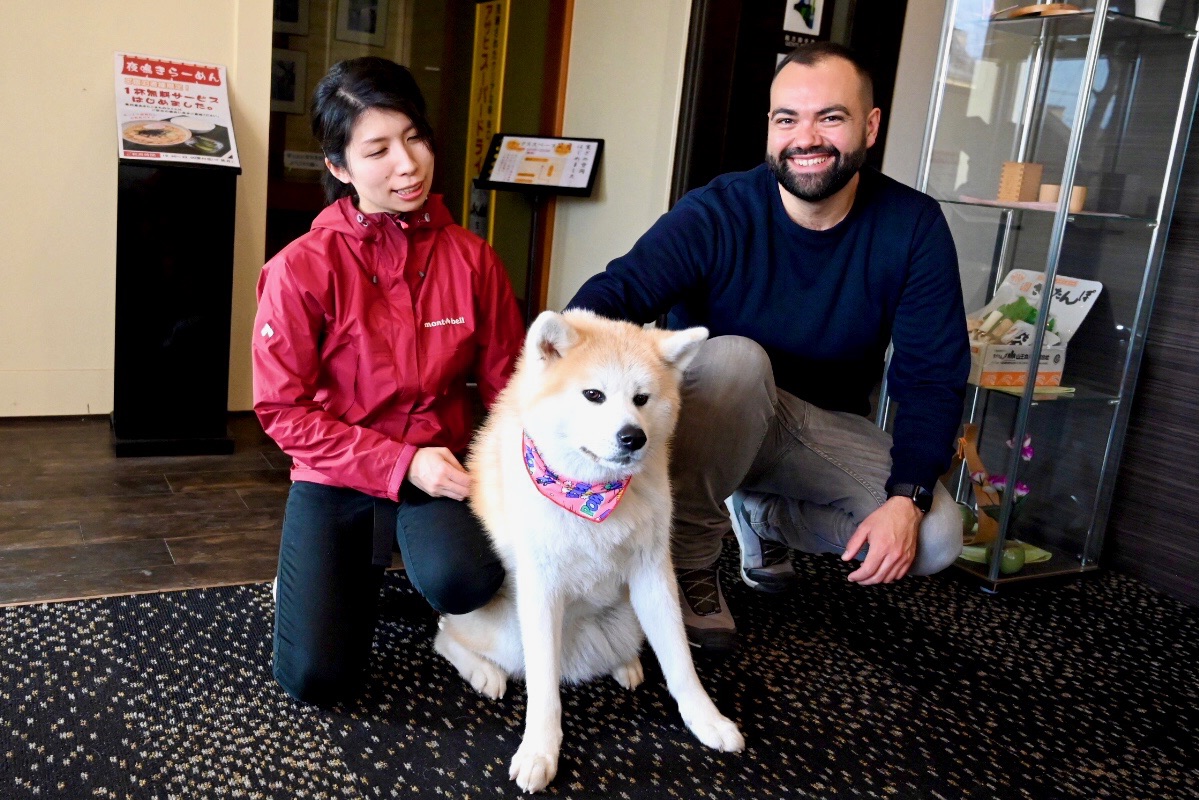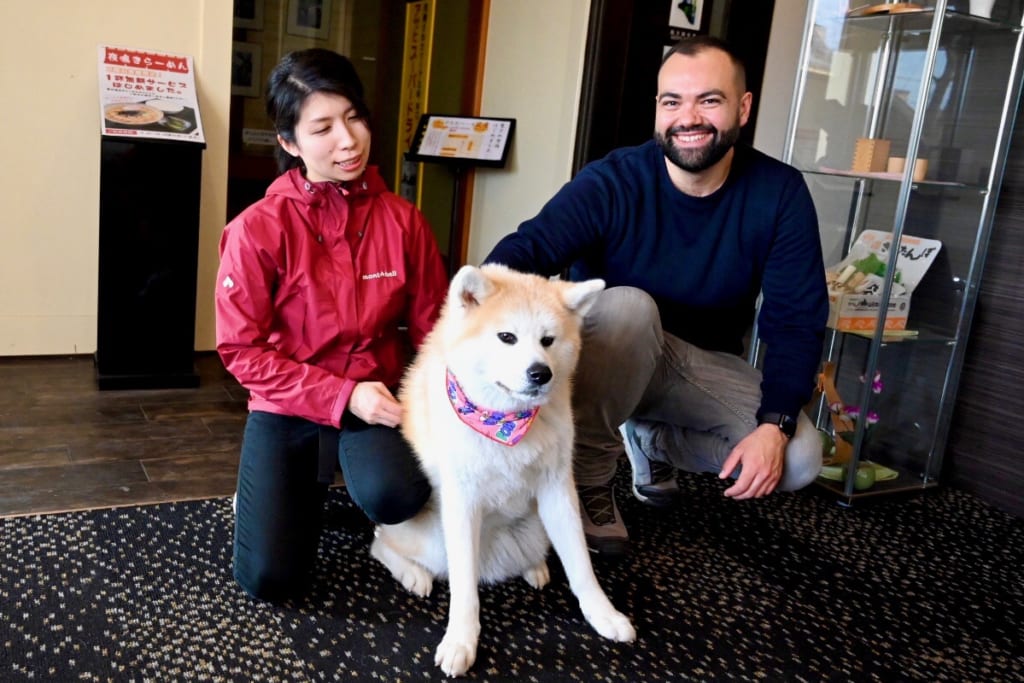 A staff member who holds a special license to care for the dogs was on hand to answer any questions we had. Hina Chan sat patiently in the reception area, wearing a colourful scarf, and was very comfortable with receiving affection from the hotel's guests. Akita dogs have thick coats and a caring manner, making them perfect representatives for this region of Japan. They bring warmth and comfort to many travellers as they arrive in Odate after their long journeys. They are similar to another type of dog, Shiba Inus, found in Japan, and both breeds are incredibly popular domestic pets. You can read about my visit to a Shiba Inu breeder in Northern Kumamoto in this article.
Upon leaving the hotel, it was just a short walk to the Akita Dog Visitor Centre. Stepping out into the crisp February air, it was noticeably cooler than Akita city, and a light breeze scattered the powdery snow across the road.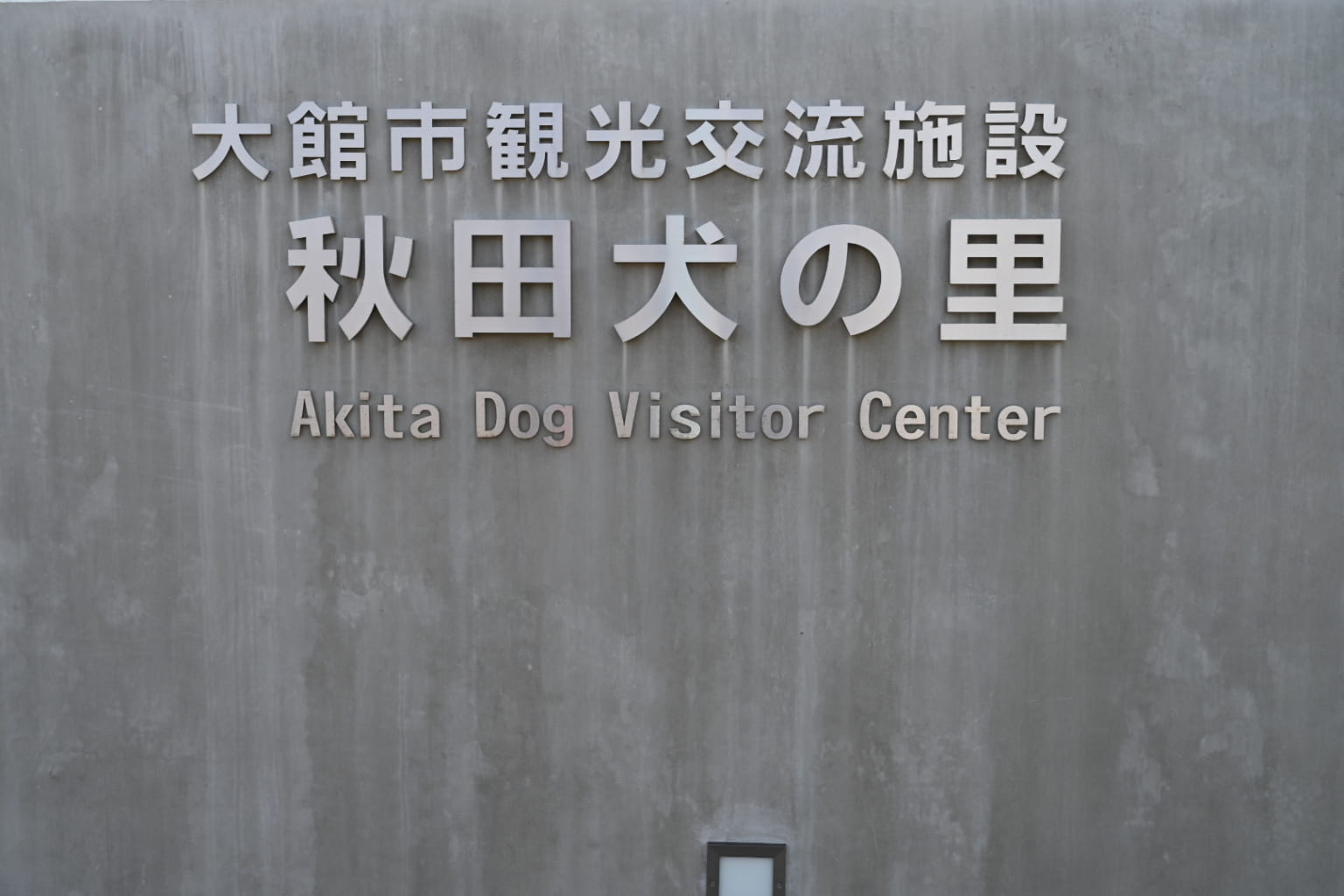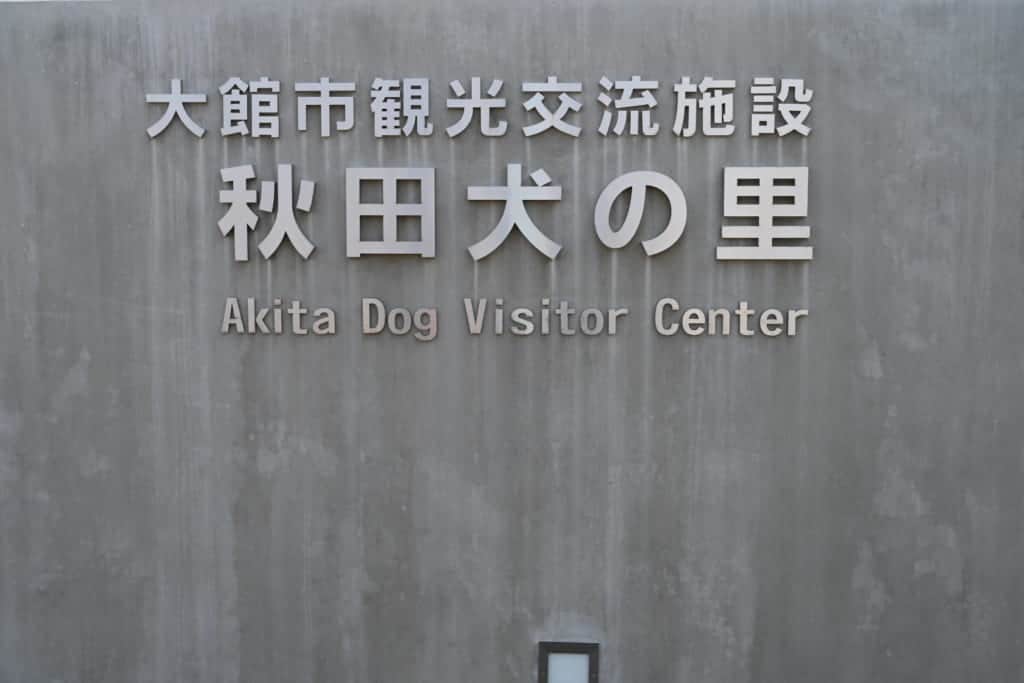 The centre, which opened in May 2019, is an environmentally-friendly building that features several exhibitions about the Akita dog. The exterior of the building has an 18-meter clock towner and a statue of Hachiko which is a reminder of the nine years that he spent waiting for his owner at Shibuya Station in Tokyo. The interior is modern, with a large gift shop selling Odate and Akita dog products souvenirs. Visitors can learn about the origins of the animal and read stories about famous people who own Akita dogs. Following the 2011 earthquake in Japan, Russia was instrumental in providing assistance to Japan and helping with the cleanup operation. As a gesture of gratitude, Japan gave Russia's President Vladimir Putin an Akita dog which has since been seen with him in several photographs. The centre has an open-air design with plenty of space for children.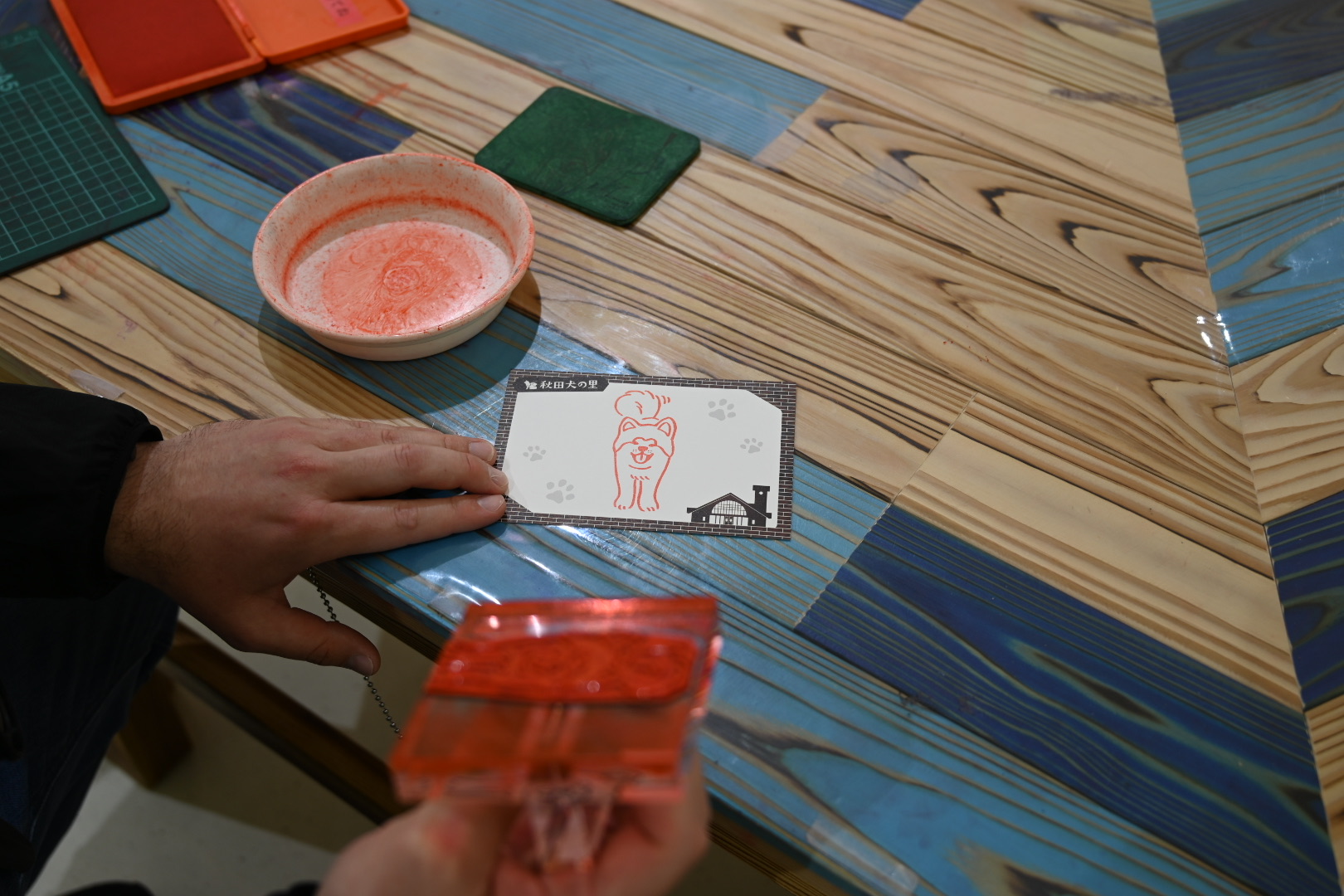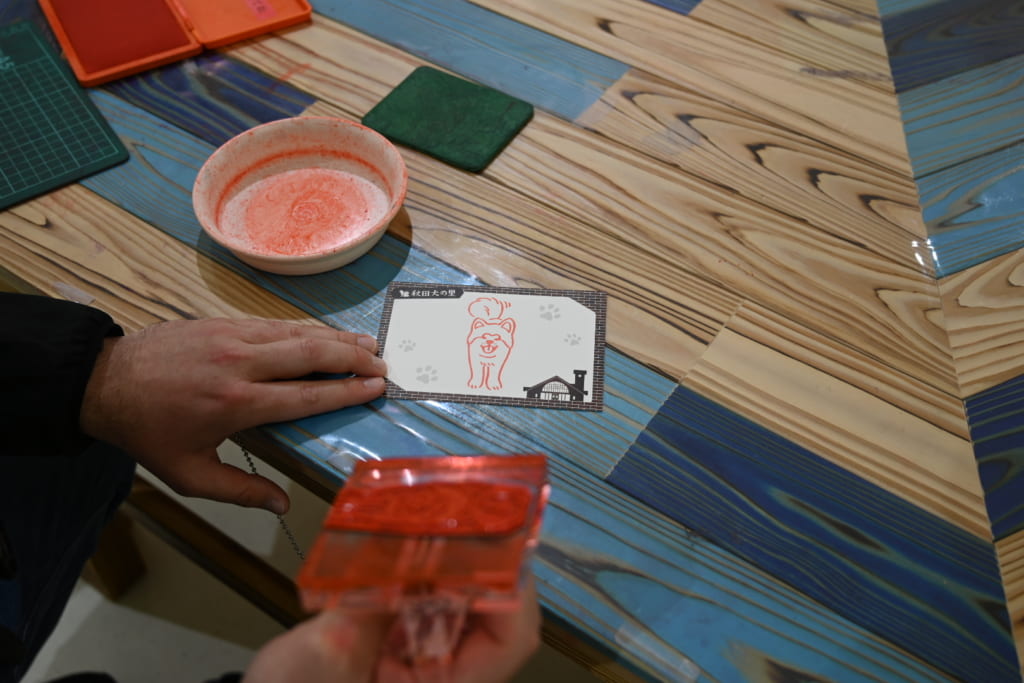 The colourful play area also features a large Akita Inu tree built from stuffed toys, and children can make their own Akita dog postcards. It should come as no surprise that many Odate residents own Akita dogs. The centre currently has a schedule of around 12 dogs that come into the exhibition area regularly.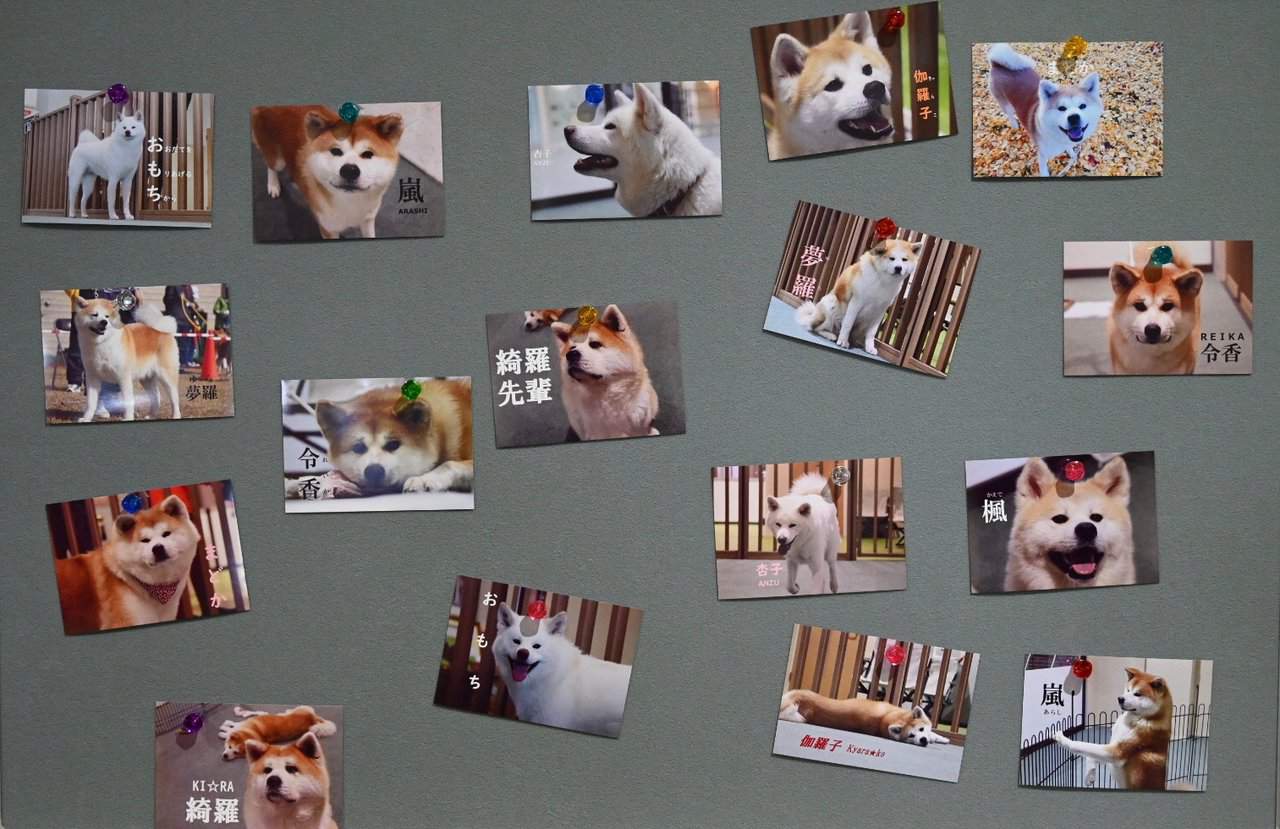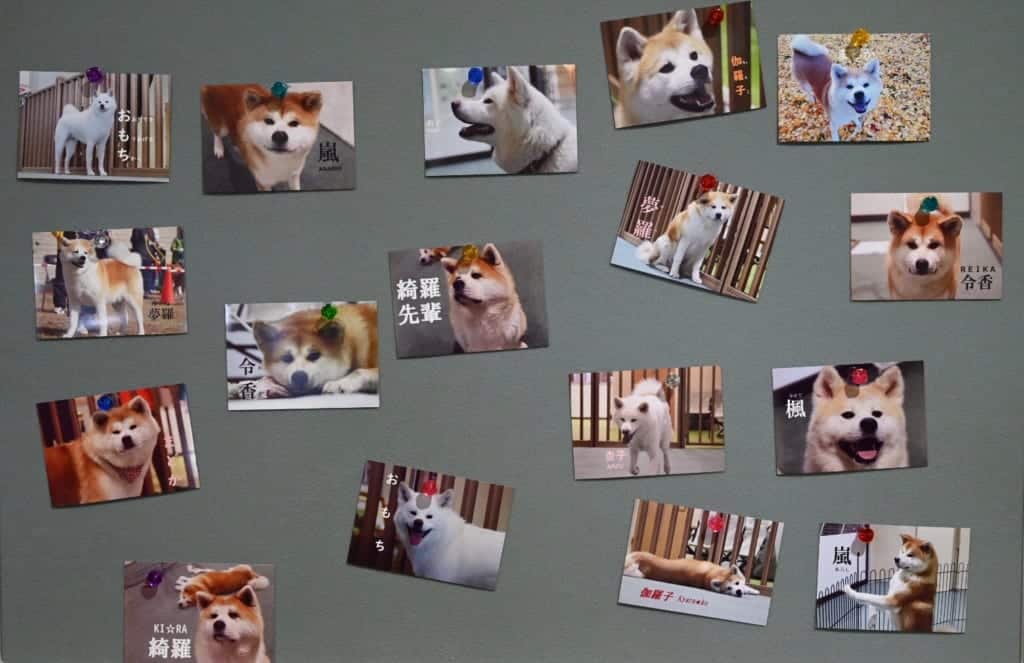 They take turns in the centre interacting with visitors. When we visited, it was not possible to touch the animals due to it being after hours, so they were kept in a separate pen. Staff are on hand to answer any questions.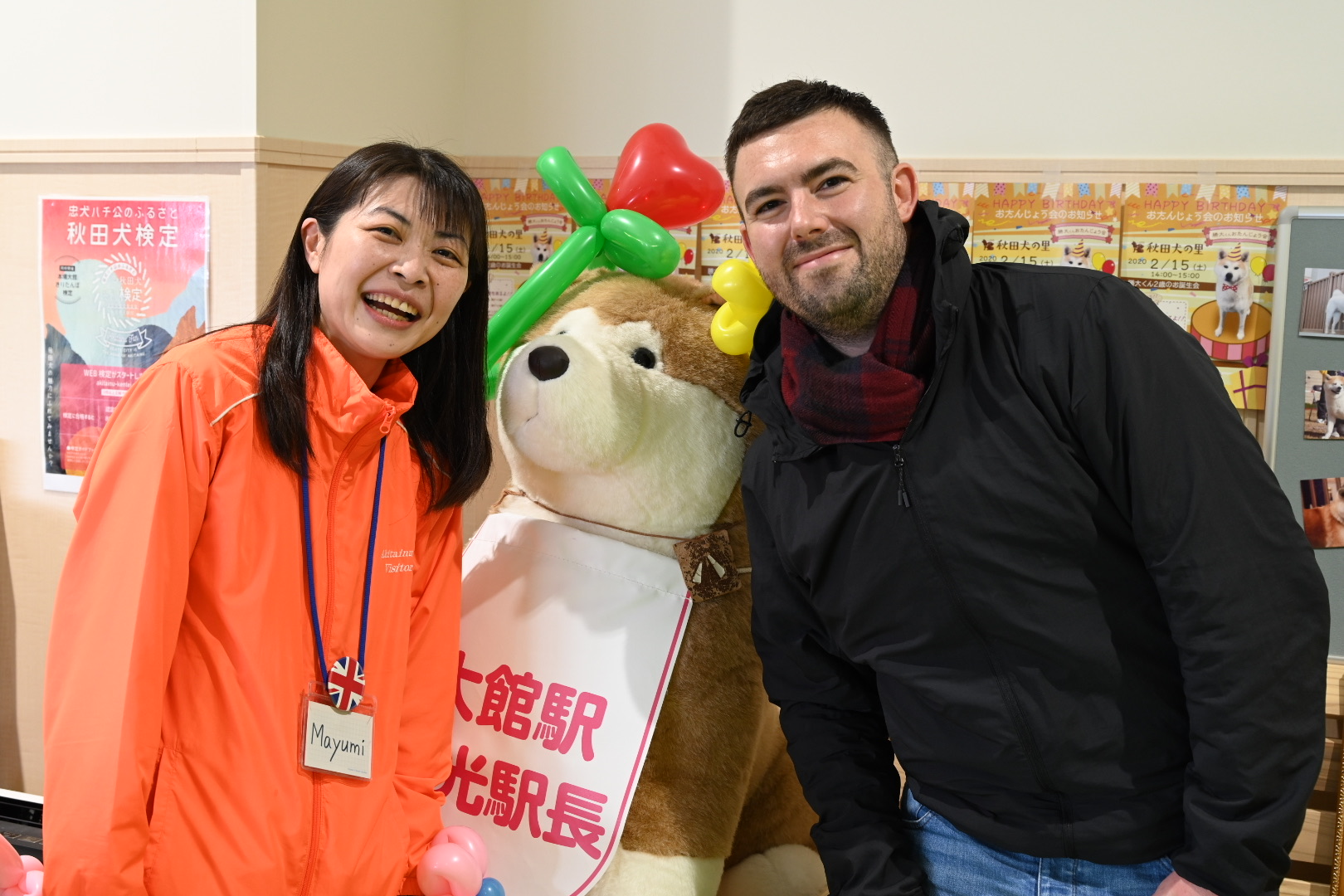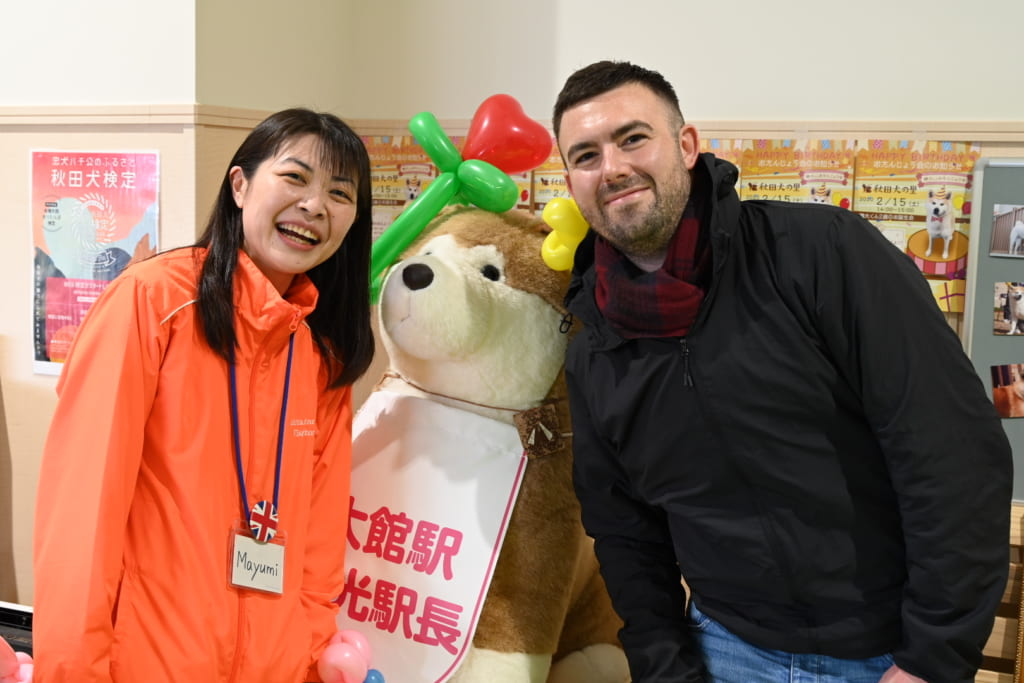 All of the information in the centre is in English and Japanese, and certain staff members were dedicated English speakers, which made conversations easier and allowed us to learn about these beautiful animals. 
Our time in Odate had come to an end and we continued our journey towards Aomori Prefecture, taking the Ou Line through the snow-covered countryside to Shin-Aomori Station to explore the remains of a large Jomon-era settlement.
How to Get to Odate
From Tokyo to Odate, via Akita: Take the JR Akita Shinkansen Komachi train to Akita Station (about 3 hours and 50 minutes), then transfer to the JR Ou Honsen Line to Odate Station (about 1 hour and 50 minutes).
From Shin-Aomori to Odate: Take the JR Ou Main Line and arrive in about 1 hour – 1 hour 30 minutes via Hirosaki.
From Morioka to Odate: You can also use express buses via Morioka. From Morioka JR station, use the express bus, and it takes about 2 hours and 25 minutes to Odate.
Akita Inu no Sato is about a 2-minute walk from Odate Station.
Photo by Jonathan Reeve and Mark Webster
Sponsored by the Hokkaido Government