Whenever I think back on my first experiences of Japanese train travel, it's never the 300 kph speeds or the bottlenose design of the shinkansen bullet train that come to mind. For me, it's all about the culinary experience. Cracking open a frosty beer with a regional ekiben lunchbox in front of me always felt like a cheeky abandonment of the rules I'd become accustomed to in my native Canada. For me, a train ride just isn't complete without this gastronomical experience, and the vintage Tango Kuromatsu restaurant train takes it to the next level.
The Tango Kuromatsu restaurant train was by far one of my most whimsical experiences during a three-day journey along Kitakinki's northern coastline, inspiring my inner child to rejoice as I savored the delectable meals of Tajima-inspired cuisine while admiring the Japanese landscape from my window. An ultra-high-speed express train may be about reaching the destination, but a ride on the Tango Kuromatsu is all about the journey.
Ride Japan's Vintage Tango Kuromatsu Restaurant Train
The Tango Kuromatsu is one of three sightseeing train lines offered by the Kyoto Tango Railway, including the Tango Akamatsu and Tango Aomatsu. The Tango Kuromatsu connects passengers from the onsen resort town of Kinosaki to the pine-covered sandbar of Amanohashidate, making it a luxurious way to travel between Kitakinki's top two destinations. The routes change every six months, however, so the ride to Kinosaki Onsen is only available from September 2021 to March 2022.
All three of the Kyoto Tango Railway trains are stylishly designed by Eiji Mitooka (水戸岡鋭治), with the Tango Kuromatsu train's signature black glossy finish, golden pinstripe, and a retro wooden interior sporting the Matsu pine tree motif throughout the cabin.
Experience Culinary Delights on the Tango Kuromatsu Train
As on other trains along the Kyoto Tango Railway routes, several menu courses are available according to the seasons. Out of the three different meals to choose from on the Tango Kuromatsu, including a morning dessert and lunchtime course, I opted for the Tajima Special Dinner Course. This three-course meal is the collaborative effort of three classically trained chefs in French and Japanese cuisine who created Kuromatsu's signature dishes using Tajima ingredients and flavors.
The first course featured bite-sized pickled red squid with prosciutto, radish, a dash of yuzu, snow crab with Sansho Japanese peppers, and persimmon miso ceviche, complemented with sparkling sake.
Next, the main dish of Tajima beef stewed in condensed wine and red miso sauce was so tender I could have pulled it apart with my fingers. Finally, to complete my three-course meal, I finished with the roasted hojicha blancmange with black honey that was so delicious I would have licked the bowl clean.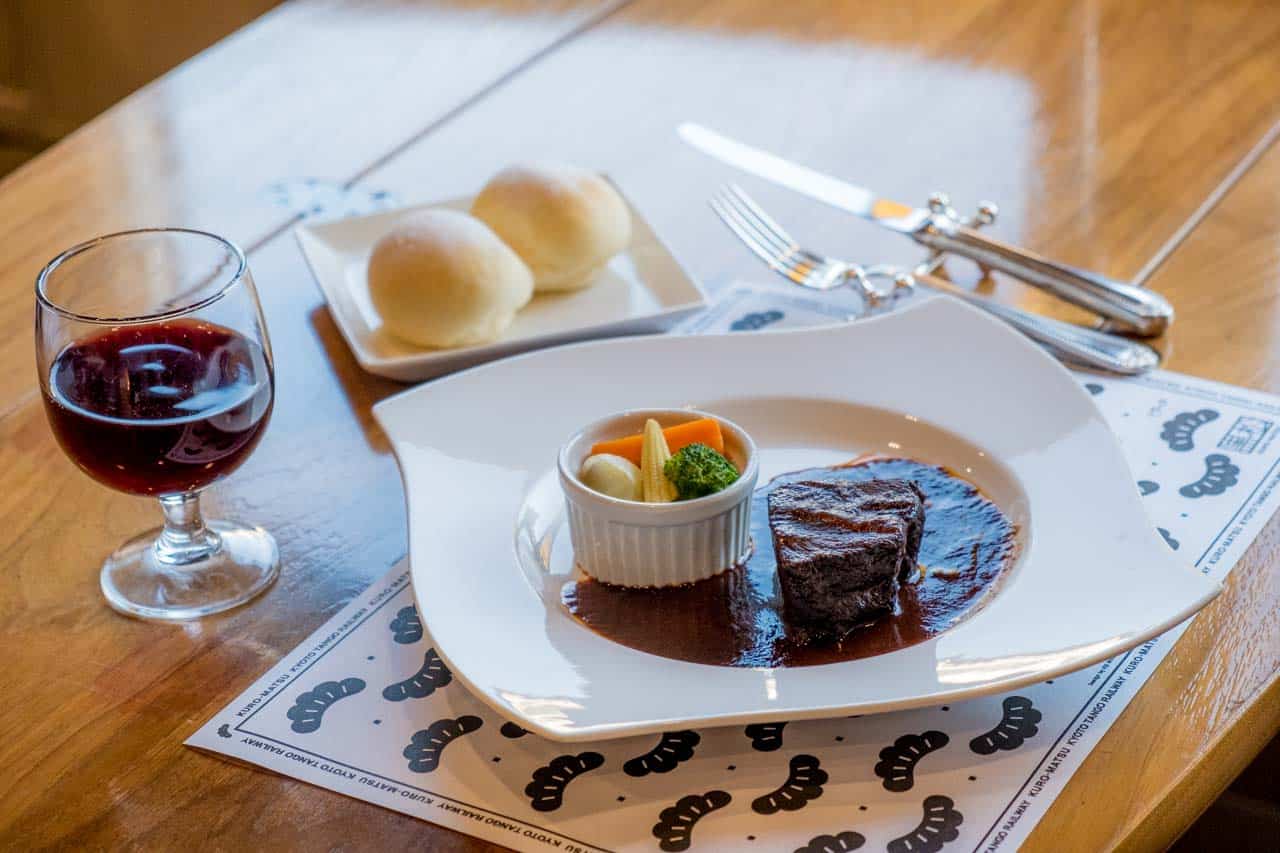 As I savored my meal, Japan swept gracefully by, changing from cityscapes to suburban neighborhoods, as hobbyist farmers tended to their gardens. There was something wonderfully whimsical about watching the scenery evolve while I finished the last of my exquisitely prepared dishes. As the conductor sounded the train's horn, the gleeful look on other passengers' faces convinced me that the feeling was shared.
The Tango Kuromatsu also offers two other set meal courses earlier in the day: Tamba Whole Sweets on the Fukuchiyama to Amanohashidate route, and the lunchtime Tango Chirimen Kaiseki from Amanohashidate to Kinosaki. Keep in mind that the menus change every season, so be sure to check in advance on the Kyoto Tango Railway page for the latest meal courses.
| Tajima Special Dinner Course | |
| --- | --- |
| Operating Days | Fridays, Saturdays, Sundays, and Holidays |
| Timetable | Kinosaki Onsen (16:03) ⇒ Amanohashidate (17:32) |
| Price | ¥ 12,500 |
| Online Reservations | Travel Willer Website (Japanese only) |
What to Do at Kinosaki Onsen Before Your Gourmet Train Ride?
Before you board the Tango Kuromatsu at the terminus train station, you will encounter the willow-lined canals of Kinosaki Onsen (城崎温泉). This enchanting, old-fashioned onsen town in northern Hyogo prefecture is one of Japan's premier onsen resorts towns, drawing Japanese and foreign travelers to its 1,300-year-old hot springs to indulge in Kinosaki's traditional ryokan inns.
The first time I stayed in Kinosaki was in early 2020, and the memories of soaking in a private onsen spa bath with a glass of sparkling white wine in hand still drift into my daydreams as one of my most lavish hotel experiences in Japan. An overnight stay in one of the inns is also an opportunity to sample the region's famed local cuisine, such as finely marbled Tajima Wagyu and winter snow crab.
To complete your quintessential Kinosaki experience, slip into a traditional yukata and wooden geta sandals and go onsen-hopping in one of (or all) of the Soto-yu Meguri "seven public onsen." Visitors can access all seven hot springs using a paid pass (or free from your accommodation) or pay individually at each location.
What to Do in Amanohashidate After Your Vintage Train Ride?
Once I arrived at the terminus station of Amanohashidate, I rested for the night in Miyazu city before making my final visit to the pine-covered sandbar of Amanohashidate (天橋立) the next day. Considered one of Japan's top scenic views, Amanohashidate roughly translates as a "bridge to heaven," referring to the 3.6 km sandbar that stretches across Miyazu Bay. While some visitors choose to walk the sandbar catwalk, I opted for a higher vantage point from the observation point at Kasamatsu Park.
To reach Kasamatsu Park, catch a lift on the Amanohashidate cable car or chairlift from Fuchu Station near Motoise Kono Shrine (元伊勢籠神社), on the northern side of Amanohashidate.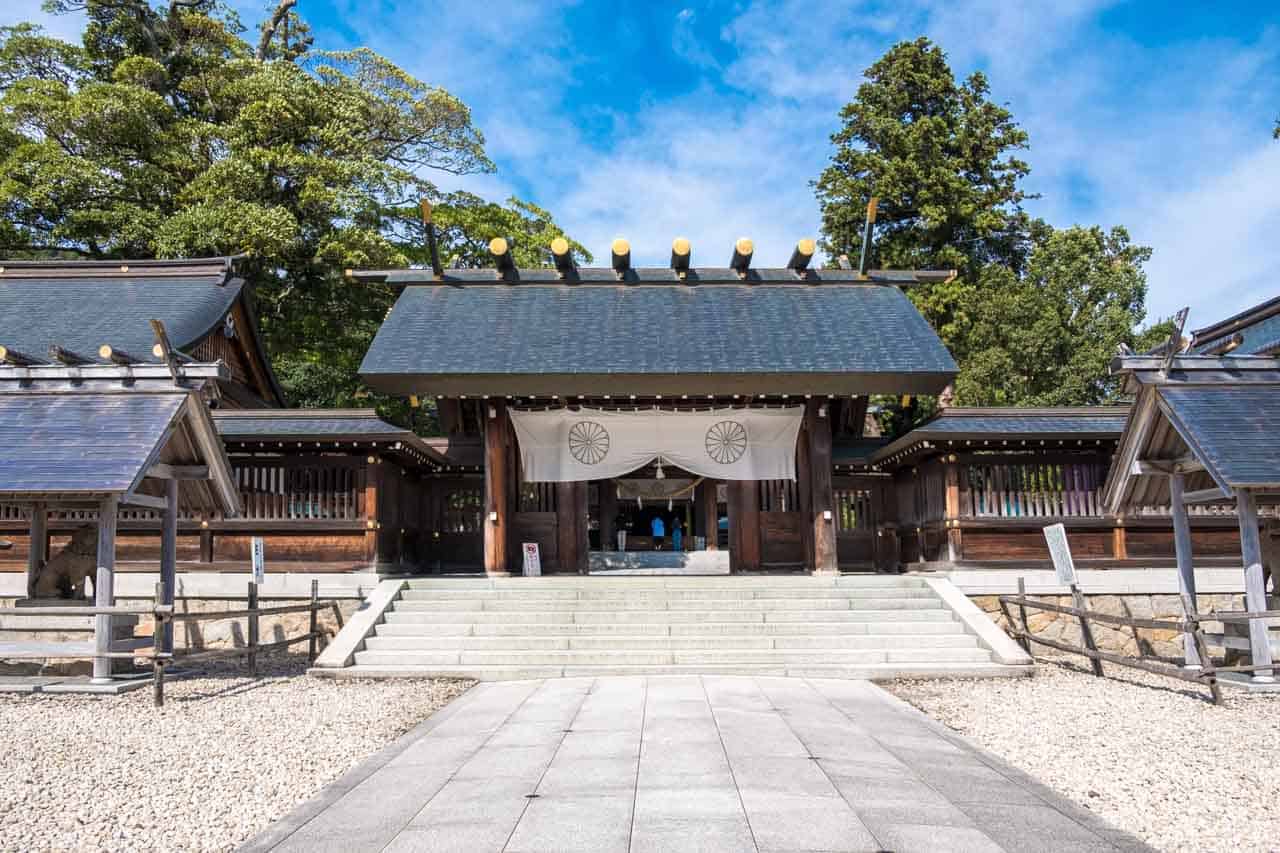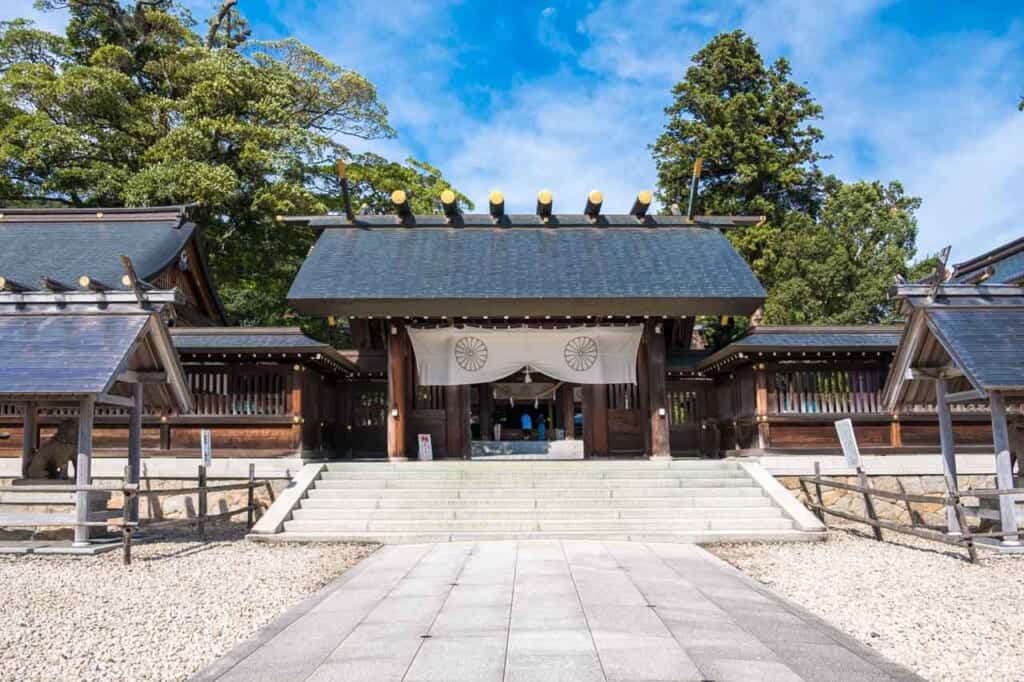 Here, I joined fellow visitors in the "Matanozoki" tradition of peering through your legs upside down to see the Amanohashidate sandbar transform into a stairway leading up into the heavens.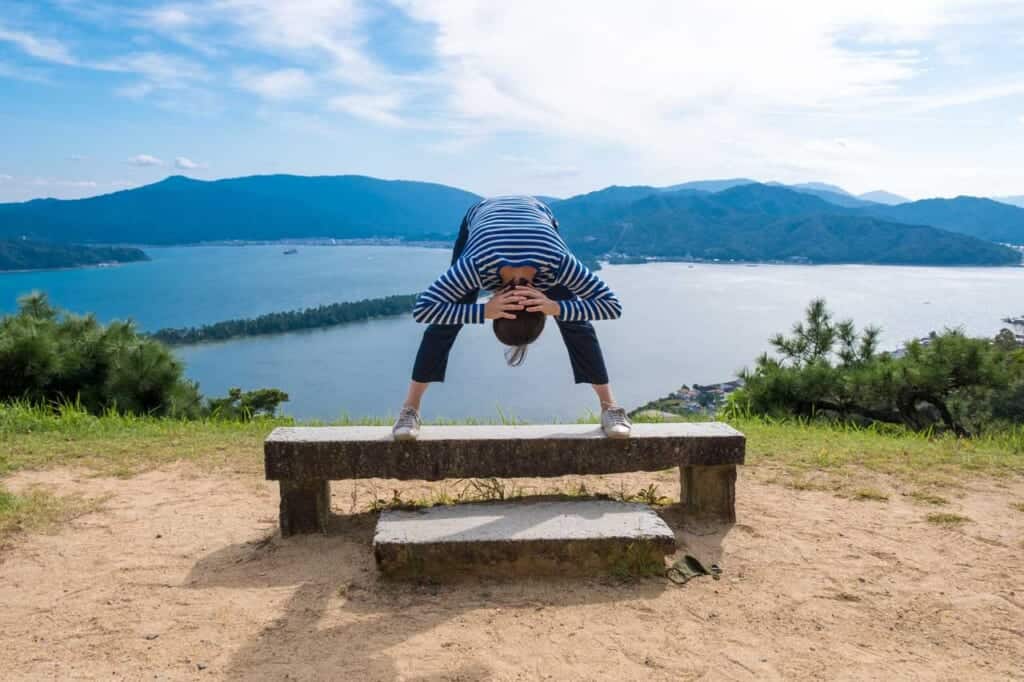 In case you're in need of getting a wish granted, try your luck throwing a few of Kasamatsu's clay discs through a small metal hoop at one end of the park. You'll need a strong arm, as the hoop is further than it looks!
How to Get to Kinosaki Onsen by Train
Kinosaki Onsen Station makes it an easy destination from any of Japan's major train stations. From Kyoto, it takes approximately 2.5 hours to reach Kinosaki Onsen on a JR limited express train, which is covered by the JR Rail Pass.
While an ultra-high-speed express train will take you to your next Japan destination in a flash, sometimes a leisurely gourmet trip aboard one of Japan's vintage sightseeing trains may be just what the doctor ordered.
Sponsored by North Kansai Tourism Association