It all takes place in Gifu prefecture, in the heart of the Japanese Alps. Far from the urban frenzy, traditional villages nestled in the mountains and valleys of Hida Takayama (飛騨高山) invite you to taste the gentle life of the Japanese countryside, where residents live in harmony with nature, where farmlands meet the foothills, in the satoyama.
Experience the Satoyama in the Mountains of Hida
Satoyama (里山, village mountain) is a typical Japanese concept of living harmoniously in nature between the countryside and the mountains. Here, you can experience the natural rhythms of rural lifestyles and local cuisine. It's also an opportunity to discover regional crafts, consume local produce, and meet the residents.
Despite the reality of rural exodus, these traditional ways of life are all the more relevant today and are even gaining new adepts in younger generations. In recent years, both government projects and private initiatives have been preserving the culture of these mountain villages by protecting and reviving local customs and activities.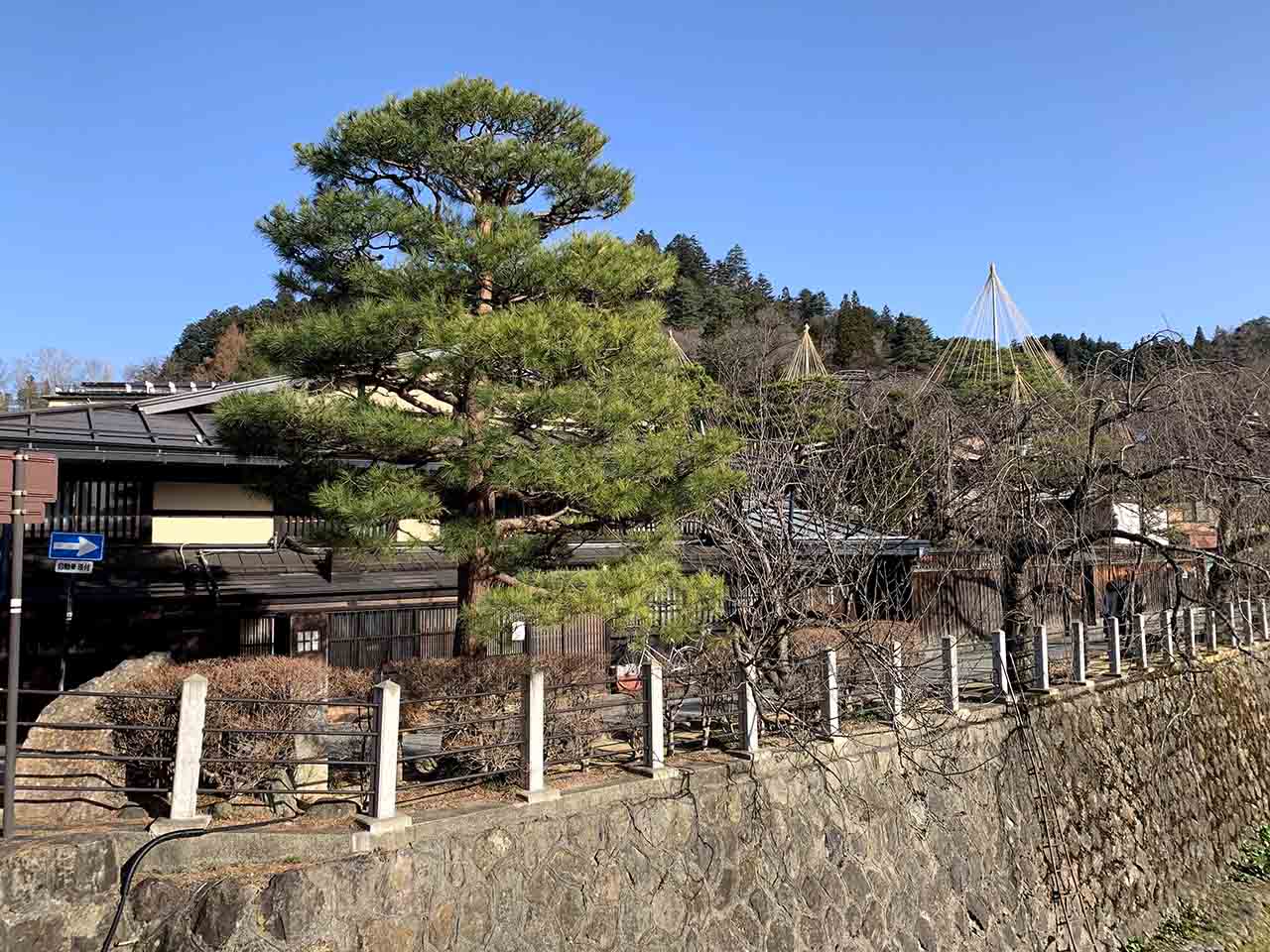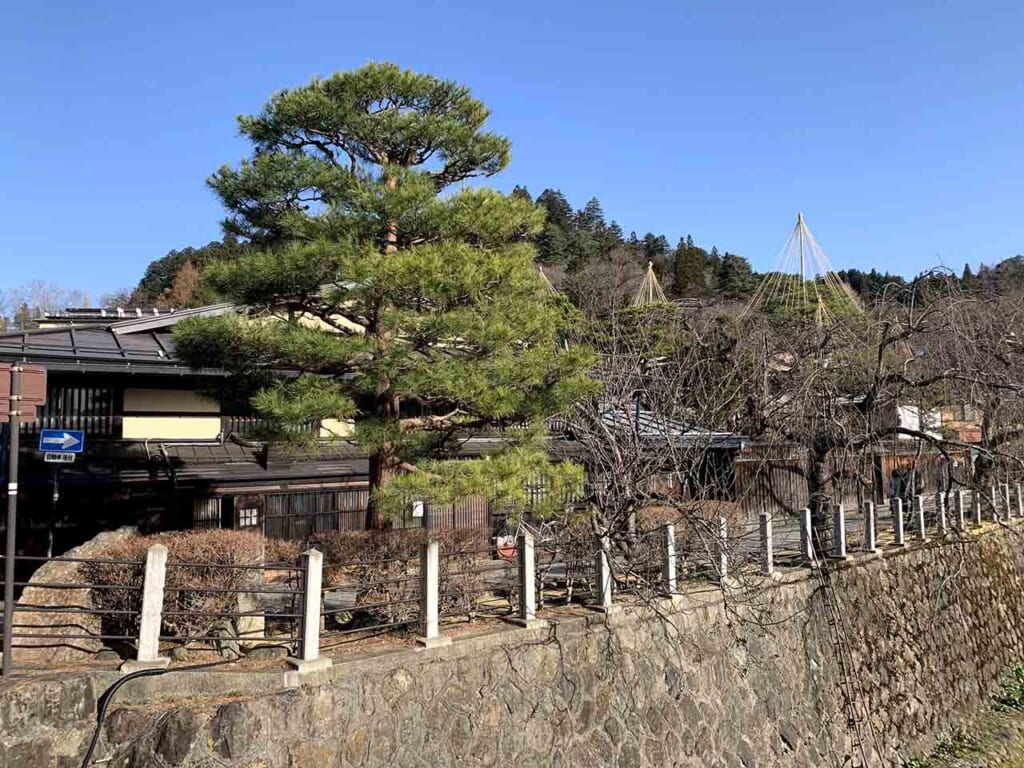 I experienced satoyama in the village of Hida Furukawa (飛騨古川) primarily through local cuisine, the fruit of ancestral culinary traditions based on seasonal harvests. I also drank sake from local breweries focused on the finest food pairings. Along the way, I discovered Hida's ingenious carpentry and delicate woodwork, ancient knowledge and techniques expressed in the architecture of houses and the flamboyant wooden floats paraded during regional festivals.
Try the Mouth-Watering Marbled Hida Beef
Japan's prestigious Hidagyu (飛騨牛, Hida beef) is one of the region's most refined dishes. This tender, finely marbled wagyu (high-quality Japanese beef) comes from free-range cows raised by certified farmers.
In the Hida region, teppanyaki (iron grill) restaurants serve Hidagyu salted and garnished with vegetables. Some shops also offer the regional specialty of Hida sushi: a thin slice of beef over vinegared rice. The sushi can be wrapped in a magnolia leaf to add flavor to the rice or a seasonal cherry leaf in May/June. Flexitarians won't be able to resist the tenderness and rich taste of Hida's homegrown luxury beef.
Tasting Gourmet Hida Beef at Japanese Restaurant, Yamayu Ushi Ikkan
In Hida Furukawa, the Hidagyu restaurant Yamayu Ushi Ikkan (山勇牛一貫) greets everyone who enters with a delicious aroma. Its own cows are raised in a fresh alpine climate on the Yamayu ranches of the neighboring plateaus.
Hidagyu is indeed the star of the meal. The various cuts of beef (filet, loin, sirloin, etc.) are grilled teppanyaki-style using an iron griddle for cooking food. The lunch menu features marbled and sirloin steak garnished with grilled vegetables.
A Traditional Japanese Meal with Magnolia Leaf Miso, Hida Soba, and Mountain Vegetables
In Hida, a traditional breakfast includes the regional specialty of hoba miso (朴葉味噌, magnolia leaf miso). It's a mixture of fermented soja paste, mountain vegetables, spices, and other ingredients cooked on a dried magnolia leaf over the flame of a small tabletop grill (Hida konro). The magnolia leaf is reputed for its antibacterial properties, and the hoba miso is picked up with chopsticks as a topping over rice.
A typical lunch is Hida soba, noodles made by hand from buckwheat grown in the region. Hida's cold winter climate and the wide range in temperature from dawn to dusk are favorable to the growth of buckwheat, which is cultivated on mountainside fields near pure spring water.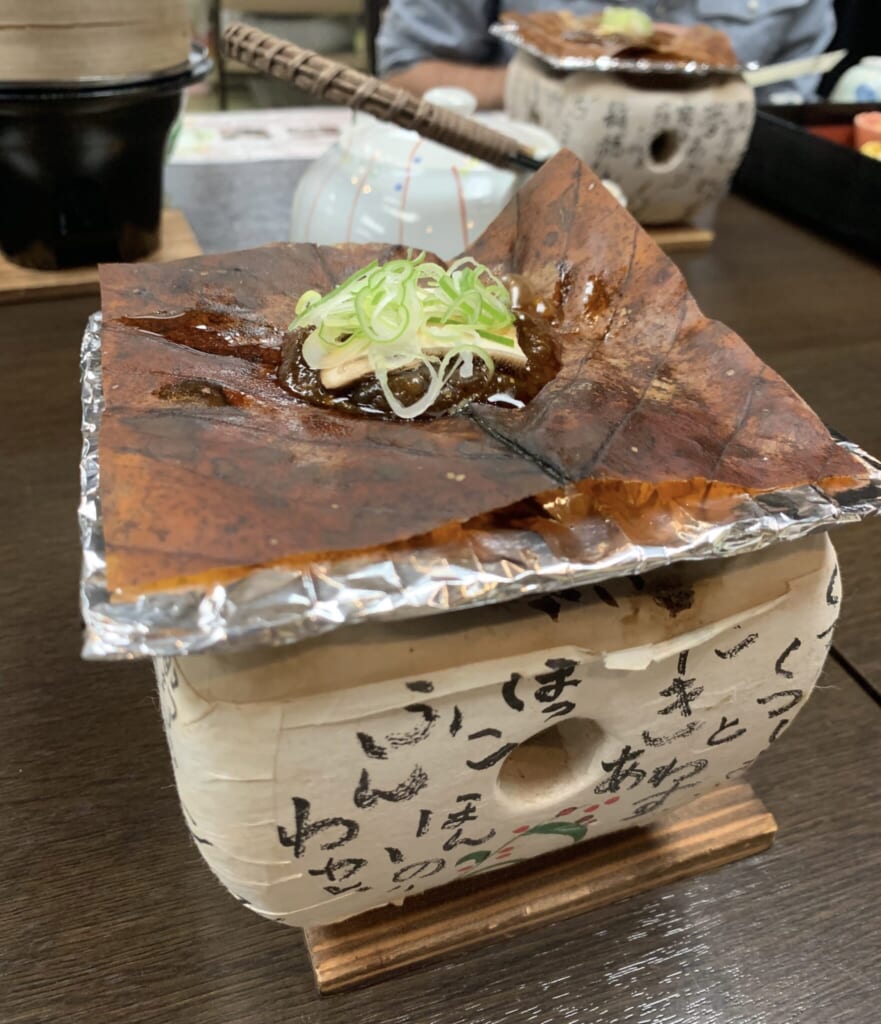 Vegetables such as asparagus, leeks, red turnips, pumpkin, cucumber, and fatsia shoots are grown at the foot of Mount Hakusan. They are simmered, deep-fried as tempura, or pickled into tsukemono. Seasonal fruits are sold at the morning produce market in Takayama, along the Miya River. Tofu is grilled on a teppanyaki-style stone (石割豆腐, ishiwari dofu).
Traditional Japanese Snacks of Sticky Rice Balls and Grilled Mochi
In the old neighborhoods of Takayama, you can taste traditional sweets such as mitarashi dango (みたらし団子), skewered rice flour balls kneaded by hand, grilled over a wood fire and glazed with a sweet soja sauce. Another favorite is gohei mochi (五平餅), a sticky rice cake coated in miso sauce and grilled on a stick.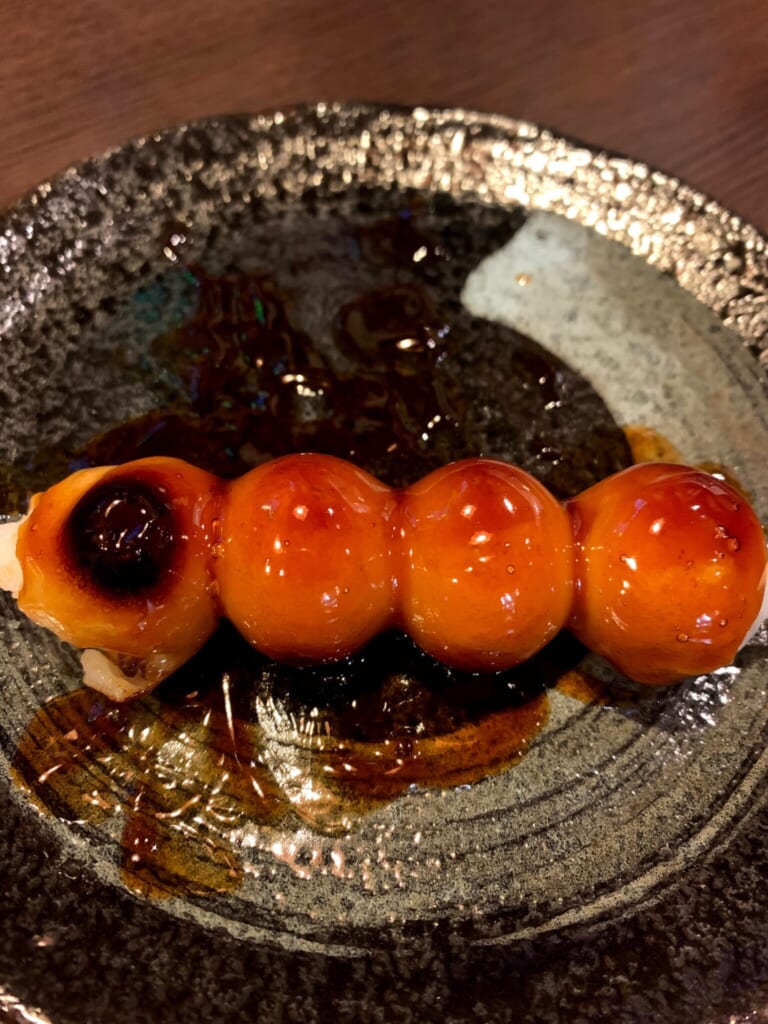 Hida's Natural Multitudes of Medicinal Herbs
Hida Furukawa is surrounded by mountains and traversed by rivers. As forests occupy 90% of Hida's land surface, the region is famously home to some 250 varieties of medicinal plants. Village residents have been using them as natural remedies for centuries.
Hidamori no Megumi, a Concept Store for Medicinal Herbs in Japan
Hidamori no Megumi (ひだ森のめぐみ) is both a tea house and a gallery. Its charming storefront window presents an entire panel of medicinal herbs from the forests of Hida, preserved in jars. Each plant has specific virtues to counter stress, hay fever allergies (very common in Japan), joint pain, fatigue, diabetes, and high blood pressure. Featured herbs vary by season and are mixed according to recipes passed down over generations.
Inside the shop, I participated in a medicinal herb "tea ceremony" where you can choose four herbs from a panel of about a dozen seasonal flora. The hostess of the ceremony then mixes them into an infusion that is steeped for exactly 3 minutes—no more, no less!
This new age tea ceremony costs ¥1,000 per person. Reservations by telephone (0577-73-3400) or e-mail.
Upstairs, medicinal herb samples are preserved in glass jars, while outside in the rear courtyard, the herbs are cultivated in the wooden hull of a boat. The atmosphere is peacefully bohemian.
Drinking Medicinal Herb Milk Tea at FabCafe Hida
The modern FabCafe Hida occupies a former sake warehouse that is over a hundred years old. Renovated in the style of an art gallery with a warm wooden interior, the cafe specializes in spicewood kuromoji milk tea, a spicy herbal tea made with lindera picked in the forests. The lindera wood and leaves give the tea a rich bitterness, as the medicinal infusion is said to aid digestion and improve blood circulation.
Tea is served with a canelé made with local milk from Hida. In winter, it also comes with amazake chai, a hot rice drink flavored with a cocktail of spices (cinnamon, ginger, cardamom, cloves), and dried orange pekoe.
Practical Information and What Else to Do in Hida
For general information about the region, visit the Hida tourism office's website.
Related articles about Hida:
How to Get to Hida Furukawa by Train
• From Tokyo via Nagoya: Take the Tokaido Shinkansen from Tokyo to Nagoya (1 hour 40 minutes), transfer to the JR Hida Limited Express train to Takayama (2 hours 30 minutes), then the local JR train to Hida Furukawa (16 minutes).
• From Tokyo via Toyama: Take the Hokuriku Shinkansen to Toyama (2 hours 8 minutes), then the JR Takayama Line to Hida Furukawa (1 hour 15 minutes).
Experience Satoyama in Hida
Satoyama Experience offers several ways to discover the natural beauty of the Japanese countryside:
• Craft Walk: Learn about Hida's traditional crafts, which channel the region's forest environment and adapt to harsh winters (2.5 hours).
• Food Walk: Discover Hida's local gastronomy through food shops and sake breweries (2.5 hours).
• Hida Furukawa Town Walk: Take a tour of Hida Furukawa, a small town full of traditional thatch houses (2.5 hours).
• Guided cycling tours around the countryside in Hida.
From gourmet dishes spotlighting the region's local gastronomy to aromatic elixirs made from medicinal mountain herbs, in this charming satoyama, you can taste the full range of delights "made in Hida Takayama."
Article sponsored by Hida Regional Tourism Council
Translated by Cherise