Nestled in the mountains of Gifu prefecture, Gero Onsen (下呂温泉) is one of Japan's top three hot spring destinations. Its rejuvenating alkaline spring waters have earned Gero Onsen the reputation of "beauty baths" (美人の湯, bijin no yu). Gero also offers visitors an authentic taste of mountain life: forest bathing, waterfalls, river fishing, and local produce. Let's spend some time in this charming city to breathe the pure air of the Japanese Alps and fully appreciate the mountains' natural rhythm.
Ecology and Sustainable Tourism in Gero Onsen
In recent years, Gero has been committed to local ecology and sustainable development. The city is now a pioneer of ecotourism in Japan, where public policies promote tourism to the region while protecting its natural resources. Among these are the rich ecosystems of Hida River (飛騨川) and Mount Ondake (御岳山). Gandate Park (がんだて公園) authorities invite visitors to admire and respect the resident fauna and flora by staying on the paths and have designated monitored fishing areas.
Ecotourism also involves preserving local shrines and temples, and traditional performing arts that have been passed down over generations. Dedicated eco-tours introduce visitors to Gero's ancestral culture and customs. Other initiatives include urban policies to centralize the management of hot springs or to ensure that the consumption of local products directly benefits the residents of Gero.
All these projects aim to make Gero a tourist destination that is sustainable, rich in biodiversity, and that involves the local population.
Gero Onsen, Japan's Hot Springs City of Beauty
Since the 10th century, Gero Onsen has been a hot springs city whose pH 9.2 alkaline waters are reputed to make your skin velvety soft. Its famous beauty baths also have other healing properties to soothe joint and muscle pains, and dispel fatigue.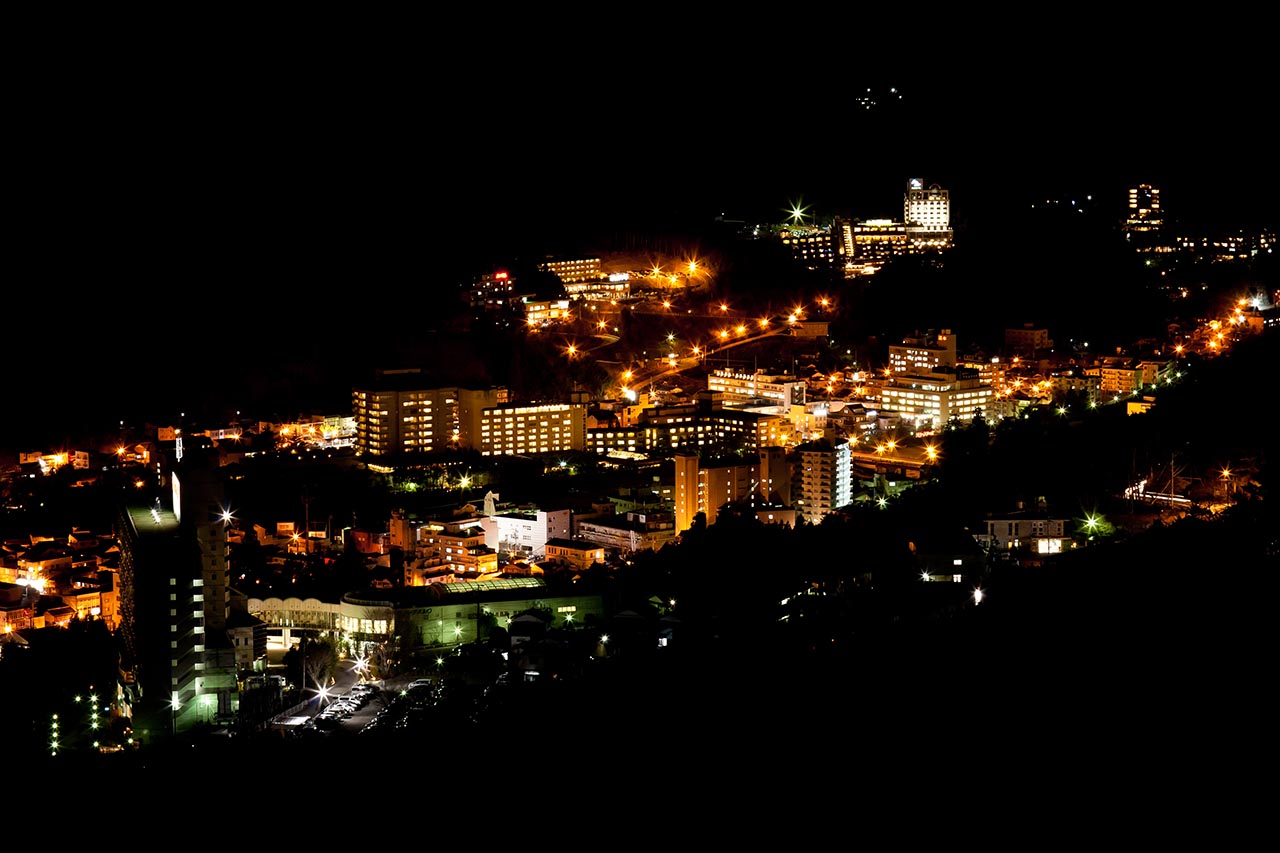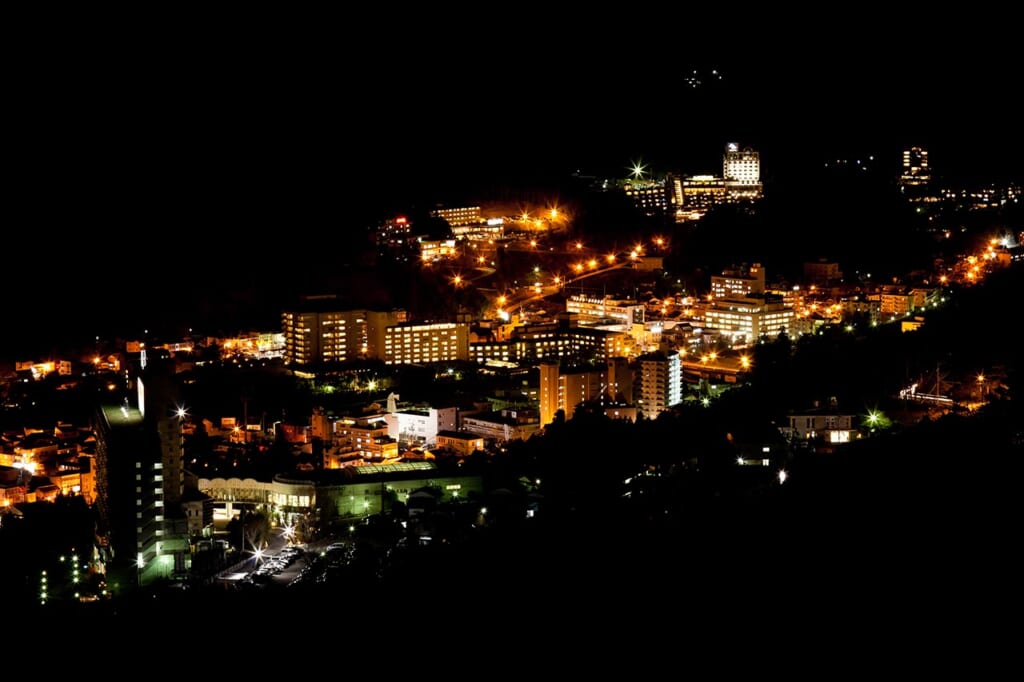 In the heart of Gero Onsen, outdoor baths are open to the public, and a dozen foot baths (足湯, ashiyu) line the streets. Ashiyu in particular is known to warm and relax your body, as well as improve blood circulation—an opportunity for anyone to take a moment to soak peacefully in the rejuvenating waters.
Treat Yourself to Gero's Cozy Hot Spring Puddings
Gero's own puddings (下呂プリン, Gero purin) or "cozy" honwaka purin are made with eggs and milk from Gero Onsen and flavored with vanilla. At Yuamiya (ゆあみ屋), the caramel-topped puddings are steamed directly in the hot spring water. Eat one while soaking your feet in the ashiyu for tongue-to-toe sensations!
Other sweets found in the villages around Gero Onsen include butter cookies, crepes, and smoothies. Shops sell beauty products such as soaps and bath milks using local Gero milk for silky soft skin.
How to Enjoy the Great Outdoors near Gero Onsen
In the mountains of Gifu prefecture, the areas surrounding Gero Onsen offer various outdoor activities in the forests and along fishing rivers.
Hiking Around 200 Volcanic Hida Osaka Waterfalls
Mount Ondake is still an active volcano, whose eruptions formed the landscape of this region almost 54,000 years ago. The Hida valley is dotted with more than 200 Hida Osaka waterfalls (飛騨小坂200滝) created by Mount Ondake's lava flows. Deep in the forests, they spill off the cliffs of volcanic rock and splash into flowing rivers.
Many different hiking trails lead to the various waterfalls. Take care to brush off your shoes first, to avoid bringing into this natural space any seeds from foreign ecosystems. Some trails can only be accessed with a guide, which can be booked through the Hida Osaka tourism office.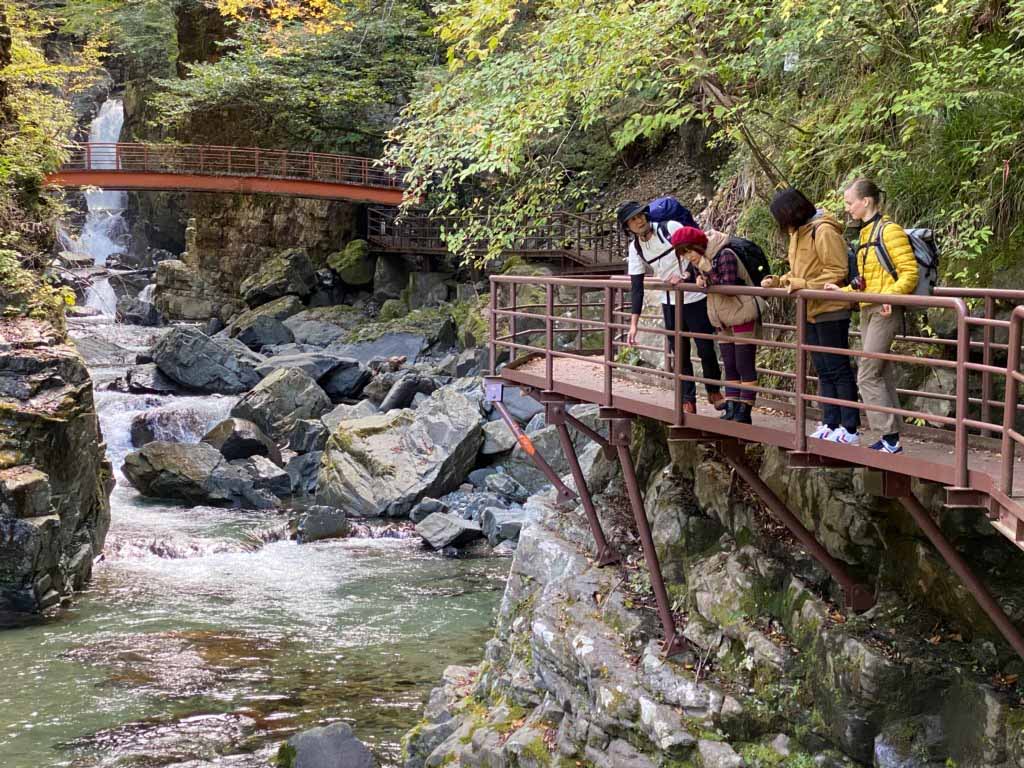 Gandate Park is a magnificent place to witness the sparkling emerald waters of its three majestic falls: Akaganetoyo, Karatanidaki and Mitsudaki. It's good luck if you see a rainbow above Mitsudaki!
If you're an experienced hiker itching to tackle Mount Ondake, be prepared for a 4-hour climb to the falls. Wearing a helmet is strongly recommended for certain sections.
Fishing and Eating Fresh River Trout
Fishing for trout in the calm river water is a serene way to commune with nature in the gentle breeze. At Osakana River Base (小坂なリバーベース), farm-raised trout are released into the tranquil Obora River (大洞川), which flows down to Nagoya. Some 200,000 fish are raised each year in the region's pure aquaculture environment to supply local restaurants and schools.
Osakana River Base welcomes experienced fishers who come with their own equipment and amateurs who can rent everything they need on-site, including bamboo fishing poles. You can fish in the local pond or in the Obora River, within a 300-meter fishing zone. There you'll find three different species of trout: amago, iwana, and nijimasu (rainbow trout).
Although fishing is possible all year round, the fish are less active in cold water, so the season is mainly from March to September. May is the best time for beginners.
Once you're done fishing, it takes about 20 minutes for the staff to prepare the trout for eating. This is a good time to explore the rest of the site and surrounding forest, which is inhabited by many native bird species such as kingfishers and green woodpeckers.
You can eat your trout catch directly on site in the open air or indoors in tatami rooms. The fish can be skewered and grilled or deep-fried in a light batter as tempura. The bigger fish are cut open, while the smaller ones are grilled or fried whole. Alternatively, you can also take your fish home with you to cook later.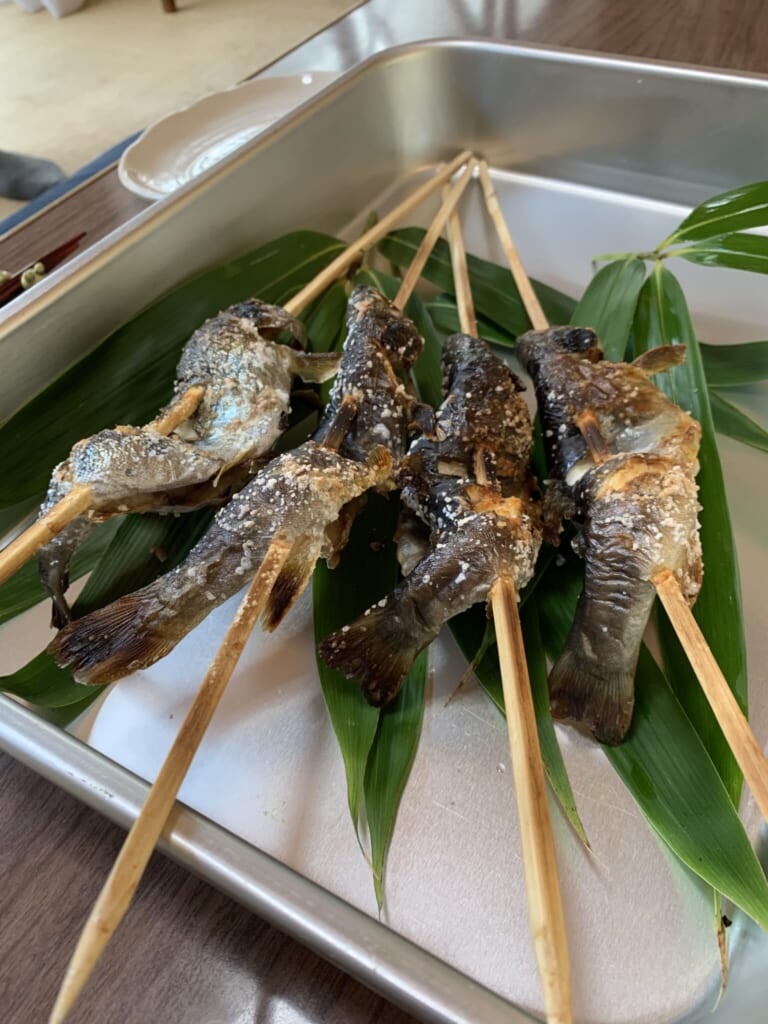 Osakana River Base offers various experiences for guests to spend a day outdoors in the forest, on the riverbank, or in a tent, feeling at home in nature. Not only can you enjoy eating the trout you caught in the river yourself, but you can also have fun toasting old-fashioned marshmallows over the campfire.
Don't forget to take a walk in the forest to admire the trees: sugi (杉, Japanese cedar), hinoki (檜, Japanese cypress) and sawara (椹) cypress. Smell the woods, listen to the birds, and look for traces of nuts on the paths. Practical information on Osakana River Base is at the end of this article.
Slow Tourism in Kanayama, Near Gero Onsen
Just southwest of Gero, the village of Kanayama and surrounding mountains hide a few surprises that are also worth a visit while you're in the region.
The Kanayama Megaliths, Japan's Ancient Almanacs
A 30-minute drive south of Gero Onsen will take you to the Kanayama Megaliths (金山巨石群, Kanayama Kyosekigun), a treasure of archaeoastronomy also known as the "Stonehenge of Japan." During Japan's prehistoric Jomon period (14,000-300 BCE), these three massive rock formations served as calendars. The position of the sun's rays on the rocks and the ground indicated the date and the changing of the seasons, possibly to determine the hunting season. In terms of engineering, these solar calendars can be compared to the Giza pyramids or the Abu Simbel temples in Egypt, or to the Mayan Chichen Itza site in Mexico.
During the spring and autumn equinoxes, the sunrays penetrate inside the dark cavities of the rocks. To make the rays of light easier to see, your guide may burn incense sticks—a truly mystical experience!
Reservations are required to visit the Kanayama Megaliths. Practical information is at the end of this article.
The Vintage Charm of Hida Kanayama
Kanayama is an ideal place to lose yourself in a long-lost Japan. At the former crossroads of four feudal fiefdoms, this trading town served as a border post and postal relay. As clans warred against one another during the Sengoku period (1467-1615), bringing social and political unrest, one district's dark labyrinth of narrow alleys (kinkotsu) was commonly used to shake off disoriented enemies. This neighborhood is known as Kinkotsu Meguri (筋骨めぐり), in the image of intricately tangled muscles and bones inside the human body.
Today, its inextricable alleys, improbable passageways, and oddly architectured houses offer a fascinating insight into an ancient village. Alleys weave between houses hanging over the passageways, between dry stone walls and vegetable gardens. They extend into small bridges over running streams, flights of stairs, or secret passages just wide enough for a single person at a time. They lead to houses made of wood and sheet metal, laundry houses and fountains, and even an authentic Showa-period (1926-1989) onsen. Near the Hida River is the historical sake brewery Okuhida Shuzo (奥飛騨酒造).
Practical Information and What Else to Do around Gero Onsen
For more information, visit Gero City's official website.
Related articles about Hida :
How to Get to Gero Onsen
By train: from Tokyo, take the Shinkansen Tokaido, transfer to the JR Takayama Line, then take the Limited Express Wide View Hida to Gero (2 hours); from Nagoya, take the Hida Limited Express via Gifu to Gero (2-2.5 hours).
By car: from Tokyo, take the Chuo Expressway, then Route 158 via Route 41 (5.5 hours); from Nagoya, take Route 41 (3 hours).
Stay at a Historical Ryokan in Gero Onsen
On the west bank of the Hida River, Suimeikan (水明館) is the oldest and largest resort in Gero Onsen, with a history of almost a hundred years. The luxury hotel complex includes several restaurants, a pool, a gym, and a regional souvenir shop. It offers both Japanese-style tatami rooms with futons and low furniture and Western-style rooms with beds.
Each of the hotel's three main buildings has its own onsen with a distinctive character: an indoor bath made of cypress wood, an open-air bath made of stones, wide bath with a panoramic view of Hida. As a guest staying at Suimeikan, you can sample all the styles. Private baths are also available (¥3,300 for 1 hour), as well as a hot stone sauna.
Fishing and Day Camping at Osakana River Base
Osakana River Base is located halfway between Takayama and Gero. It costs around ¥2,000 per person for 5 hours by the river (10 AM to 3 PM). Activities include fishing, cooking fish, and toasting marshmallows over a campfire, walking in the forest… Reserve by phone at 080-9093-6439. Bring warm clothing.
Take a Guided Tour of Kanayama
The Kanayama Tourist Association offers guided tours of the Kanayama Megaliths or Kinkotsu Meguri, as well as a gourmet food tour to taste luxury Hida beef. Reserve by phone at 080-3637-2201.
Eat Local Foods at a Mountain "Drive-in"
Just off the main street of Hida-Kanayama, the cafeteria-style Drive-In Hizan (ドライブイン飛山) serves regional specialties such as Hida beef, hoba miso, hoba sushi (wrapped in a magnolia leaf)…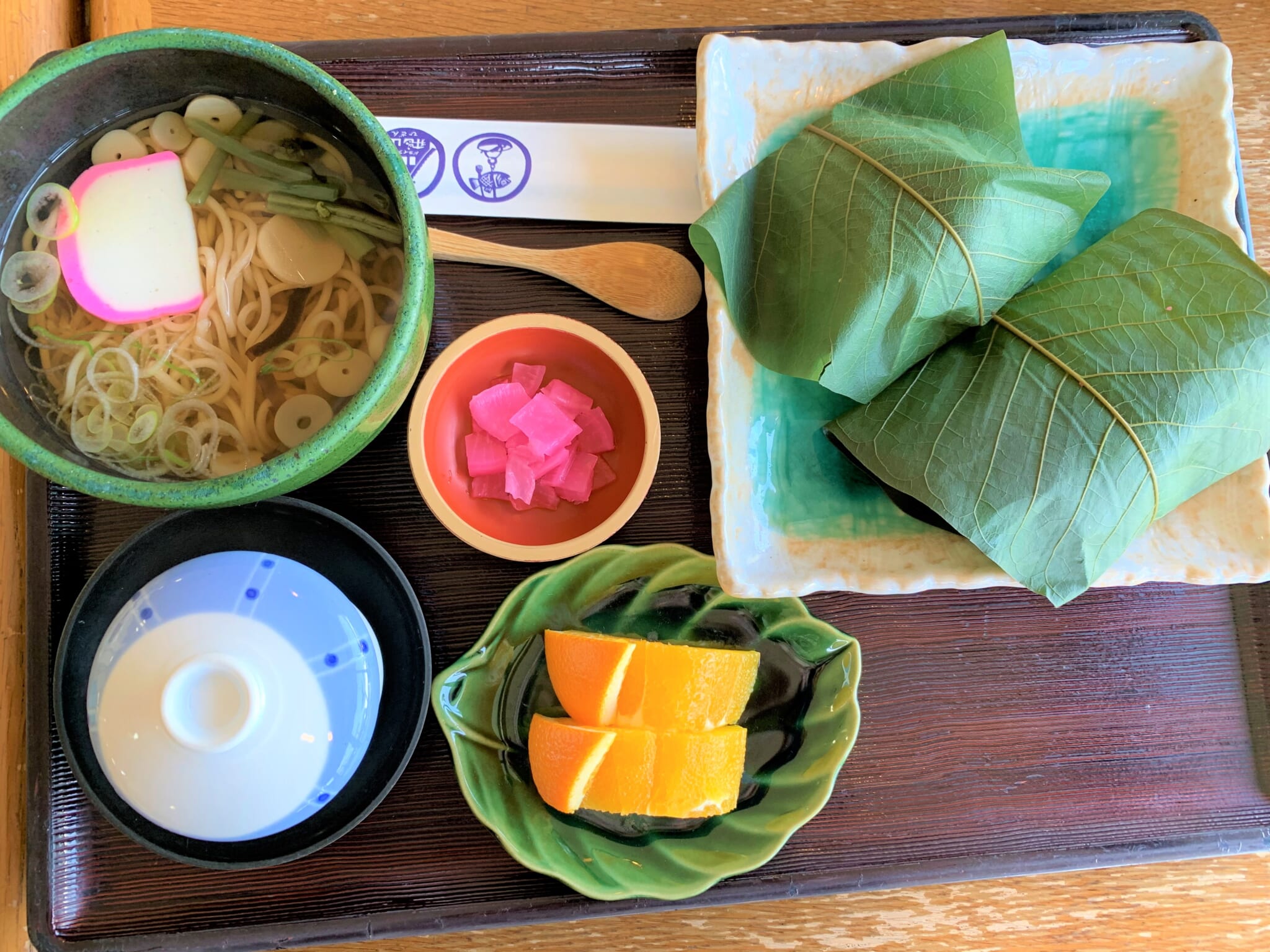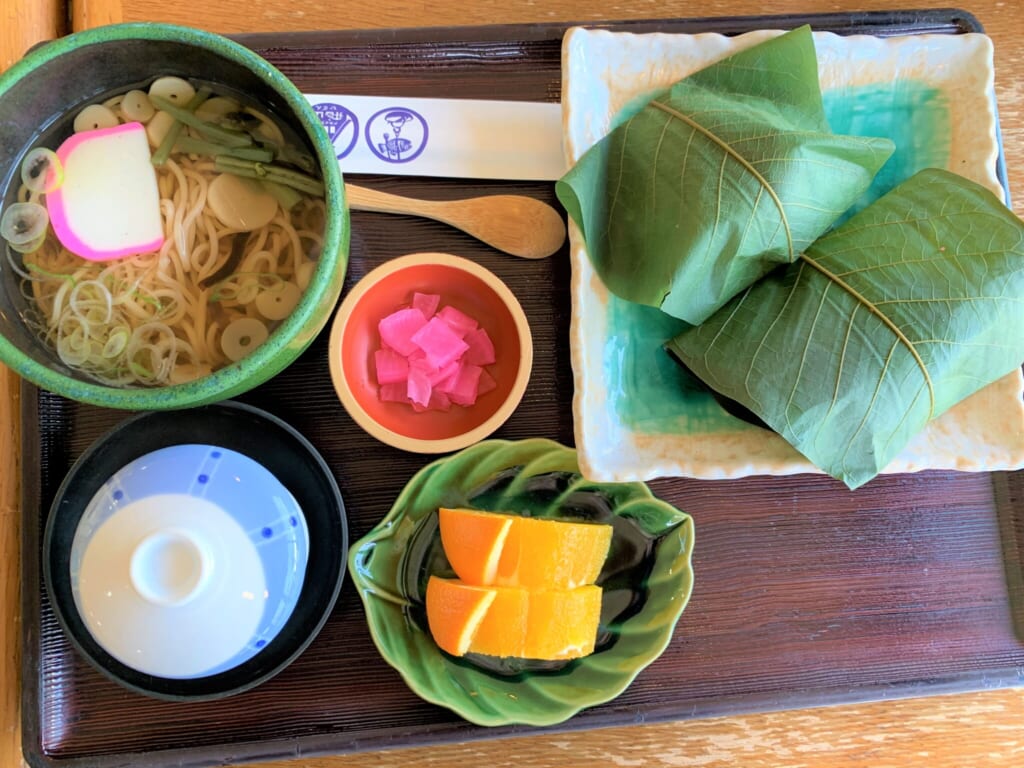 Fun fact: in Japanese, the onomatopeia for the croaking of a frog ゲロゲロ (gero gero) is pronounced the same way as the name of this famous onsen town. The friendly frog has since become a mascot of Gero Onsen, found everywhere around the city—on manhole covers, around fountains, on ema votive plaques, and of course in many souvenirs.
Gero Onsen has become a prime destination for sustainable ecotourism, where visitors can enjoy the region while respecting and preserving its local history, culture, and natural environment. Come for the beauty baths, but stay for the slow travel.
Article sponsored by Hida Regional Tourism Council
Translated by Cherise