From pictorial villages of traditional thatched-roof houses to one of Japan's beloved onsen hot spring towns, a visit to Gifu Prefecture (岐阜県) is ripe with opportunities to discover an older way of life in Japan. The strikingly picturesque Takayama may take the prize for being the most well-known by foreign visitors, but the nearby Gero Onsen, world-class sake from the 17th-century brewery Tenryo Sake Brewery, and the finely-preserved thatched-roof houses in Gero Onsen Gassho Village will equally satiate your appetite for an "authentic" Japan experience. Here's what you can see and do in Japan's Gifu Prefecture.
Takayama in the Japan Alps
Hungry souls seeking an "old Japan" experience will find the enchanting ancient townscape of Takayama (高山市) will satisfy all their cravings. Located in the mountainous region of Hida, the town has long served as a gateway into the surrounding hiking wonderland of the Japan Alps and the UNESCO heritage site of the traditional thatched-roof village, Shirakawa-Go. Many of its original buildings from the Edo period (1600 – 1868) from the city's heyday as an active hub of merchants and highly-skilled carpenters still line the streets. Several of these historic buildings are now occupied by various businesses, including cafes, traditional sweet shops, breweries, and craft shops — some of which have been operating for hundreds of years.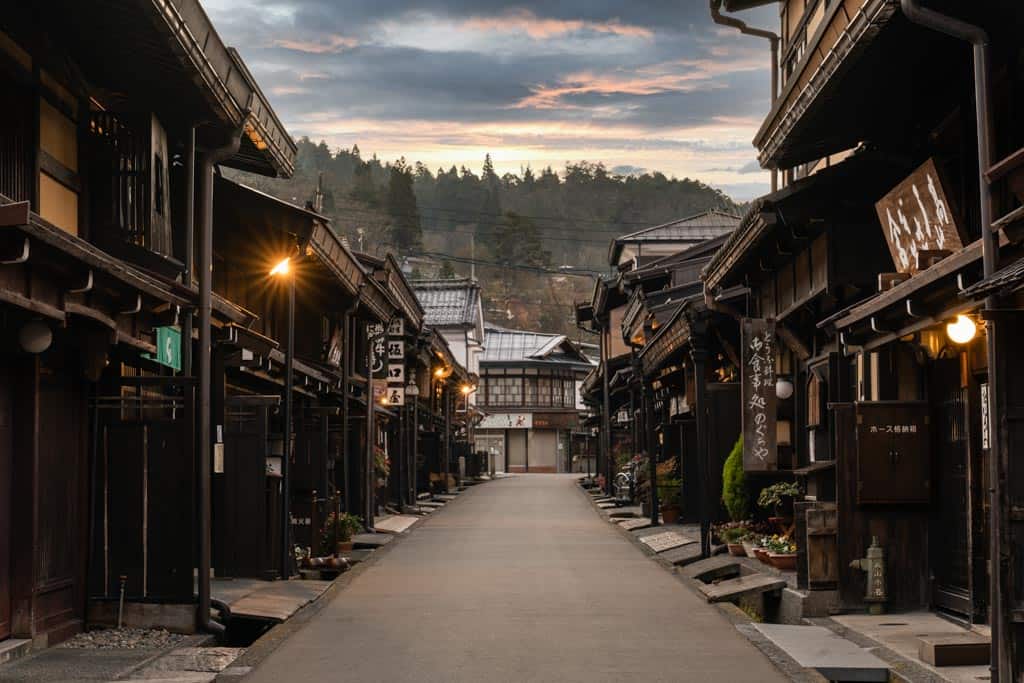 Because of its popularity, Takayama can be crowded, especially during peak tourism season. Beat those crowds by arriving early and stop at the Miyagawa Morning Market (宮川朝市) for a taste of local Takayama life. These daily markets start from 7:00 am (8:00 am in the winter) until 12:00 pm and give you a chance to browse through stalls selling crafts, local produce, flowers, snacks, and other glimpses of everyday life. A 7-minute walk away is the former Hida government office, Takayama Jinya (高山陣屋). Visitors can enter this historical building, now a museum, roam through its spacious tatami-mat rooms admiring its timber craftsmanship, and study official documents and belongings of past feudal lords. For lunch, go to the highly photogenic Sanmachi-Suji district to indulge in Takayama's local restaurants. If you're spending the night, Takayama has a wide selection of accommodations, from traditional inns to boutique hotels, situated near Takayama Station, so you can quickly stay on course for your journey through old Japan.
Takayama Jinya
Opening Hours: 8:45 am to 5:00 pm (until 4:30 pm from November to February, until 6:00 pm in August)
Closed: December 29, 31, and January 1
Admission: 440 yen
How to Get to Takayama
From Tokyo, take the JR Tokaido Shinkansen to Nagoya station, then transfer to the JR Hida limited express train for a 140-minute ride to Takayama Station. If you're travelling from Toyama Station, take the JR Hida limited express train to Takayama for a 90-minute trip. Except for the Nozomi (the fastest class) Shinkansen train, all trains from Toyama, Tokyo, or Nagoya, are covered by the Japan Rail Pass.
Hida Furukawa Old Town
If you're looking to escape the crowds that Takayama tends to attract, a side trip to the hidden gem of Hida Furukawa is an easy 15-minute ride away by train. This lesser-known but equally beautiful town rivals the picturesque quality of Takayama with only a fraction of the crowds. Movie-goers may also recognize Hida Furukawa as one of the cities that inspired the hugely popular animated film, Your Name (Kimi no Na Wa) by Makoto Shinkai in 2016, making it a firm favourite for dedicated anime lovers!
If you're a Japanese craft-lover, you will find plenty to drool over in one of the many active artisan and craft shops in town. Candlemakers, kimono producers, sake breweries, and other handmade craft shops operate their businesses in the city's traditional buildings, some of which have been run by the same families since the Edo period. Spend the afternoon meandering through the streets and watch these craftspeople at work as they carry on their rich craft heritage. If you're looking to explore beyond the borders of Hida Furukawa, rent a bike and cycle through the surrounding rural landscape to fully appreciate the outdoors.
How to Get to Hida Furukawa Old Town
From Takayama, take a local bus or JR Takayama line to Hida-Furukawa Station for a 15-minute trip.
Japan's Famous Hot Springs of Gero Onsen
For another day of Gifu's old-town attractions, take an hour's train ride from Takayama to the cobbled roads of Gero Onsen (下呂温泉). Since the Edo period, this quaint onsen town has been beloved as one of the three best onsens in Japan, prized for its clear, alkaline-based hot springs. Gero Onsen is mainly made up of traditional ryokan inns that line the streets of the town's center. A stay in one of these accommodations is also a perfect opportunity to be treated to the delectable traditional Japanese kaiseki meals these inns are famed for. If the onsen baths in your accommodations aren't enough, a yumeguri tegata (bath pass) will allow you to visit three hot springs of other ryokans and hotels that are made public at certain times of the day. Slip into your ryokan's yukata and shuffle down Gero's streets to test its plentiful hot spring waters, or drop into one of the town's many shops selling local goods and souvenirs.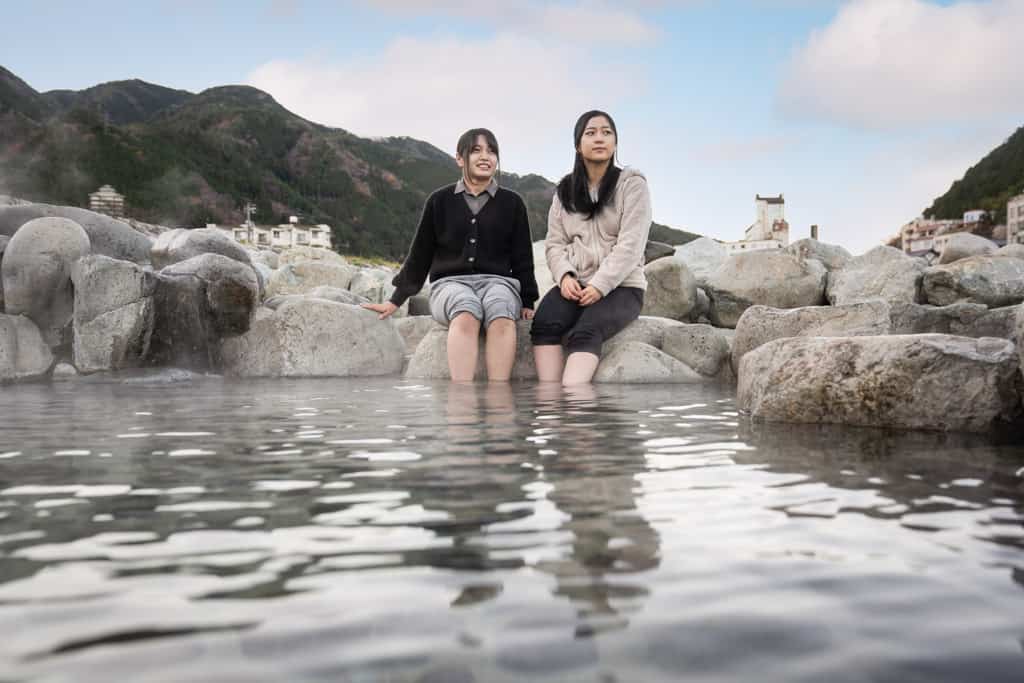 There are several free foot baths or "ashiyu" which you can dip into while you're exploring this onsen town. Like the rest of the hot springs in Gero Onsen, these waters are piping hot — a welcome temperature during the cooler months of the year. For an onsen experience right in the middle of the city, Funsenchi is a free open-air bath situated among the rocks beside the Hida River. Many visitors only dip their feet, but you can also do what the locals do— go for a full-on bath!
While sampling the plentiful onsen may keep you busy for a full day, the Gero Onsen is also the perfect base to explore the nearby open-air museum of thatched-roof houses at Gero Onsen Gassho Village and take a tasting tour through the historic Tenryo Sake Brewery.
How to Get to Gero Onsen
From Takayama, take a 90-minute local bus that runs every 1 – 2 hours to Gero Onsen, or take the JR Hida limited express train for an hour trip. A one-way journey from Nagoya on the JR Hida limited express also takes approximately 90-minutes and is also covered by the Japan Rail Pass.
Traditional Japanese Thatch Roof Houses at Gero Onsen Gassho Village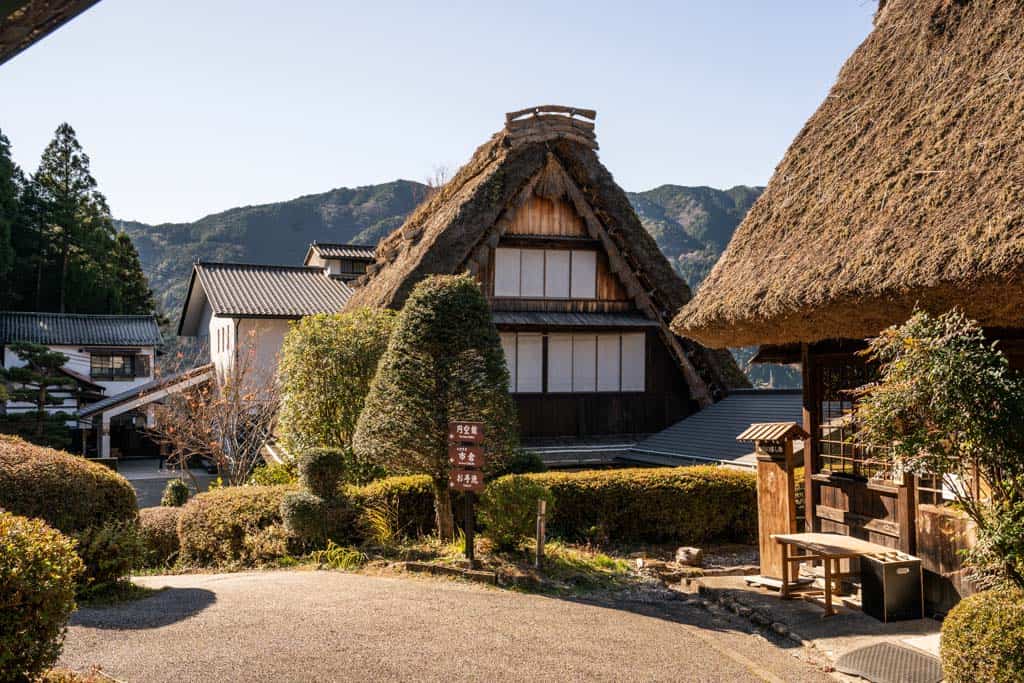 If you've ever wondered what a traditional rural Japanese settlement looked like over a hundred years ago, then the nearby Gero Onsen Gassho Village will paint you a pretty picture. The open-air museum of Gero Onsen Gassho Village (also known as Gassho Mura) recreates a small rural farming settlement made up of ten original gassho-zukuri (thatched roof houses) houses. As the quieter alternative to the UNESCO heritage site of Shirakawa-Go near Takayama, Gassho Village brings less of the crowds, allowing you to explore the traditional houses at a leisurely pace. Visitors are welcome to explore the wonderfully preserved interiors and inspect the old building techniques of these thatched-roof houses, with mannequins to help you imagine a day of rural Japanese life taking place within them. Springtime is an especially wonderful time to visit when Saijiki no Mori (a cluster of cherry blossom trees) bursts into full bloom at the top of the park overlooking the thatched-roof houses.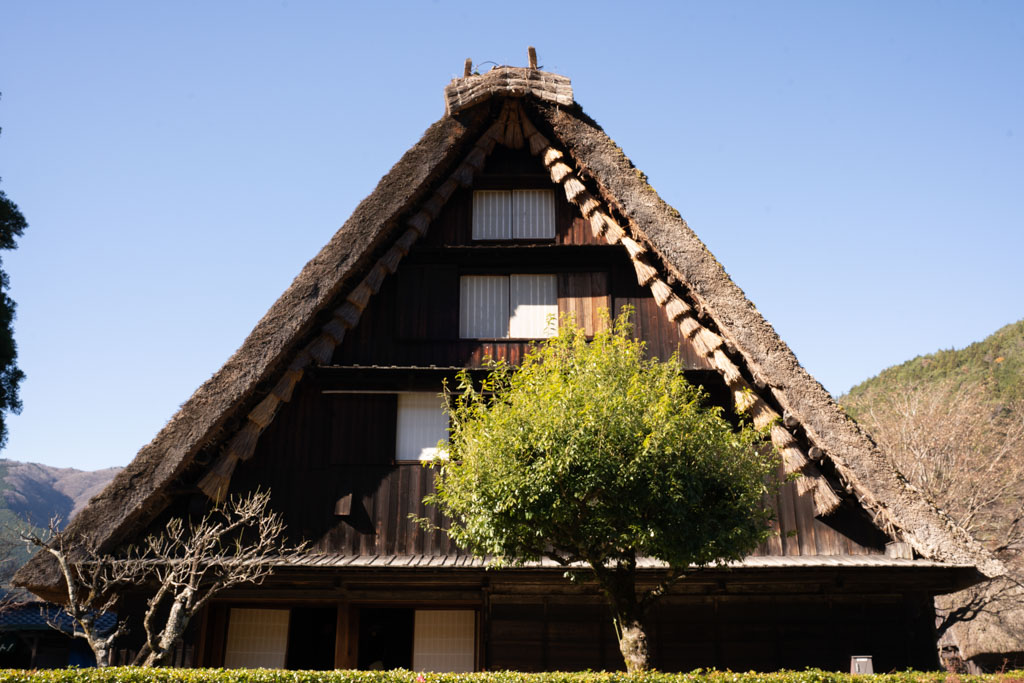 Gassho Village also offers several traditional craft workshops, including making Japanese handmade washi paper, ceramic art, and other hands-on crafts. For lunch, enjoy a bowl of local ramen or fresh river fish cooked over burning charcoal in the village's thatched-roof restaurant.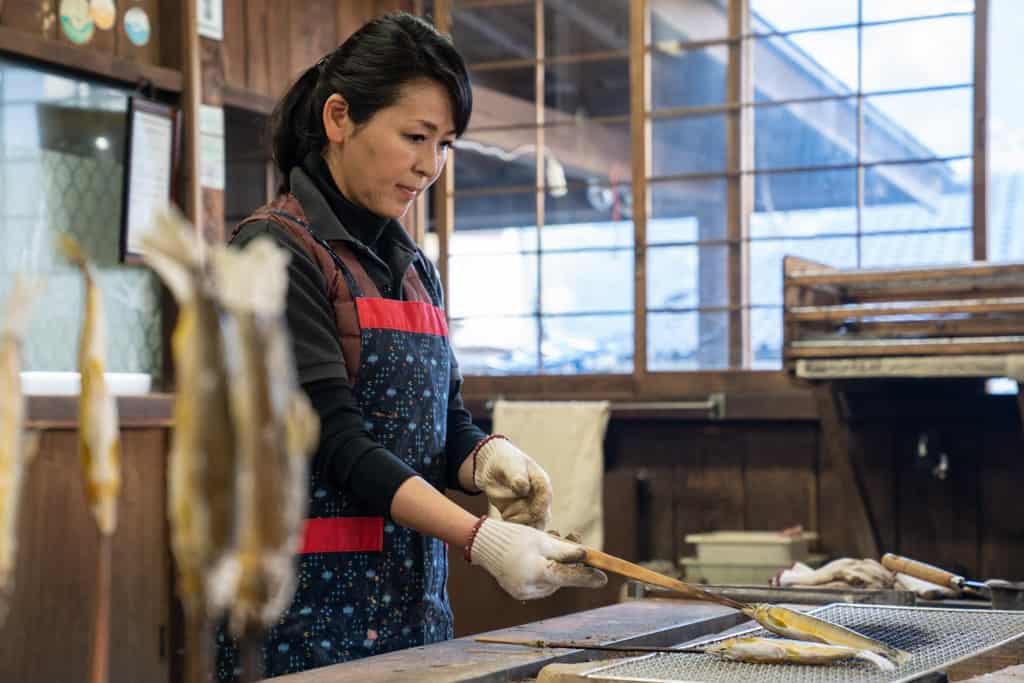 How to Get to Gero Onsen Gassho Village
Gero Onsen Gassho Village is about five-minutes away from Gero Onsen via taxi or 20-minutes on foot.
Gero Onsen Gassho Village Information
Opening hours: 8:30 am – 5:00 pm all year round
Admission: 800 yen for adults and 400 yen for children
Sake Tasting Tour at Tenryo Sake Brewery
North of Gero Onsen in Hagiwara town, Tenryo Sake Brewery invites you to observe sake-making techniques and sample some of their award-winning sake. This 17th-century brewery and tangible cultural asset was considered one of the local community's pillars during Japan's period of isolation in the Edo era. Today, this award-winning brewery has won numerous awards in both Japan and overseas, utilizing locally grown rice and fresh spring water from the surrounding mountains to make its top-quality sakes.
Join one of Tenryo's tours to learn the detailed history of the area and brewery and what it takes to make its award-winning sakes. You'll learn the brewing process, watch brewers at work, and learn where the various ingredients come from. Afterward, test your palate and sample a selection of their top-quality sake. Be sure to note your favourites from the bunch — the brewery has a gift shop selling their sake so that you can take a bit of Tenryo home with you.
Tours are given in English or Japanese, takes approximately 60 minutes, and begin at either Hida Hagiwara station or the brewery itself. Choose from a taster of two types of sake or a premium tasting tour of five of their sakes.
Tenryo Sake Brewery
Hours: Monday to Friday, 9:00 am to 5:00 pm
Closed: Saturday, Sunday, public holidays, December 30 to January 3
Admission: 4,000 yen per person (cash only)
How to Get to Tenryo Sake Brewery
Tenryo Sake Brewery is a quick 25-minute train ride on the Limited Express train from Gero Station to Hida-Hagiwara Station.
Gifu Prefecture is full of tangible cultural and historical experiences that await you. Whether it's a visit to the meticulously preserved village of Takayama, a dip in Gero Onsen, a sake tasting tour, or an open-air museum of thatched-roof houses, each is a worthy addition to your itinerary for an older, "authentic" Japan experience. All destinations are easily accessible by train or bus, especially from Tokyo, Nagoya, or Toyama, and the Japan Rail Pass covers most fares. So hop on and explore the best that Gifu has to offer!
Photographs and coverage by Ben Beech.
Sponsored by Sponsored by CHUBU DISTRICT TRANSPORT BUREAU and Central Japan International Airport Promotion Council