Universal Studios Japan in Osaka is one of Japan's most popular theme parks next to the Tokyo Disney Resort. Since its opening in March 2001, some new areas have been added to the original attractions, such as the Harry Potter area and the Minion area. The latest highlight is the Super Nintendo World, which officially opens its doors on March 18th. We got advance entry to take a look into the new area, as technical rehearsals are currently being carried out with visitors of the park. In this article, we will take you with us into the new world and give you our first impressions!
Super Nintendo World
The Super Nintendo World was originally supposed to open before the 2020 Summer Olympics, but this was delayed by the Corona pandemic. A new opening date was last set on February 4, 2021, but this was also postponed again due to the State of Emergency declared in Osaka prefecture in January. The official start is now planned after the end of the State of Emergency.

The new area of Super Nintendo World is located in the northern part of Universal Studios Japan, between Water World and the Wizarding World of Harry Potter. The entrance follows a path in front of the Water World and, after a first photo spot, leads through a large warp tube.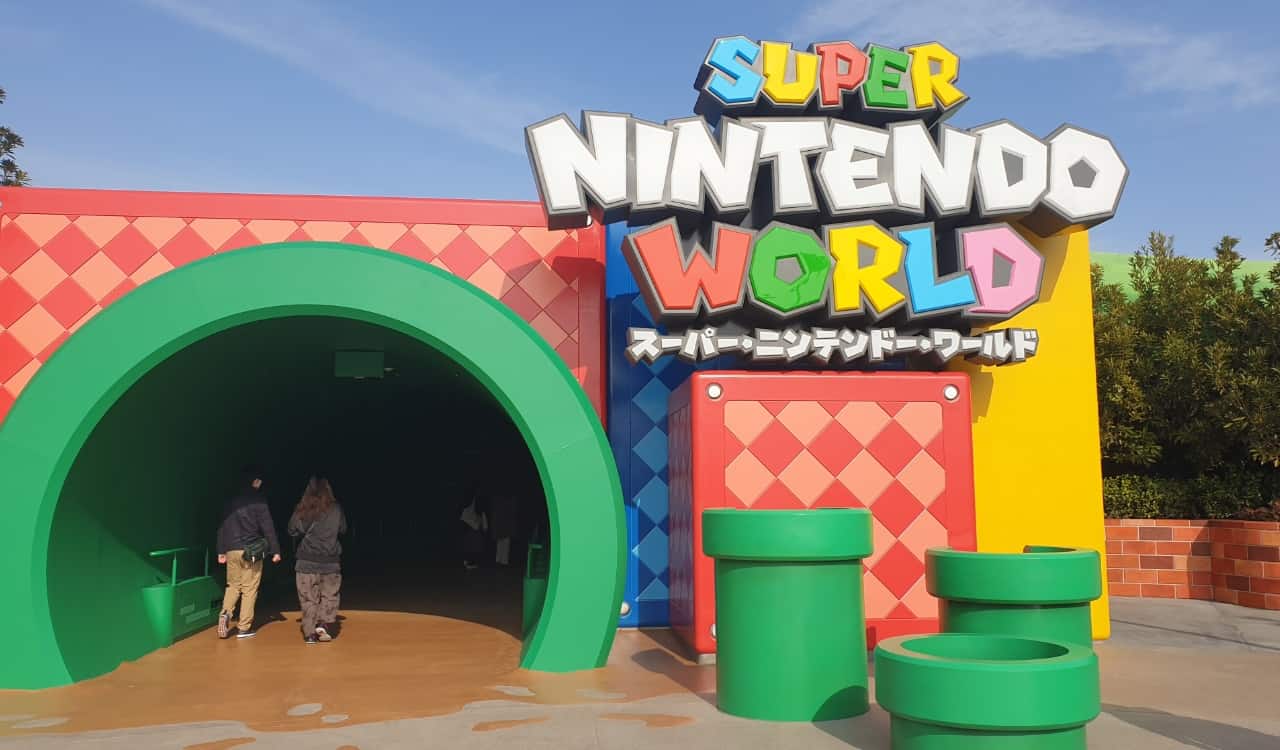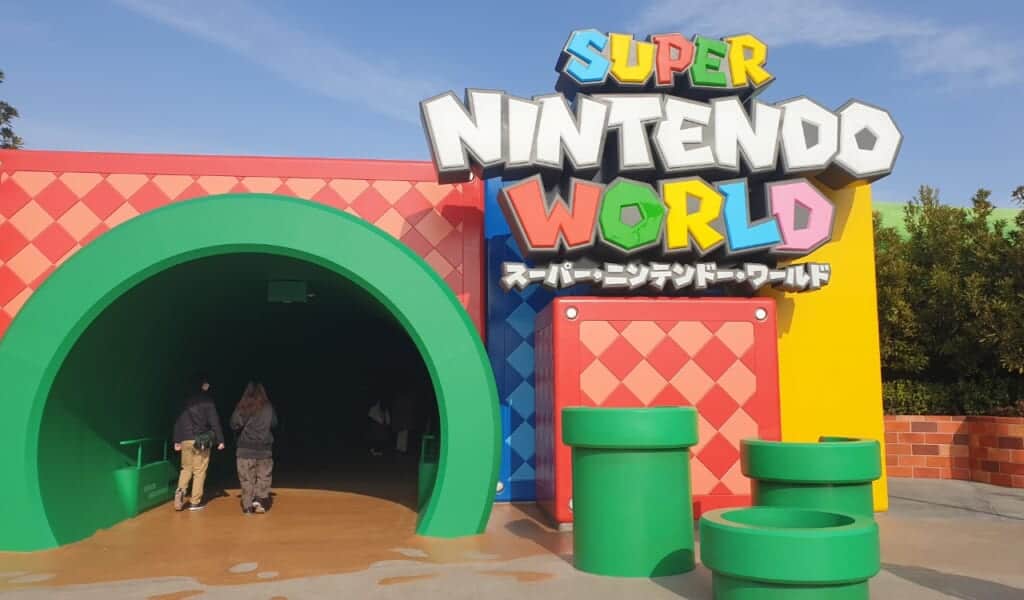 You exit the tube through Princess Peach's castle and end up in a colorful Nintendo world that is bursting with details. A real sensory overload! Many of the objects move, which creates an active environment. Everywhere you can see coin blocks and characters that we all know from Super Mario games — whether from the retro games of the 1990s or the more recent versions with Nintendo Switch.

Take your time and let the many impressions work on you so that it becomes a unique experience.
The Two Ride Attractions of the Super Nintendo World
The Super Nintendo World offers two ride attractions, where you can expect long waiting times in the first time frame after the opening.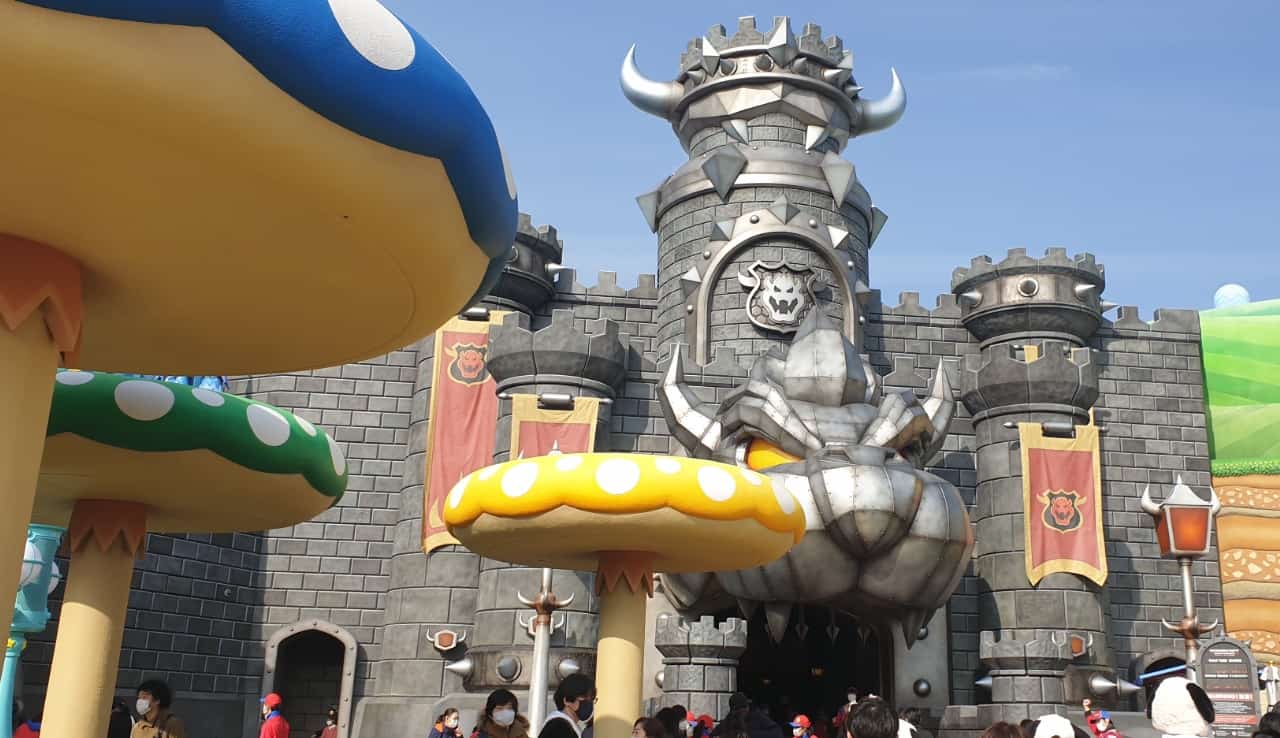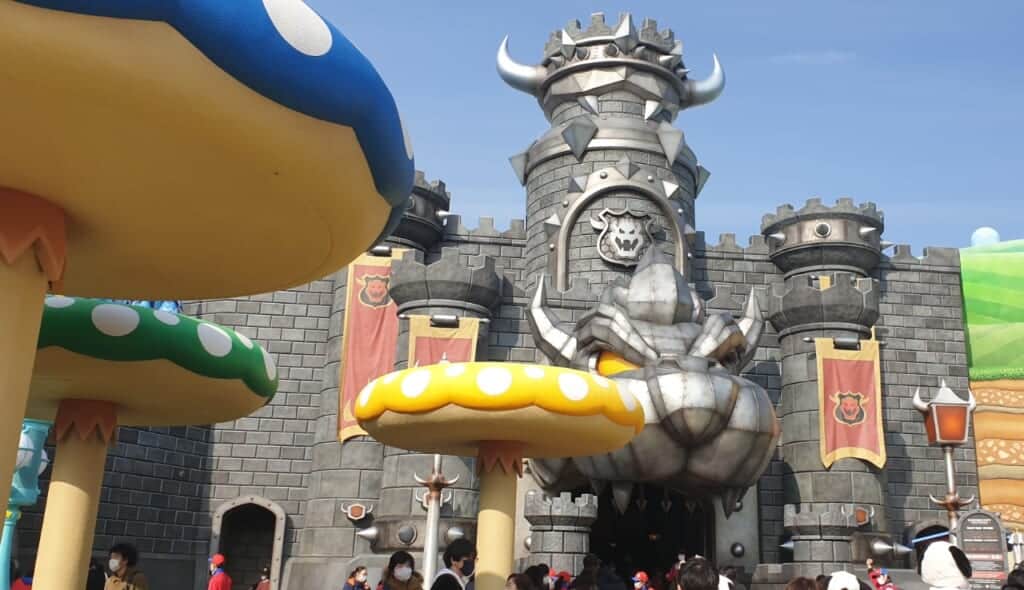 Mario Kart Koopa's Challenge
Let's start with the main attraction: MARIO KART Koopa's Challenge. If you've played Mario Kart on one of the Nintendo consoles before, you'll know that it is a car race where you collect coins and shoot other players with objects such as turtle shells.

That is exactly what is possible on this ride with the latest technology. 3D glasses and buttons in your car make it possible to aim independently at other drivers and set your own high score. At the end of the ride, you can compare it with your fellow players.
The ride is quite fast and has a lot of projections. It feels like you are in a real race, and of course, the famous rainbow route is not missing. Put on the band designed like Mario's hat on your head, then attach glasses that await in your car to your band. There is a detailed introduction video with all explanations in the waiting area beforehand.

There is space for up to four people (two rows with two people each) in each carriage. Children must be at least 107 cm tall and need an accompanying person up to 122 cm.
Yoshi's Adventure
The second attraction is a slower ride suitable for smaller children (from 86 cm). In Yoshi's Adventure, ride Yoshi and follow a treasure map to search for three colored eggs. If you discover one of them, you can press the corresponding colored button.

This ride is especially impressive because of the detailed sceneries and figures on the journey. In addition, you have a great view across the Super Nintendo World from the car. A photo is taken during the ride, which can later be purchased at the photo booth.
Mini Games with the PowerUp Band (Smart Band)
The official website of Universal Studios Japan says "the whole world is your playground" and it really is like this. The whole area is interactive and even has hidden spots you can search for during your visit.

However, you need a power-up band to enjoy these additional attractions. These bands have different designs and are sold at the entrance to Super Nintendo World for 3,200 yen. If you also download the Universal Studios Japan app (Android / iOS), you can link your power-up band via a QR code and always see your current score, collect stickers, and much more.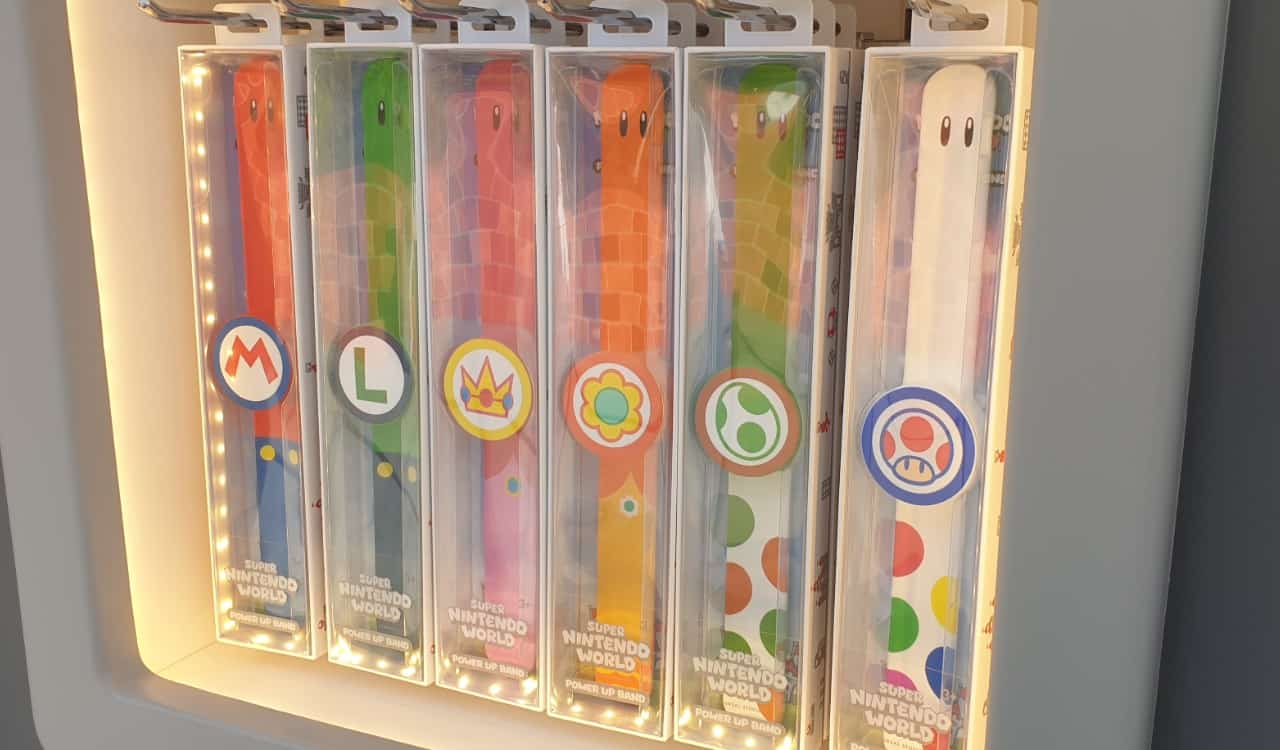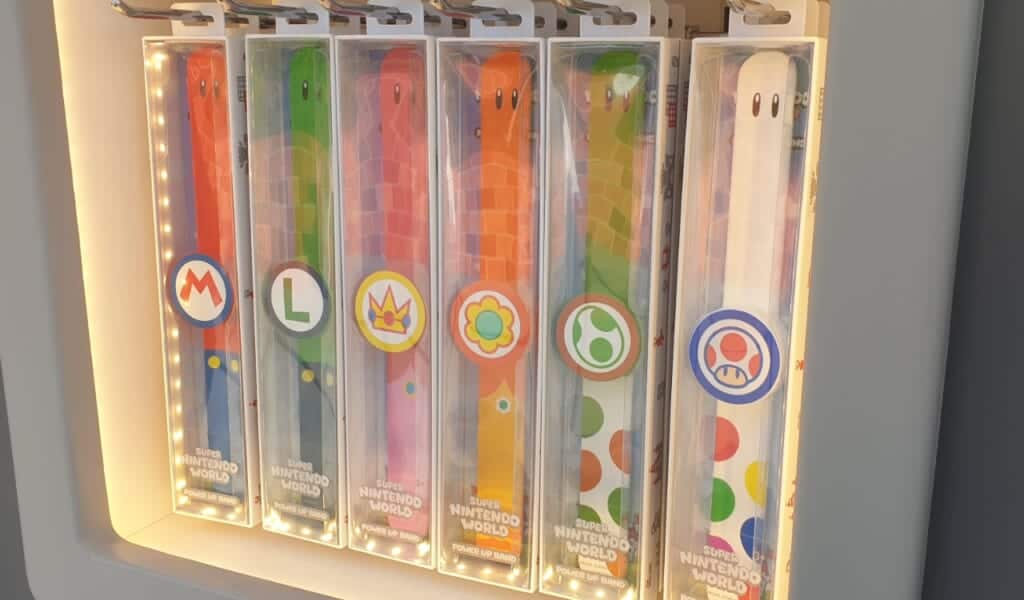 With the power-up band, several actions are available to you. On the one hand, you can collect coins and power-up blocks by punching them like in the game. There are also hidden details that allow you to get certain stickers in the app when you touch them with your band.

Most fun with the power-up band, however, are the five mini-games, the so-called key challenges. Whether to switch off the alarm clocks so that the carnivorous plant does not wake up; rapid turning to stop the gumba mushroom; solve the puzzle to stop the bob-omb-bomb from exploding, and more —the creators of Super Nintendo World have come up with a lot of great ideas. So, consider adding a Powerup Smart Band to your admission to participate in these games.
For every game you win, you receive a golden key in the app. When you've collected three, you can join the fight against the final boss during the Bowser Jr. Shadow Showdown. In the final battle against Bowser's offspring, you can play using your shadow just like in the real game: bumping bombs, throwing fireballs, jumping on blocks, and ducking missiles. Together with other players, you have to defeat Bowser Jr. and get the golden mushroom back.
Nintendo-themed Food
When visiting an amusement park, the right food shouldn't be missing. In the Super Nintendo World, you can find Kinopio's Cafe, a restaurant depicting Toad's house, with a menu featuring the park's own "Mario" burger, mushroom dishes, a question mark-block tiramisu, popcorn, and more.

There is also a booth in the Yoshi area where you can get snacks. Yoshi's Snack Island offers "turtle" calzones filled with yakisoba and cheese, as well as sweet drinks.
If it's too crowded to eat at the Super Nintendo World or you're craving a late-night snack, you can get snacks in the regular area of Universal Studios — on Hollywood Street. In the Mario Café & Store, you can treat yourself to sweet pancake sandwiches with strawberries or grapes as well as drinks.
More Highlights of the Super Nintendo World
In addition to the main attractions, there are other highlights that you shouldn't miss. One of them is the character meetings. Take a chance to talk to Mario and Luigi and get a souvenir photo together with them. Princess Peach and the little mushroom Toad are also in the area and are waiting for you.
Of course, souvenirs should not be missing at an amusement park, too, and Universal Studios Japan has stocked up on a lot of goods. Key chains, stationery, kitchen accessories, plush toys, and clothing — there is everything your heart desires. So take enough extra money with you to browse the souvenir shops.
How to Buy Tickets for Universal Studios Japan
Purchase your tickets for your visit to Universal Studios Japan in advance, especially if you plan to visit on the weekend, a public holiday, or during the school holidays. Here's a detailed article on how to buy tickets. We recommend that you use our official partner Voyagin to buy tickets.
Super Nintendo World will attract a large number of visitors, especially in the first months after opening. Therefore, there will be Area Timed Entry Tickets for this area at the beginning. You can secure these yourself in the park via the official app or the park's ticket counter. However, the number is limited, and we have to expect long waiting times. A previous booking through a tour operator is also possible.
Universal Studio Japan has created an overview about Area Timed Entry Tickets with all important information and step-by-step instructions.
Furthermore, for both ride attractions of the Super Nintendo World Express Passes are available. These must also be purchased in advance in addition to the actual admission ticket. Express passes cost a lot, but you can save yourself hours of queuing up and experience more of the park.
Super Nintendo World is a new highlight of Universal Studio Japan in Osaka for good reasons. As a fan of Nintendo games related to Super Mario, Yoshi & Co., you shouldn't miss a visit there. It will be a special memory of your trip to Japan!