Umeda (梅田) is one of the most crowded areas in Osaka. It is a massive beehive of department stores, restaurants, and a never-ending labyrinth of train stations and skyscrapers hosting headquarters of top companies. It's difficult to imagine that only a ten-minute walk from this chaos of people, trains, shops, and restaurants we can find Nakazakicho (中崎町), the most bohemian neighborhood in Osaka.
Nakazakicho is a quiet area, filled with charming cafes, art galleries and shops where you can buy hand-crafted goods. Thus, it is the perfect place for a break after a busy shopping day or for drinking a coffee after a long working day.
Furthermore, it's a photogenic place and that's why it is common to see groups of girls taking pictures to post on social media. Recently, it has become a popular area among young Japanese girls due to its boho and hipster atmosphere and its unique coffee shops.
A neighborhood with a deep history
I discovered Nakazakicho purely by chance, trying to escape from Umeda's crowded streets. At first glance, it looked like a quiet and residential area, but as I wandered deeper into the streets, I realized its atmosphere was different from other areas in Osaka. It is an oasis among skyscrapers and modern buildings that takes you back to the Showa Era (1926-1989), recognizable to anyone strolling within its labyrinth of alleyways full of plants and drying clothes.
Most of Japan's major cities were destroyed during World War II. Osaka was reduced to ashes by massive air raids. But, surprisingly, a 500 square meters area survived the bombings that devastated the city. Naturally, I'm talking about Nakazakicho. Until recently, it was an area mostly occupied by the elderly, living in inherited family homes dating from before the war. But during the past few years, Nakazakicho has been developing under Umeda's influence, becoming a place where the historical coexists with the modern.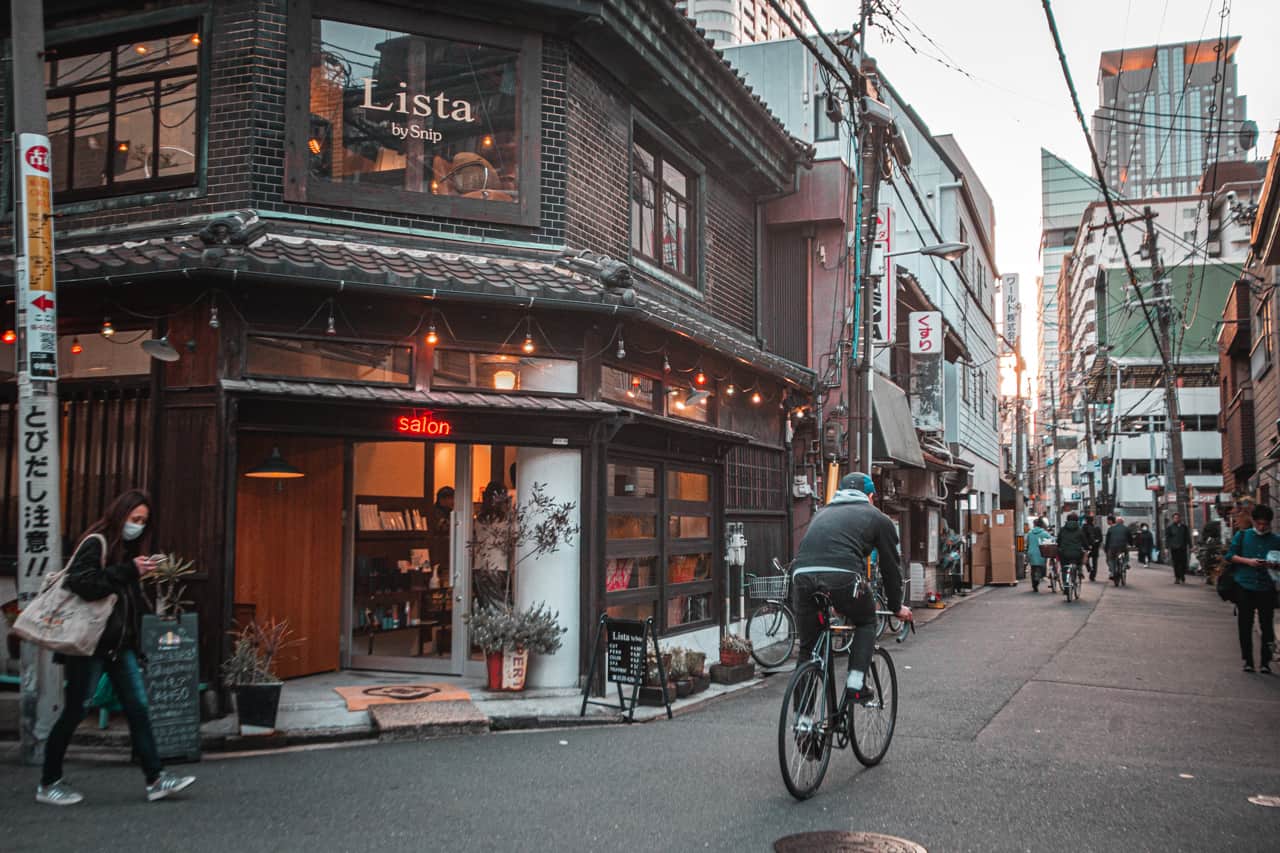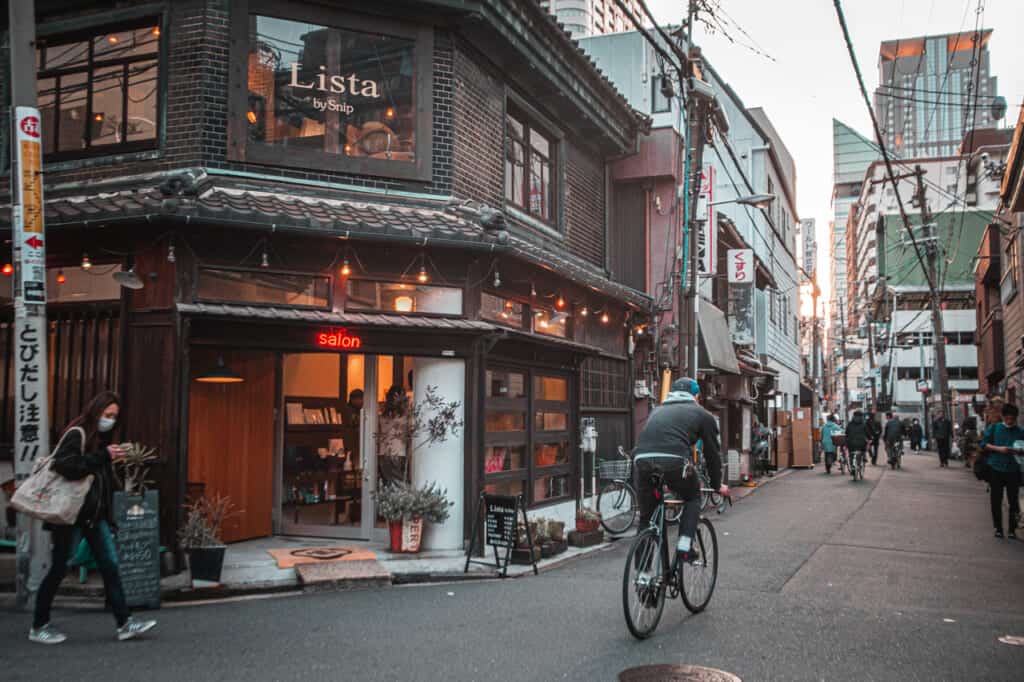 Coffee shops, crafts and thrift stores
Nowadays, most old buildings have been renovated, and although their interiors have been updated for modern times, their structures and facades have been rebuilt and repaired, preserving the original Showa Era designs. Many of these buildings now house lovely cafes, thrift stores, and craft workshops.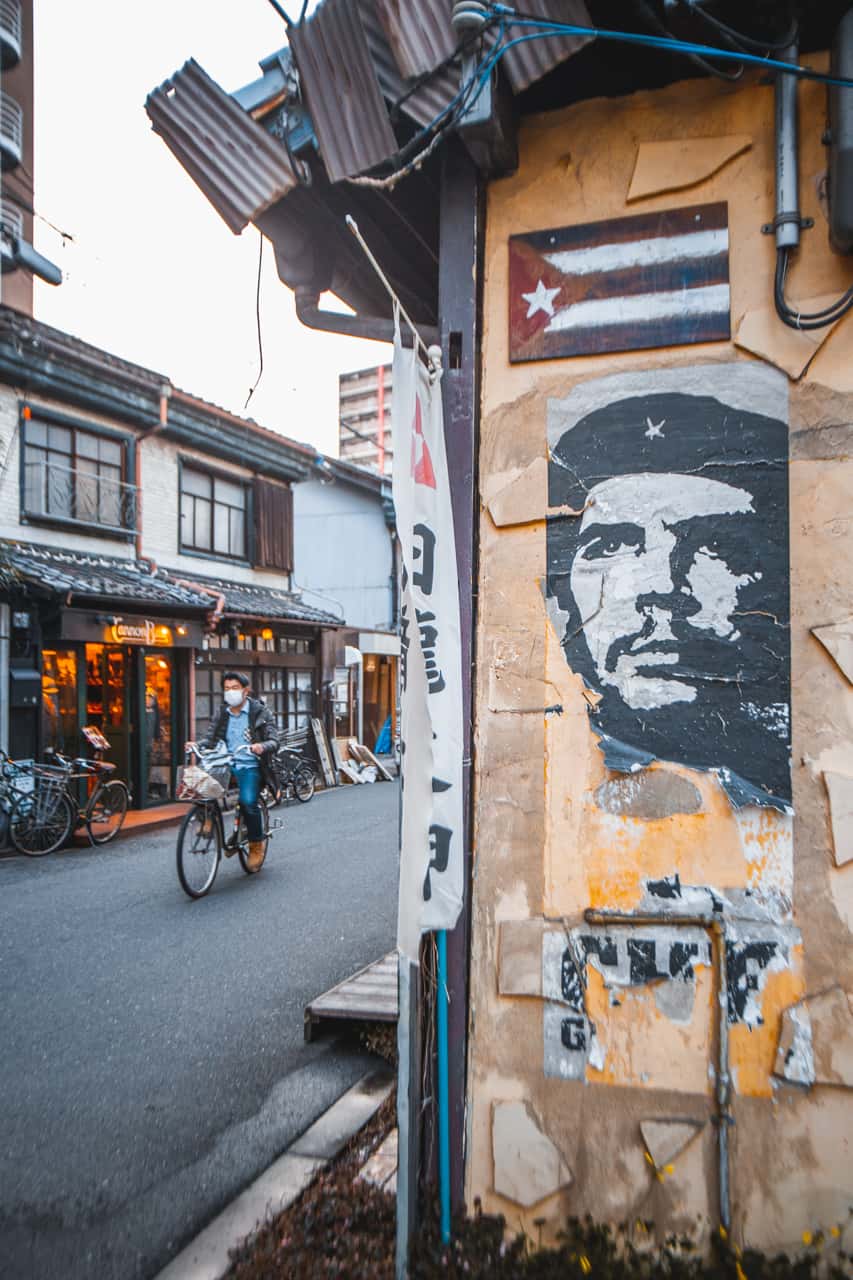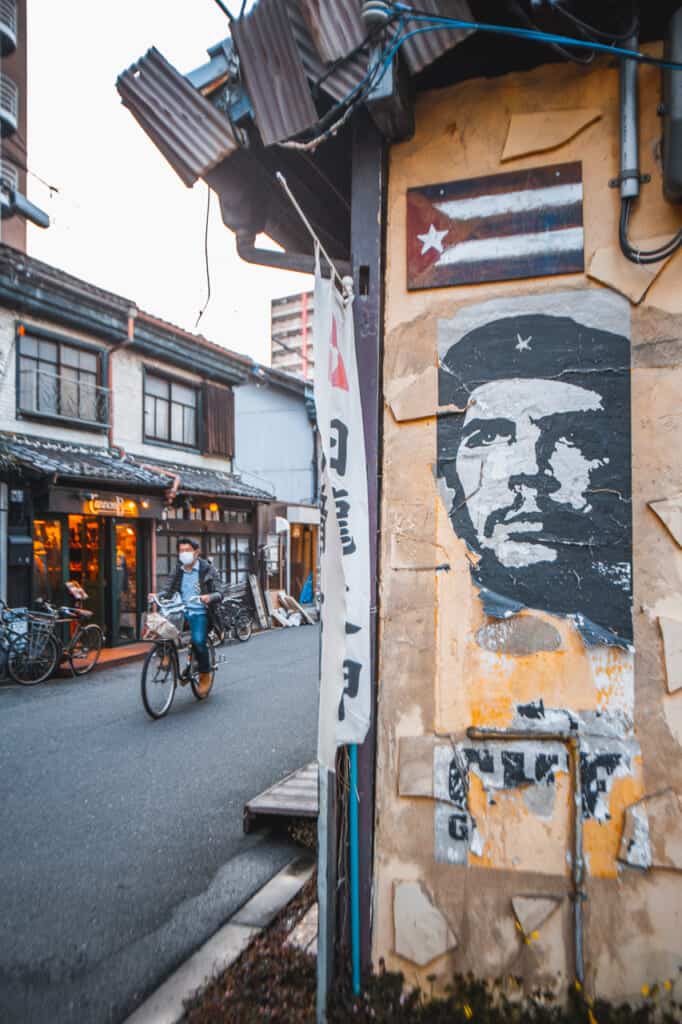 Picco Latte: Insta-bae in its purest form
The first time I walked around Nakazakicho I was surprised by a long line of young Japanese girls waiting outside of a coffee shop called Picco Latte. The front of the building, painted in white and pastel violet hues, captured my attention so I decided to join the girls that were waiting. Some girls happily chatted while others were engaged with their phones, looking at social media, or taking selfies.
While I was patiently waiting to go inside, I decided to type in Google the name of the place. In an instant, I discovered hundreds of pics from Instagram and some reviews in Japanese magazines that describe Picco Latte as an insta-bae spot.
The word insta-bae (インスタ映え) surged recently to become part of Japanese youngsters' slang. It is a combination of Insta (インスタ) referring to Instagram, and bae (映え) that means "to be photogenic", which basically is "something that would look good on Instagram". And little by little, the number of insta-bae places is increasing in Japan.
When I walked through Picco Latte's door I understood without a doubt why it's a good insta-bae example. Inside, just like its facade, everything is white, violet, and pink. But the most spectacular thing is the dried flower bouquets hanging from the ceiling and included in the decor.
Besides coffee, the menu offers a selection of tea, juices, milkshakes and sweets.
La Granda Familio, a Healthy and Delicious Option
La Granda Familio means "One Big Family" in Esperanto. And its owner, Chiaki Sawada, opened this cafe with the idea of creating a space to connect local communities, families and artisans while at the same time, encouraging people to adopt healthy lifestyle habits.
When I passed by the building, I noticed the antique-looking facade, and I decided to go inside. It is both a cafe and a granola shop. Granola is a type of cereal that consists of rolled oats, corn, nuts, honey, and sometimes puffed rice. After reading the menu, which has a big selection of hand-made smoothies, I decided to try one made of banana and soymilk. Its creamy and intense flavor surprised me and helped me to cool off on such a hot day.
Since there weren't many customers at the time, I had the opportunity to have a conversation with Chiaki and Yasuharu, her husband. They explained that nowadays it is difficult to find healthy and unprocessed meals. That's why, through La Granda Familio, they want to provide this kind of healthy, hand-made alternative made by local producers. Their goal is to create a better world for the children in the future.
Furthermore, they offered me a granola sampling to enjoy it with my smoothie, and I have to say that I liked it so much that I ended up buying a big bag of banana and chocolate granola for my breakfast at home.
Salon de AManTo, a meeting place for art lovers
Salon de AManTo is one of the most emblematic places in Nakazakicho. It was opened in 2001 and it was the first cafe in the area that was used a renovated folk house. Its founder is Jun Amanto, an artist, dancer, and actor from Osaka.
It is run by thirty artists from different fields taking turns providing entertainment, giving talks or workshops, and showing their art. Around the Salon de AManTo, an artist community has been created that goes beyond the cafe walls since, in neighboring buildings, other businesses belonging to the same group have been established: a movie theatre, a bookstore, a hostel, and several other cafes and bars.
Cafe Arabiq: Coffee, Books, and Sweets
Cafe Arabiq is another popular coffee shop in Nakazakicho, with a beautiful blue painted facade decorated with green plants and a bicycle beside the front door. But inside it is also amazing because it's not only a coffee shop but also a bookstore and art gallery. The walls are lined with bookshelves, allowing customers to enjoy coffee with a good book. Actually, Arabiq takes its name from a bar that appears in the famous novel, "Kyomu he no Kumotsu" (literally "Offerings to Nothingness"), a mystery book written by Hideo Nakai.
Their signature products are the delicious tiramisu and Maria-Theresa coffee (coffee with orange liqueur, whipped cream and sprinkles). Photography inside is not allowed.
Shopping in Nakazakicho
In Nakazakicho there are dozens of interesting shops and it's the perfect scenery to spend a few hours exploring them.
One of my favourite stores is Lolotte Candle, with many handcrafted animal-shaped candles. Every time I go there, I cannot help but buy something for me or as a gift. The candles can be engraved with names or dates. Additionally, there are candle making workshops with different difficulty levels and themes.
Also, they have many rabbit-themed goods: plushies, stationery, figurines… Rabbits are really popular in Japan!
One unique spot that is worth a visit is Cafe Uriel, a cat cafe that seeks to connect cat lovers with protected cats that are looking for a new home. It's a cafe where customers can play with the cats, but also it's possible to adopt them.
Inside, there is a small shop with hand-crafted cat-themed products. All the profits from the shop and cafe are used to cover veterinary expenses and related needs to ensure the cats' wellbeing.
During the past few years, second-hand clothes and goods shops are rapidly growing in Japan. Nakazakicho has one of the highest concentrations of second-hand clothing shops in Osaka. Vintage clothing lovers and bargain hunters have a good reason to explore this neighbourhood.
Nakazakicho, Home to Artists
Many of Nakazakicho's renovated buildings are housing independent art galleries. They're usually pop-up exhibitions that showcase the different creations of local artists on a temporary basis.
One of my favourite art galleries in Nakazakicho is Irorimura, located under the train tracks, very close to Nakazakicho station. It's one of Osaka's largest galleries and has four exhibition areas enabling you to see several different artists's pieces in one single place. Different types of art are on display, such as photography, painting, illustration, books, and clothing. There's also an area where concerts, plays, storytelling, or even movie projections are sometimes held.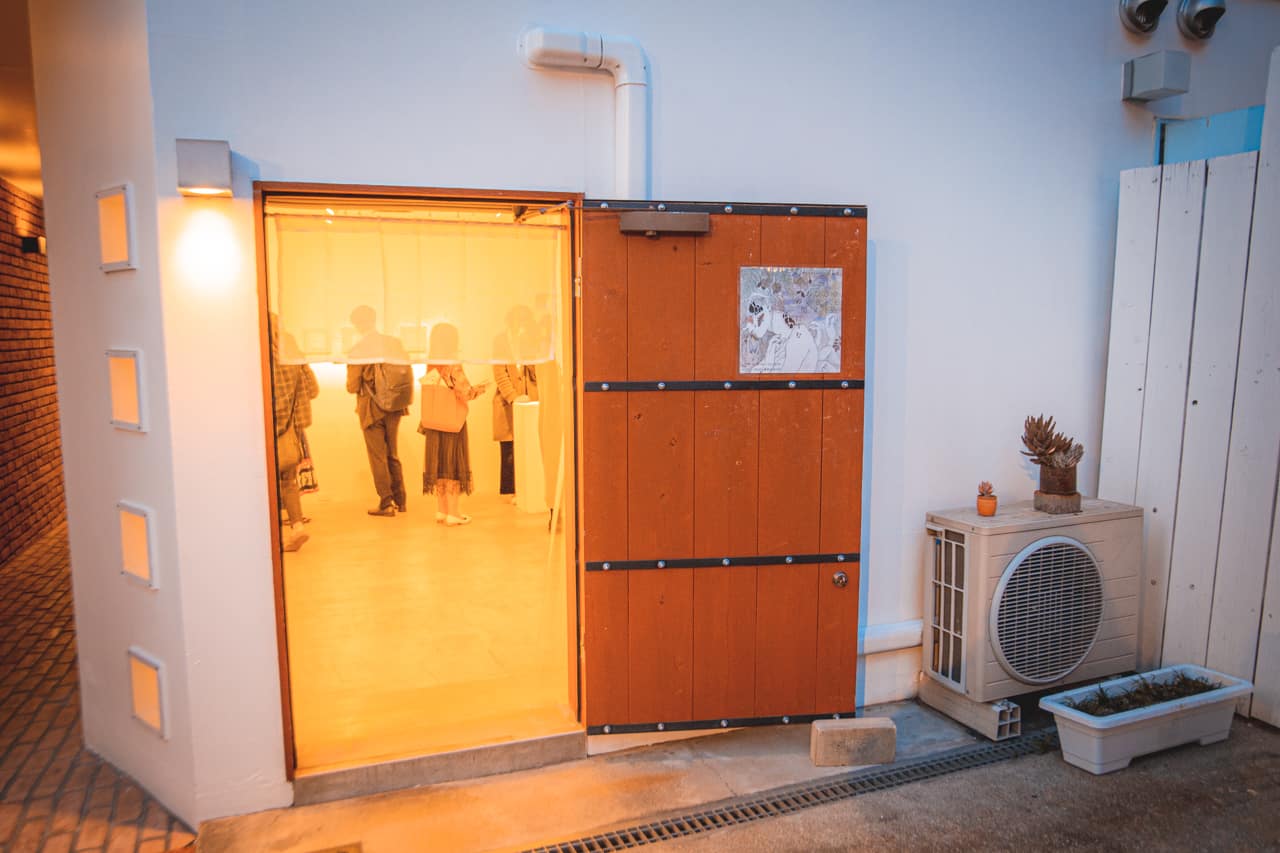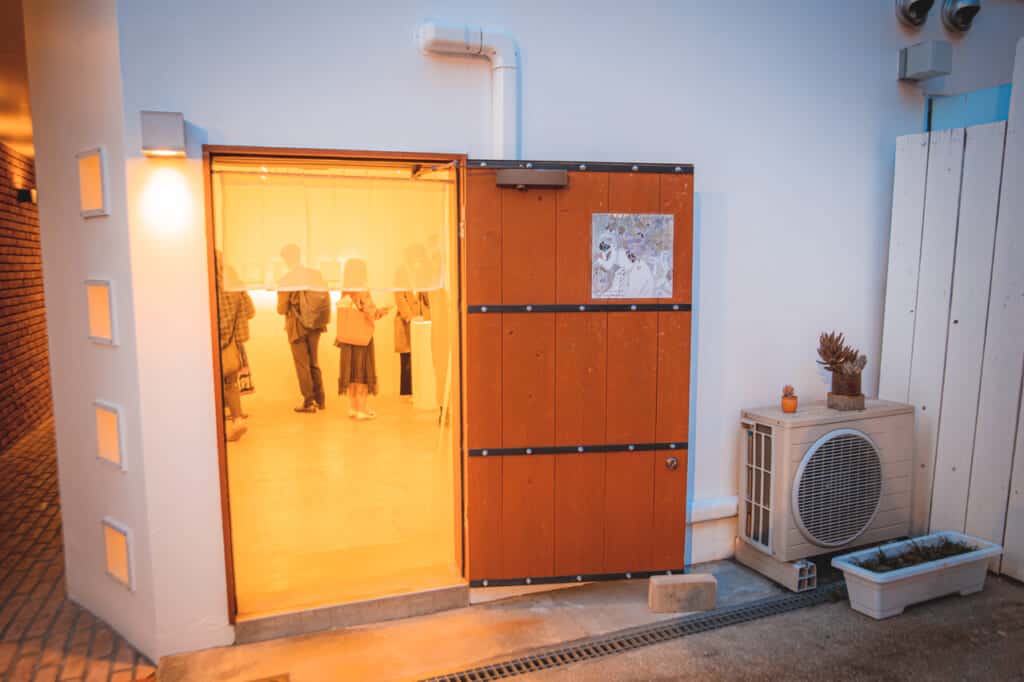 One of the exhibitions that I liked the most in Irorimura was a collaboration between artists Ashida Mizu (poetry) and Airi Maeyama (illustrations).
The White Dragon Shrine Protecting Nakazakicho
In one of the narrow alleyways that are so common in Nakazakicho, I was surprised to find a small shrine. On the wall, there is a poster telling the story of this very special place. Its name is Hakuryu Okami (白龍大神). Literally 白龍 (Hakuryu) means white dragon and 大神 (Okami) means deity. As the story goes, a white dragon called Mi-san lives under this sanctuary and it is said that it is Nakazakicho's guardian god. Local people flock here to pray for success in businesses, art, health, sports, and marriage.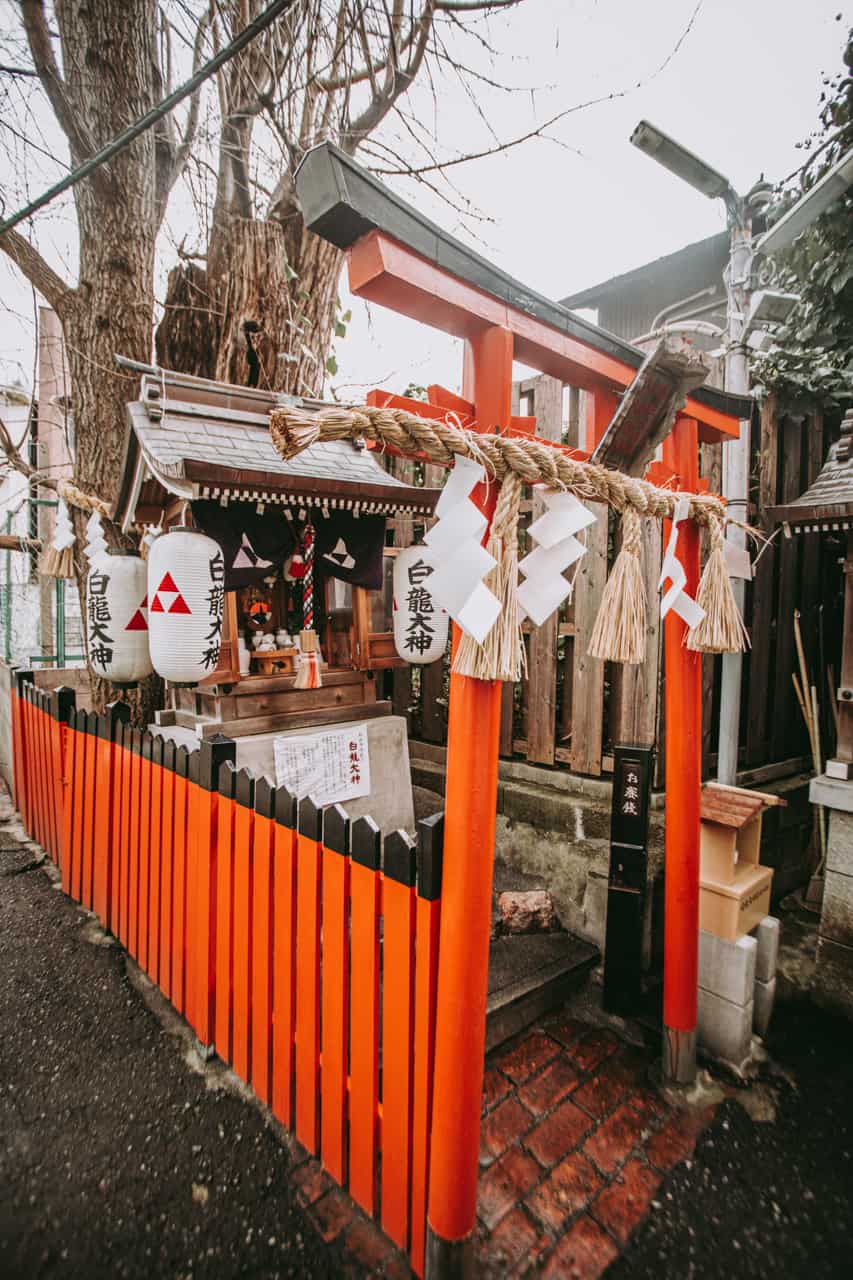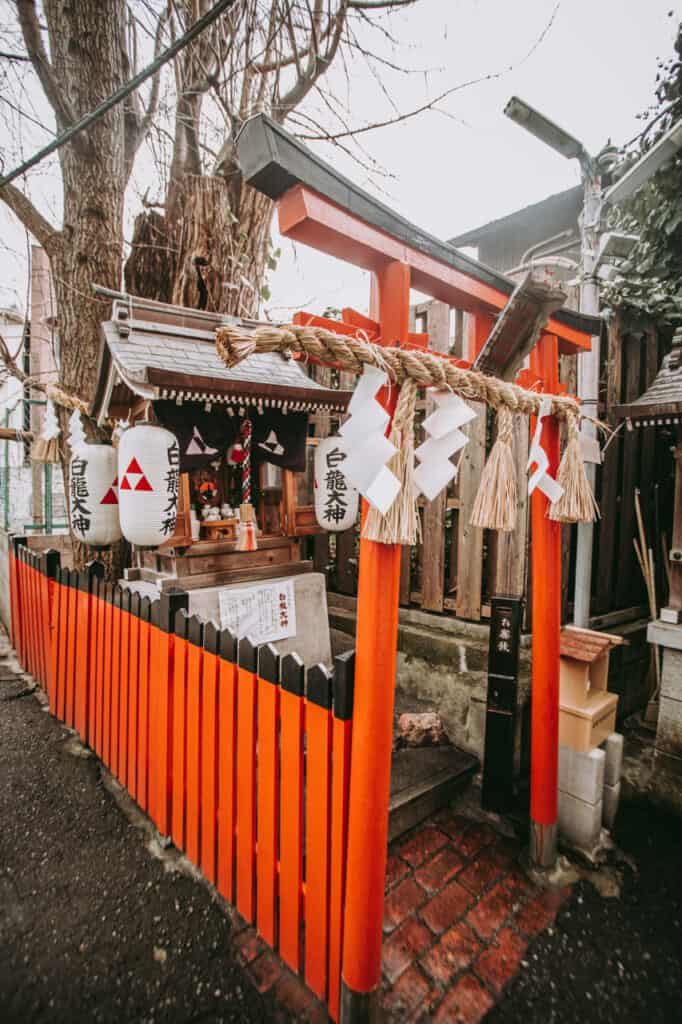 Feel like a Local in Nakazakicho
Nakazakicho is not one of Osaka's popular and touristy areas, but there are many reasons a stroll on its streets. Enjoy a relaxing moment in a cafe full of history, find treasures in second-hand shops, or get to know the works of independent artists. These are some of the unique experiences that go beyond the touristic and that will make you feel part of the local scene in Japan.
How to get to Nakazakicho
The nearest station is Nakazakicho (中崎町駅) on the Tanimachi subway line.
Alternatively, it is a fifteen-minute walk from Umeda station (梅田駅) and Osaka station (大阪駅).