It was 2014 when a young pop star with long, turquoise twintails opened U.S. artist Lady Gaga's ArtRave: The Artpop Ball tour, catching the attention of Western non-otaku (i.e., non-lovers of manga, anime, and Japanese pop culture) audiences for the first time. In the same year, that same girl made an appearance as a guest on the David Letterman Show and later announced her first North American tour. She wasn't the first Japanese artist to make her way into the American music scene, but this time something was different, and that something left many people baffled. Sixteen-year-old Hatsune Miku, in fact, is a virtual character, an avatar, and performing live is none other than her 3D hologram.
But let's start at the beginning.
The History of Hatsune Miku
In 2004, Yamaha Corporation launched a new voice synthesizer called Vocaloid, which allowed users to synthesize human singing by simply typing in the lyrics and melody of a song. The software included several voicebanks modeled after professional singers ー each voicebank being basically a character who users can select to voice their arrangements. In the first version, for example, users could choose between LEON, LOLA, or MIRIAM for their English songs, and between MEIKO and KAITO for songs in Japanese. Each of these characters is assigned an avatar, a face, to make them more recognizable and reliable in the eyes of the user.
The turning point for Vocaloid came in 2007 when Yamaha launched Vocaloid2, a new and revised version of the software, equipped among other things with a wider choice of characters. On August 31 of the same year, the music software company Crypton Future Media released the new voicebank Hatsune Miku (初音ミク). The girl whom the developers themselves in an early 2008 interview defined as an "android singer from the future" takes the appearance of a 16-year-old girl sporting a pair of iconic turquoise twintails. Hatsune Miku's voice was obtained by sampling that of Japanese voice actress and singer Saki Fujita.
Public reaction was immediate: within the first few weeks of release, the Hatsune Miku Vocaloid proved to be the undisputed tycoon of music software in Japan, selling over 40,000 units by July 2008.
Although these voice synthesizers were initially aimed only at professional producers, the diffusion of video sharing services in the late 2000s undoubtedly contributed to the rapid growth of the phenomenon: producers would post their songs on Nico Nico Douga (the Japanese equivalent of YouTube), capturing the public's attention and starting what would become a full-fledged subculture made of fan art, song remixes, and fan-made music videos.
To encourage the foundation of a creative community around the virtual heroine, Crypton licensed Miku under Creative Commons, allowing fans to freely use her image for noncommercial use while simultaneously retaining copyright on all songs produced by users with Vocaloid software.
In the following years, Hatsune Miku's character was commercialized on a large scale with the creation of all kinds of gadgets and goods (from action figures to cars), and in 2008 Vocaloids were even used to sponsor some cars participating in the Super GT championship with the support of Good Smile Racing.
Miku first performed live in 2009 during Animelo Summer Live in Saitama. Her international debut came the following year, with a live show in Singapore, and she eventually landed in the United States in 2011 on the occasion of the Los Angeles Anime Expo.
But what makes Hatsune Miku so popular?
As the first second-generation Vocaloid, Hatsune Miku boasts far better sound quality than her predecessors. This improvement, furthered by voice actress Saki Fujita's distinctive voice, certainly contributed to the software's popularity among professional producers. Miku's strong design was of no less importance: at the time, her model was one-of-a-kind, and even today her turquoise hair and her outfit recalling a futuristic seifuku (制服, Japanese school uniform) are heralds of a pop persona whom even non-otaku folks can easily recognize.
It's worth noting that once the potential of Hatsune Miku and other Vocaloids came to light, Crypton didn't hesitate to ride the wave of their success. In 2009, in fact, Crypton and SEGA released Hatsune Miku: PROJECT DIVA, which would become the first title in a series of rhythm video games initially available on PlayStation Portable and later developed on other consoles, for a total of more than ten installments between main titles and spin-offs. To date, the Project Diva franchise has sold more than a million copies in Japan alone. This is how Hatsune Miku began to make her way throughout Japan and reached people's homes, schools, shopping malls, and even train lines.
Is Hatsune Miku still popular in Japan?
Today, Hatsune Miku and Vocaloid still enjoy enormous popularity in Japan. This can be seen in the many festivals and events dedicated to the virtual idol held every year, many of which have already reached their tenth edition.
The SNOW Miku festival (雪ミク, Yuki Miku), for example, has been held in Sapporo, Hokkaido every year since 2010, when an ice sculpture in honor of the idol was built during the 61st Sapporo Snow Festival. Since then, Miku has become the star of a series of events (exhibitions, concerts, merchandise sales) held in conjunction with the main Sapporo Snow Festival. Every year, a contest is held in which artists from all over Japan compete in creating a new "Snow Miku" design. The theme varies from time to time, but all are related in some way to the history, flora, or fauna of Hokkaido.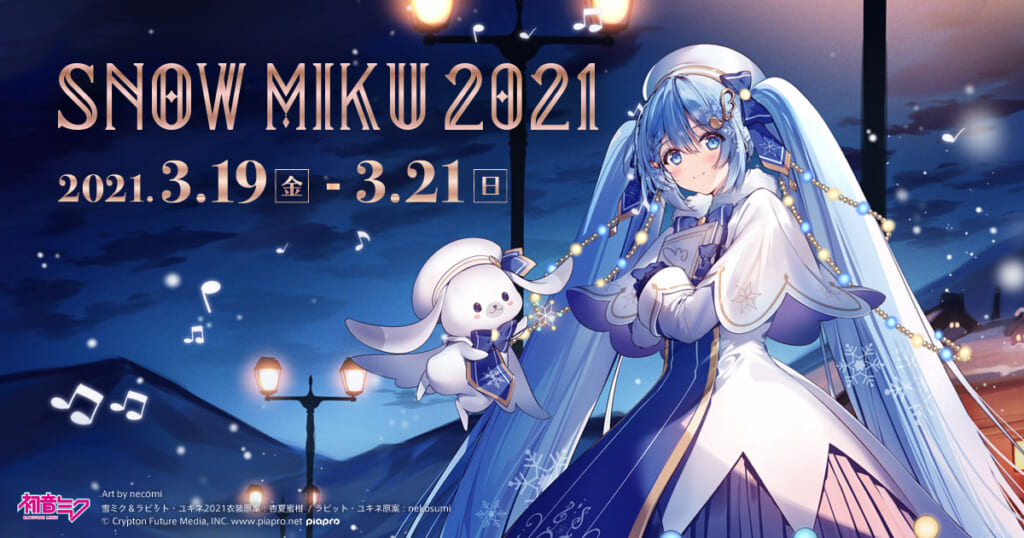 Another must-attend event for Vocaloid fans is Magical Mirai, which has been held annually since 2013 and combines live concerts with art exhibitions highlighting the creativity of the community around these virtual idols. The 2022 edition, marking the 10th anniversary of the festival, will be held this fall in three sessions: Osaka, Tokyo, and, for the first time ever, Sapporo.
Every year on March 9, fans also celebrate Miku Day (ミクの日, Miku no Hi). The date was chosen because of the assonance between the digits of the date and the Vocaloid's name (3 can be read mi and 9 can be read ku).
The collaboration between Good Smile Racing and Vocaloid also continues to this day: every year the Hatsune Miku GT Project team takes part in the Super GT championships with a race car decorated with a design inspired by Miku (named Racing Miku for the occasion).
But the popularity of Miku and other Vocaloids doesn't stop in Japan; every year Crypton organizes the MIKU EXPO, an international tour accompanied by a series of events (workshops, exhibitions) to celebrate Miku's creative culture around the world. The event first took place in 2014 in Indonesia, and after the cancellation of the 2020 edition due to the pandemic, MIKU EXPO came back in June 2021 in the form of a virtual event streamed on Twitch and YouTube.
Her eye-catching design, coupled with Crypton Future Media's favorable stance toward the creation and sharing of fan-made content, has allowed Hatsune Miku to embark on an amazing journey that, thanks to the help of a creative community contributing through artwork, music, video, and cosplay, took her from singing synthesizer software to beloved cyber celebrity. Miku is a prime example of how a piece of content can explode simply through the power of the community around it.
Since her debut in 2007, fans have uploaded more than 170,000 videos to YouTube, created more than 95,000 songs, and over 500,000 illustrations featuring the turquoise-haired idol. After all, she's a fan-created pop star, performing fan-written songs in fan-designed outfits, and this concept alone is a breath of fresh air in the pop music industry of the past few decades.
To skeptics, I can only recommend attending one of her live shows: in terms of technology and audience involvement, they're something worth experiencing at least once in your life. Besides, aren't you even the least bit curious after reading so far?