As the capital of Niigata Prefecture northwest of Fukushima, Niigata City sits on the west coast of Japan. The city was one of five major ports opened in 1869 that contributed to the modern development of Japan and is still an important gateway to East Asia today. Its downtown, shopping areas, and nightlife run along the coast, encircled by Niigata's signature rice fields, mountainous landscape, and green natural environment. Any journey into Niigata will likely take you through Niigata station, as it did for me, conveniently situated at the center of an easily traversable set of public transportation and walkable roads. For those who want the enjoyment of a big city and quick access to nature, Niigata is an ideal stop for a memorable walking tour to make along your route in Japan.
Walking in the Footsteps of Traders and Entertainers in Niigata's Old Town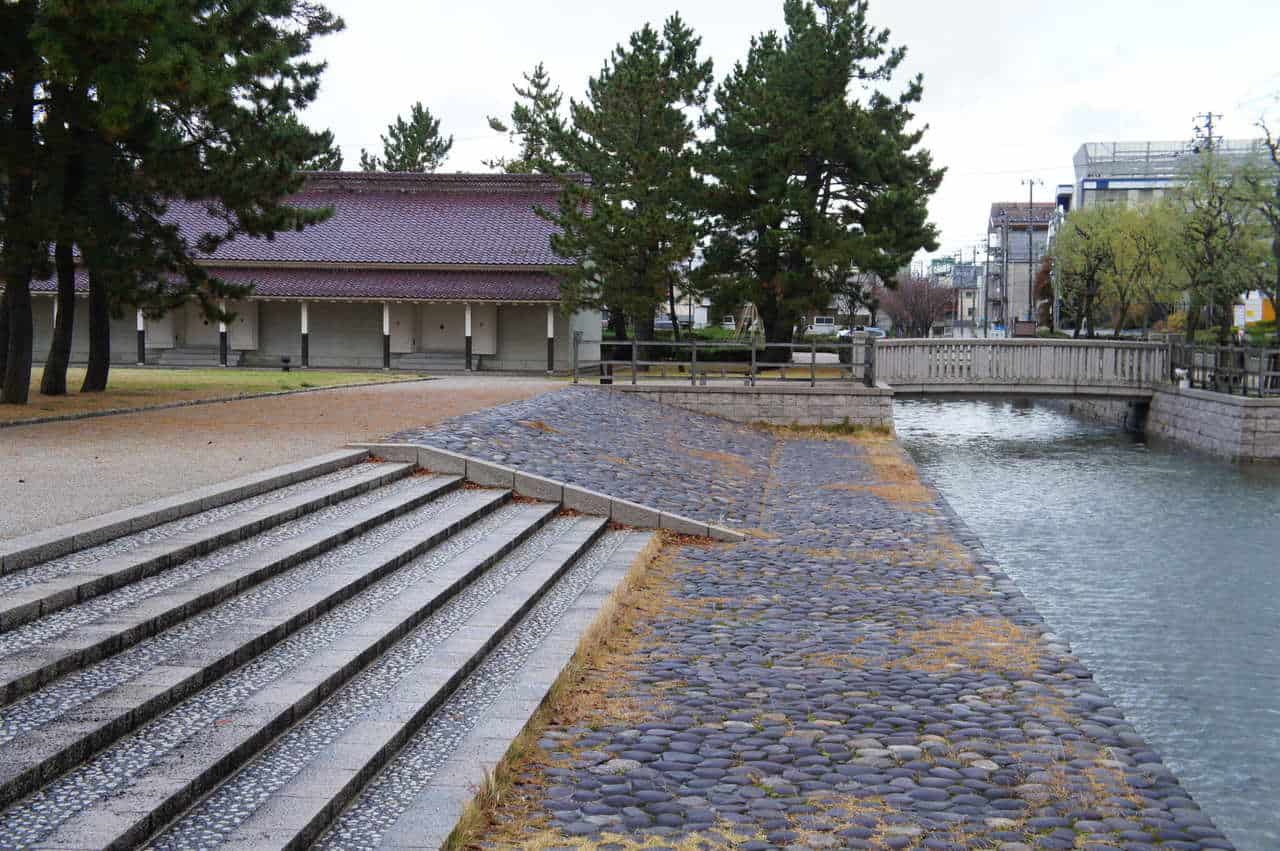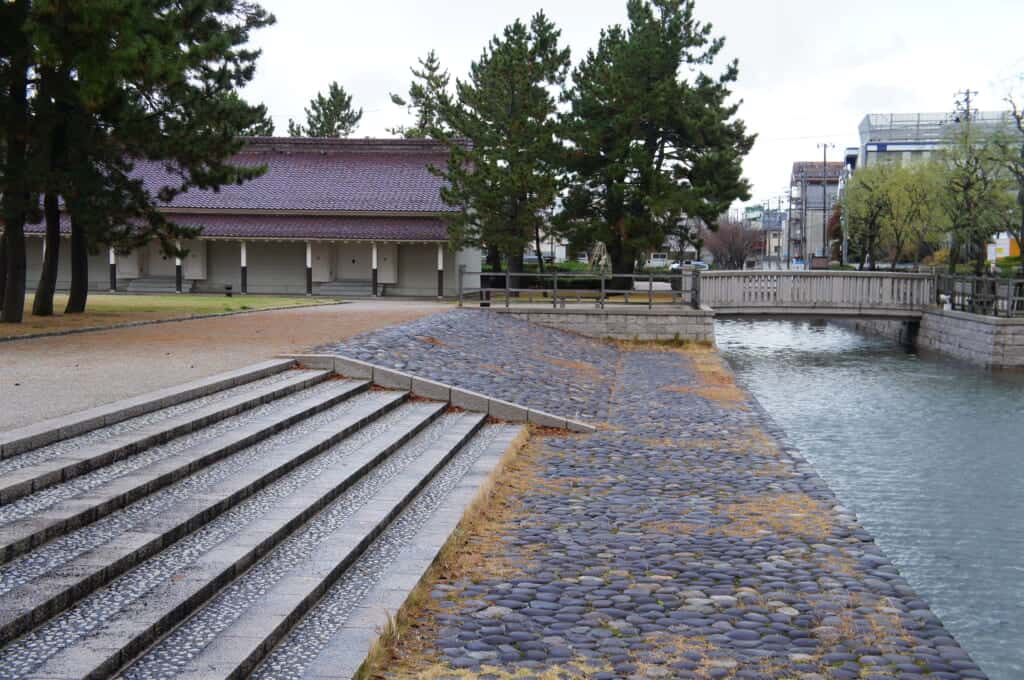 I started my journey of Niigata's history with the EDGE OF NIIGATA walking tour lead by a local guide. Rental bicycles are available for a brisk, exercise-based tour through Niigata's Old Town, but at the time of my trip, the weather had turned blustery and rainy, making bicycles a bit impractical. So, after changing our plans from the EDGE OF NIIGATA cycling tour, we decided to set off on foot to get up close and personal with what was once the most prominent trade port in Japan.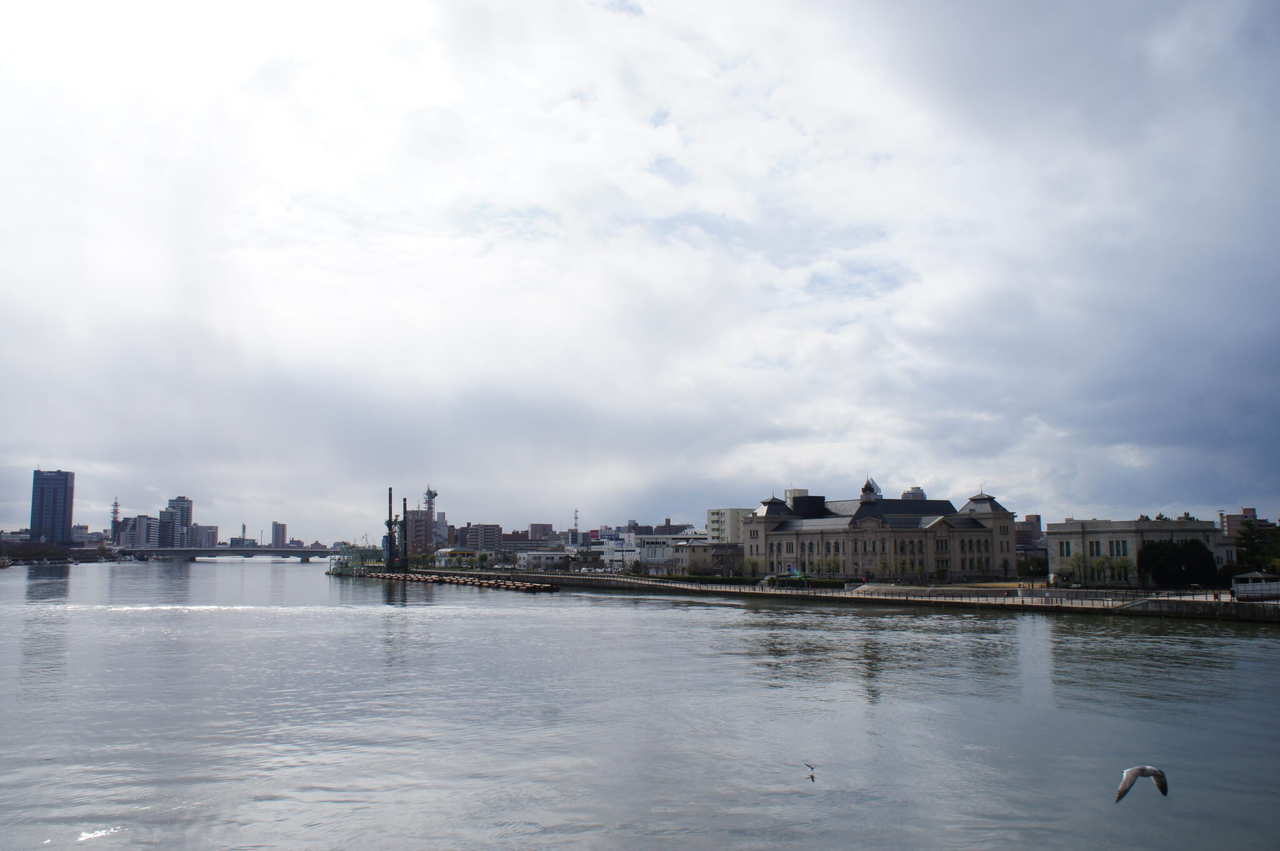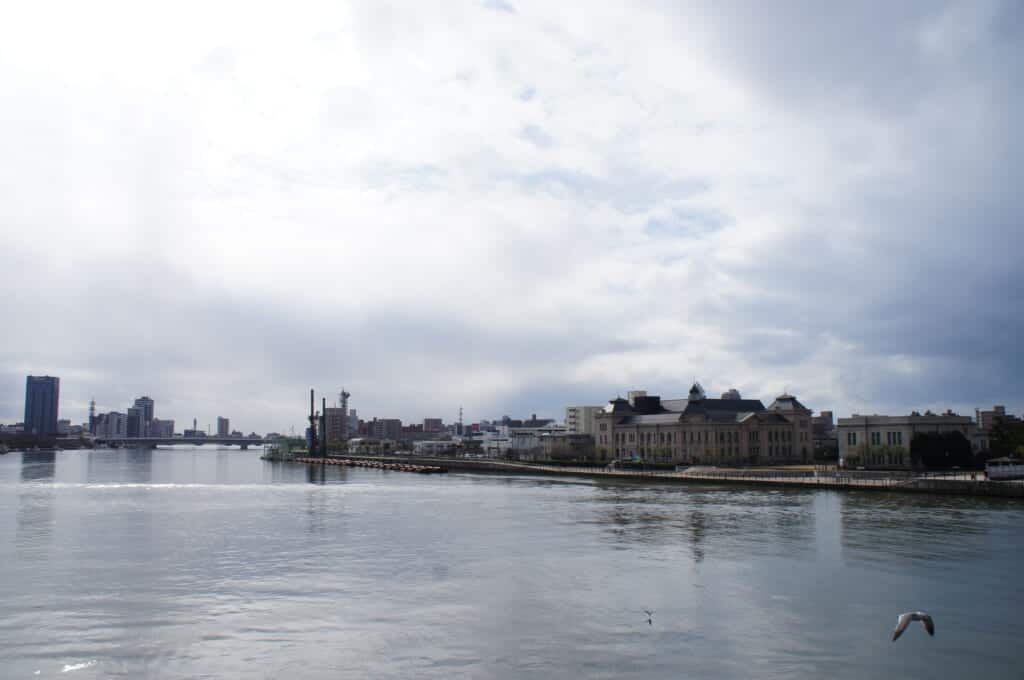 When the district was at its height during the Meiji Era (1868 – 1912), Niigata's Old Town was lined with canals that have since been paved over. However, by walking along the streets of this area, I got a sense of life as it once was. I followed the same path once traversed by travelers and traders, through the old custom's building and by the district's most prominent feature, the Daishi Bank (now Porto Cave d'Occi), which was once the chief municipal building of the area, built in imitation of western architecture.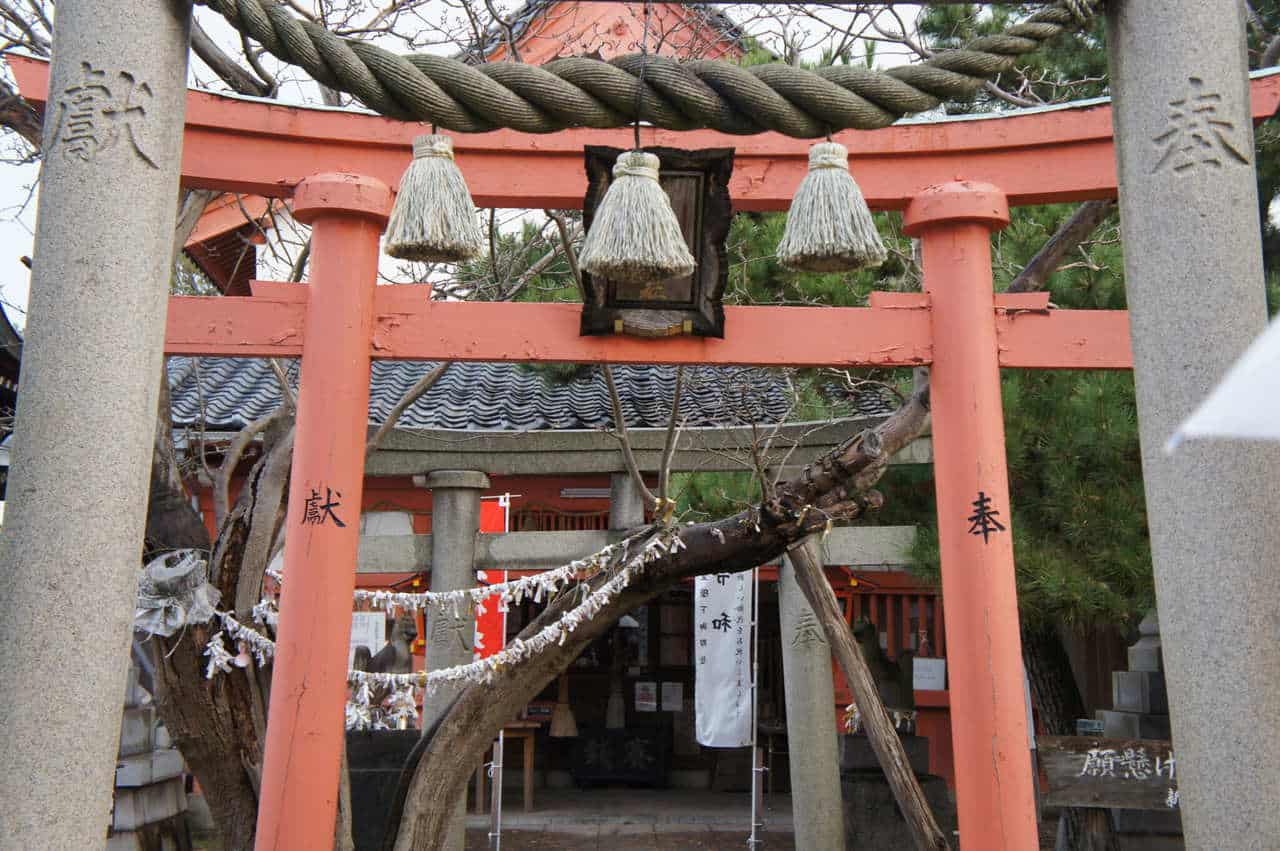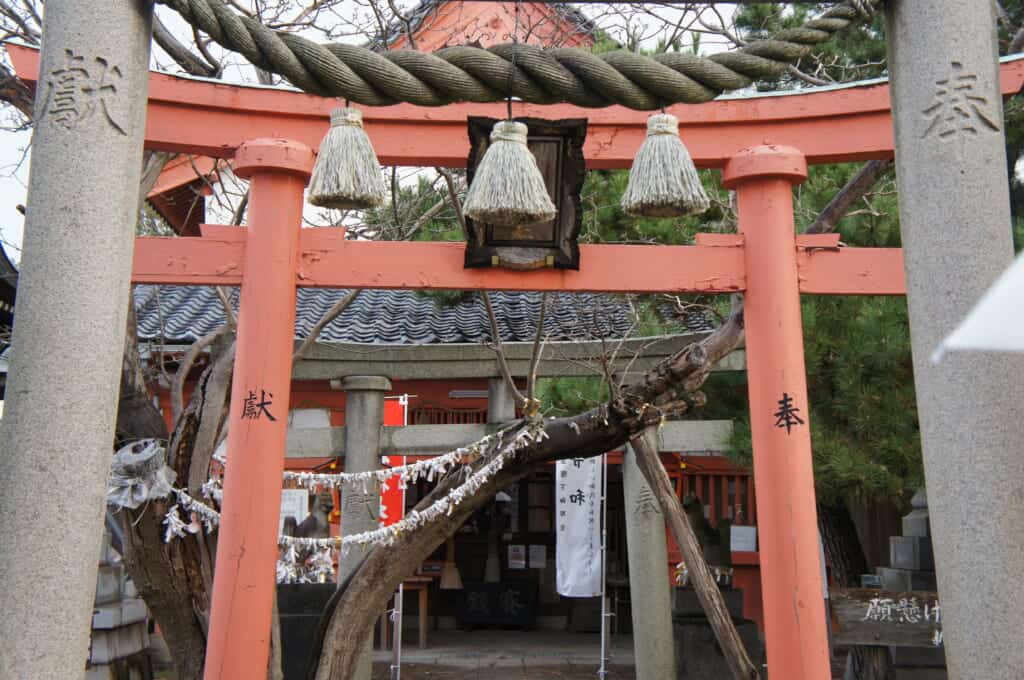 This area of Niigata contains what was once the city's red-light district, built right alongside the water within a series of narrow lanes and traditional machiya (町家) wooden townhouses. Buildings with more than three floors were built as a symbol of wealth. The combination of trade and red-light district defines not only the layout of the area but also the area's Shinto shrines.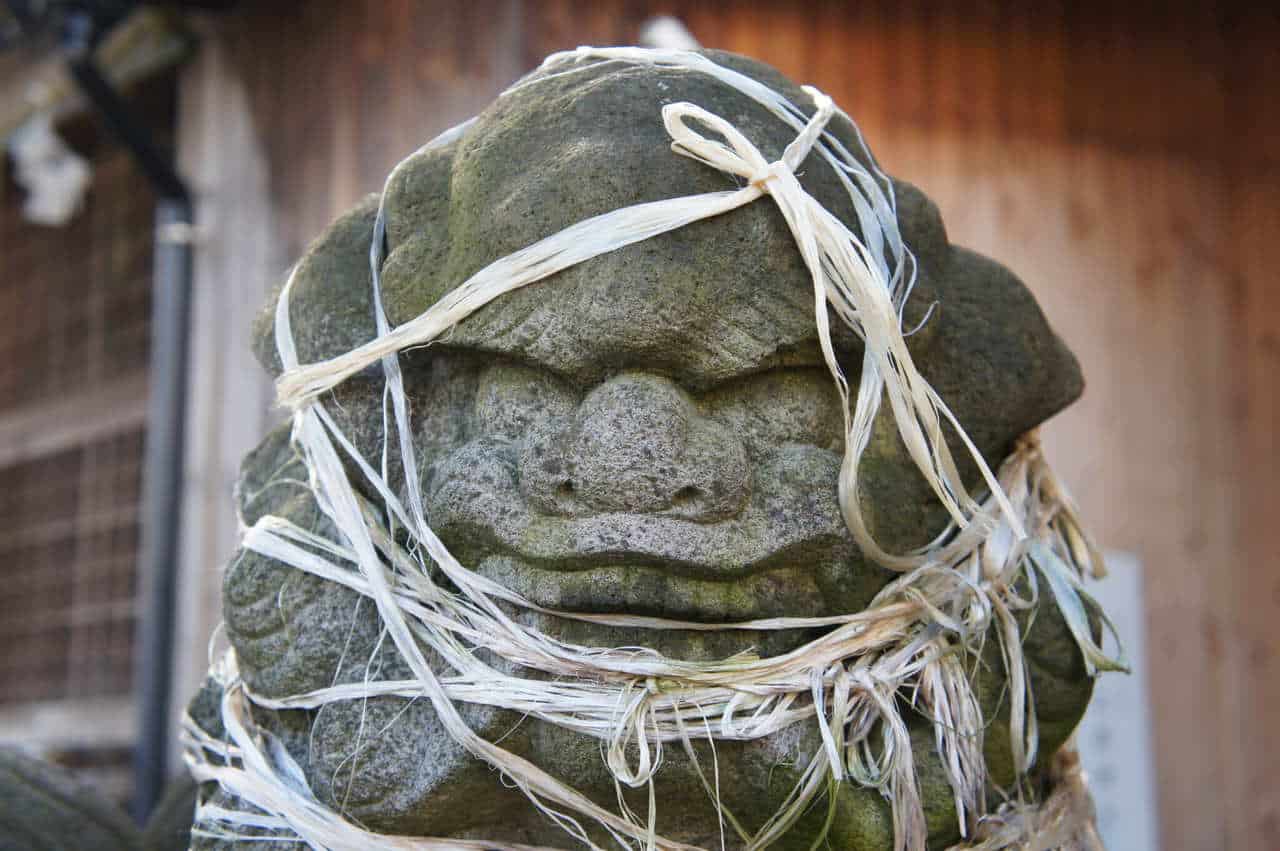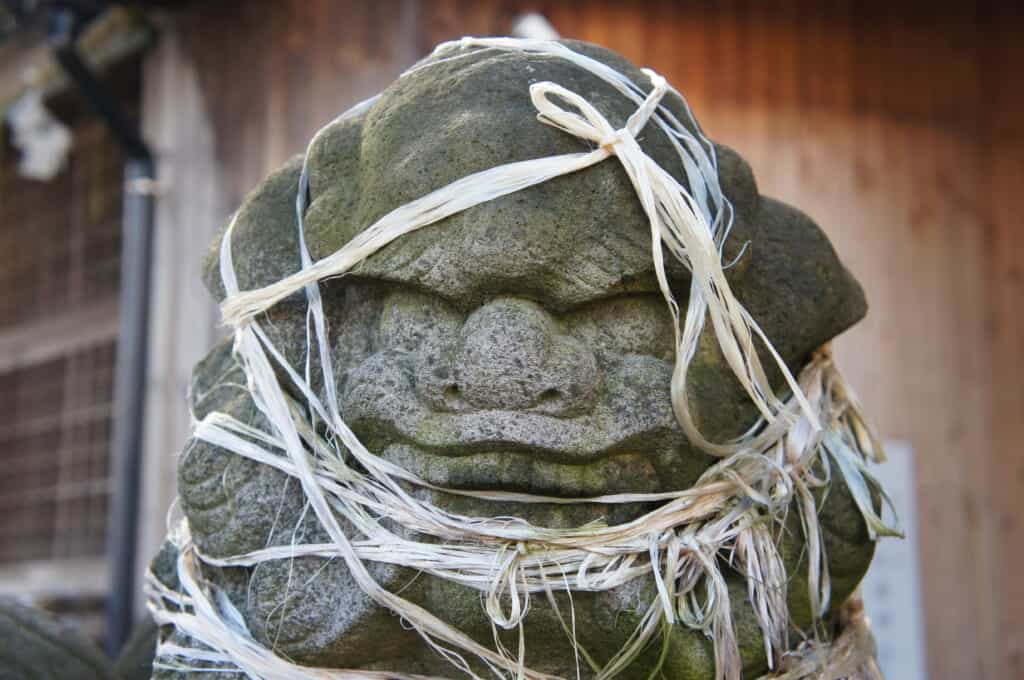 I visited one shrine where women entertainers called "geigi" (also called "geisha" from Kanto prefecture) or "geiko" (芸妓・芸子, both read as geiko from Kyoto prefecture), would rotate the Ashidome-Komainu (足止め狛犬) "koma" statue for good luck in their businesses. (Oftentimes, this meant wishing for poor weather to keep traders ashore.) Also known as the "foot-stopping guardian dog," the presence of this stone guard is meant to motivate those looking to cause mayhem in town to stop dead in their tracks and go back home. They also welcome business prosperity by encouraging customers from leaving, abstaining from alcohol, tobacco, gambling, and repealing any thoughts of infidelity.
At another shrine, visitors can blow on the top of a good-luck stone to cast away whatever negativity binds them. At the same shrine, tie a rice stalk to a shrine guardian to represent the fulfillment of a wish to the god of the sea, Kotohira. Typically, these wishes were also business-related, or perhaps love-related.
The Saito house is another large entry along this walk, a large, multifloored, traditional Japanese house with tea rooms for viewing nearby gardens.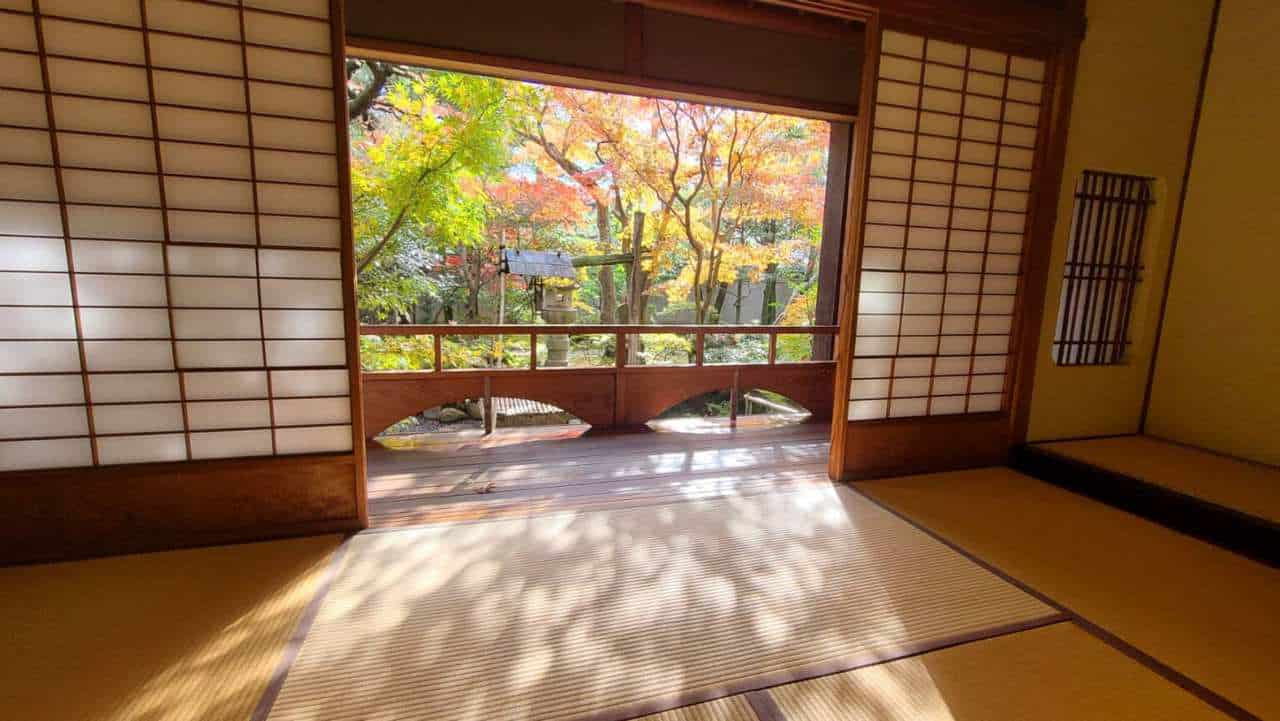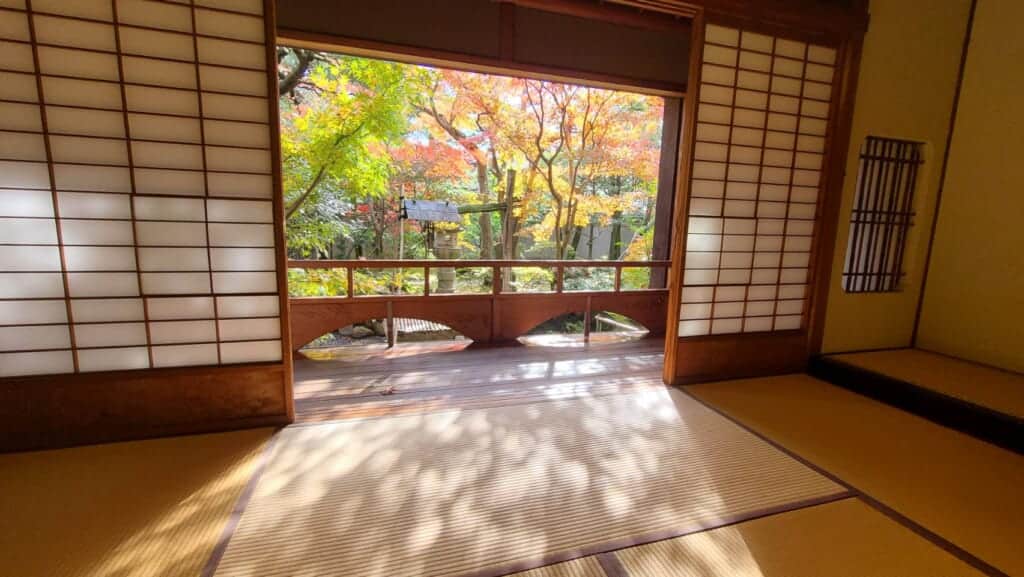 Japanese Lunch and a Private Performance with Niigata 'Geigi' Geisha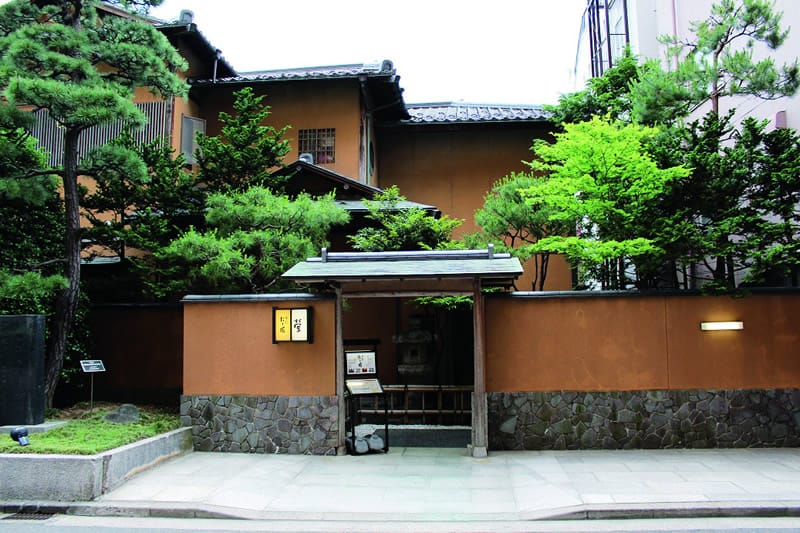 Lunch took me to Kappo Hotaru, one of several high-class restaurants located directly within the red-light district. There is still an active geigi school in the area, with 26 students at the time of this writing, and these students offer live performances to accompany your meal.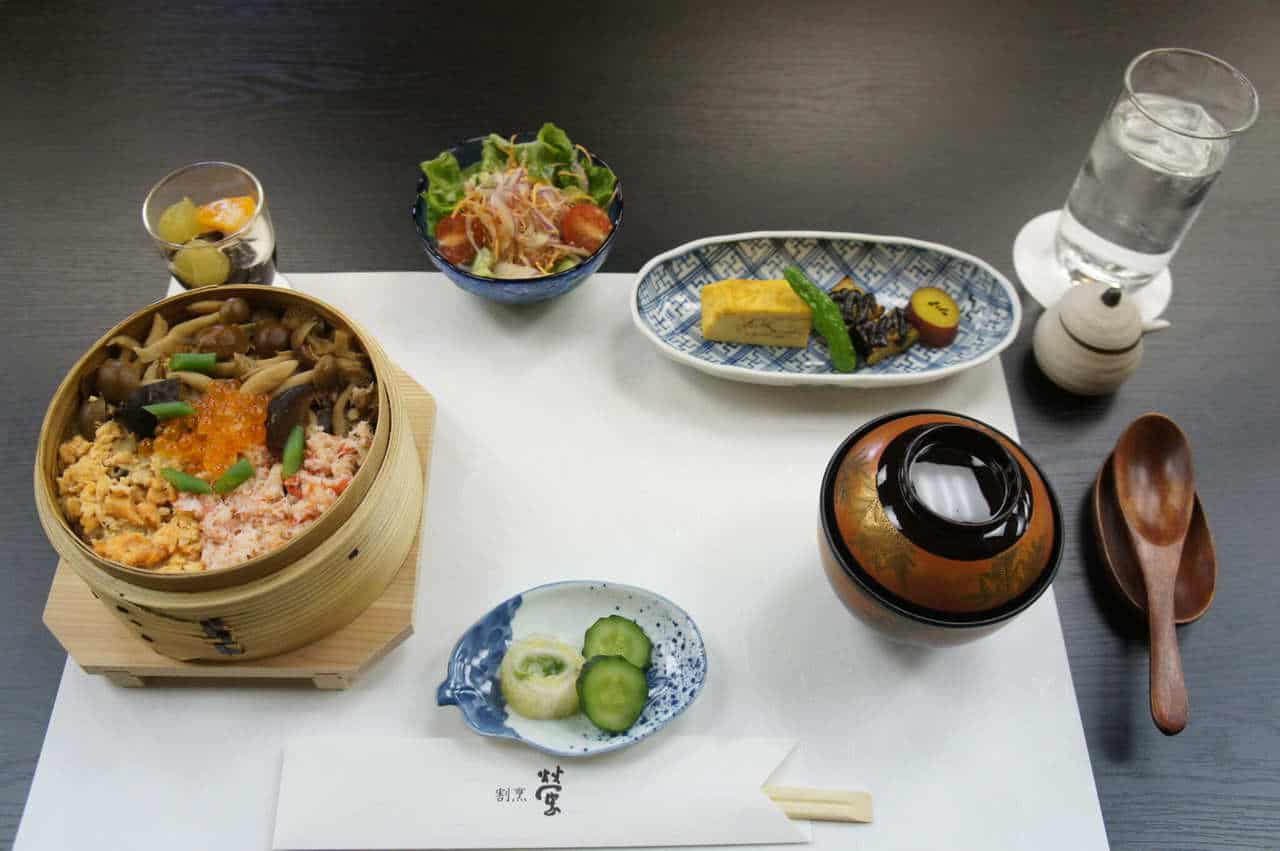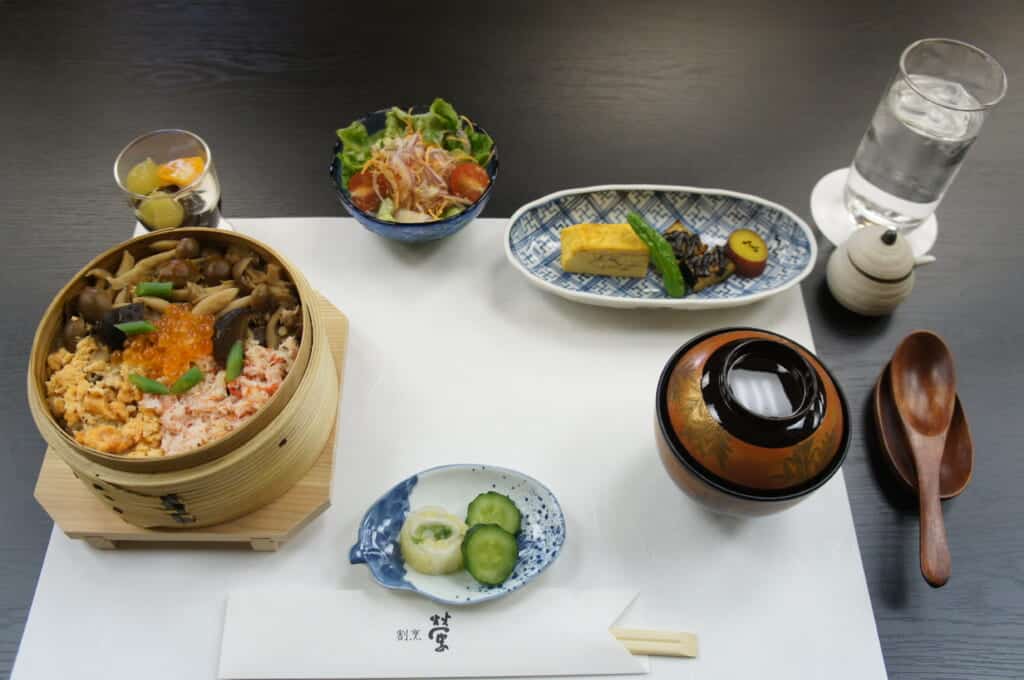 My meal was a full-course, traditional Japanese lunch served teishoku style (a traditional set meal of small dishes served together). People with dietary restrictions will be happy to know that lunch is customizable to accommodate needs such as vegetarianism. Otherwise, they typically contain fish, rice, vegetable dishes, and various sides and drinks. It was a tasty, elegant way to rest in the middle of the day, especially side-by-side a geigi stage.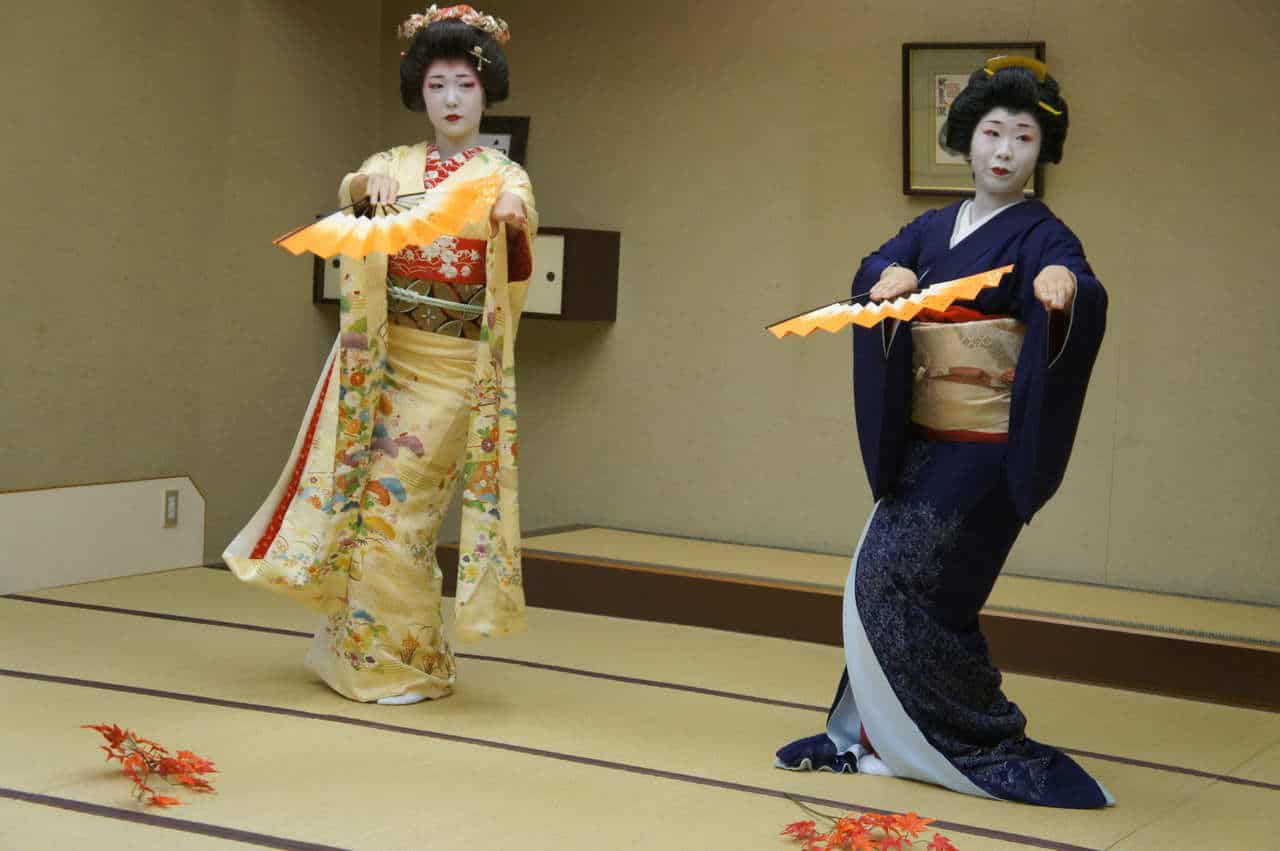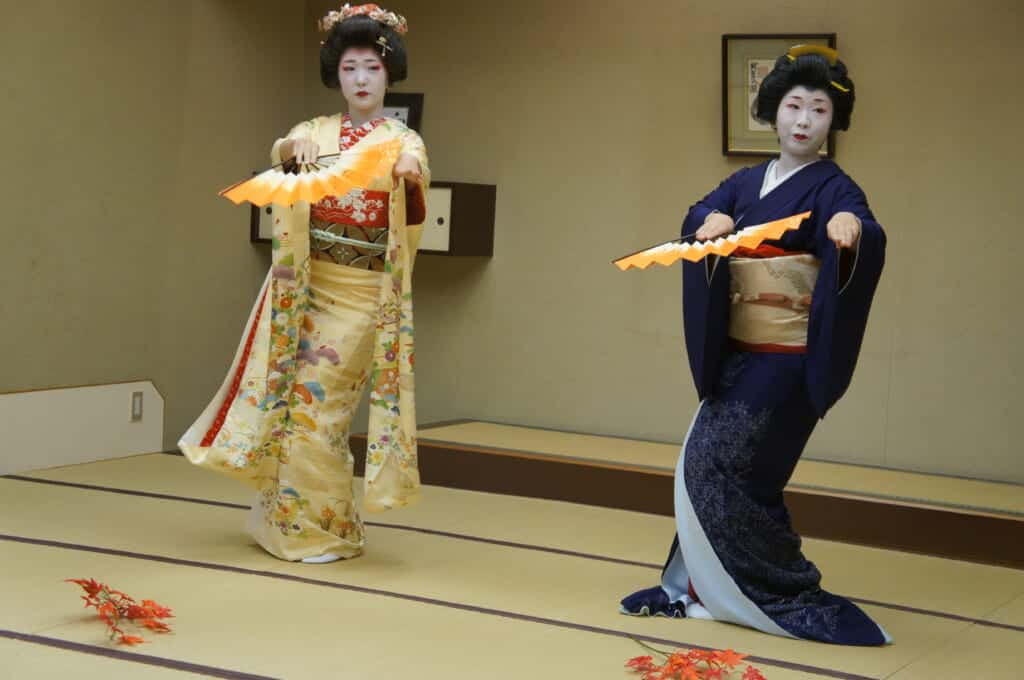 The geigi performance was a stunningly poised, elegant interplay of two dancers and one a master. They used props such as fans, leaves, and fabrics and were accompanied by a shamisen player. The geigi wore full kimono (traditional Japanese women's clothing), white face makeup, and elaborately arranged wigs. When I went, the geigi were available for a Q&A session at the end of the performance. They graciously answered questions about their training and performance preparation, costumes, and application process to become geigi (which involves a series of interviews and is highly selective), and they even sat for photos with guests.
A Tasting Tour at One of Niigata's Finest Sake Brewery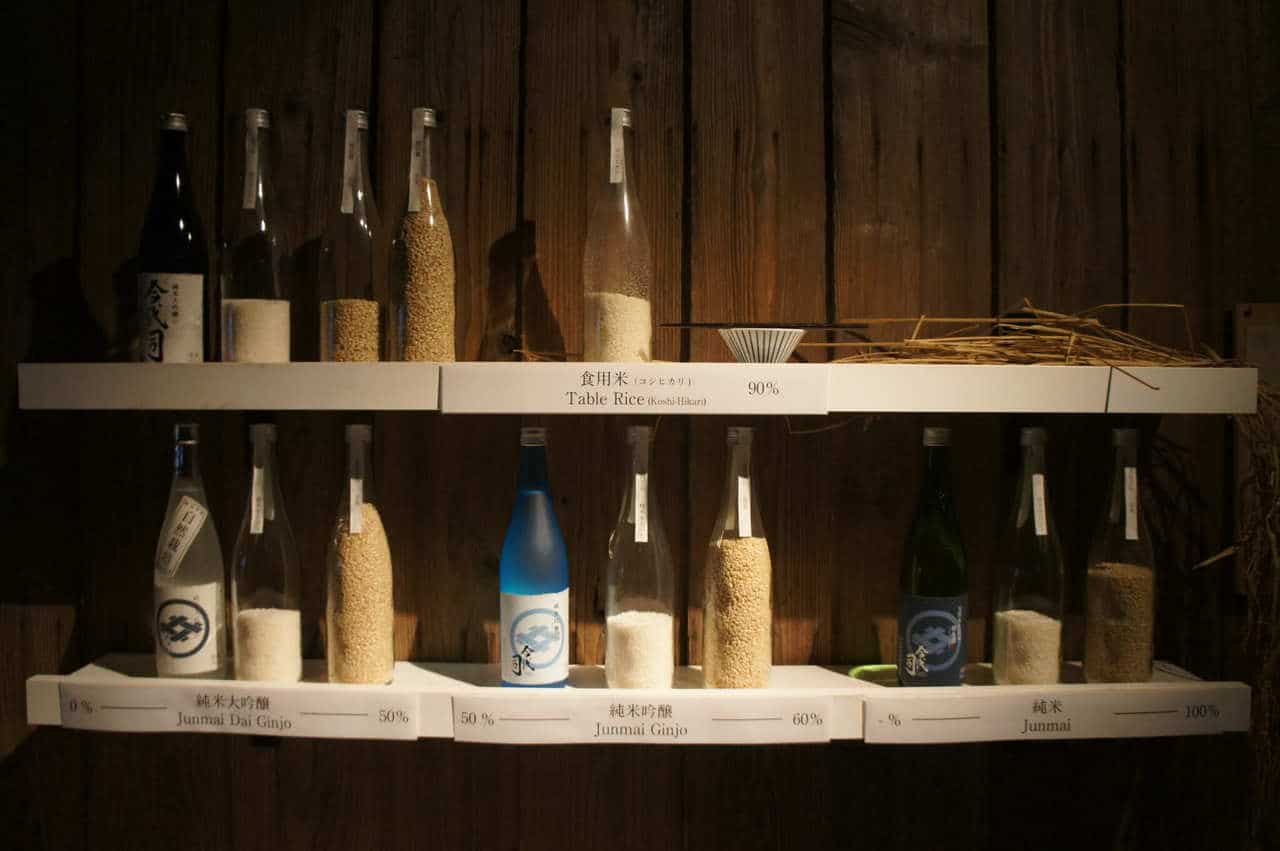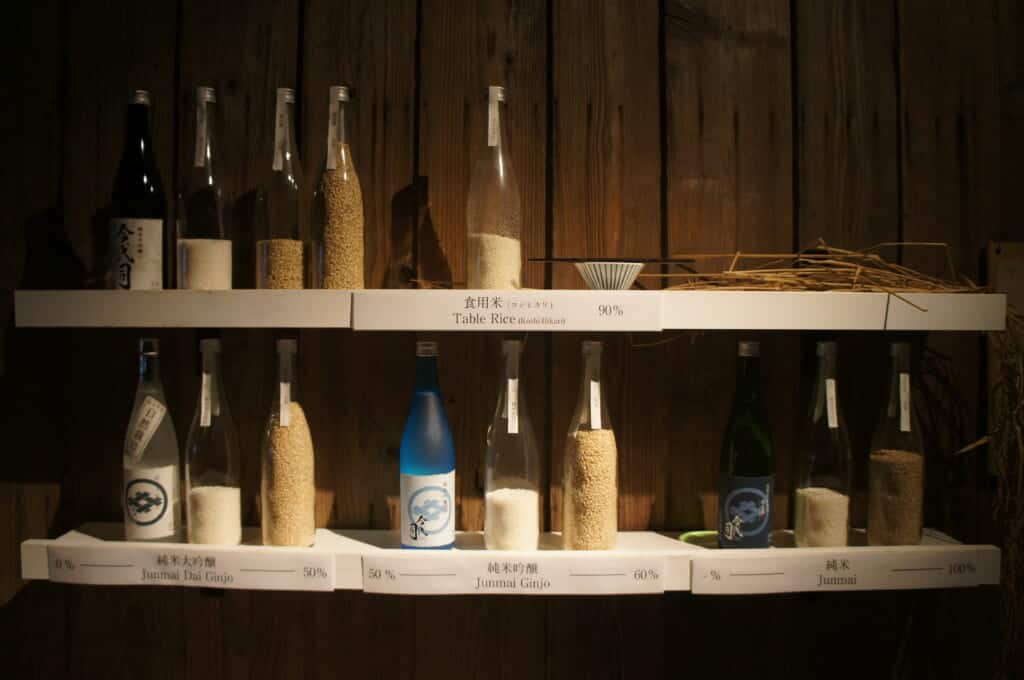 A quick jaunt away from the old port district took me to the Imayotsukasa Sake Brewery, which serves as a perfect midday waystation. The 200-year-old brewery is local to Niigata and uses Niigata-grown rice. I was taken on a quick tour through the brewery and walked through the sake-creation process: washing, steaming, mashing, adding yeast, pressing, and finally aging. Compared with other breweries that I've visited, Imayotsukasa places a particular emphasis on explaining the relationship between final sake quality and the percentage of rice removed from its brews (such as junmai ginjo-shu, which uses only the top 60% of a rice batch).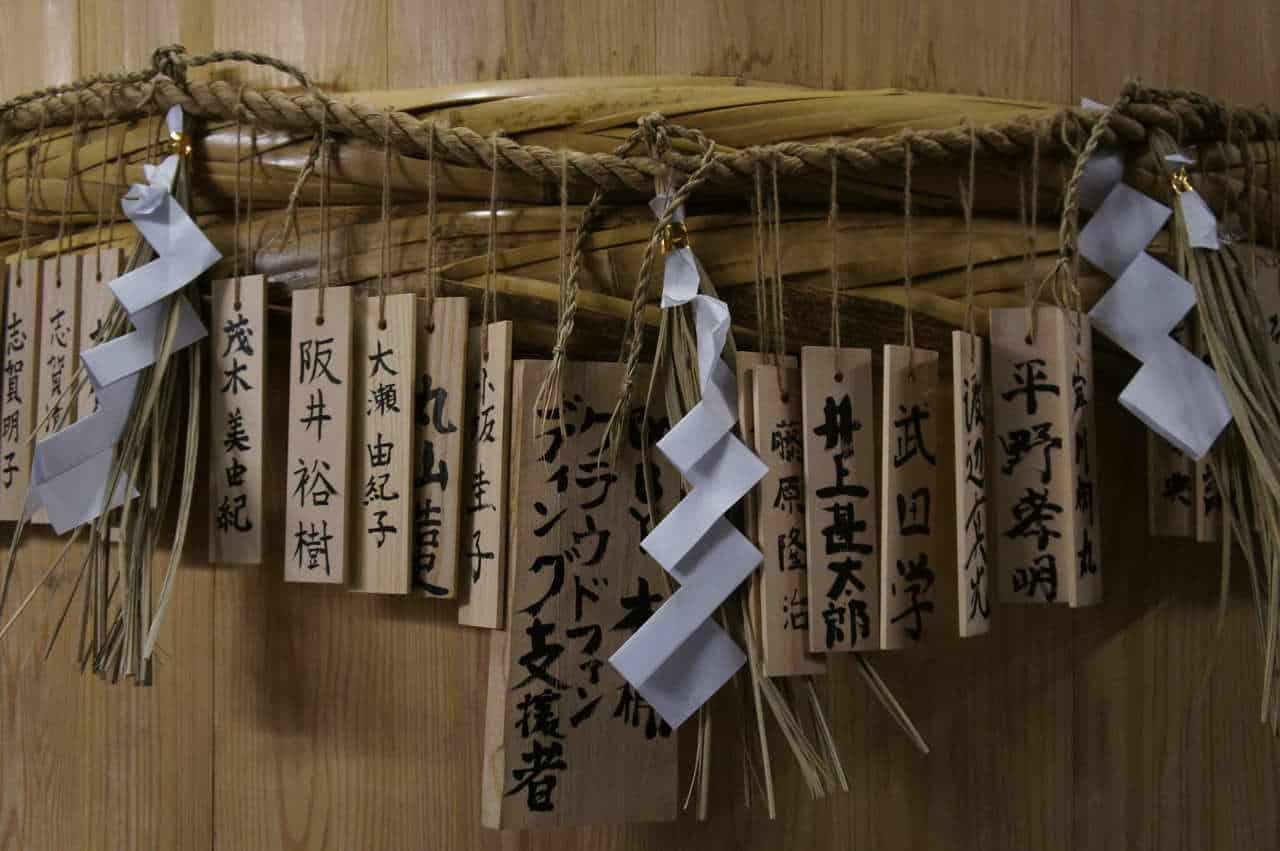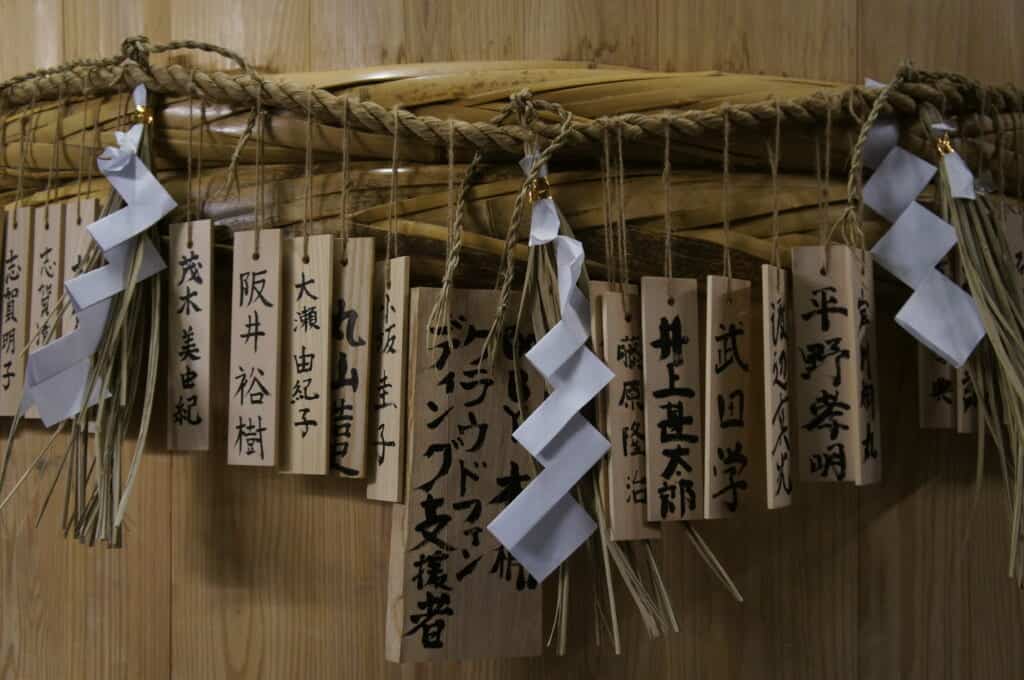 After the tour, I went back out to the foyer to enjoy a sake tasting of various bodies, flavors, and compositions, and also browsed the brewery's store for something to take home as a unique souvenir.
Local Niigata History and Heritage at the Northern Culture Museum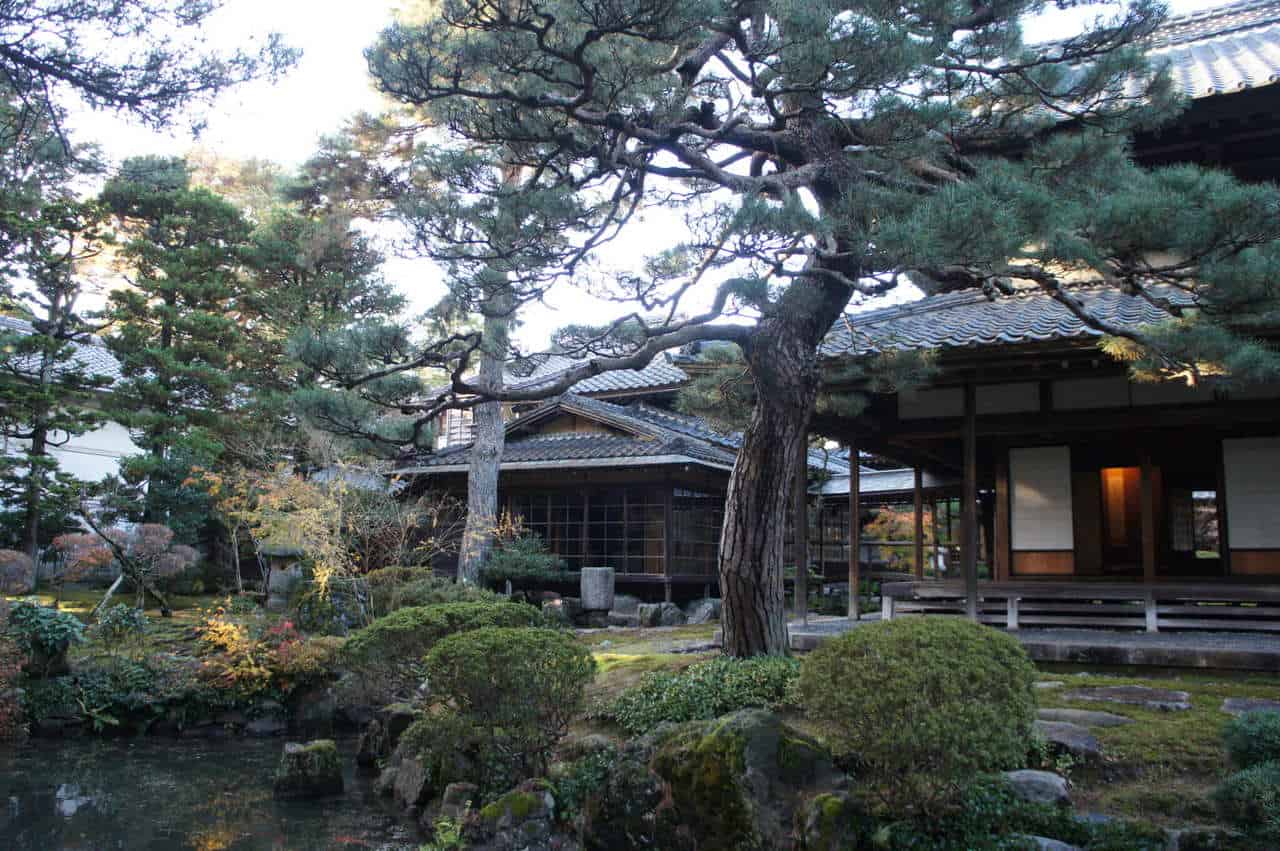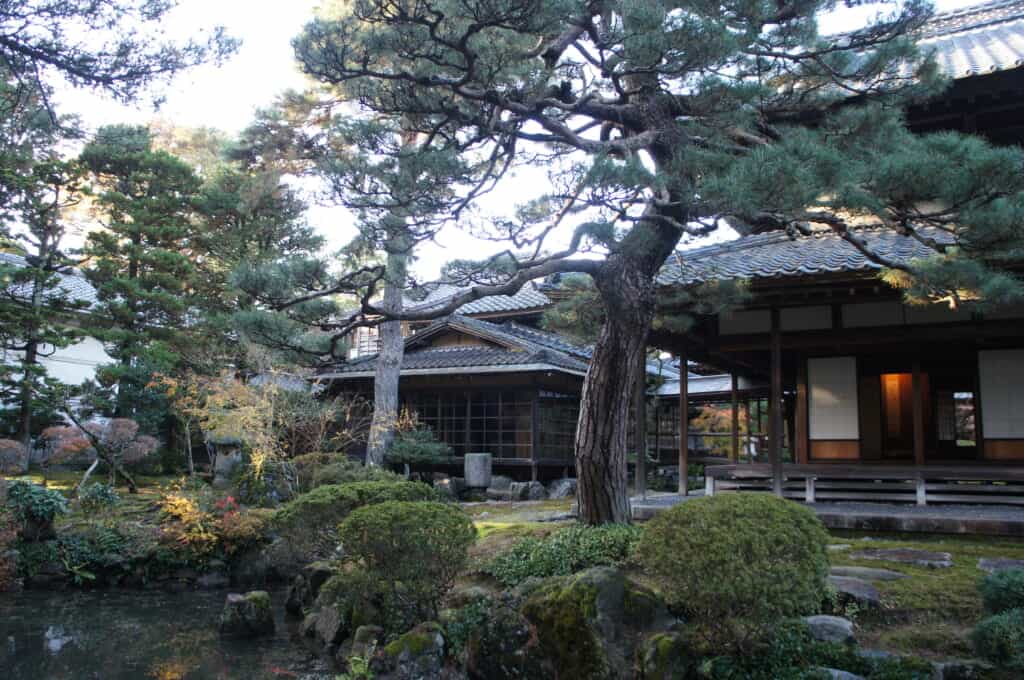 I left downtown Niigata at this point to head out by bus to the Northern Culture Museum (北方文化博物館) south of the city. The museum is a complex of buildings and manicured gardens built by the Ito family to help cement Niigata's cultural heritage. When I went, I entered typically off-limits buildings and grounds on a private tour, including a tea ceremony room that connects to a separate, tiny room built to mimic the architecture of a similar building in Kyoto. This was built so that guests from Kyoto would have felt at home if they visited.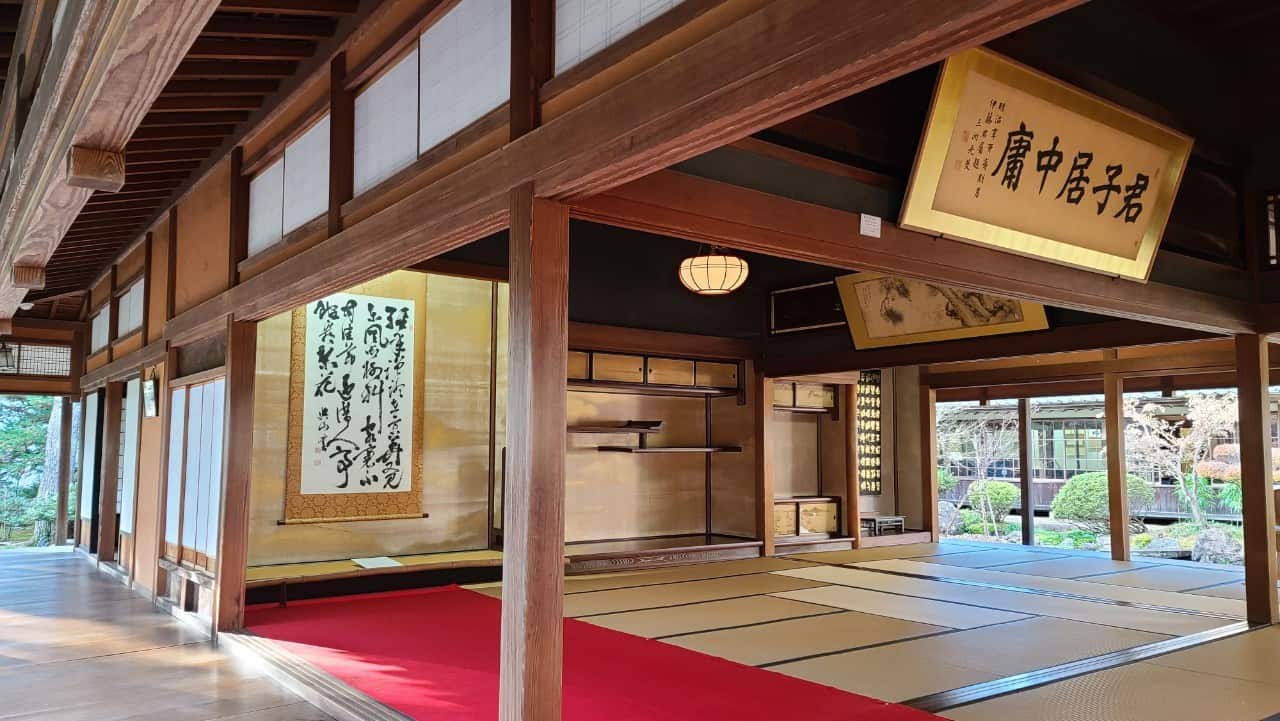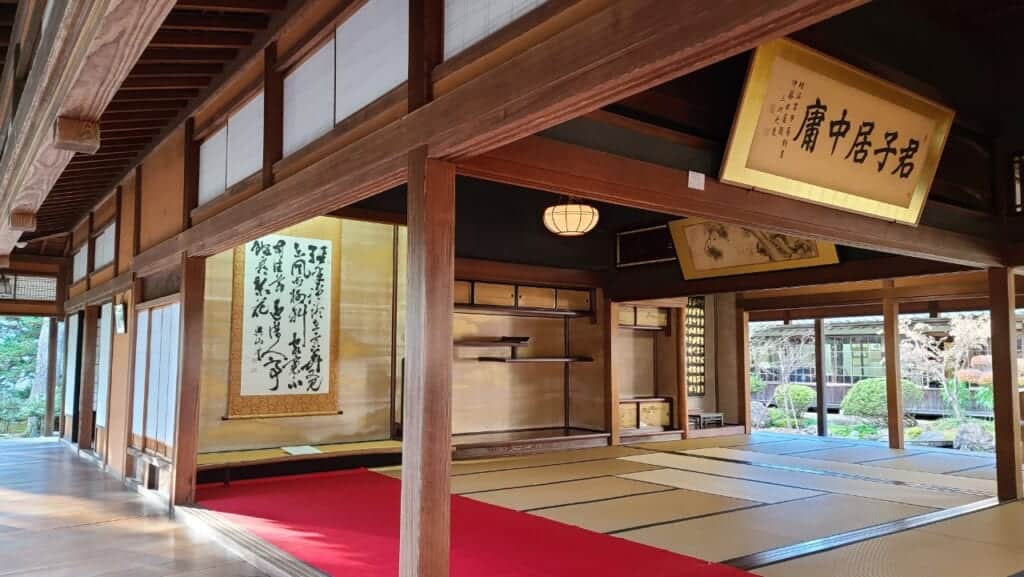 The grounds also contain a praying stone built at the center of the main garden meant to embody Taoist principles that rose to prominence during Japan's Muromachi period (1336 to 1573). The garden, composed to portray opposites such as white and black and flowing water versus no water, was definitely the tour's centerpiece. Walking along its paths afforded view after view of highly detailed sceneries, with no two portraits alike.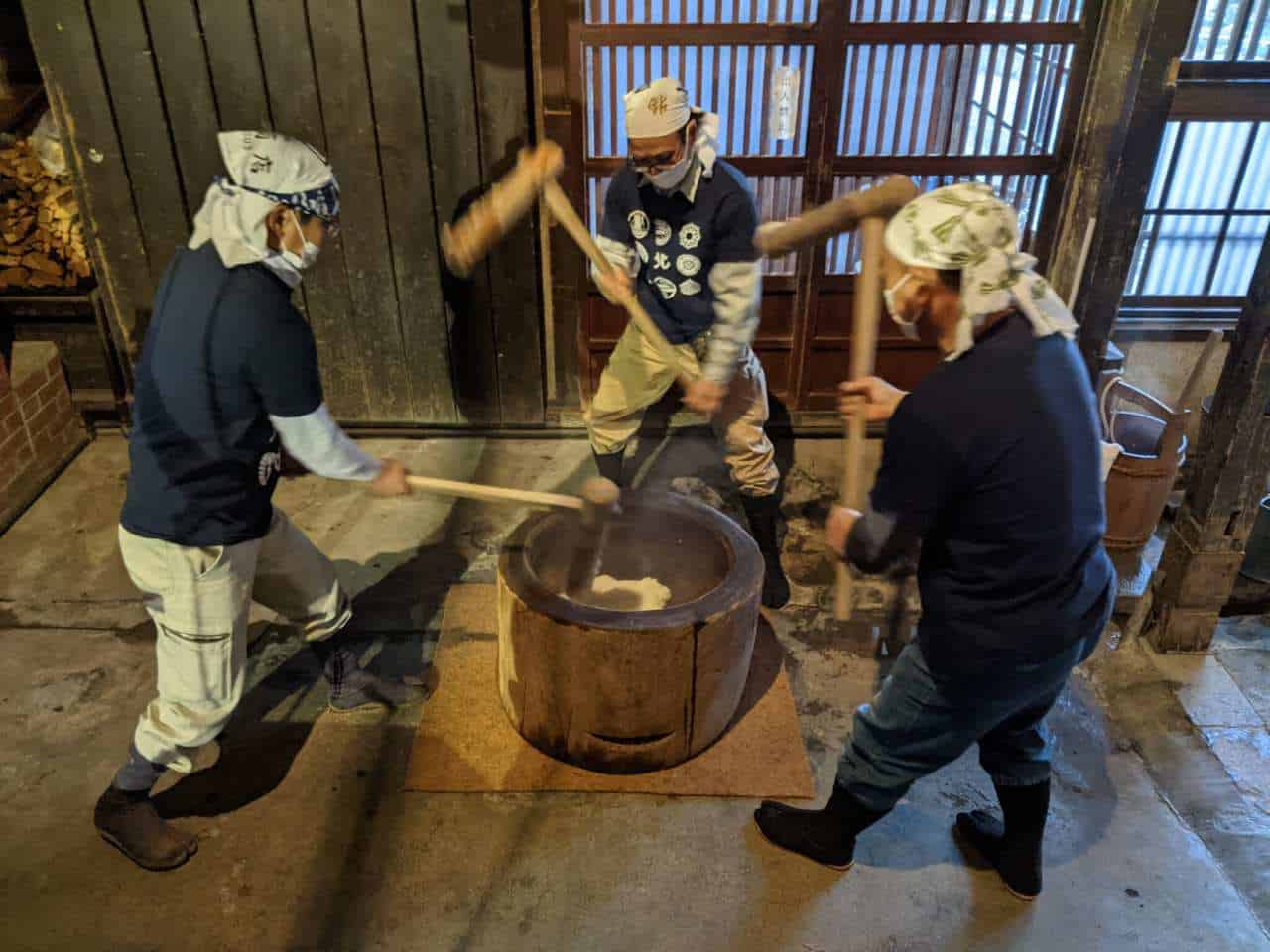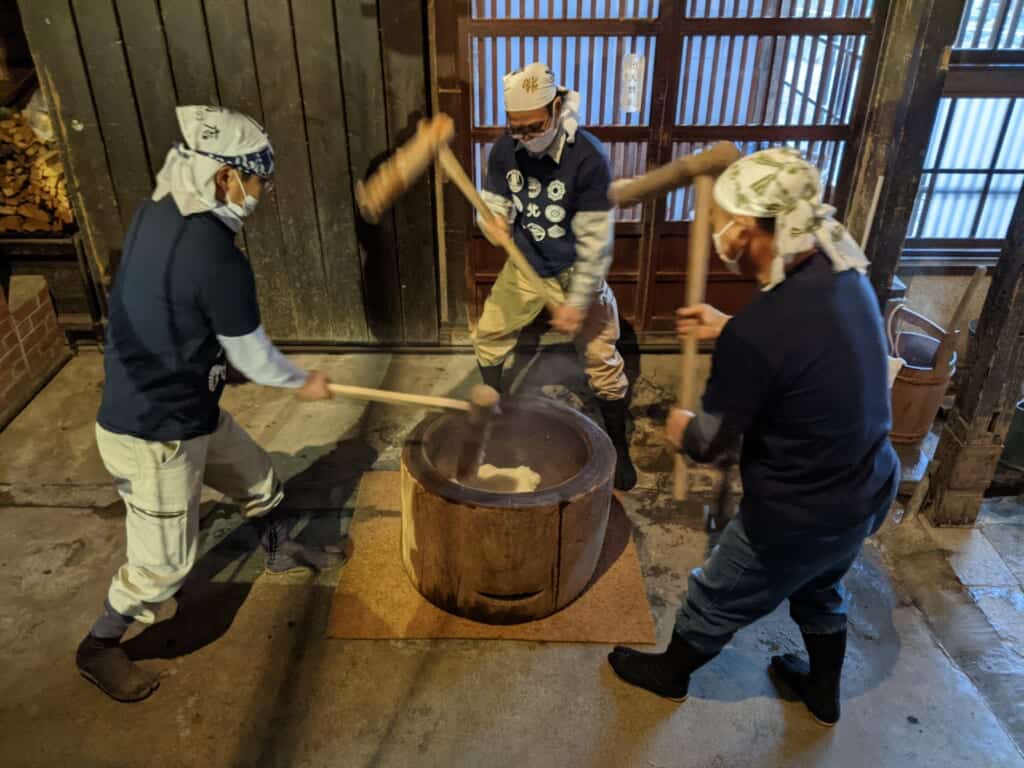 In addition to a gift shop, this museum affords visitors the chance to join in on a traditional Japanese craft: making mochi (餅). Mochi is made from rice pounded into a sticky paste using wooden mallets. The expert mochi makers, who have been doing their job for over 20 years, pounded the mochi with their mallets in perfect musical timing. The rest of my group and I had the chance to try it, and to be completely honest: it is much harder than it looks. The mochi is so sticky that it takes tremendous strength to lift the mallet from the mochi after it has been struck. Afterward, you can eat what you make, blended with sweet red-bean paste and served with some hot green tea.
Zazen Meditation at Daieiji Temple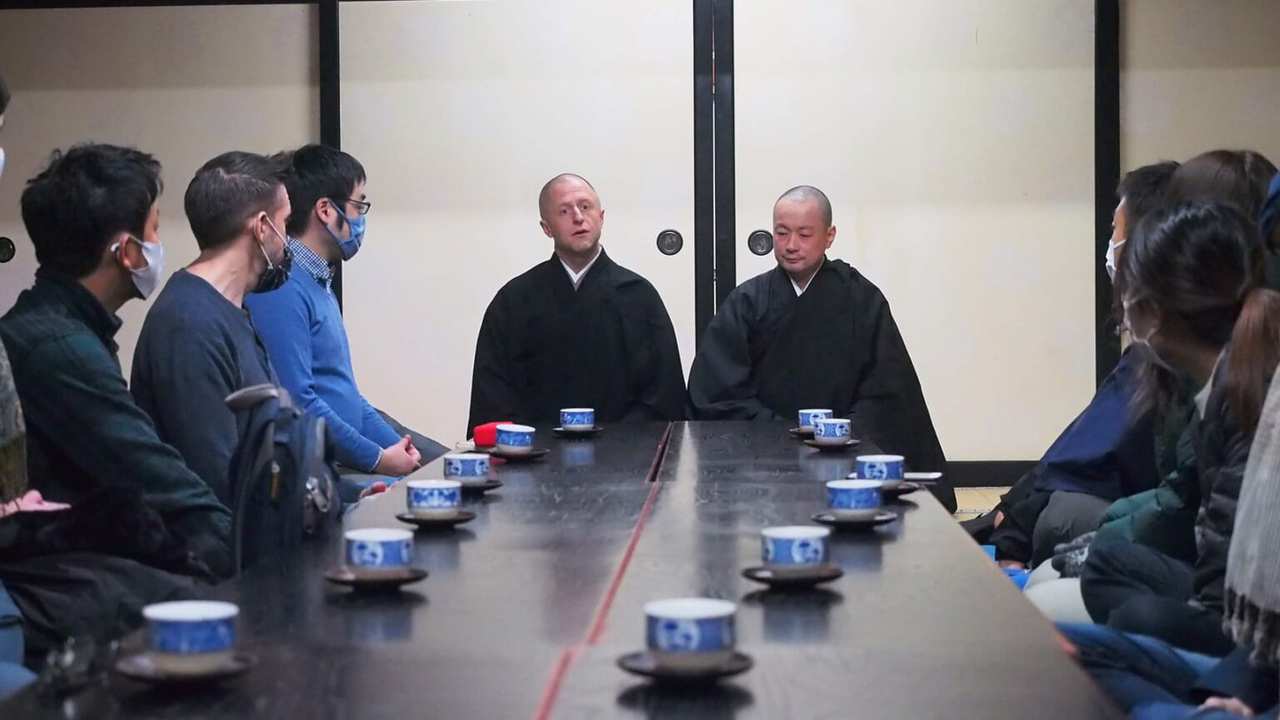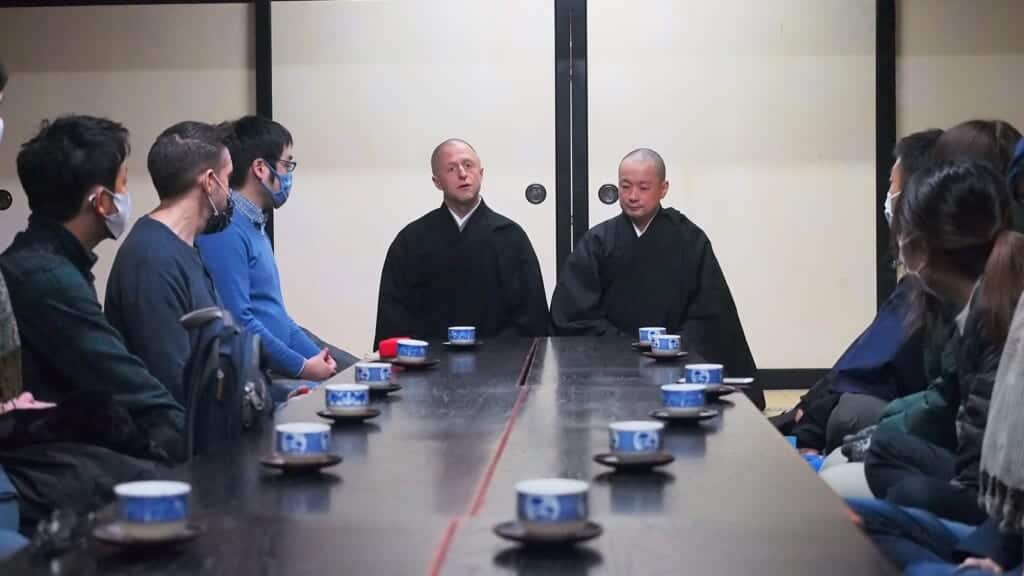 It was a quick walk to the final leg of the day's trip, Daieiji temple (大栄寺), a Buddhist temple where resident monks live and abide by practices of Zen. Zen involves the purification of the mind and body through the practice of zazen: sitting and breathing techniques that imitate what the Buddha underwent to attain enlightenment. Monks open their doors to the public for a couple of hours a day starting at 7:00 pm, at which time visitors can not only see the temple grounds but try zazen (座禅) as well. During this window, we were admitted and shown to a room where the monks served us tea and taught us about Zen and the practice of zazen.
We were told that Daieiji is extremely traditional, in that its monks never buy food but only receive food by begging. The monks themselves encompass a wide range of ages, and all of them have forsaken their former lives and possessions to dwell in the temple full-time and practice zazen. Similarly, we too had to leave all possessions in the tearoom and follow the monks down to the temple's inner altar that houses a statue of the Buddha. Walking in the unheated cold, following the monks along unlit corridors on a frigid wooden floor with my hands folded in a respectful posture, thumb on top, I could see exactly how much discipline and dedication goes into their decision to live at the temple full-time.
At the zazen hall outside the shrine, we followed a precise procedure of bowing in multiple directions, preparing a small pillow to sit on, and arranging our legs in lotus fashion (feet crossed, right on top, both knees touching the floor). With hands folded in our laps, we maintained a straight-backed posture for several minutes, eyes half-open and pointed 45-degrees down and towards a wall. Some people chose to accept the monk's offer of being lightly struck with a stick on the shoulders if they felt their practice was lacking.
It was a small amount of time in comparison to the monk's usual mediation of 50 minutes. Still, nothing compared to the length of time they undergo meditation during an annual Buddhist holiday from December 1st to December 8th. During that time, they engage in a staggering ten 50-minute sessions of meditation every day.
A Rich and Rewarding Time in a Countryside City of Niigata
All in all, my time in Niigata city was rewarding, educational, and also fun. Highlights such as the geigi performance and interactive elements like pounding mochi and partaking in zazen made it a truly unique experience that would be completely worth the time for any traveler.
The SADO-NIIGATA PASS combines bus and ferry fare in one convenient, discounted travel pass to get you to all of Niigata's top attractions.
Organized by: TOKIMEKI SADO NIIGATA TOURISM ZONE
Sponsored by: EDGE OF NIIGATA, Niigata Visitors & Convention Bureau