The lush mountainous landscape of Mie prefecture (三重県) is so vast and varied that sometimes, the best way to immerse yourself in it fully is by being an object in motion: cycling on country roads through rural suburbs; hiking a pilgrimage path of the Kumano Kodo (熊野古道); trekking through the dense forest with a mountain hermit as your guide.
Cycling and Hiking to the Kumano Kodo Tsuzurato Pass
The Kii Peninsula (紀伊半島) in Mie prefecture is crisscrossed by the centuries-old pilgrimage routes of the historical Kumano Kodo, now a world heritage site that extends to Nara and Wakayama prefectures. Among these sacred trails that ultimately lead to the Three Grand Shrines of Kumano (熊野三山, Kumano Sanzan), one of the scenic highlights is the central part of the Iseji (伊勢路) route from the east.
From the town of Taiki (大紀町), you can begin your adventure by hopping on an electric-assist mountain bike at the local visitor center to enjoy a breezy 15km ride through the outskirts, past many traditional houses, across bridges over rivers, and along green mountainsides to the entrance of the Tsuzurato-toge (ツヅラト峠) trailhead. Then leave the bike behind and lace up your hiking boots.
From here, the Kumano Kodo will lead you along winding cobblestone paths that weave in and out of towering cedar trees. It will offer you tantalizing views of dramatic mountain passes and snaking inlets on a rocky coastline. After hiking for about two hours, you will reach an altitude of 357 meters above sea level. This is the place where Edo-period pilgrims, on their journey to Kumano Sanzan from Ise, first saw the sea from the trail. Amidst a panoramic vista of deep green mountains, you will see the village in the valley below and the Pacific Ocean beyond.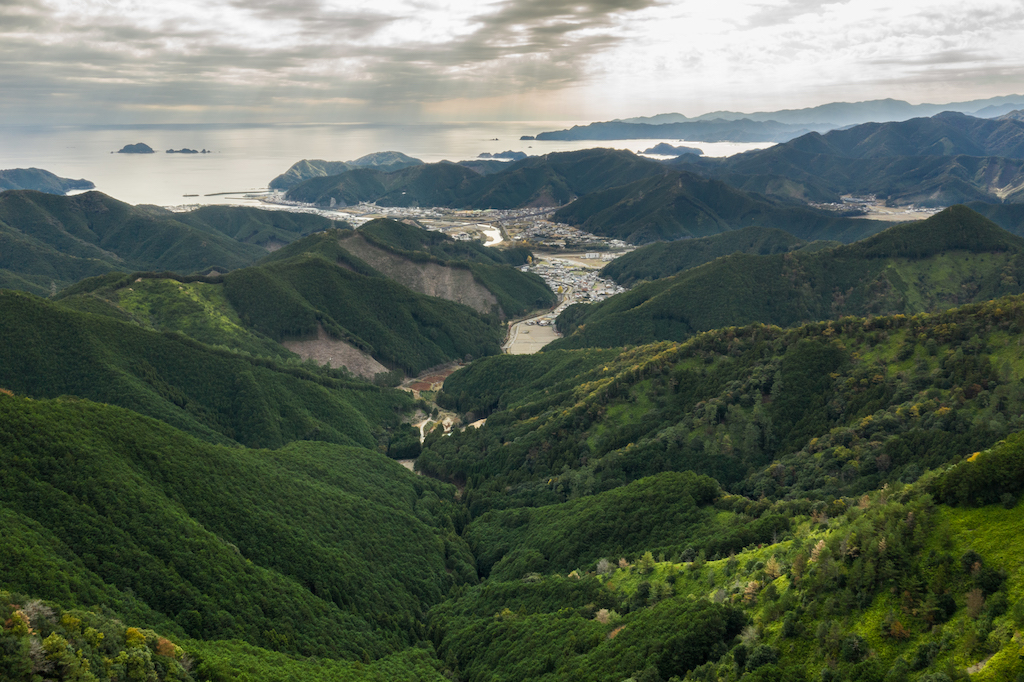 Continue along the Tsuzurato pass to the Stitches, named after the zig-zagging stone path and stone walls that line these particularly steep sections. The trail follows a small residential valley to the seaside port area around Kii-Nagashima (紀伊長島) train station.
Miescape's "Sacred Kumano Kodo Trail Running & Cycling" program also offers the option to cycle from your guesthouse to Nishiki (錦) Port, then about 10km on to Kii-Nagashima. From there, you can run a 15km loop through both Tsuzurato and Nisaka (荷坂) passes, which takes about four hours. The fee of ¥10,000 per person includes e-bike rental, as well as a lunchbox and route map. Whether you choose to walk or run, you will be sure to experience the highlights of the eastern Kumano Kodo route.
Hot Springs and French Dining in the Japanese Countryside
Back up in the mountains, Oku Ise Forest Pia (奥伊勢フォレストピア) is ideally situated near the trails for a restorative soak in its hot springs after a long day of trekking. Its Okuise-Miyagawa Onsen (奥伊勢宮川温泉) offers both public indoor and outdoor baths, in addition to a naturally fragrant herbal bath filled with a different local herb each month, such as fresh peppermint or lemongrass.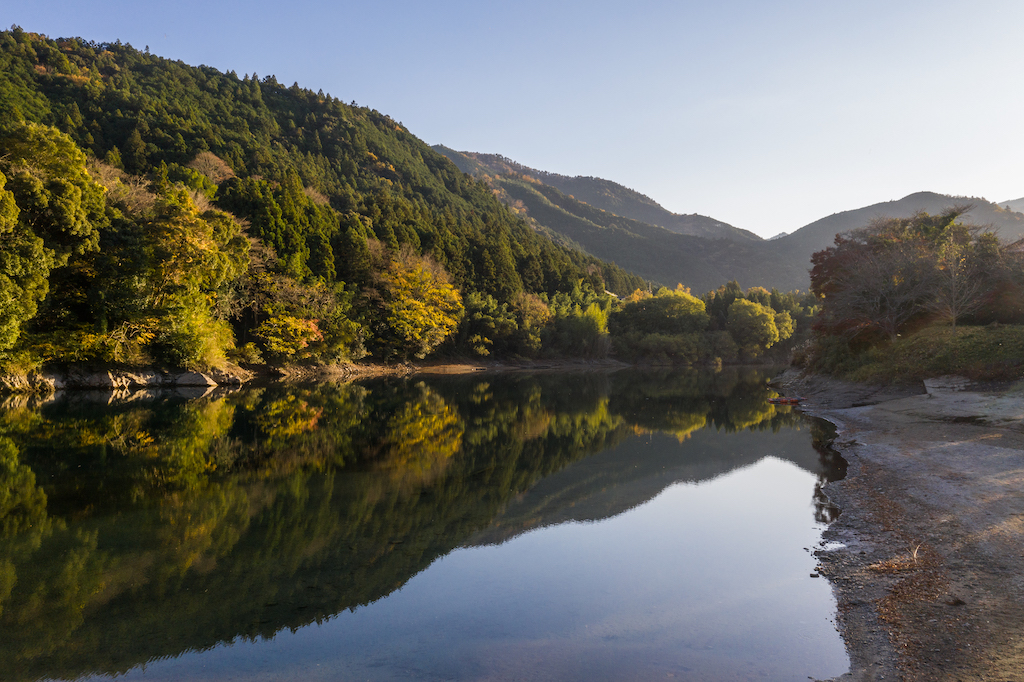 The property's Riverside Village complex is directly integrated into its natural surroundings, so you can also enjoy outdoor activities in the safety of a community environment. Your gateway to amusement is a wooden suspension bridge spanning the Sonogawa (薗川) river, which narrows into a private stream of clear shallow water that you can walk to from your hotel room in a swimsuit.
Other facilities include two tennis courts, a wooden playground, a 7.5km path that you can either walk or cycle, and a pond where you can learn to catch rainbow trout — then salt, grill, and eat them on the spot. Alternatively, follow a peaceful forest path that connects to the Somonyama (総門山) trailhead, watching for deer, hares, pheasants, kingfishers, Brown Dipper songbirds, and endemic Kajika frog​s along the way.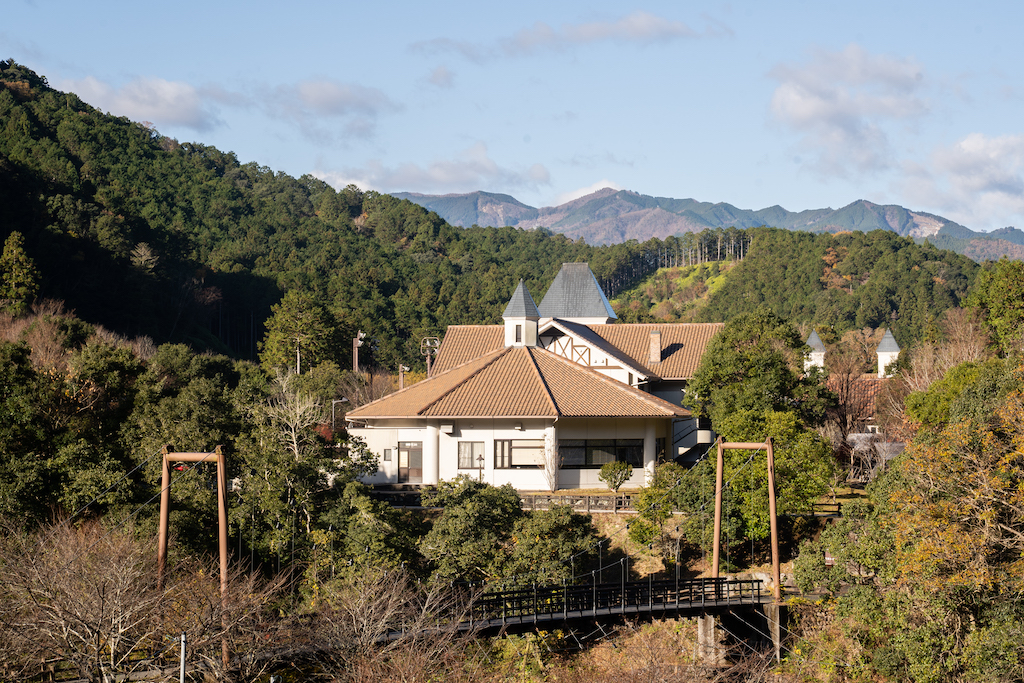 When you're ready to retire for the night, you have three choices: glamping in a fully furnished luxury tent; staying in a private cottage with air-conditioning, floor heating, and kitchen; or sleeping in the more traditional Miyagawa Sanso (宮川山荘) hotel, modeled after a European castle, with both Japanese and Western-style guest rooms.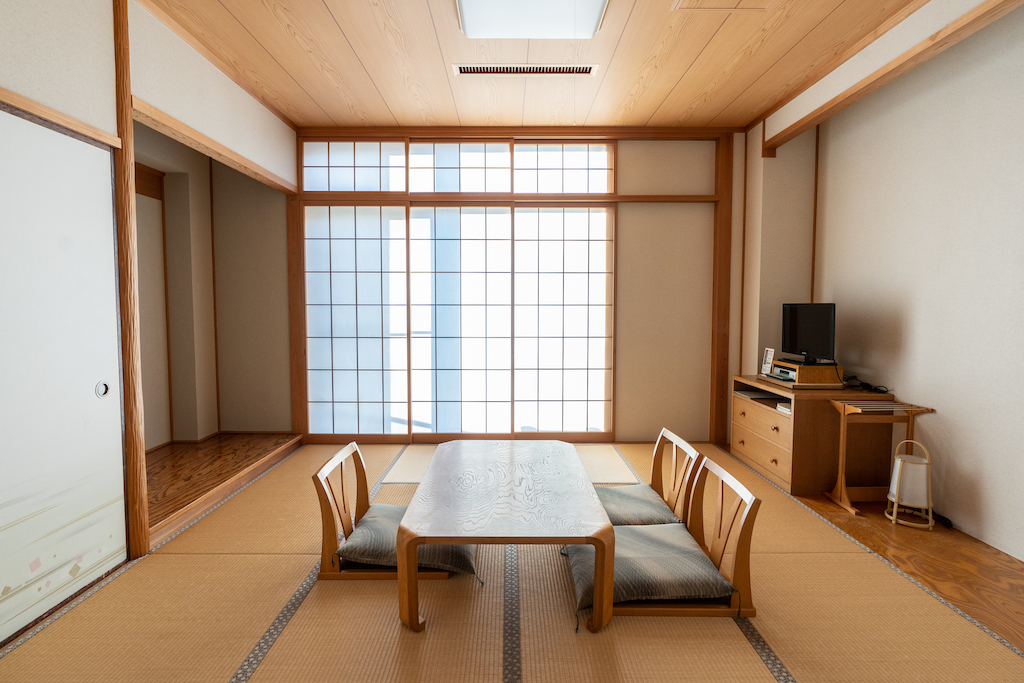 Wherever you choose to sleep, you will always have the option of fine dining in the evening and a healthy Japanese breakfast in the morning. The in-house chef is trained in French cuisine, and each gourmet meal is skillfully prepared and delicately presented with locally sourced ingredients. The wine menu includes a range of reds and whites, primarily from France and sold by the bottle.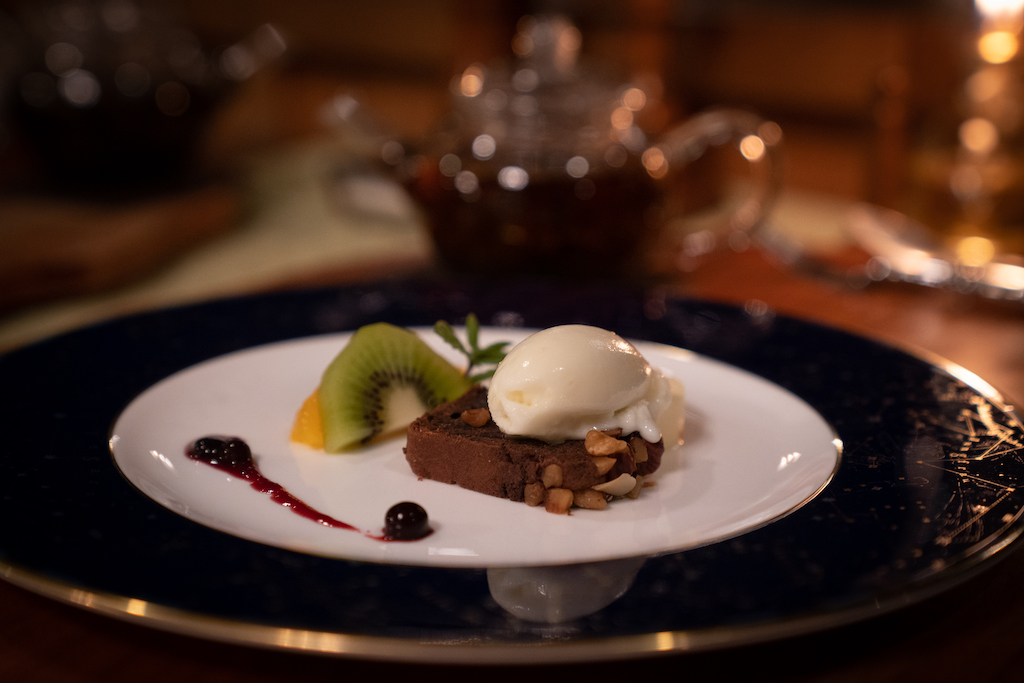 Meals are served in the second-floor hotel restaurant, where you can enjoy your food and drinks surrounded by panoramic mountain views. If you prefer to eat outdoors, on-site barbecue lunch or dinner in the garden with plenty of local seafood, meats, and vegetables is also available from mid-April to October. The gift shop sells various types of locally brewed craft beer and sake, along with an impressive selection of local arts and crafts.
Oku Ise Forest Pia is also the point of departure if you wish to venture even deeper into the forest to meet a real-life mountain hermit.
Trekking in the Odai Forest with a Mountain Hermit
Tatsumi-san is a mountain hermit (仙人, sennin) in his mid-seventies who lives deep in the Odai (大台) mountains of Mie Prefecture. He first moved there almost 30 years ago to open a small guesthouse for serious hikers embarking on the local three-day trekking course. Ever since he closed the guesthouse 15 years ago, he lives alone in the mountains. His makeshift house is a DIY project made from wood and metal poles, as his approach to life is focused on self-sustainability. In the summer, he sleeps in a tent; during spells of bad or cold weather, he sleeps in a small wooden hut that he built.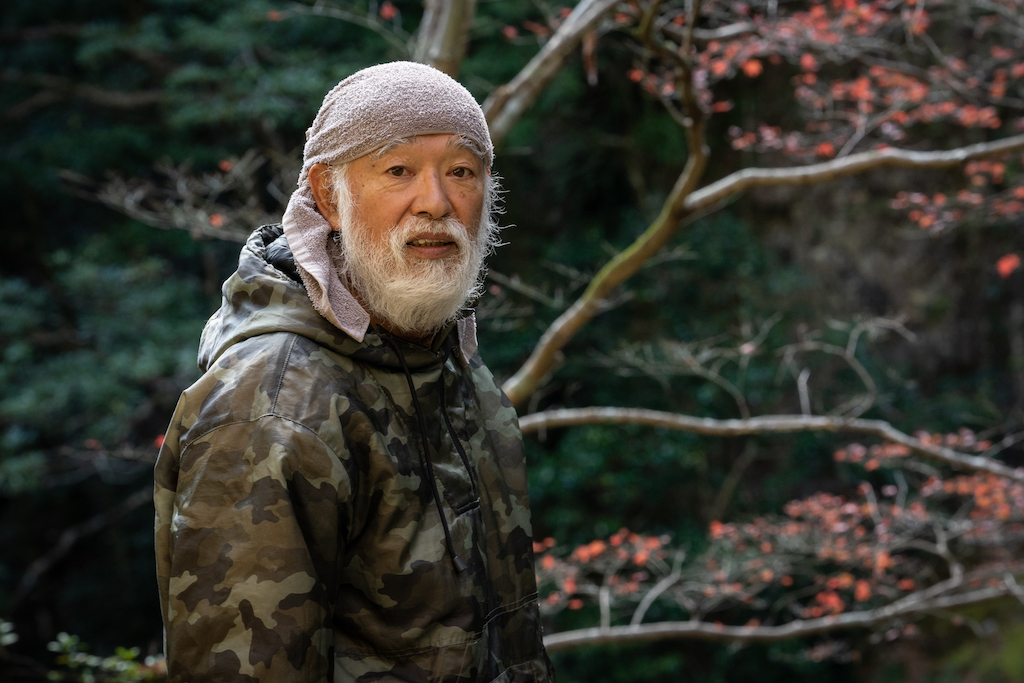 Verde's "Play with a Mountain Hermit in Osugitani Project" (大杉谷で仙人と遊ぼうプロジェクト) offers you the unique experience of personally meeting Tatsumi-san and spending half a day with him in his home environment. During this time, he will be happy to answer your questions and will professionally guide you on a private trek through the area, leading you to spectacular waterfalls and magnificent views over the river. He will also point out the trail highlights of the three-day trekking course, should you wish to explore the region later on your own.
Back at his house, lunch is umeboshi onigiri (rice balls with pickled dried plum filling) and pork broth made by Tatsumi-san using locally sourced ingredients. From this secluded location, you are surrounded by an intriguing landscape of the thick, dense forest. If the most immediate form of wildlife you will encounter are the various types of insects, the forest is also inhabited by deer, wild boars, and even a few bears. According to Tatsumi-san, the best times to visit are spring and early summer.
This uniquely enriching five-hour experience will no doubt leave you with an invaluable perspective and precious insight from the mountain hermit himself on living harmoniously with the natural environment. Tatsumi-san welcomes visitors on Tuesdays, Thursdays, and Sundays from March to June and from October to December. You can make special requests and book directly through Verde, although Tatsumi-san himself speaks no English, so it's best to come prepared with at least conversational Japanese.
How to Get to the Kii Peninsula
From Tokyo to get to Taiki or anywhere southward along the Kii Peninsula, take the shinkansen to Nagoya, then transfer to another train line that connects with the local Kisei line (紀勢本線) that extends down to Kii-Nagashima (紀伊長島) station and further west along the coast.
Mie prefecture is infinitely rich in adventures and experiences, from cycling and hiking on the various paths of the historical Kumano Kodo along the Kii Peninsula, to glamping off the trails in the mountains, to rediscovering the forest through the eyes of a hermit who is wholly committed to living sustainably in nature. Come with an open mind, and let your feet do the exploring!
Photographs and coverage by Ben Beech.
Sponsored by CHUBU DISTRICT TRANSPORT BUREAU and Central Japan International Airport Promotion Council